Transported by private boat from the main pier, we arrive to the centre of Banyan Tree Phuket's tranquil lagoon to a floating pontoon ready to bask in an evening of romance and magic with a Dinner of the Senses.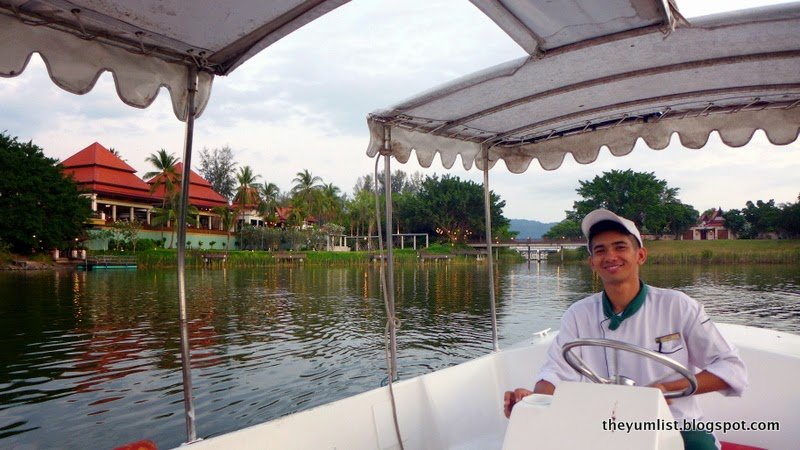 On the Way to Dinner
Approaching dusk, the change of day to night enchants us with its seductive cool air, whispers of the jungle, and alluring darkness. Softly lit with warm frosted spotlights and candles, our table for two is dressed in lush linens and adorned with a floral arrangement. Tender jazz melodies hum from speakers at just the right volume to create a chic laid-back ambience, but not too much to interrupt conversation. The corners of our personal mobile dock are embellished with potted orchids.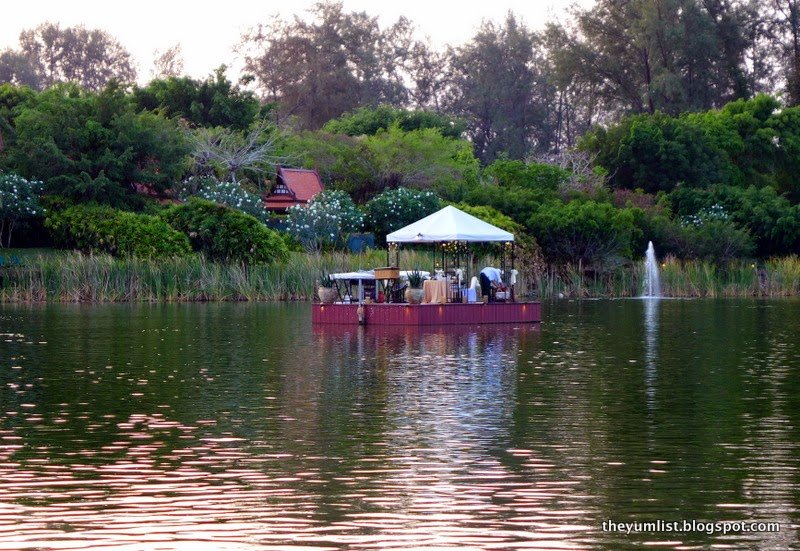 Floating Pontoon for Dinner of the Senses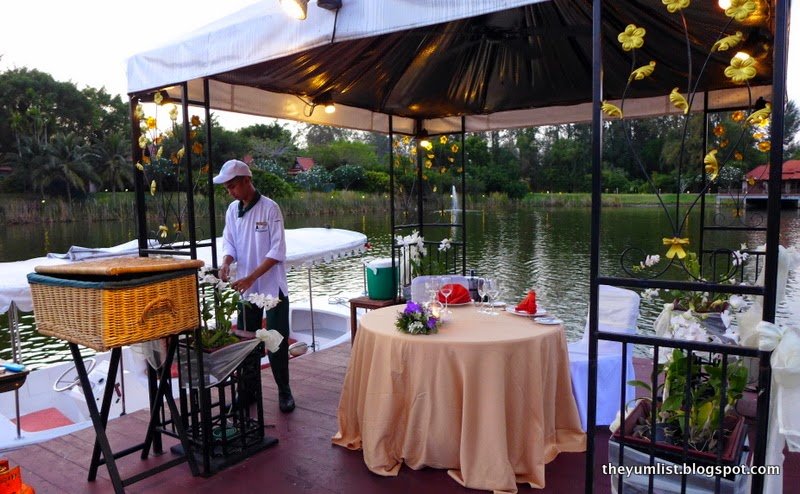 Dinner of the Senses
An International Barbecue or Thai Grill menu are something worth loosening your belt buckle a notch for, and the private butler service dedicated to making your evening especially memorable, deserves the highest compliments. The mixed local options take our fancy, and a bottle of white wine (a Toscan chardonnay and pinot grigio blend from Le Rime), is ordered to fully savour the experience.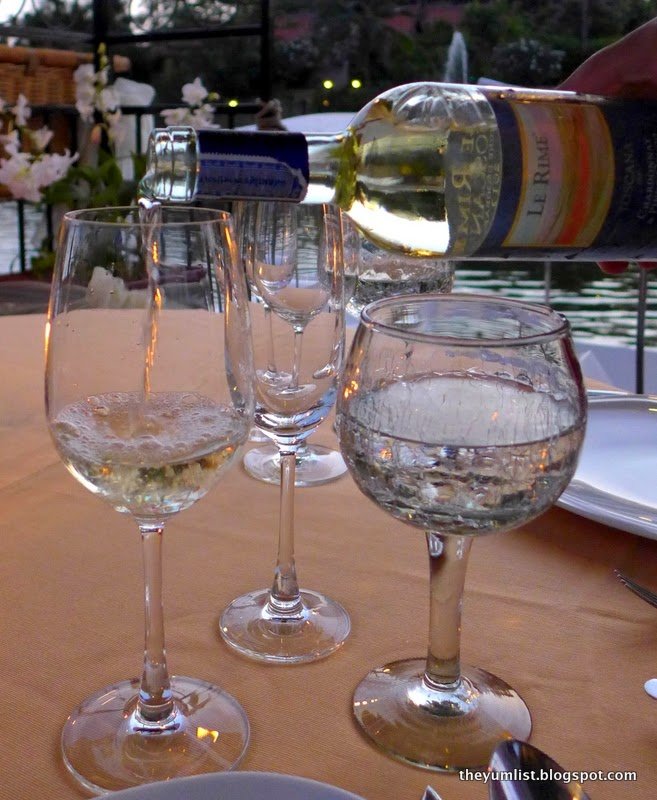 Le Rime Chardonnay Pinot Grigio
Salads
Our tummy grumbles are allayed with starters on the table minutes after we're done capturing the location digitally. Having browsed the mains to come, we're happy for a light beginning to balance out the protein ahead of us and some scrumptious Thai salads fit the bill well.
Som Tam, green papaya salad is bright, fresh and juicy. Chopped peanuts add crunch and halved
cherry tomatoes donate colour. Banana blossom salad, or Yam Hua Plee, is pretty on the plate and an unusual taste in the mouth. It's not the banana flower that is so different, but rather the sauce. I can't quite pinpoint the exact spice that is so intriguing but it gives us a good few minutes of conversation guessing. Yam Moo Yang, pork salad, really does have pork as the main ingredient (not unlike our western versions of salads that merely have the protein sprinkled through). Onion and greens are tossed through and it's all coated in an addictive liquid that keeps us scooping for more.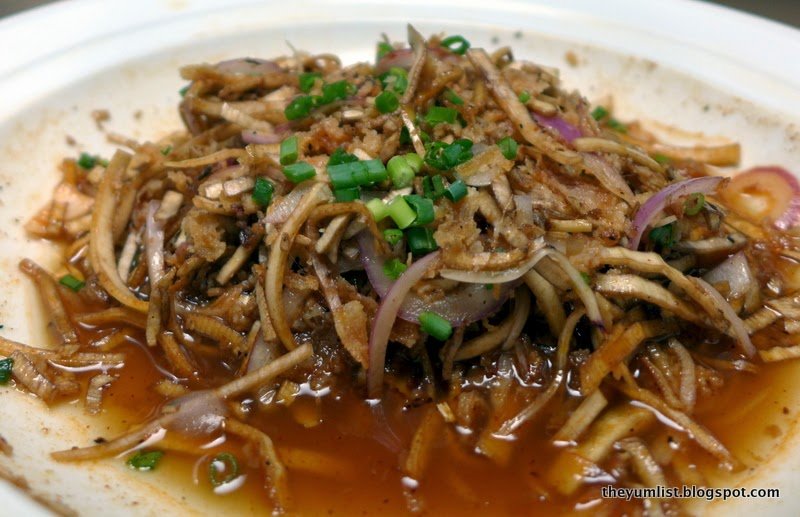 Yam Hua Plee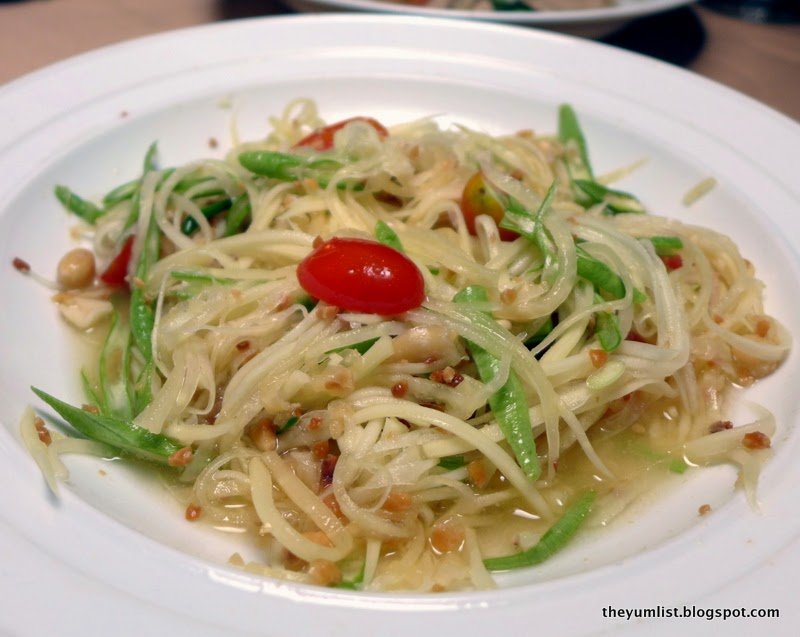 Som Tam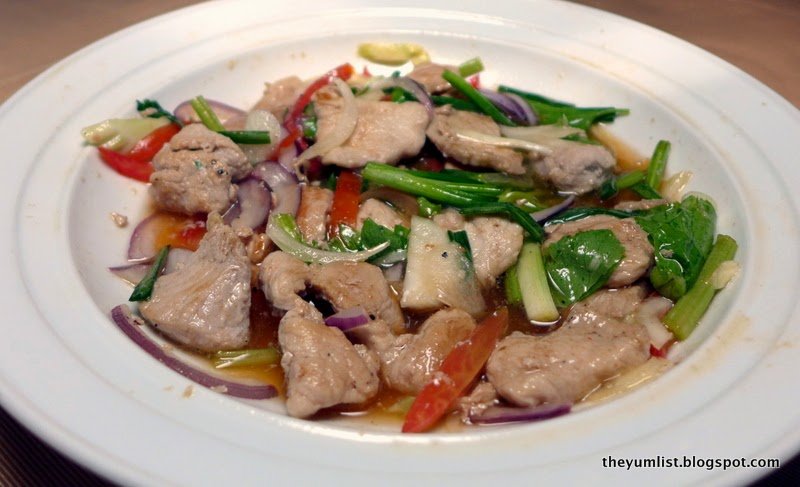 Yam Moo Yang
All three starters have a good deal of spice, so do take note if your palate is not accustomed. In reality the serving sizes could easy do four people, so bring your appetite as the rest of the meal only increases in generosity.
From the Grill
A barbecue is set up on the further end of the pontoon where chef has been busy at the grill charring our next course.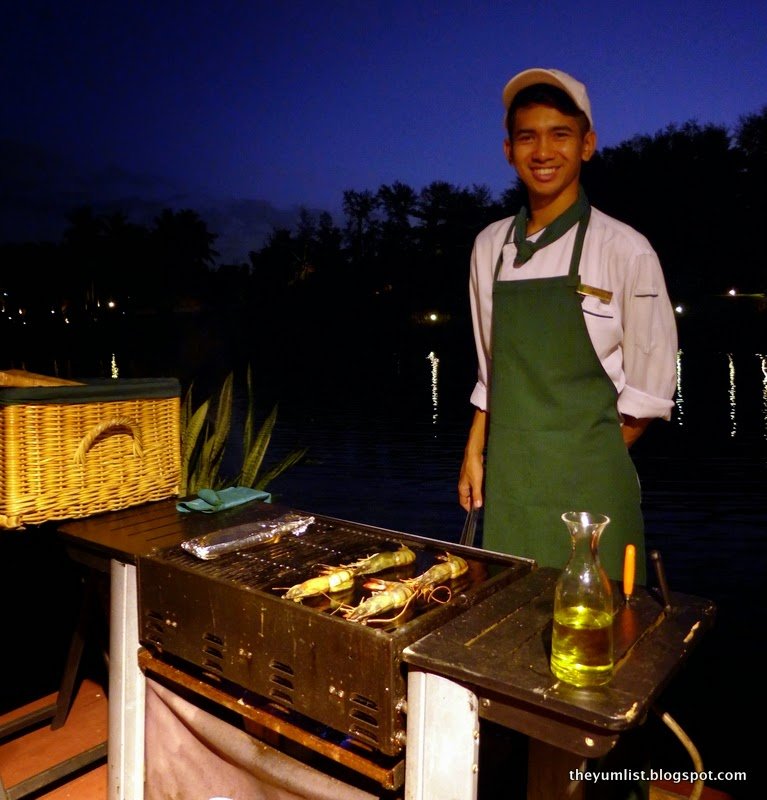 Chef
Sea Bass is cooked in a banana leaf and cut on the table in front of us before we attack it, making it easy to pluck luscious chunks from the body. It's wonderfully soft and flaky having maintained all of its moisture due to the wrap trapping the juices within. A spicy turmeric, garlic and chili sauce must be added. It leaves the tongue tingling while the throat recalls the fresh flesh lovingly sliding down.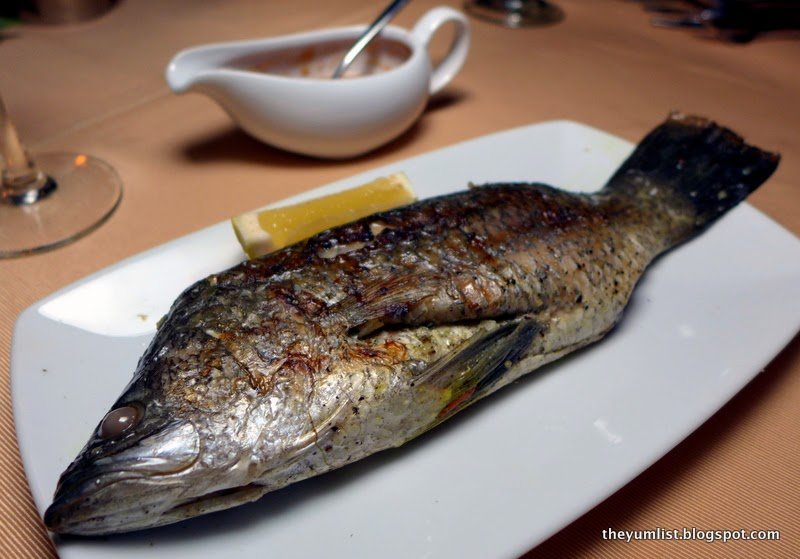 Sea Bass
A red chili paste curry sauce leaves a lingering savour on the BBQ Andaman Sea Tiger Prawns. These specimens are more of the king size variety and the four that fill the serving platter lay over the edges with their enormity. Large proportions however have not affected their succulence and these quickly disappear with a squeeze of lemon and a dash of sauce.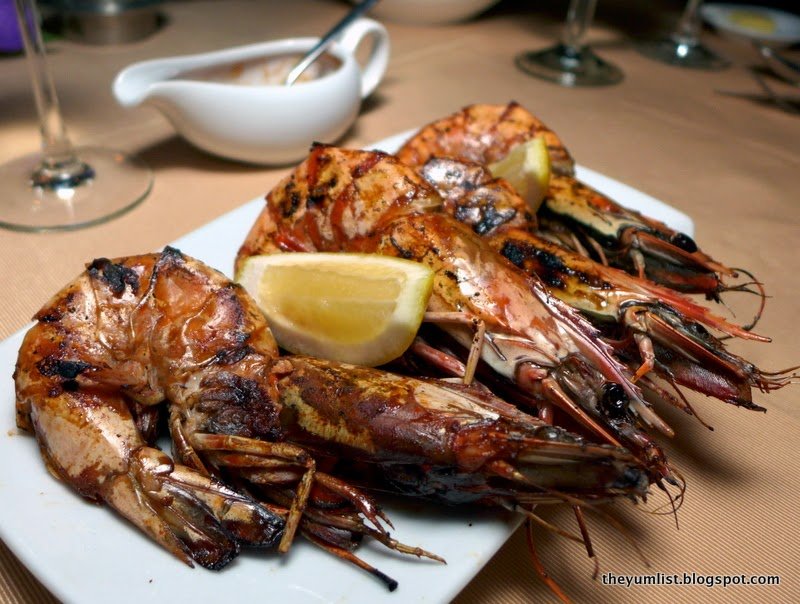 Andaman Tiger Prawns
Thai Style Barbequed Boneless Half Chicken on Bamboo skewers is again another tremendously scrumptious dish. Poultry pieces glide akin to supple feather pillows off the stick. Flavoursome enough on their own, but with a few drops of the soy chili sauce, they're even more delightful.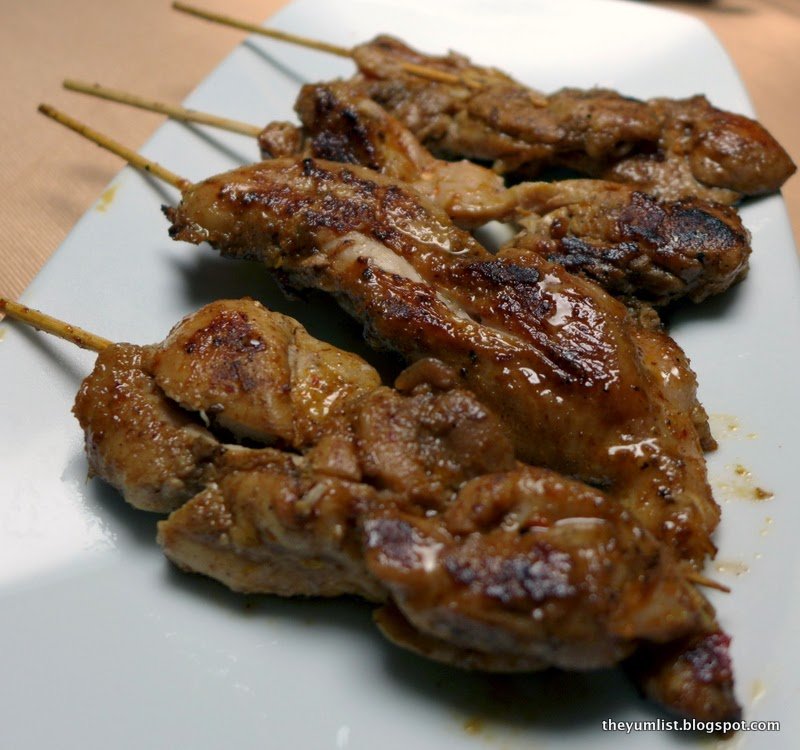 Chicken Skewers
Trang Style Sweet Crispy BBQ Pork is not as crispy as we had expected. The edges are moderately caramelized however producing a faint sweetness. Fatty pieces of meat keep the hunks moist and tender – a theme that the chef has shown great consistency in all evening.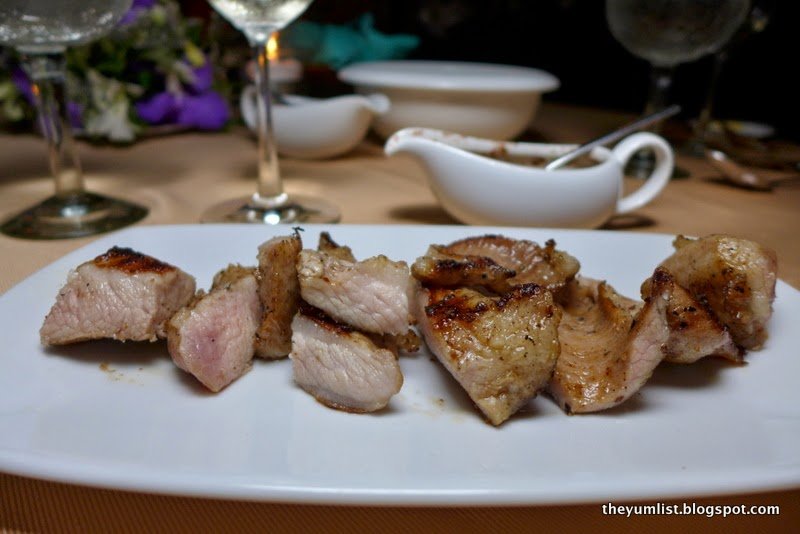 Pork
I smile as hubby takes the last piece of pork. He has proclaimed throughout the night that the amount of food would easily do four adults. It seems however that he is not letting a single bite go to waste.
Rice and Condiments
Steamed rice is perfect for soaking up the excess sauces and there are even more seasonings available if not every corner of our mouths is not yet filled with flavour. Prik Nam Pla is a chili fish sauce. Nam Jim Talay is a Thai seafood sauce. Soy, chili, and roasted rice powder form the Nam Jim Jeow coating.

As the Evening Encloses
Dessert
It doesn't seem to matter how much I eat, I just can't get enough Mango Sticky Rice! Kao Niew Mamuang is made with mangos that are just ripe enough to be sweet and juicy, but still tart enough to deliver a mild moreish tang. A drizzling of coconut cream atop the fruit and rice makes it all the more heavenly.
Pollamai Ruam, tropical fruit plate, proves a consummate finish to our evening in paradise.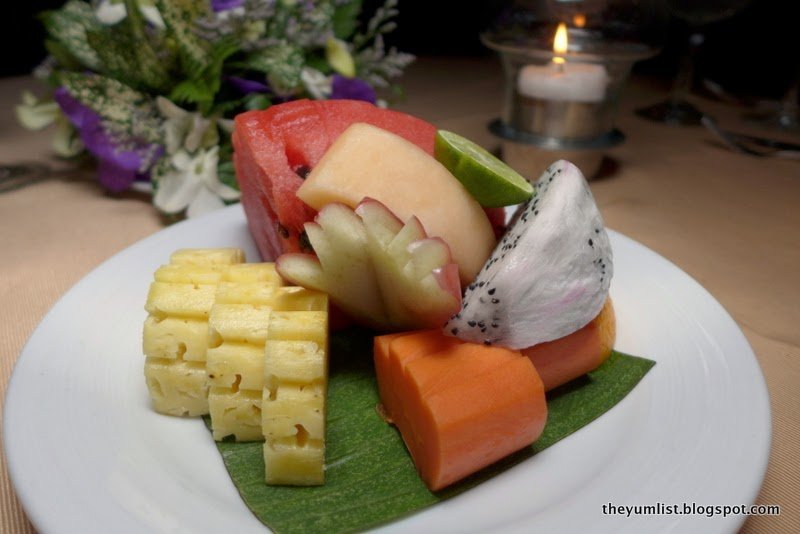 Tropical Fruit
Reasons to partake: wonderfully romantic setting; delicious Thai cuisine; personal butler; an idyllic ambience for a special occasion.
Dinner of the Senses
Banyan Tree Phuket
33, 33/27 Moo 4
Srisoonthorn Road
Cherngtalay
Amphur Talang
Phuket 83110
Thailand
+66 76 372 400