A glorious old bungalow enveloped in lush tropical foliage houses one of Asia's most celebrated restaurants, Issaya Siamese Club. Named consistently in "best of" lists by recognized restaurant critics and publications, the charming eatery bleeped loud and clear on our gourmet radar, prompting us to try our luck at getting a table reservation during our April trip to Bangkok.
Issaya Siamese Club, Bangkok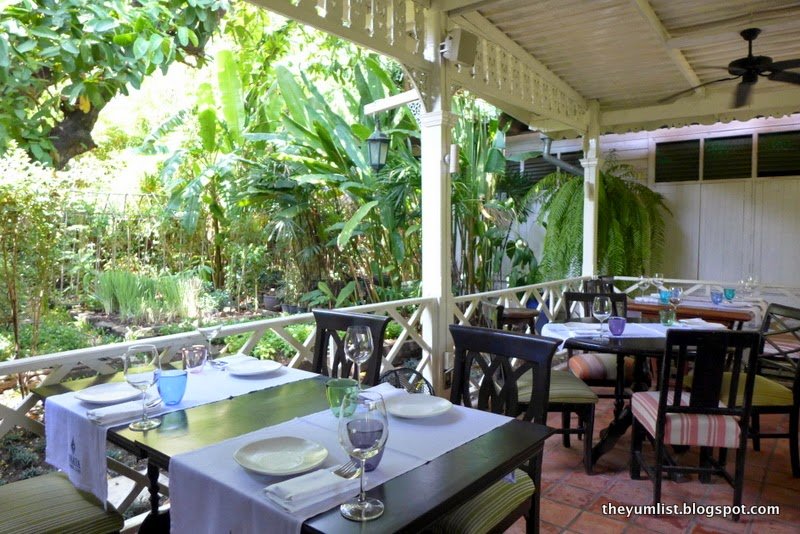 Verandah Dining
Paying homage to the abundance of water that allows the verdant surrounds to flourish, the name Issaya, an old Thai word for 'rainy season', was chosen as a befitting epithet. Additionally, wishing to bring back the grace of a bygone era, when ladies and gentlemen would dress tastefully for dinner and chivalry was an expectation not a surprise, the Siamese Club title mirrors a traditional members club. Those averse to shining your shoes and donning a tie need not fret however, as the mood is all welcoming: whether in shorts or a suit, it's happy times for all.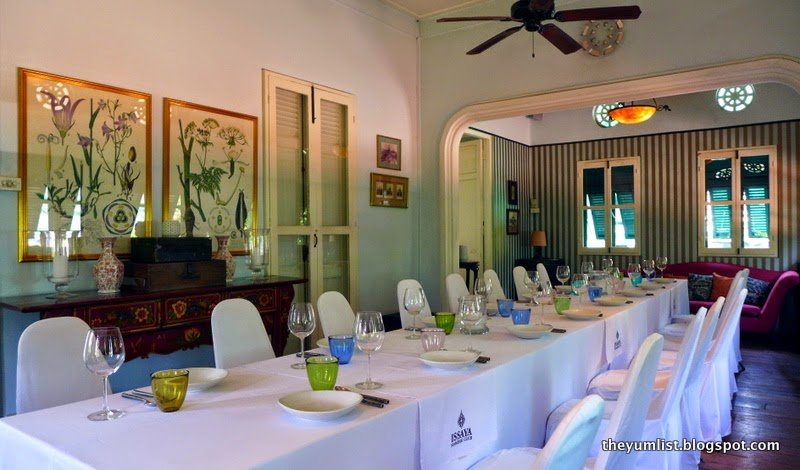 Private Dining Room
A century old Thai villa houses the restaurant and lounge. A 'garden party' vibe embraces the tropical gardens, and relaxed dining prospers indoors amongst the antiques and mementos celebrating the bungalow's history. Brightly painted walls frame heirlooms from the past, and vintage collectables pledge hours of intrigue. Personality oozes from the woodwork casting an individuality that breathes a life of its own, gifting an imagined heartbeat to the building.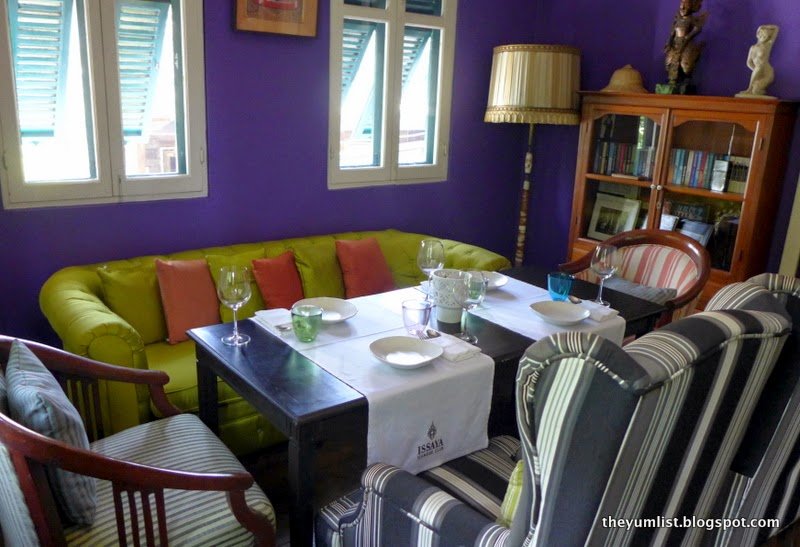 Dining Areas Full of Character
Issaya Siamese Club is the flagship kitchen of Chef Ian Kittichai where he showcases Thai cuisine as inspired by his formative years growing up in Bangkok's wet markets. As a child, he assisted his mother with her food cart, pushing it through working-class neighbourhoods of Bangkok. While his roots are clearly present in the pragmatics of his recipes, influence from his international career and philosophy that all good meals begin with the best of ingredients – fresh, organic and homegrown – are unmistakably woven into his creations. The result is an innovative approach to Thai cuisine bestowing guests with signature dishes and a remarkable Thai dining experience.
Cocktails
We sit on the first floor in upholstered armchairs, admiring purple walls, a checkerboard and ancient TV set – complete with V-shaped antennaes – and can't imagine a better way to begin than with a cocktail. Issaya Mojito (THB350) assuages our thirst, well suited to Bangkok's warm weather. A kaffir lime leaf, half lime, and lemongrass stalks adorn the rim of a copper goblet. Rum, house made lemongrass syrup, and kaffir lime leaves are muddled with bunches of mint to make a revitalizing house version of the classic.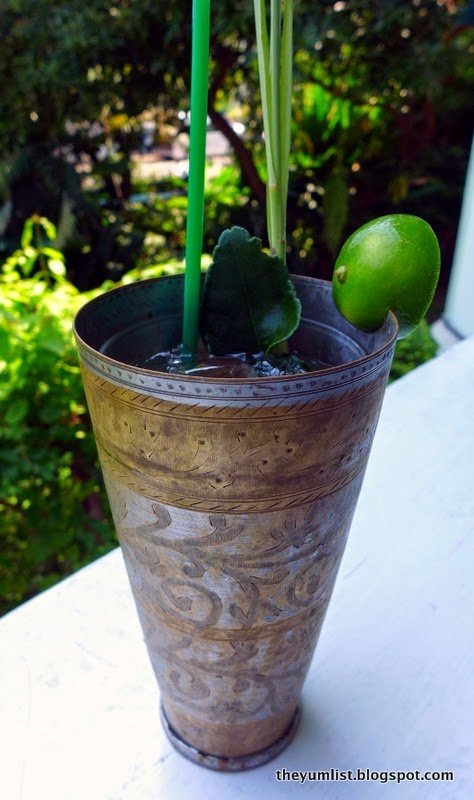 Issaya Mojito
Appetizers
Our first starter, Yum Hua Plee (THB260), banana blossom and heart of palm salad, arrives on an unevenly shaped plate, giving evidence to their hand made sourcing. The fresh ingredients are seasoned with crispy shallots and roasted peanuts in a chili jam dressing. Deep fried shreddings of banana blossom tower the top and a ring of sauce circles the plate with purple butterfly pea petals scattered around the edges.  It's a lovely contrast of textures with moist fresh ingredients underneath and the crispy fried flaky strips on top. This traditional Thai dish with contemporary presentation, launches a positive introduction.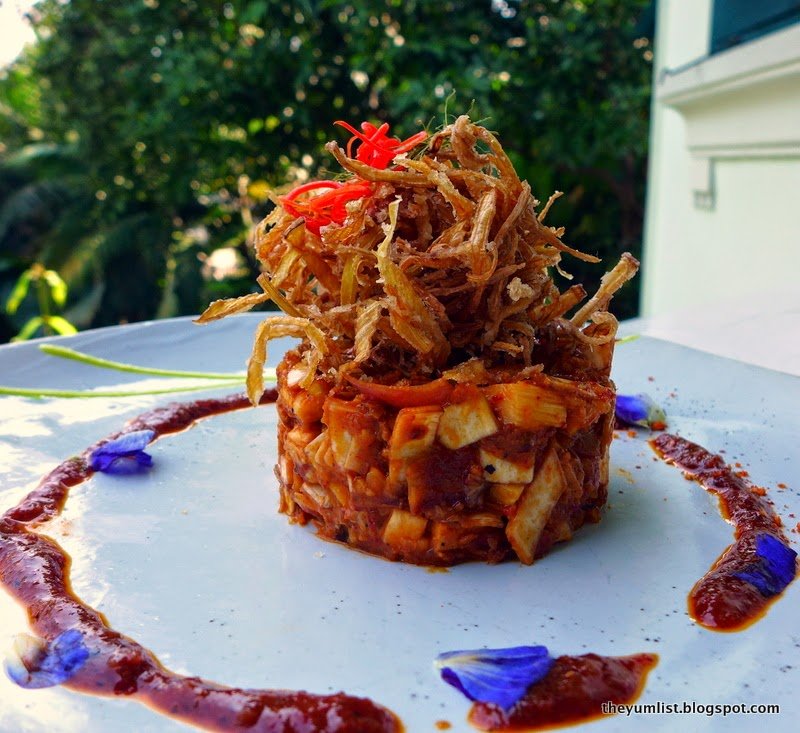 Yum Hua Plee
Yum Makur Goong Tod (THB340) brings crispy harbour shrimps atop melting eggplant in a chili tamarind dressing. The eggplant is wonderful. Sour and smoky, the sauce is incredibly moreish. The smokiness is achieved by grilling the eggplant until the skin burns. It's then left in its charcoal shell for the flavours to infuse before being removed. The tamarind sauce gives an addictive lip-smacking flavour, which keeps me forking back until it all disappears. The battered and fried crustaceans win hubby's approval and while I work my way through the garden, he's hard at work on the sea.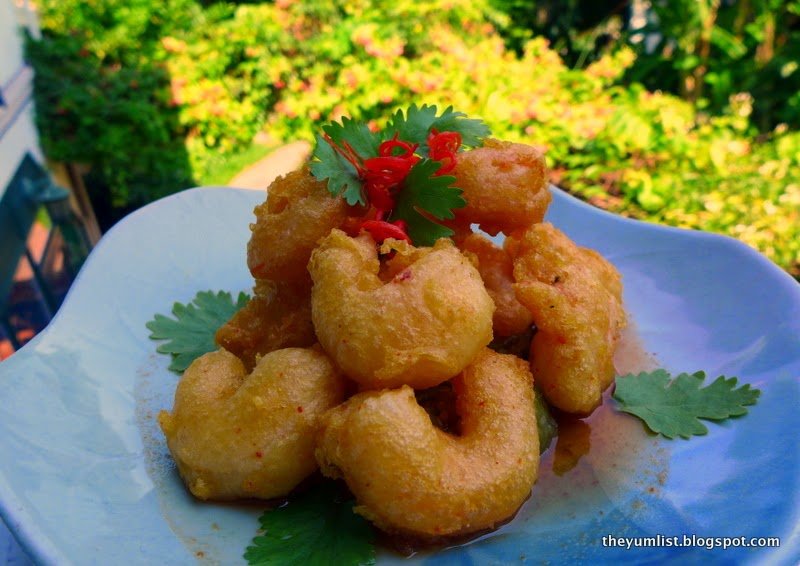 Yum Makur Goong Tod
Mains
Mussamun Gae (THB720), lamb shank simmered in mussamun curry served with pickled cucumber, is one of those classic comforts that must be ordered when in Thailand. Curry bases at Issaya Siamese Club are all house made, with many ingredients picked directly from right outside the kitchen window from their own garden. Cinnamon, cardamom, coriander and coconut milk are just some of the seasonings turning the sauce into the rich, intense, soak-me-up-please decadence that it is. I consider the sauce so delicious on its own, that I find the meat unnecessary. The flakes-off-the-bone succulence of the lamb shank however is not to be missed, and between hubby and myself, we soon have the bone sucked dry.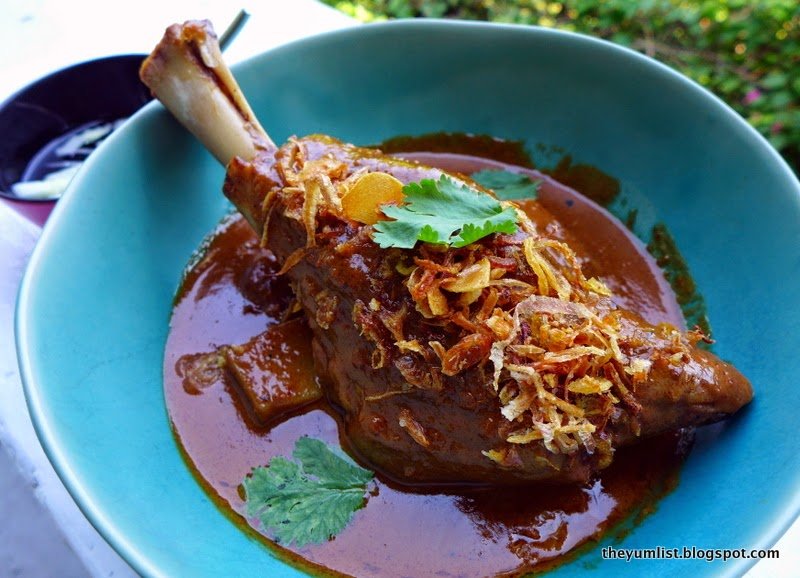 Mussamun Gae
Our host tells us that Kao Ob (THB280) is something that he sees on 90% of the tables at Issaya Siamese Club. The baked rice is extremely popular for its hearty fill-me-upness, chewy texture and mouth-filling relish. Short grain rice is wok sautéed with Asian multigrains, Chiang Mai mushrooms, garlic, kidney and cannellini beans, and Chinese olives. Cooked in a Korean style bibimbap pot, the grains caramelize lightly making the overall profile even more delicious.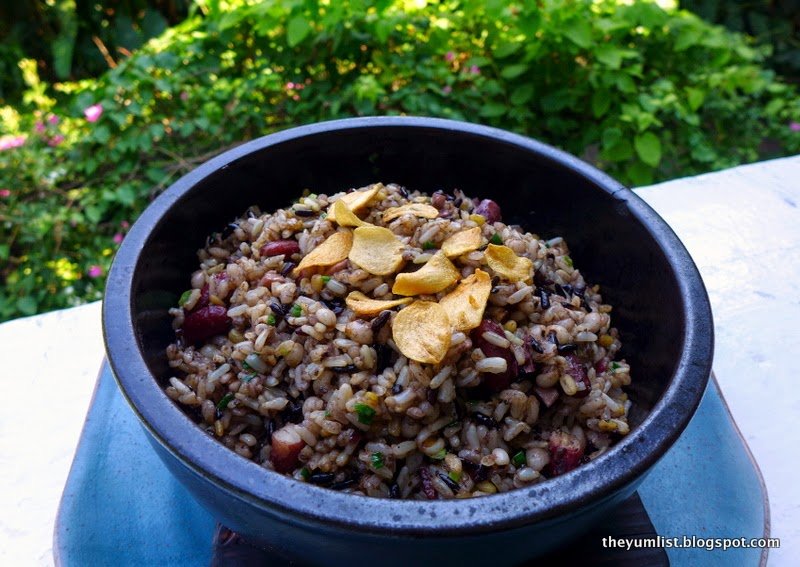 Kao Ob
Desserts
Do save room for desserts as they are really something special. Kanom Dok Mali (THB250), Jasmine Panna Cotta, is encased in a bamboo leaf, served with a velvety rich jasmine rice ice cream and jasmine rice tuile. The soft creaminess is broken up with finely chopped white dragon fruit, mandarin segments, a mulberry sauce and passionfruit gel. Hubby is silent until completion: a clear sign of approval.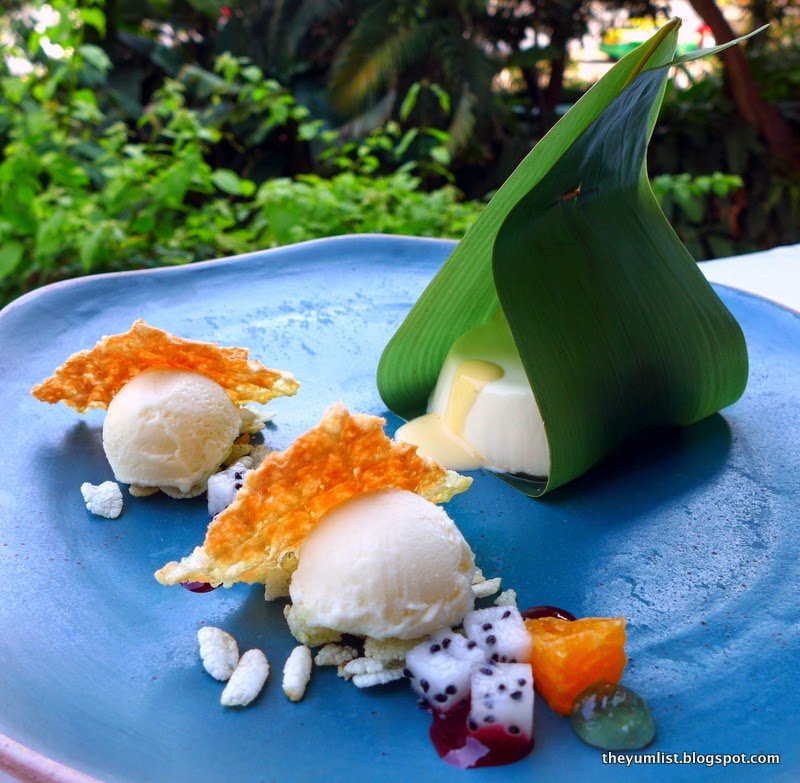 Kanom Dok Mali
Petit Fours come as a dramatic ending on a duo of platters. A miniature antique meat safe replica contains a trio of small bites: dense Honey Financiers with mulberry sauce and a butter cookie crumble base; dainty half spheres of Roselle Fruit Pate; and 'wow-oh-so-moist' Mini Baba soaked with Mekhong Thai rum and crowned with coconut cream. A second tray bears three giant glass jars, each carrying another type of treat: Peanut Coconut Candy wrapped in wax paper matching the old-school décor; Ginger Marshmallows with a subtle infusion of the spice evident at the very end; and who-was-the-genius-who-thought-of-this kaffir lime macarons smoked with a Thai candle.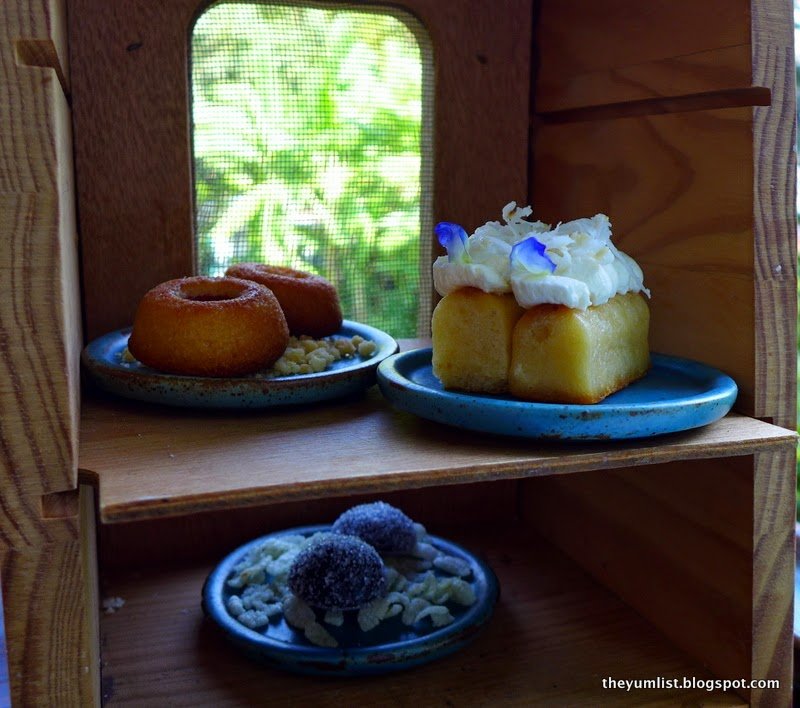 Trio of Desserts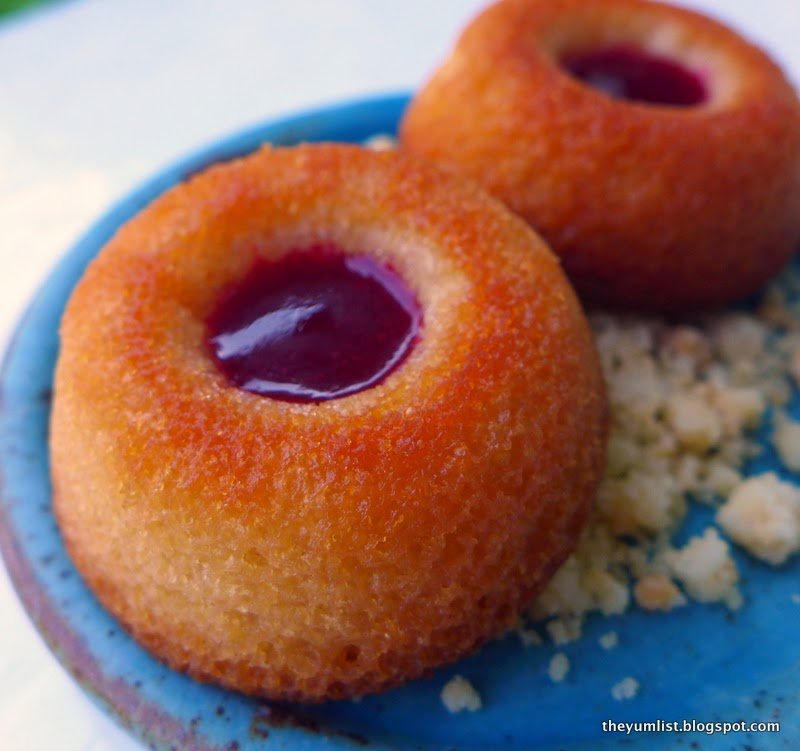 Honey Financiers
Roselle Fruit Pate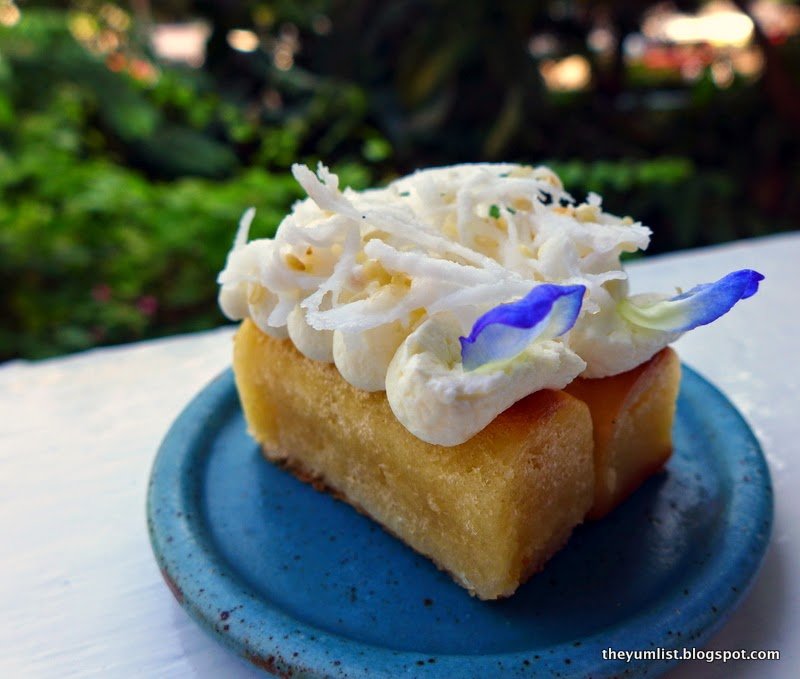 Mini Baba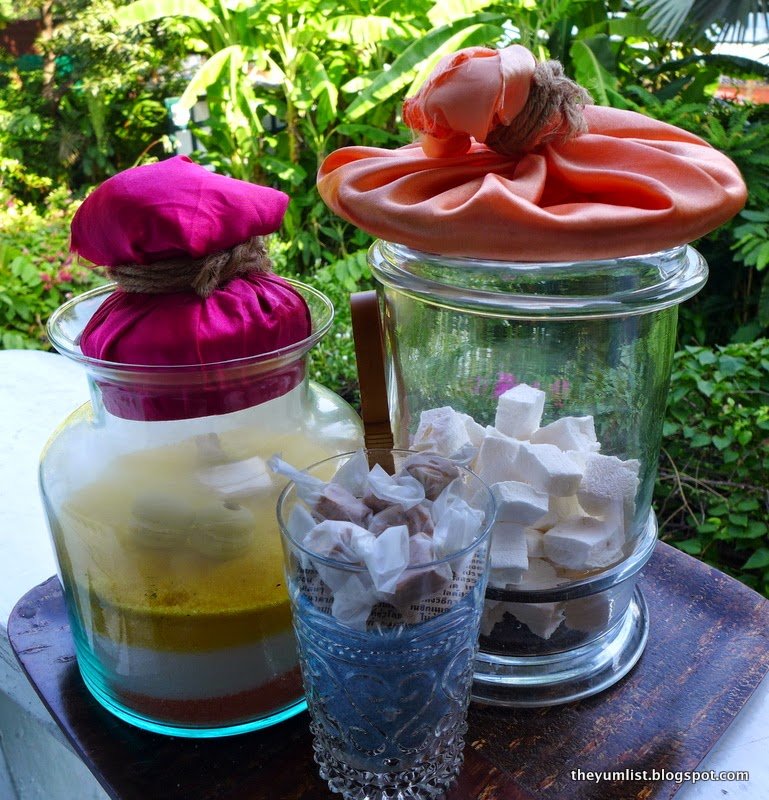 Second Petit Four Platter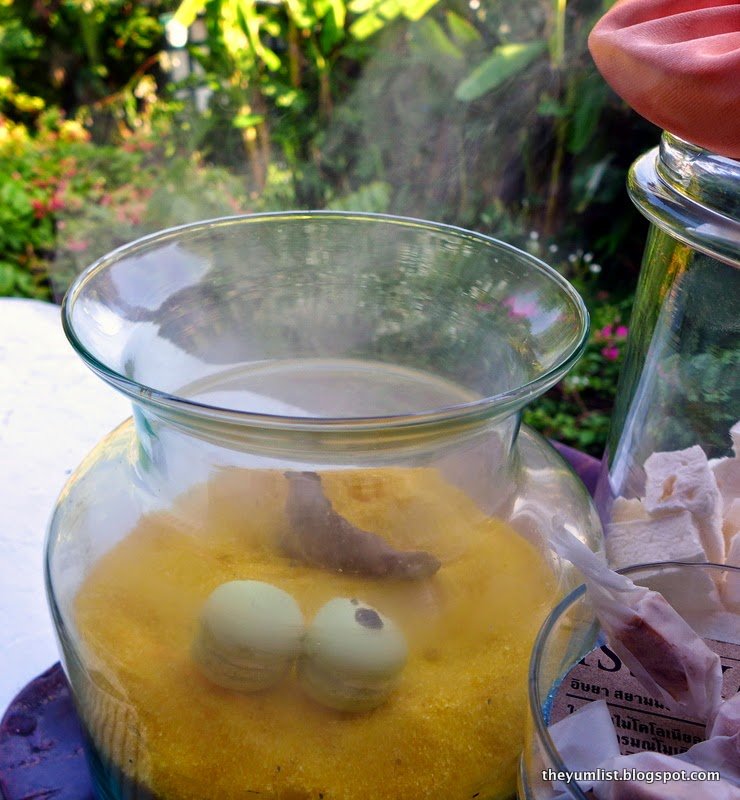 Thai Candle Smoked Macarons
Outstanding and unforgettable, Issaya Siamese Club is a must visit for all dedicated foodies.
Reasons to visit: charming setting full of character; delicious Thai cuisine presented with contemporary flair, Yum Hua Plee; Kao Ob; Petite Fours.
Issaya Siamese Club
4 Soi Sri Aksorn
Chua Ploeng Road
Sathorn, Bangkok
Thailand
+66 02 672 9040