Words:  Monica R. Clear      Photos: Monica Tindall
Walking into Metal Box Restaurant and Café, one is greeted by a surprisingly airy atmosphere.  As a walk-through restaurant that enters from the ground floor of Empire Damansara, and exits out onto a spacious patio with tables overlooking the greenery of Damansara Perdana, one does not get the aura of a shipping container.  But that is the décor motif of this unique all-day breakfast café, run by the soft-spoken and delightfully demure Chef Ryan, previously of The Red Beanbag fame.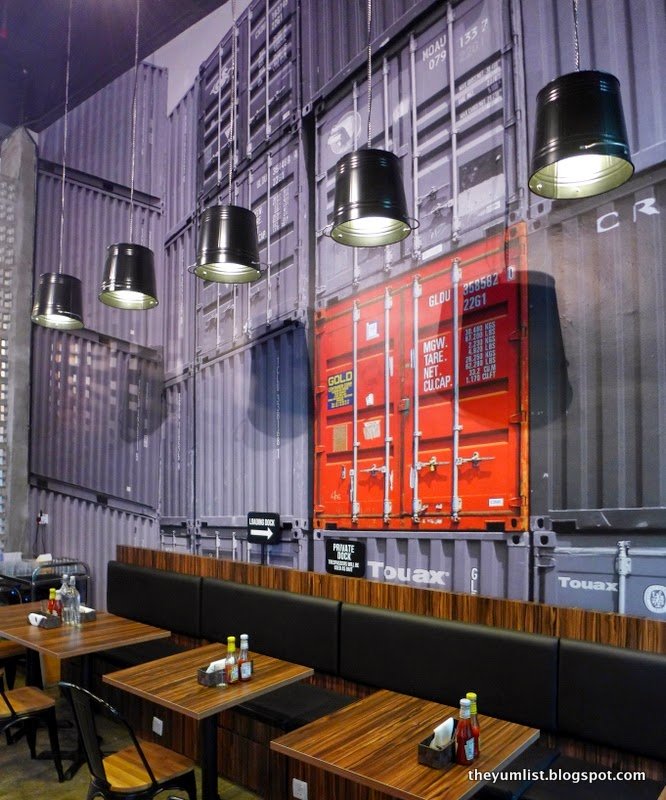 Metal Box Cafe, Empire Damansara
Everyone needs an all-day breakfast restaurant on their inventory of go-to eateries; consider The Metal Box a strong contender.  Chef Ryan has made use of his creative license, reworking the traditional Western breakfast dishes with touches of Japanese flair, and surprising additions of alcohol.
We sampled three breakfast entrees, a hot chocolate (RM10.90), and cappuccino (RM9.90) to begin with.  Both the 'cuppas' were done right, the former not too sweet, with a rich and slightly bitter chocolate taste, and the latter fit for any connoisseur.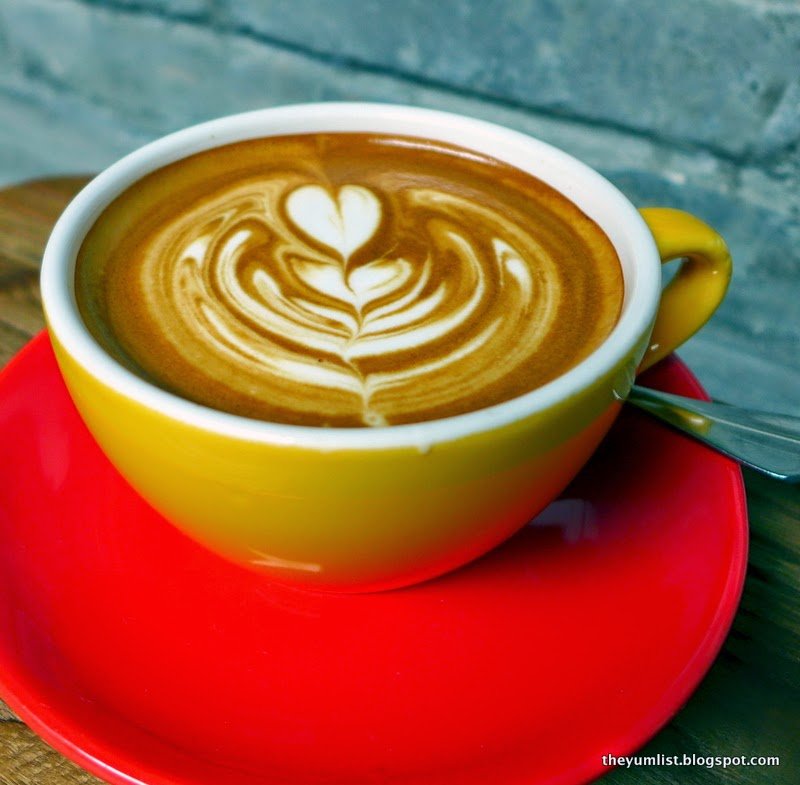 Flat White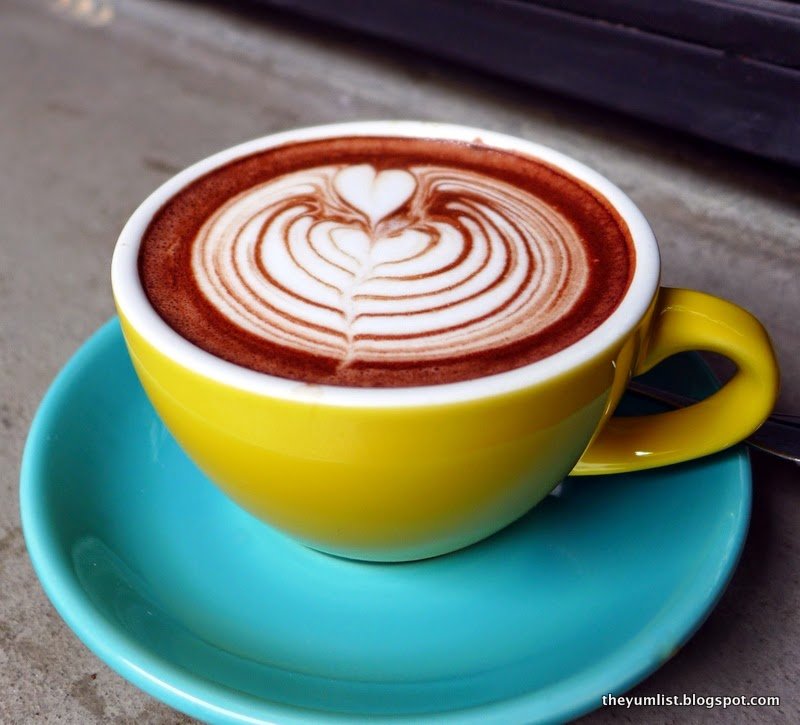 Hot Chocolate
The Hemingway (RM18.90) was a nice delivery on two poached eggs over a freshly based (in-house) croissant with smoked salmon and baby spinach.  Japanese-inspired twists included okaka shavings and aonoriko flakes, with a generous helping of hollandaise sauce over the works.  As one of my favorite breakfast combinations of eggs, salmon, and spinach, coupled with the subtle hint of seaweed, this dish worked well.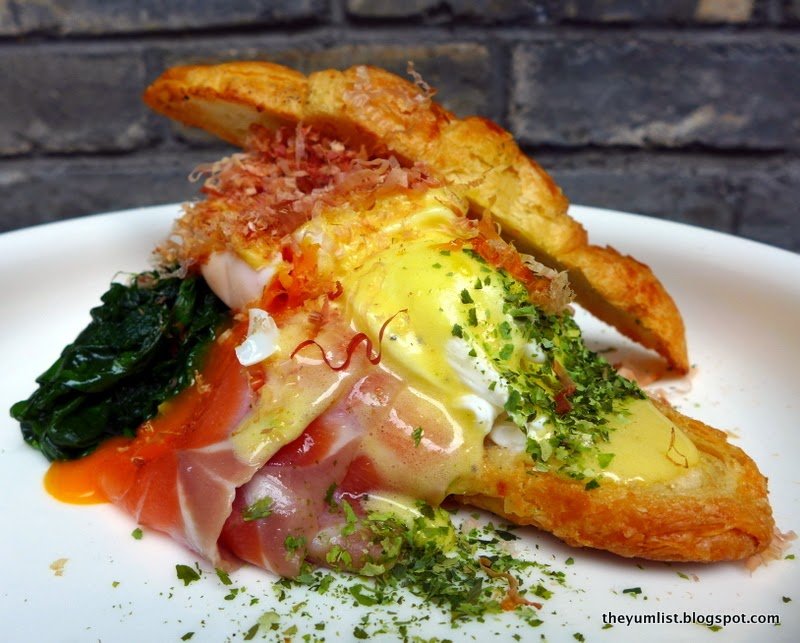 The Hemingway
Next we tasted Metal Box's Baked Egg (RM 18.90).  Served in a bowl with two slices of fresh whole-wheat toast on the side, I enjoyed the inclusion of cannellini beans, eggplant and potatoes with the eggs, all swimming in a creamy pureed tomato sauce, topped with cheese.  Comfort food, indeed, whether eaten at 10:00 in the morning or 10:00 at night.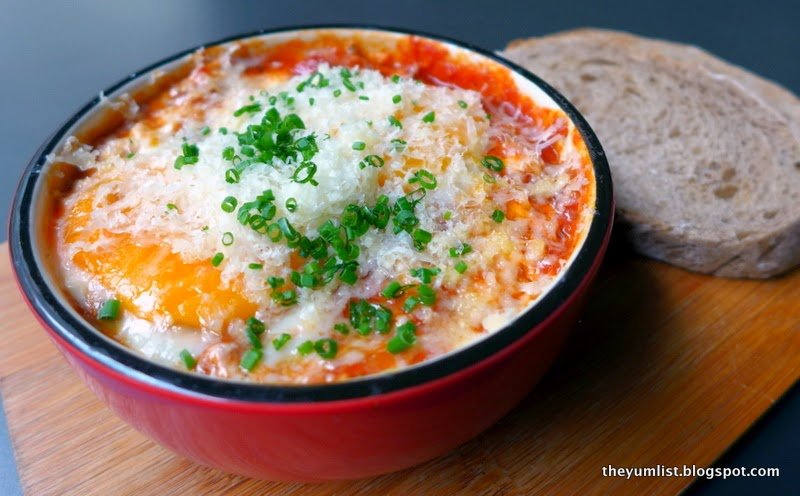 Metal Box's Baked Eggs
We progressed from savory to sweet with the Guinness Pancakes (RM 15.90).  Traditional light and fluffy, medium-sized pancakes, served with a mix of fresh berries on top and a "shot" of Gula Melaka with Guinness on the side, this was a successful dish with a twist.  We suggested that Chef Ryan bottle the sweet, molasses-like sauce, as it was the highlight of the dish.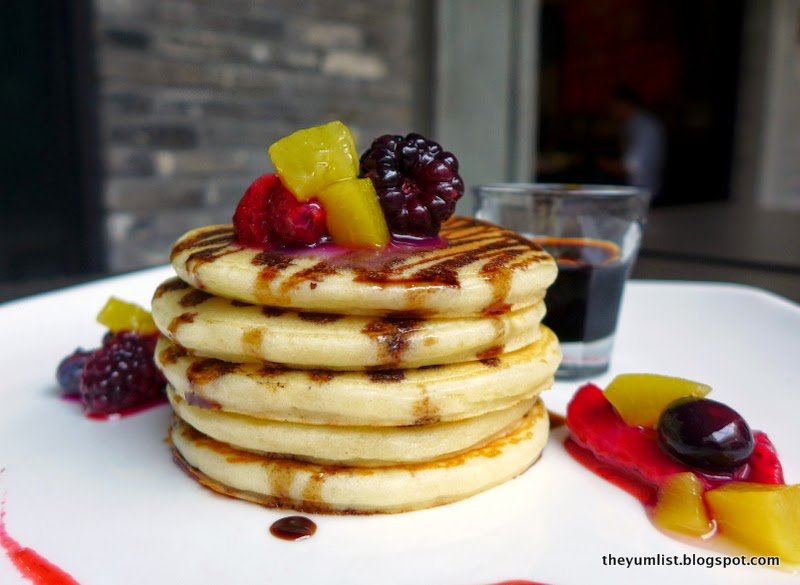 Guinness Pancakes
Moving beyond breakfast, our small group gave a unanimous thumbs-up to the Beef Ragout Pasta (RM 21.90).  Unassuming penne pasta tossed with strip loin beef from Australia, mushrooms, and grated parmesan cheese, there was a surprisingly rich and savory gravy flavor to this entrée that hit the spot.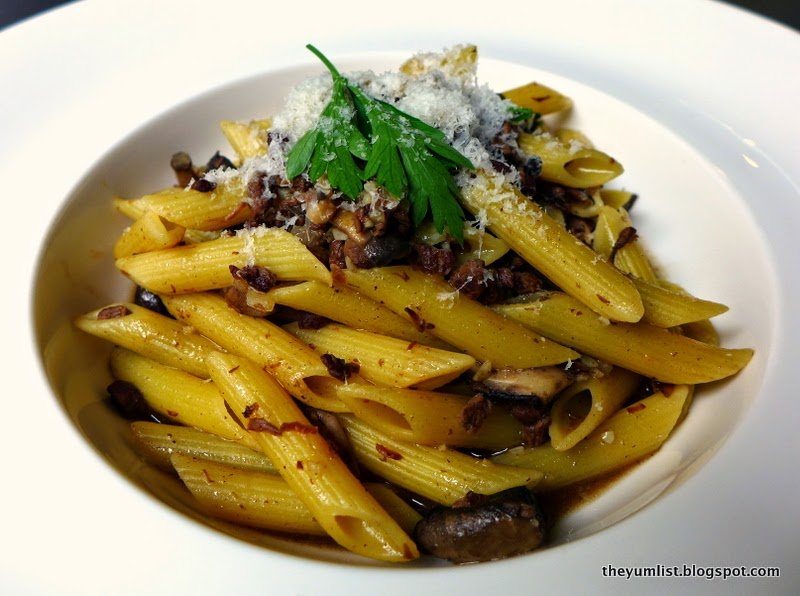 Beef Ragout Pasta
To complement the pasta, we enjoyed a simple Tomato Salad (RM 14.90) with mesclun greens, fresh and juicy tomato slices, mozzarella cheese, and 10-year aged balsamic vinegar with olive oil.  Coming from the state of New Jersey, USA, where flavorful summer tomatoes are hard to beat, and believing that a simple salad with fresh ingredients is the best type of salad, I was a fan of this salad and encourage it with any entrée on the menu.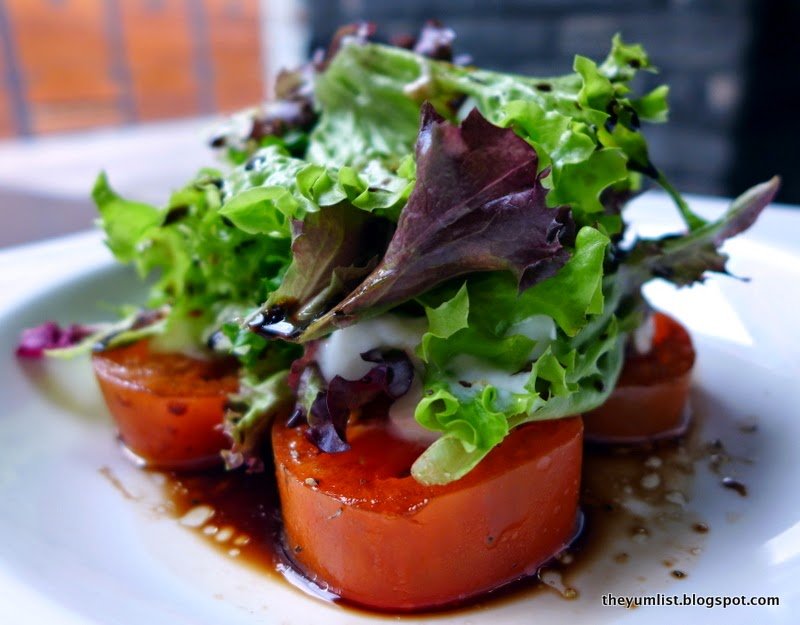 Tomato Salad
However, we seemed to save the best for last, as our final dish of the evening was the newly offered C-Bass (RM 26.90). Served with a Japanese soy glaze and pan-fried with roasted potatoes, mushrooms, and broccoli rabe greens, the fish was cooked to perfection, soft and flakey off the fork.  This meal was a true testimony to Chef Ryan's desire to create simple entrees with a focus on quality.  Fresh and tasty.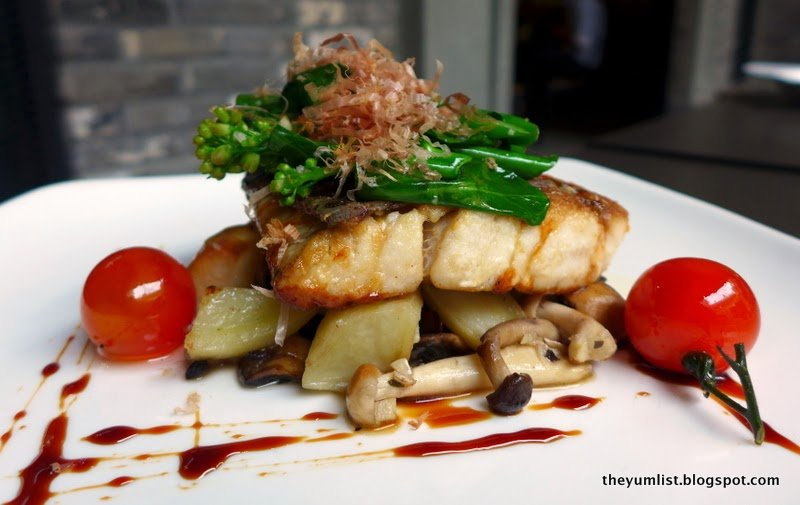 C-Bass
For dessert, we sampled the decadent Dark Chocolate Truffle Cake (RM 17.90), with an impressive intensity of chocolate throughout — from the spongy interior to the sprinkles of chocolate shavings and three small cubes of whipped chocolate on top, calling your taste buds.  Fresh and satiating after a few bites, if you can spare any room after the delicious dinner, this cake is worth it.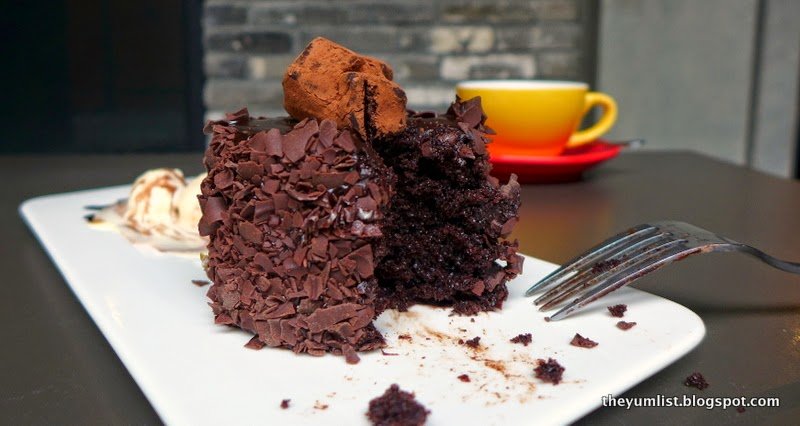 Dark Chocolate Truffle Cake
Reasons to visit:  hip décor and concept; good variety of dishes; all-day breakfast; the one-of-a-kind fabricated shipping container kitchen.
Metal Box Restaurant & Cafe
G12, Empire Damansara
Damansara Perdana
Petaling Jaya, Selangor
Malaysia
Tues-Thurs, 10am-10pm; Fri, 10am-11pm; Sat-Sun, 9am-11pm