Words: Araceli Barrera 
Arismendi  Photos: Monica Tindall
When I first heard about the opening of Tiramisu Café, an irresistible impulse came over me, and I quickly contacted The Yum List, Monica Tindall, to share with her what I'd heard about the surprising new Italian café located in Damansara Uptown.
Without a doubt, The Yum List team had already scheduled an appointment with the Italian team, Domenico, Lorenzo and Anya, and I excitedly joined the review session. I could not wait to taste and travel through Italy on pathways of coffees, salads, pastas, pizzas and desserts.
As I arrived, the bright red entrance, simple outside tables, spots of greenery with potted plants, and huge chalkboard on the patio entryway grabbed my attention.  I always find it appealing to see a menu of items written with colored chalk and creative lettering, so was immediately drawn to the charming space.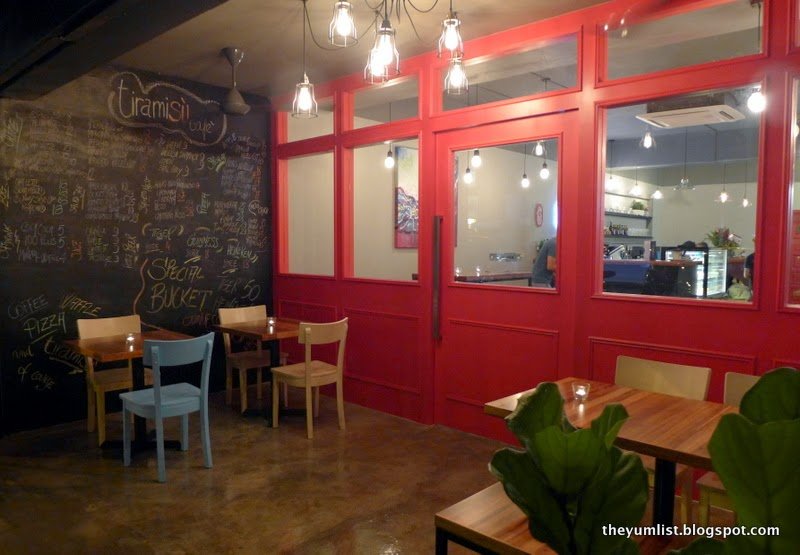 Outdoor and Indoor Seating Options
I stepped inside the compact café, decorated simply with hanging cylinder and oval light fixtures, colorful artworks, and textured walls. Seconds after joining The Yum List team, I was greeted with a Granita de Café. Made with high quality coffee beans of Caffe Martella Roma, crushed ice was wedged between a whipped cream base, and chocolate syrup topping. Refreshing flavors and the chilled temperature enveloped my mouth from top to bottom, and a kick of espresso at the end awoke all of my senses.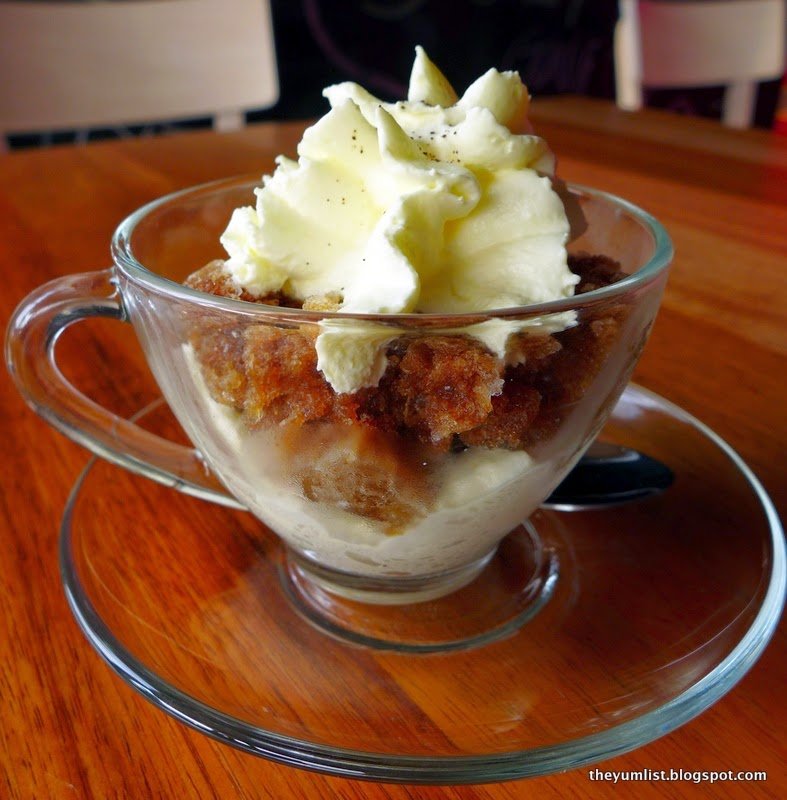 Granita de Café
After finishing my last sip of the granita, Domenico, co-owner and passionate barista, arrived with a fresh juice, Tropical. Blended apples, pineapples, and oranges, proved a revitalizing beverage, perfect for hot humid KL days.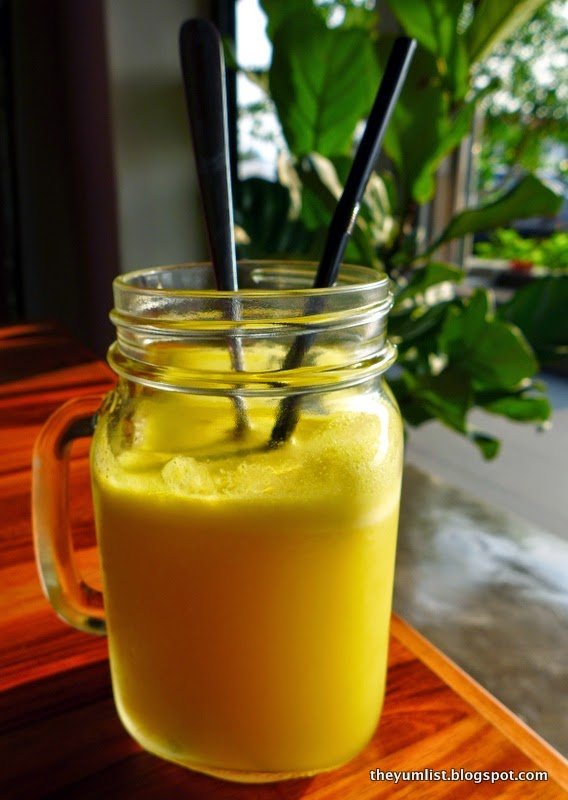 Tropical
Chef Anya, doubly talented with an architecture background, but a cook by heart, came over to introduce us to the salad options. First one out was the Tomato Tiramisu. Three different types of tomatoes – fresh, confit and sun-dried – black olives, Parmesan cheese and a whipped cream and cheese mixture, settled on breaded croutons. A spoonful of the layered salad was so divine and flavorsome, and with its original presentation, we almost forgot that we were eating a salad. The rich creaminess and crunchy croutons gave us the feeling of something much heartier.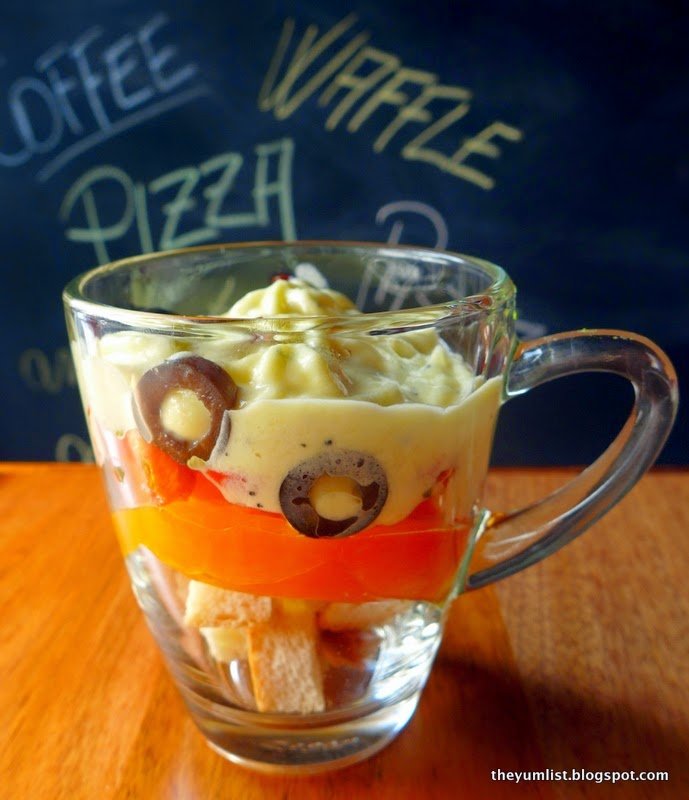 Tomato Tiramisu
The next one up was the Guacamole Prawn. Crisp iceberg lettuce, tender king prawns, and wedges of avocado filled a glass jar. Toasted peanuts, and a lime juice and olive oil dressing, sat on the side ready for adding to our personal preference. After tossing all ingredients into the jar and giving it a few shakes, all the dressing evenly covered the contents. A nice mix of complementary flavours, this salad gave Italy an Asian twist.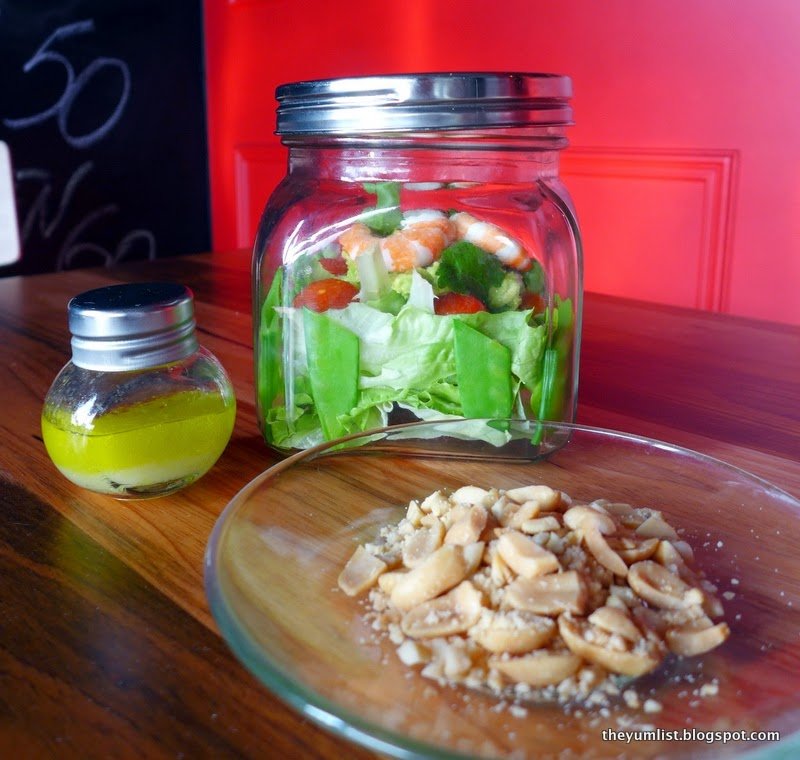 Guacamole Prawn Salad in a Jar
Tiramisu Café offers some beautiful and imaginative breakfast and brunch options as well. The day starter we tried was served on a white circular platter. Carrot and ginger mash spread evenly across a plate with two artfully made poached eggs in the shape of flower buds. Toasted bread with homemade cream cheese joined this dish as a way to snatch the eggs with the mash and begin savoring all the deliciousness. We loved the orange mash, but a colorful array of others – broccoli, cauliflower, purple cabbage and beetroot – is also up for the picking. Chef Anya definitely knows how to integrate her design background into the dishes she whips up in the kitchen. Eggs can be prepared any style, and diners can choose which mash they'd like as a partner.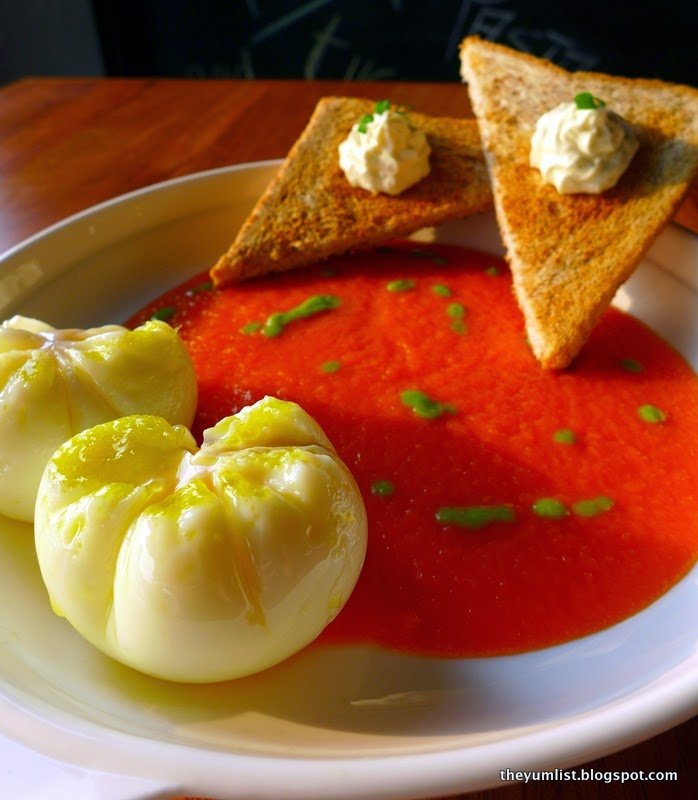 Poached Eggs with Carrot Mash
While our bellies were beginning to fill, out came the snack slates, or Italian tapas. Currently Tiramisu Café is in the process of obtaining a liquor license. For the moment you can bring your own wine with no corkage fee. The following small plates would make excellent bites with a smooth Italian drop.
The first one we tried was the Grilled Pineapple and Prawns. The saltiness of the prawn seasonings and the sweetness of the pineapple exploded with zests and a sense of a summer BBQ came over us with the first mouthful.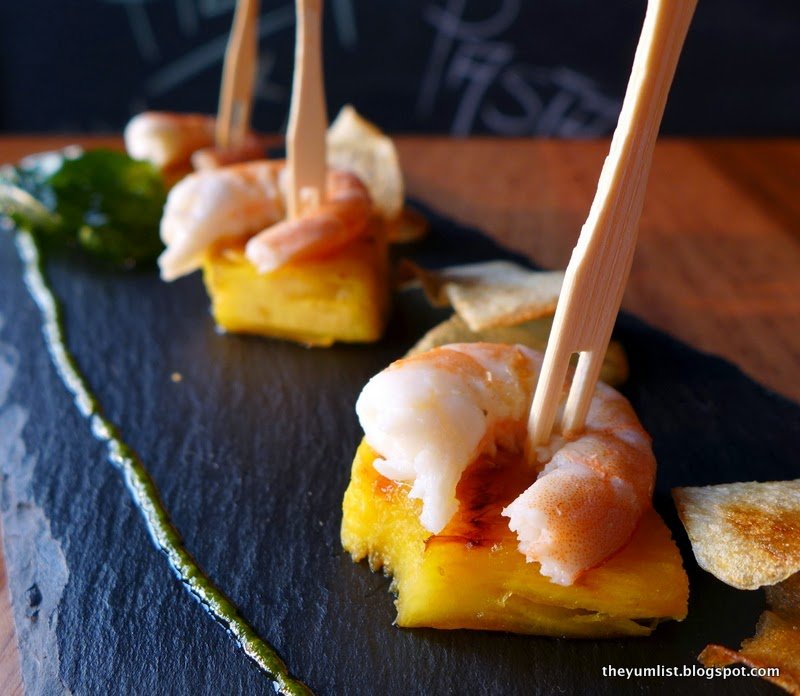 Grilled Pineapple and Prawns
The Salmon with Potato served with cream cheese mousse set on a circular banana leaf and adorned with a green onion tasted oh so heavenly, and the Tuna and Cucumber Fried Balls with a side of fried capers blew our senses away. Battered with corn flakes, the unique balls had a crispy coating and the delicious dressing cultivated them into a complete ensemble.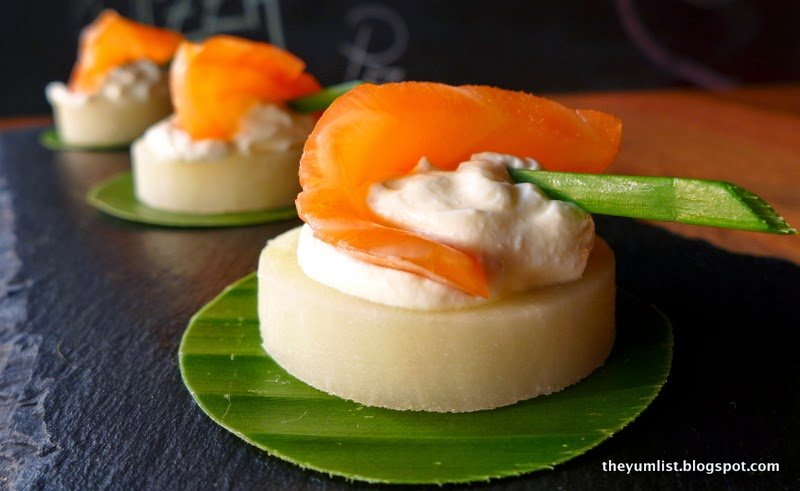 Salmon with Potato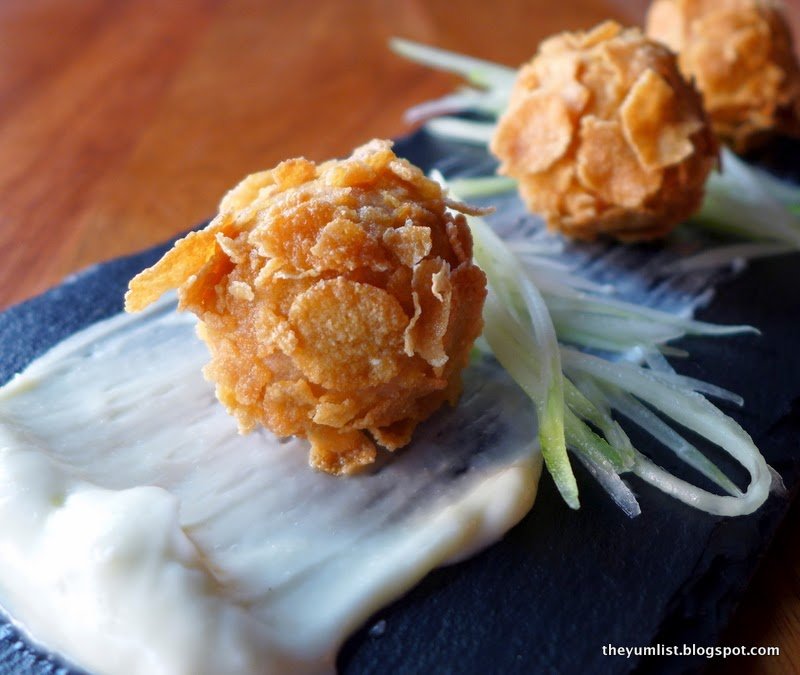 Tuna and Cucumber Fried Balls
The Provola and Onion Jam on charcoal bread was to die for. Provola cheese is used in many pizzas in Italy, and provides a slightly sharp taste. Smothered with the fragrant onion marmalade, it was delectable and turned out to be one of our favorite snacks. Our last tapa temptation was Calamari and Zucchini Chips. Prettily presented, the attractive arrangement on the plate was only matched by appeal in the mouth.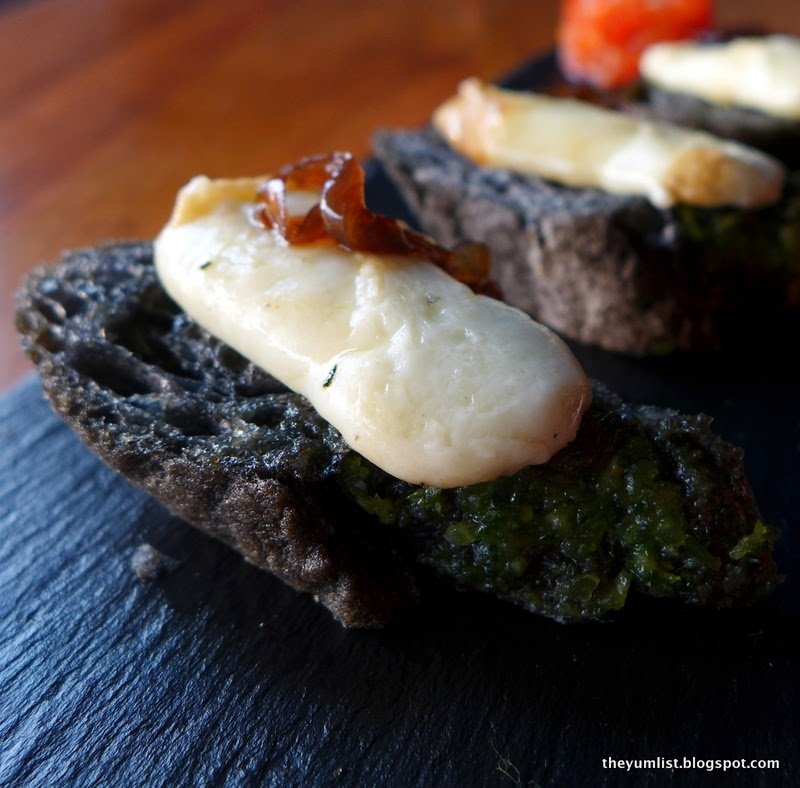 Provola and Onion Jam

Calamari and Zucchini Chips
Before we could even finish our last bite of the tapas, out came the comforting pasta plates. The Eggplant Pasta with ricotta cheese and a velvety tomato sauce, a Sicilian favorite, proved a great vegetarian option. A beautiful blend of garlic, olive oil and basil, blanketed the Pesto Pasta, giving just enough coverage to the al dente spaghetti strings to coat the mouth with flavour but not overwhelm it.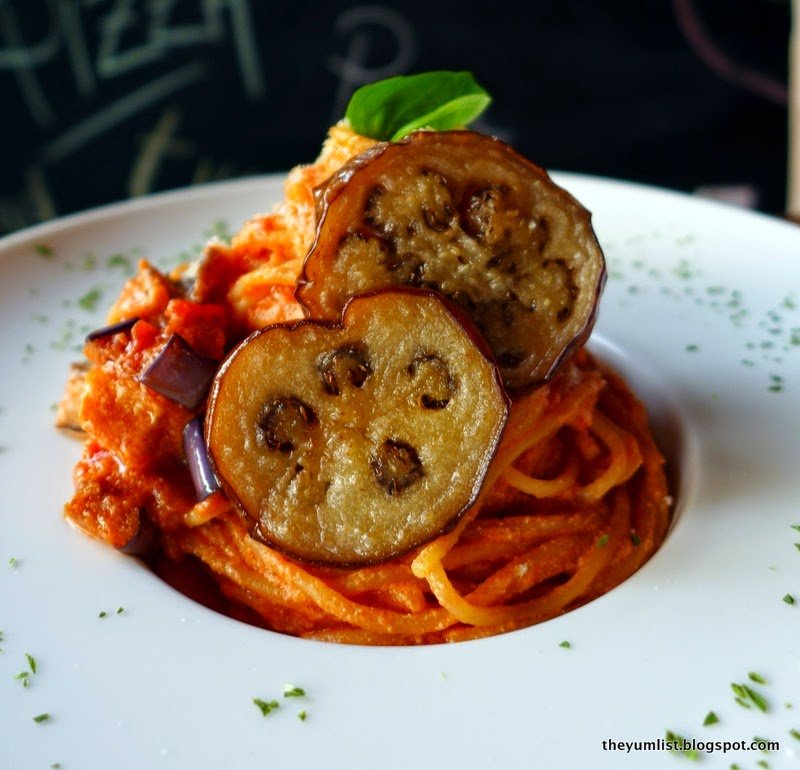 Eggplant Pasta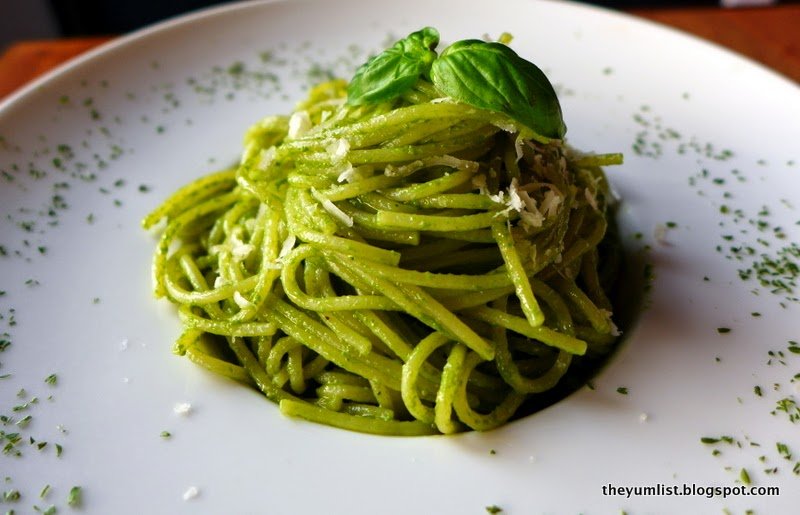 Pesto Pasta
Chef Lorenzo, hailing from Rome, has a reputation for making pretty girls fall in love with him after just one bite of his authentic capital style pizza. We know he's already ensnared a wife with his enchanting skill, so are fully aware of his charms and enter the tasting of the Spicy Diavola Pizza with caution. Not too thick, but not too thin, the pizza dough made with mineral water and all its simple ingredients, delivered a chewy, moist and stretchy flavorsome chew.  The tomato pizza sauce exuded just the right amount of acidity and sweetness that reached the roof of our mouths, and the spicy Spanish chorizo added pepperiness to the bite. We couldn't resist, and we finished the entire Italian pie clean. As The Yum List and I agreed, this could be one of the best pizzas in KL! Delicioso!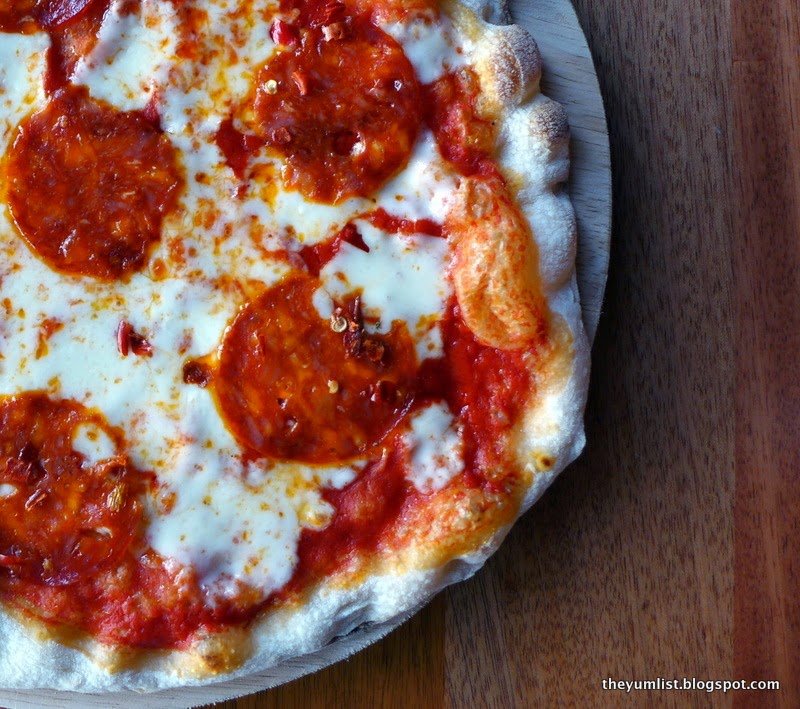 Spicy Diavola Pizza – could be one of the best in KL!
Even though we thought it impossible to ingest anything more into our bodies, we couldn't finish a proper review without tasting a few of the signature desserts – the name of the café is Tiramisu after all!
The Baileys, Classico and Strawberry tiramisus were the selected samples and with good reason. Each creamy tiramisu layer was delicately balanced with the robustness of espresso and the sweetness of cocoa powder. There's a variety for everyone. If you're looking for a bit of Irish oomph, then the Baileys is ideal. The Classico serves traditionalists well, and the Strawberry is sure to please those with a fondness for berries and cream.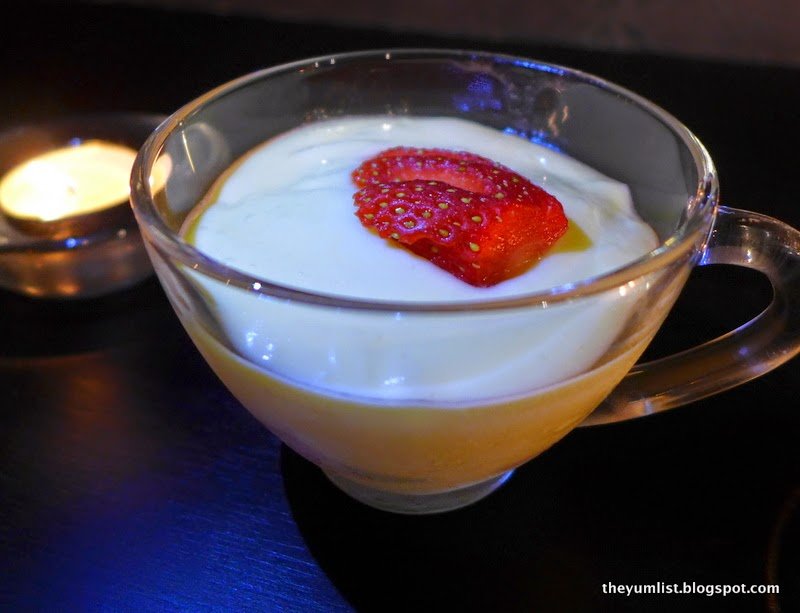 Strawberry Tiramisu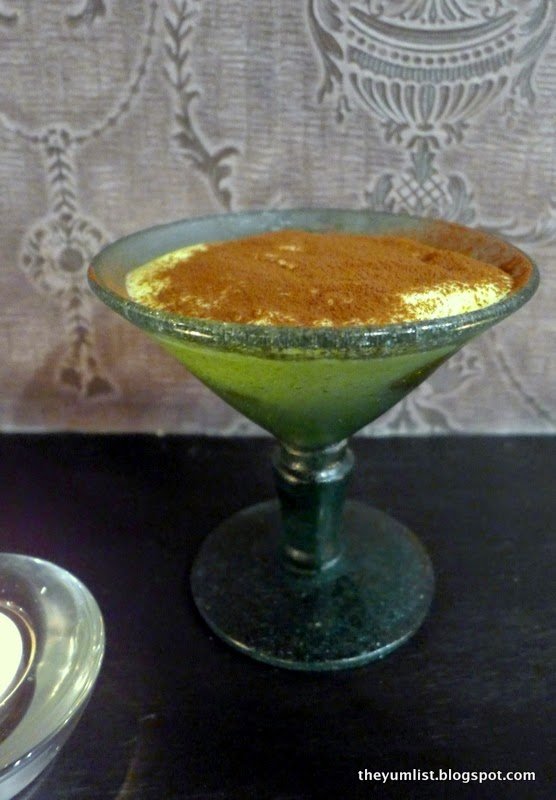 Bailey's Tiramisu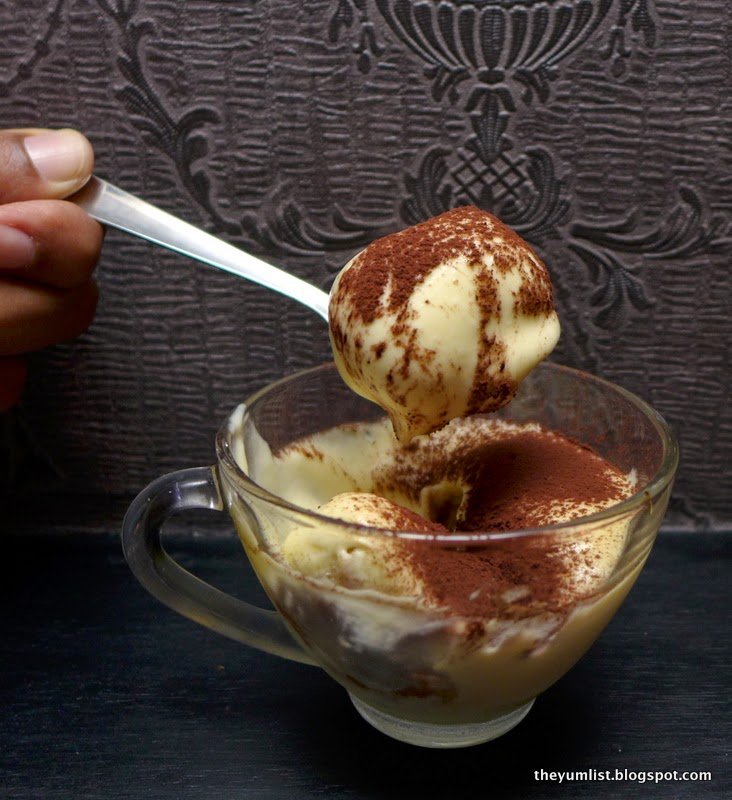 Classic Tiramisu
With three Italians running the outlet, coffee has to make an appearance. Starting with a textbook espresso, and moving along to some dreamily sweet concoctions, there's too here something for every caffeine enthusiast. You can sip on a Frappe, indulge in a Nutella laden number, or really whoop it up with a Viennese Coffee turreted with whipped cream and an opulent stream of thick rich chocolate. As Domenico shared with us his passion for all things sweet and caffeine injected, we couldn't help but be enamored by his love and commitment for the business and his part in it.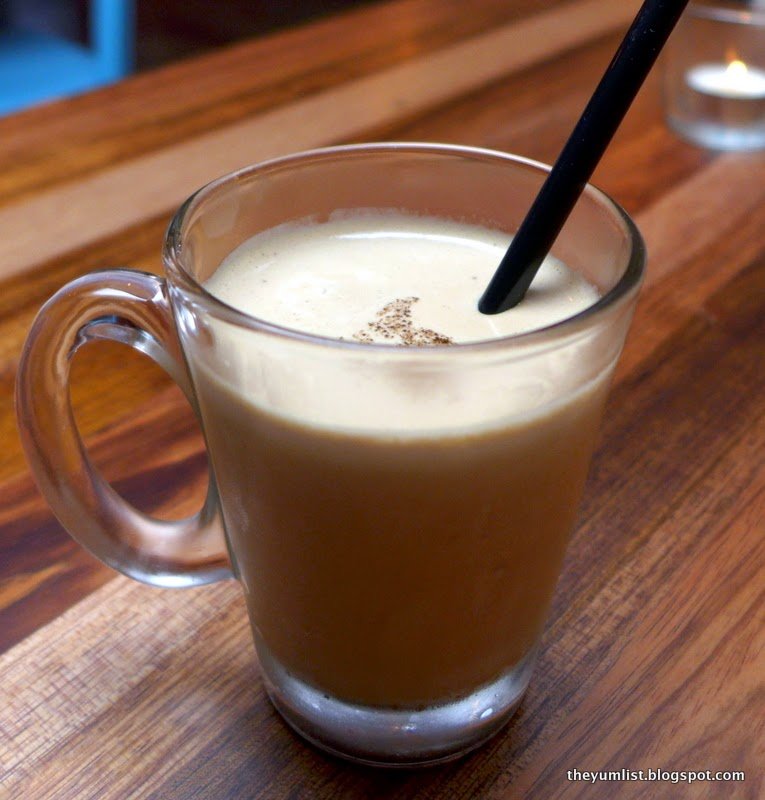 Frappe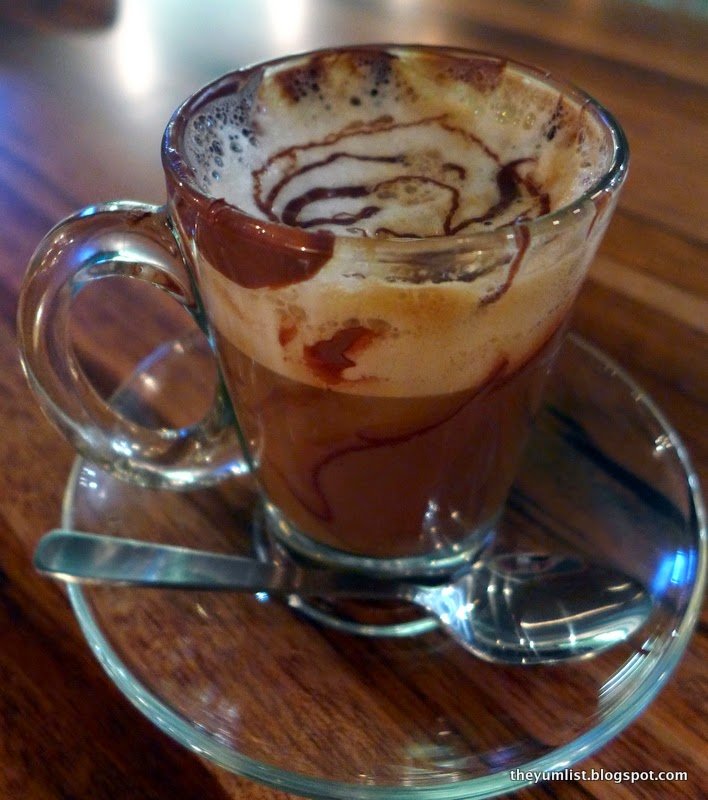 Nutella Coffee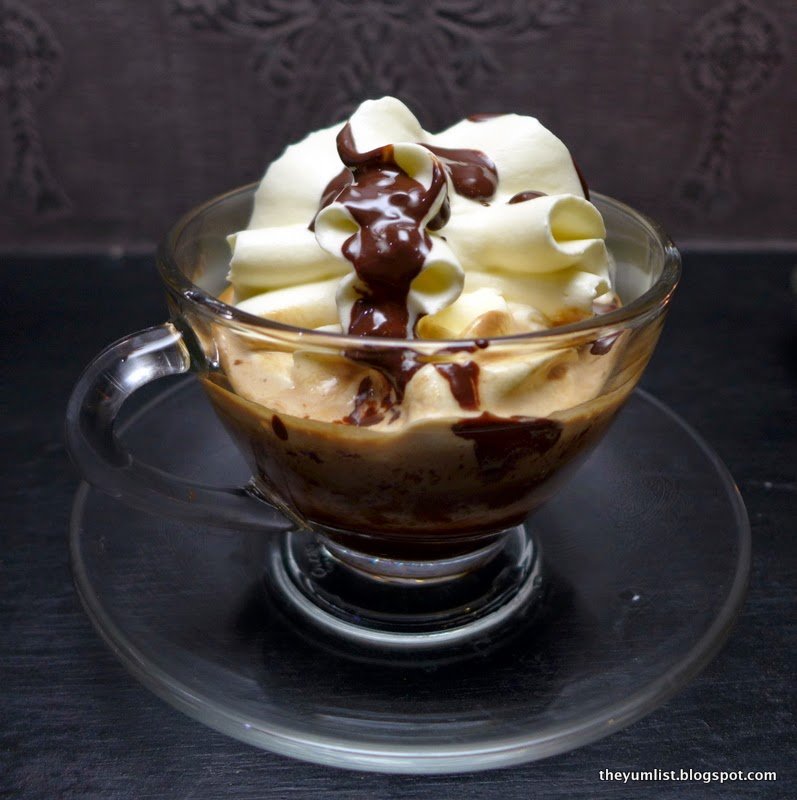 Cafe Vienna
Upon reflection, we're not sure what won us over more: the creative inventions of chef Anya combined with the down-to-earth authenticity of Domenico's and Lorenzo's recipes; or the dedication, passion and humbleness of the trio. Whatever it is Tiramisu Café has all the components to make every customer leave with a satisfied belly and an uplifted spirit.  Buon appetito!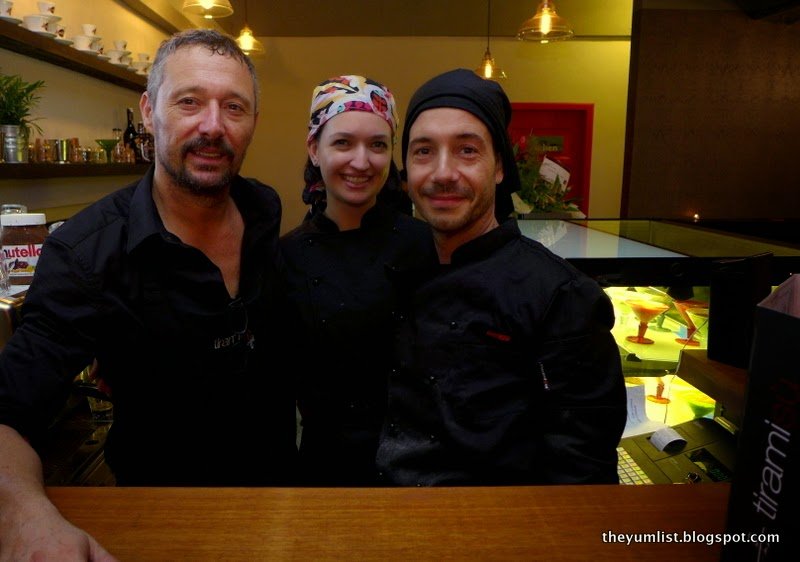 Domenico, Anya and Lorenzo
Reasons to visit: charming ambience filled with the love and passion of three Italians; don't miss a Roman style pizza – the Diavola is particularly awesome; creative small plates; refreshing Granita de Café.
Tiramisu Café
33 Jalan SS 21/1A
Damansara Utama
Petaling Jaya
Malaysia