The award winning Japanese restaurant, Nagisa at Hyatt Regency Kinabalu, is a venue valued not only for quality cuisine, but too for its suitability to entertain important guests and visitors.
Resembling a Japanese winter cottage, the restaurant is framed with dark wood panels, and lit with gentle warm lighting. The main dining area has an outlook over the sea, of which the hotel is an immediate neighbour. The large space is divided into smaller more intimate areas with the division of a tatami room, two private dining rooms, a sushi counter and two teppanyaki tables.
Private Dining Room
Nagisa Japanese Restaurant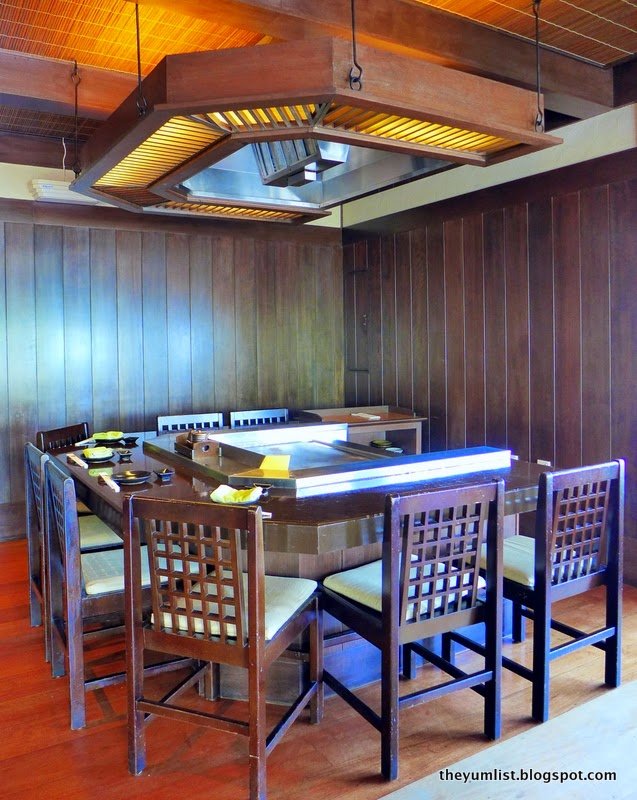 Teppanyaki Table
I meet some friends for a light lunch, which turns into quite a feast, as there are so many tempting items that grab our attention.
A house specialty, Unagi Sunomono – vinegared eel with seaweed, sliced cucumber and ginger shoot – whets our appetite for more, much more! Good thing the Miso Soup arrives and takes the edge off our hunger. It proves a good standard with the signature murky broth holding plenty of seaweed, cubes of white tofu and a speckling of green herbs.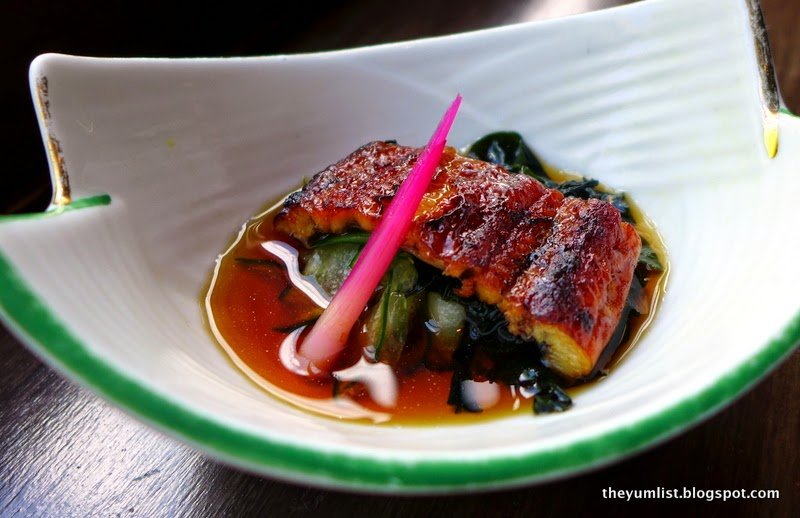 Unagi Appetizer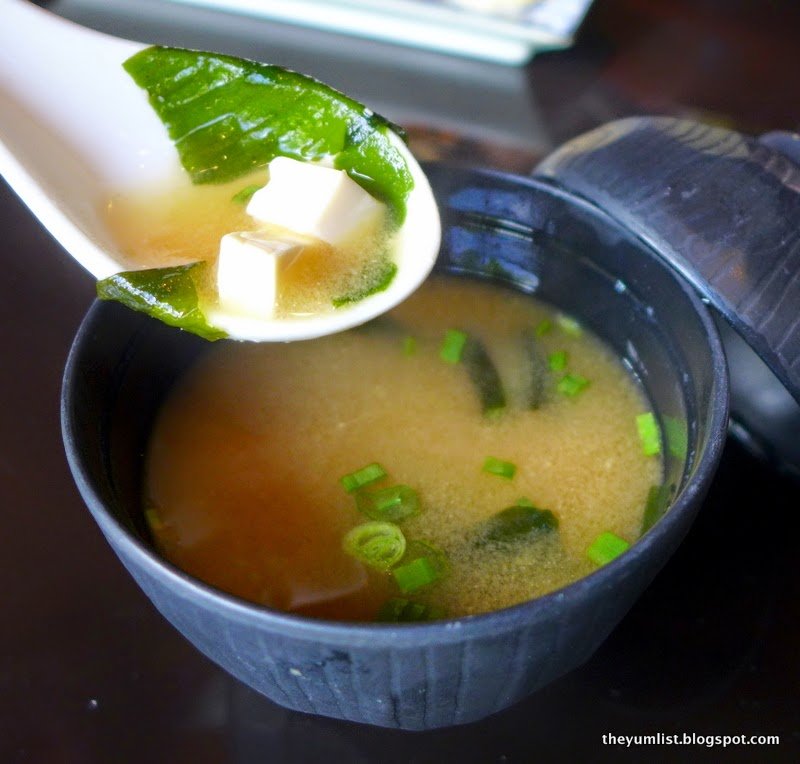 Miso Soup
An assortment of sushi is made a la minute and we have such a challenge choosing just a couple that we leave our selection in the hands of the manager, who picks three for us to sample.
The white rice exterior of the Soft Shell Crab Maki Roll is speckled with sesame, while the interior is a twirl of green chives, orange ebiko roe and fried brown crustacean. With the crab still hot, the bites are bundles of deliciousness.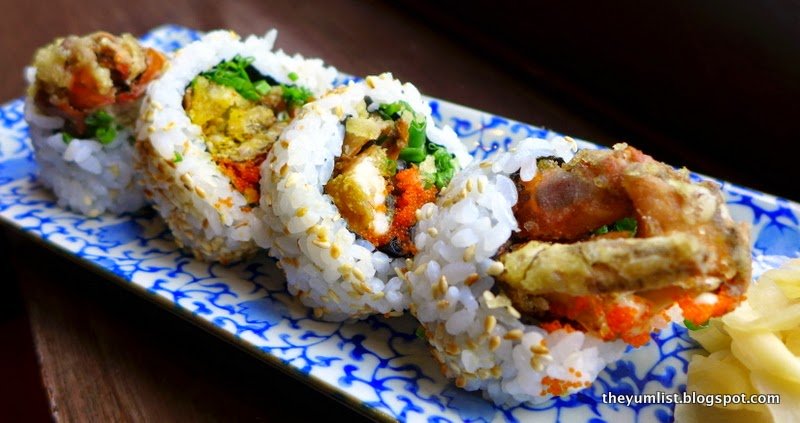 Soft Shell Crab Maki Roll
The most popular roll is the Unagi Maki. Topped and filled with avocado, ebiko and Japanese mayonnaise, it's a lovely combination of textures: creamy avocado, fresh bursts from the roe, slippery eel, crispy cucumber, and sweet Japanese omelet tamago.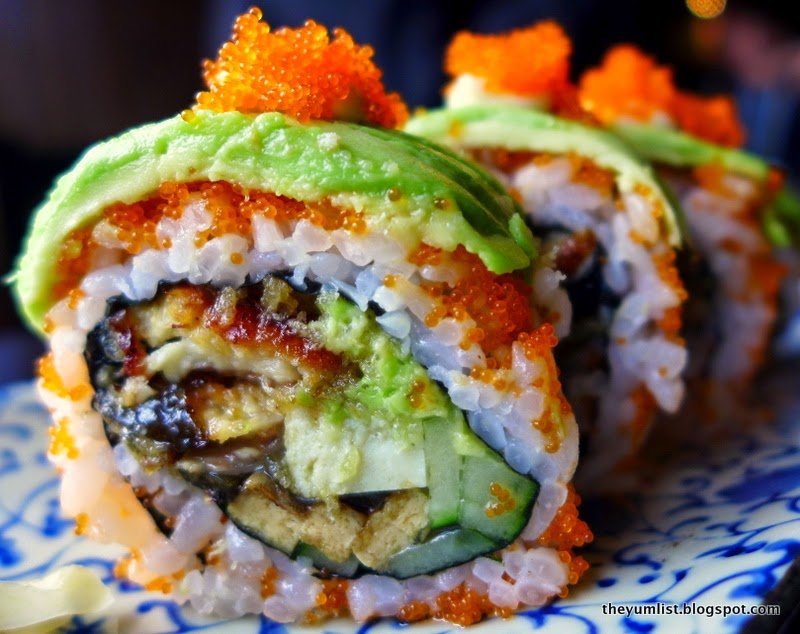 Unagi Maki
Last month's promotion was so successful it remains on the menu, Salmon Skin Maki. Rolled in dried grated seaweed and stuffed with cucumber, pickled veggies and roe, the warm filling contrasts its casing creating a very pleasant experience.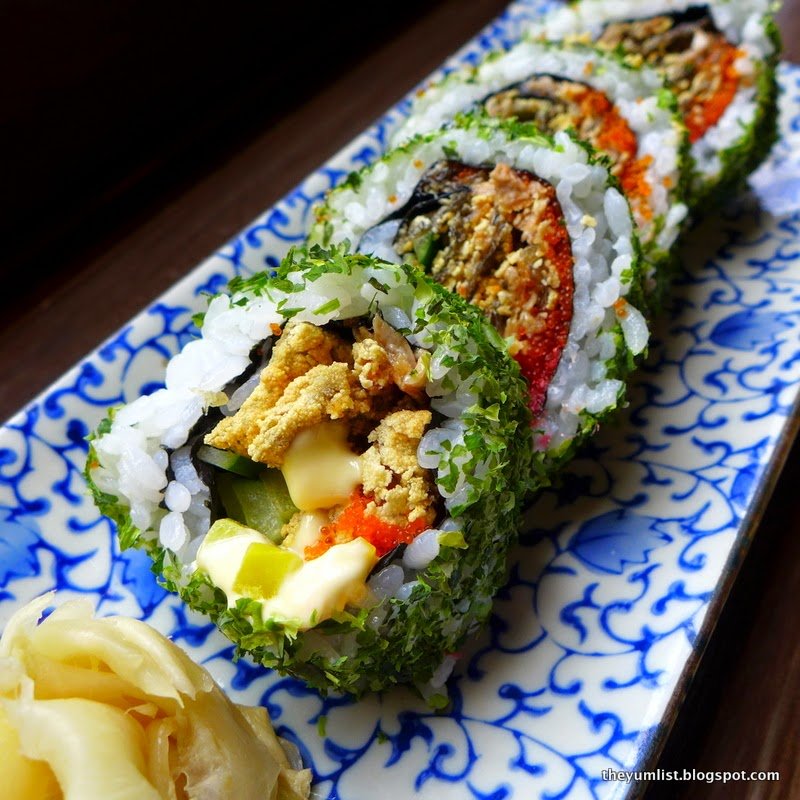 Salmon Skin Maki Rolls
Fresh from the local market comes Horse Mackerel Sashimi served on a bowl of ice with shredded daikon radish and oba leaf beneath, and grated ginger and spring onions on top. A second sashimi platter filled with salmon, Sabah red snapper, tuna, octopus and Sabah butterfish is layered atop shredded white radish and green leaves. It couldn't be fresher. Each and every slice melts in our mouths without even the suggestion of a chew. Truth be told, our appetites have been satisfied and we quite easily 'could have' ended our meal very happily here, but…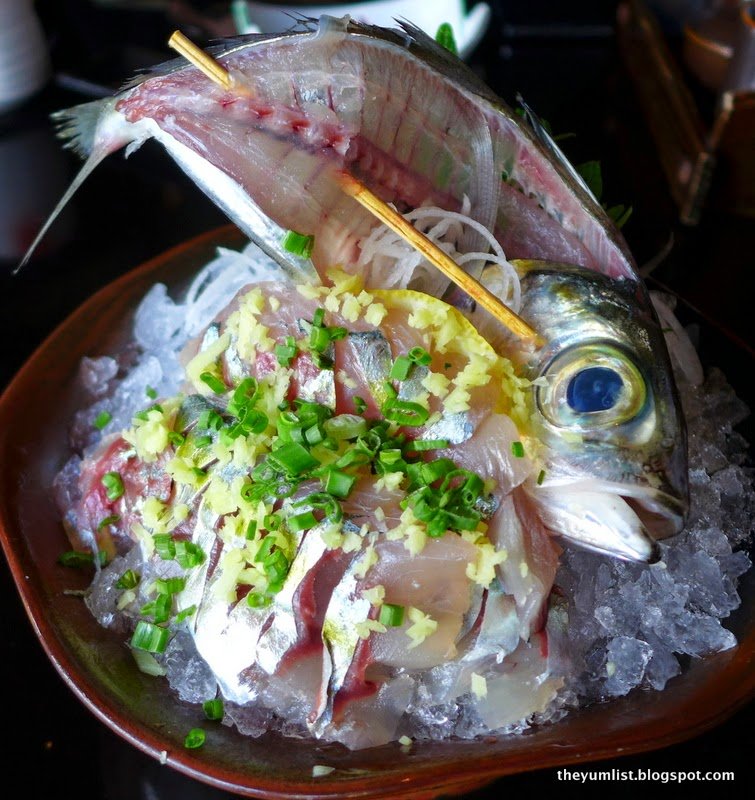 Horse Mackerel Sashimi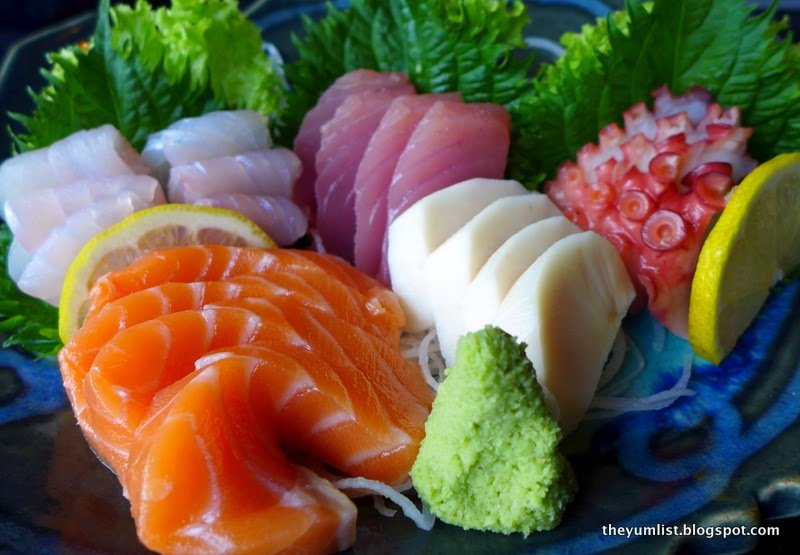 Sashimi Platter
More fish follows – this time a cooked dish in the Codfish in Teriyaki Sauce. The flesh proves flaky but firm and the sweet sauce complements it beautifully. Two more hot dishes are seen in this month's promotions, with Wagyu Beef and Cheesy Prawns. The former sees plump firm spears of asparagus wrapped in super thin strips of wagyu beef, and the latter enormous butterflied prawns smothered in Japanese mayonnaise and toasted until golden – most certainly not the healthy style of cuisine this nation is reputed for, but a smashingly enticing one at that.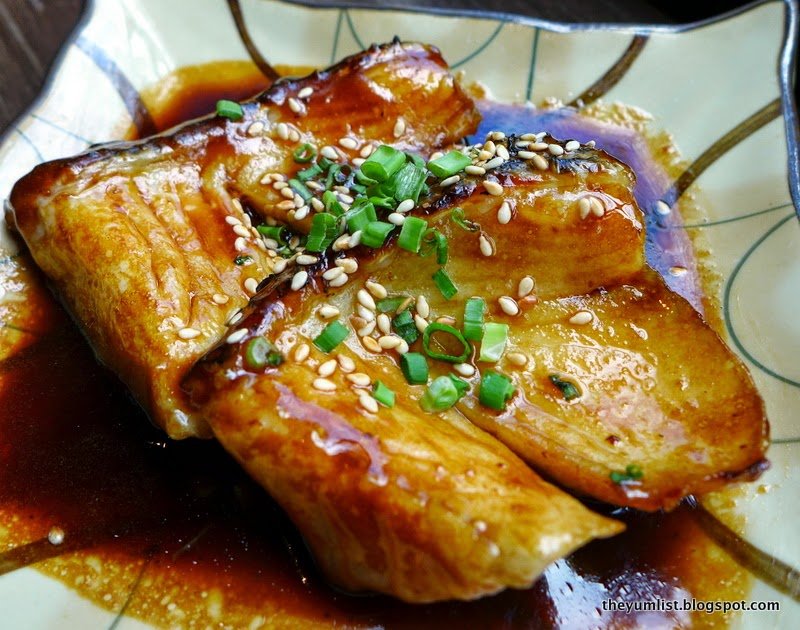 Codfish Teriyaki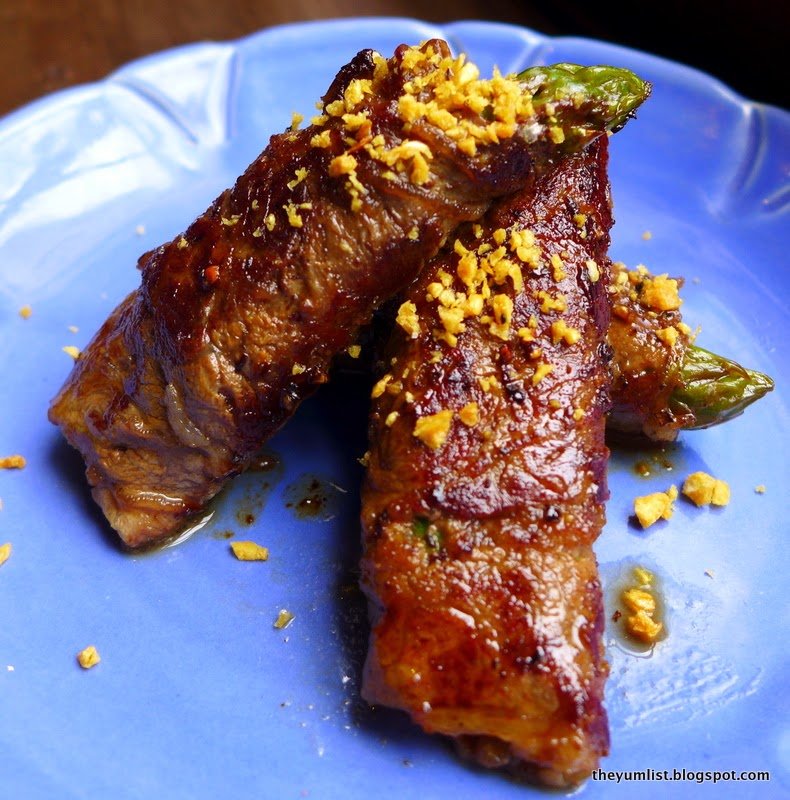 Wagyu Beef Wrapped Asparagus
Garlic Rice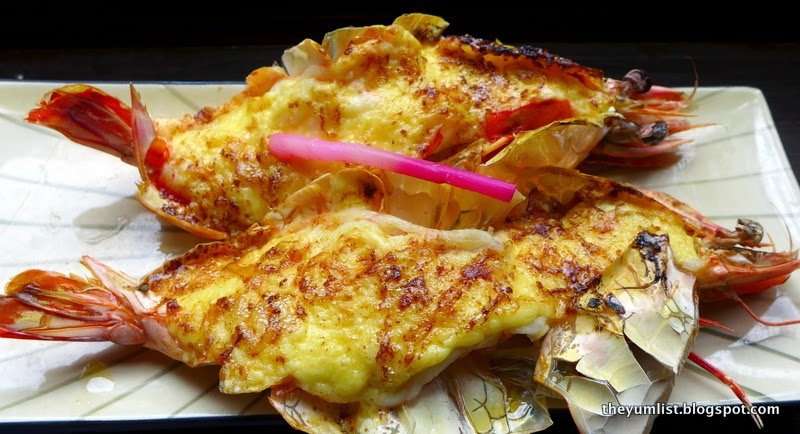 Cheesy Prawns
And… now that we're on a downward slope of throwing calories out the window and devoting prime concern to taste, a tower of slender Mixed Tempura is devoured. Prawns, fish, ladies fingers and carrot are coated in brittle golden jackets that crunch as we break them apart with our teeth.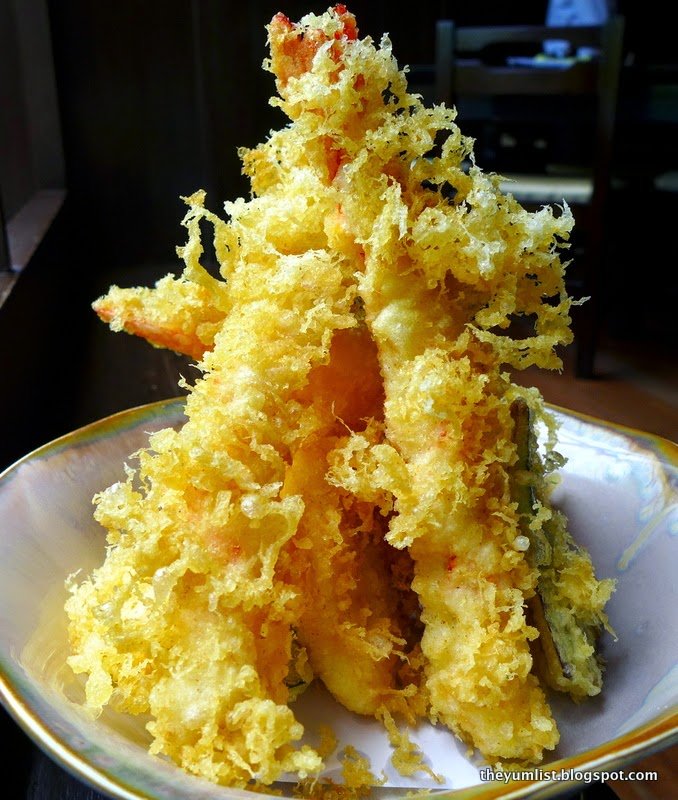 Mixed Tempura
Our only redemption at this moment is to end with a petite bowl of house made Green Tea Ice Cream with red bean paste. Tea and beans: surely that's vindication right?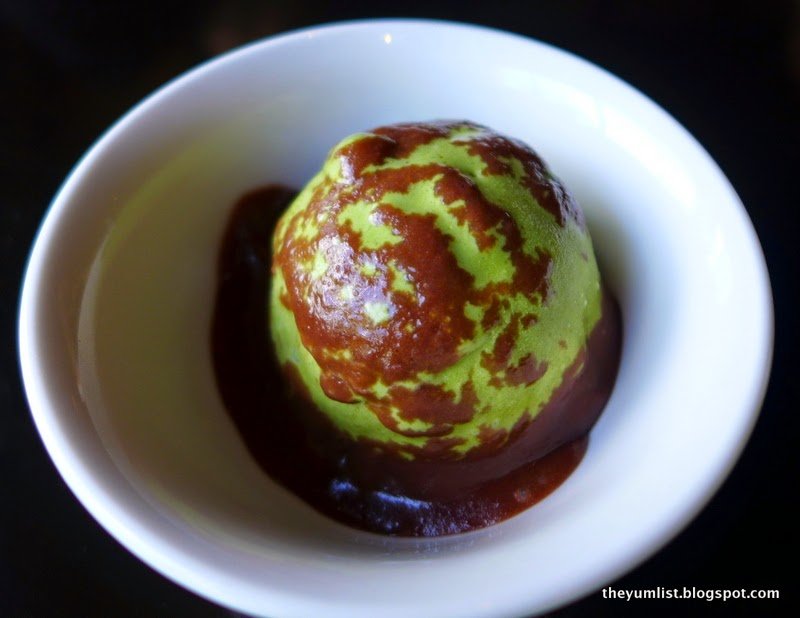 Green Tea Ice Cream and Red Bean Paste
Nagisa not only showcases a wonderful a la carte menu, but a popular monthly Saturday night buffet too. Hubby, envious of my girls' lunch out, insists on the buffet for dinner. At first I turn up my nose, wondering how could I possibly summons the appetite for a second round of Japanese fare…
It turns out, rather easily! A few hours later and a workout in between, I'm back and find some of my favourites from lunch in the line up, but some new temptations too.  A compact buffet satisfies a full house. Every table is booked when we return, so I suggest you make an advance reservation too.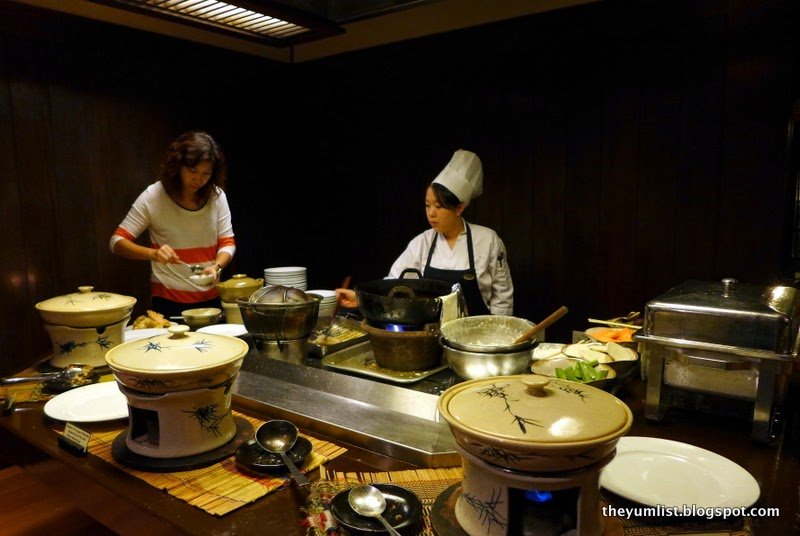 Tempura Station
Live cooking stations for tempura, teppanyaki and sushi see these dishes prepared to order. Noodles, rice, and a few other classics are ready for the taking, and a dessert table, including the Hyatt's homemade ice cream gets a final farewell from every diner as far as I can see.
The Saturday night buffet dinner is priced at RM138 per person. Advance reservations are highly recommended.
Reasons to visit: quality Japanese cuisine; fine setting for entertaining business guests; Saturday dinner buffet held every third Saturday of the month.
Nagisa JapaneseRestaurant
Hyatt Regency Kinabalu
Jalan Datuk Salleh Sulong
88991 Kota Kinabalu
Sabah, Malaysia
+60 88 22 1234
kinabalu.regency.hyatt.com
Open daily:
Lunch: 11:30am – 2:30pm
Dinner: 6:30pm – 10:00pm
Dress: smart casual
Buffet dinner is served every third Saturday of the month.