Kirsten Durward and Monica Tindall
Currently one of the hottest places to dine in the city, the newly relaunched Aka Chochin Izakaya, combines quality Japanese cuisine with contemporary flair. Recently appointed, Executive Chef Miguel Huelamo Estrada – a culinary globetrotter – vamps up the menu with passion and devotion to teasing his guests by making "the unfamiliar familiar." After a sneak peek into the overhaul at an
opening party
earlier this month, we've been itching to get back in for the full experience.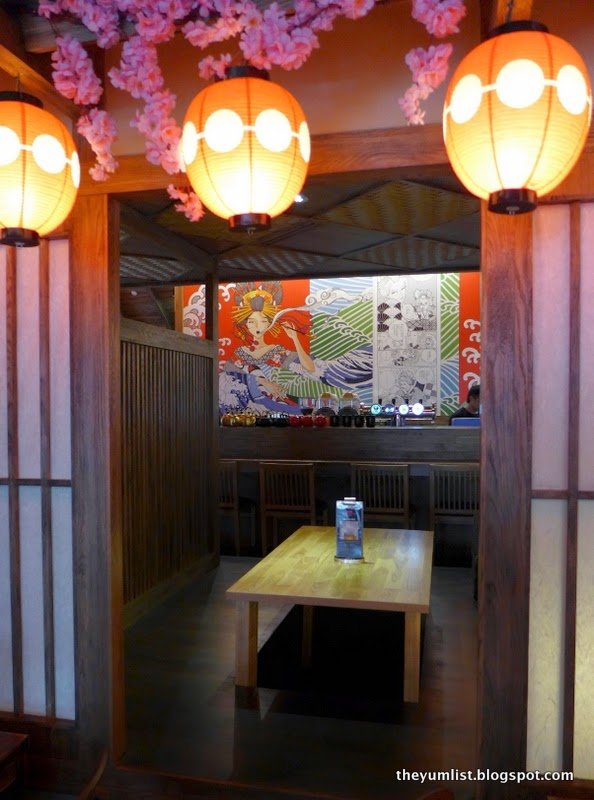 Favourite Table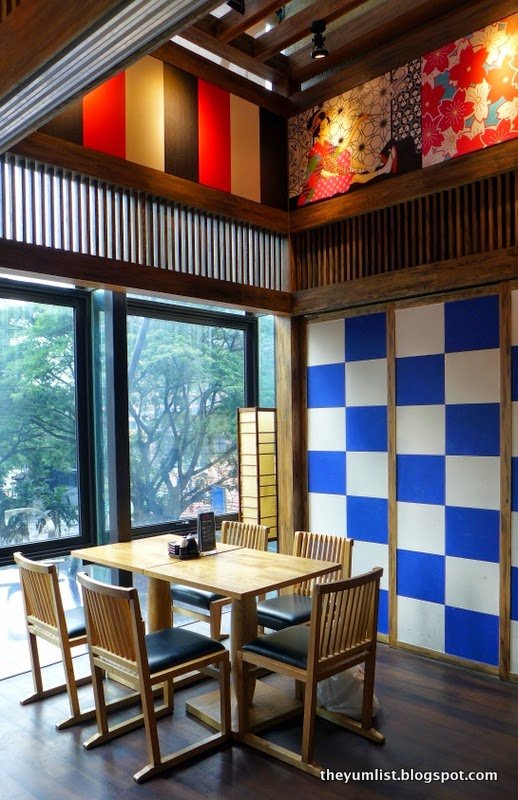 A Nice Sunny Spot
Our foodie playmate Kirsten has been delayed with car trouble and we're not sure she'll make it, so we begin, not wanting to lose the natural light for our photographs.
A trio of refreshing beverages make flawless tipples: Green Tea Mojito (RM25.60) shaken with green tea, mint leaves and white rum; a pretty Watermelon Shochu Tini (RM25.60), a simple recipe of Godai shochu shaken with fresh watermelon juice; and a pint of Iceberg Beer (Happy Hour RM20.05 noon to 8pm) made from Carlsberg put through the slushy maker – genius!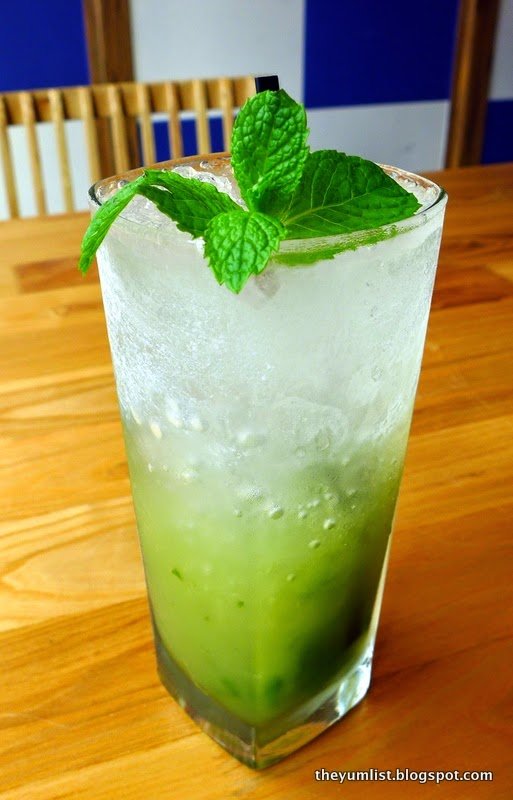 Green Tea Mojito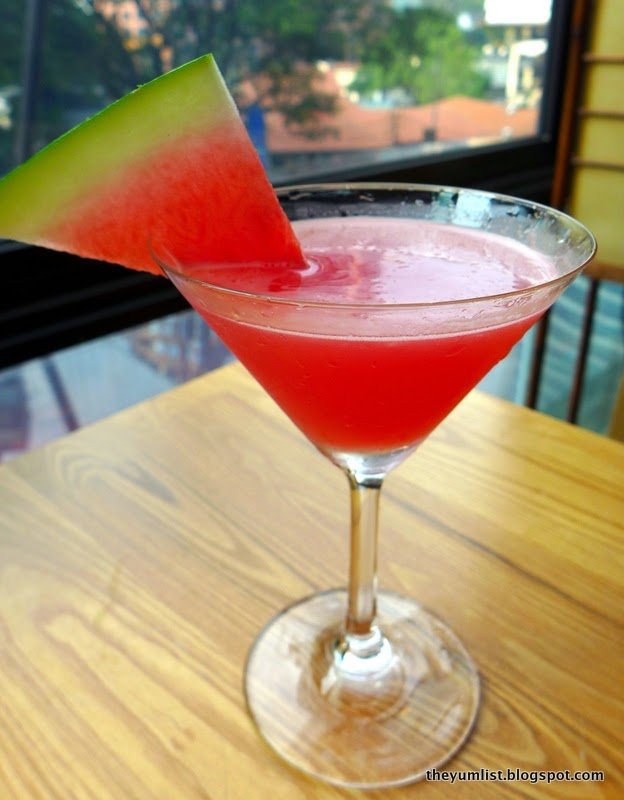 Watermelon Shochu Tini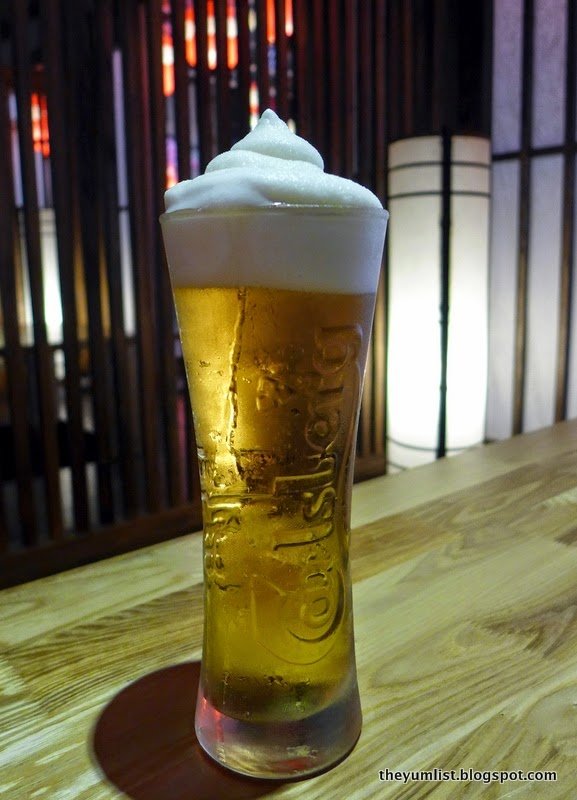 Iceberg Beer
Edamame are fitting companions for our drinks and there's a variety from which to choose: the original lightly salted; pan-fried with sweet chili and garlic sauce; or, our favourite, grilled with lime and soy (RM13.85).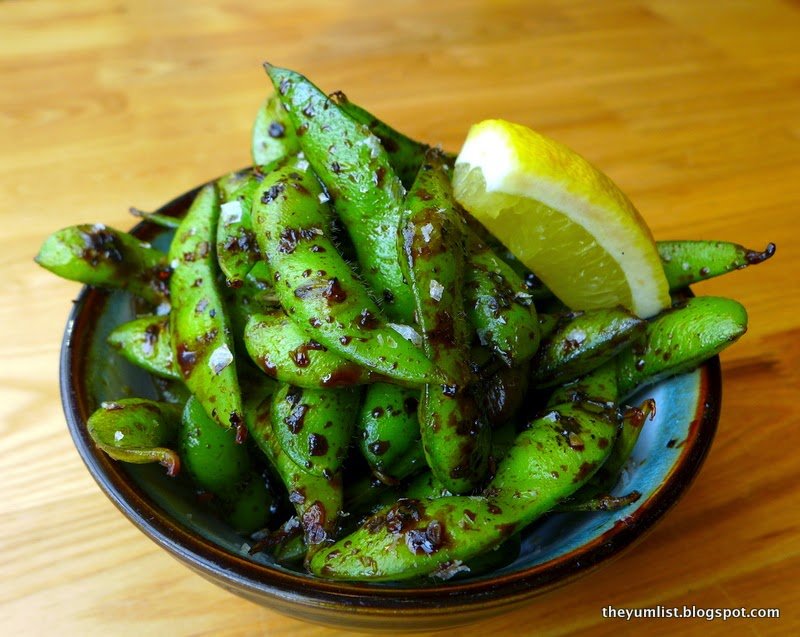 Edamame Grilled with Lime and Soy
Further fine fodder, partnering well with a chilled beer or cocktail, is seen in the Fried Cauliflower (RM12.80). Chef describes them as just like Kentucky Fried Chicken except much better. The veg is tossed in a tempura batter, briefly deep-fried and seasoned with gochujang, sweet lime and sesame seeds. Hubby raves over these until the very last one is finally demolished.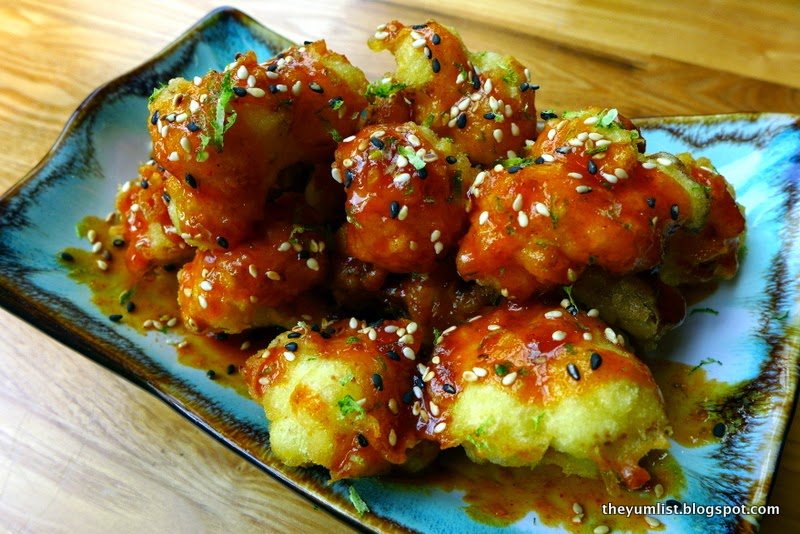 Fried Cauliflower
A duo of salads make a healthful entrance, and we'd be hard pressed to pick a front runner, as both are equally alluring. Seaweed Salad (RM19.20) features: roasted pumpkin; pumpkin seeds; red radish; cherry tomatoes; a trio of red, white and green seaweeds; pickled cucumber; and a delicious wafu dressing.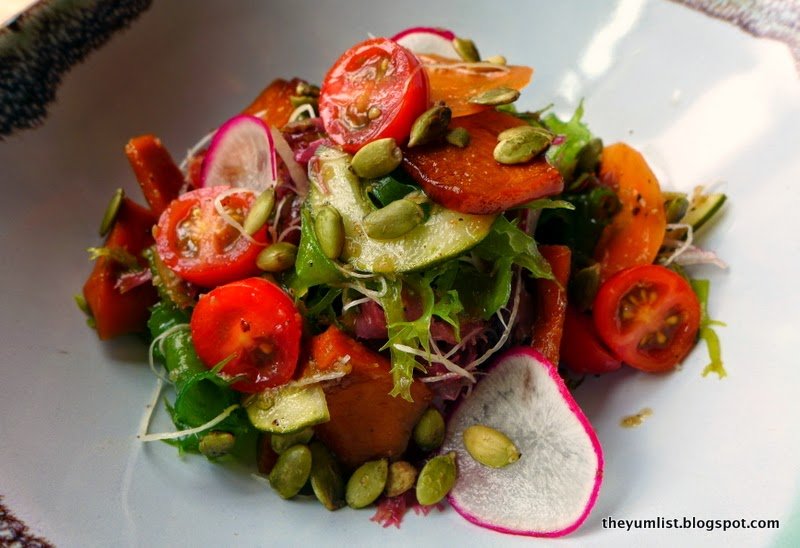 Seaweed Salad
Aka Salada (RM19.20) is a tower of red and green lettuce, cherry tomatoes, shredded beet, daikon and fried tofu drizzled in a honey-miso dressing. The crunchy fried tofu prisms could possibly convert any adamant health-resister into a soy-loving fiend. Coated in a layer of potato starch and quickly deep fried, the crisp product is then bespeckled with a mix of seven spices, including a spot of chili and the citrusy habit-forming flavour from the yuzu skin. I could see these joyfully plucked from a bowl on their own as a tasty beer snack.
Aka Salada
Chef Miguel buzzes in and out as dishes are delivered, his lips vibrating at the speed of a machine gun, firing off the names of every single ingredient in every single dish alongside a story to go with every single plate. He proudly declares everything is made from scratch, and envelopes us with his ardour and high-spirited enthusiasm for food and flavour. We're on a rollercoaster ride of culinary thrill and we don't want to get off.
Two exquisite platters arrive next, and we're hoping that Kirsten will arrive soon, as we know she'll adore both. Salmon Tataki (RM35.20) drapes slices of rosy pink flesh languidly down the length of a plate, dribbled with shiso ponzu, black sesame seeds, yuzu pickled daikon, fresh chili and coriander.
Chef's special Prawn and Black Cod Gyoza (RM24.50), hand wrapped and pan-fried, are petite packages bursting with flavour. Stuffed with luxury and topped with ebiko, the ponzu dip toothsome but unnecessary in these mouth-filling parcels.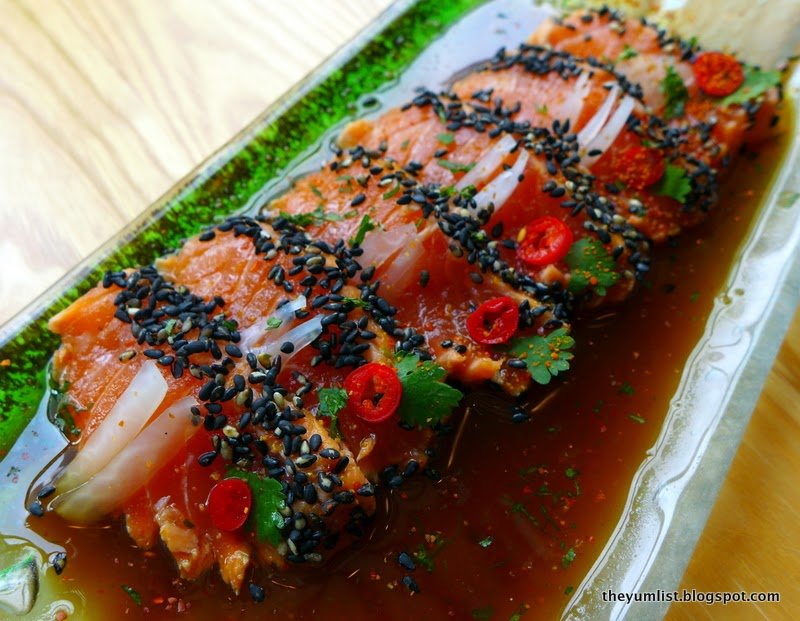 Salmon Tataki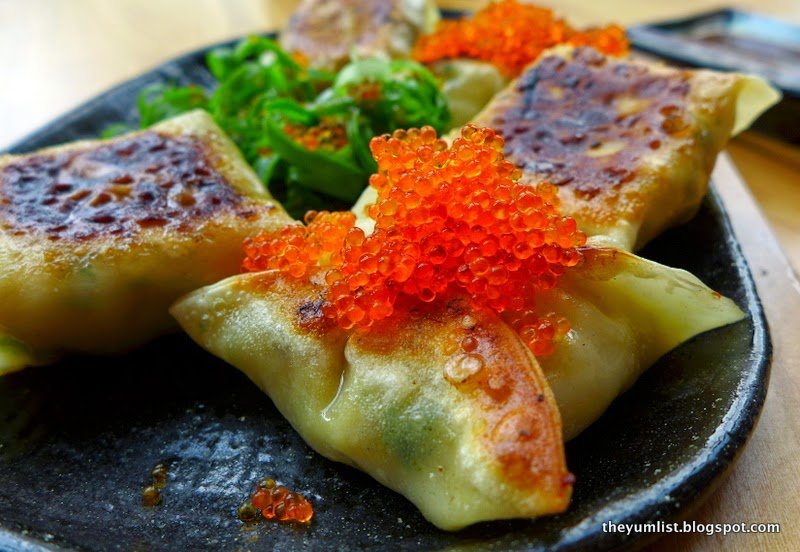 Prawn and Black Cod Gyoza
Just as we smell the yakitori skewers en route to our table, our gal Kirsten arrives.
I was delayed a little by car trouble and actually thought I wouldn't make it. Luckily, Monica and Caning had barely nibbled on some delectable appetisers before I slid in next to them. From the fast platters of food arriving, it seems just as well I was able to make it in the end and that there are four of us munching.  It seems like a never ending array of delights. Does Chef Miguel want us to try everything on the menu? For sure I am going to have to walk home after this Japanese smorgasbord.
I'm gazing in awe at two distinct platters of Yakitori Skewers. Usually these come in sets of two, thankfully we are just tasting one of each, although I note that we've been plied with extra Asparagus and Shitake mushrooms, which should please the Yum Lady.  Each design has a different artistic element to it, a varied shape, and the serving sizes could surely be described as voluptuous.
Yakitori Skewers
I'm more than hungry so I'm eager to get the chopsticks going. First to slide off are moist beef cubes with green pepper dripping with sauce that is more sweet than spicy and a good hint of soy in there too. We love the fresh flakes of herb that are sprinkled on the steak with miso butter. This is meltingly delectable and I have to go back for another piece, battling Caning's chopsticks successfully.
On the chicken side, the spicy chicken drummers have tantalisingly crispy skin that bursts and crunches in the mouth, and a sticky sweet coating, while the wings have flakes of salt giving a great boost of flavour to the smooth meat that falls easily from the bone. I love the rich firm flavour of the thigh with leek, and the crunch texture of the leek gives this meaty offering a welcome touch of freshness. Last but not least, a delicate lemon teriyaki breast melts with a soft mellow citrus sense.
On the vegetable side, I cannot wait to sink into the rack of Asparagus. Laced with wafu and scattered with sesame, it is just as well there are plenty of these as we are all eager to snaffle a few. Superb. The Shitake Mushrooms are just as good, also drizzled with wafu and oodles of garlic butter. A couple of these and really who needs meat? Sweet Potato Teriyaki is cooked in its skin, large rondavels of meltingly soft flesh are scattered with sesame. These are dense and delicious and something I might even try to figure out at home.
Vegetable Yakitori
Yakitori range from RM12.80 to RM24.50 depending on the ingredients of the skewer. There are plenty to choose from and it would be so easy to get carried away when ordering. They don't take long to cook though so I'd say be reticent and then order more.
Aka Chochin Izakaya offers a wonderful range of fresh Sashimi, Nigiri and Sushi. As we are oohing over our platters and deciding which to grab onto first, irrepressible Miguel is showing us his new ideas for lunch menu, sharing platters and sets. All look very colourful and exciting, and are sure to capture the imagination of  those who get overwhelmed by choices.
Our sashimi platter is beautifully laid out, the fat thick slices of fish surrounded by snippets of fragrant Japanese greenery and I am ogling the mini boat of fat Tobiko glistening there. The fish is impeccably fresh and clean, although I love wasabi, these slices are so good they need nothing else. We work our way through tastes of Salmon, Tuna, Red Bream, Sea Bass and Yellow Tail. I particularly love the stronger slightly smoky flavour of the Yellow Tail. A generous portion of fresh Sashimi ranges from RM25.60 to 27.20, but there are also some exciting platters to choose from if you are looking for diversity, such as the one we devoured, Sashimi Moriawase (RM93.80).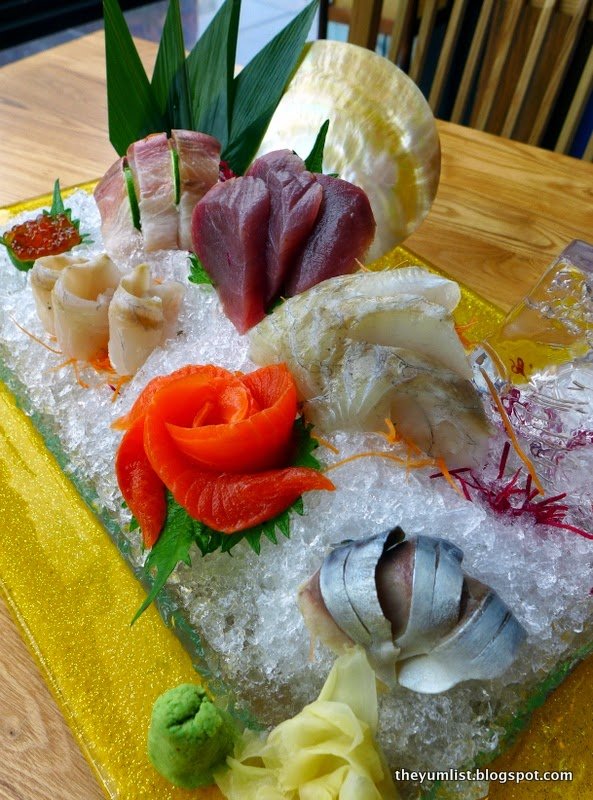 Sashimi Moriawase
The sushi menu features everything from Hosomaki – the very tiny fish and vegetable rolls in eight pieces through Urumaki (inside outside rolls) to Futomaki Jumbo rolls ,which are five enormous mouthfuls of delight. Hosomaki starts around RM25.60 for 8 pieces, while Uramaka, and Futomaki range from RM28.80 up to RM35.60 for 5 and 6 pieces respectively.

Mixed Sushi
Even though the Hosomaki are tiny, they carry quite distinct flavours. We taste the soft Salmon with Avocado and the Spicy Tuna. I particularly love the slithers of sweet red pepper in the Tuna. Our Uramaki is one of my perennial favourites, Crispy Ebi (prawn). The tempura is light and the asparagus and spicy mayonnaise are a sublime combination. Meanwhile the Futomaki are so enormous I fear whether they will go in my mouth politely. The Black Spider is particularly impressive with tendrils of soft-shell crab tempura spiralling up out of tobiko mayonnaise, chives, avocado and cucumber. Wow. Unagi Boom is just as packed full of flavours as grilled eel tangles with asparagus tempura, jalapeño cream cheese and sansho pepper. Now we are really seeing some international influences in the sushi come together. Densely packed with proteins, Salmon Takana is our final mouthful; fat pearls of tobiko atop slices of seared salmon adorn this delightful combination of fresh salmon and crab blended with takana tartar sauce – fabulous and I have to say, rather filling!
We thought we might be done, but dishes are still arriving, each one a visual work of art in its own right. Every dish presented on a different natural texture, stone, glass, wood, all shapes and natural colours, as well as subtle use of Japanese edible topiary. It makes for an eye catching table with a very relaxed feel.
A very, very rare Black Angus Rib Eye Yakinaku Steak (RM83.15)is surrounded by teeny touches of perfection: slender garlic, chips, truffle wafu sauce and fresh sea salt. The meat is slender and full of buttery flavour. So much so that Caning waxes lyrical, dipping his chopsticks back and back again. He thinks this is his favourite dish, until a moment later…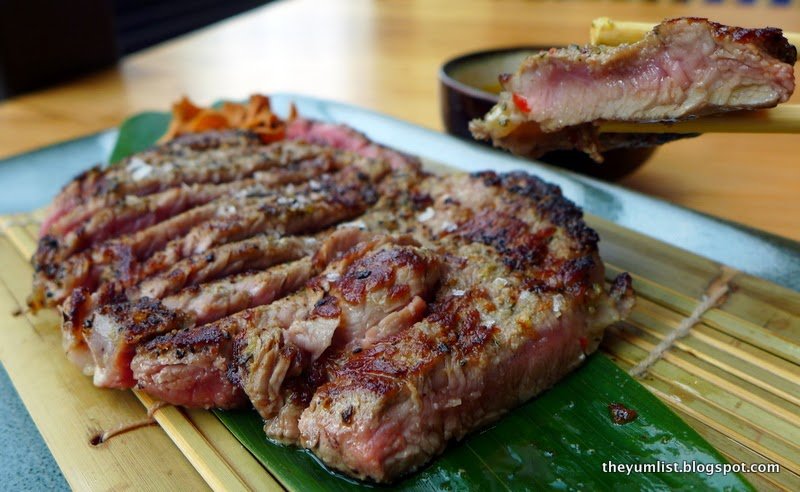 Black Angus Rib Eye Yakinaku Steak
Chargrilled King Crab (RM 93.80), certainly a premium dish, prepared for the lazy crab eater, arrives. All the hard work is done for you; simply prod the sweet flesh out and let it linger a moment in the buttery, almost bearnaise like sauce. Lime butter and shichimi, to be exact, are the wonderful flavours tingling here. Caning is so so happy, as usually eating crab is such a fight to get the flesh out. He grins as he grabs the final piece, pronouncing it 'orgasmic.'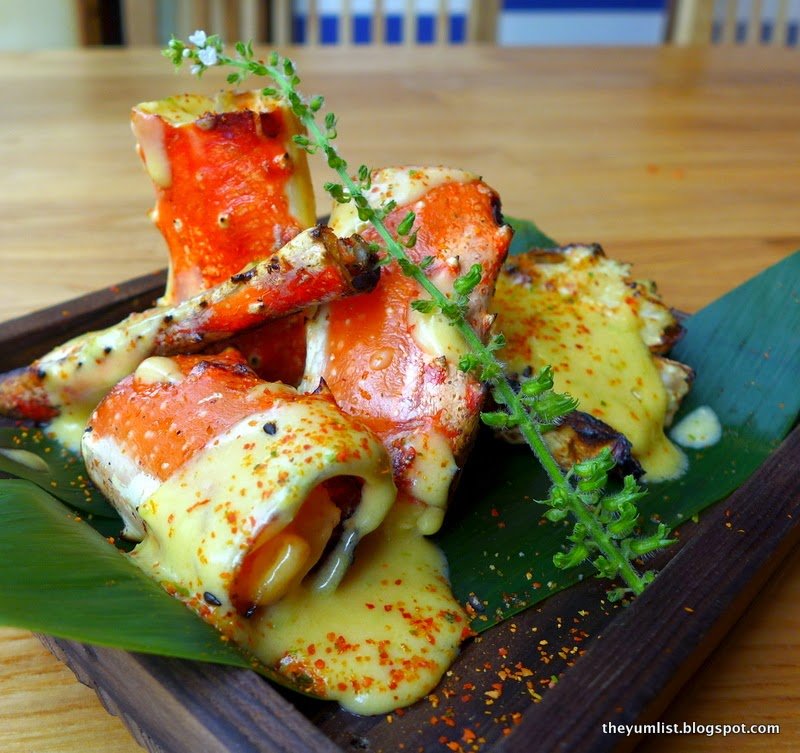 Chargrilled King Crab
Monica and I meanwhile are in love with the sail like Black Cod (RM56.65), which has been miso marinated before being baked in banana leaf and ginger shoot. Served with lemon wasabi miso dip, we ladies agree this is perfection. With a fabulous caramelisation glistening all over, we break in and fat buttery flakes of cod slide off, oozing into the sticky sauce. Moist large slithers of fish have absorbed light flavours from the banana leaf and ginger shoot and we absolutely adore this dish.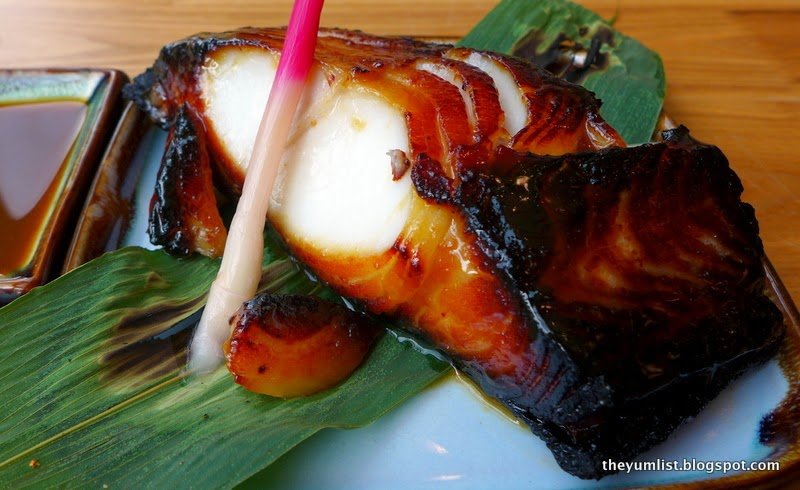 Black Cod
Japan is not known for desserts that please the European palate, however with a Spanish internationally experienced Exec Chef, the world of food appears literally to be your oyster. So instead of ubiquitous green tea ice cream we are spoiled with something quite decadent. A soft tower of Chocolate Banana Sponge (RM16.00) is crowned with a circlet of thinly sliced fresh banana and floats in a veritable lake of thick toffee sauce, scattered with salty crunchy peanuts. I wish I wasn't so full as I'd like just another spoonful. The dense, intense toffee is insane and the salty peanuts just lift the dish from being overly sweet. A great Yum to finish on!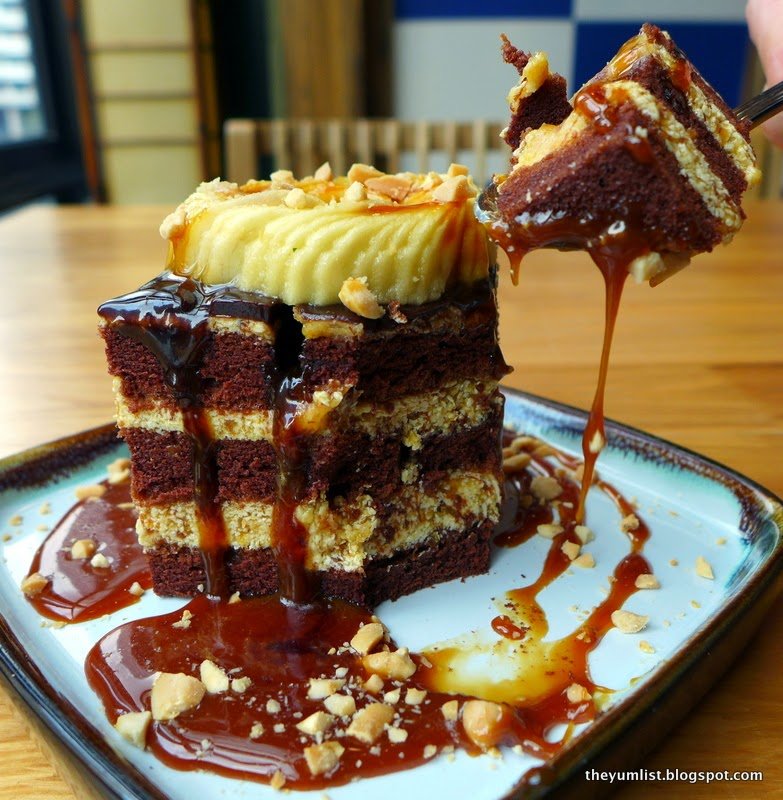 Chocolate Banana Sponge
As usual with Chef Miguel, we've been highly entertained as well as plied with incredible food. I say to Monica, that Aka Chochin Izakaya is a wonderful addition to the Pavillion suite of restaurants, and I mean it. It's something new and fresh in the world of contemporary Japanese, something worth trying, something, surely for everyone.
Reasons to visit: Lively fun atmosphere; fresh, fresh food; a creative and delicious twist on contemporary Japanese cuisine; classic high quality sushi and sashimi made to order.
Aka Chochin Izakaya
Lot C3, Level Three, Pavilion
Kuala Lumpur
Malaysia
+6 (0)3 2110 6118