With the support of the celebrated design team from Japan, Tofu Inc., Hyatt Regency Kinabalu's latest revamp sees their all day dining outlet, Tanjung Ria Kitchen, in tip-top condition creating a stylish and comfortable location to enjoy both western and local cuisine.
Honouring regional materials the design is contemporary but splashed with design inspired by local artisans. Mosaics piece together to make huge batik flowers as splash backs on the open kitchen walls. Rolls of patterned fabric texture walls surrounding dining tables, as do jigsaws of the offcuts of wood on another. And yet more feature walls are found stacked from top to bottom with rows of spice jars. Nearing the windows the South China Sea takes care of decoration with its aquamarine waters dotted with jungle covered island outcrops.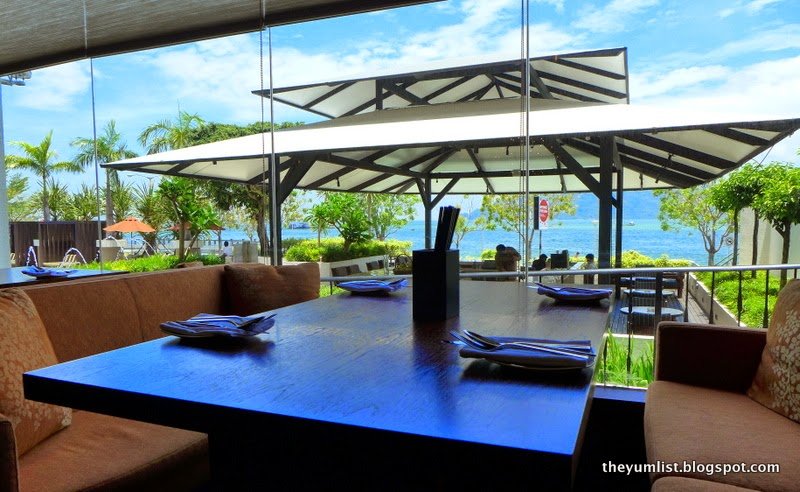 Favourite Table for Breakfast with a View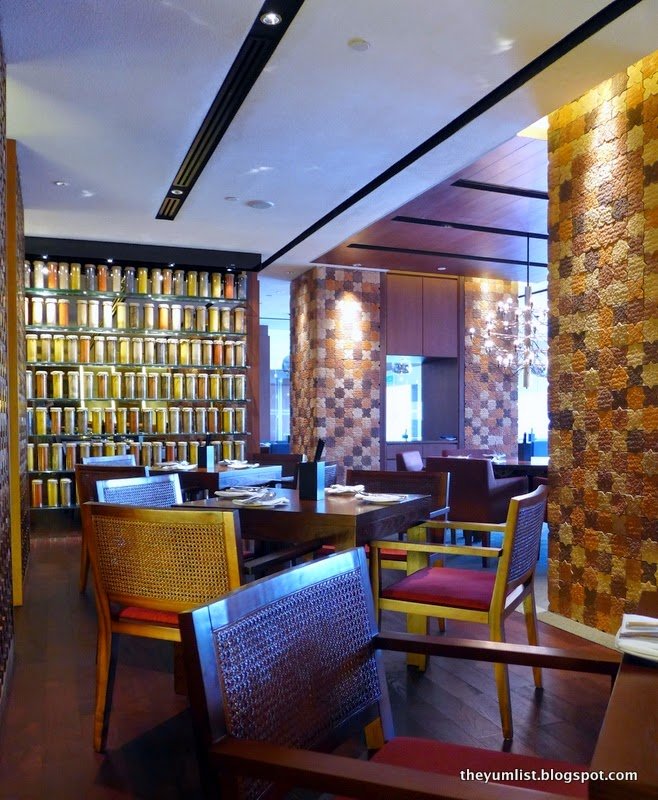 Dining Area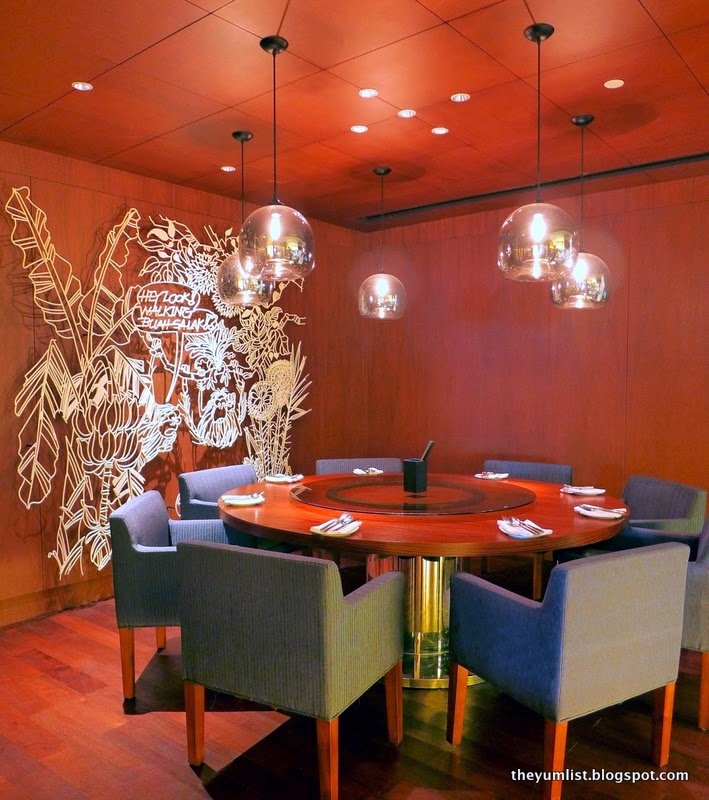 Large Dining Table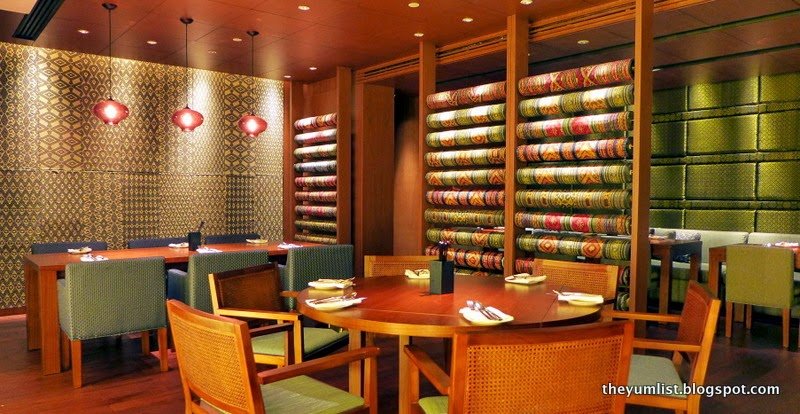 Tanjung Ria Kitchen, Hyatt Regency Kinabalu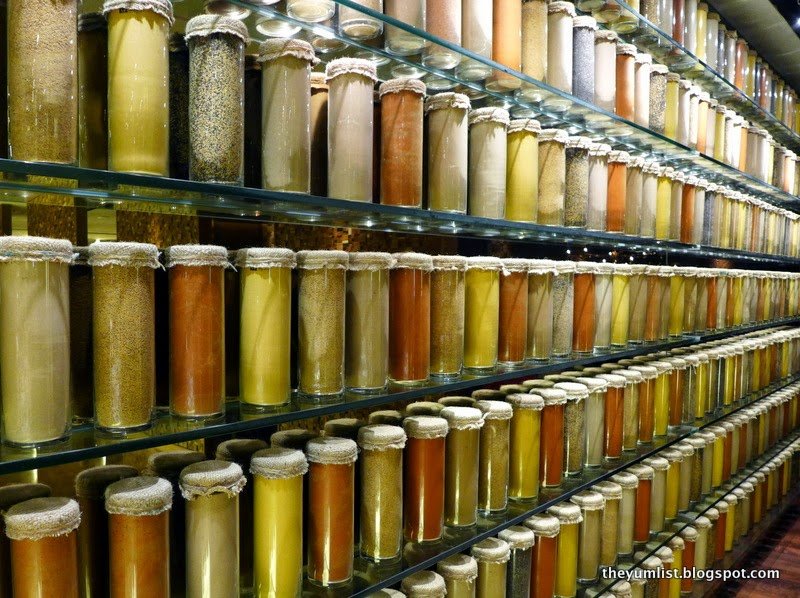 Spice Wall
While the trimmings are captivating, the chefs manning the cooking stations are smiley and energetic, playing equal rivals for the attention of diners. Tanjung Ria Kitchen is the hub of the hotel with its open kitchens fostering interaction with chefs and customization of meals to suite each guest's preferences. Halal certified, with multiple cooking stations whipping up both local and international recipes, the restaurant caters to a wide range of palates and has a certain buzz to it that is rather appealing.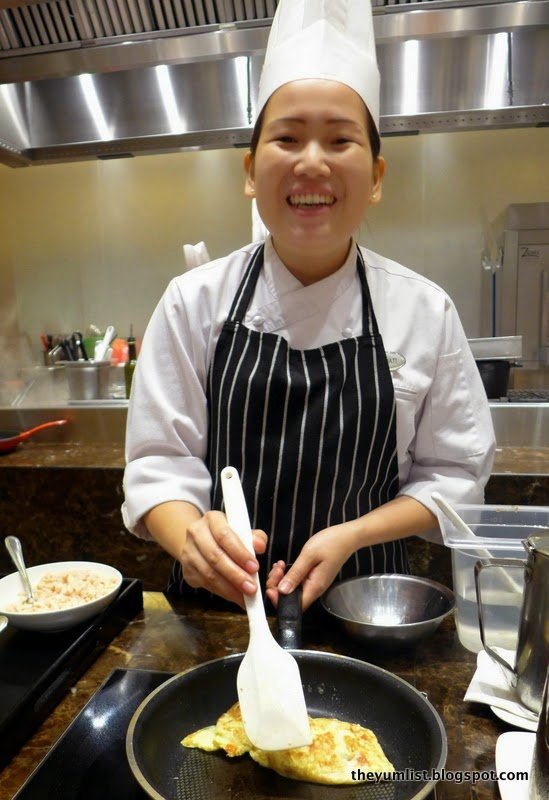 Smiley Egg Chef
Breakfast, lunch and dinner buffets are served here, and a la carte is also available. Breakfast abounds in all the usual suspects of eggs, cooked western breakfast and Asian delights. Fresh fruit, cereals and yoghurts offer a nutritious start, but a comprehensive selection of house-baked goodies provides strong competition for piling on plates too. Hubby's favs are the salad bar, beef sausages and eggs made to order. I find the root and local veggie barbecue a treat and something I haven't come across at any other hotel buffet to date. Purple sweet potato, tapioca, yam and cardaba bananas are scorched on the grill, offering a fine change to the common morning line up. Juices are squeezed upon request, as are hot beverages prepared to order.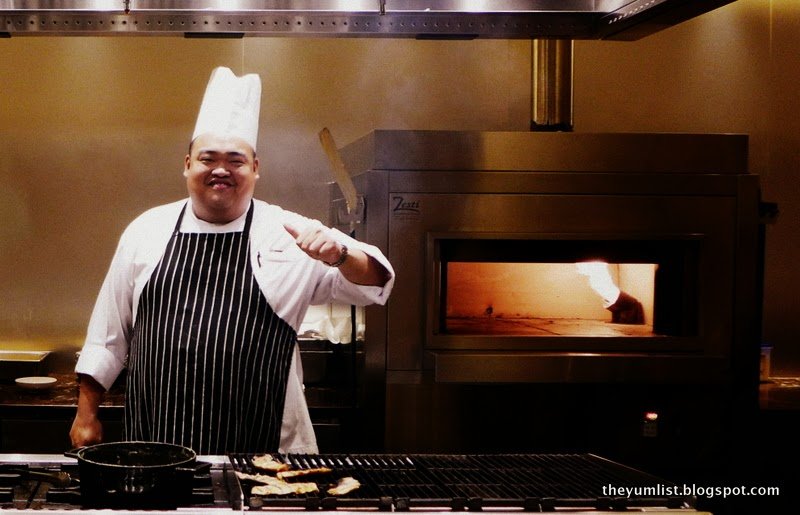 Another Smiley Chef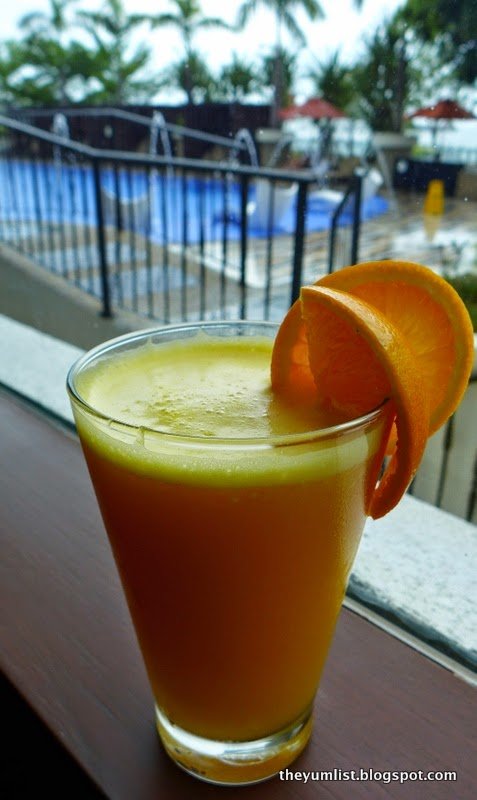 Freshly Squeezed Orange Juice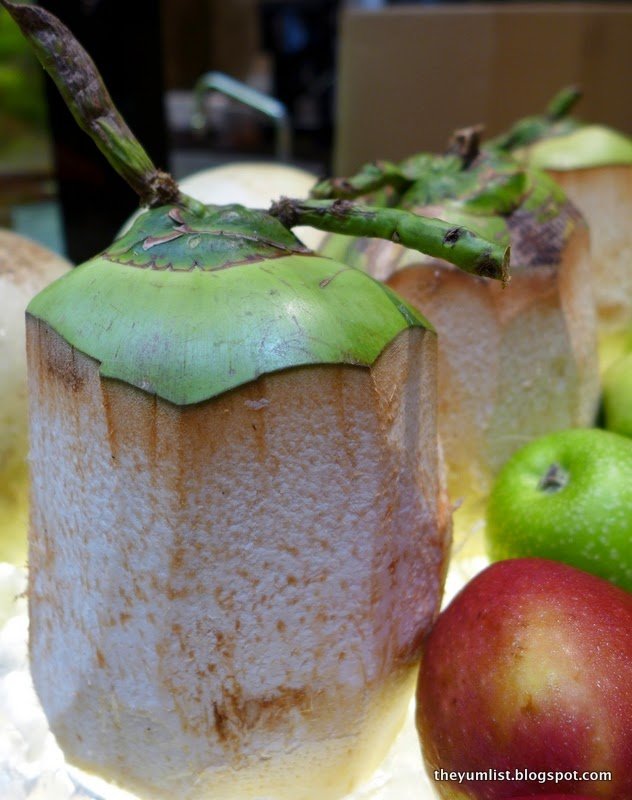 Fresh Coconut
Lunch and dinner both provide a taste across an array of international cuisines. The incredibly fresh salad bar is a great place to begin. Bowls of vibrant garden vegetables and leaves await diners to construct their own recipe, or ask a chef to mix you up a Cesar Salad customized to personal preference.
From here move down the line to the cheese and cold cuts display where both are sliced, again to order. A machine, resembling a red Ferrari, (and costing nearly as much as a car too!), provides adornment as well as function. And… to go with your cheese and cured meats, there's a collection
of breads resembling a patchwork quilt with their variety and display.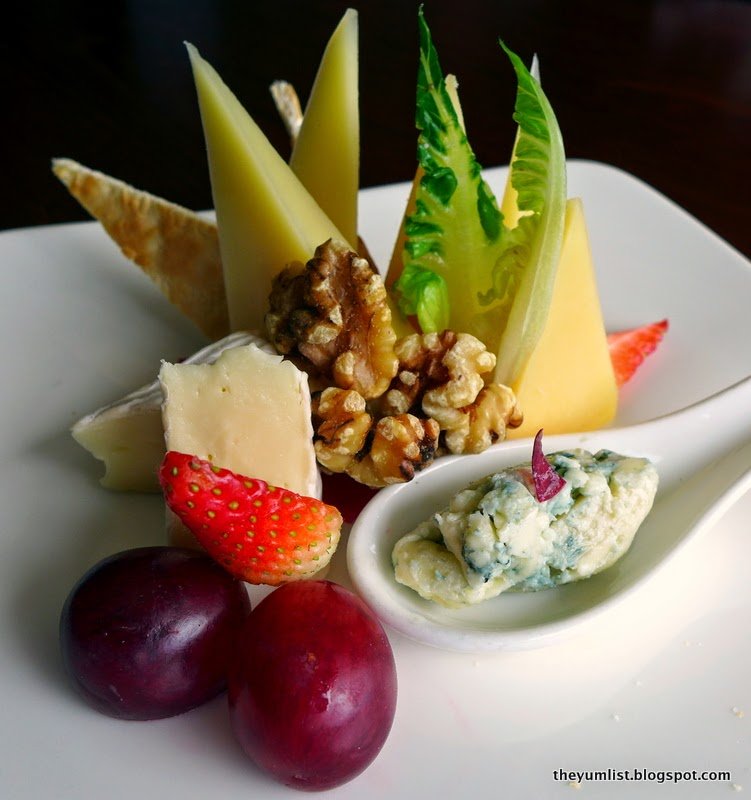 Cheese Platter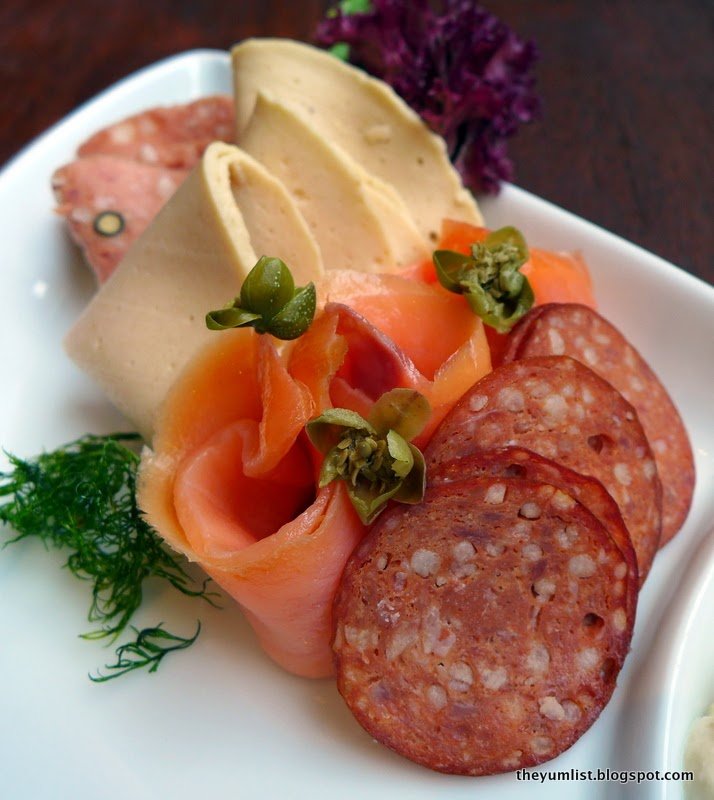 Cold Cuts
Although I'd be quite happy with bread, cheese and a glass of red, we suggest you move next to the mains before all tummy space is filled. Our absolute 'must eats' are the Oxtail Assam Padas, Biryani and Tandoori, and Ikan Bakar.
Oxtail Assam Padas is coated in a sauce of dried chili, tamarind and local spices. Braised for four to five hours it flakes off the bone with minimum prodding and we can see why it has gained a reputation amongst locals and return guests as a clear favourite. In fact chef tells us he makes 80kg every two days and it all sells out! Sour and saucy with a mild warmth from the chili, it's so luscious and addictive that we can't resist picking it up and sucking the bones.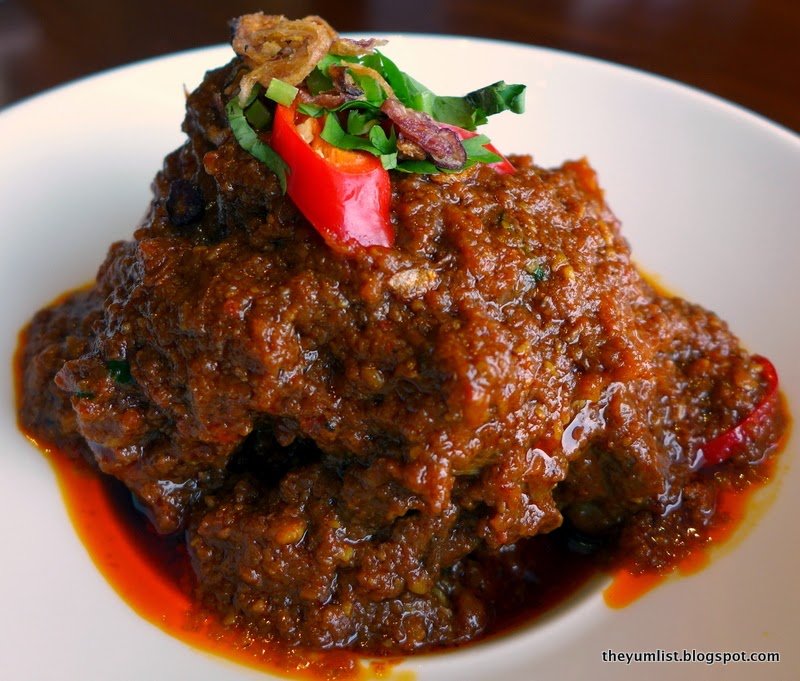 Oxtail Assam Pedas – A MUST Order
Ikan Bakar made with local mackerel puts up some mighty competition for our affections as most endeared dish. A wonderful rub coats the white fish fillet, but add a spoonful of the tamarind dressing and we're closer to heaven for sure.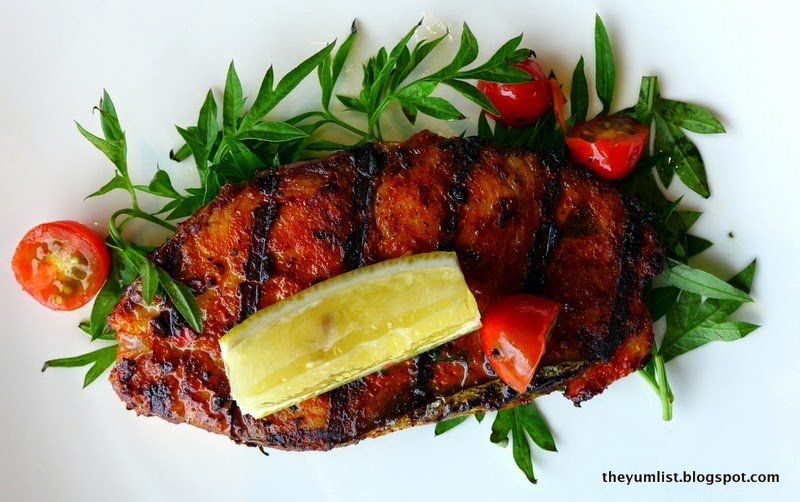 Ikan Bakar
Garlic and Cheese Naans are perfect for sopping up some of the chunky dahls and robust curries found in the Indian section. Hubby is taken by the cheese naan and I have to give him 'the look' to ensure he at least leaves me a bite for tasting. Also from this counter we find long grains of rice elegantly spiced in the Biryani. Tender and flavourful pieces of Chicken and Salmon Tandoori too should be sampled while here. Dab some mint and raita yoghurt sauces atop and eat with the rice and you have yourself one very delicious mouthful.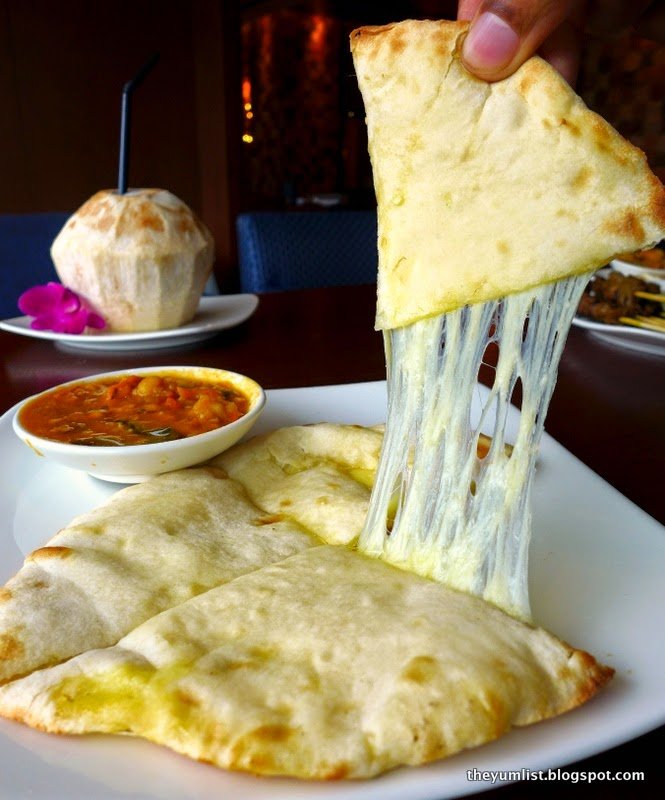 Cheese Naan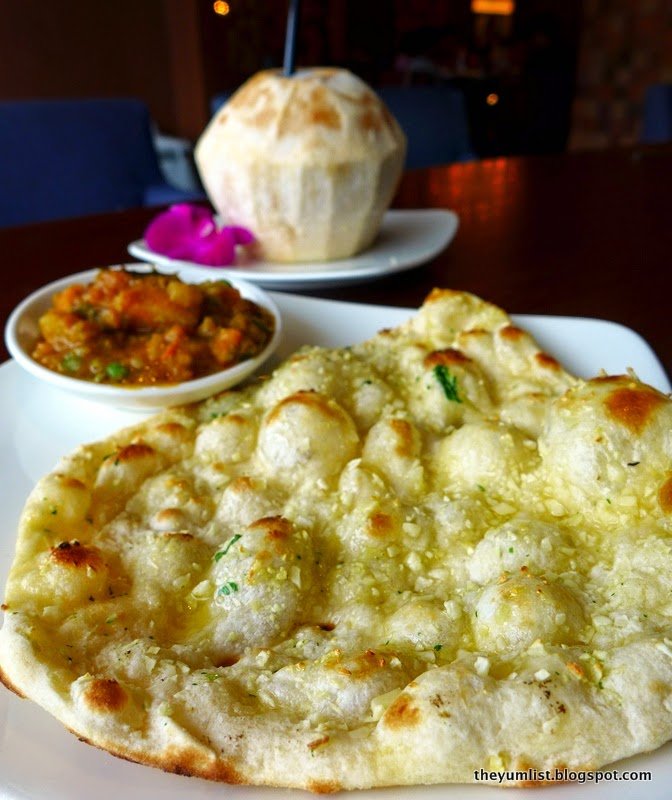 Garlic Naan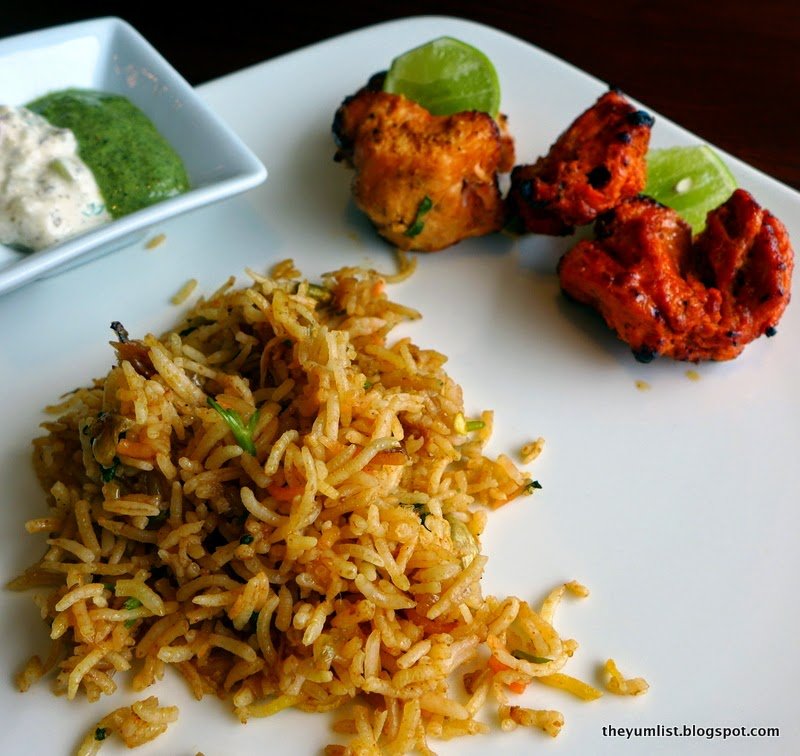 Biryani and Chicken and Salmon Tandoori
There are a number of other dishes too worth getting a forkful of on your plate. Barbecued Lamb Ribs glisten with their fatty casing: caramelized, sweet and moist. Chicken and Beef Satay with a sauce that is more peanutty than punchy, make an easy introduction for the non-accustomed to spice. And, the Barbecued Lamb, with a thin but rich seasoning, is worthwhile too.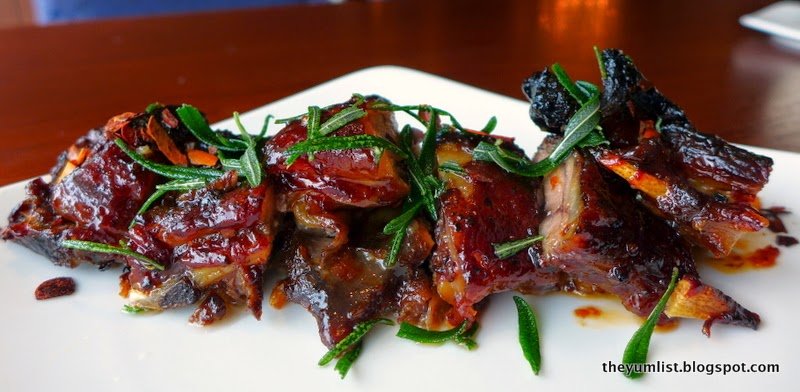 Barbecued Lamb Ribs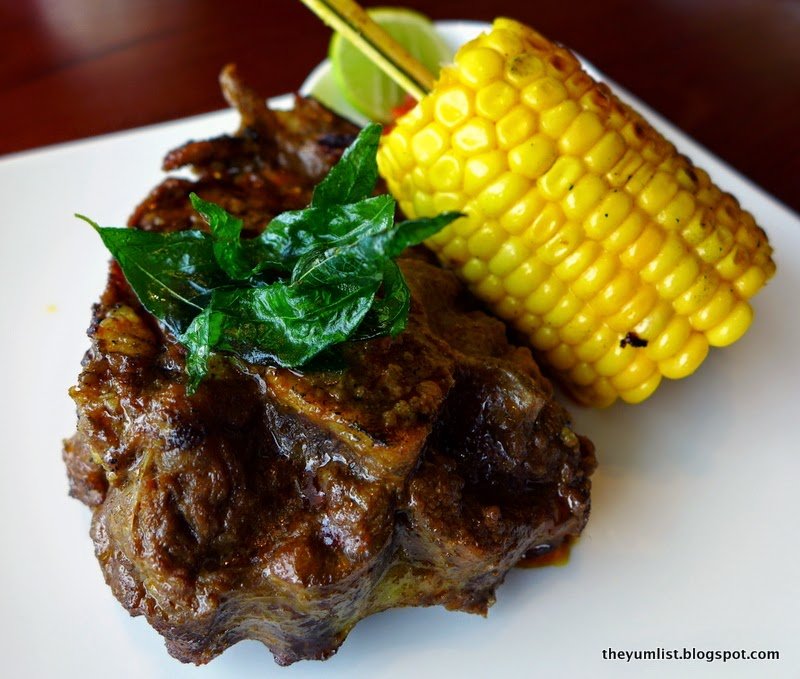 Lamb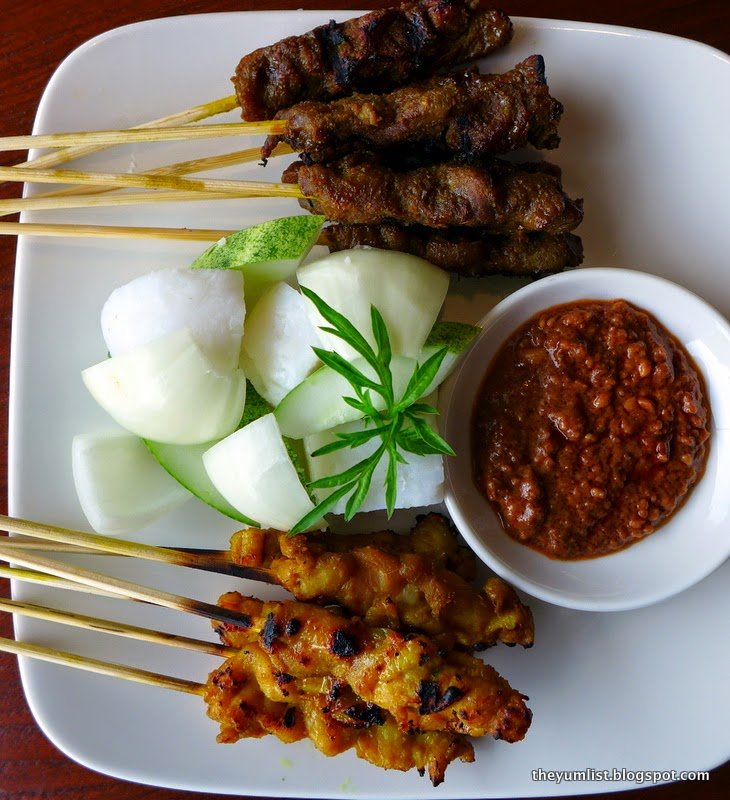 Beef and Chicken Satay
Succulent Duck Rice is one of the chefs' specialties and is best accompanied by a dash of chili and crushed ginger. Sabah Curry Laksa is made unique with the presence of some Indian seasonings in the curry paste. Thick yellow noodles soak up the sauce, which is softened with coconut milk and given texture with fish balls, leafy greens, bean curd puffs, and bean sprouts. Top with plump peeled prawns and we have a mighty tasty bowl.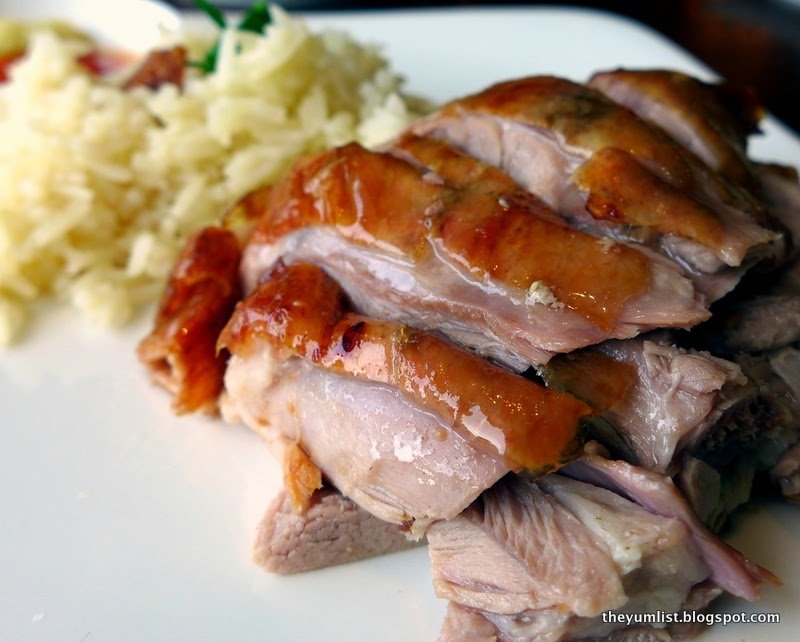 Duck Rice
Sabah Curry Laksa
Vegetarians need not despair: it's easy to create a meat-free meal here too. Crispy Noodles with a thick transparent sauce are a delicious choice. Carrot and broccoli are barely cooked allowing them to retain an attractive firmness, and mixed mushrooms add a satisfying meatiness.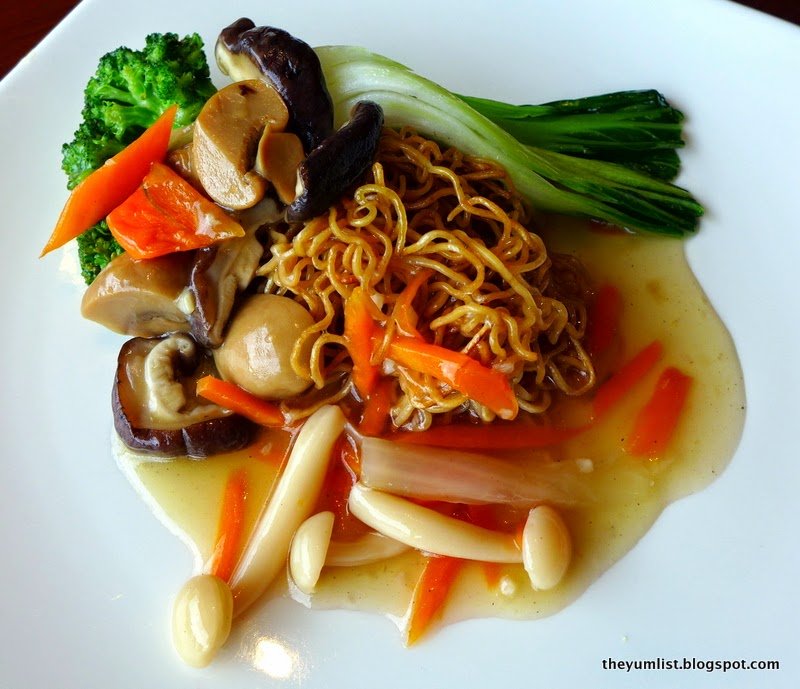 Vegetarian Chinese Noodles
Beautiful rolls of Popiah are another fine vegetarian alternative (just remember to ask the chefs for the vegetarian sambal to avoid the shrimp paste). Paper-thin wheat crepe wrappers enclose shredded carrot, bean sprouts and crushed peanuts. Spicy chili and sweet soy sauces make great dippings. The Malaysian version of Gado Gado brings shredded cucumber, white cabbage, tofu, bean sprouts and egg together in a peanut dressing, proving another fresh veggie based dish.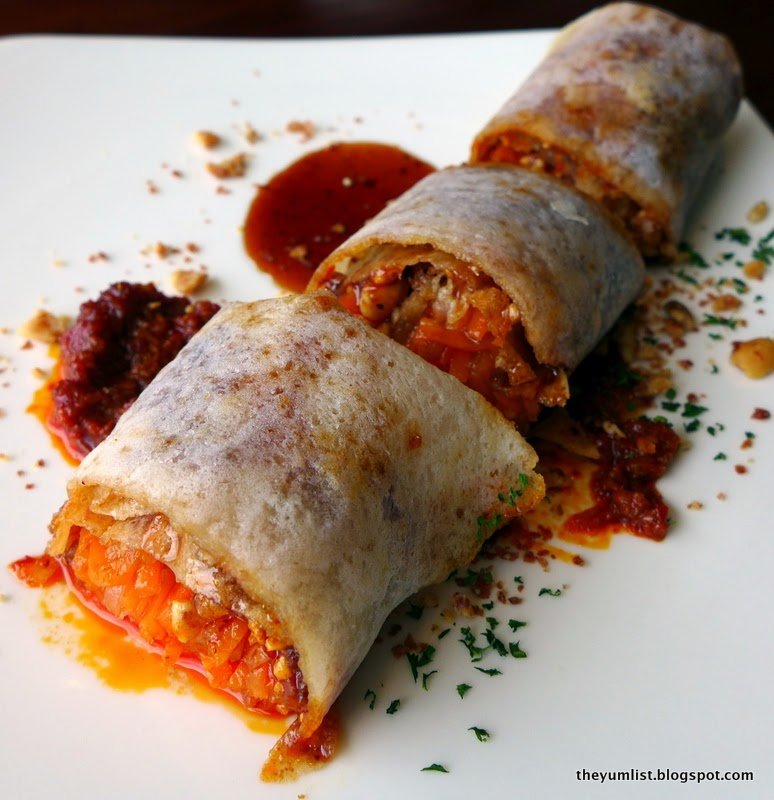 Popiah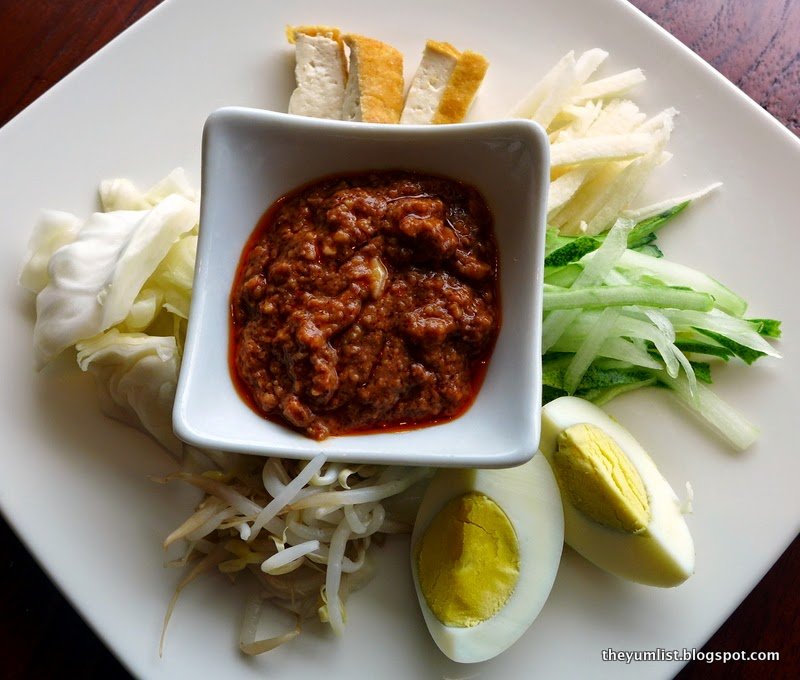 Malaysian Gado Gado
A sweet ending is had with the highly recommended Kueh Lenggang. These thin rolled pancakes are flavoured and coloured with pandan, and stuffed with fresh coconut and brown sugar. The filling is surprisingly juicy, and the overall encounter extremely more-ish.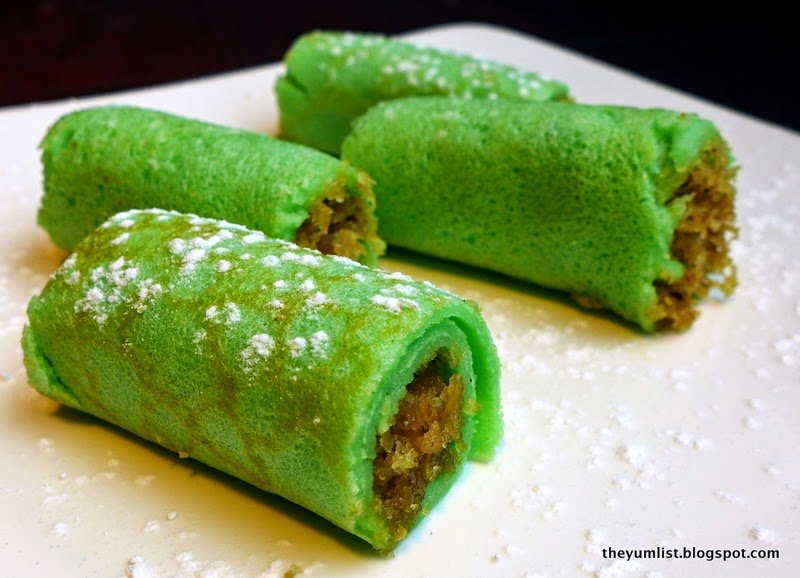 Kueh Lenggang
Buffet breakfast is priced at RM80 per person, lunch at RM90, and dinner RM130. For a limited time however, if dining on a Monday evening, diners can enjoy the evening line-up for only RM99 per person.
Reasons to visit: stimulating design, positive vibe, live cooking stations with dishes made to order, great selection of fresh ingredients, Oxtail Assam Padas, Ikan Bakar, Biryani, Tandoori, Kueh Lenggang.
Tanjung Ria Kitchen
Hyatt Regency
Kinabalu
Jalan Datuk Salleh Sulong
88991 Kota Kinabalu
Sabah, Malaysia
+60 88 22 1234
kinabalu.regency.hyatt.com
Open 6:30am to 10pm daily.
Buffets offered for breakfast, lunch and dinner, with a la
carte available in between.
Halal.