Words:  Margaret Elizabeth    Photos:  Monica Tindall
Seven Cups is an oasis of tranquility in the intriguing and bustling Empire Mall. Owner Eve Von developed her love for coffee on business trips and wanted to be able to imbibe delicious and unique coffees in a space that was cool to chill in, back home. Seven Cups definitely meets the criteria with its muted, natural décor; clutter free vibe and high ceilings. The outdoor courtyard is an attractive place to read, access Wi Fi or just relax to the restful tones of a modern, waterfall sculpture.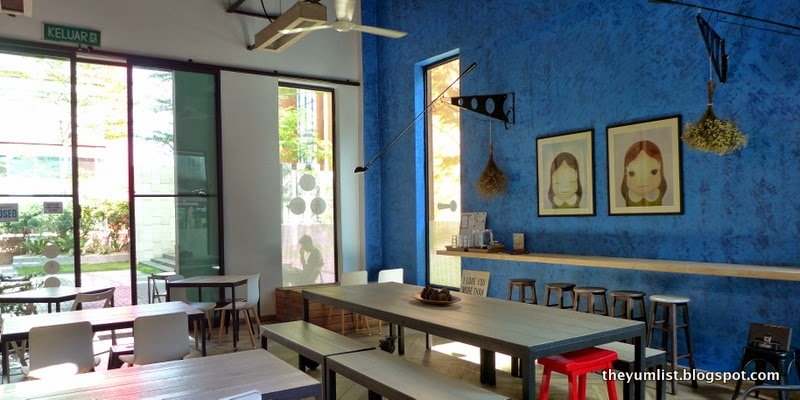 Seven Cups, Empire Damansara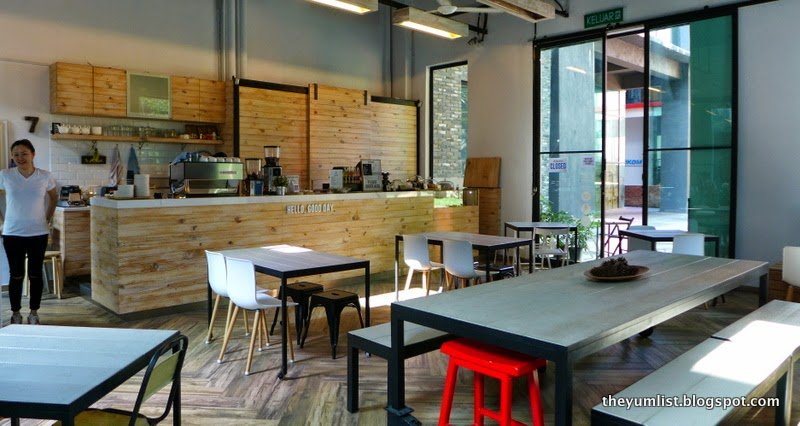 Seven Cups, Empire Damansara
Since the third wave coffee trend hit Kuala Lumpur there is an overwhelming range of coffee to be savoured but Seven Cups has the perfect philosophy to orientate new comers to this bewildering drinkscape: "Keep it simple, barista." Seven Cups makes choosing from the menu a cinch by describing what you get instead of playing Cluedo with fancy names.  So you peruse a menu that simply states coffee with milk, coffee with water, strong, sweet, big, small – it's easy to understand. The range of coffee is simply pure too, owner EveVon only selects coffees that can be traced back to mainly single source origins.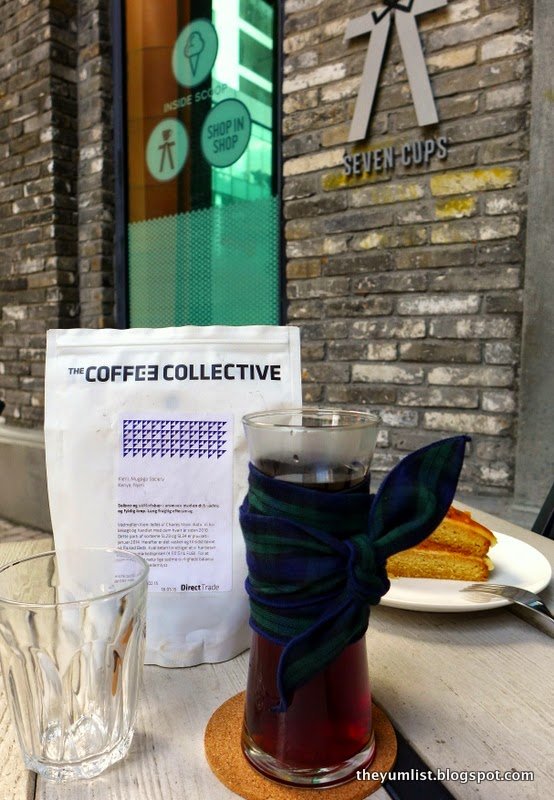 Brewed Coffee
On the day of my visit Seven Cups coffee options included Arabickaffe via Coffee Collective from Denmark, Kenya Nyeri from the Kieni Mugaga Society, and a quality blend of 50% Columbian and 50% Brazilian from Nylon Roasters. All three were delicious and Seven Cups is hoping to keep raising the bar by introducing their own roasts in the near future. The single origin, filter coffee from Kenya was tastefully presented in a beaker wrapped with a tartan cloth. There were many notes present in this coffee resulting in a harmony of flavours that changed pleasantly as the coffee cooled during the drinking experience. The same coffee with milk had a subtly different flavor feeling lighter on the palate and hinting at creaminess.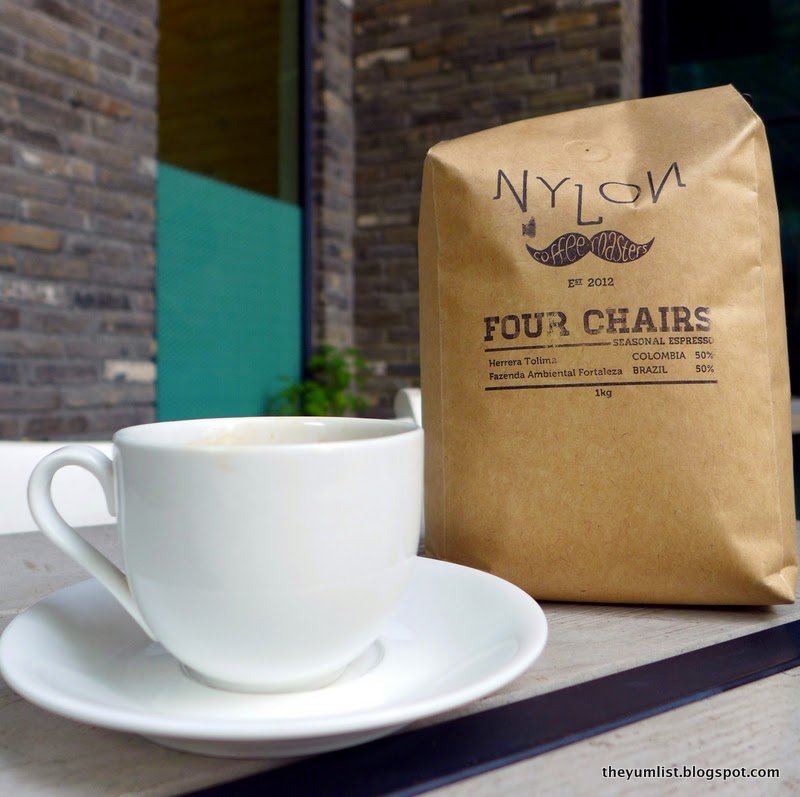 Nylon Coffee Beans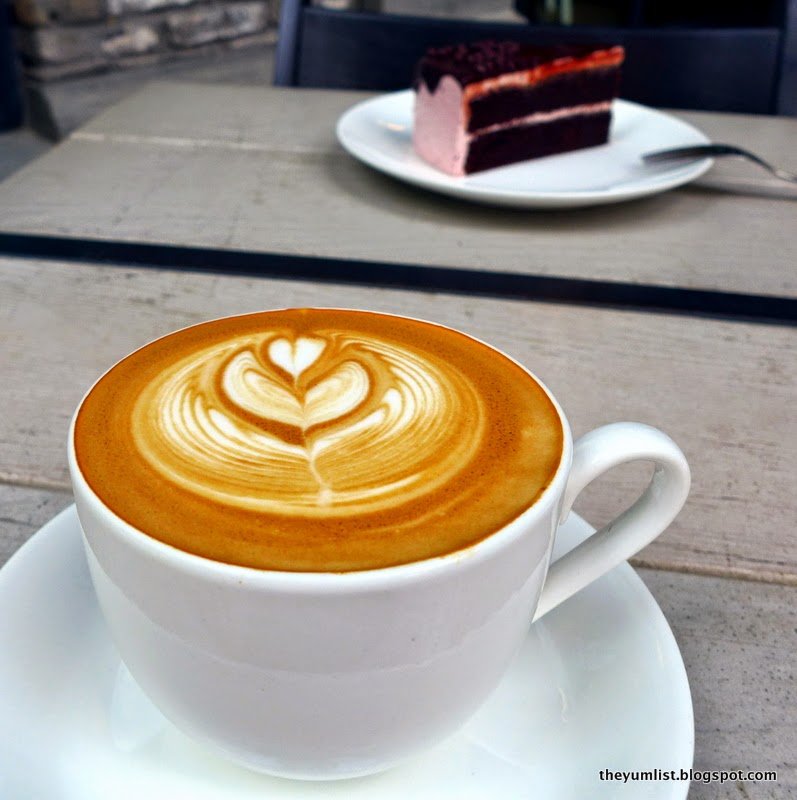 Milk Coffee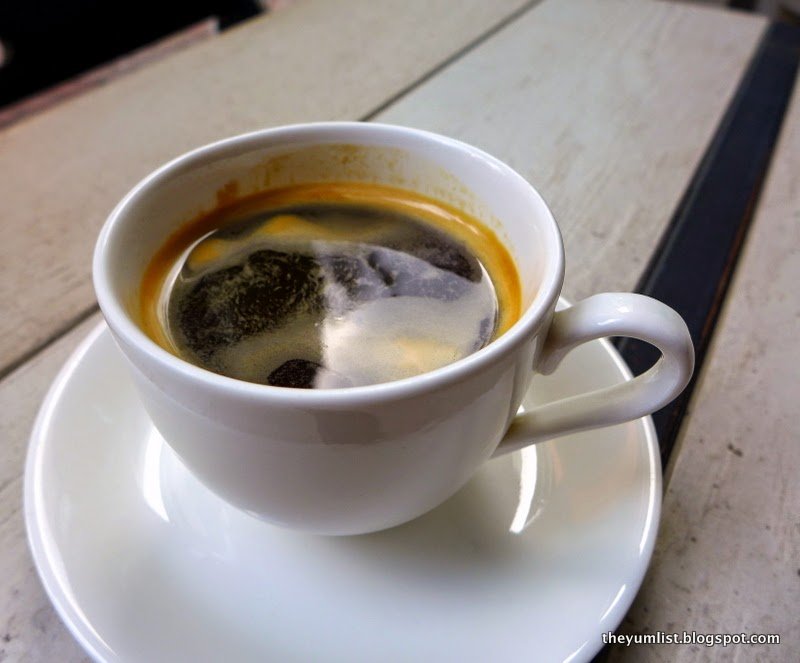 Black Coffee
But what is coffee or tea for that matter without cake? At Seven Cups you can eat cakes not found elsewhere in Kuala Lumpur as they are baked following family recipes by guest bakers including members of the Seven Cups team. Each cake is a prepared following a creative recipe designed to intrigue the palate. All the cakes are delicious so it is no surprise that some of the recipes are closely kept family secrets. The frosting on the Early Grey and Lavender Cake (RM 10) straight away grabbed my attention, glistening with a hint of lavender hue and prettily adorned with crushed lavender flowers. Inside the texture was a light Victoria sponge with a 'just right' layer of lavender cream. The scent of Earl Grey stimulated our appetites and the lavender and tea flavours balanced subtly to make this a favorite cake on my personal and extensive cake list.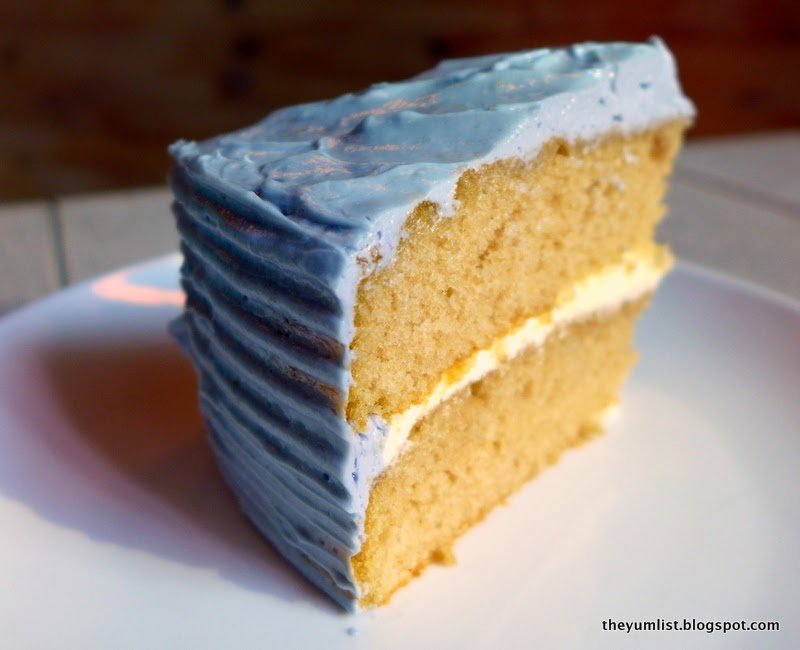 Lavender and Early Grey Cake
The Salted Caramel Cookie Cake (RM 11) evoked memories of my childhood days happily spent munching toffee and playing with friends. The butter cake based sponge was filled with salted caramel butter cream, sprinkled with cookie dough and doused with salted caramel icing.  It had an honest to goodness  wholesomeness about it and the texture was moist and moreish. This cake looks good and tastes good.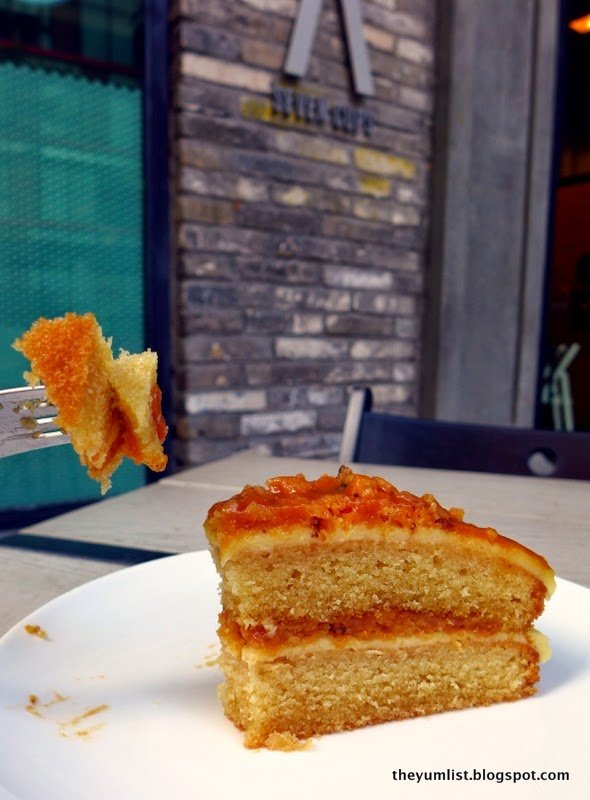 Salted Caramel Cookie Cake
I also sampled Raspberry Chocolate Ganache Cake (RM 12). The sponge was light, fluffy and flavorful. The silky, ganache icing was sprinkled with small raspberry coloured, chocolate beads that provided a hit of fresh raspberry taste combined with the slightly crunchy texture of a Malteaser chocolate.  It looked heavenly and tasted divine. Seven Cups provides more delightful cakes than those featured here and for those counting calories or needing a small yet tasty food treat there is a range of preservative free snacks such as honey milk stick, almond toffee and chocolate flake bars. Seven Cups prides itself on knowing where ingredients come from and steers away from processed ingredients. What you eat and drink at Seven Cups will be quality, real food that satisfies the senses.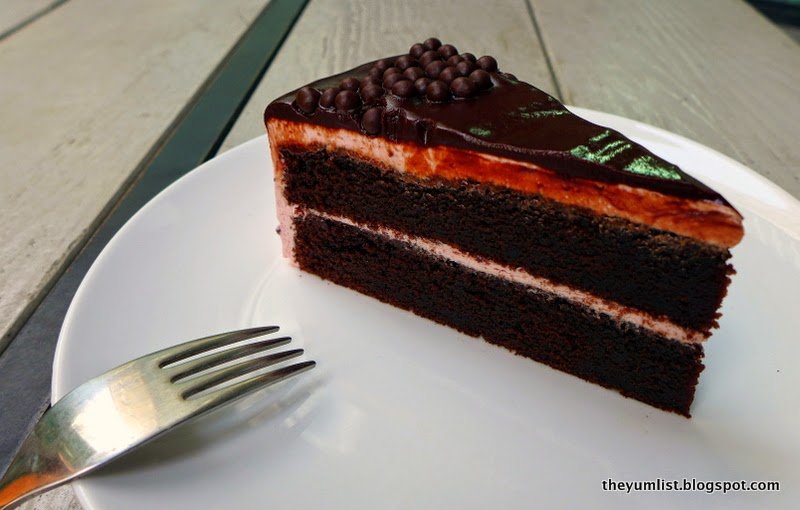 Chocolate Ganache Cake
Being responsible foodies we decided to balance our sweet taste sensations with a savoury lamb empanada, a delicious melding of Mexican and Malaysian styles. The herbed pastry crust was crisp and light with a pleasant, slightly buttery flavor. Breaking open the crust reveals pulled lamb in bite-sized chunks with diced carrot and the aroma of herbs is definitely tempting. The empanada is accompanied by a secret recipe "crazy" sauce that is fairly spicy so unless you love spicy hotness as much as I do you may prefer to add a little sauce at a time. This dish makes a good light lunch option and when they are not sold out there is a spinach and cheese version too.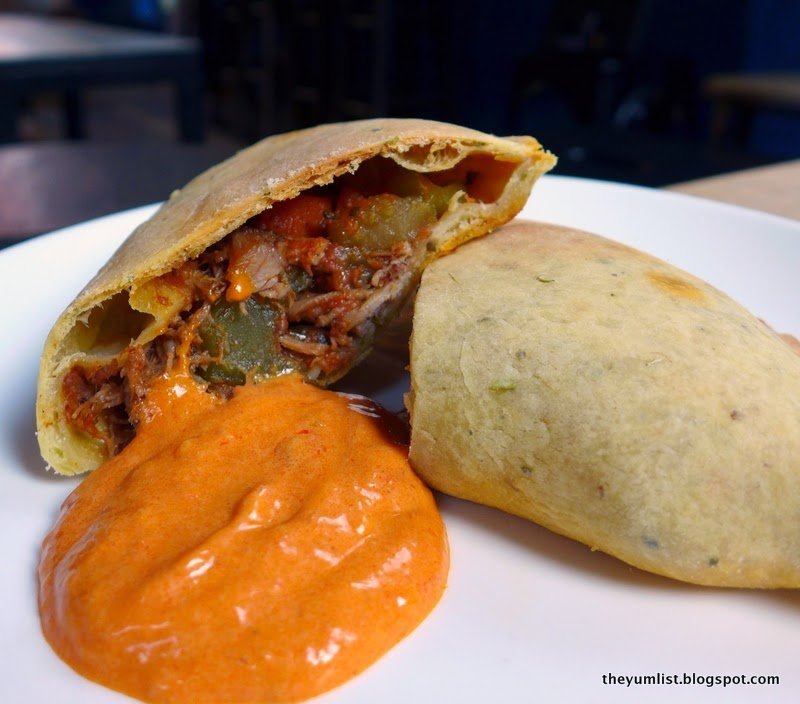 Lamb Empanada
The signature dish at Seven Cups is waffles and the homemade batter is mixed daily so that every waffle is fresh and flavourful. The lacy, trellis cut waffles are saucer sized with a soft texture and come with a variety of toppings with scoops of Inside Scoop ice cream (single RM13, double RM 17.50, triple RM 22). Ice cream is available in some unexpected flavours and they are excitingly different. Try cempedak, lemon curd or hoji cha. A local told me the durian ice cream is spot on. Happily, gorgeous salted caramel makes a second appearance in the ice cream cabinet. To pile onto the deliciousness of waffles and ice cream there is grade A quality fruit, fresh and clean tasting. The blueberry with lavender sauce topping travelled through a spectrum of blues and violets as the ice cream melted, truly lovely to look at, but not for long as it's too yummy to wait. Overall my pick of the day was the banana toffee waffle that leaned towards caramel and was sweet without tasting of sugar. I ate this with vanilla ice cream, dressed with slivered almonds, dripped with chocolate sauce, EveVon's own recipe of course, sprinkled with freshly ground coffee. It is this attention to detail, structure and design that makes Seven Cups a food lovers hang out.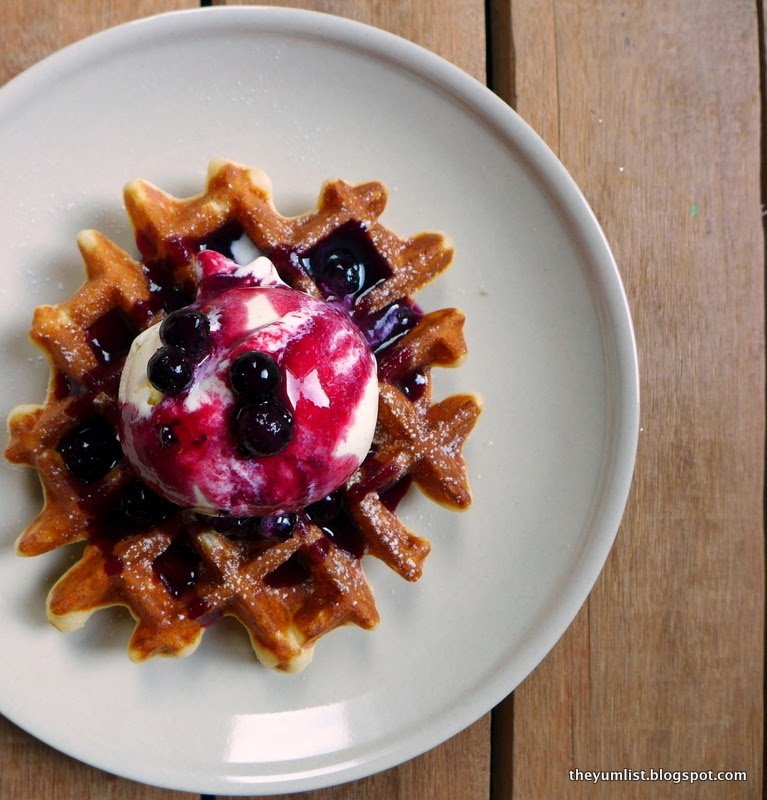 Blueberry and Lavender Waffle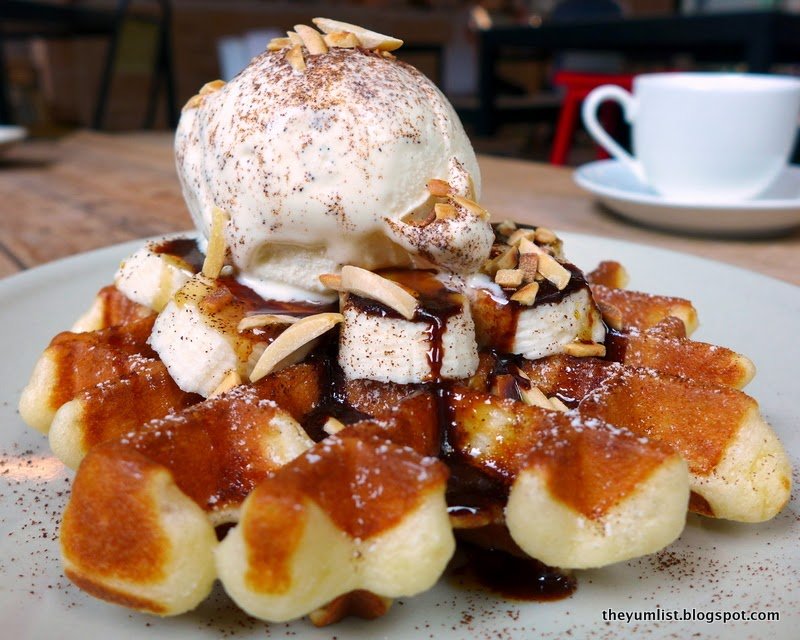 Banana Toffee Waffle
Visiting Seven Cups made me feel as if I was on holiday, relaxing and chilling to my own vibe.  This combination of atmosphere, good clean food, artisan coffee and Harney and Sons teas has proven so successful that they have extended their opening hours due to popular demand.
Reasons to visit: quality coffee, food with known provenance, outstanding waffles, Earl Grey and Lavender Cake, haven of simplicity and calm.
Seven Cups
G-25 Empire Damansara (same end as Cliq Hotel)
Jalan PJU 8/8
Damansara Perdana
Sungai Buloh
Malaysia
+6 03 4065 0037