Tre Restaurant is Banyan Tree Phuket's elegant dining option. Located in the most upmarket section of the acreage, a dress code is expected and courteous behavior presumed. The lagoon it sides is alight in a shimmering glow with lights from Thai shaped roofs of the encircling villas mirroring the lake. Dulcet French melodies eject a sensuous hum from the speakers, and softly spoken staff are quick to attend to guests.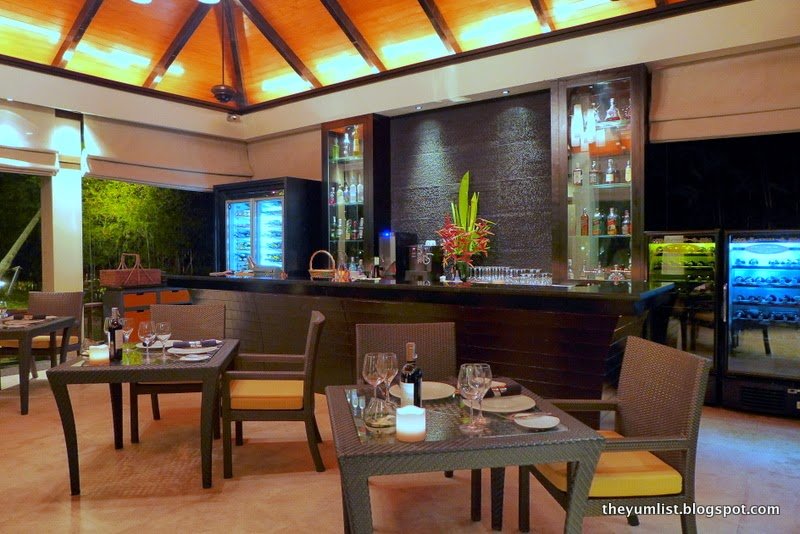 Tre Restaurant, Banyan Tree Phuket
The open-walled restaurant unfurls onto a patio over the lake, and it's here where we've been lucky enough to score a table. Lit only by a candle and the secondary radiance from the main dining floor, we're given mini-flashlights to browse the menu. Scented chilled moist towels and mosquito coils additionally facilitate the outdoor experience. The small inconveniences are worth it though as when we look up we notice stars: a beauty we're generally unable to view from our city home. Perhaps a neck rest on the chairs might be another comfort considered as we spend quite some time with chins upturned delighting in the night sky.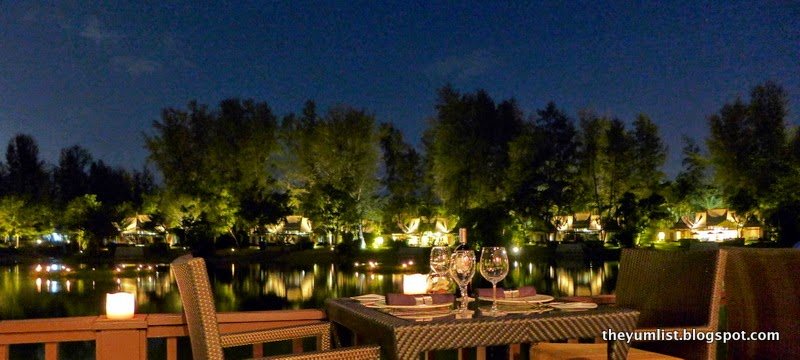 Tre Restaurant, Banyan Tree Phuket
Fine dining is always the sum of its parts, but each part is indeed significant, and the first to arrive to the table, the bread is often a good indicator of the level of detail to follow. We're not disappointed with first impressions. A triad of baked goods is partnered each with its own matched spread: steamed Chinese bun with coconut jam; French baguette with butter; and orange and ginger bread sticks with sour cream. Hubby devours the soft white buns and sweet marmalade, while I find the baguette a fine example, and enjoy the spiced rods too.
An Amuse Bouche of grilled tofu, cherry tomato and zucchini arrives on a skewer with a pesto sauce. These small bites from the kitchen change daily according to the chef's inspiration and seasonal ingredients.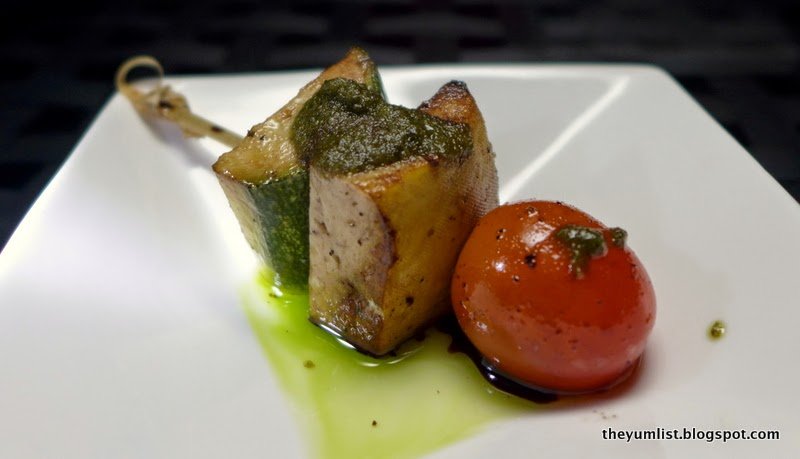 Amuse Bouche
Starters
My beginning order sees a trio of Pan Seared Scallops (580) scattered along the length of a plate, with a fennel and orange salad tossed in a juicy spiced orange ginger dressing, forming a blanket underneath. Lime mayonnaise splashes the sides and encourages the full flavour of the seafood to develop. Dill brightens the top and the faultlessly cooked shellfish almost glow with their golden tan. It proves a wonderfully fresh combination, ideal for the warm climate.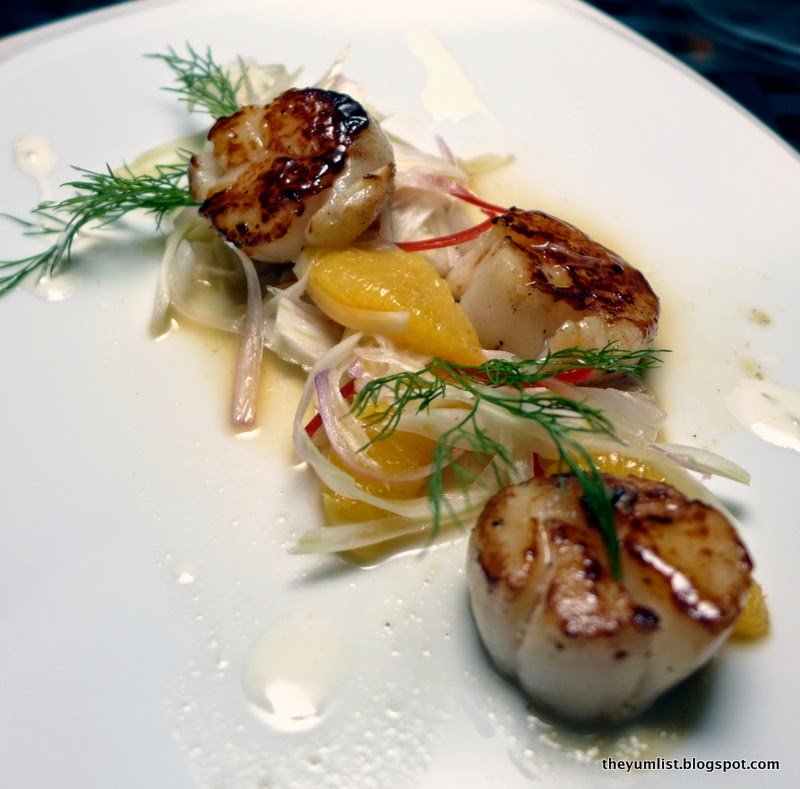 Pan Seared Scallops
Tuna Tataki (750) is presented as part of another triplet of stars in hubby's selection. Foie gras pâté is rolled into a cylinder giving a sweet richness to the plate, while a crunchy squid ink brioche adds depth of colour, and grilled fish, vibrantly pink, lifts the entire palette. Hubby finds the plushness of the combo highly satisfying.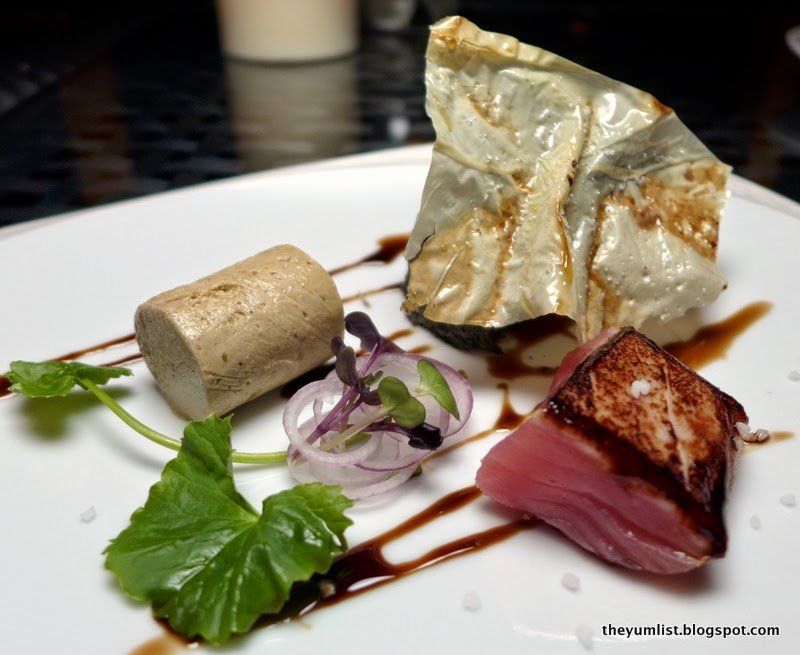 Tuna Tataki
Mains
I'm hoping for a light meal with the Steamed White Snapper (880) and get exactly what I desire with juicy flaky fillets of white fish, based with a shredded cabbage support. It's surrounded by shiitake mushrooms, crowned with shreddings of raw veggies, and sided with a mildly spicy ginger lemongrass chili and lime sauce. All flavours and textures complement one another, leaving me satisfied with the last forkful, but still energized and not overly stuffed.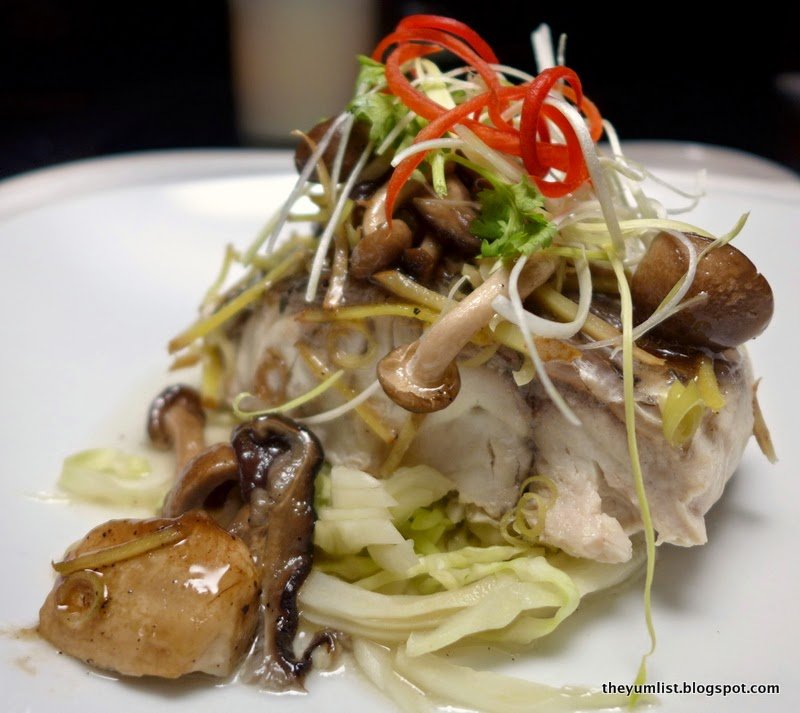 Steamed White Snapper
Three Hour Oven Duck (1250) with purple potato puree and chestnut truffle has clearly impressed hubby with the length of cooking time as I hear mumbles between drools of, "Tres horas, que dedicacion," trailed by low mmms of appreciation. It's another rich dish in line with his orders for this evening, and while I too find the poultry succulent, I'd be easily entertained just with a bowl of that sweet potato mash.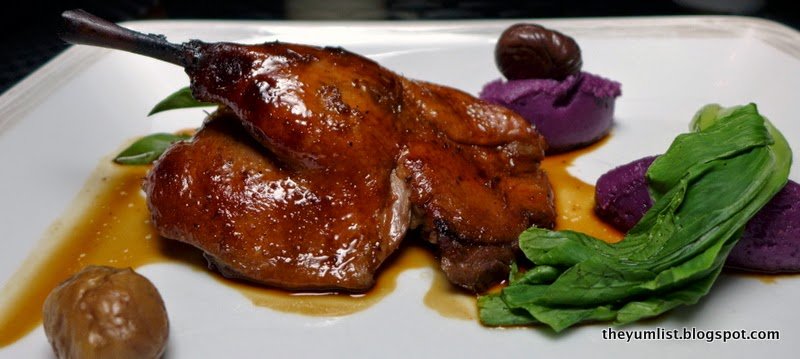 Three Hour Oven Duck
Desserts
Mille Feuille (450) brings stratums of puffy flaky almond pastry layered with luxuriant cushions of hazelnut mousse and whisky vanilla cream. As we slice in the filling squishes out the sides, but manages to stay together until it reaches our mouths. A berry compote breaks up the creaminess with a slight tang and mocha ice cream furnishes a chilled refreshment to finish.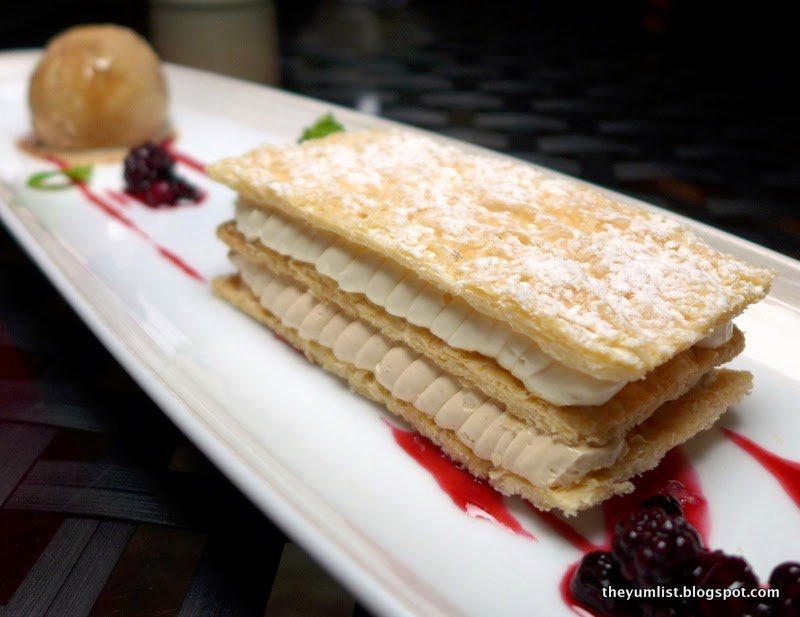 Mille Feuille
Warm Ricotta Tart (480) is encased in a soft, sponge like pastry. Segments of peeled pomelo and mandarin drape across the surface and around the sides of the plate, allowing us to eat more of the full-flavoured dessert than we had intended.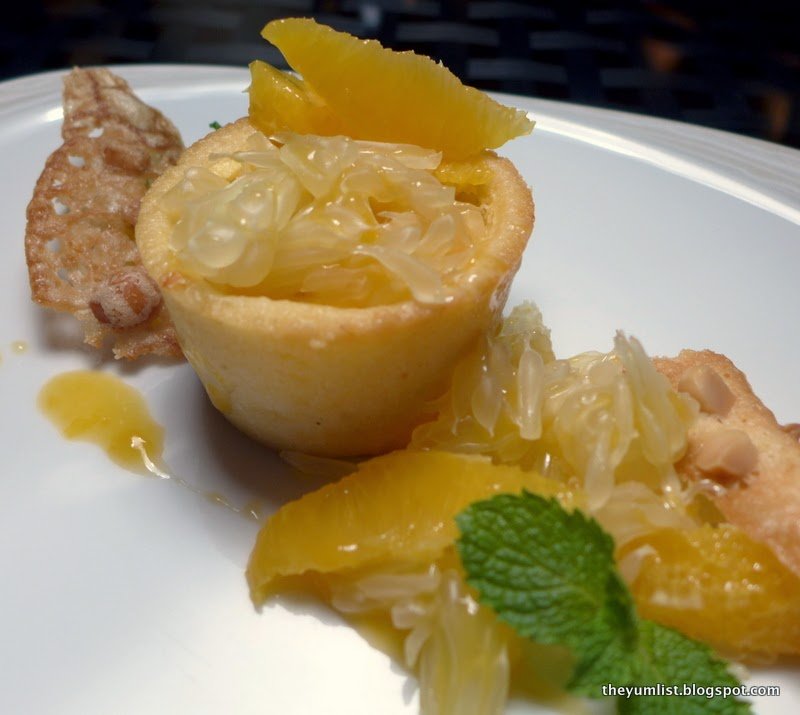 Warm Ricotta Tart
It's been a lovely evening and given the chance we'd return again.
Reasons to visit: beautiful lakeside al fresco setting; superb service; good mix of lighter and richer dishes satisfying a variety of proclivities.
Tre Restaurant
French Vietnamese Cuisine
Banyan Tree Phuket
33, 33/27 Moo 4
Srisoonthorn Road
Cherngtalay
Amphur Talang
Phuket 83110
Thailand
+66 76 372 400
[email protected]
www.banyantree.com