Louise Miller and Monica Tindall
If you are heading for BEAM (an acronym for Bean Expedition at Manufactory) expecting only a decent brew with delicious cake, you will have seriously underestimated this place. What lies in store is significantly more than good coffee and fabulous desserts. The experience we had here on a drizzly Saturday afternoon would be more appropriately described as nothing short of an education, which entailed the sampling of some of the finest coffees we are ever likely to taste coupled with mouth-watering delicacies that encapsulate both Asian and Western flavours.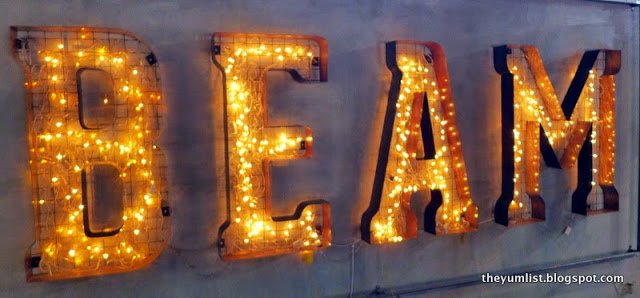 BEAM – Just as it should be with its name up in lights
The first thing to hit you as you open the huge metal framed glass door of the cafe is an assault on the senses: the uber cool urban chic of the decor is equally impressive as the heady aroma of roasting beans. The interior's converted warehouse look is created by the stone floor and table tops, an abundance of artisanal metal fittings and pipes, exposed brick walls, wooden and metal furniture and an array of coffee making apparatus all beautifully illuminated by a multitude of quirky suspended light bulbs of various shapes and sizes all overlooked by a mezzanine floor, which houses further seating and roasting machines.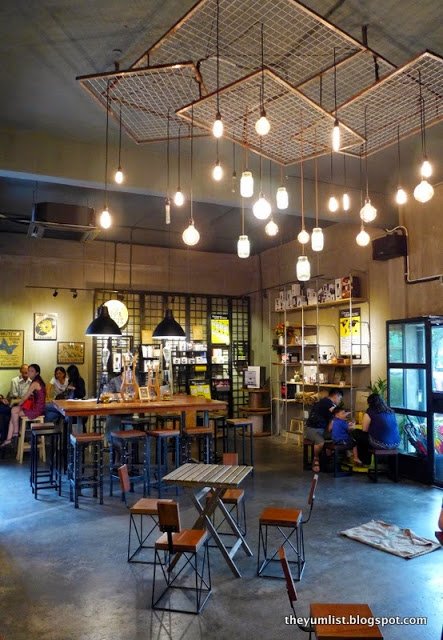 Interior
Although this stylish decor shrieks of bang up-to-date newness, the team's coffee-making history goes back a long way since one of Beam's founding partners hails from Caroma, the company that over the last forty years has made its name as Malaysia's most renowned traditional coffee manufacturer. He, along with his two coffee passionate partners, got together to reinforce the current trending enthusiasm for artisanal Speciality Coffee.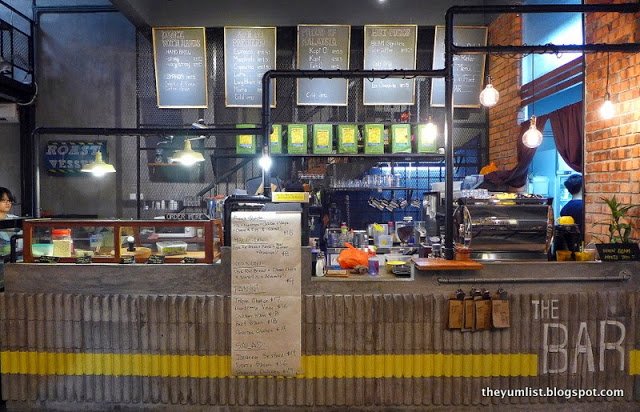 The Bar
We were greeted by an incredibly knowledgeable hand-crafted coffee barista who immediately began to guide us around the cafe drawing our attention to the brewing equipment that lined the corner shelves, the spherical glass cold drip apparatus which made a functional yet attractive centre piece on our table and the brew bar strategically occupying centre stage for all to admire.
The impressive extent of our barista's understanding of coffee became obvious within minutes of our little tour as she went into great detail about the origin and varietal of the beans, the various roasting machines and brewing methods implemented at BEAM and proudly explained that all of the imported beans here have been graded over 80 points on Cup of Excellence's Point Cupping System thereby officially granting them Speciality Coffee classification.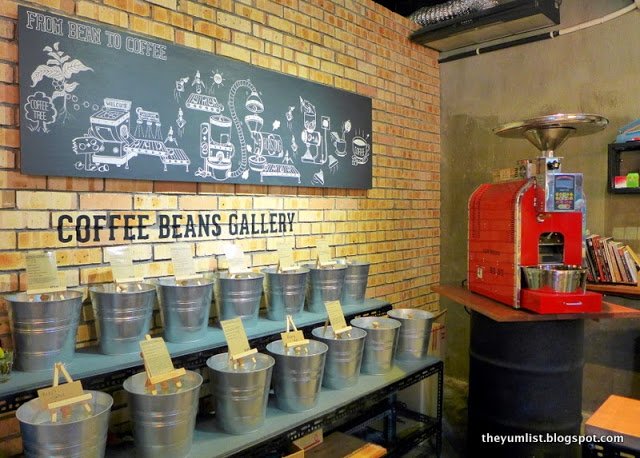 Coffee Bean Gallery
The speciality raw green beans are imported from a long list of countries from the world's three main coffee producing regions of Latin America, Africa or Arabia and Asia Pacific. No fewer than fourteen varieties were displayed in shiny metal buckets, each carefully labelled with information about their provenance, varietal, altitude and tasting profile.
Having done the tour and feeling a little overwhelmed with information, it was time to take a seat and enjoy some of the menu's offerings with the first of the morning's brews. We go for a cappuccino made with the house blend: a combination of Costa Rica Helsar, Columbia Supremo and  El Salvador Emilio beans which was, as we'd expected, extremely good, with creamy and buttery notes to start and ending with milk chocolate flavours and a nutty and floral aftertaste.
Cappuccino
We tried the same blend in a cold drip coffee. In this, the flavours were very different as it kicked in with winey dark cocoa and roasted walnuts at the front of the palate, lingered with hints of dark berries, orange peel and molasses and gave a floral and grapefruit finish.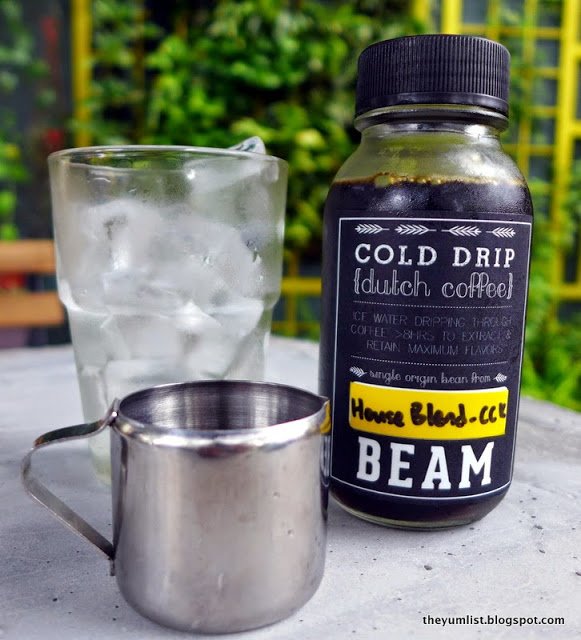 Cold Drip Coffee
Kopi O at BEAM uses similar roasting methods as traditional Chinese coffee shops, however uses both Arabica and Robusta beans, where as traditional Kopi O is roasted using only the Robusta beans. The brewing method also differs from the traditional use of a filter sock. At BEAM Kopi O is extracted using the espresso machine.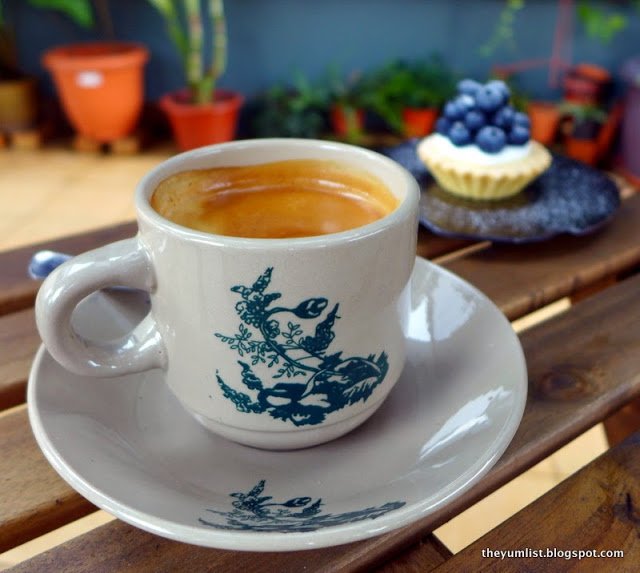 Kopi O
We also grazed on a generous selection of items from the food menu starting with the Roasted Chicken Panini (RM19), a really tasty and satisfying sandwich enhanced by the addition of lots of melted mozzarella and cheddar cheese, green pepper and onion and a refreshing leafy side salad and a yummy peppery potato salad. With this, we enjoyed the Japanese Seafood Salad (RM19): a tasty and tangy combination of crunchy vegetables, edamame beans, succulent salmon flakes, prawns and scallops in a tangy sesame dressing.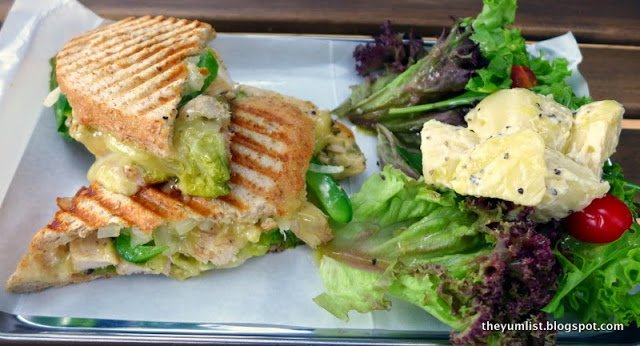 Roasted Chicken Panini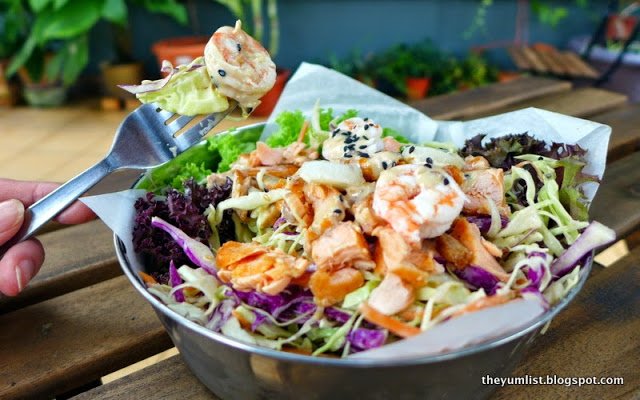 Japanese Seafood Salad
A generous spread of tempting desserts was then laid before us. The Hokkien style glutinous rice cakes or Ang Ku Kuih (RM1.50) had a unique tangy skin, the purple flavoured by yam and the orange by sweet potato. Inside was a dense green bean filling.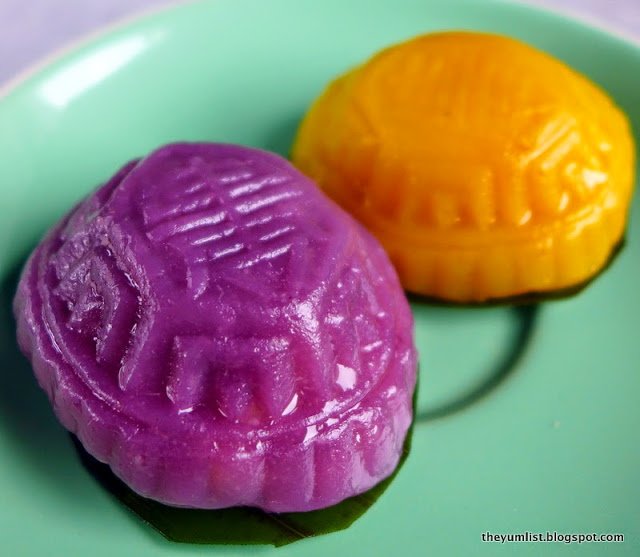 Ang Ku Kuih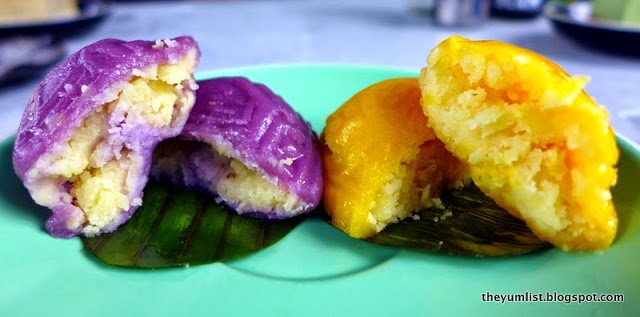 The Insides
It's Real Banana Cake! (RM3.90) was exactly as its name suggests: made with really rich and ripe bananas and very flavoursome. The Blueberry Cheese Tart (RM10) was as good as it looks: plump sugar coated fruit crowning a tangy and creamy filling encased by thick biscuity pastry. The flourless Santiago Cake (RM5.90) was a big hit with Monica: grainy, yet moist and full of almond flavour with a biscuit base, layers of Nutella and an almond and peanut cake mix topped with a crispy egg white glaze, a perfect accompaniment to the coffee.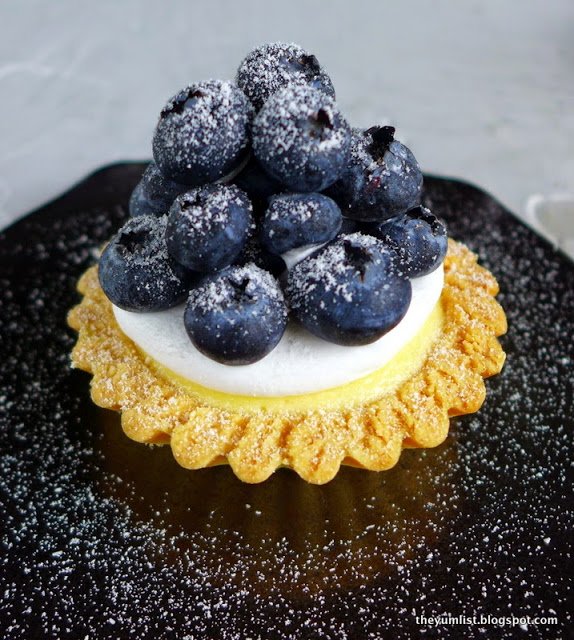 Blueberry Cheese Tart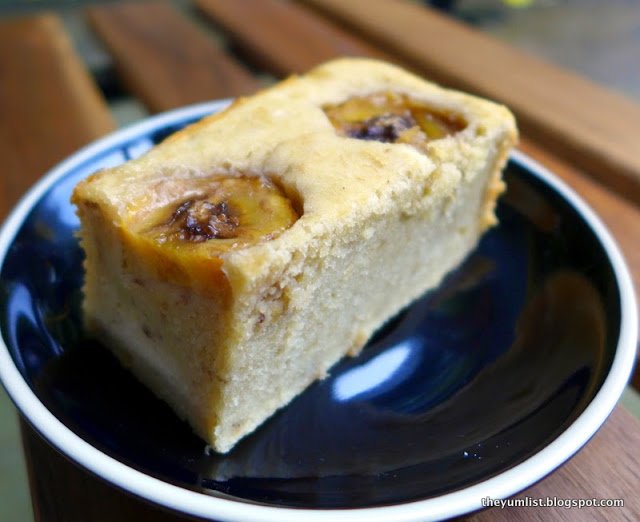 It's Real Banana Cake!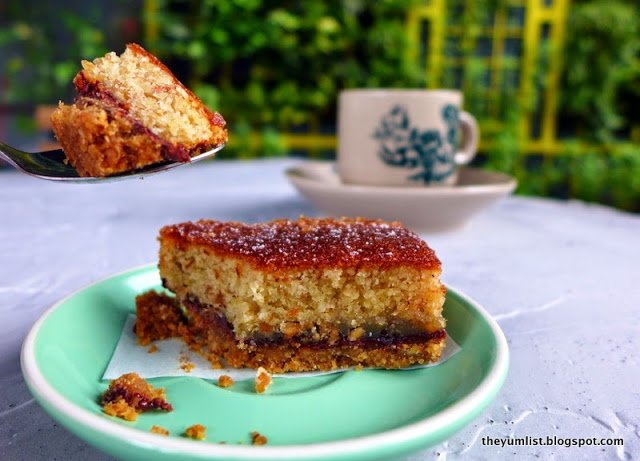 Santiago Cake
My favourite of the selection was the Matcha Cheese Cake (RM11). This was a true representation of the East meets West premise of the establishment's concept. It's as dense, creamy and tangy as a New York Cheesecake but with the added Asian twist of green tea flavours that tasted delicately floral and so delicious.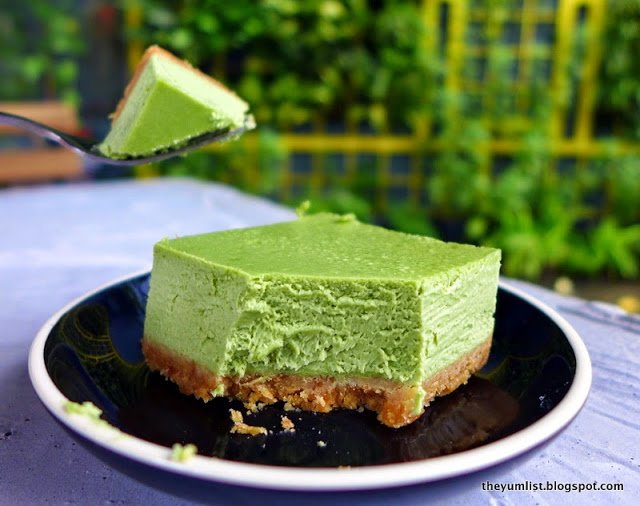 Matcha Cheese Cake
Another huge hit with all of us was the Roti BEAM! (RM8.50): An outrageously delicious toasted sandwich of kaya, almonds and probably more butter than any of us have ever seen in a sandwich anywhere! Monica and I somehow summoned the self-discipline to restrict ourselves to a meagre bite of this incredible creation, clearly far more mindful of the potential consequences for our hips than Caning, who gleefully demolished what we'd left on the plate.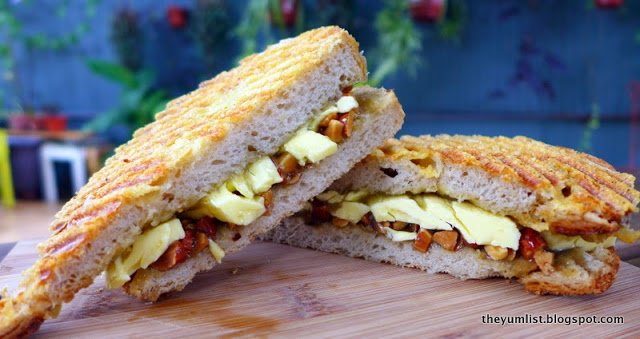 Roti BEAM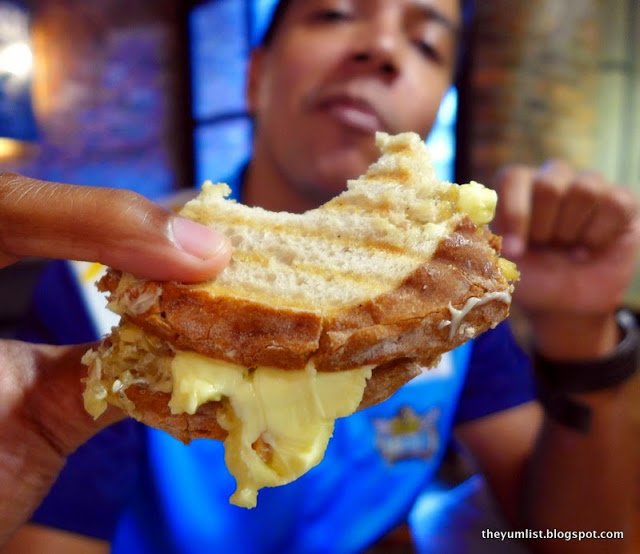 Roti BEAM
What better way to follow all the food than a move to the brew bar to witness close-up our own handcrafted coffee brewing ritual? A choice of brewing method presents itself and this is where BEAM parts company with most other artisanal coffee bars since there are four to deliberate over: Aeropress (or plunger) method, Chemex (a cone filter dripping method), Syphon (a heat brewing method in a spherical glass chamber) and Hario v60  which is known as a hand brew or pour-over method. Once this is chosen, customers can opt for single origin coffee or a filter blend to suit their personal preference with advice from the expert baristas should it be required.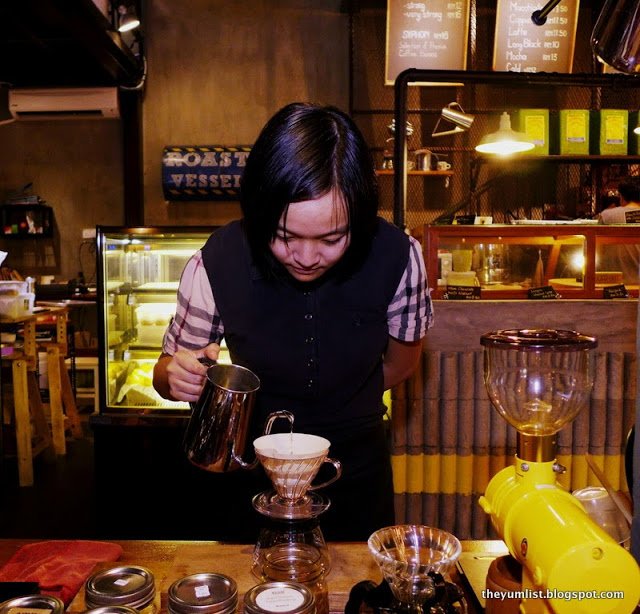 Hand Pour Barista
We opted for Hario v60 as this seemed to be the most theatrical method of the four. The brewing process used with this little cone-shaped dripper, requires a painstakingly slow and circular first pour for 20 seconds of pre-infusion, a second pour directed at the centre of the cone and causing the coffee to billow in the middle into a bubbly froth and a third and final slow circular pour. We had chosen Costa Rican Diamond beans which produced English tea-like floral notes at the front of the palate developing into fruitiness with orange and starfruit as it lingered and ending with a citrusy acidity and a long sweet aftertaste.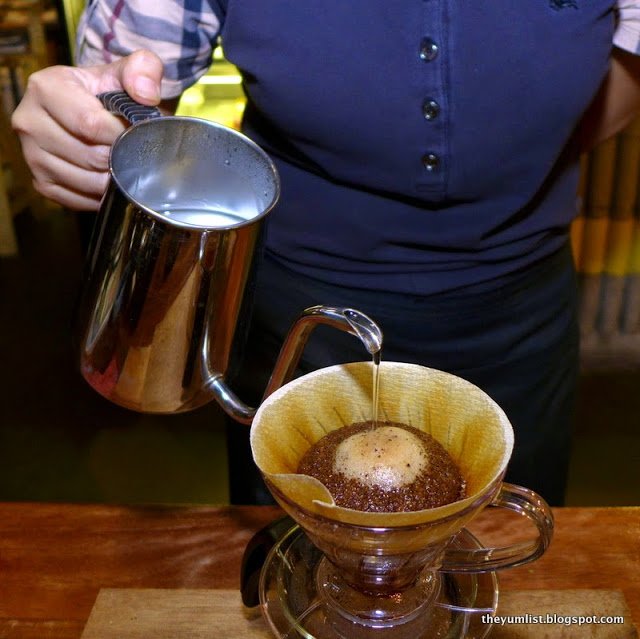 Hario V60
And it is with this appropriately sweet aftertaste that our experience at BEAM came to its conclusion. We left buzzing not just from caffeine but from having spent the afternoon with such passionate and informative coffee aficionados who are not only proud of what they do and but eager to pass on their love and knowledge to all who grace this special place with their custom.
In addition to the delights offered by BEAM's menu, it's also worth checking this place out for the items available for purchase (amongst those for sale are raw beans to roast at home and various brewing equipment) and the workshops offered by the Coffee Academy upstairs.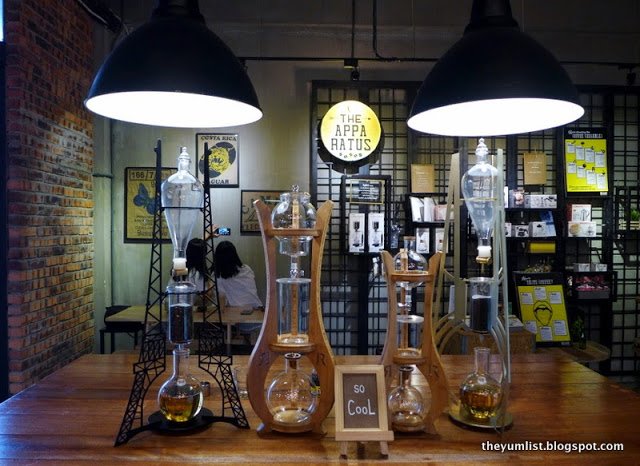 Coffee Equipment
Reasons to visit: The height of coffee expertise with a range of delicious premium beans, great cakes especially the Matcha Cheesecake and Roti BEAM! (for those who dare!), tasty sandwiches and  a relaxed and cool place to hang out off the beaten track.
BEAM Bean Expedition at Manufactory
35, Jalan Gangsa SD5/3B
Bandar Sri Damansara,
Kuala Lumpur,
Malaysia
+6 03 6261 8255
BEAM is open from 11:00am to 8:00pm every day except Tuesdays.