Words:  Louise Miller    Photos: Monica Tindall
After having eagerly accepted Monica's invitation to review the Hilton's Graze restaurant's five course wine paired meal, the giddy excitement with which I had anticipated the evening was further fuelled by my initial perusal of the menu:  gourmet French cuisine accompanied by a carefully chosen selection of Pascal Jolivet's wine: this announced itself as a feast befitting the most epicurean of diners.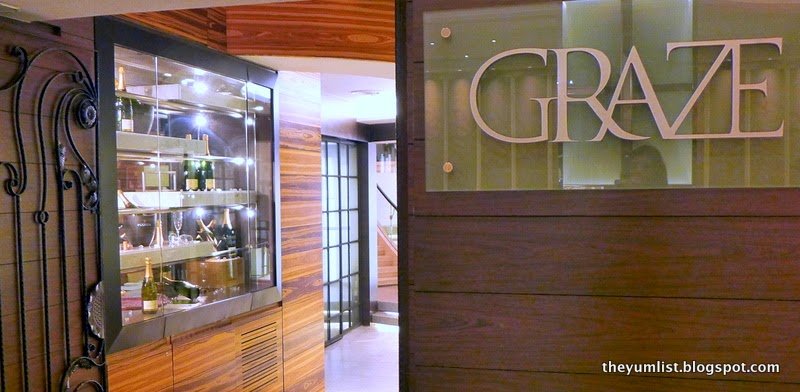 Graze
With over 60 acres of prime vineyards spread across the appellations of Sancerre, Pouilly Fumé and Touraine, Pascal Jolivet, produces wines that have a certain trademark style. Having been inspired by the Champagne industry where he began his career, it was important to him that his wines be characterised by finesse, elegance and purity with clean aromas and flavours. He prefers them to be less aggressive and alcoholic, more fruity and easier to drink. He also strongly believes that this makes them far better partners to food than many 'technical' and heavier wines, so we were looking forward to judging this for ourselves.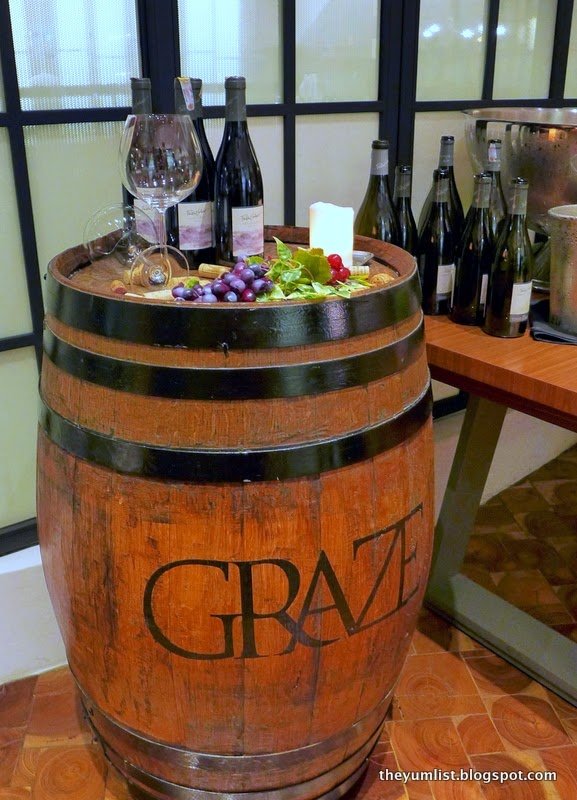 Some wines to be tasted with the menu
Graze provides a modern, stylish but unpretentious dining environment decorated by the warm, earthy hues of its wooden tiled flooring and wine barrels combined with the smoked mirrored ceiling and contemporary parallel interior and exterior windows that gently curve down the length of the restaurant creating a spacious and light, airy ambience.
The tables were laid with crisp white cloths and appealingly set with an army of sparkling  and expectant empty wine glasses – a promising sight to behold as we made our way to our seats.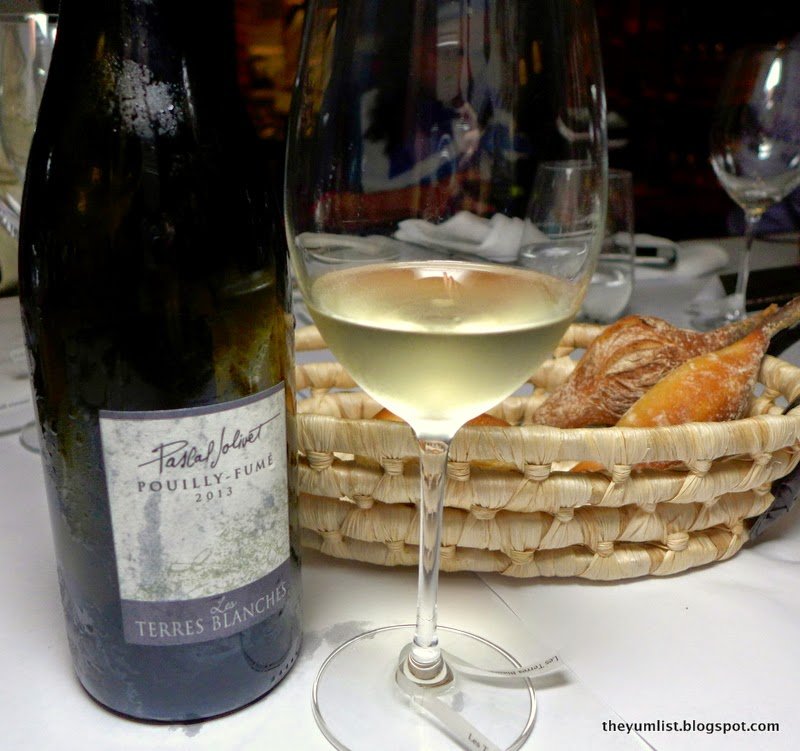 Crunchy Bread and Delicious Wine
Monica, Caning and I settled in for the launch of the evening's banquet which was made by Amuse Bouche in the form of a Prat-Ar-Coum oyster and Tomato and Tarragon Shooter. The two components of this dish seemed to mirror each other's colours and textures as the translucent shooter was surprisingly viscous in texture. Its delicate flavour contrasted with the plump briny oyster that was topped with grated daikon and a tasty spicy bean paste.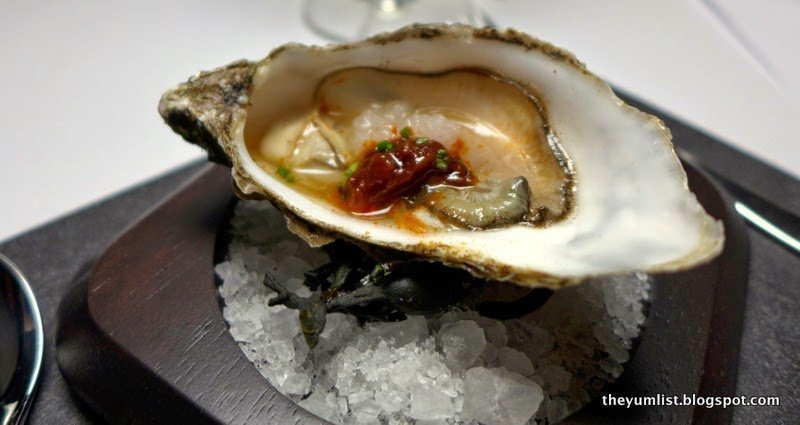 Prat-Ar-Coum Oyster
With  this initial palate pleaser, we enjoyed Pascal Jolivet's 'Attitude' Sauvignon Blanc: Fresh in the mouth with delicate green and lemon flavours, green apple and kiwi aromas, this was a perfect pairing. The wine's minerality gave a long finish and Pascal Jolivet's trademark smoothness and elegance.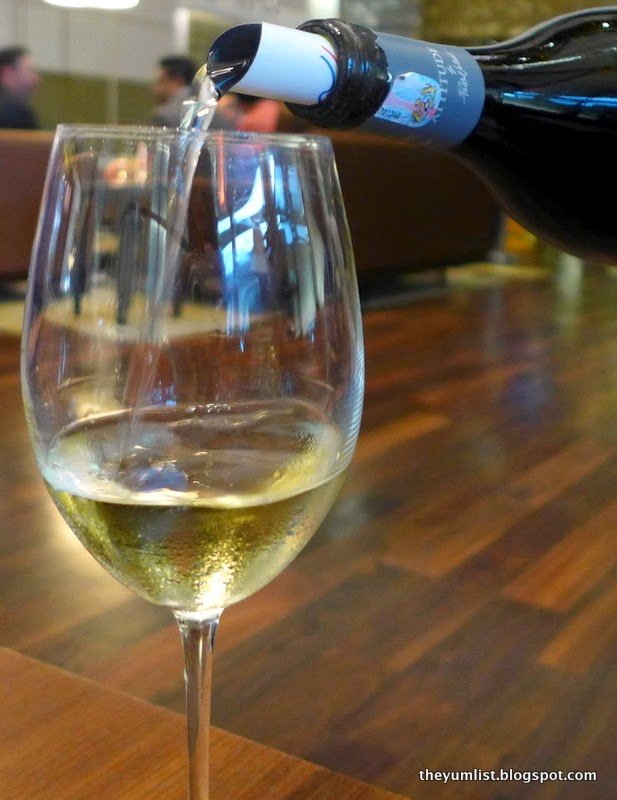 Pascal Jolivet's 'Attitude' Sauvignon Blanc
Our appetites now truly whetted, we welcomed the arrival of the Crab Salad starter. Shreds of sweet Pacific swimmer crab on a bed of finely sliced fennel were garnished with a foamy lemongrass espuma topped with salty caviar. The unusual flavour combination of this dish was further enhanced by the decorative rivulet of vanilla vinaigrette that circled the plate, the flecks of vanilla seeds seeming to reflect the caviar garnish, giving the starter a pleasing esthetic symmetry. The brilliant matching with the elegant purity of Pouilly Fumé 'Les Terres Blanches' 2013 allowed the citrus tones and peach flavours of the wine to accentuate the vanilla and lemongrass in the dish.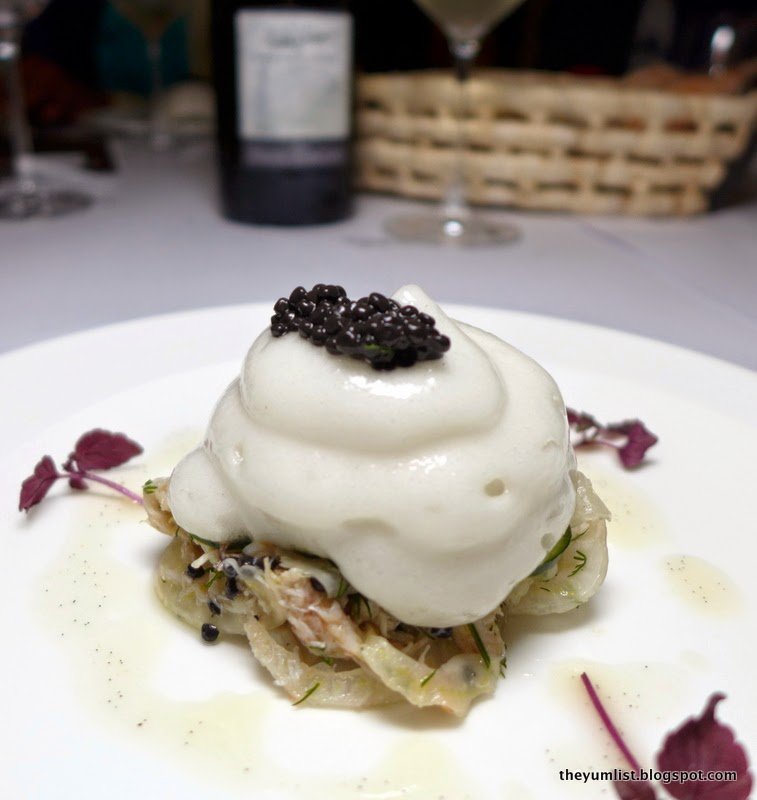 Crab Salad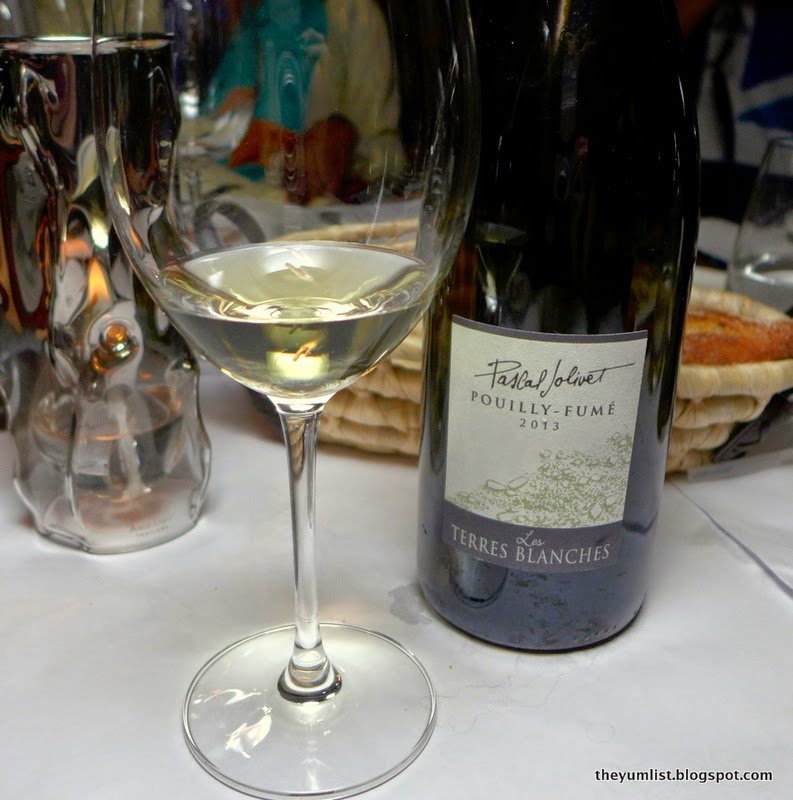 Pouilly Fumé 'Les Terres Blanches' 2013
Prawn Bisque then extended the pescatarian opening to the meal. The rich prawn broth was ceremoniously poured to partially submerge the juicy morsels of grilled slipper lobster that took centre stage in the bowl. These two components complemented each other perfectly as the underlying complexity and sweetness of both bisque and lobster were highlighted when combined. The steely, clean Sancerre Blanc  2010 was chosen to complement this dish: fresh and tightly wound on the palate, its acidity was tempered by very subtle residual sugar.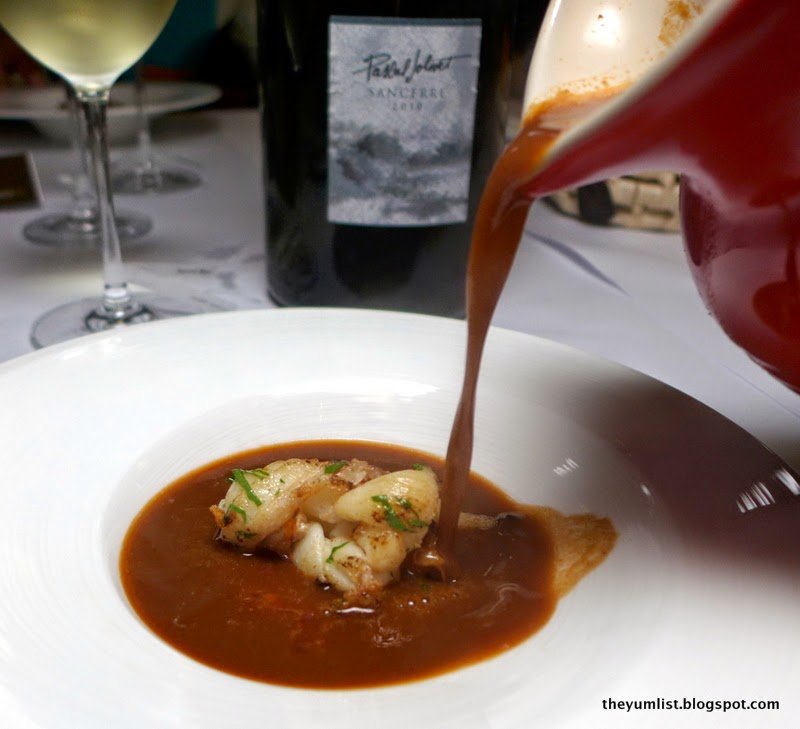 Prawn Bisque
The next course saw us temporarily leaving the sea to indulge in French pigeon. Cooked sous-vide, the meat was succulent and intensely flavoursome. The accompanying Du Puy lentils, spiced jus and very tasty quince puree provided flavour notes that gave this dish a perfect balance and, in particular, the combination of the deliciously sweet and tangy quince puree with the gamey flavours of the pigeon coupled with the aromas of red fruit and elegant, subtle spicy flavours of Pascal Jolivet's Sancerre Rouge 2010 was one the meal's real highlights.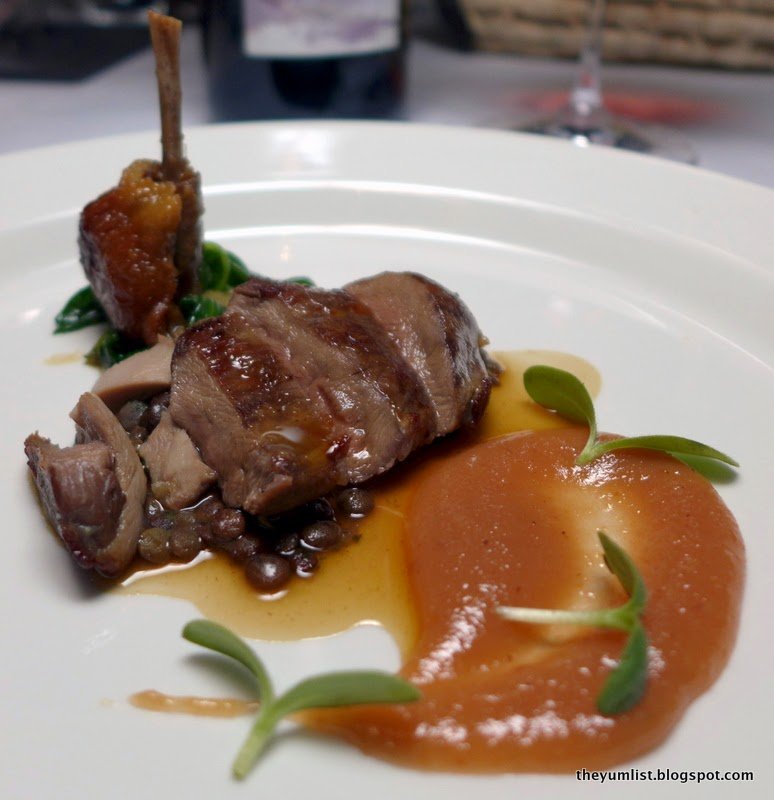 French Pigeon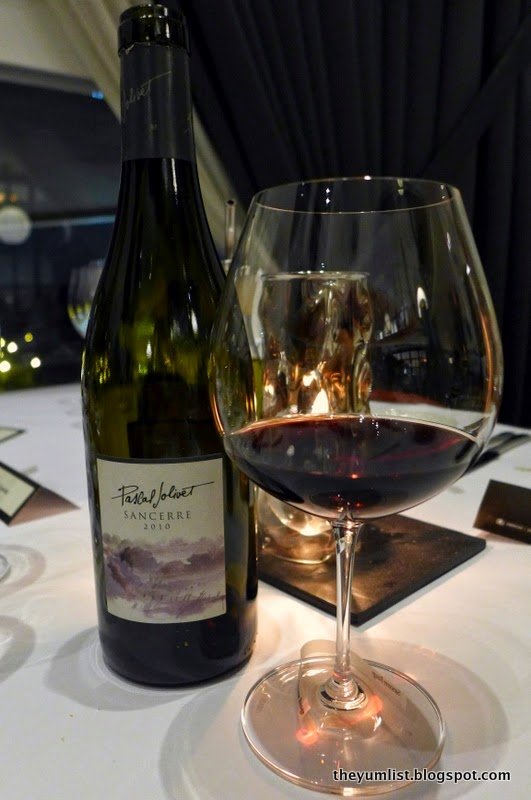 Pascal Jolivet's Sancerre Rouge 2010
The palate cleanser that followed was, as intended, a super refreshing citrusy interlude in the form of Calamansi Sorbet. A few zesty mouthfuls of this velvety slush ensured that all traces of game bird and red wine were neutralised in preparation for the fourth course.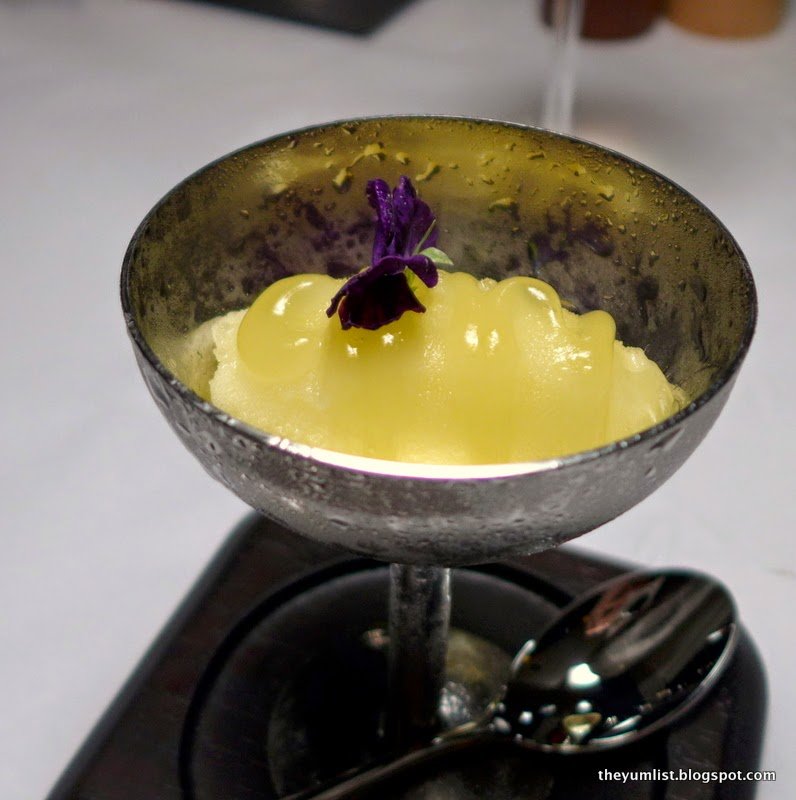 Calamansi Sorbet
Our final savoury dish saw a return to the sea with French Seabass Fillet. This was served with handmade gnocchi, grilled Cep mushroom, Escargot with garlic butter and perfectly al dente French beans and was paired with Pascal Jolivet "Sauvage" Grand Cuvée Sancerre Blanc 2011.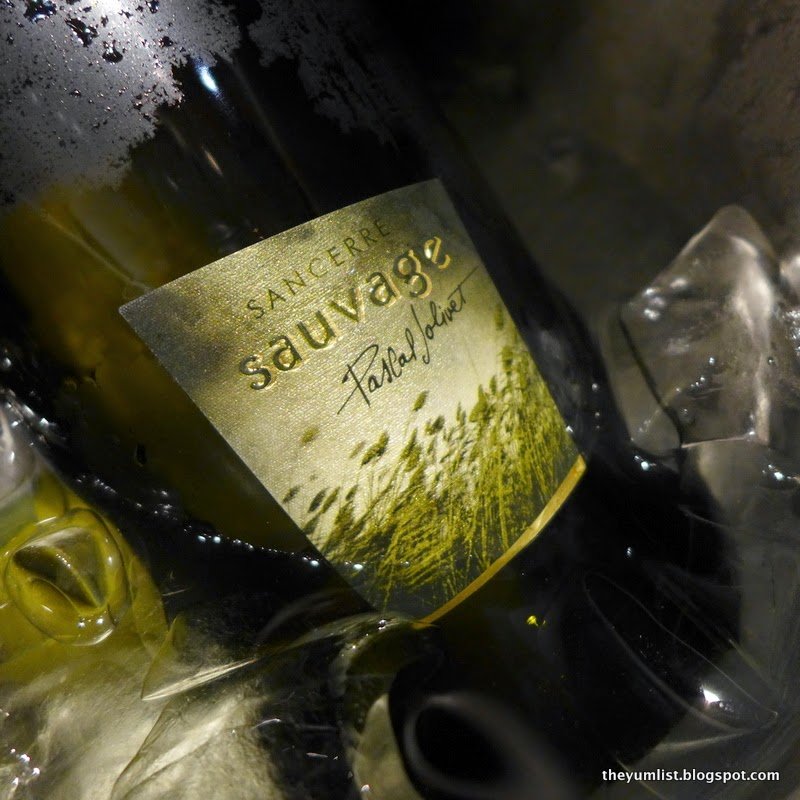 Pascal Jolivet "Sauvage" Grand Cuvée Sancerre Blanc 2011
This was another of the evening's highlights as the delicate flavours of the seabass combined exquisitely with the fluffy and buttery potato pillows and the sweet and earthy flavour of the mushrooms. The escargot provided a more meaty and pungent contrast that somehow didn't overwhelm the more subtle flavours of the dish to which the  wine contributed its richly textured freshness, its sweet pear and peach tones with citrus and minerals.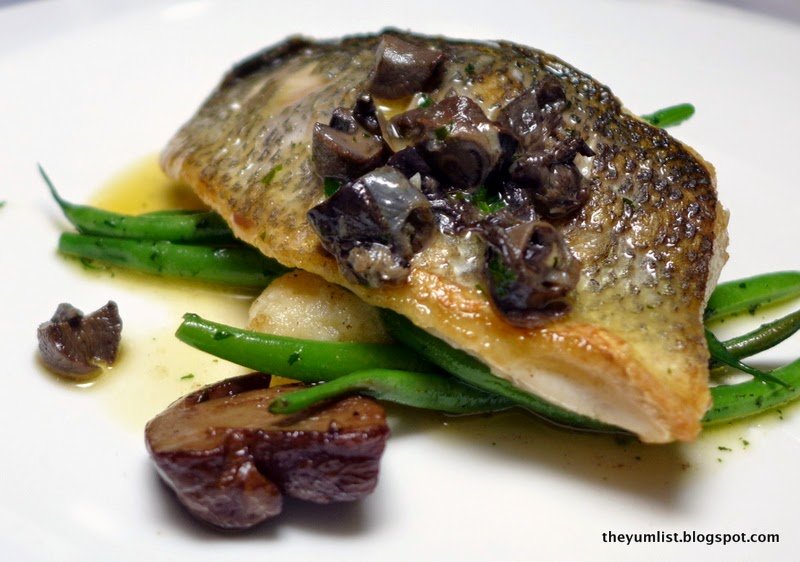 Seabass
A heavenly Mousse au Chocolat provided us with the finale to our feast. It was silky smooth and extremely dense in texture – the sort that lingers in the mouth and clings a little to your teeth before it fully melts and dissolves on the tongue. Topped with a light sugary crust, some refreshingly tart raspberries and accompanied with a dainty cylindrical tuile stuffed unctuous chocolate crème pâtissière and adorned with a julienne of candied lemon peel, this dessert had the finesse of all that had preceded it.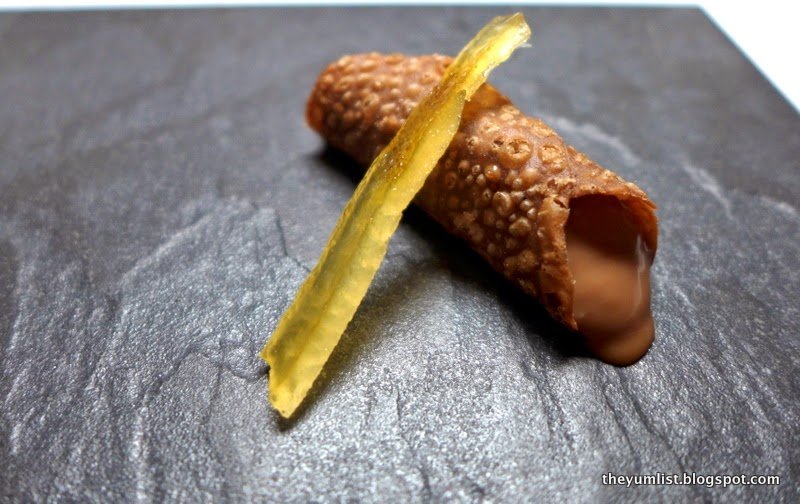 Dessert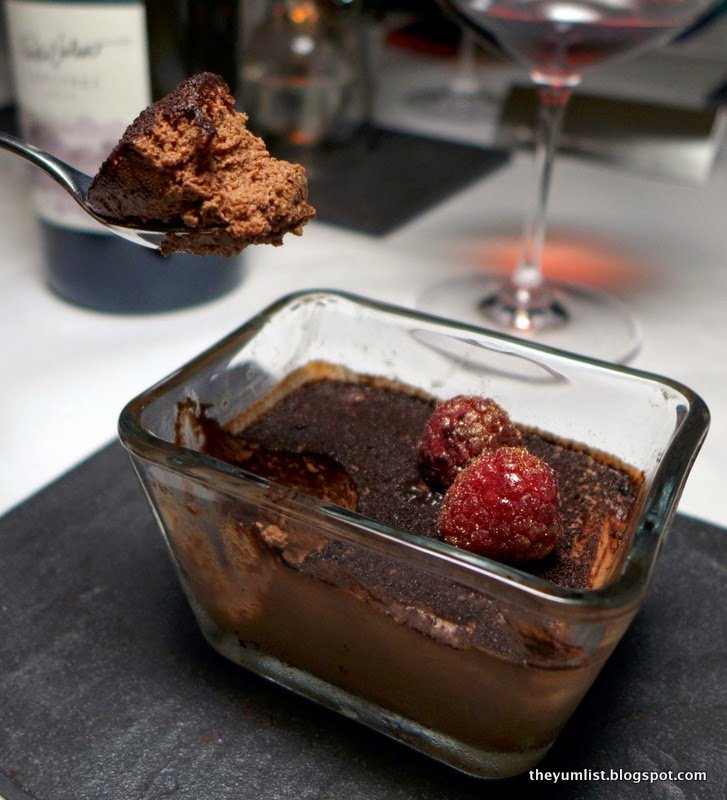 Mousse au Chocolat
Although this special meal was a one-off event, the dishes we enjoyed reflect the style of Graze's regular menu which is characterised by contemporary European cuisine with an emphasis on simple yet sophisticated Mediterranean flavours. It's a perfect venue for a relaxed lunch or dinner.
Reasons to visit:  good value for money, great food and wine in a relaxed and stylish setting with warm, attentive and professional service.
Graze
Hilton Kuala Lumpur
3 Jalan Stesen Sentral
50470 Kuala Lumpur
Malaysia
+6 03 2264 2596
Graze is open every day for lunch from 12:00pm to 2:30pm and for dinner from 6:30pm to 10:30pm.