Aisling Cullen and Monica Tindall
Nestled in a row of shop houses in a leafy and peaceful setting is Kenny Hills Bakers, a new bakery specialising in stone milled flour and organic ingredients for their breads and pastries.  The interior very much reflects the artisanal style baked goods that they sell – large bags of organic flour are displayed under the counter and the breads and pastries are the main focal point on entering the café.
Kenny Hills Bakers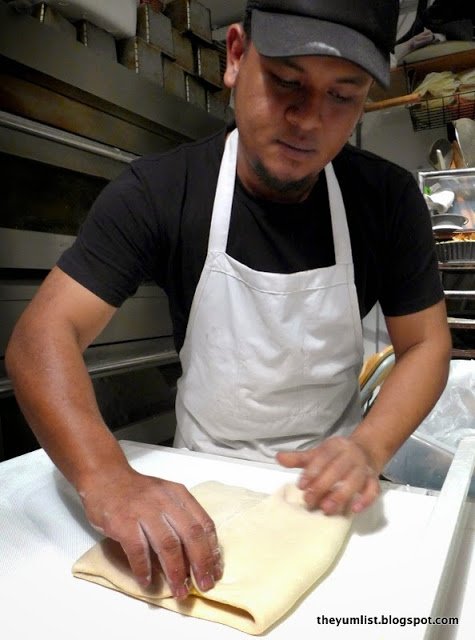 Kenny Hills Baker
This bakery has limited seating inside, so we chose a table outside under the fans for our lunch.  We were told that the menu changes on a regular basis as the owners love to explore new dishes that complement their breads.
Firstly we tried the croissants (RM7) which are the star of the baked products.  Flakey, buttery and fluffy, these are among the best croissants that you will find in KL. They come in three varieties – classic, almond and rich Belgian chocolate, each as good as the next.
Almond and Chocolate Croissants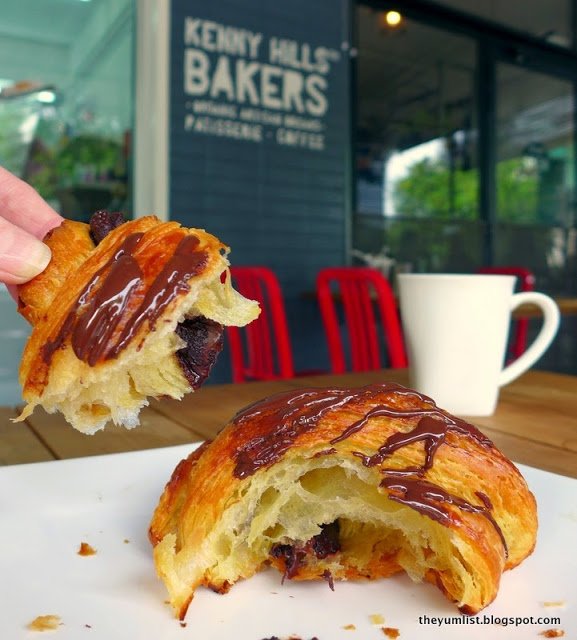 Chocolate Croissant
The coffee is chosen especially to match the pastries at this café and it does not disappoint. It's smooth, mellow and full bodied, complementing the pastries nicely. Coffees are from RM8 for a long black and RM10 for a flat white or cappuccino. Organic teas are RM9.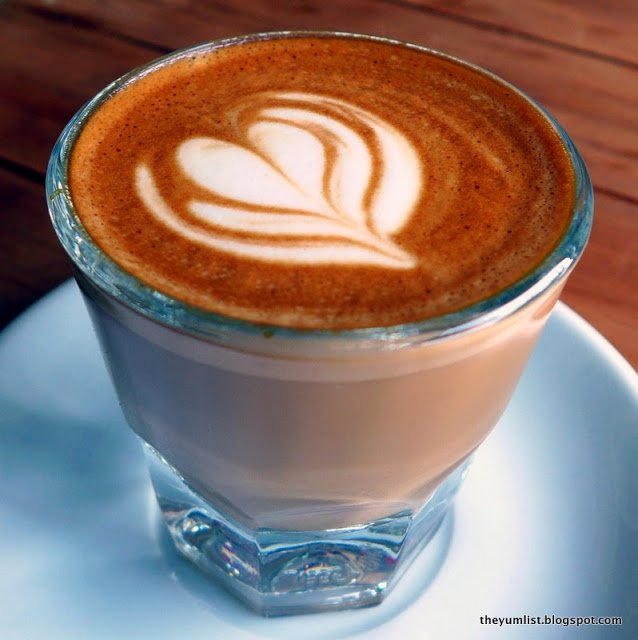 Piccolo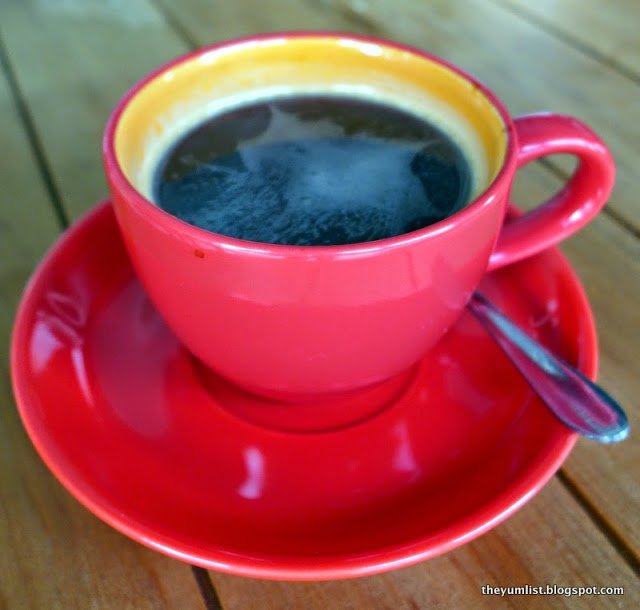 Long Black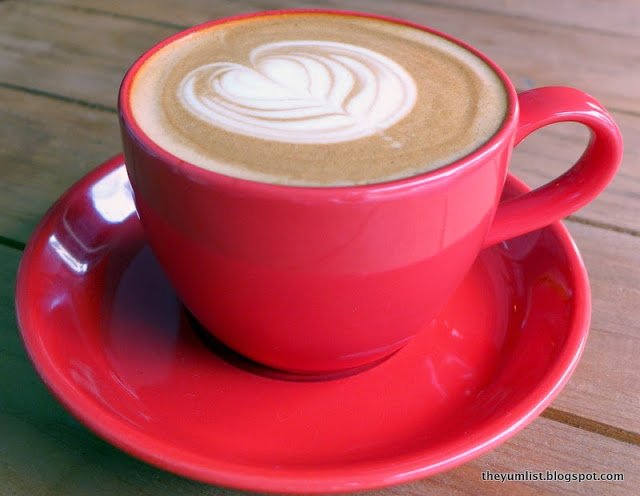 Flat White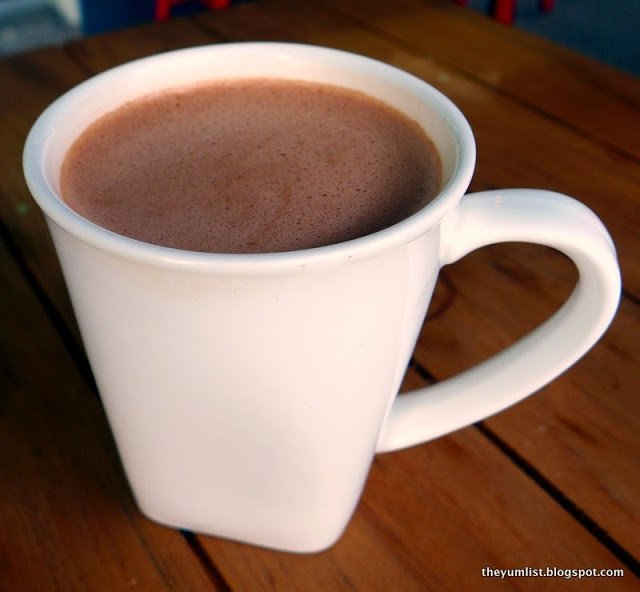 Hot Chocolate
We tried a selection of sandwiches which are listed on the chalkboard as you enter the café.  We chose a Chicken Pesto with Sundried Tomatoes on a croissant (RM16); though you can choose a different type of bread if you prefer. This sandwich was light and herby, and the croissant added a crunch to the generous chicken filling.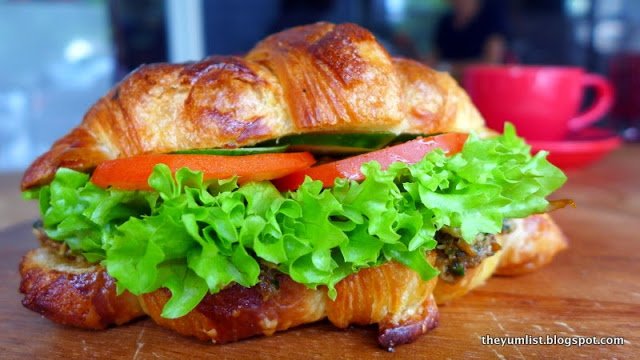 Chicken Pesto Croissant
The House Cured Salmon sandwich came on a poppy seed bagel (RM18). The bagel lived up to expectations – it was springy and dense, just as a bagel should be. A thick layer of cream cheese and tangy capers completed the experience.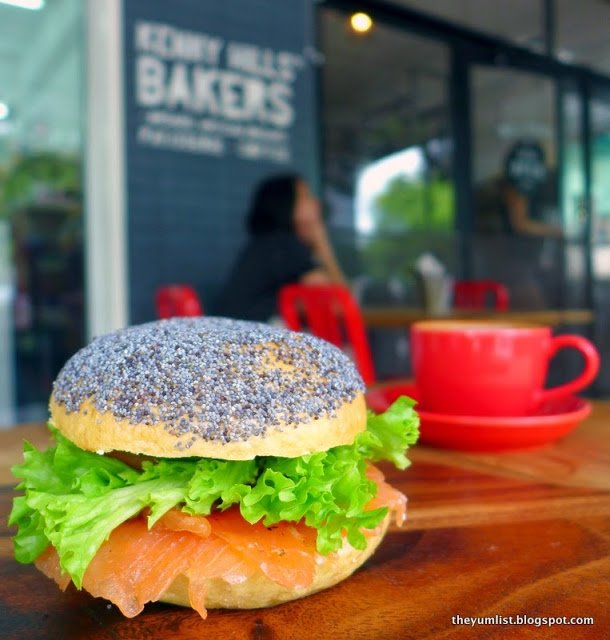 Salmon Bagel
The Vietnamese Bahn Mi (RM18) was the highlight of all the sandwiches.  The shredded chicken was set in a stonemill crusty loaf with fresh herbs, shredded carrot and a light chicken liver parfait.
Vietnamese Bahn Mi
Next up was a brunch dish of Eggs Flamenco (RM21).  We opted for the vegetarian version which consisted of baked organic eggs with roasted veg, chickpeas and a tomato coulis, topped with Grueyre cheese. It's also possible to have this with Spanish chorizo.  It was definitely a brunch dish worth returning for.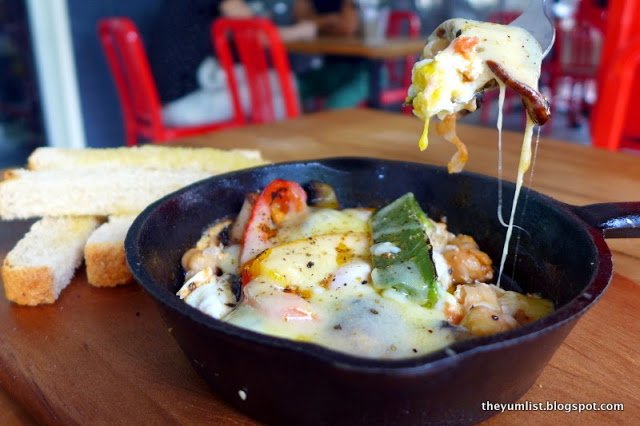 Vegetarian Eggs Flamenco
The Vanilla French Toast (RM20) consisted of brioche bread served on a sizzling platter with banana butterscotch sauce and blueberries. The bread was thick, sweet and eggy. I think a dollop of crème fraîche would really set it off.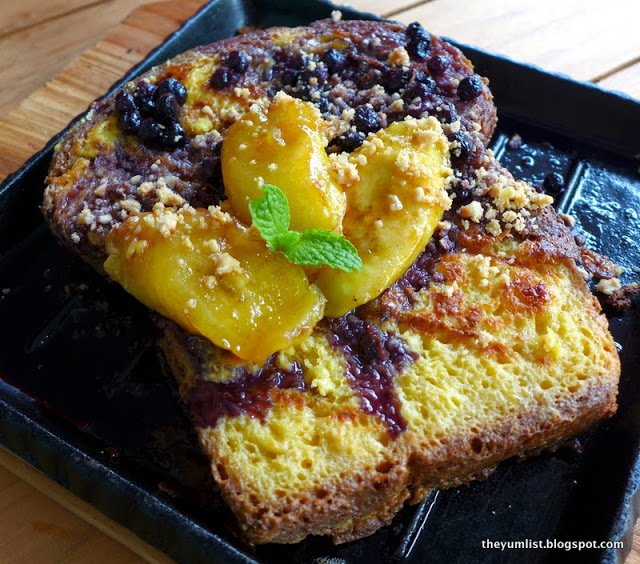 French Toast
Also noteworthy was the Beef and Portobello Mushroom Pie (RM18).  Large chunks of striploin beef were packed into this pie, with a crusty pastry that had the right level of firmness.  The gravy oozed out from the crumbly pastry and had the perfect consistency so the pastry doesn't get soggy.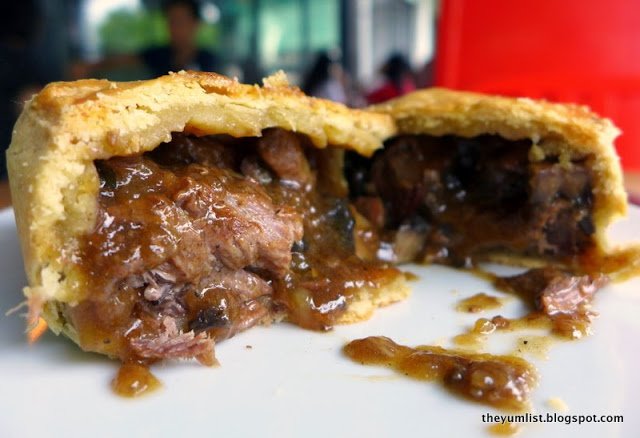 Beef and Portobello Mushroom Pie
We then moved onto the desserts. One of our favourites (and also quite healthy – gluten free, raw and vegan) was the Mango and Chia Seed Pudding.  This was simply made with the chia seeds soaked in coconut milk and blended mangoes topped with organic sunflower seeds. The pudding wasn't too sweet and was a refreshing treat.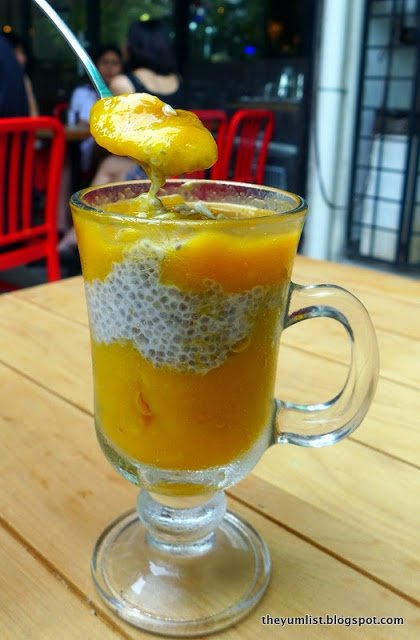 Mango Chia Seed Pudding
For a more indulgent option, we enjoyed a Bread and Butter Pudding  (RM16) made with croissants, organic eggs and fresh vanilla pods. The vanilla ice cream is also made from scratch and the portions are generous.
Bread and Butter Pudding
Another memorable dessert is the Apple Pie which consisted of huge chunks of cinnamon flavoured apples which had a slight bite in the middle. The pastry was once again crumbly, not too thick, and had a crunchy sugared topping.  It was also accompanied by the homemade vanilla ice cream.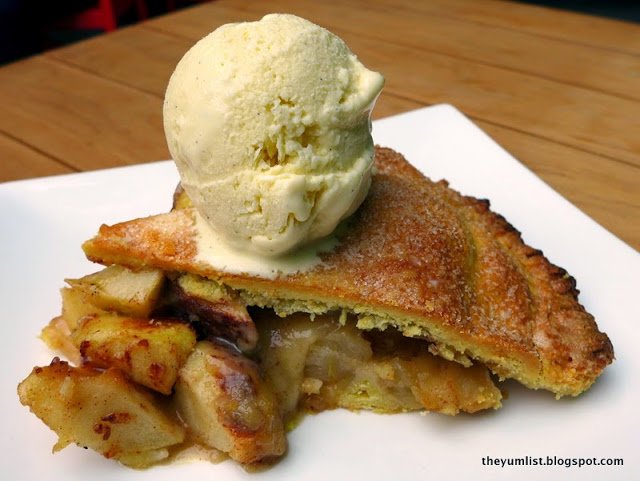 Apple Pie – look at those big chunks of apple!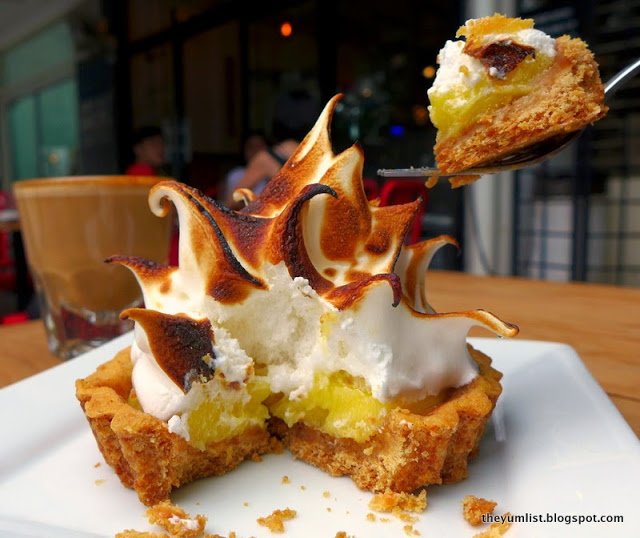 Lemon Meringue Pie
Salted Caramel Apple Cheesecake – YUM!!!
Both the Lemon Meringue Pie and Salted Caramel Apple Cheesecake were divine. The first, had a crumbly but firm base encasing smooth lemon curd. The sharp tang of the curd was balanced by the tower of sweet meringue, and when mixed together gave the ultimate mix of sweet and sour. The latter, was heaven on a spoon: similar base to the pie, but with a delicious layer of soft apple, topped by an aerated light cheese and finally sprinkled with with toasted walnuts.
For bread lovers who can't take gluten, Kenny Hills Bakers will take orders mid week for gluten free bread which can be picked up at the weekend.
Reasons to visit: hand crafted breads and pastries, generously portioned desserts that are not overly sweet, good coffee, everything made from scratch, leafy al fresco seating away from the traffic.
Kenny Hills Bakers 
I-1B, Taman Tunku, Off Langgak Tunku,
Bukit Tunku,
Kuala Lumpur
Malaysia
+6 03 6206 4111
Open daily, 7.30am – 7pm.