Nestled in an intimate bungalow setting just a street or so from the heart of the city, Vila Manja specializes in spa parties! Sounds like just the thing for The Yum List – food and pampering both at the same time.  We're in!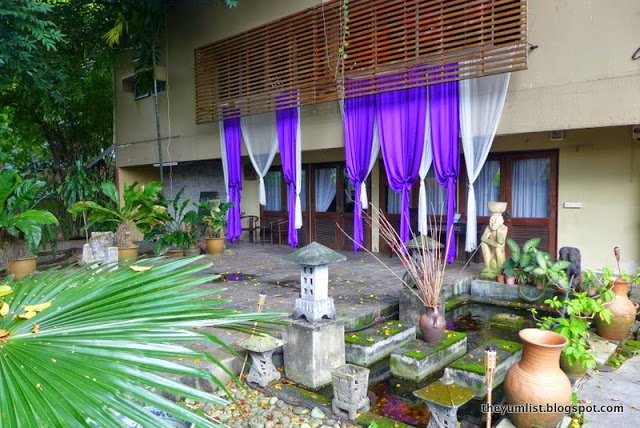 Villa Manja Entrance
There are only two of us on this visit, but that's all we need for a fiesta. Actually those of you who know hubby might say that he could have a shindig all on his own, but I digress. The Manja Afternoon Tea and Spa is what has grabbed our interest.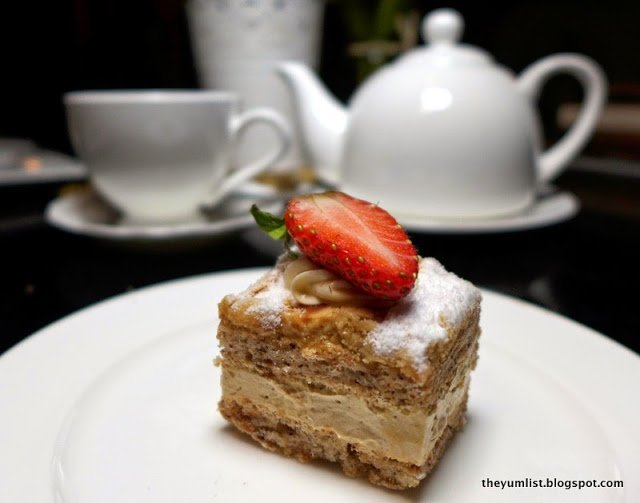 Afternoon Tea
This package includes a 30-minute signature Manja Hot Stone Massage, followed by a 60-minute Manja Relaxing Massage and afternoon tea for two. The hot stone can be swapped out and replaced with a coffee foot and hand spa. The original though is one of their best sellers and highly recommended to enable the body to deeply benefit from the massage, so we stick with the initial set.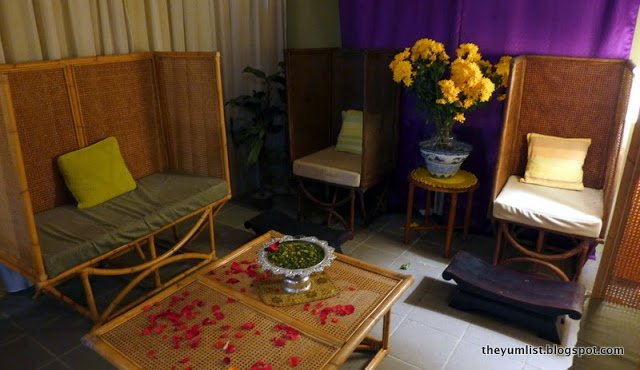 Another Lounging Area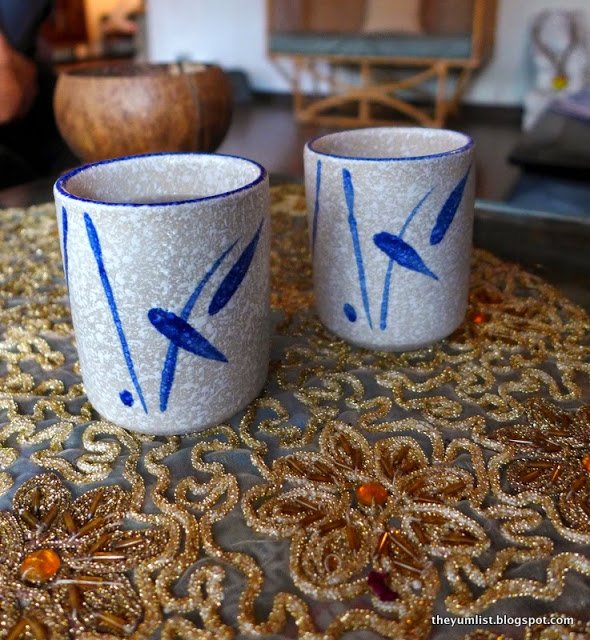 Spa Tea
We're escorted to our treatment room where we change from our work clothes into more appropriate spa attire – disposable underwear and a sarong.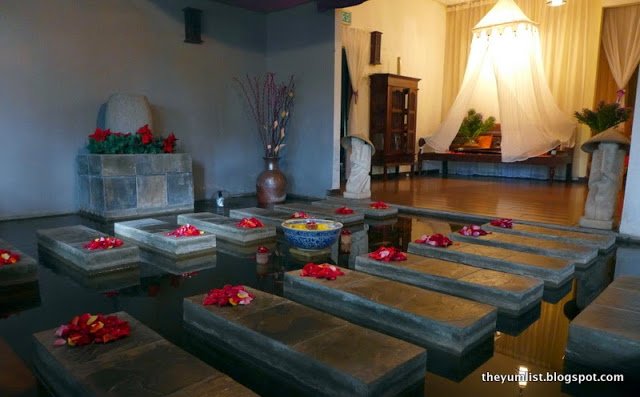 Interior
Now prone on the massage bed, smooth volcanic stones hold heat for a lengthy period, and when placed on our tight muscles we can't help but moan with pleasure as tension begins to release from our bodies. Carefully placed on muscles and soft tissue, avoiding the bones, we can feel the heat penetrate deep beyond the skin's surface. By the end of the first half hour we perceive both our physiques and minds of an improved disposition and primed for the upcoming 60 minute massage.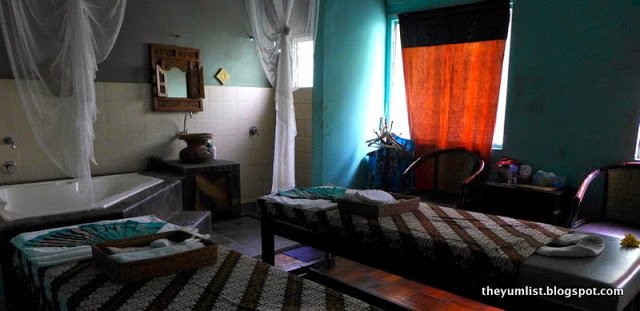 Treatment Room
Long strokes with thumbs and palms further relax us, and velvety oil assists smooth hands to glide over our form. Both of our masseuses are strong, and they manage to dig deep into our tense backs.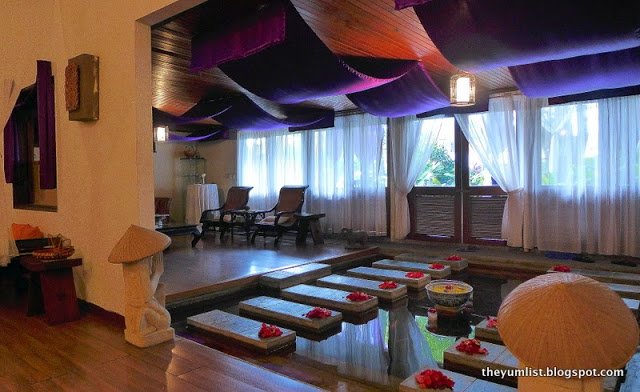 Relaxation Area
After being lulled into a relaxed state, the last thing we want to do is jump in a car and wrangle with the traffic, and we don't have to! We still have the afternoon tea set to come, and by the time we've redressed it's waiting for us with a warm pot of English Breakfast.
Fluffy white scones with jam and cream, house-baked cakes and, freshly made sandwiches are laid out in platters. This is one of the freshest afternoon teas I've eaten in Kuala Lumpur. It's all made from scratch by Marianne, the spa manager, who just so happens to have been an internationally traveling pastry chef for 22 years! No wonder it's so delicious. Bread is soft and salad, mashed eggs and cheese are inserted in the sandwiches moments before we sit down. Scones are light, and the pastries, oh the pastries! The shells are perfectly crisp and the fillings an exemplary balance of sweet and tart.
With the popularity of the sweet package, Villa Manja has now partnered with Encore Patisserie Cafe to bring guests more scrumptious goodies. With Marianne's careful eye and penchant for perfection guests are assured a continued luscious experience.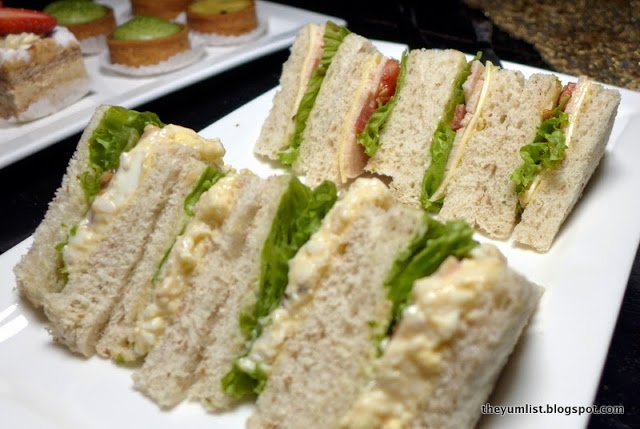 Freshly Made Sandwiches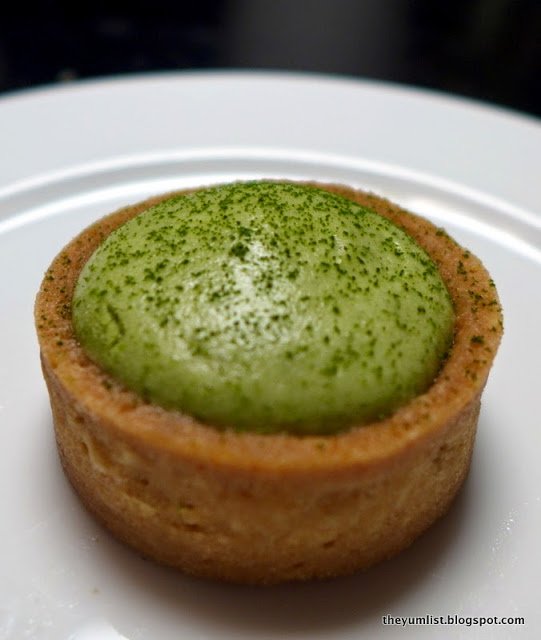 Green Tea Tart
The Manja Afternoon Tea & Spa is priced at RM400 for two people. If visiting on a weekday, it's a little cheaper at RM380 for the same.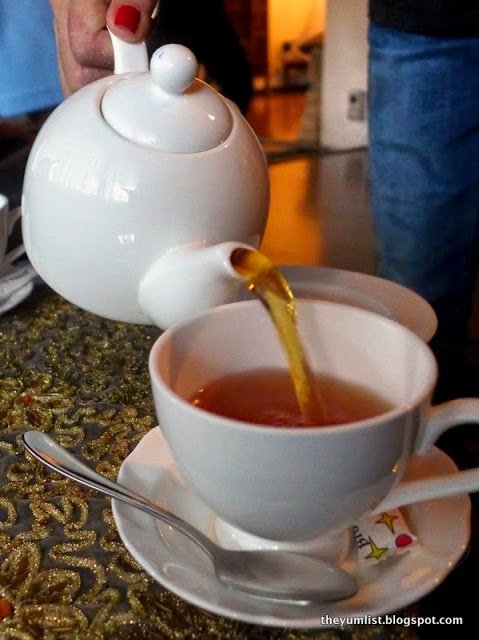 Tea
While we enjoyed the treatment, we think the charm of this place is the positioning to hold spa parties, or a 'sparty.' The hold bungalow environs make us feel as though we've entered 'auntie's' home. It's relaxed and rustic. Furniture is vintage and the whole mood is easy-going and welcoming. The spa manager Marianne, as mentioned earlier, is a superb chef, and is known to whip up dinners for wise guests who call in advance, not wanting to jostle with traffic after work, to book in for a massage and a meal.
I'd like to return here with a bunch of friends. We'd order the Afternoon Tea, which comes with scones, sandwiches, sweets, tea and approximately 20 minutes of foot, head, neck and shoulder pampering. We'd bring a few bottles of wine (no corkage) and while away an afternoon chatting, nibbling, sipping and being pampered in Vila Manja.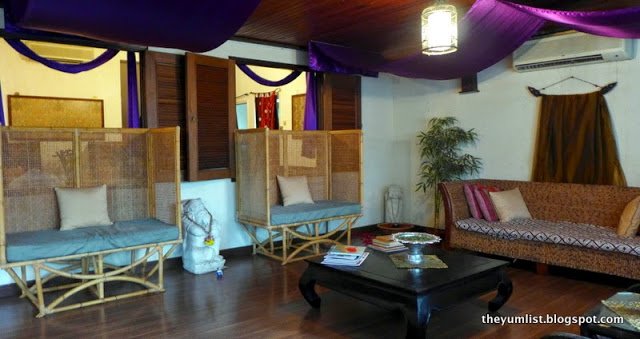 Spa Lounge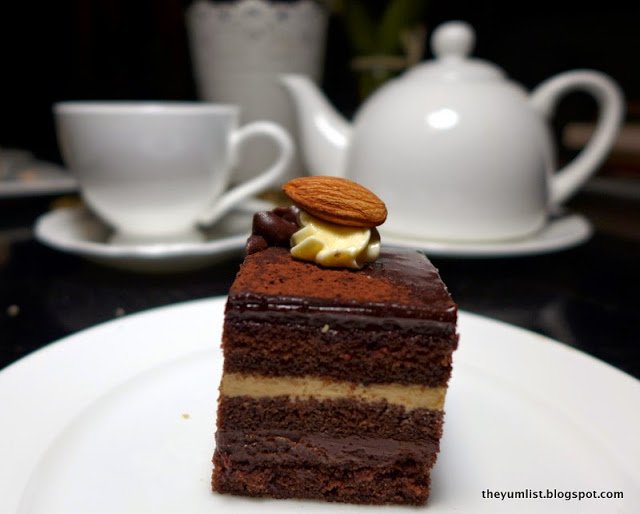 Chocolate Cake
Reasons to visit: relaxed location for a group spa event; excellent food; reasonable prices!
Vila Manja
Villa 41 Jalan Damai, Off Jalan Tun Razak,
55000 Kuala Lumpur
Wilayah Persekutuan, Malaysia
+6 (03) 2161 5418