Housed in the glorious former residence of Cheong Fatt Tze, The Blue Mansion, this fine dining restaurant serves refined modern Cantonese cuisine reflecting the lavish love for life held by its namesake, a jet-setting aristocrat of the late 19th century. Romance and elegance of the past lives in the walls of one of the most iconic boutique hotels in Malaysia, and a reservation here allows guests to relive its grandeur, at least for an evening.
Pre-dinner Drinks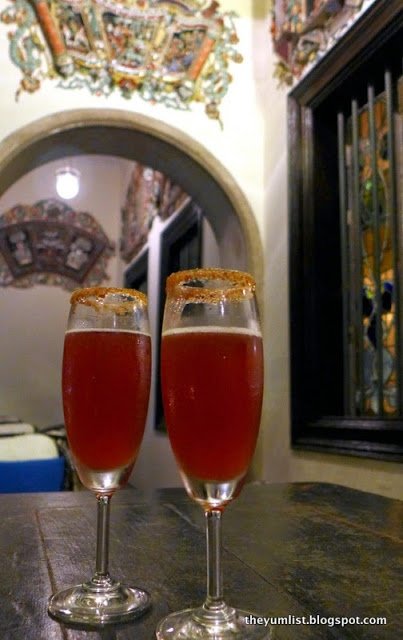 A welcome flute of Nutmeg Juice with a crushed nutmeg rim
No finer beginning could be had than with drinks on the balcony of what was once the master's bedroom. A Samadhi State of Mind cocktail in hand, views of the garden and distinctive decorative upturned arches of the gate guarding the entrance below, and a gentle breeze, has us in a relaxed disposition, seeming to signify the official start of our luxe weekend getaway.
The beverage menu is admirable for a small venue. No less than eight wines are available by the glass (besides the more extensive range offered by the bottle), there's the standard beer and juices, and an engaging list of house-crafted cocktails and mocktails too.
My choice sees lemongrass, kaffir lime leaves, and lychee crushed and shaken with lime and vodka, then strained over ice to form the refreshing Lychee and Lemongrass Smash (RM37). Hubby surprisingly has commenced with a Samadhi Zerocholic Delight, the Forever Young (RM19). Perhaps enticed by the name and his complaint of lower back pain after the four hour drive from KL, he's pleased with the mix of pressed pineapple, orange and carrot juice, a squeeze of lemon and drop of vanilla.
Mocktail and Cocktail
Moving from the peaceful patio we enter the graceful and air-conditioned restaurant. Extraordinarily high ceilings embellished with maroon lines and patterns, stained glass windows, and oversized tapestries and mirrors enclose the space in a glove of magnificence.
Chef Maurice Khoon Meng Khoon Toh, Executive Chef of Cheong Fatt Tze Restaurant, specializes in classic as well as modern Chinese cuisine. Coming from a family of chefs, meant he practically grew up in the kitchen, and at a very young age had already mastered the art of making fresh noodles and dim sum. Later, with formal training, he traveled the world working in both 5 star hotels and independent restaurants, honing his skills in Chinese cuisine, while expanding his knowledge of western dishes. Today, as head chef at The Blue Mansion, he brings sophisticated Cantonese to the table with his own creative modifications.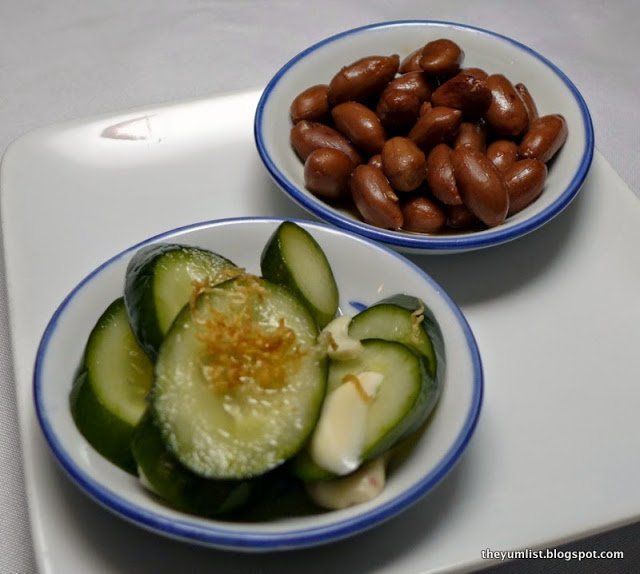 Boiled peanuts and pickled cucumber  – I could snack on these indeterminably
Wine
A 2012 Riesling (RM35) from Prinz Von Hessen 'H' Rheingau, Germany turns out to be a terrific match for our food choices. The sommelier has clearly carried out a thoughtful search when choosing wines for this menu. I get a fruity bouquet with subtleties of white peach, some citrus and sweet residue in the mouth, and a medium length finish.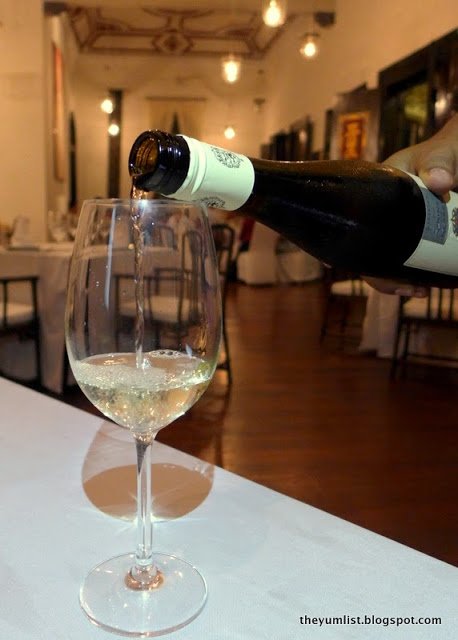 German Riesling
Appetizers
The appetizers all sound so good we find it hard to just choose two. So we don't! We order a trio. Deep-Fried King Prawns (RM47), cooked to ideal grain, are tossed in a creamy wasabi sauce and topped with a bright dollop of tobiko. Cradled in a noodle basket and adorned with a deep pink orchid, it's a pretty dish, and turns out to be hubby's favourite plate of the night.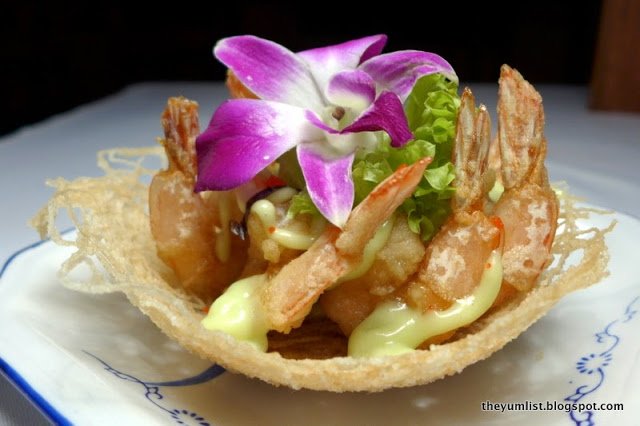 Deep Fried Prawns
Crispy Eggplant (RM31) satisfies my veggie-loving desires, with cubes of the creamy fruit quickly deep-fried and encrusted in caramelized chicken floss. It's not just myself that appreciates the velvety middle and mildly chewy coat, but hubby too is quickly shoveling these bite-sized delicacies into his mouth.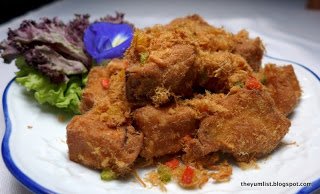 Deep Fried Eggplant
Hubby's carnivorous longings are taken care of with Crispy Shredded Beef (RM42) with a honey garlic sauce. This dish has us both salivating with the delicious aromas that hit our nostrils before it's even laid on our table. But in our mouths we're left with nothing to say as we try to figure out what texture the fried strips of meat remind us off… caramelized popcorn! It's crisp, chewy and almost toffee like in its intensity: definitely a plate for sharing. The Riesling I'm sipping on seems to mirror the highlights in this recipe further bringing out honey notes in the mouth.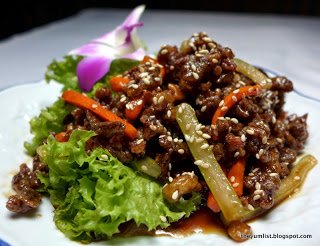 Fried Shredded Beef
Soups
Served in a hollowed out pumpkin, the Double-Boiled Silky Chicken Broth (RM42) with abalone, mushrooms and seafood delivers a dramatic presentation. While I think it fun to have an orange gourd all of my own, there's more than enough for sharing. Not only do we finish the soup down to the very last drop, but have fun digging out the flesh of the edible container too.
Double-Boiled Silky Chicken Broth
Main Courses
Mains are divided into meat, seafood and poultry. We sample one of each. When we ask our waiter for recommendations he beams from ear to ear when suggesting the Braised Lamb Shank (RM50), so we'd be silly not to request it. Prepared Shanghainese style, it's a buxom piece of meat that provides more than enough protein for two. Based with a jungle of verdant bean sprouts, the greens' freshness contrasts directly with the rich depth of flavour in the meat, balancing the dish adeptly.
Lamb Shank
Steamed Fillet of Barramundi (RM59) is another dish that comes with high praise. Ginger, onion and butternut pumpkin puree blankets the lightly battered shapes, which upon slicing reveals succulent, flaky flesh. A raft of perky asparagus spears carries the fish and a sprinkling of herbs brings forth some colour symmetry on top.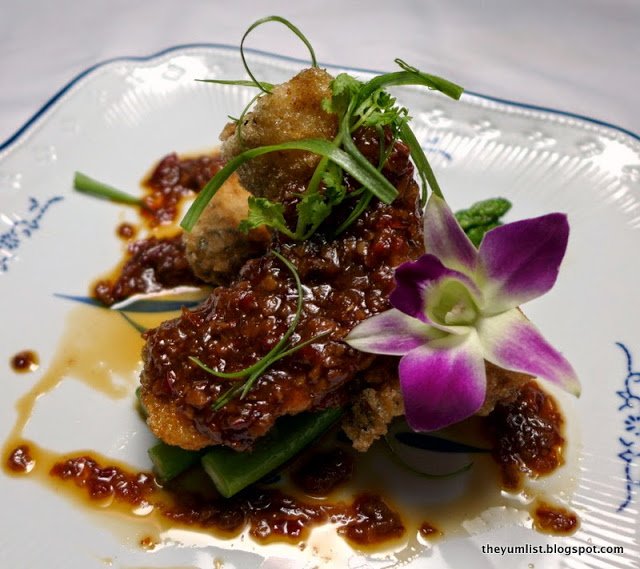 Barramundi
We consider duck a must when dining on Cantonese fare, so the Pan Grilled Five Spice Duck Breast (RM53) is quickly decided upon. Made even more luscious with an orange plum sauce and purple sweet potato puree, the slices of poultry are fanned down the length of a long white platter. The skin of the duck glistens in the light and the pinkish-brown middle manifests to be just as tender as it looks.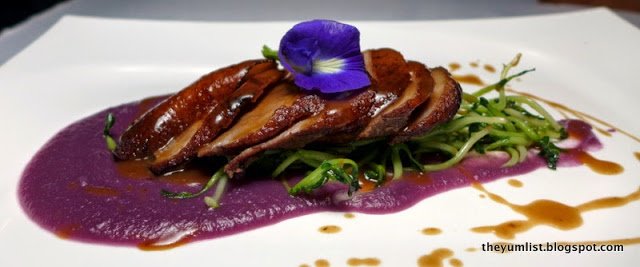 Duck Breast
Vegetables
Stir-fried Asparagus, Lotus Root, Sweet Bean, and Pumpkin (RM28) are just cooked retaining a crunch that we both find delightful in garden fresh veg. Topped with freshly pulled pieces of crabmeat and an egg white sauce, this too is a very generous serving, another plate easily shared.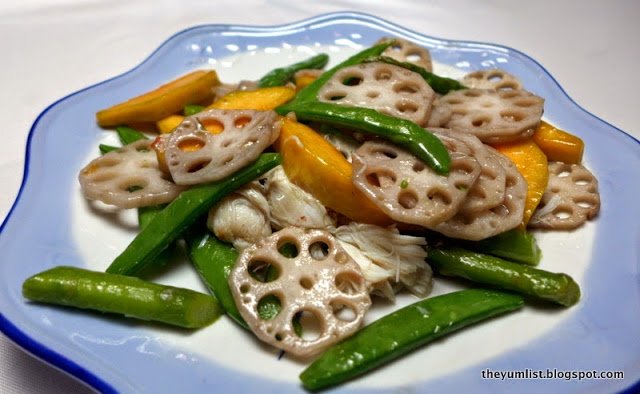 Mixed Vegetables
Rice and Noodles
Cheong Fatt Tze Scallop Fried Rice (RM32) is a house favourite. Long grains are separated and spattered with small chunks of scallops, greens and egg. It's great eaten on its own, but I especially like the complement with the sauce from the fish.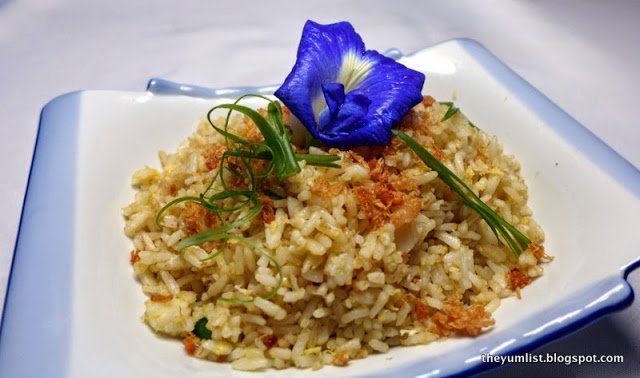 Scallop Fried Rice
Desserts
After that feast we only have a tiny margin left for dessert so decide to share the signature Blue Mansion Tiramisu (RM24). Attractive presentation has been carried through to the very end of the meal. The cube of sweet cake layers moistened with pear liqueur from the Chang Yu vineyard is crowned with fresh blueberries and a purple orchid, and sided with a strawberry and mango slice.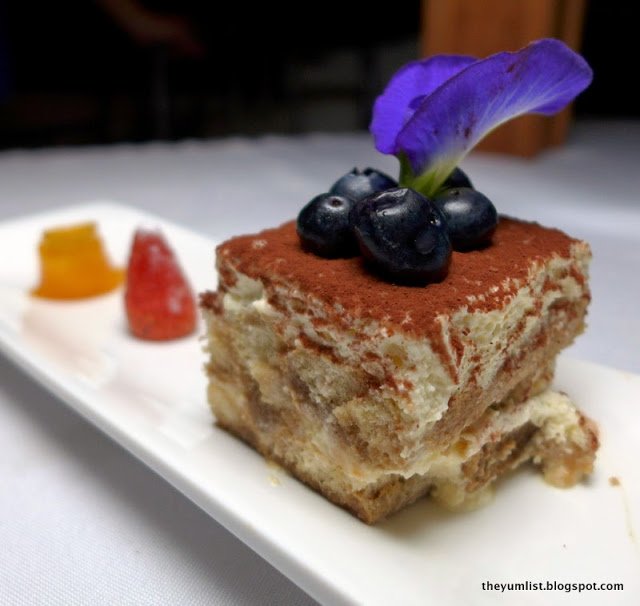 The Blue Mansion Tiramisu
Our finish, a Cabernet Gernischt, benefits from a little time to air. Peppers and berries in the palate, it's a reasonably uncomplicated drop and would do well a little earlier in our meal paired with the lamb shank. This wine from Chateau Changyu Castel, a legacy from one of the many businesses of Cheong Fatt Tze, ends our evening providing a link from our table to our room (we're suitably staying in the Chang Yu room at The Blue Mansion).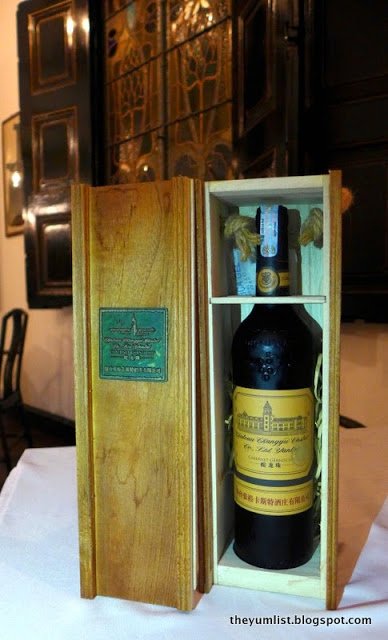 Chang Yu Castel Red Wine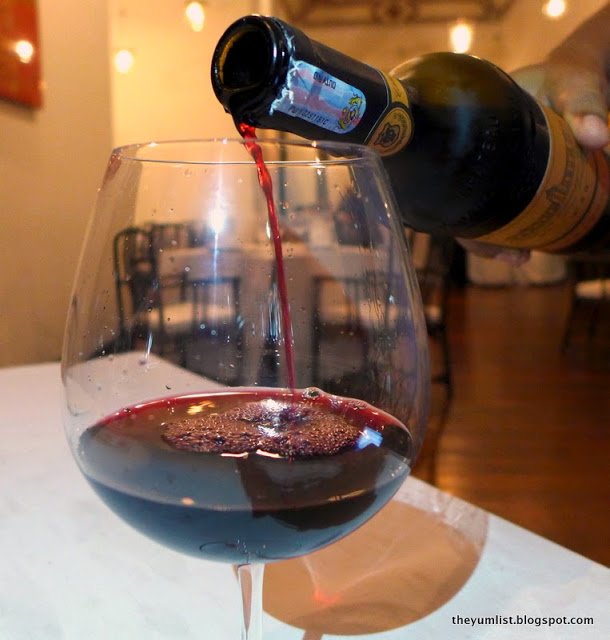 Chang Yu Castel Red Wine
Reasons to visit: stunning historical setting; hubby's favs – the king prawns and wasabi mayo, the pumpkin abalone soup and the duck; my favs – crispy eggplant, barramundi and veggie plate.
Cheong Fatt Tze
Restaurant
The Blue Mansion
14 Leith Street
10200 Penang
Malaysia
+6 04 262 0006