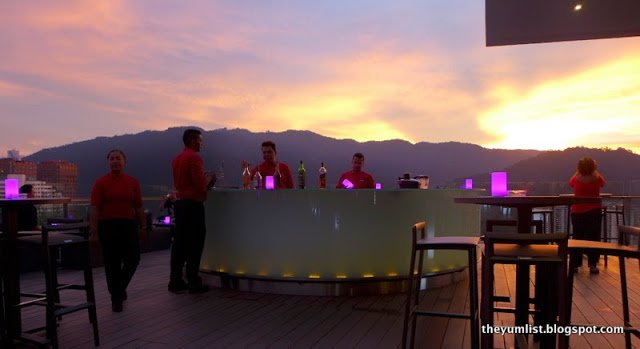 Lush hill views on one side and seascape glimpses on the other, Gravity rooftop bar, is the latest and greatest in Penang's bar scene. Perched atop the newly opened G Hotel Kelawai, on the 24th floor, the sky bar promises a night to remember.
We arrive just as the sun is setting so see it fit to begin with a sundowner. The Gravity Sunset
(RM26) cocktail is perfect sipping as day fades into night. An icy cold mix of Tequila, berries and crushed ice makes a refreshing beverage, and our perch at the bar allows us not only a spectacular view, but too a chance to chat with the bartender.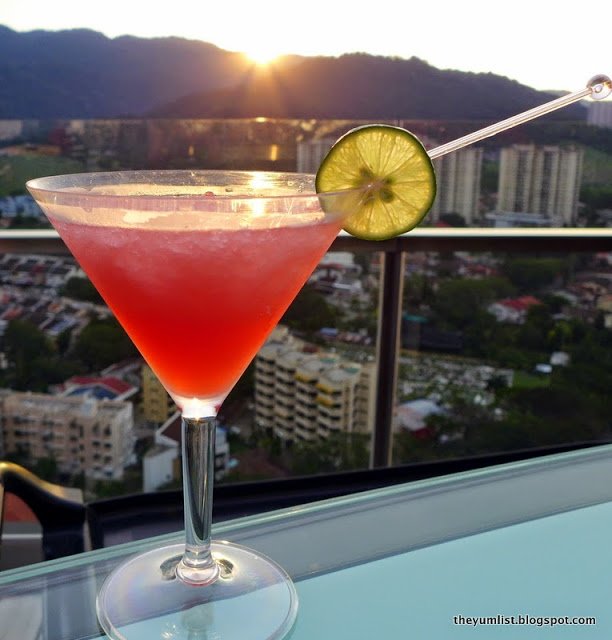 Gravity Sunset
Enthusiasm for mixology shared, we're quick to place our next order, another Gravity specialty curated by the in-house mixologists, the Pomegranate Mojito (RM38). The traditional recipe of rum, lime and mint leaves is given a fruity edge with pomegranate syrup and topped up with soda water.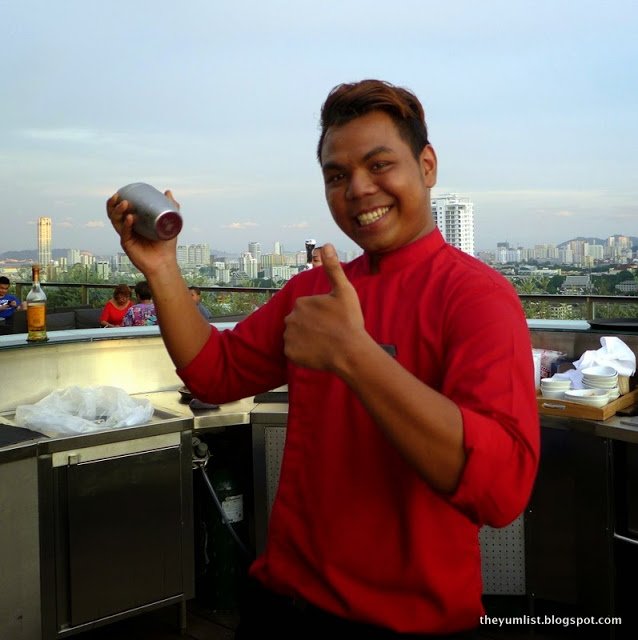 Bartender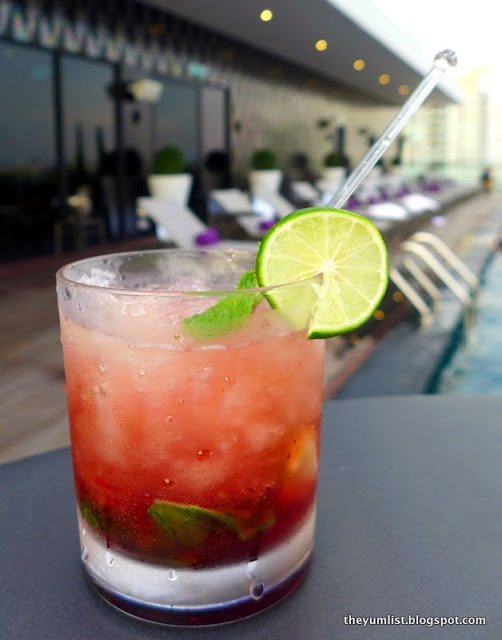 Pomegranate Mojito
As the last sips of our second cocktail slide down and the dark envelops us, the atmosphere moves from casual to distinctively chic. The glittering lights of Penang are mirrored with a star-studded sky, and soft lighting on the rooftop reflects off the pool's surface.
Before we imbibe any further, we decide some food is in order and we find the menu at Gravity offers a simple selection of tasty bites.
Prawn and Watermelon Salsa (RM19) is my immediate pick, as it looks the least calorie-laden of the offerings. Atop a base of juicy yellow watermelon and feta sit grilled Thai prawns. A light cucumber salsa adds to the light fresh theme.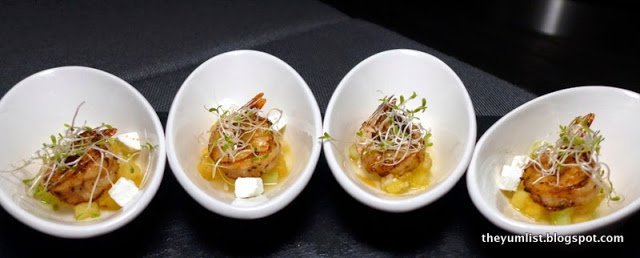 Prawn and Watermelon Salsa
Made of ground chicken breast, tomato and melted cheese, the Gravity Rissoles (RM19) lounge on a bed mixed leaves with a lemon vinaigrette. They're of a smooth texture and rounded in flavour – something of a slightly heartier nature on this compact menu.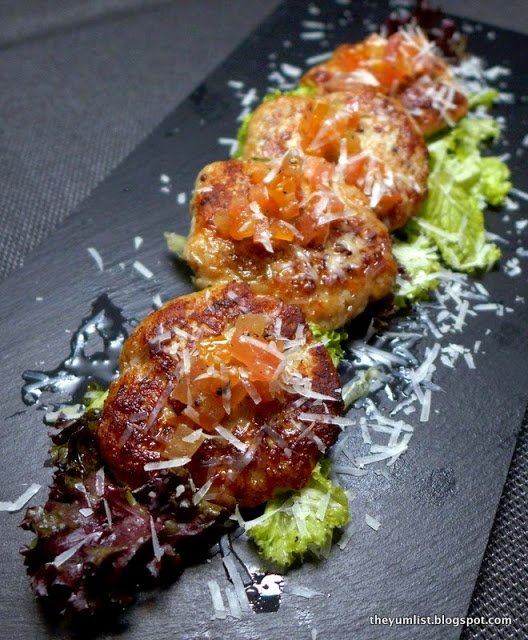 Gravity Rissoles
Soft Shell Crab (RM24) features the crustacean deep-fried and sided with crisp julienned summer vegetables in a wrap. The contrast between the rich fried item and fresh light bites, make it easier to eat the entire plate.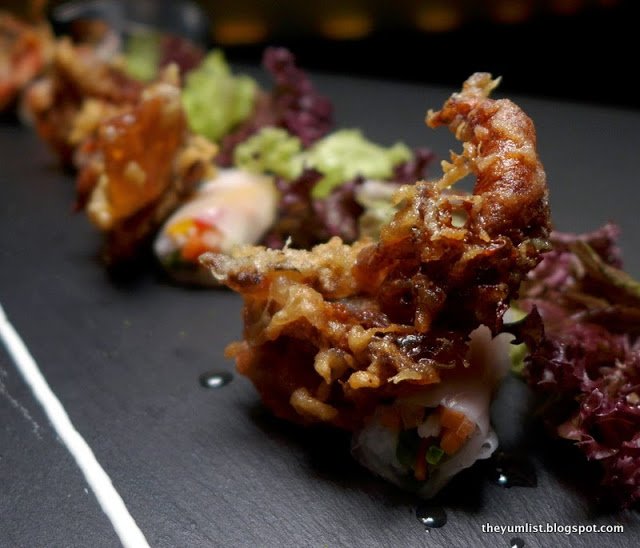 Soft Shell Crab
Lumpia (RM19), Balinese duck spring rolls, is hubby's choice and we find them packed with veggies, coriander and flavourful poultry. The sweet chili sauce gives them a lick of spice.
Back to liquid entertainment and we're browsing Gravity's house cocktails. All feature some type of white liquor, berries of one kind or another, and either soda or something carbonated to finish the glass. As we've already had rum and Tequila, I insist we try alternative spirit bases (perhaps against all better judgment about mixing drinks).
I call for the Gin Berry (RM38), which combines the namesake, blueberries, lemon and soda. Hubby requests the Vodka Berry (RM38) with cranberry, lime and soda. Both are pretty much what you might imagine, light, fresh, fruity and effervescent: great choices for this tropical climate.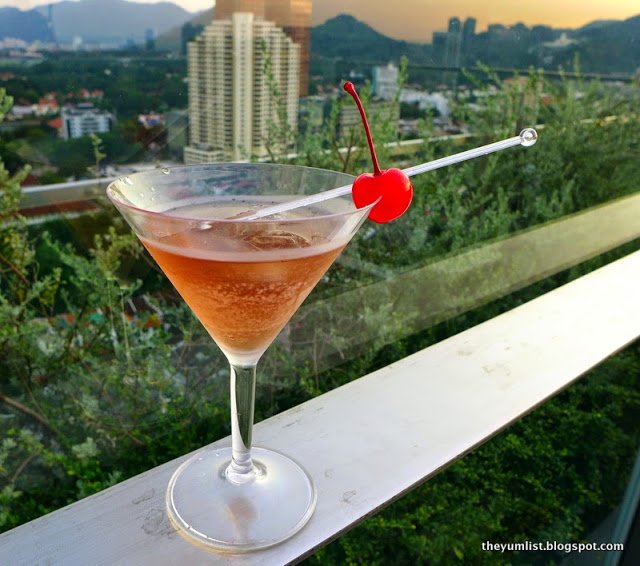 Gin Berry
For something tasty minus the alcohol, JK Jam (RM21) is Gravity's signature mocktail made with orange mango juice, lychee, grenadine and lemonade.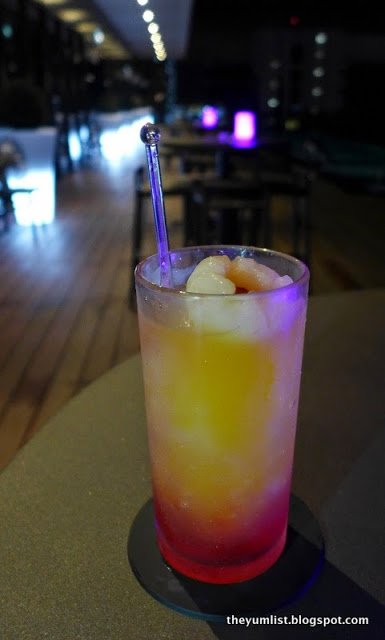 JK Jam
Besides cocktails, a liquor and wine list round out the offerings. Five red and five white wines are available by the glass, and the standard spirits have a place on the menu too. Happy Hours run from 5pm – 9pm and patrons receive one-for-one on all house pours.
As hotel guests leave the rooftop lap pool to settle for the evening, the soft sounds of chill music come to the forefront. The ambience is relaxed, the temperatures pleasant, and the staff amiable. That melded with reasonable drink prices and the freeing views of the open air space is a winning combination. We could cheerfully while away hours here.
Reasons to visit: great views; one-for-one happy hour deals; Gravity specialty cocktails; chic
ambience; chilled vibe.
Gravity
G Hotel Kelawai
2 Persiaran Maktab
10250 Penang
Malaysia
+6 04 238 0000
Open 12pm – 11pm.