Words:  Kristin Cosgrove        Photos: Monica Tindall
Having lived in KL for four years, I had long given up hope of finding a good salad bar (or ANY salad bar for that matter) where one could custom-build a healthy salad covered in beautiful fresh veggies, a dash of fruit, nuts, maybe some chicken and a lovely dressing all singing together in my mouth.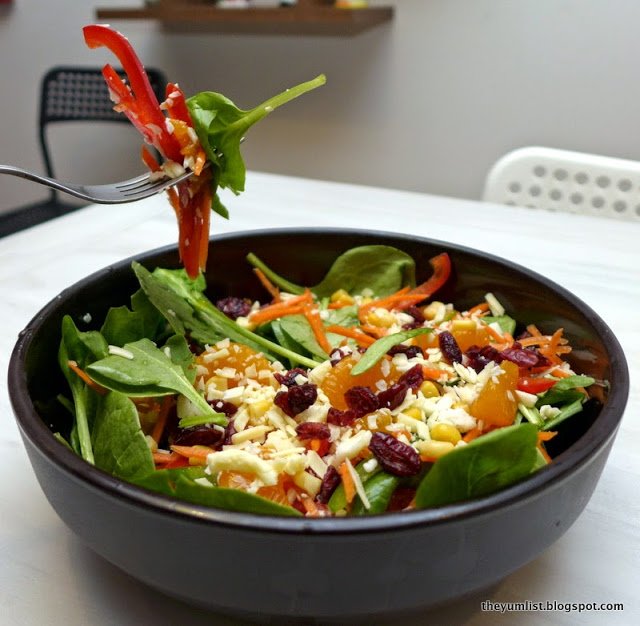 "Say Cheese" Salad
But then, like a rainbow of veggies after a storm of ayam goreng, salad shops have begun to open in Kuala Lumpur!  I recently heard of a new one, Salad Atelier with two outlets: The Weld Shopping Mall on Raja Chulan and one in the Intermark food court.  Quickly proving a popular lunch spot in the city center – and rightly so – its simple and healthful menu contains a huge lineup of exceedingly fresh salad and sandwich fixings, soup and quenching juices and smoothies all at very reasonable prices.  Prices range in from RM12.90 to RM22.90 and sandwiches and salads are big enough they can easily be shared.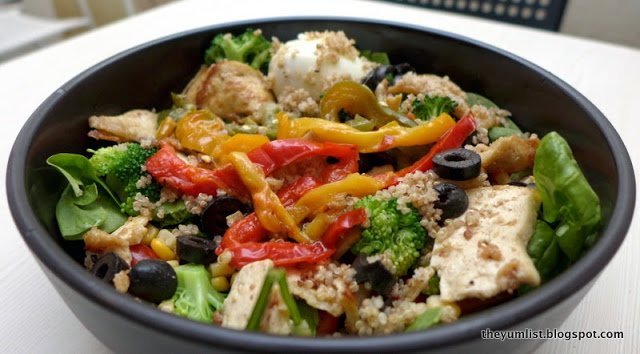 "On a Diet" Salad
At the Weld location, comfortable, long tables are arranged for communal dining.  Pops of color from the lampshades and chairs give the place a cheerful vibe and the brightly lit space is extremely clean if a little cluttered.
Ordering at Salad Atelier at the Weld is done on paper order forms which list all ingredients; simply tick the boxes of the ingredients you want on your salad or sandwich and turn it in to the friendly salad artist behind the counter. They'll take care of the rest.
Choosing our ingredients was more challenging than expected, as the options seemed nearly endless. I counted more than 30 great choices for the Baby Salad alone!  Choose from a base of spinach, mixed lettuce, potatoes or pasta and then add six Main Ingredients – ranging from the usual like cucumbers, peppers and carrots to more interesting like beets, strawberries, quinoa, pumpkin and many more.
Supplementary Ingredients are reserved for the Adult and Monster-sized salads, and include options like perfectly steamed Brussels sprouts, Roasted Eggplant and Sundried Tomatoes to name a few of my favorites.
Meats like roast duck, tuna, lamb, beef and prawns are options for the Monster Salad. We opt for the roasted chicken, which was smoky and juicy and added great flavor to our veggies.
Each day at the Weld, three special salads, one at each price point, are available to take the decision making out of ordering, should you choose: "On a Diet" has mostly veggies (RM13.90), "Say Cheese" (RM17.90), and "Can't Live Without Meat "(RM22.90).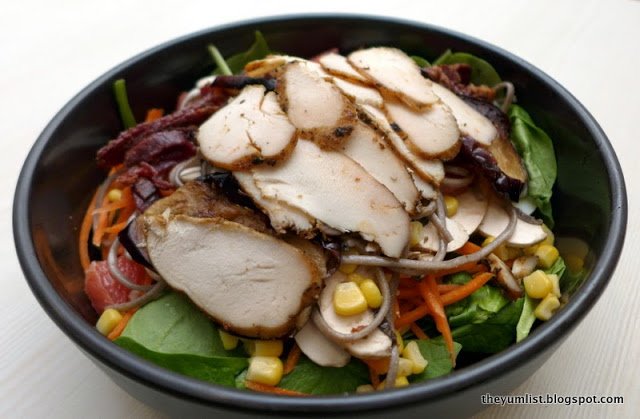 "Can't Live Without Meat"
It would be remiss not to mention the array of fantastic house-made sauces from which to choose.  All of them were worthy to dress our masterpieces and palate pleasing, but of specific mention is the home made bleu cheese, which is the perfect blend of salty and sweet, and the sesame dressing which really brought my salad to another level.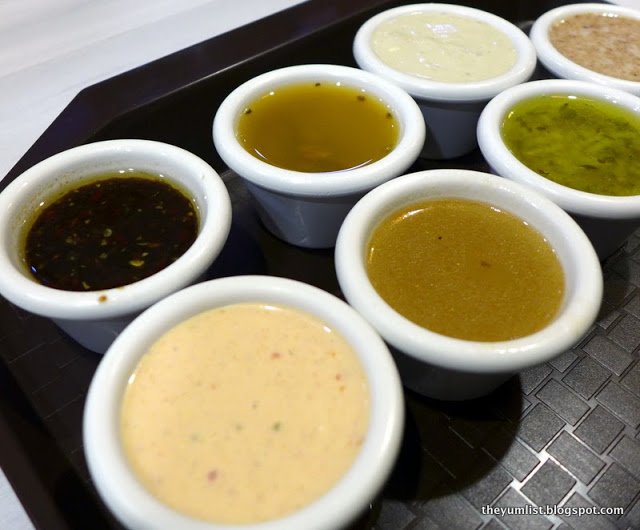 Many Choices of Sauces
Juices at Salad Atelier are all freshly cold-pressed, the healthiest way to juice!  We quickly fall in love with the Avocado Juice, (actually a smoothie) a frothy glass of creamy delight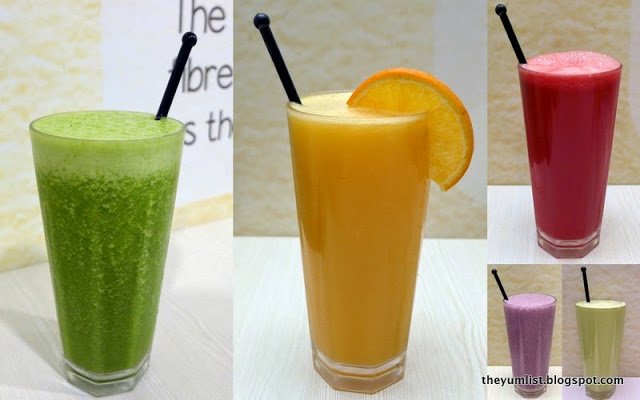 Smoothies and Juices
Though we are already stuffed from our nourishing salads and huge drinks (which could easily be their own meal), we feel obliged to try the sandwiches as well and order a beef salami with lettuce, mixed capsicum, olives and onion on whole wheat with capsicum dressing.  The bread was soft but withstood the fillings well, and the drizzle of dressing was sweet and tangy.  Wanting to try a wrap as well we custom built a salmon wrap with lettuce and alfalfa sprouts that was as tasty as it was satisfying.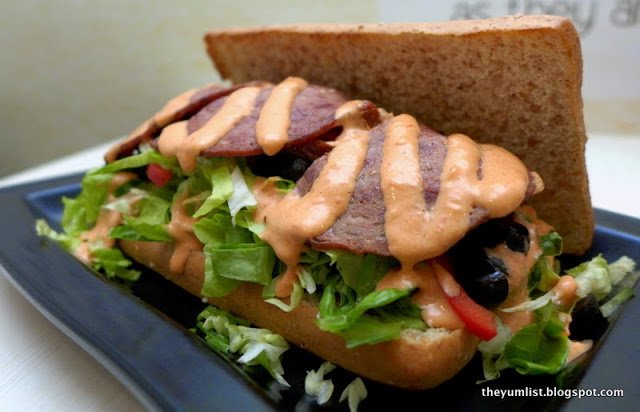 Custom Built Sandwich on Wholemeal Bread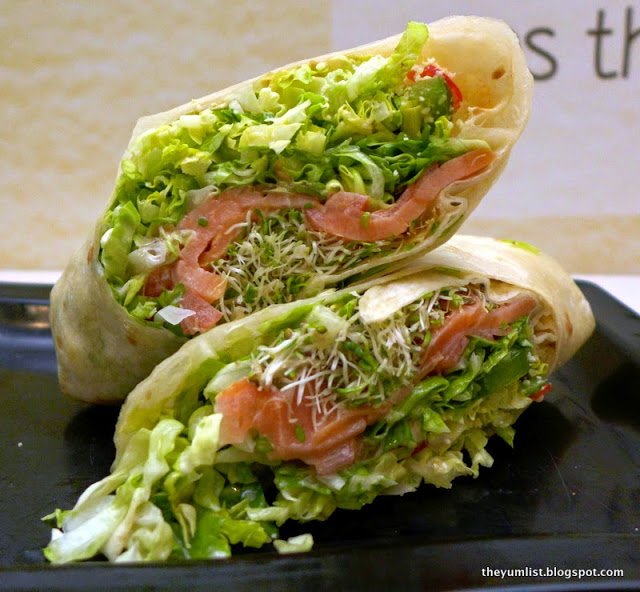 Custom Made Salmon Wrap
Because Salad Atelier's Intermark location is in a food court, their set up is slightly different and no smoothies are available.  Their ordering system is a bit different too, as you simply belly up to the bar and tell the salad maker what you'd like as he makes it (think Subway).
It's been a week since Salad Atelier came on my radar, and already I've visited…ahem…let's just say "several" times on my way to the grocers.  (Shopping on an empty stomach is dangerous for me!) On one of my numerous visits I came at the height of lunchtime, but even though there were four people in the queue, each had their own salad artist servicing them and I had no waiting time at all. Impressive!
Salad Atelier also delivers through a couple of trusted food delivery outfits in KL: Food Panda and Go Get are great options for getting a fresh and healthy salad for those who can't leave the office during lunch.
Reasons to visit: fresh custom build salads at reasonable prices.
Salad Atelier
Lot G, 09-A, Ground Floor, The Weld
76 Jalan Raja Chulan
50200 Kuala Lumpur
Malaysia
&
Lot LC-07, Intermark Mall,
Jalan Tun Razak
50400  Kuala Lumpur
Malaysia
+60165167621 / +60164461561 / +60163331561