Words:  Han Sen Hau        Photos: Monica Tindall
None of my reviews so far have ever begun with an imperative but that's about to change: go to Panchos. If you're planning to skip lunch because of a busy schedule, don't. Go to Panchos. If you're tired of having popcorn at the cinemas and want to sneak in a little something special, go to Panchos. If you've studied in the United States or if you're from there and you know what I mean when I scream "taco crawl!" then you have to go to Panchos. Of course, all of these scenarios are contingent on the fact that you're actually in Mid Valley. So if you're not, go to Panchos.
Interior
My appreciation for Latin American culture began subliminally and gradually ever since telenovelas began infiltrating Malaysian daytime programming in the early 2000s with titles like La Usurpadora, Rosalinda, and Yo soy Betty, la fea. I could never stand how frequently the women were screaming and crying, while the men always had an extra button unfastened on their shirts (usually white), even when it's raining. It wasn't until I travelled to the U.S. for my studies that I first came face-to-face with a piping hot quesadilla, melted cheese and all. I was an instant fan. If you can recall that euphoria when you first dipped tortilla chips into salsa or guacamole and realised how beautiful that combination is, well, that was how I felt when my dining hall started dishing out quesadillas (made to your liking!) on a weekly basis.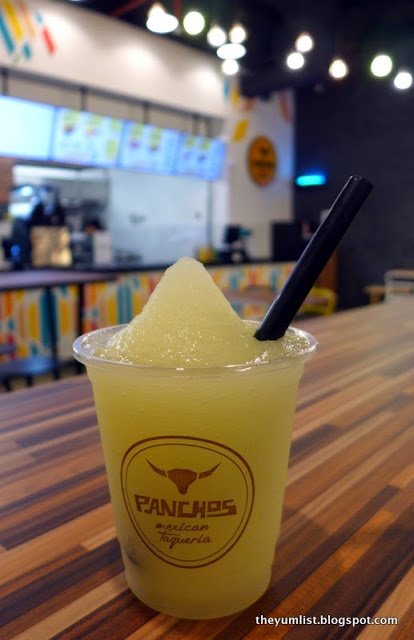 Virgin Piña Colada Slushie
To say that burritos, quesadillas, and tacos are all there is to it about Latin American cuisine is a fallacy, but at the same time, I can't deny the omnipresence of these options as I sat in my room ravaging a taco salad while finishing the day's assignment. It has been four years since I left the Corn Belt and four years since I had a decent quesadilla that didn't arrive with a flaky (at times, powdery) tortilla shell and an abysmal filling, so imagine the rush of emotions that came gushing forth when I bit into one served at Panchos that arrived perfectly crisp, with the smell of picante chilli stimulating my taste buds and the dribble of mozzarella on the sides that I had to save with my fingers.
… You have no idea how difficult it was to type that without a quesadilla in front of me. The amount of expletives running through my head could kill the Pope. But struggle I must if I am to inform about the joys of eating at Panchos, so let's dive into that.
The taquería (Spanish for 'taco shop') is founded by power couple Thomas An and Jennifer Wong, both Le Cordon Bleu alumni, and is located on the mezzanine floor at Level 3 of Mid Valley (near where Golden Screen Cinemas is). If you ever catch Thomas, the one thing you'll notice when he speaks is his accent, which gives away his Korean lineage, but start a conversation with him in Spanish and he'll put your Spanish SAT score to shame. Born in Seoul but bleeds pico de gallo, Thomas spent a large part of his life in Latin America and brings with him an in-depth knowledge of the enticing culinary culture there to Malaysia. For a person who has had more churros in dulce de leche than chocolate dips, Thomas values authenticity in all of his recipes right down to the perfect pinto bean, and strives to recreate a bona fide Mexican street food experience as evident in the inclusion of Jarritos sodas on the menu that taste better than your average tongue-searingly and eye-wincingly sweet Fanta.
Jarritos – Mexican Soda Pop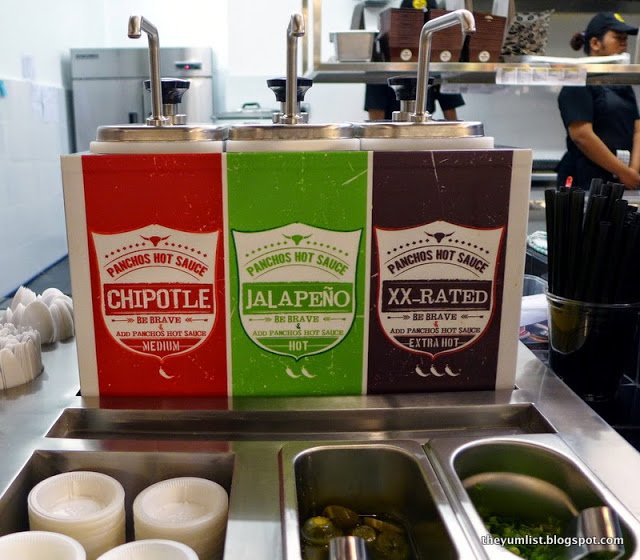 Hot Sauces – Medium, Hot, XX Rated – Add to your own liking
I haven't even begun on the food and I've already waxed lyrical about the place, so let's quickly begin with the Chipotle Beef Burrito. The way things work at Panchos is simple: you choose a 'base', and then you pick 'a hearty protein'. Incidentally, a magnet for gym buffs. The burrito is densely packed with rice, cheese, beans, pico de gallo, lettuce, sour cream, and slow roasted pulled beef that's so tender, you wouldn't think it's beef. It comes wrapped in foil, so it's perfect when you're in a hurry. The best part happens when you take that first bite, and the steam pervades the olfactory with a fragrance that just begs you to have another. If you want to go the extra mile, you can opt for brown rice and whole wheat tortilla for your burrito, or even top it off with guacamole, which comes in an appetising green.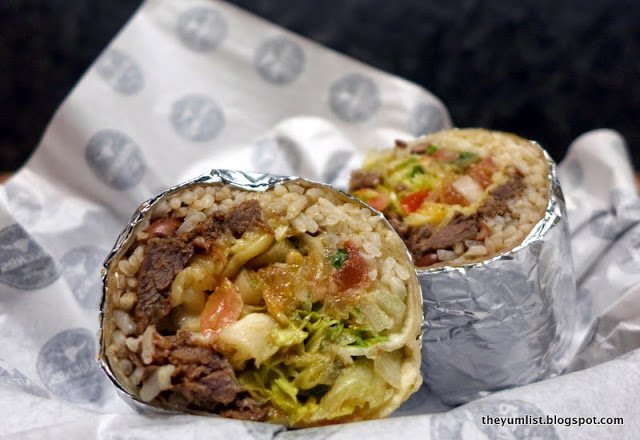 Chipotle Beef Burrito
If you wish to go gluten free, pick the burrito bowl instead, which is everything the burrito is without the wrap. I had this with the grilled chicken and it went fabulously with the chopped coriander available at the counter along with my choice XX-rated sauce. What I'd do is throw in a handful of chopped coriander into the bowl, toss it around a little, grab a spoonful, then dip just the tip of the spoon into the sauce for that XX-rated kick. Despite being the spiciest of the trio, the sauce didn't torment my tongue and was a welcome addition to the entire mix juggling in my mouth. But if it ever does become too hot to handle, order up a frozen piña colada to cool it down.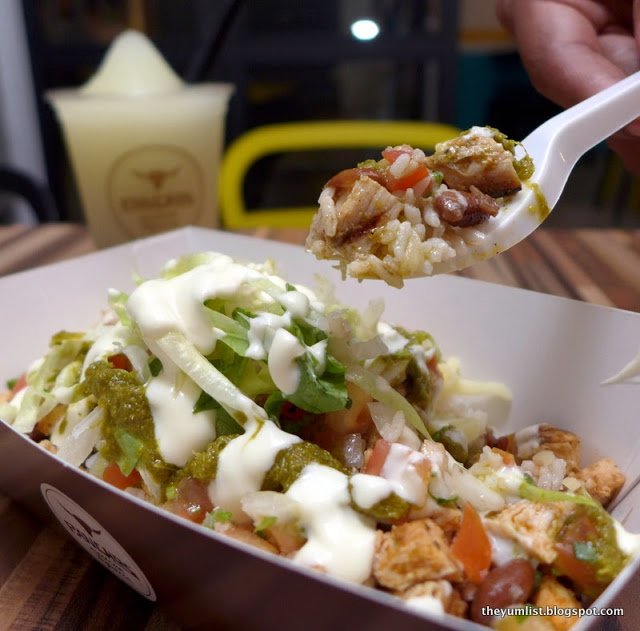 Burrito Bowl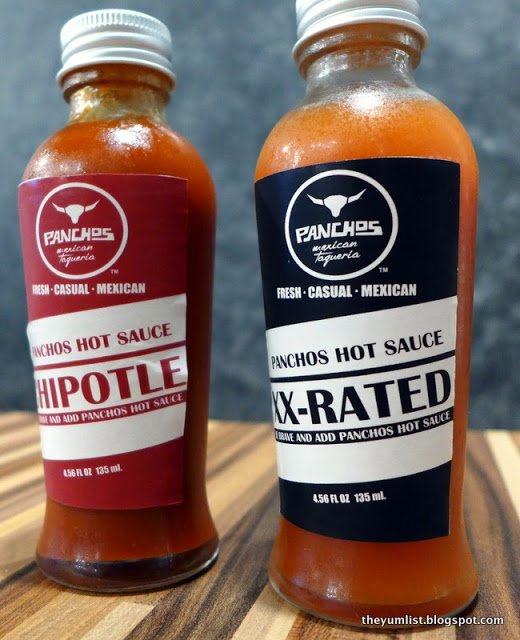 Housemade Hot Sauces for Sale (RM7.50)
Heaven was definitely a place on Earth when the Spicy Chicken Quesadilla touched my lips. This is hands down my favourite item off the menu. No one has ever touched my soul the way the melted mozzarella did by simply oozing out of a tortilla pouch that's prepared perfectly crisp. The spicy chicken was so good in this one, I'm actually hesitant to pair the quesadilla with any other meat available. Most interestingly, the quesadilla isn't folded then cut into triangles like you'd expect, but wrapped in a manner similar to the burrito, which makes it highly portable and practical. Sigh… words fail me in times like this, so here's a video that perfectly encapsulates my ardour for the quesadilla (pay attention to the lyrics):
https://www.youtube.com/watch?v=Ekr05T9Iaio
.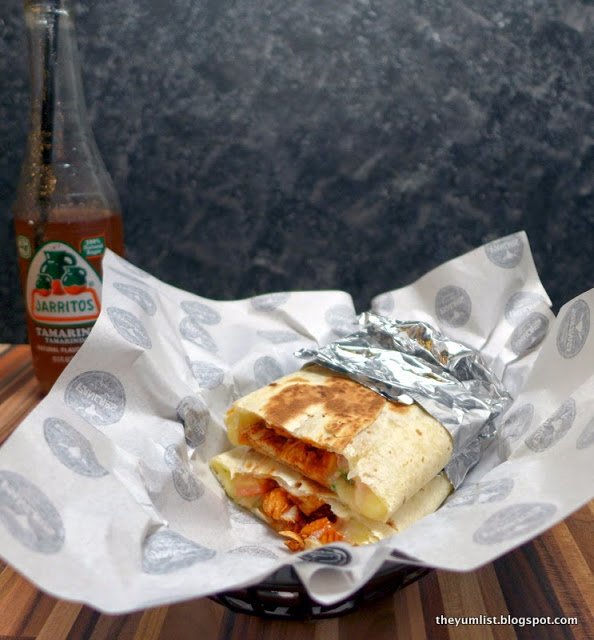 Quesadilla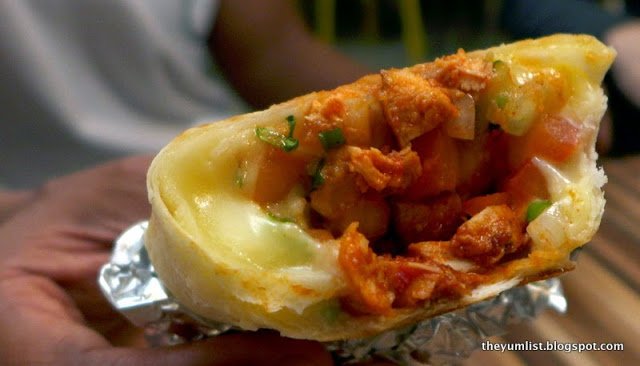 Up Close on the Quesadilla
I have to confess it was difficult for anything else to top the quesadilla, especially when I realised the next two items I'd be having were Pan Fried Fish Tacos (Soft – Flour Tortilla) and Slow Cooked Beef Tacos (Hard – Crispy Corn Shell). The reason for my initial prejudice was because I've never had a profound experience with either and tacos were simply something I got when nothing else appealed to me. Panchos changed that. The tortilla wrap for the fish tacos was soft and warm (I can't stress how important this is to me because of the number of times I had mine served unnervingly cold), and they were generous with the fish.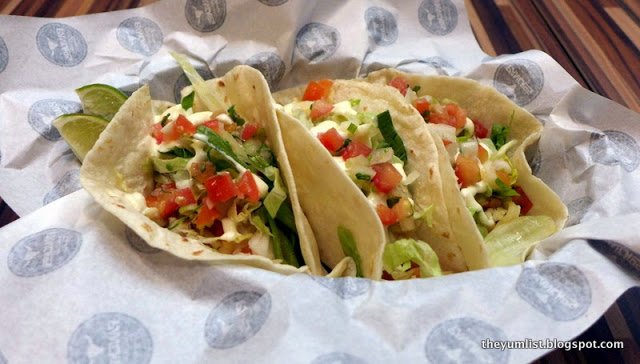 Pan Fried Fish Soft Tacos
Hard tacos and slow cooked beef were an even BIGGER scare because I've long associated that combo with (I'm ashamed to say this) Taco Bell. If you're unfamiliar with that name, they're a major franchise in the U.S. with an amusing reputation (it just takes seven seconds to be enlightened:
https://vine.co/v/eA0mKEMwxtx
). I never understood the American obsession for minced beef tacos, but one thing's for certain, they've never had Panchos' Slow Cooked Beef Tacos. Like the Chipotle Beef, the slow cooked beef is incredibly tender and I daresay on par with what is available at swanky restaurants. This is where Panchos truly shines, by including high quality ingredients into hearty meals that are best enjoyed in a casual and relaxed environment.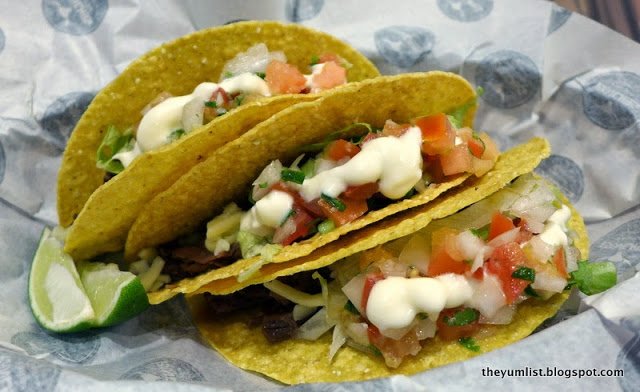 Pancho's Slow Cooked Beef Tacos
Speaking of which, you can't get any more casual than a bowl of Chipotle Beef Nachos that comes with pinto beans, pico de gallo and (hurray!) guacamole. This is the perfect movie night snack with friends—as long as you eat it with your mouth closed—and one you wouldn't mind getting messy with just so you could lick the guacamole off your fingers when you're done.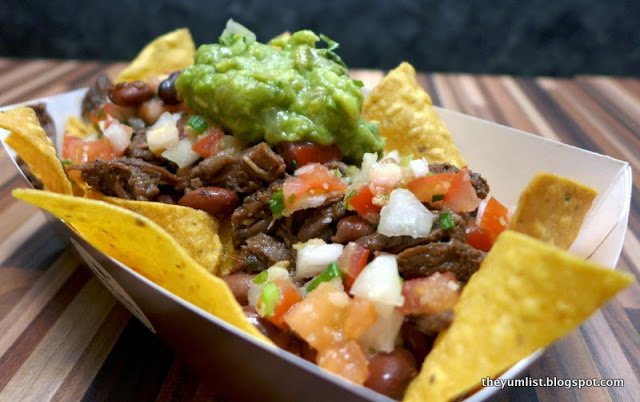 Chipotle Beef Nachos
To wrap it up, go to Panchos. I could list down reasons for why you should eat there but they wouldn't matter unless you've put down that order and take a big bite out of their burrito. When it comes down to fast casual dining, few have it nailed down as well as Panchos. The beauty of this place is that it doesn't try too hard to be innovative where innovation was never required: Thomas and Jennifer simply took culturally significant recipes and afforded them the respect they deserved, by sourcing quality ingredients and retaining the essence of Mexican street food. So, to Thomas and Jennifer, thank you for re-introducing the joys of having great, casual Mexican food into my life and for reminding me of my years as a very hungry college student in the U.S.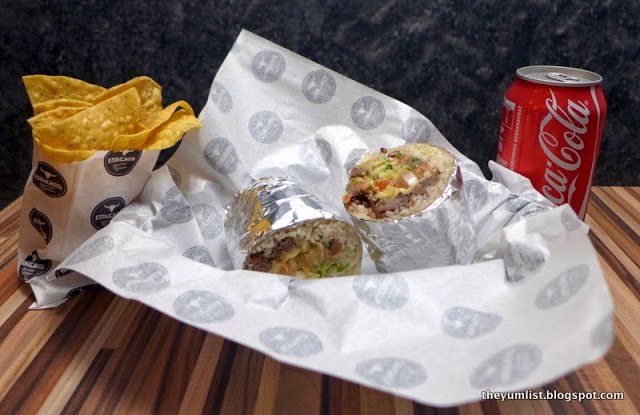 Set Meal Deal – add RM5 get corn chips and a soft drink
Reasons to visit: Quesadilla, 'nuff said; actually, everything off the menu; perfect when you're on the go (and for the movies if you have a bag); pork-free! That means you could invite more friends to come!
Panchos
T-041B, Level 3 Mezzanine, Mid Valley Megamall
Mid Valley City,
59200 Kuala Lumpur,
Malaysia.
+603 2201 8457