Words: Louise Miller       Photos: Monica Tindall
At the bottom of Viva Residence in the busy Sentul neighbourhood stands a laid-back, bright and welcoming French inspired eatery, ideal for casual grazing on Gallic fare with far lower price tags than those often incurred by such indulgence. The aim of sibling founders, Sandy and Lily, is to provide delicious French food at affordable prices in a relaxed setting that will appeal to locals and expats alike. The menu is extensive and in addition to offering a wide range of French favourites, features Italian inspired dishes, a few Asian staple items and some surprise clever fusion touches.
I was delighted to see one of my all time favourites, French Onion Soup (RM18.90) on the menu. Strongly flavoured by the sweet caramelised onions and topped by a chunky slice of baguette enrobed in melted Emmental, this was luscious and comforting.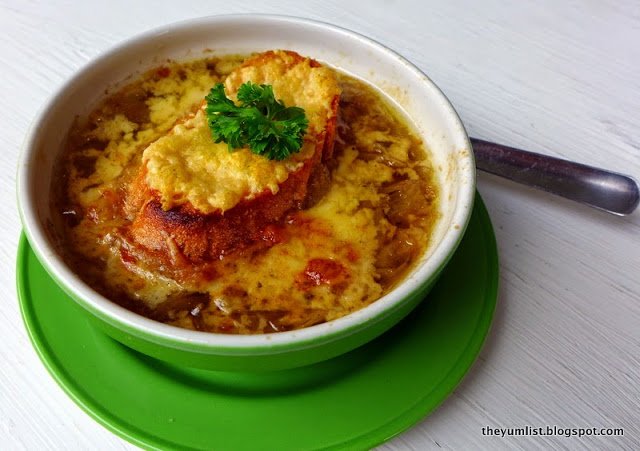 French Onion Soup
The Mushroom and Truffle Cream Soup (RM18.90) that followed had come highly recommended as one of the restaurant's most popular dishes. It was thick and creamy and packed full of flavour characterised by the unmistakable sweet earthiness of truffles.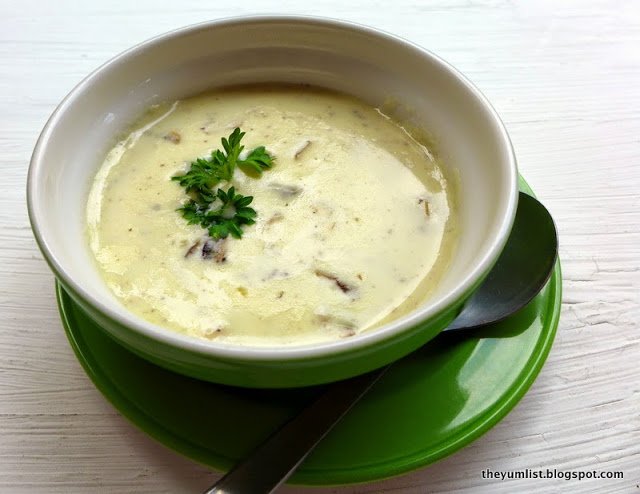 Mushroom and Truffle Cream Soup
Following the soup, arriving on the first of a series of quaint, pink floral crockery that momentarily mentally transported me back to afternoon tea at Grandma's, was the Duck Pâté (RM15.90): intensely flavoured and coarse in texture, this was served atop fresh baguette slices and garnished with sharp, tangy slithers of pink pickled onion, a successful pairing as the acidity of the latter cut through the richness of the pâté.
Next before us was Apple and Walnut Cranberry Salad (RM15.90): a fresh combination of ingredients with the addition of crunchy croutons and coated in an unctuous warm hollandaise sauce.
Intrigued by the idea of Smoked Chicken and Truffle Croque Monsieur (RM19.90) I couldn't wait to try this interpretation of the classic French sandwich. Generous chunks of succulent white, delicately smoked chicken meat coated in creamy truffle infused béchamel sauce were sandwiched between thick slices of toasted brioche bread and topped with melted cheddar. Accompanied by a leafy salad doused in a balsamic dressing and a little bowl of Parmesan chips, we all agreed that this was a top notch variation of the French ham and cheese staple.
Now, we were ready to tackle the 'Mains' section of the menu. The first of its offerings was the Chicken à la Crème (RM25.90): juicy pan fried chicken fillet pieces were smothered in a creamy mushroom sauce flavoured with organic Dijon mustard and subtle notes of tarragon and were partnered with a side salad, Parmesan cheese chips and sautéed carrots. Caning quaffed an icy cold Kronenbourg 1664 with this whilst Monica and I enjoyed the house white: the light and crisp Chilean Santa Carolina Sauvignon Blanc 2013, available in 187 cl bottles.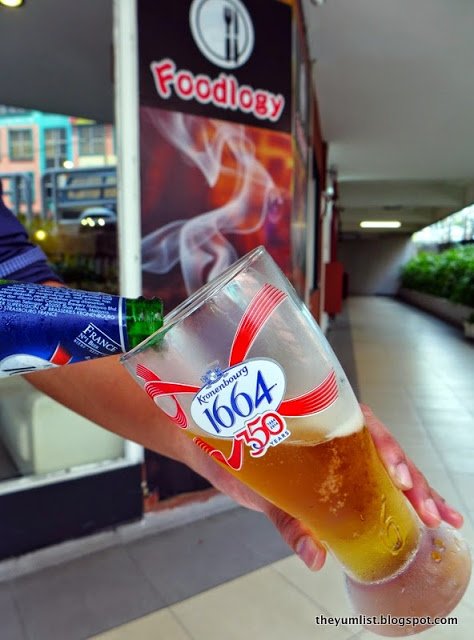 Kronenbourg 1664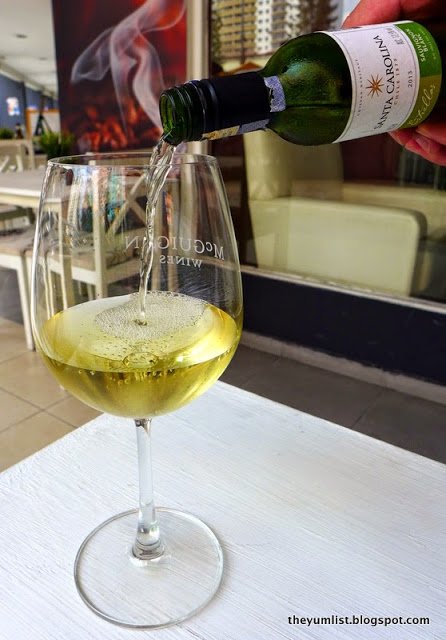 Santa Carolina Sauvignon Blanc 2013
Next up was Seafood Pasta in White Wine Reduction Sauce (RM45.90): a heap of spaghetti served tangled up with mushrooms and grape tomatoes with succulent prawns, flakey white fish and huge scallops cooked to perfection. The white wine and squid ink flavours of the sauce were quite subtle leaving the rightful spotlight to the flavoursome and juicy pieces of seafood.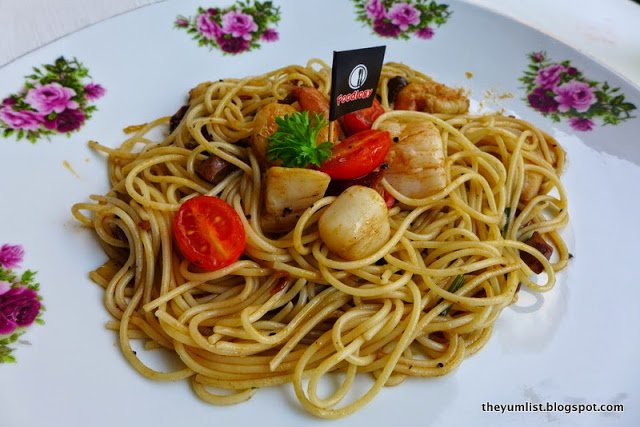 Seafood Pasta in White Wine Reduction Sauce
The last of the main dishes to be served was the heartiest – Steak à la Bleu, so named for the house made blue cheese sauce that accompanied our medium rare striploin. All three of us blue cheese fans, we took great pleasure in cutting off slices of the steak and dunking them in the sauce which was both deliciously piquant and creamy. The fruity and earthy notes of the the House Red, Santa Carolina Merlot 2013, made it a pleasant complementary partner to this dish.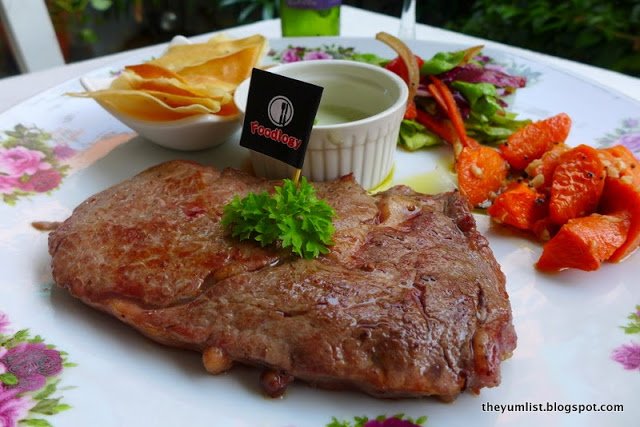 Steak à la Bleu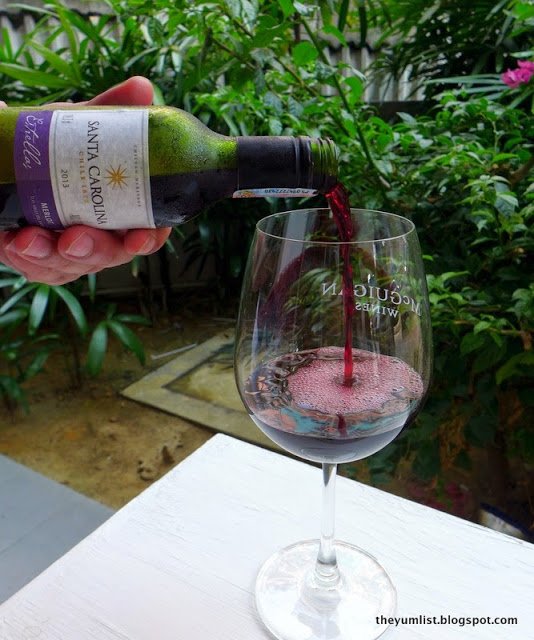 Santa Carolina Merlot 2013
Finishing our savoury experience on the strong flavours of steak and blue cheese meant that we were more than ready to counterbalance our palates with a little sweetness. It was time for desserts and we had decided to start this final part of the meal with two French classics: Choux à la Crème (RM12.90) or Profiteroles were light and fluffy. The surprise element was that one of the three pastry balls was stuffed with vanilla ice-cream rather than whipped cream. Drizzled with chocolate syrup, this is sure to please most sweet toothed diners.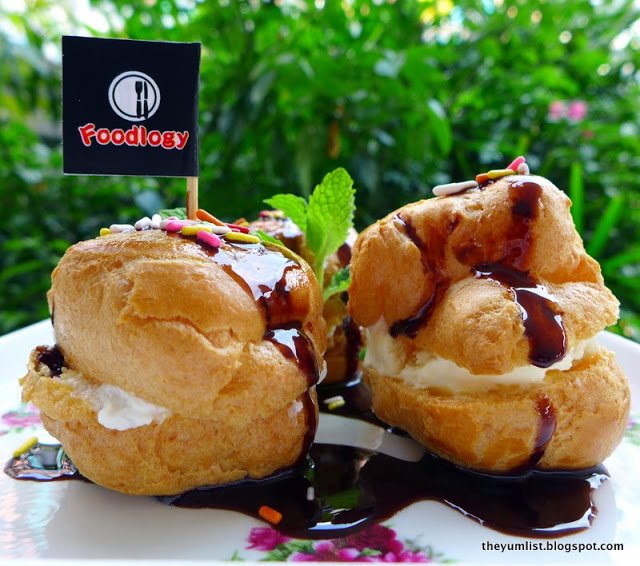 Choux à la Crème
Our second classic was Crêpes Suzettes (RM15.90): we found the pancakes to be thicker and more dense than classic French crêpes but they were good with the vanilla ice-cream and rich orange sauce that coated them oozing out of every fold.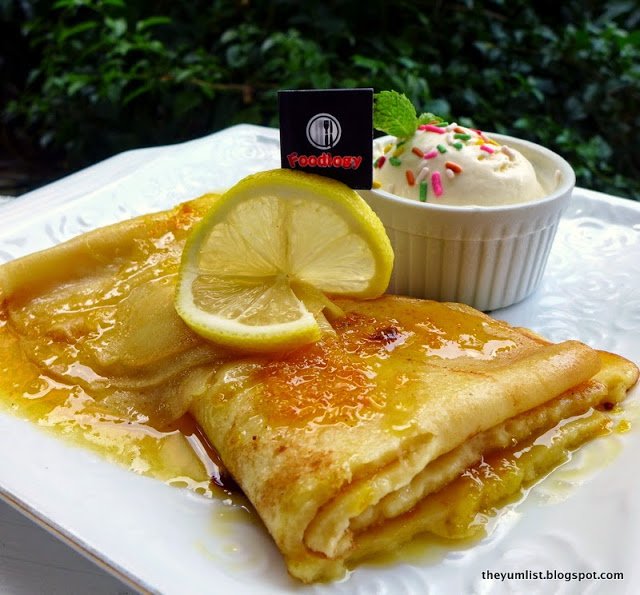 Crêpes Suzettes
The final component of our trio of desserts was an Italian inspired Sago Panna Cotta (RM9.90). The fusion elements came in the form of the longan garnish, the use of gula Melaka syrup and the delicious sago that each deep plunge of the spoon brought to the surface. This really was a panna cotta with an Asian twist or two and worked very well indeed.
We ended our meal at Foodlogy with a frothy cappuccino topped with a sprinkle of cinnamon. The beans used were Parisian brand, Cafe Richard's Italian style blend, and the brew was sweet with notes of dark chocolate.
Foodlogy is perfectly located to stop in for a meal before or after a visit to the neighbouring KLPAC or worth a trip if you're looking to feast on French food without breaking the bank! If driving, we would advise against circling the block in the hope of finding a parking space on the streets – drive around the back of the restaurant where you will find the entrance to Viva residence's carpark which was free at the time of our visit.
Reasons to visit: excellent value for money, Smoked Chicken and Truffle Croque Monsieur and Sago Panna Cotta.
Foodlogy is open on Monday from 11:00am to 10:00pm, from Wednesday to Friday from 11:00am to 10:00pm and on Saturday and Sunday from 10:00am to 10:00pm
Foodlogy 
B-01 Viva Residency,
Jalan Suppiah Pillay,
Off Jalan Ipoh,
51200 Kuala Lumpur,
Malaysia
+603 4050 4636