I grew up a country gal blessed with fresh air, a pure water source, homegrown produce and a lifestyle that valued community and care. As a result of such nourishing surrounds, I've been fortunate to have relatively clear healthy skin for much of my life. The stresses of my current city survival however, including over work, under-nutrition, air-conditioned environments and pollution have taken a toll on my skin. Combine that with years that refuse to slow, and I find I need a little extra help in the skin care department nowadays.
AsterSpring, a health spa that specializes in skincare, was recommended by an expat friend. She has a monthly appointment with one of their centres in Mid Valley, and swears that this is her secret weapon to a bright peachy complexion. After checking them out on line I found that they have a bunch (over 30!) of branches all over the city so I booked hubby and I in to one nearest home.
Greeted by friendly staff, our session begins with a brief consultation and skin analysis. The treatment list is comprehensive with what seems a facial for every skin type and desired goal. I sign up for the V- LiftFacial, and hubby takes on the O2 Acu Energising Therapy.
The AsterSpring V-Lift Facial Therapy (RM518, 1 hour 45 minutes) is marketed as a "non-surgical way to lift, tighten and tone skin." Yep! This one's for me! The main workhorse here is ultrasound technology from Germany that supposedly accelerates collagen production and in turn lifts and firms the skin. First though, my skin is readied with a cleanse, and exfoliation with an oatmeal masque and blend of vitamins. There's no discomfort as I've had with some other facials that mix machine with hand: the ultrasound application is smooth and pain-free. It's followed by a signature relaxing facial massage, which uses gentle upward strokes and circular movements. It serves to send me into a complete state of calm and I even nod off for a few moments.
Three sessions of this therapy is recommended for maximum results. I've only had one, and whether it was due to the 105 minutes of uninterrupted rest time, or the effects of the machine and products themselves, I leave feeling fresh and rejuvenated. It has been a wonderful experience.
Hubby tries the O2 Acu Energising Therapy (RM412, 1 hour 45 minutes), which is suitable for both female and male clients, and is said to effectively fight dull, uneven skin with visible pores and at the same time relieve stress from the body. This treatment begins with the AsterSpring Touch therapeutic massage. Acupressure points are worked to awaken "energy chakras, stimulate toxic drainage," and relax and de-stress the mind and body. A high concentration of oxygen is then delivered via machine application and is said to assist cell regeneration and lymph drainage.
For dry skin types this therapy is recommended initially twice a month for three months followed by once a month for maintenance. For more problematic skin, higher frequency is suggested in the beginning phase, easing up to twice a month for maintenance. Mirroring my experience with a single treatment, hubby too departs the spa with lifted spirits and a hydrated fresh complexion.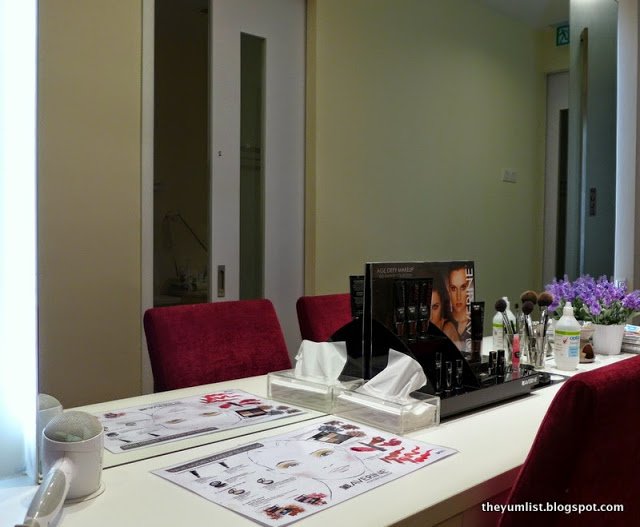 Make-up Samples and Dressing Table – Sample some products and do a quick touch-up before resurfacing in the mall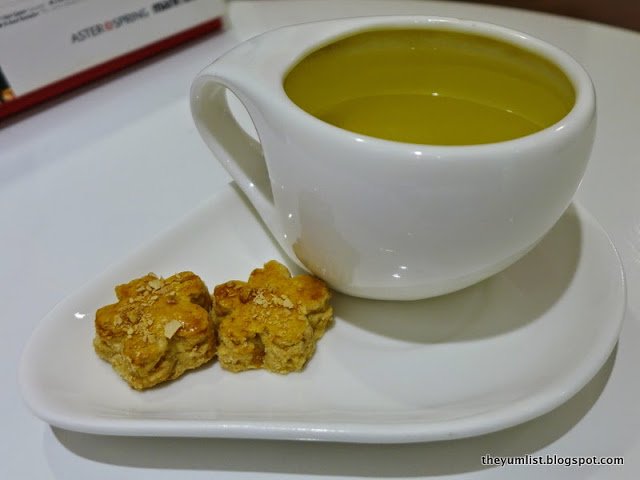 Spa Tea and Biscuits
Reasons to visit: expert skincare professionals, products and technology; O2 Acu Energising Therapy; AsterSpring V-Lift Facial Therapy.
AsterSpring – at major shopping malls around the city