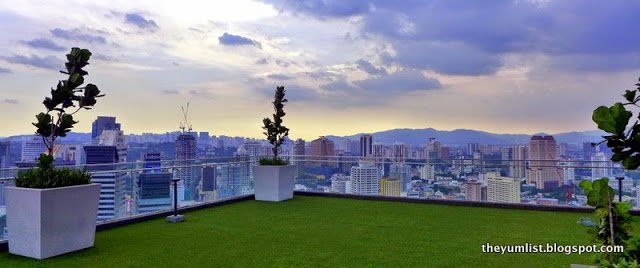 Rooftop Tower One – Fraser Residence Kuala Lumpur
Fraser Residence, the latest in serviced apartments in Kuala Lumpur, has raised the bar for those looking for a convenient and stylish residence for short or long-term stays.
Location
Favourably positioned in the heart of downtown KL, the property is hemmed by office blocks, tourist attractions, endless shopping opportunities, and a street and restaurant scene of rich cuisines. The Petronas Twin Towers and KLCC Suria are roughly a 10 minute stroll away, and the food and entertainment streets of Jalan Sultan Ismail and P Ramlee are about the same. Getting to and from the residence couldn't be easier with the exit of the elevated highway feeding almost directly into the locale's front gate, and the Dang Wangi LRT and Bukit Nanas Monorail stations opportunely a hop, skip and down the street.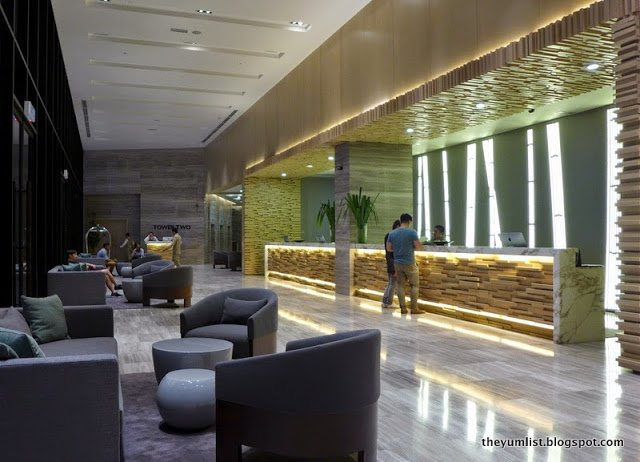 Lobby
Apartments
Currently the largest serviced residences in the city, guests will be more than pleased with the generosity of space available in each of 444 Gold-Standard apartments. Whether choosing a studio, two-bedroom or penthouse residence, all feature a living room, fully equipped kitchen (including a regular sized refrigerator and espresso machine), large dressing room, and ensuite bedroom. There's a considerable amount of storage space too: double walk-in closet in the dressing room; drawers and small cupboards in the sleeping and living areas; and cabinets have been well planned to take advantage of their full capacity in the kitchen.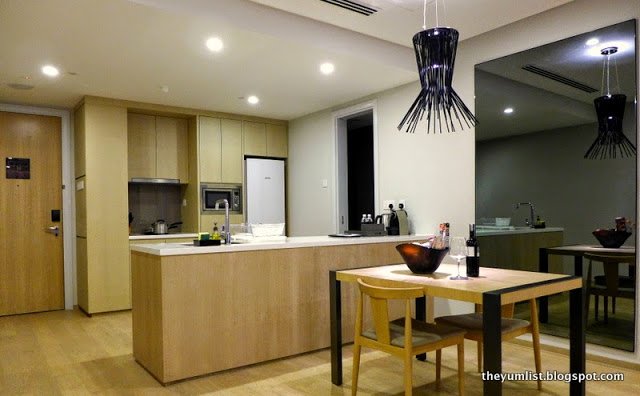 Kitchen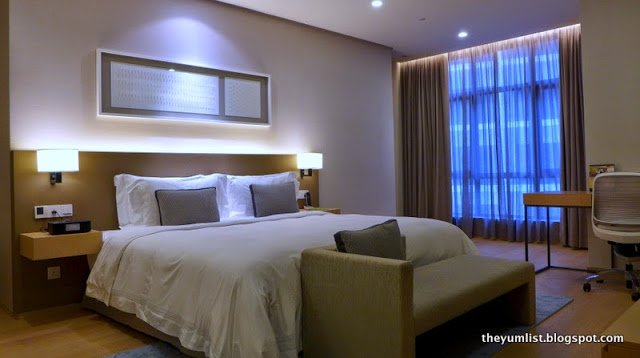 Bedroom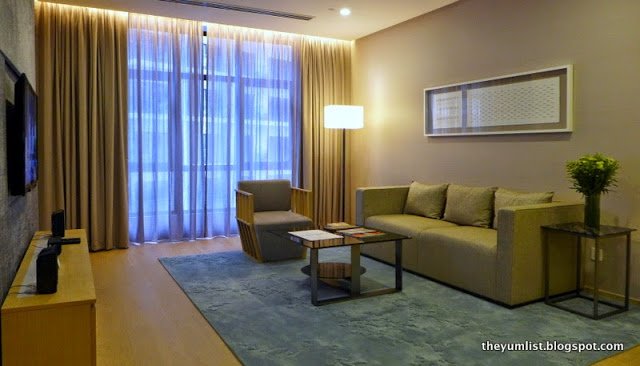 Living Room
Design is clean and contemporary, with streamlined furnishings and modern amenities. Both the living room and bedroom feature a flat screen TV and entertainment system, which pleases us both to no end – meaning hubby can watch his late night sports programs and I can get retire early getting a peaceful night's sleep with no screen disturbance. A fresh floral arrangement scents the room, modern art pieces adorn the walls, and lush bathroom products further enhance the this-is-my-home feeling.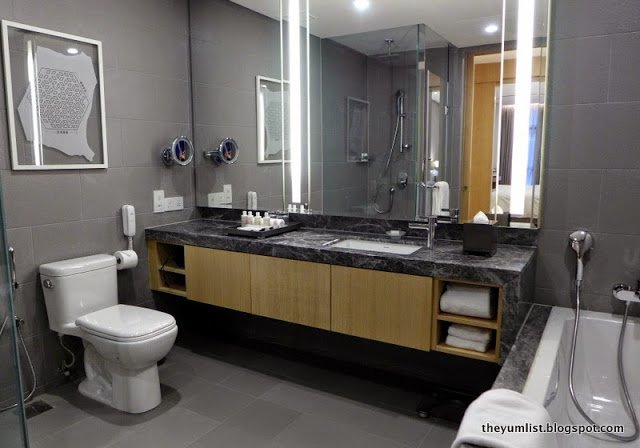 Bathroom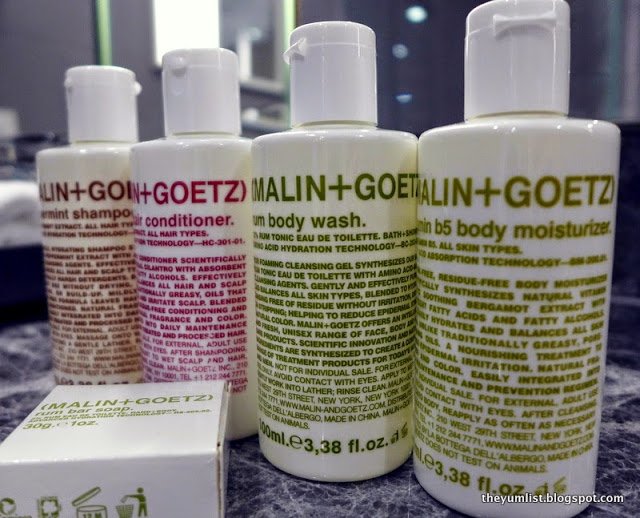 Bath Products
Internet is just as important for us as it is many business or leisure travelers and we are glad to find high-speed access inside our apartment, but also around all common areas of the property too. Completing a work project just doesn't seem so laborious when it's done poolside. Other techie conveniences too are noted such as international power plugs and charging stations.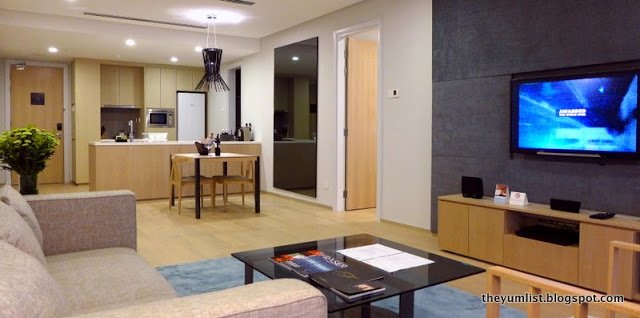 Living Area – One Bedroom Apartment
Blurring the lines admirably between an apartment and a hotel, you get the benefits of a washer, dryer and well-rigged kitchen not found in hotels, but too reap hotel services not custom in private homes of daily housekeeping, laundry and room service. It's the perfect blend and I can see why many expats who have been housed in such a residence on commencement of a contract (supposedly giving them time to look for a home of their own), choose to never move out.
Food and Beverage
While the kitchen is decked with oven, microwave, stove top and sufficient bench space to whip up some gourmet meals, Fraser Residence makes living here even more opportune with the service of a number of food and beverage outlets.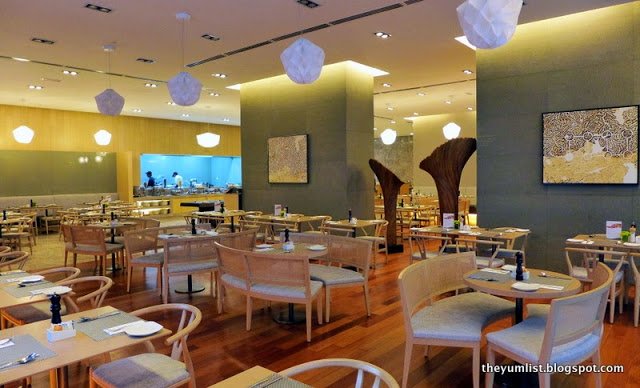 Relish Restaurant
The coffee house, Relish, offers all-day dining, and this is where we have access to a buffet breakfast daily. On the weekends we enjoy a leisurely affair with multiple cups of coffee, eggs made a la minute, and some delicious pastries celebrating the end of the week. On workdays however, I'm rushing off just as the doors are opening. It's not a problem though as the amiable staff allow me to pack my fruit and coffee to go.
The food at Relish is fresh and the chefs are happy to cater to our individual preferences so we find it a superbly convenient place to have dinner nightly. After sampling a few of their menu items, we see how far we can push the boundaries by ordering exactly what we feel like in the moment. And… the chefs respond! I get my light healthy meat-free meal packed with veggies, and hubby his steak with potatoes and a salad to 'balance it out.'
Photos of dishes, prices and further details of Relish can be found in this link.
As Fraser Residence comes into full service, so too will more dining options. Café on the 5th, the poolside outlet is currently opened on the weekends serving an array of light snacks and beverages. The swim-up bar too is on its way to full function, and we envisage some cocktail diversion very soon.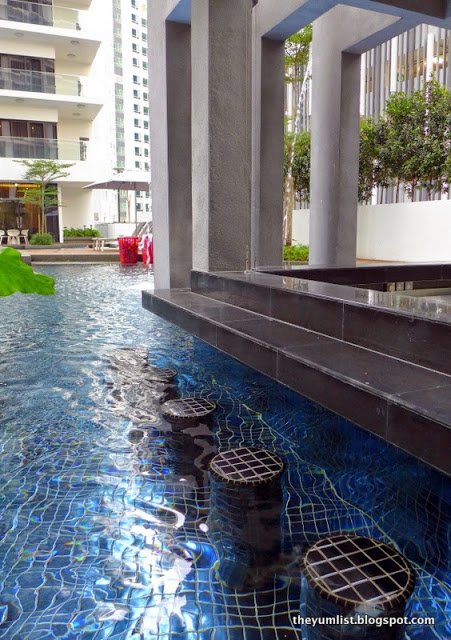 Swim Up Bar
Most items available in Relish and Café on the 5th menus can conveniently be served directly to the room. We have friends over one evening and find room service delightfully labour-saving, allowing us to entertain even with our busy schedules.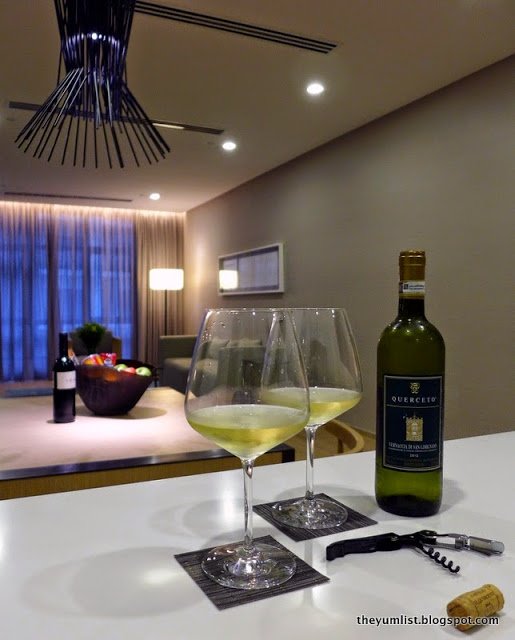 Wine Time
Also scheduled to be up and running soon is the Club Lounge. One of the largest in KL, it features double story windows, indoor and outdoor spaces, walls gardens, soft contemporary furnishings and views of both the city and the Melawati ridges. It looks like a fab event space, but will also serve business and luxury travelers well with its provision of breakfast, beverages and evening cocktail hours.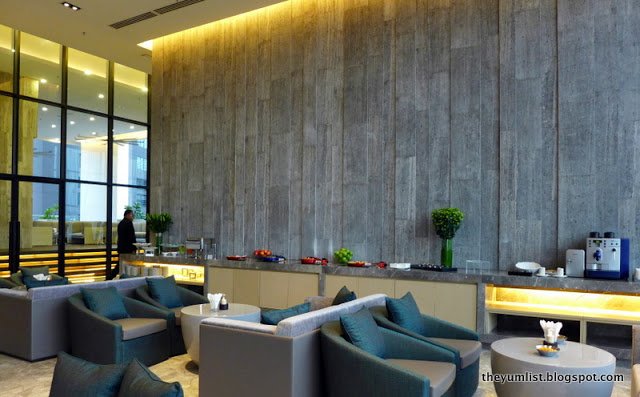 Club Lounge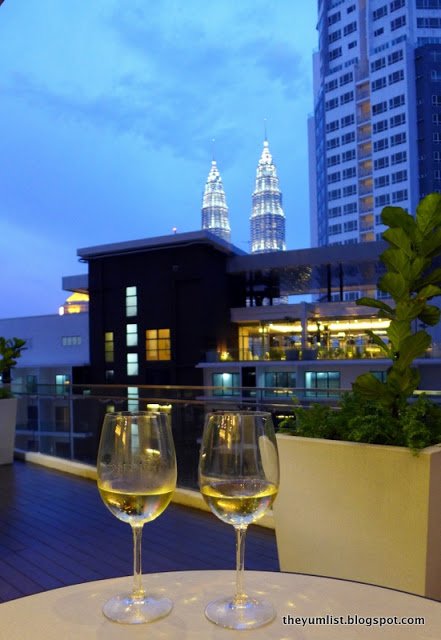 Outdoor Patio of the Club Lounge
Facilities
Exercise facilities are of high importance to us. While it would be easy to jump over to KLCC Park and jog a couple of rounds, having access to a gym fully equipped with both cardio and strength equipment is much appreciated. Both towers feature a sky gym overlooking the bustling city scene, with the highest block flashing an unobstructed view of the majestic Petronas Twin Towers from its windows. Surrounded by an outdoor garden space and transparent railings, the rooftop is a very desirable location. It's a great vantage point for observing sunrise and sunset, and especially complements the peacefulness of the yoga studio also on the same floor.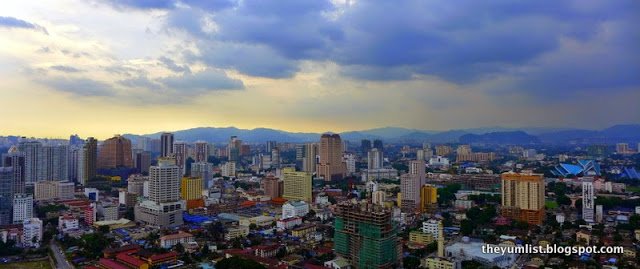 View from Rooftop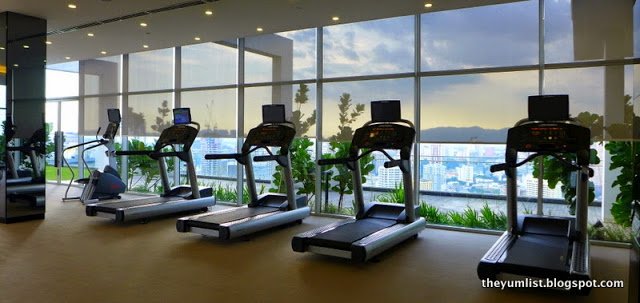 Sky Gym Tower One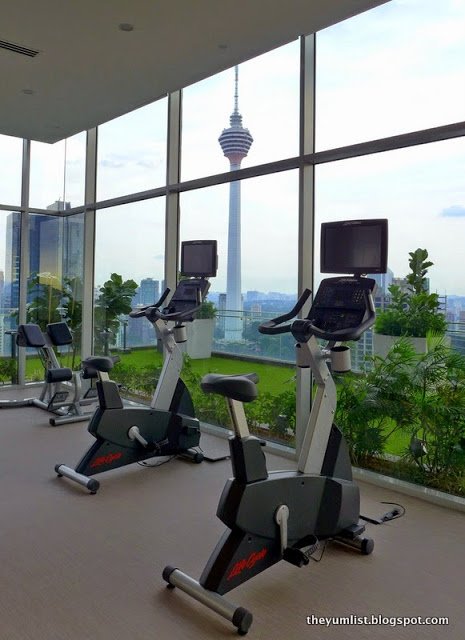 Sky Gym Tower One – Not a bad view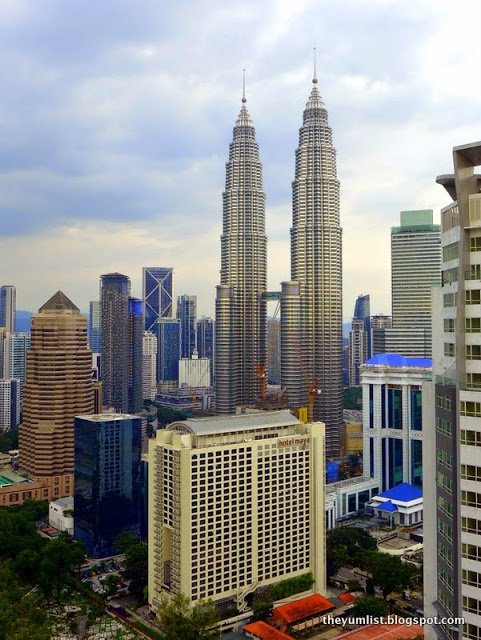 View of Petronas Twin Towers from Tower One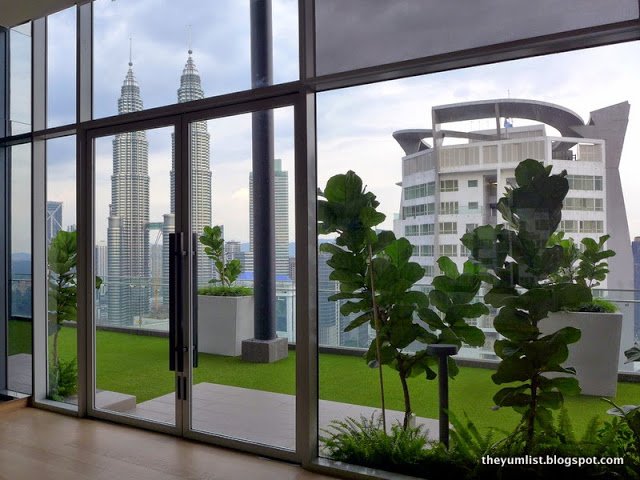 View from Yoga Studio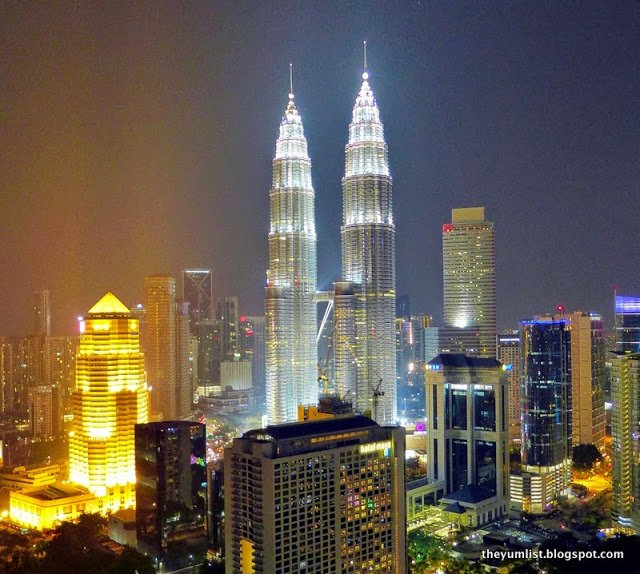 Night View
Some laps in the pool make a good change of routine, and we note the integrated facilities in the kids' section look like loads of fun for the little ones. In fact, the residence does a better job than many rentals in providing safe places for children to play. Besides the water playground, activity areas for children are found both indoors and out.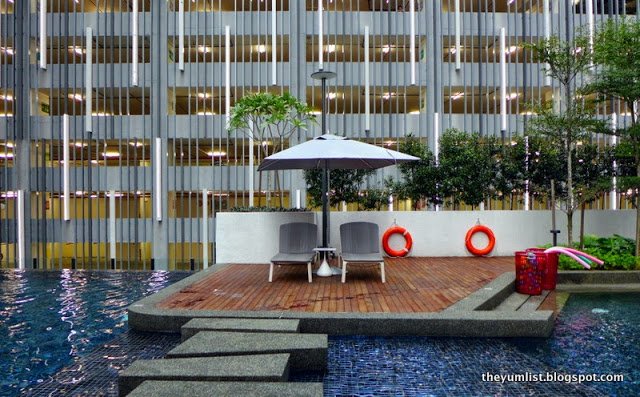 Pool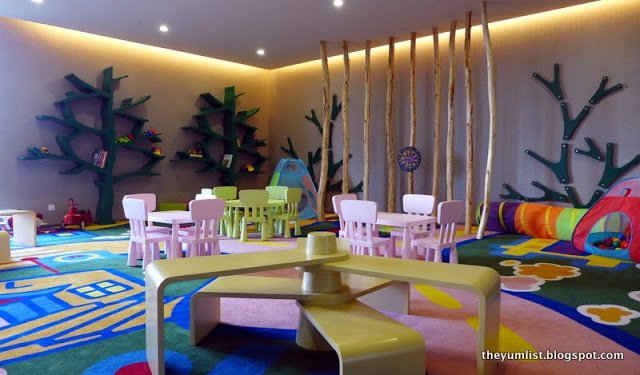 Indoor Children's Playground
Outdoor Jacuzzi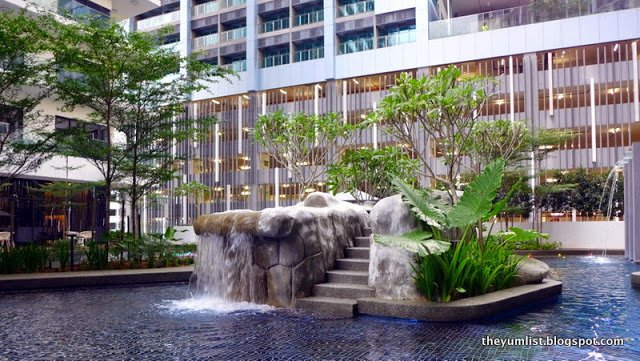 Pool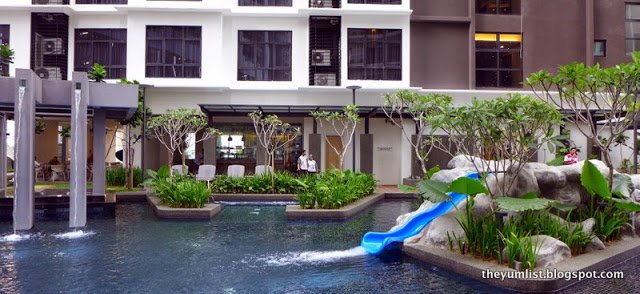 Water Playground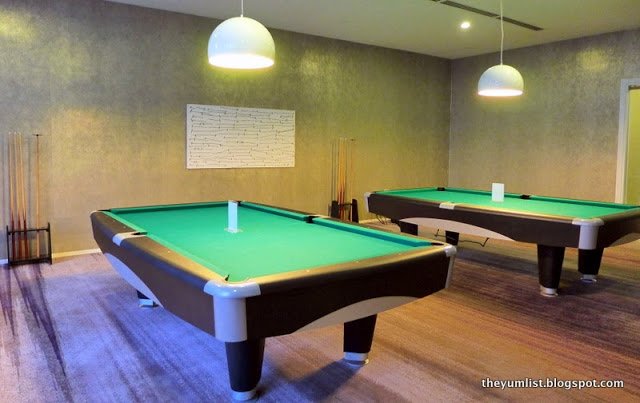 Pool Table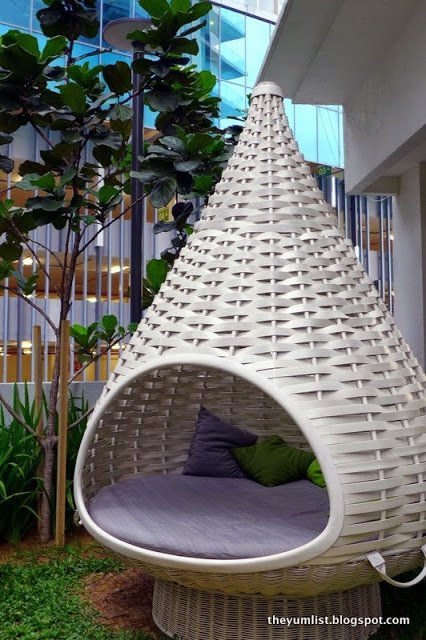 Garden Seat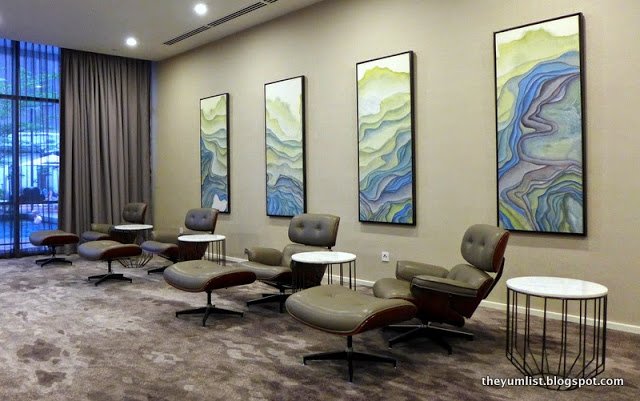 Indoor Lounge
Expat working life tends to run at a much more hectic pace than it does when working in one's home country. That's why I believe Sompoton Spa will be a well-used resource. This chain operates in many hotels around the city so guests are assured some standardization in training and a professional approach. We indulge in a couple of hours of bliss in the newly opened outlet.
Follow this link to find prices and some of our menu suggestions.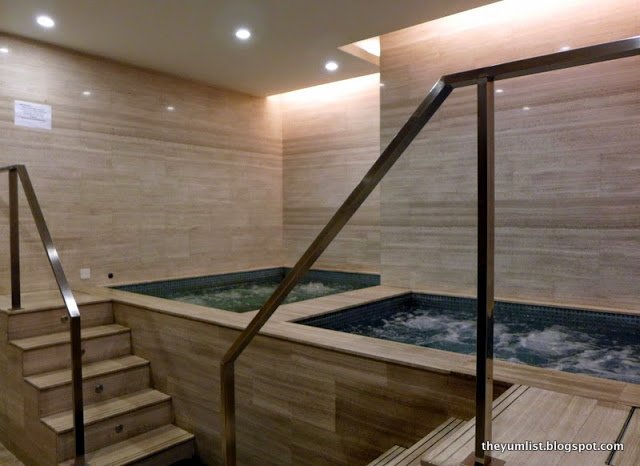 Female Jacuzzi
Foodie Temptations In the Area
Now, while our grand apartment has a fully functional kitchen, and we've been happily dining in during our stay, if engaged for a longer period we'd too be spoilt for options in the walkable surrounds. Some of our favourite restaurants in the city are minutes away.
Kampung Baru, known for Malay tradition, culture and a great range of street food is found to the back of Fraser Residence. Get your fill of mouth-watering local food at the night market held there every Saturday evening. Opposite Kampung Baru on the other side of Jalan Sultan Ismail, great Pakistani cuisine at reasonable prices can be found at
Trilogy
. Weekend brunches are fun with beautiful dim sum at
Sheraton Imperial
a block further along the street, and the brand new Quill City Mall is just across the road.
Walk out of Fraser Residence to the left along Jalan Ampang and you'll hit KLCC and Avenue K, and all of the shopping, food and entertainment they have to offer.
Eight Ounce Coffee Co
. in KLCC is our go-to in the area for a caffeine fix, and
London Sandwich Co.
on the bottom floor is reliable for fresh western style sandwiches.
La Scala
, a freestanding restaurant across from the Australian High Commission, offers fine dining Italian cuisine.
Alternatively, from Fraser Residence head up Jalan Sultan Ismail to the lovely Shangri-La Hotel for a
pretty afternoon tea
. The Japanese weekend brunch at
Zipangu
 is a steal for the quality offered, and sports fans too can get their fill at the adjoining
Arthur's Bar
. For superb 360 degree views of the city trot a little further along the street to
Heli Lounge Bar
, where a functioning heli-pad is converted nightly into a happening bar scene. Turn left down the cross street of Jalan P. Ramlee to healthy salads, wraps and soups at Simply Green Salad, and a reliable pit stop for coffee,
La Boca Café.
Turn right at the cross street and some of the prettiest French food in the city is relished at
Cuisine Gourmet by Nathalie
. Another block away and you arrive to the vibrant streets of Changkat Bukit Bintang and a wealth of restaurants, cafés and bars at your bidding. Don't miss
Drift
 for modern Australian cuisine,
Feeka
 for great coffee and breakfasts,
Pisco Bar
for delicious cocktails and a fun social setting, and No Black Tie for a happening jazz scene.
A sojourn at Fraser Residence has us living in contemporary comfort, with the conveniences of a hotel, space of a private residence, and a plethora of city life perks right at our doorstep. We can see why some, who have initially checked in as temporary residents, choose to never checkout.
Reasons to visit: central location; brand new; clean contemporary design; largest serviced apartments in the city; comforts of a home with services of a hotel.