"Just real, honest food and artisan coffee"
Continuing our search for healthy delivery services, we come across London Sandwich Co. in KLCC. Run by the same crew who started Boost Juice, the focus of this outlet is fresh handmade sandwiches, healthy snacks and artisan coffee with 'grab and go' ease.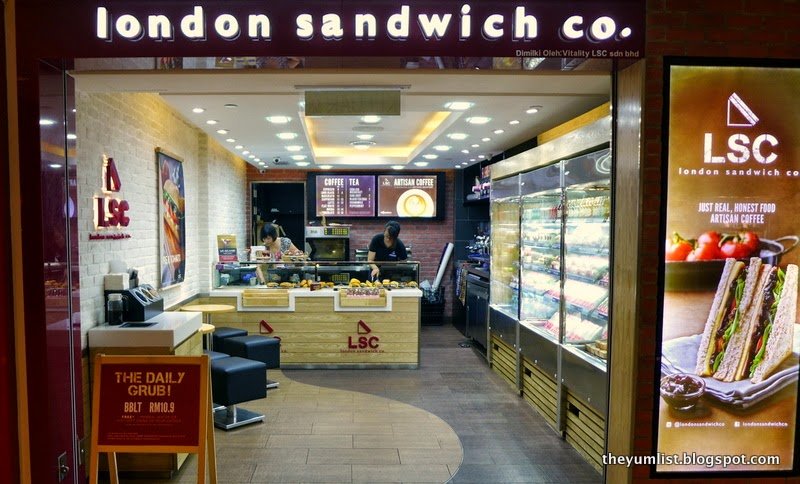 London Sandwich Co., KLCC
Freshly made sandwiches are the highlight, with a variety of breads lining the chilled display. There too are a handful of salads, sweet treats, pastries (continuously baked throughout the day) and beverages to choose from. Food is prepared fresh daily: nothing is kept overnight. We dig straight into what attracted us in the first place, healthy UK style sandwiches.
Sandwiches
Toasties are the most popular item, with the Tuna Melt (RM10.90) topping the list of favourites. All are made with large slices of wholemeal bread, and when heated until golden brown, are just delicious. Hubby was already suggesting a second until I nudged him to remember the solid selection of other things to try.  There are a couple of seats to eat in-shop, where we have our first taste, but this is mostly a take-away venture, so plan accordingly.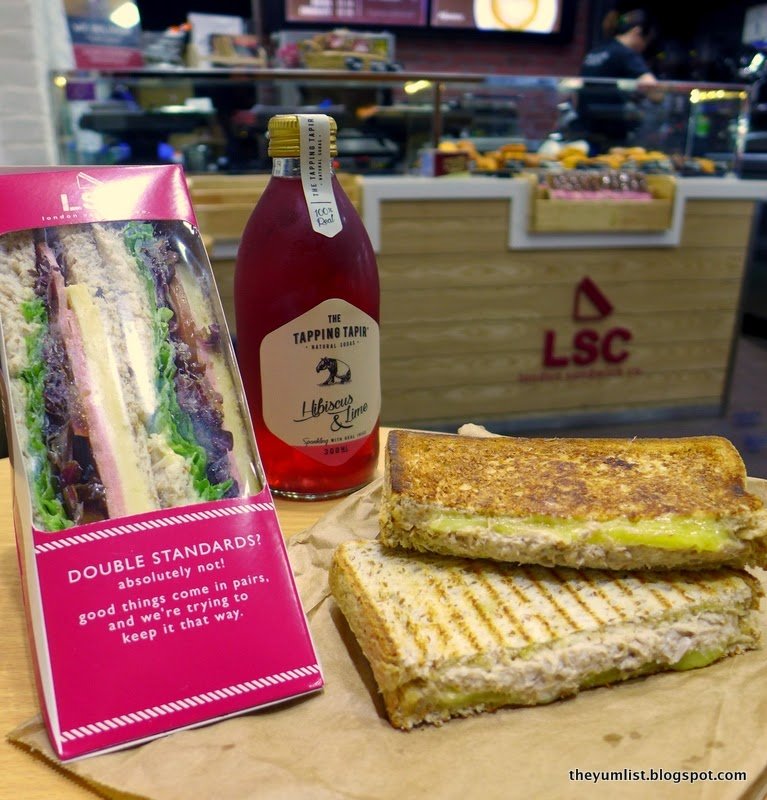 A Bite in the Shop – Sandwich, Flavoured Sparkling Water, and Tuna Melt Toastie (delicious!)
The chilled sandwiches are divided by bread type: bloomer multi-grain, white and multigrain baguettes, and wholemeal sandwich bread. The Artisan Chicken Multigrain Baguette (RM11.90) is on a more dense but soft bread, holding roast chicken breast, lean beef bacon, tomatoes, romaine and lollarossa lettuce leaves and English mustard mayonnaise.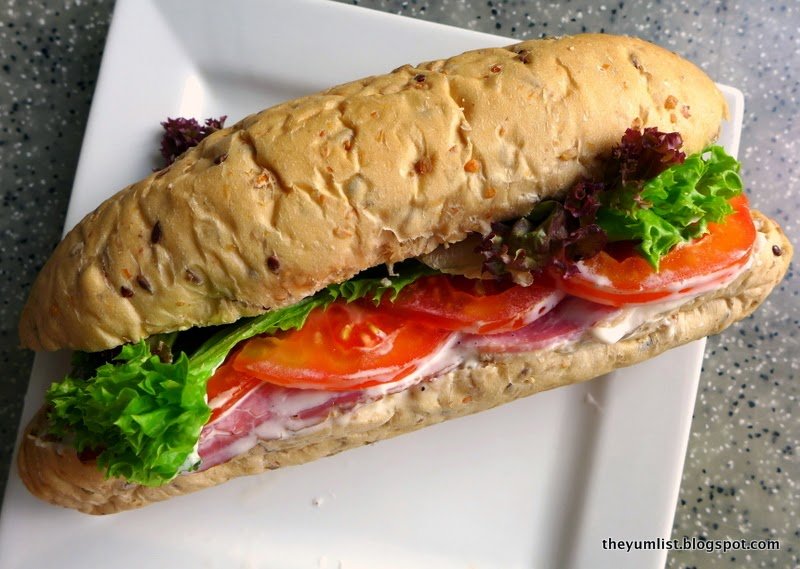 Artisan Chicken Multigrain Baguette
Another popular item is the Chicken Avocado on Bloomers Multigrain Bread (RM14.90). Fluffy grain slices hold roast chicken breast, avocado, basil leaves, tomatoes, romaine and lollarossa lettuce leaves and English mustard mayonnaise.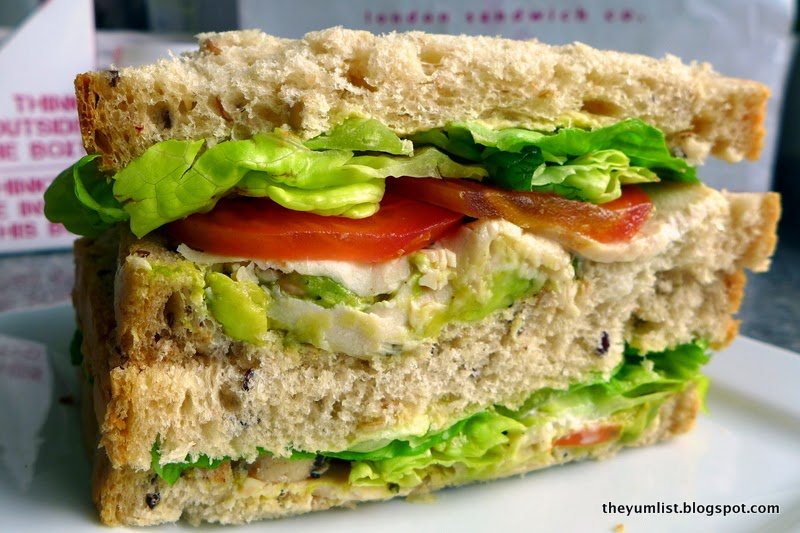 Chicken Avocado on Bloomers Multigrain Bread (RM14.90)
The Londoner (RM12.90), on sandwich bread, is the outlets' signature, showcasing slices of hand cut Australian mature cheddar cheese, turkey ham, tomatoes, English Branston pickles (something special to the UK) and lettuce. Also in the sandwich bread section, I'm delighted to find half portions as options. Great for the lighter eater, to mix and match, or to pair with a salad, I do appreciate the choice. I sample the Ploughman's Sandwich (RM5.5) in a half portion, basically a vegetarian version of the Londoner, and the Prawn Cocktail Sandwich (RM7.90) with fresh whole prawns between green leaves given a faint spice with London Sandwich Co.'s signature cocktail sauce.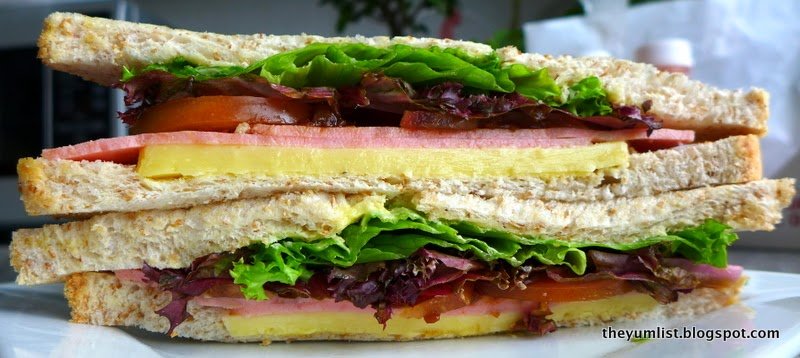 The Londoner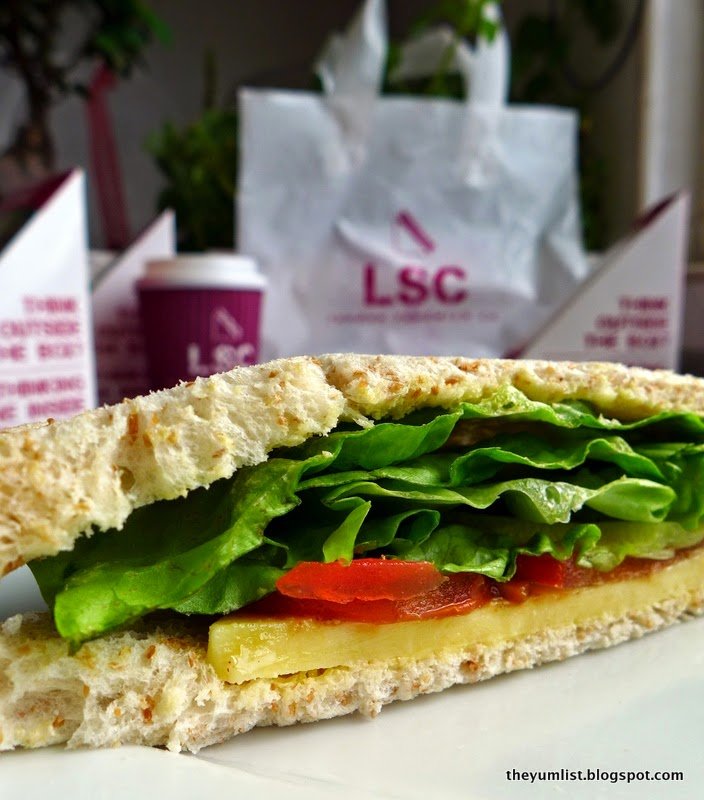 The Ploughman's Sandwich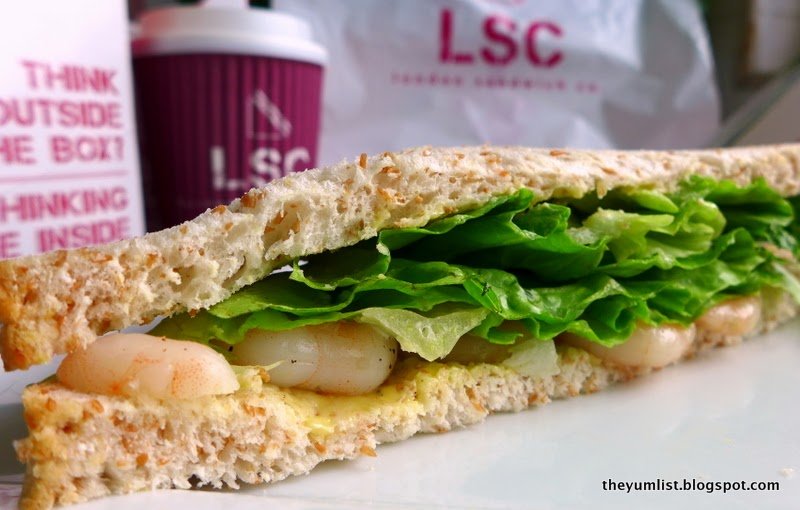 Prawn Cocktail Sandwich
All of the breads are wonderfully fresh, and the fillings too. The seasonings are lighter than what are regularly found on Malaysian shelves, and their gourmet dressings appeal to both of us.
Salads
Good on their own or paired with a sandwich, several salads are up for grabs too. A bed of romaine and lollarossa lettuce holds shredded tuna in a light mayonnaise in the Tuna Nicoise (RM 12.90). It looks pretty in its box with carefully arranged slices of egg, rocket leaves and tomatoes crossing the top. This would be enough alone for most lunches. Mr. Bean Salad (RM7.90) contains lettuce, red onions, garbanzo beans, red kidney beans and butter beans in an olive oil dressing, and makes a fine companion for a half sandwich.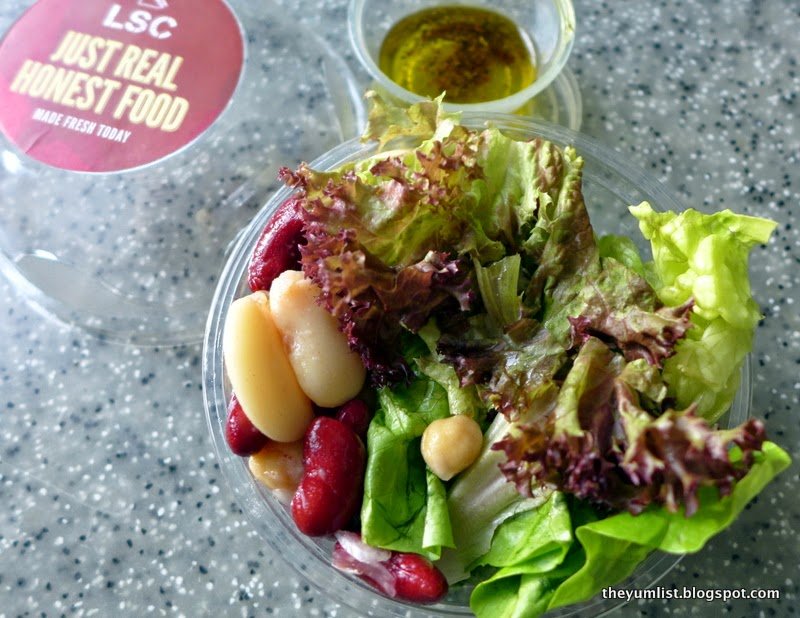 Mr. Bean Salad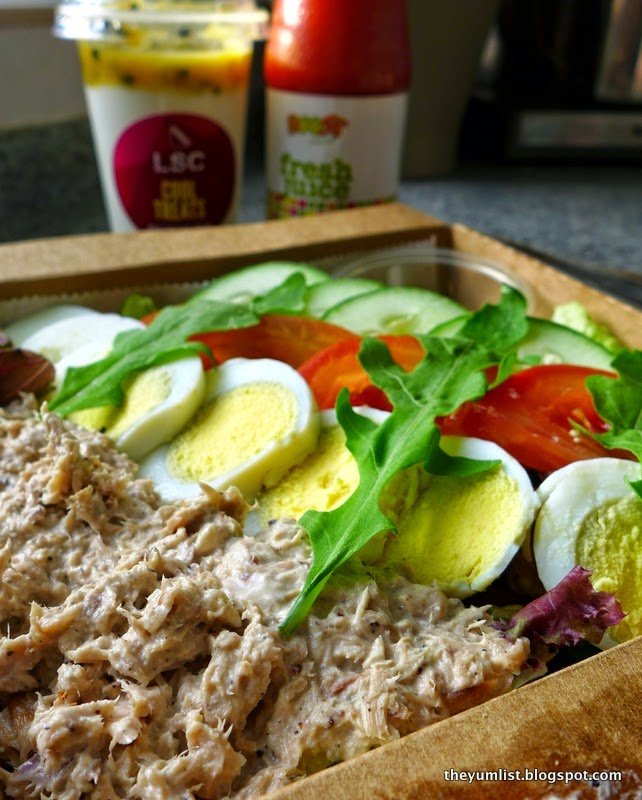 Tuna Nicoise
Sweet Treats
Low fat yoghurt is used in all of their parfaits, which are assembled on site. Both the Passionfruit Yoghurt (RM7.50) and Muesli Yoghurt (RM7.50) are tasty cups. The dairy itself is light and mildly flavoured with the respective toppings providing a tang and a crunch.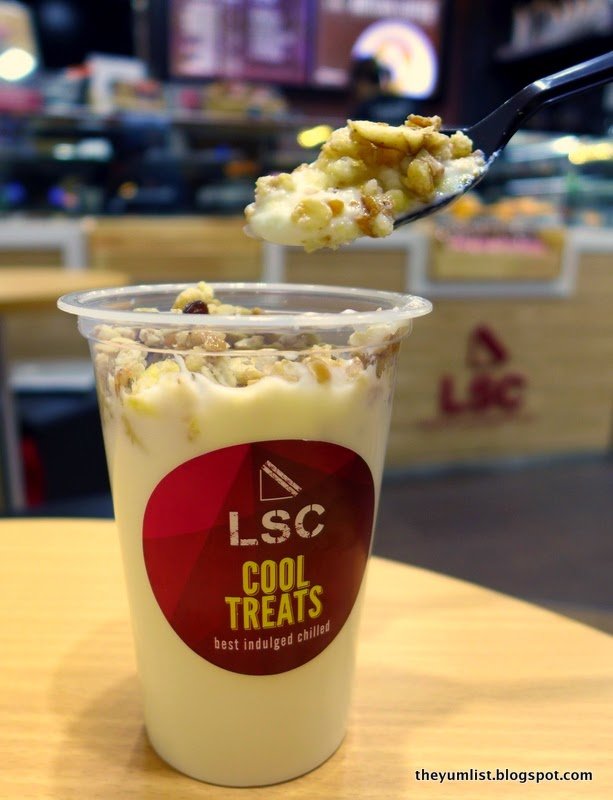 Muesli Yoghurt – a Best Seller
Love Bites (rolled oats and chocolate) and Muesli Bars are custom made, and while sweet and satisfying, decidedly a much healthier option to a common dessert. Mini cakes are easy to eat, without icing or creams and also of petite portion, offering enough to satisfy, but not too much to give you an afternoon slump. Carrot (RM3.90) is hubby's first pick, while I'm rather fond of the Banana and Walnut (RM3.90).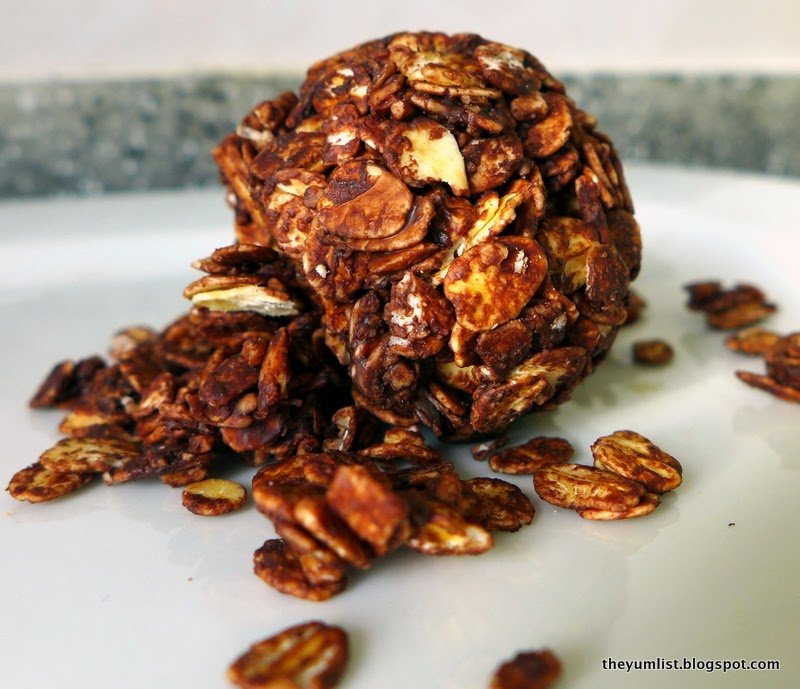 Love Bites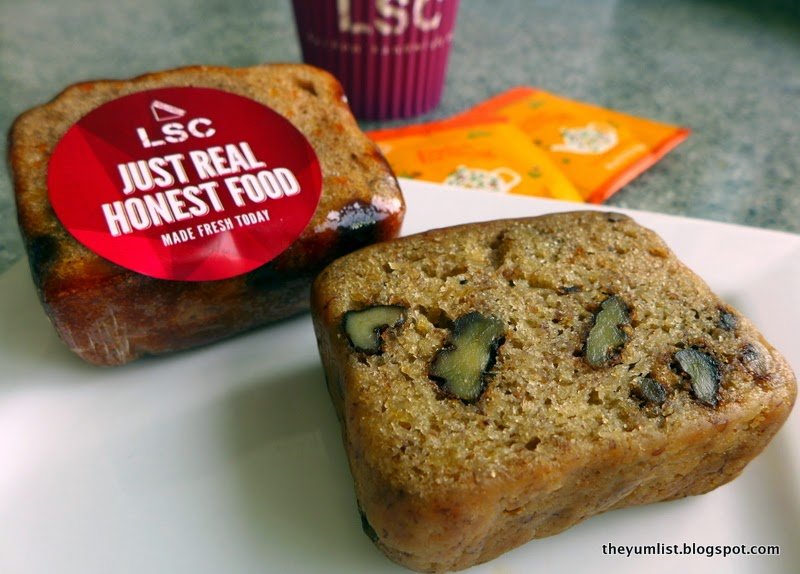 Carrot Cake, and Banana & Walnut Cake
There are a few decadent items too such as the Brownie (RM4.50), which I find better when heated just a little, and the Lemon Cheesecake Mousse (RM8.90), which we take home to try, and I later discover only an empty container remaining. Hubby's huge smile says, it all: creamy, airy, delicious. A White Chocolate and Cranberry Cookie (RM5) is of the giant and chewy kind. Sweet from the chocolate and tangy from the berry, it's very easy to consume the entire biscuit.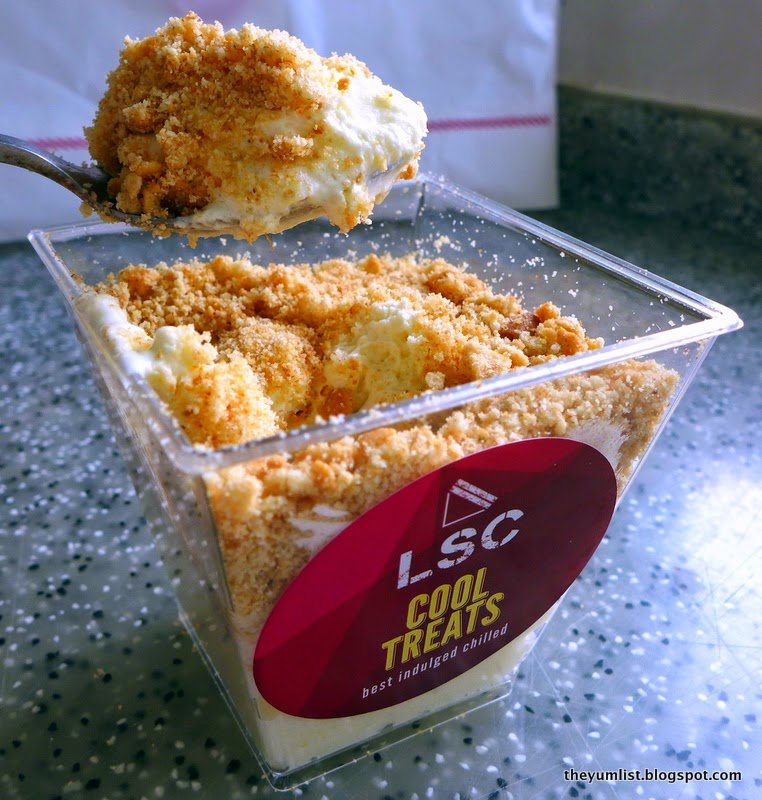 Lemon Cheesecake Mousse – Yum!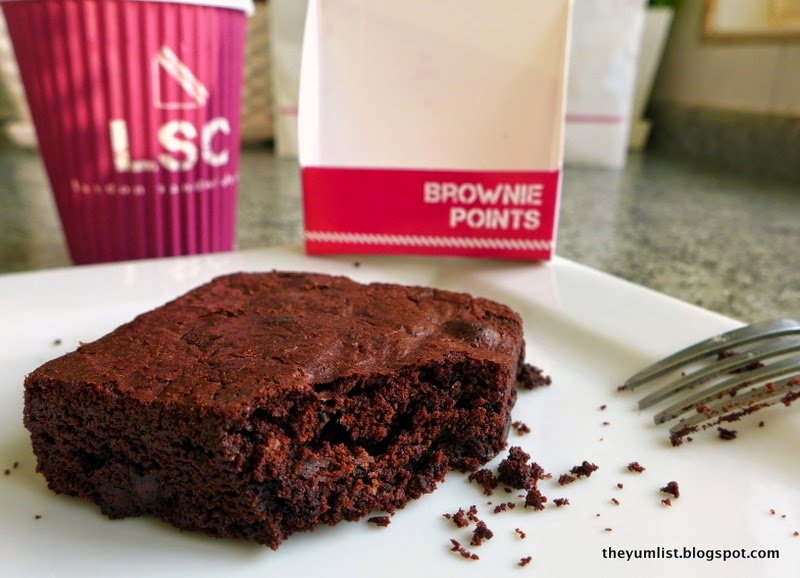 Brownie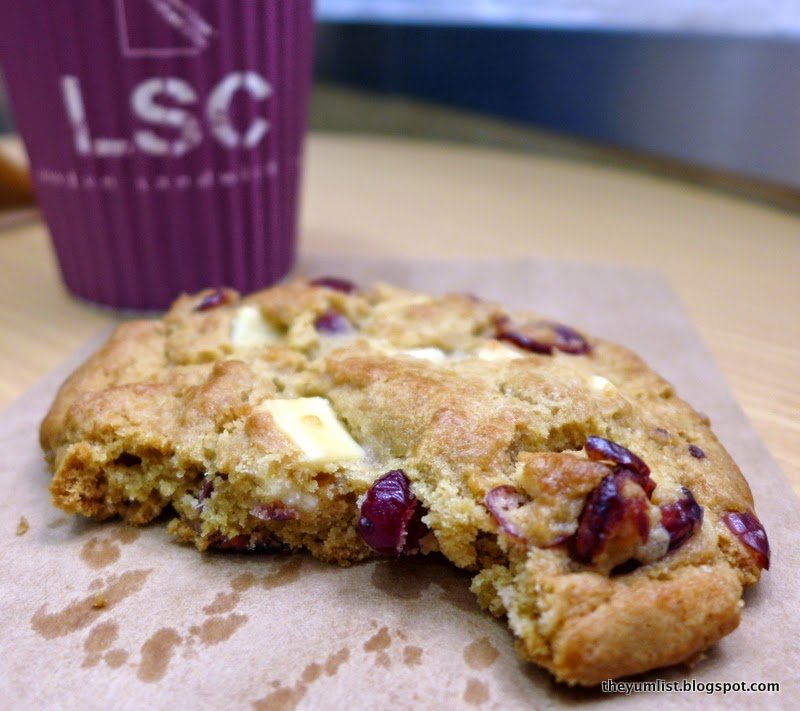 Hot Chocolate and White Chocolate & Cranberry Cookie
Matching the gourmet sandwiches and other bites is artisanal coffee, provided by KL's very own Artisan Roasters. Hubby is quick to notice the triple boiler Mirage machine, immediately giving credence to the spot in terms of "taking their coffee seriously." Quality is insisted on, so coffee is only made on the spot. This is not an item that can be delivered. The standard cup is double shot, but it can be made as a single upon customer request. We're both pretty excited about this! Previously the only spot we'd consider drinking coffee in KLCC is Eight Ounce. We're now very happy to add another up-to-our-coffee- snobstandard our list.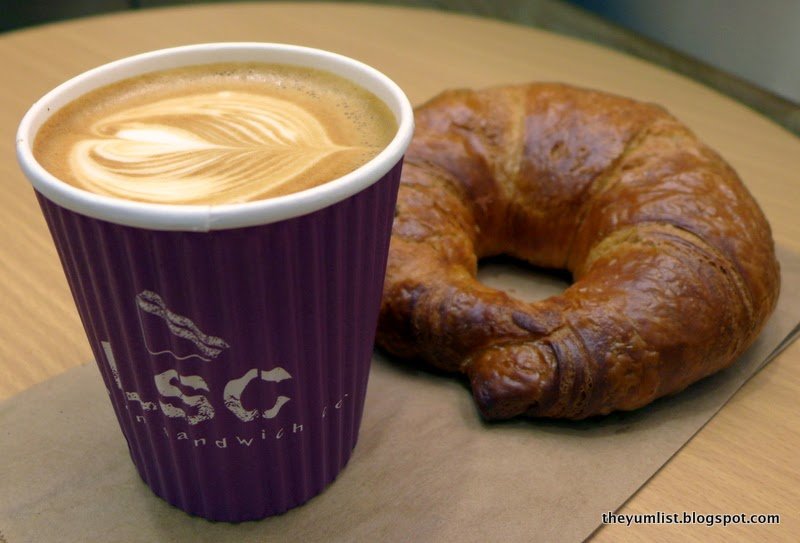 Latte and Croissant
If you'd prefer something chilled, there are sparkling sodas supplied from a local group, with some yummy flavours such as Vanilla & Apple, and Hibiscus. Juices come from Boost, so you're guaranteed 100% fruit – no sugar, no preservatives.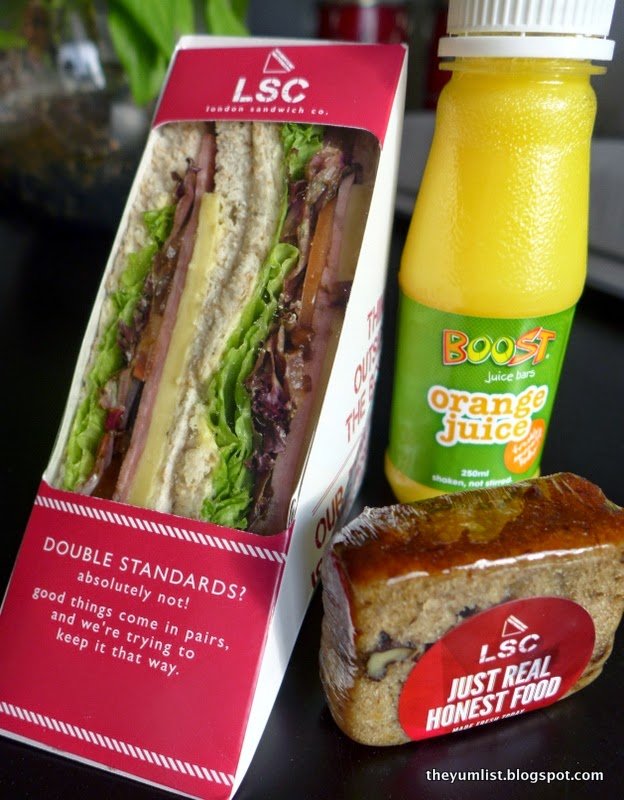 Lunch Delivery
A good 'sanger you sink your teeth into, some sweet treats, coffee worth savouring, and affordable prices are not the only thing London Sandwich Co. has going for it. A bit of corporate social responsibility is thrown in too, with what's left on shelves at the end of the day being donated to a local soup kitchen every evening.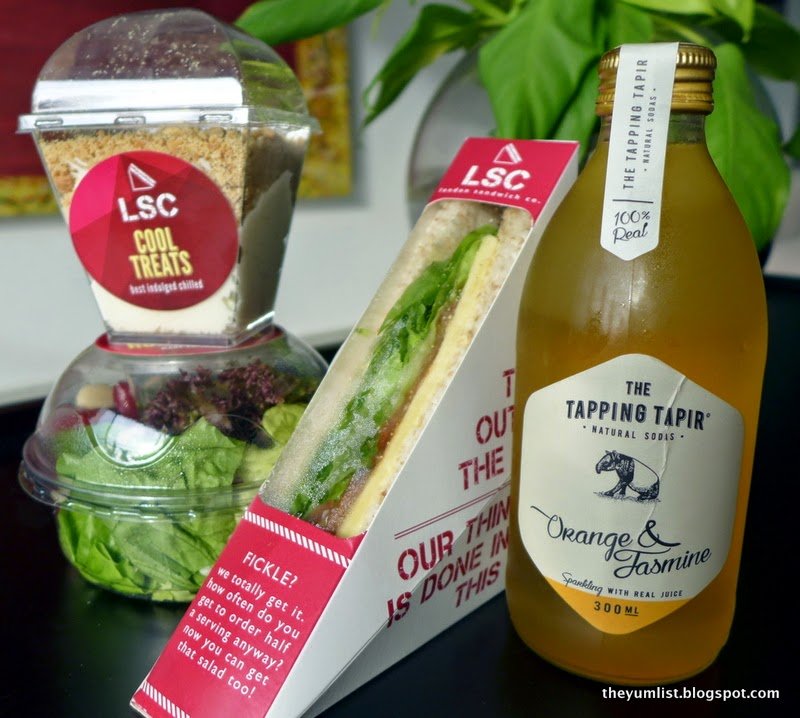 Lunch to Go
Besides a convenient set up in KLCC, where customers can choose ready-made sandwiches and be in and out in less than a minute, London Sandwich Co. also provides delivery to offices around KLCC with a minimum order of RM50. Being further afield than the tower office blocks doesn't mean you have to miss out though. Depending on the distance, you can still have a healthy lunch for a small delivery charge. Preordering a day ahead is highly recommended for large orders to guarantee supply is ready when needed.
Reasons to visit: superbly fresh sandwiches and bread; delicious coffee (open 7:30am weekdays so brekkie is an option!); convenient ready-to-go healthy meals; delivery to KLCC area.
London Sandwich Co.
KLCC Concourse C-68 (near train station exit)
+6 03 2181 3280
Opening hours
Weekdays 7:30am – 10pm
Weekends 10am – 10pm
Pork-free, with all ingredients used coming from halal-certified suppliers