The breezy 13th floor terrace of Doubletree by Hilton Johor is a flawless location for Sunday brunch. Gifted with drafts from the Straits of Johor and authentic Italian cuisine from Tosca, the garden and pool deck plays perfect host to a relaxed Sunday meal.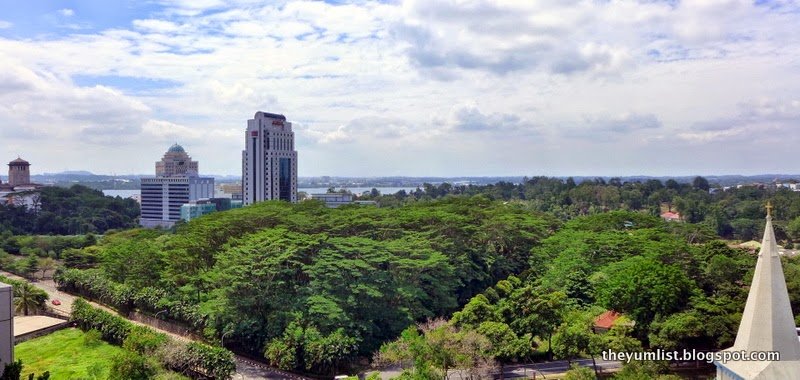 View from the Terrace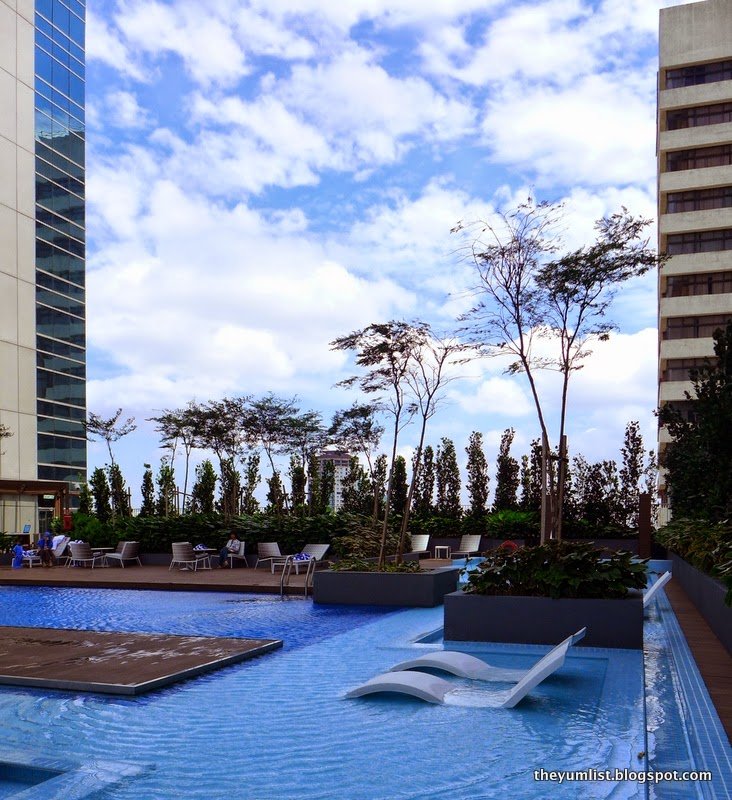 Poolside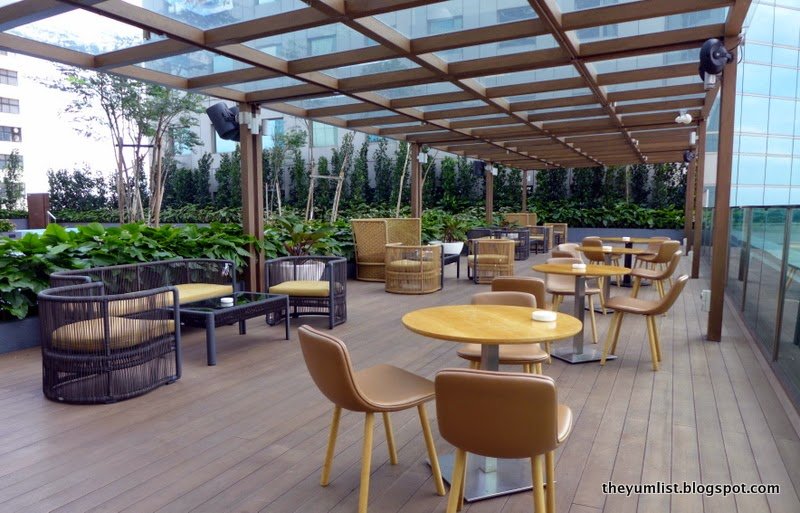 Terrace
The buffet is spread out around the restaurant, both indoors and outdoors, with a variety of interactive stations such as designing your own pizza and pasta, and ready-made displays, creating a casual easy-going feel.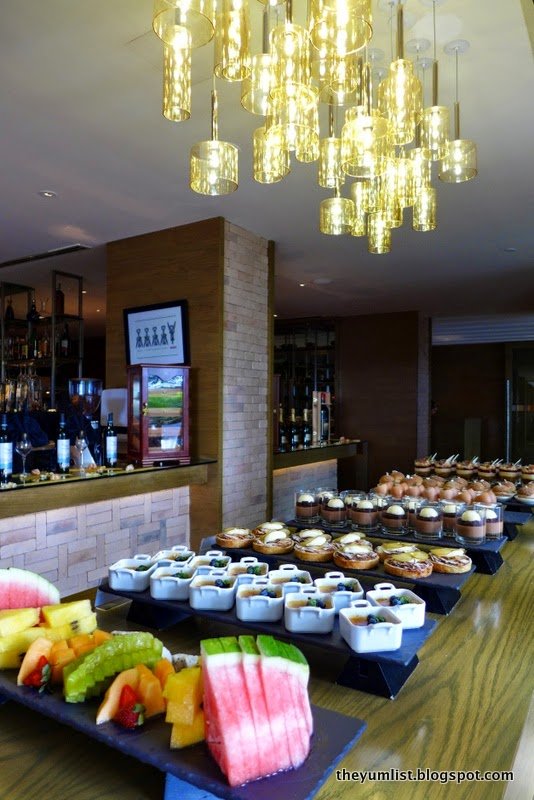 Sunday Brunch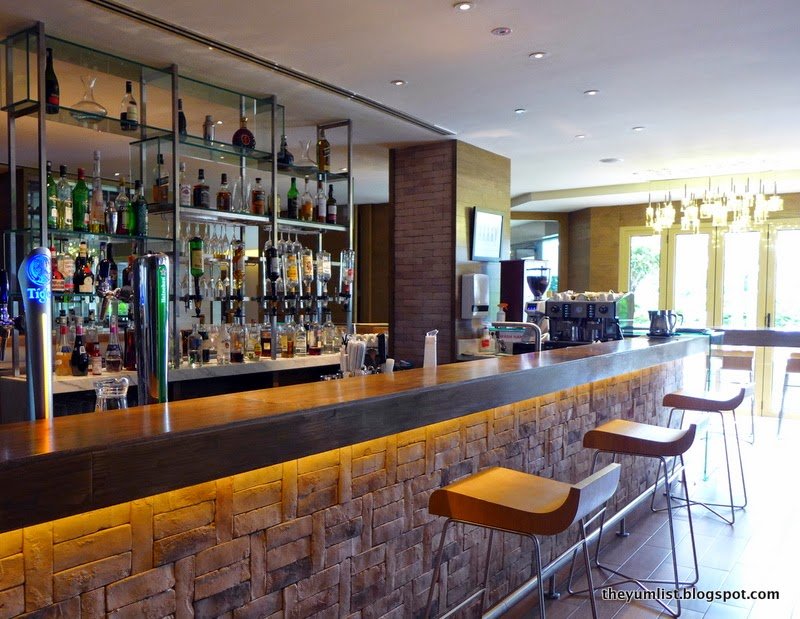 Tosca Bar
After filling our glasses with the house pouring red and white wines, the antipasto buffet is where we begin. We see our local friends are quick to note the fresh seafood on ice including prawns, green mussels, slipper lobster and crab. Bruschetta of mushroom and tomato, and artichokes are very much to my liking, while hubby is fond of the arancini, frittata and sun-dried tomatoes.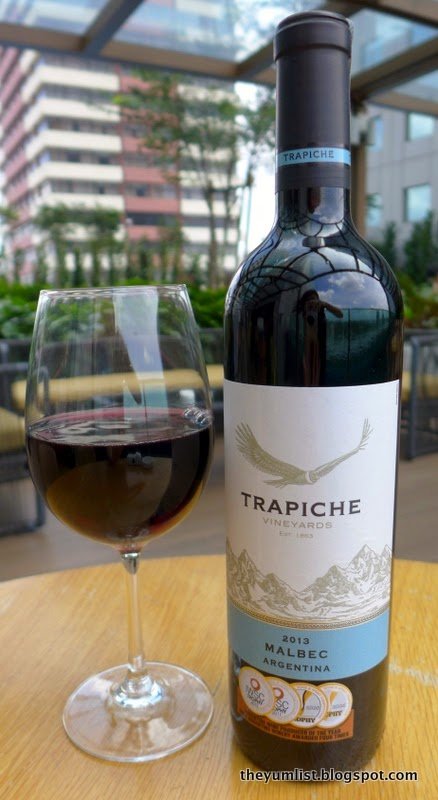 Trapiche Malbec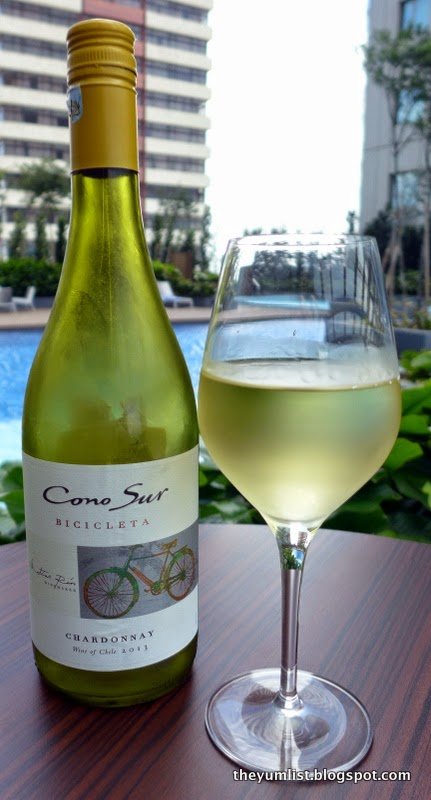 Cono Sur Chardonnay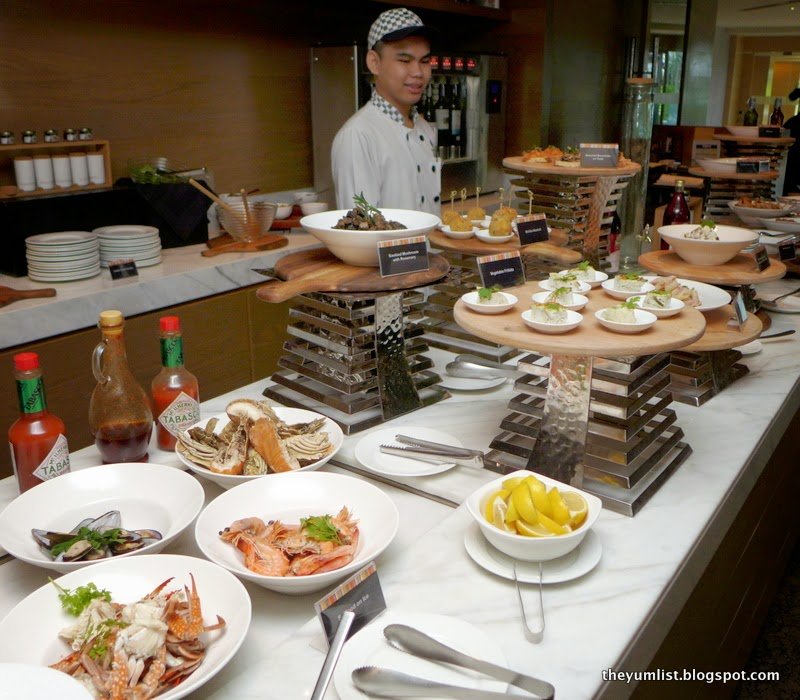 Antipasto Buffet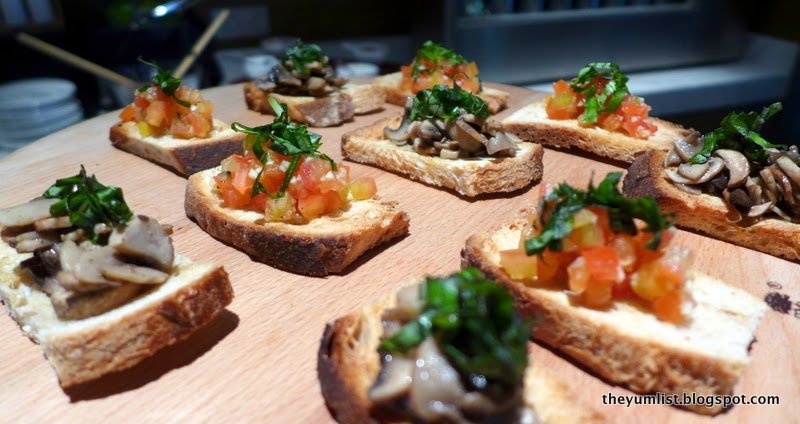 Bruschetta
Pizza comes hot out of the Zesti oven in multiple flavours and guests can customize toppings to their liking. We like the simple flavours of the Margarita, but too individualize a half-and-half: my choices heavying the base with mushrooms, rocket, cheese and veggies; and hubby's side tipping the see-saw with piles of both beef pepperoni and turkey ham.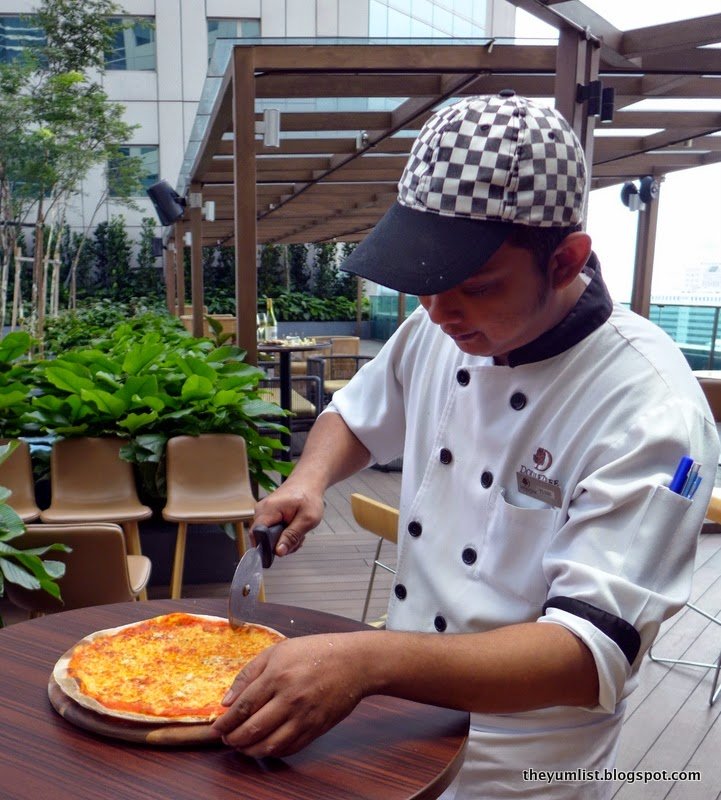 Pizza Made to Order
Pasta too is made to order with fettuccini, spaghetti and penne to choose from. Next select the sauce, aglio oglio, cream or tomato, and finally the extras, seafood, veggies, chicken breast or beef bacon, to your preference. We both opt for a tomato base and hubby adds seafood for flavour, while I request a mound of vegetables. The tomato sauce is rich and, despite the extras we put in, would be just as good as the sole topping.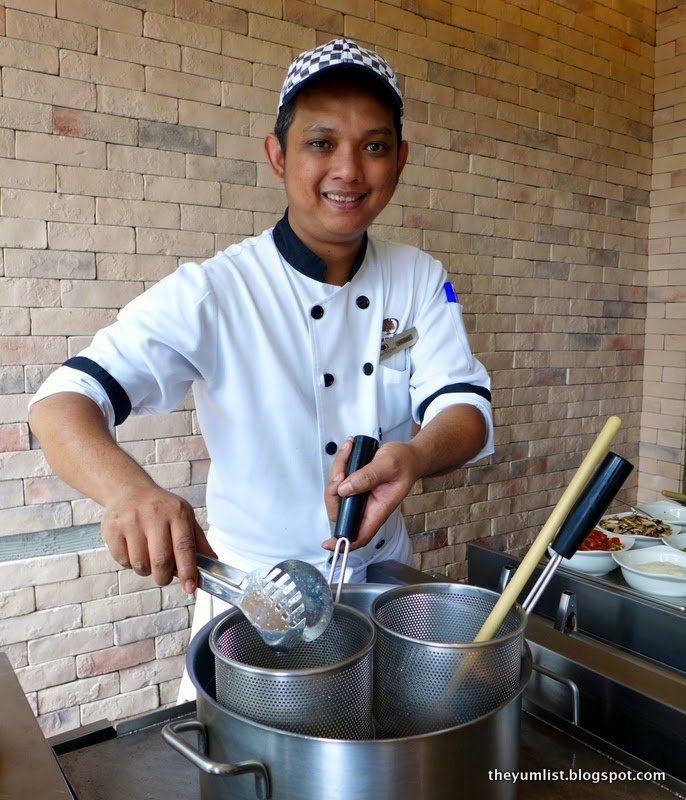 Pasta Made to Order
Vegetarian Pasta
Soup changes every Sunday, and today we try a potato recipe. Onion, garlic and celery season the soup naturally, and this hot liquid goes especially well with the assortment of house baked crunchy, crusty, chewy breads.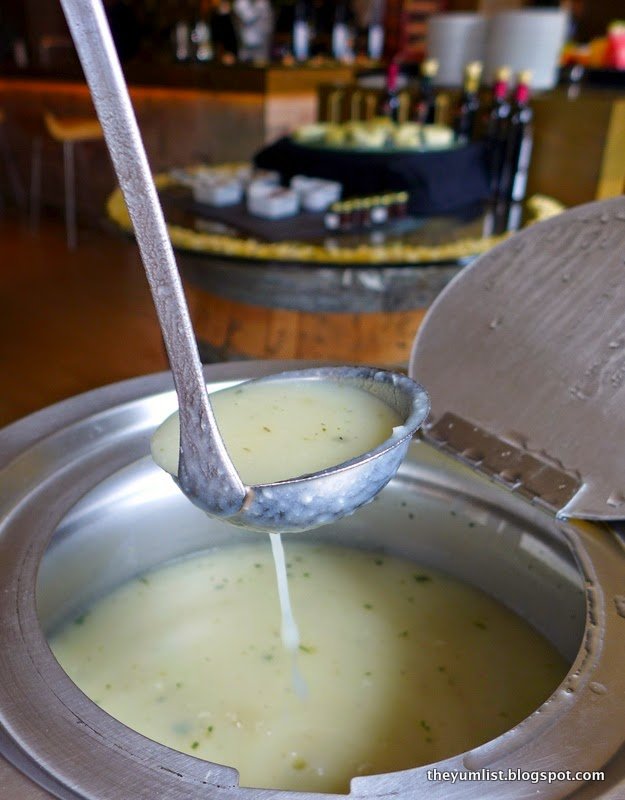 Potato Soup
House Baked Breads
Italian cheeses, including a truffle infused treat, an aged one from chef's hometown of Montasio, Asiago, Provolone and Ubriaco, make great bites on their own, or appetizing companions to the bread as well.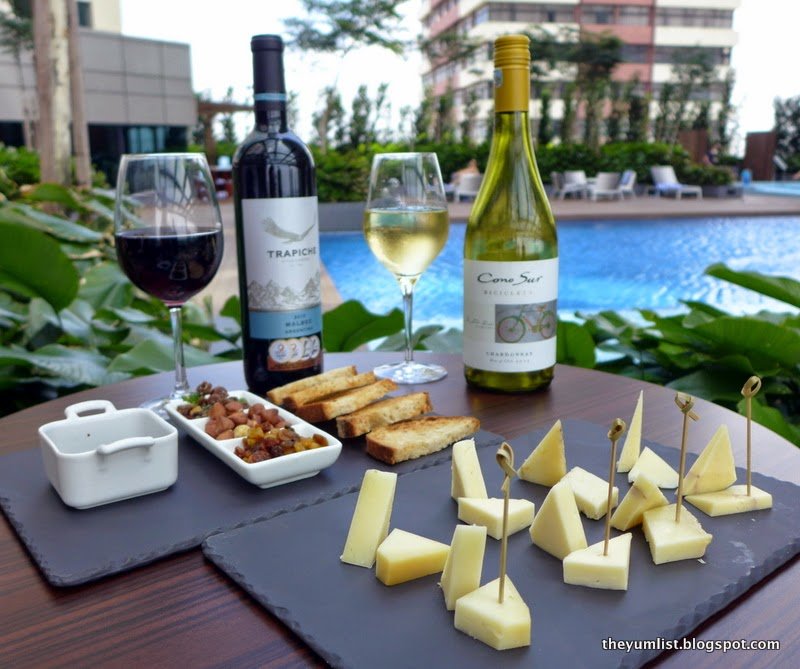 Wine and Cheese
Hot dishes rotate weekly with a minimum of four different recipes usually prepared. We find the Sea Bass and Red Snapper Fillets prepared Cacciucco style moist and flaky in their olive, cherry tomato and basil sauce. The Marinated Chicken baked in the Zesti oven is tender and flavourful. Large wedges of Roasted Potatoes are delicious with their minimal salt, pepper and herb seasoning, and a classic Maccaroni Pasticciati is tasty and satisfying.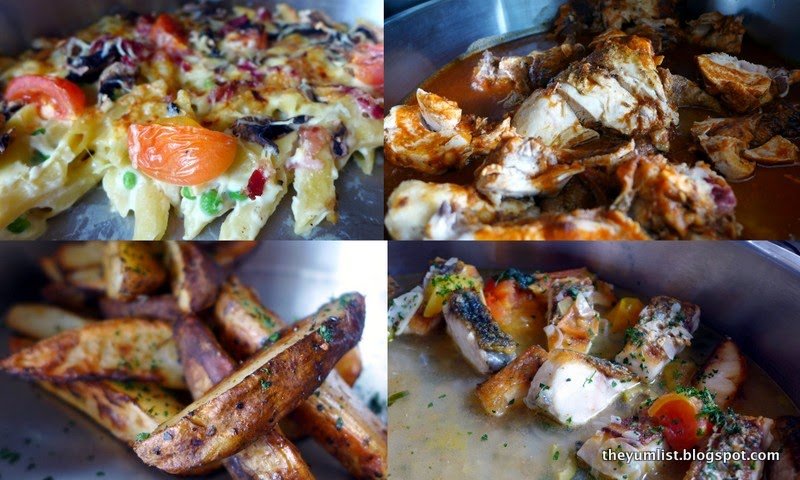 Main Dishes
Main and Wine
SAVE ROOM FOR THE DESSERTS! They are incredible. The smorgasbord is mixed up weekly, and today we drool over the Tarte Aux Pomme featuring a fine bowl of pastry packed with thinly sliced apple and finished with a caramelized apple slice. Hubby's creamy fantasies are fulfilled with both the heavenly Crème Brûlée, but too the cleverly presented Panna Cotta Eggs. Served in an open eggshell, a velvety vanilla cream base and a hemi-sphere of yellow fruit gel resemble a boiled egg. The Chocolate Tart is another rave worthy pastry with an abundant amount of rich smooth cocoa-y divinity.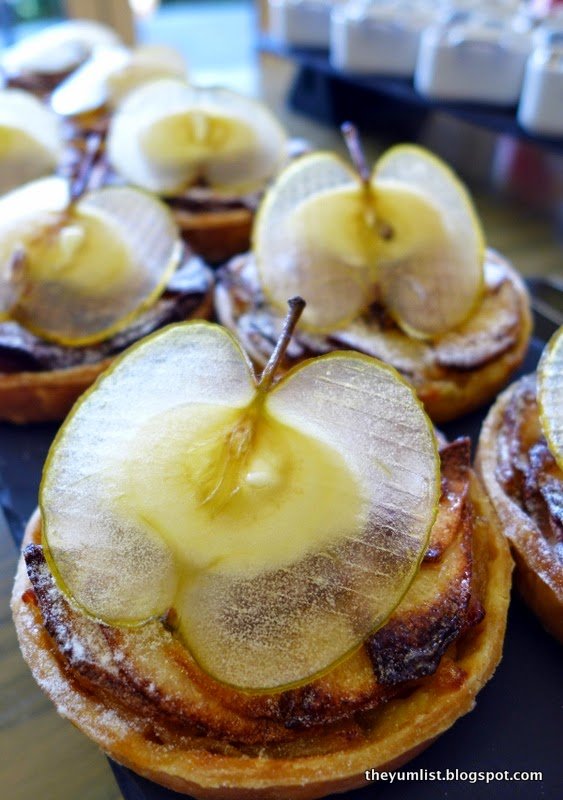 Tarte Aux Pomme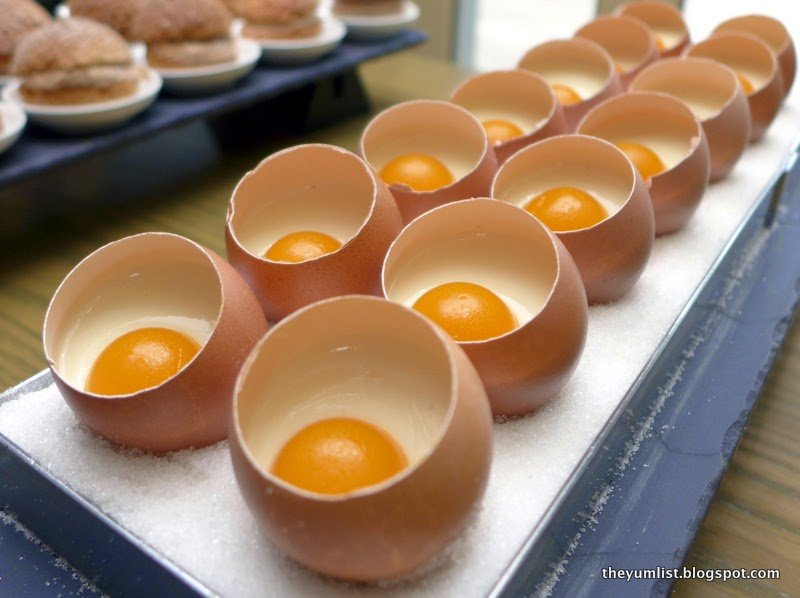 Panna Cotta Eggs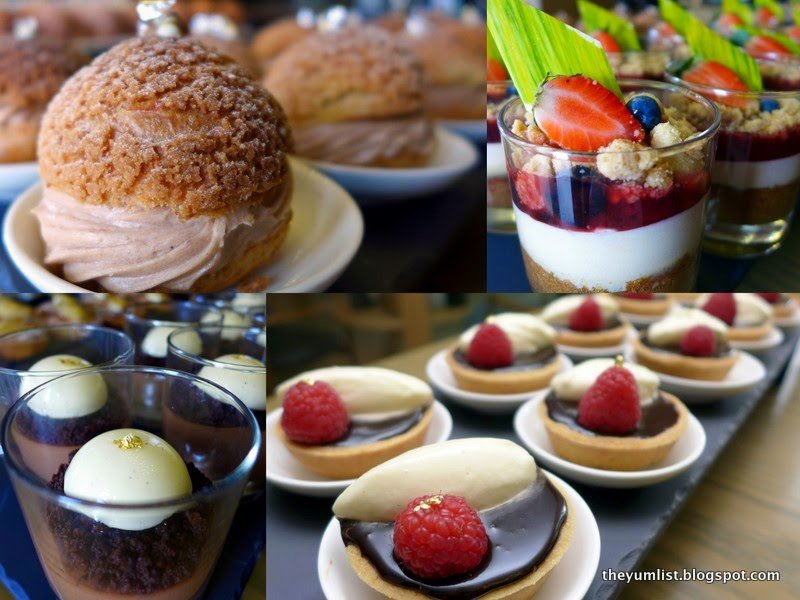 Desserts
Brunch runs every Sunday from 11am – 3pm, and is priced at RM78++ for adults and RM39++ for children between ages five and 12 years, and senior citizens aged 55 and above. With a free flow of beer and wine the cost increases to RM168++, which has to be one of the best value brunches in Malaysia – one which I imagine is a particularly attractive option for those coming across from the Singapore border.
Reasons to visit: cheery poolside atmosphere; authentic Italian cuisine; pizza and dishes from the Zest oven; lots of healthy options; gluten-free requests can be catered for; AMAZING desserts.
Tosca Doubletree by Hilton Hotel Johor Bahru
12 Jalan Ngee Heng
Johor Bahru, 80000
Malaysia
+6 07 268 6868
Sunday brunch runs from 11am – 3pm
Non-halal, but pork-free