Malaysian's love for seafood is decadently indulged every weekend at Makan Kitchen. Doubletree by Hilton's all day dining restaurant celebrates various cuisines established in local cultural diversity in every seating, and on Friday and Saturday evenings, the fruits of the sea are given full culinary glory, dressed in flavours from around the country.
Before we even have a chance to ogle the buffet, we're impressed by the proactivity of the staff: warm greetings, friendly interactions, lots of communication. We might even begin to believe we're in a country where English is the native language and the culture is outgoing. This is a far cry from the somewhat reserved (however sweet and amicable) interactions we've become accustomed to in many local restaurants. The atmosphere is positively cheery and vibrant.
Makan Kitchen in Doubletree by Hilton Johor's property bestows a rather contemporary ambience, while maintaining a strong connection to regional design. Large spaces, thoughtful lighting and clever use of line and texture create movement and divide an incredibly large space into multiple, more moderately sized, areas.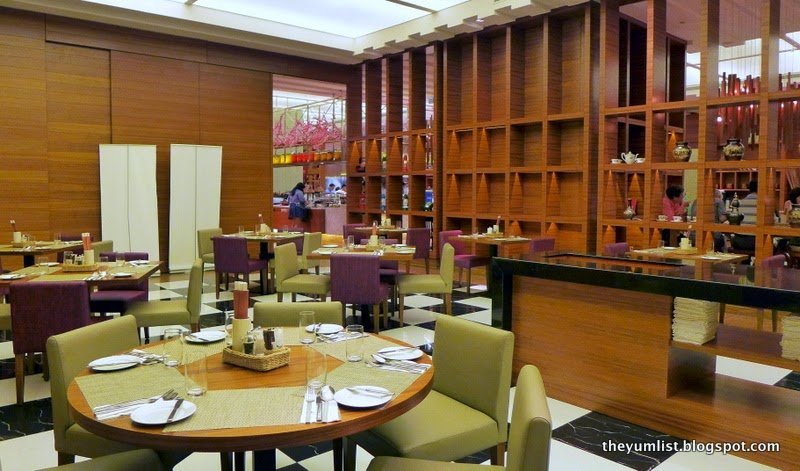 Makan Kitchen
Setting: great. Welcome: friendly. Now it's time to check out the food! At first, as is often the case, I'm overwhelmed with choice, not knowing where to begin. An affable staff member however gives me a quick briefing indicating four distinct sections: Indian; Malay; Chinese; and a Cold Section where seafood, salads and desserts are found. All areas have live cooking stations, and chefs are full smiles, joking with guests and happy to take requests for dishes made a la minute. It's far too much for me to cover in one seating, (though hubby is certainly happy to accept the challenge) so following I note some of the highlights.
Seafood and Cold Selections
We confirm immediately the adoration locals have for seafood, especially super fresh specimens, at the iced section. The dedicated oyster shucker earns every single sen on this shift as he reveals plump bivalves from their stubborn shells. Sashimi is a big hit too, and the fish slicer works nearly as hard, carving delicate strips for the line that has accumulated to watch the handiwork in action.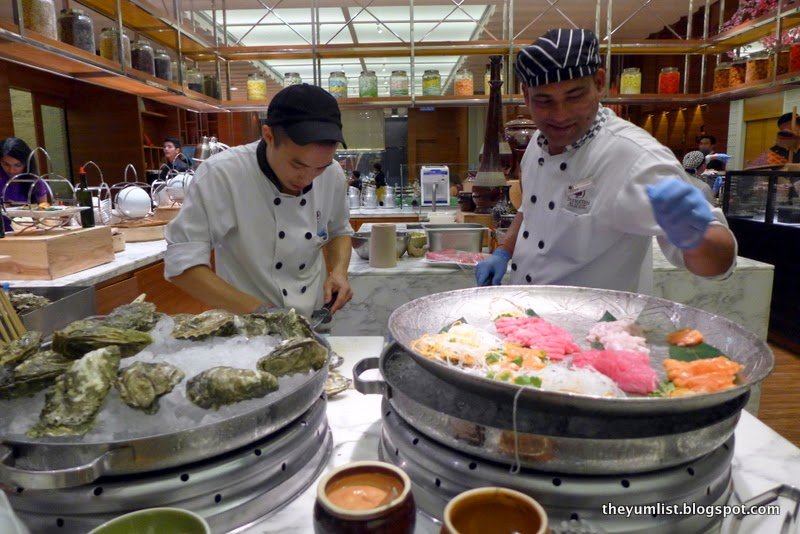 Oyster Shucker and Sashimi Slicer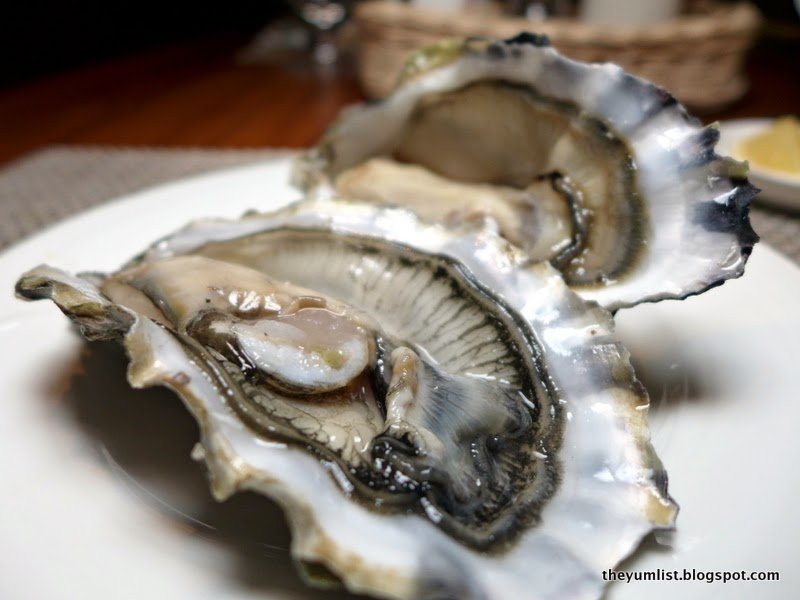 Freshly Shucked Oysters
Various bowls of garden leaves and vegetables are ready for the tossing in this section also, with numerous dressings and vinaigrettes available for preferred seasoning. Seafood of course makes an appearance again, and the Tuna Salad, Smoked Tengirri Fish Platter, Mixed Seafood Salad and Poached Salmon have constant dents in their volume.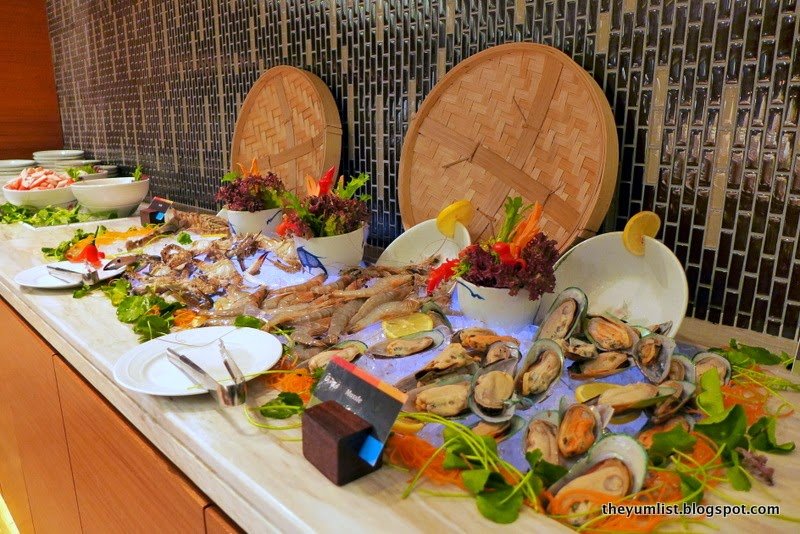 Cold Seafood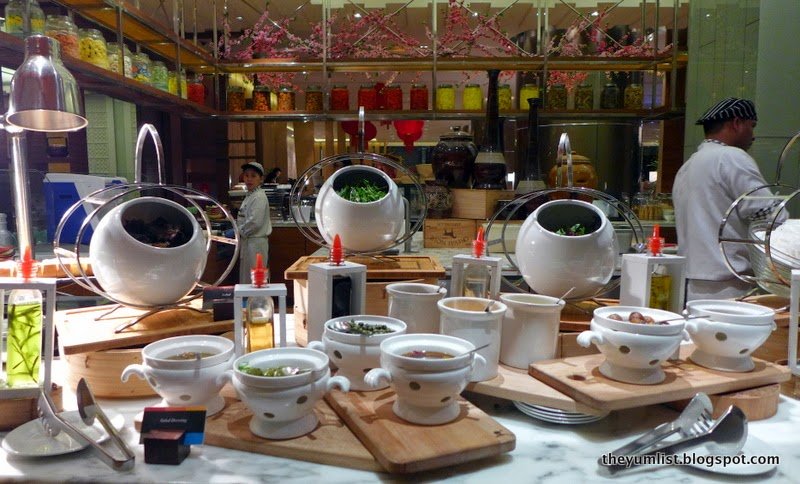 Create Your Own Salad
Malay Favourites
Each state in Malaysia proudly trumpets their local version of Laksa as the best, and Johor is no different. I enjoy a huge delicious bowl of this tangy, fishy soup, and if it were not to save space to sample a few more items across the buffet (for my dear readers), I might happily have stopped, 100% satisfied right here.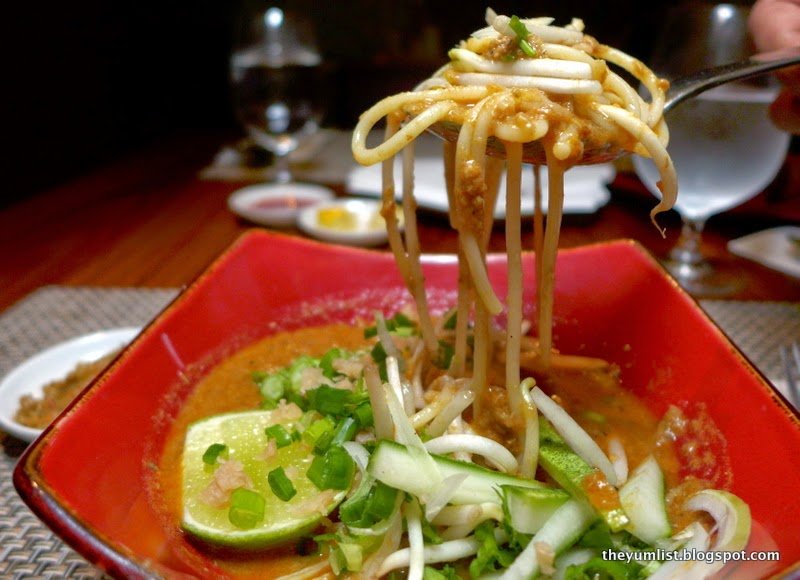 Johor Laksa
Satay and Beef Rendang are of course must-tries for foreigners new to Malay cuisine, but we find a good mountain of these on local plates too. Hubby has discovered the Malay grilled section and his repeated request from here is the slipper lobster. Marinated with spicy local seasoning, and barbecued until cooked through, but retaining tenderness, these delicious crustaceans leave our tongues tingling around the edges.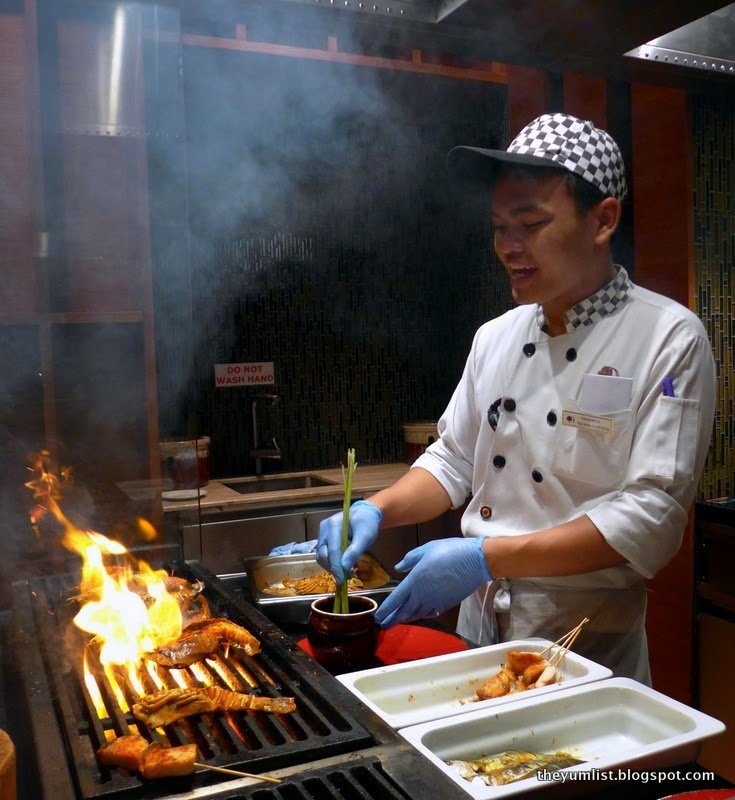 Malay Grill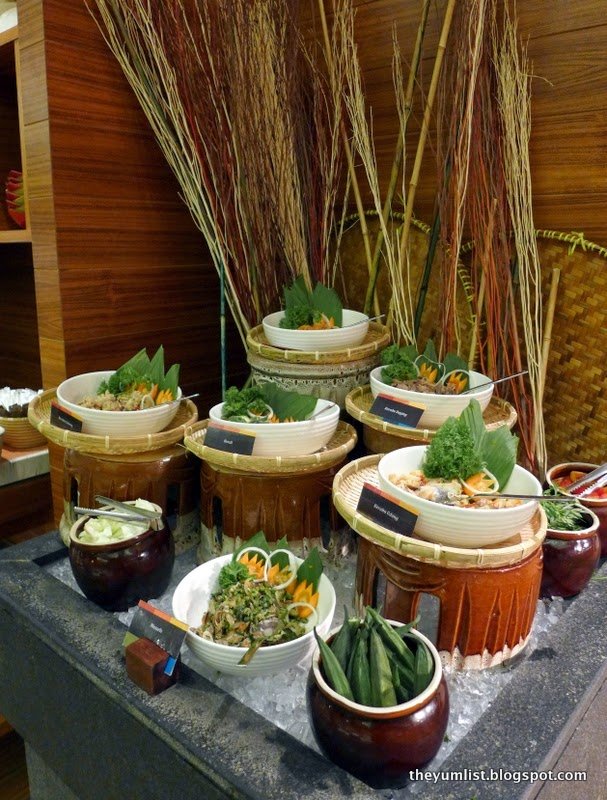 From the Buffet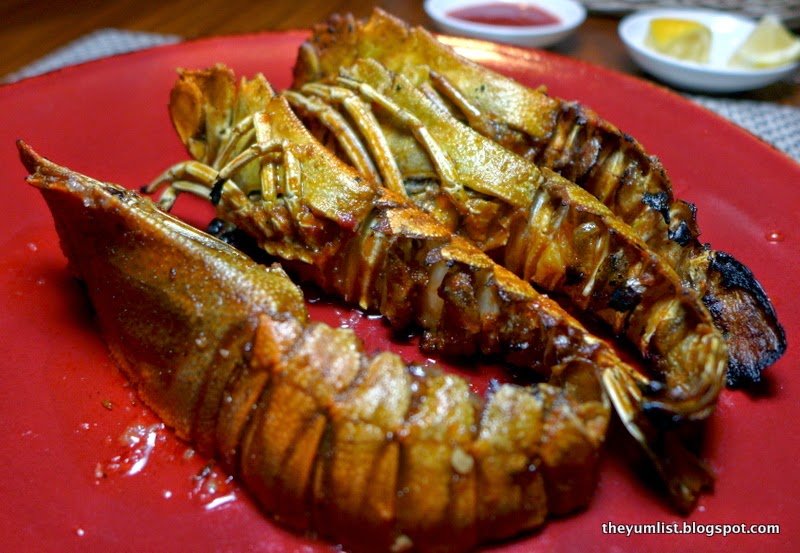 Slipper Lobsters Hot Off the Grill
Indian Station
We recognize the Indian chef manning the tandoor oven from previous posting in a 5 star restaurant in KL. We've been wowed by his cuisine before so are quick to order some tandoori chicken and freshly baked naan. Both hubby and I admire the juiciness of the poultry and croon over the quality of the bread. Toasted and lightly crunchy resembling a thin Italian pizza base on one side, and wavy and faintly softer on top, it's another dish we consciously have to stop ourselves from retaking in order to allow tummy room to carry on.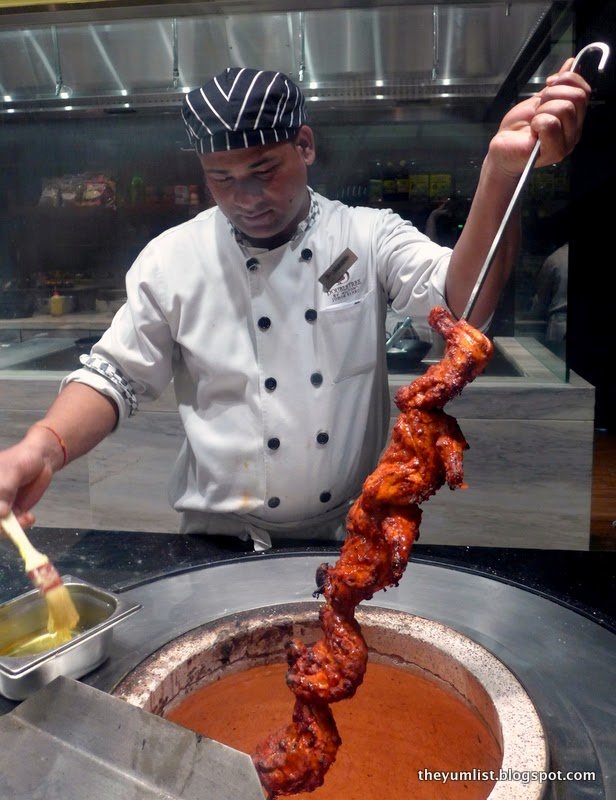 Tandoor Chef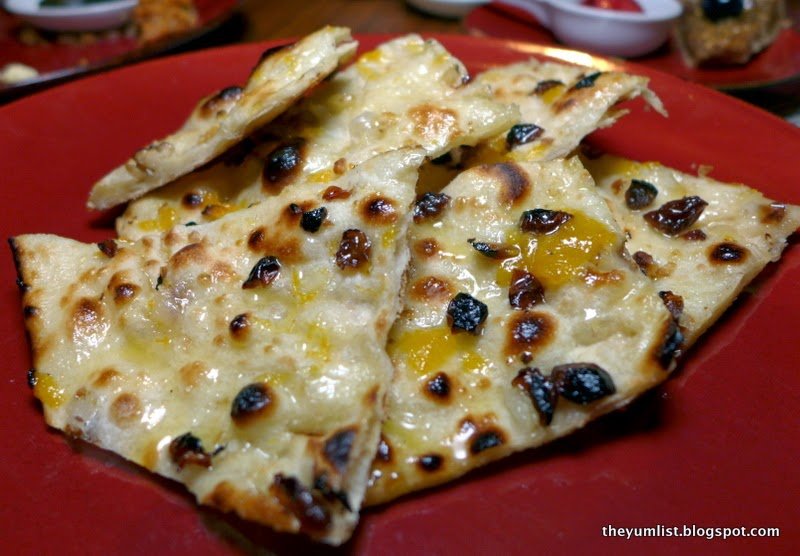 Kashmiri Naan
Chinese Section
The Chinese section with woks aflame and pots a steaming is a sight to behold. Besides the hubbub in the kitchen, guests busily create their own noodle bowls, and take the famous roasted duck that's been sliced already, while the other birds remain hanging on display until it's time for refilling. It's here too where some of the chef's specialties are found. Guests can take their pick of seafood and have it prepared on the spot in one of the specialty sauces such as the Signature Marmite, or Sweet and Sour Sauce.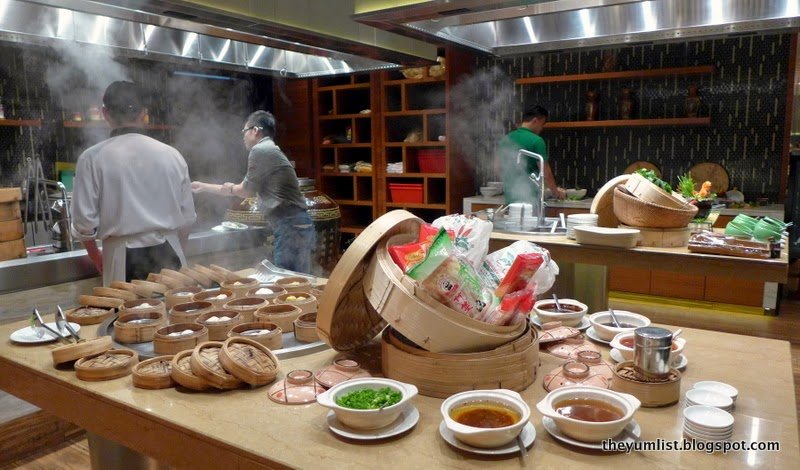 Chinese Section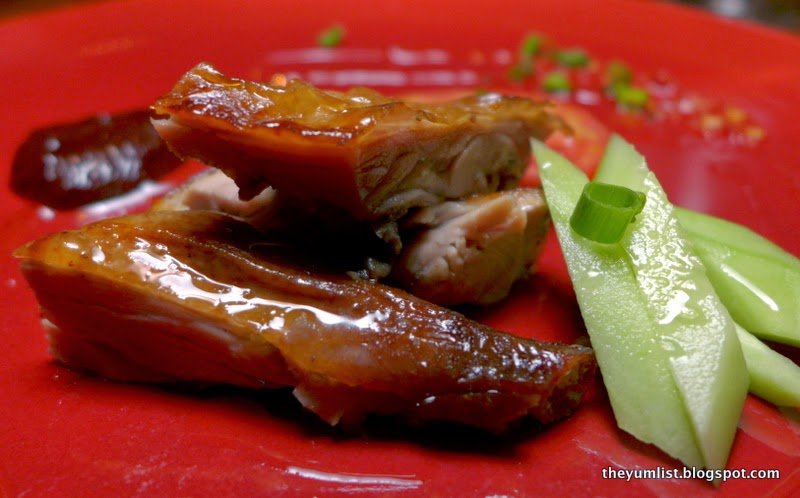 Roast Duck
Desserts
Waffles and an entire chilled display of western small bites such as mini-cheesecakes and tarts line the dessert section. Local kueh though are the sweets to try in my opinion. Wrapped in banana leaves I enjoy a glutinous rice triangle with traces of coconut and a sweet sticky centre. Hubby has no trouble however, finishing the large bowl of ice cream he's arrived back to the table with. Made in house, it tastes of natural fruit, and is especially smooth and creamy.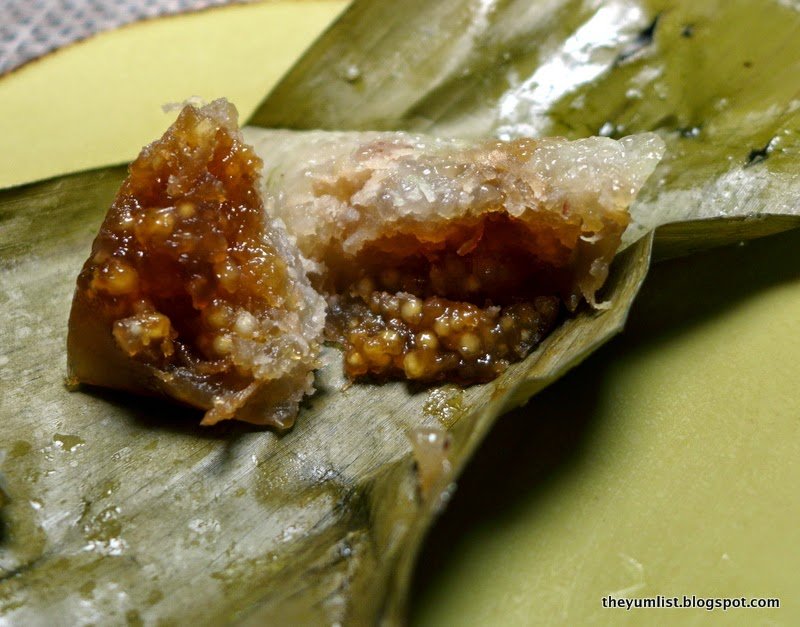 Malay Kueh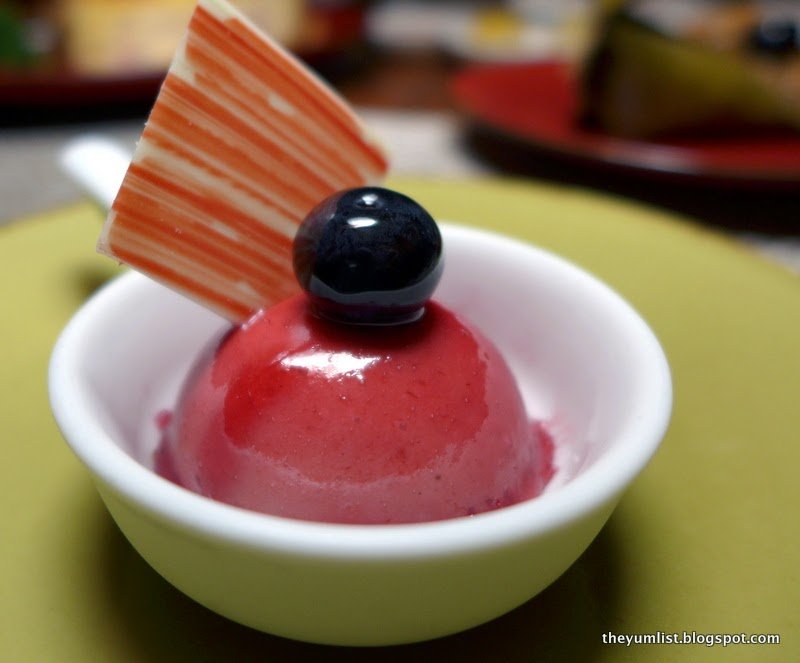 Pretty Dessert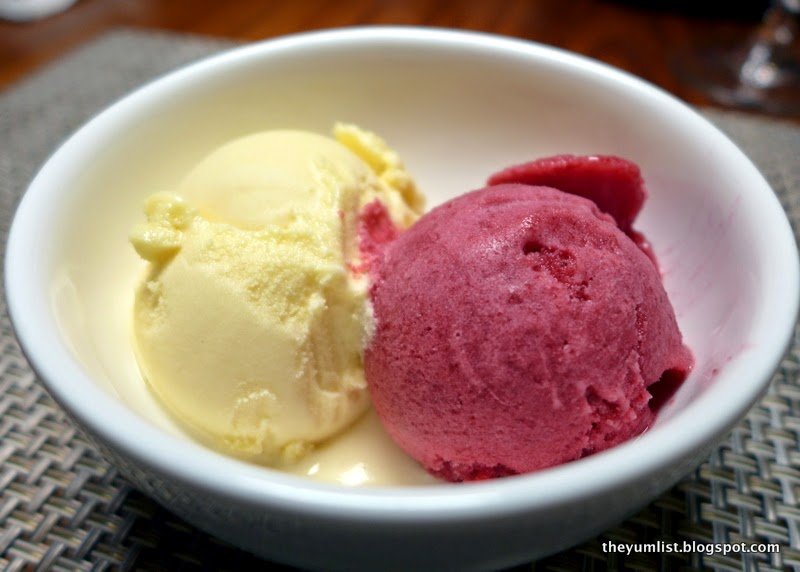 House Made Ice Cream
Makan Kitchen's Seafood Buffet is priced at RM98++ per person and is available Friday and Saturday evenings.
Reasons to visit: great spread of local delights; friendly service; a clean comfortable place to try a range of Malaysian dishes all in one location.
Makan Kitchen Doubletree by Hilton Hotel Johor Bahru
12 Jalan Ngee Heng
Johor Bahru
80000
Malaysia
+6 07 268 6868