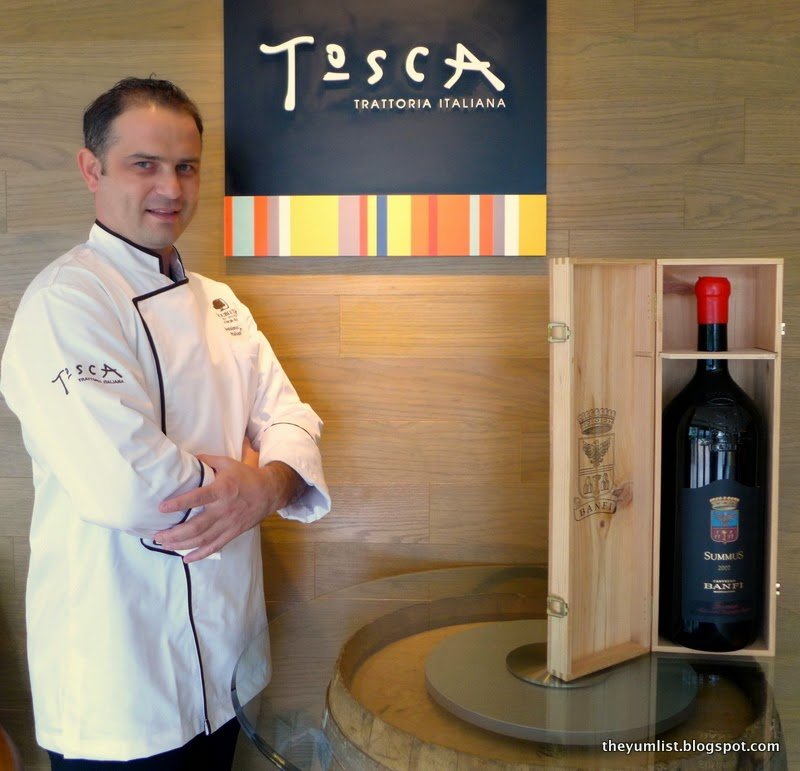 Chef Massimo Zampar, Tosca Trattoria Italiana
The latest hotel restaurant to debut Johor's booming culinary scene is Tosca, Doubletree by Hilton's Italian eatery. Benefiting from a home in the recently opened property, the set up is contemporary in design and ideally positioned to capture stunning views of the Straits of Johor.
Be guided by the weather and your mood with your seating selection. Take up perch by the pool to enjoy a casual al fresco meal, adopt a more intimate ambience in the cool air-conditioned interior, or pre-arrange an exclusive experience in a private dining room.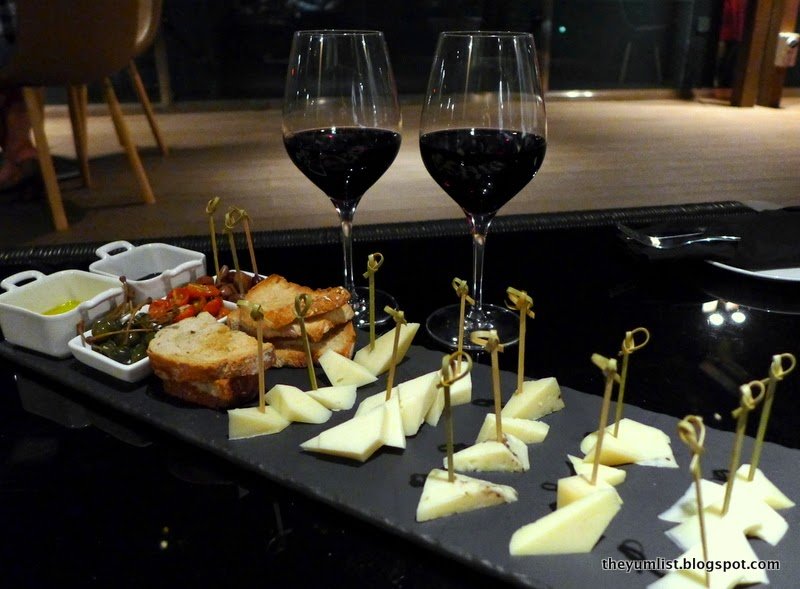 Cheese Platter on the Breezy Terrace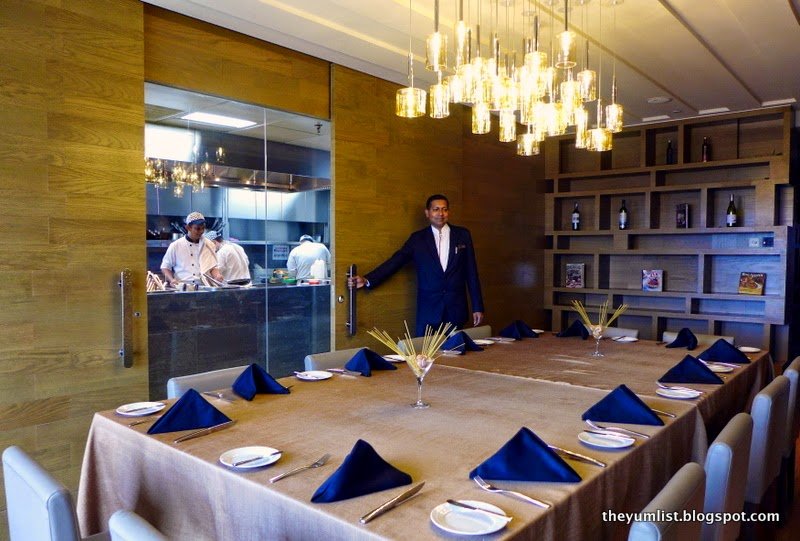 Chef's Table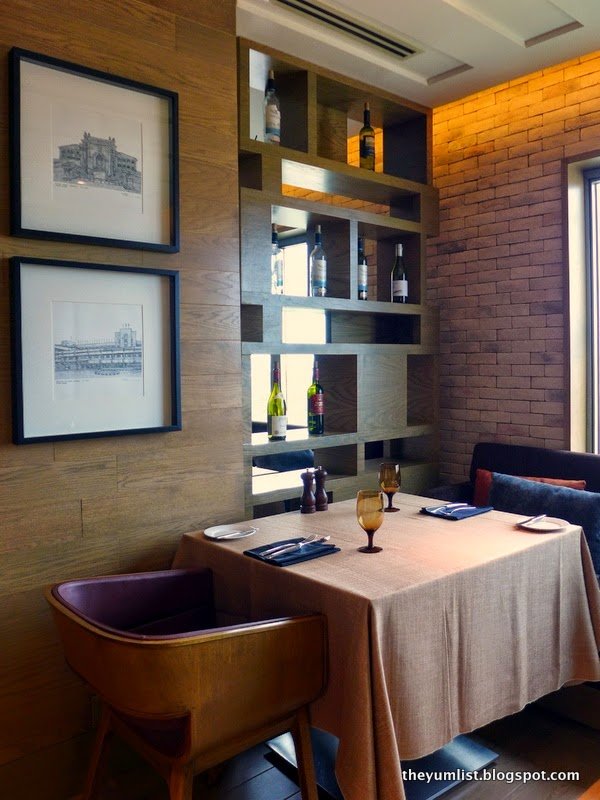 Tosca Dining Table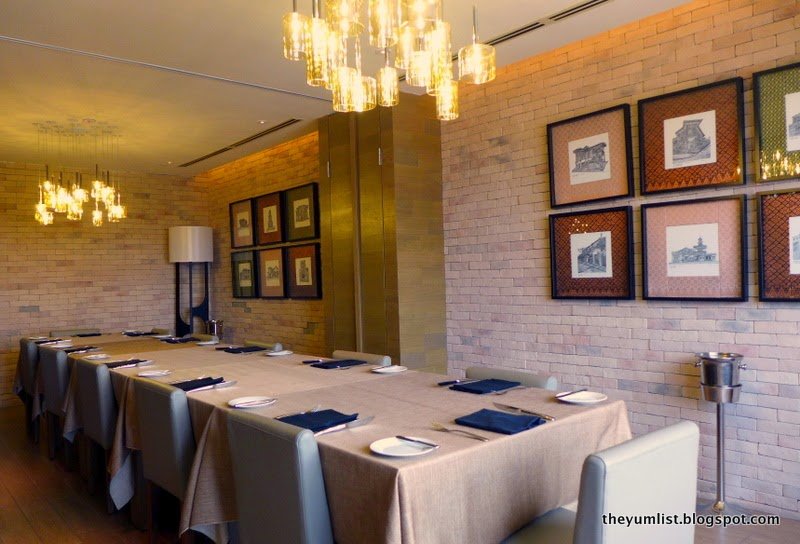 Private Dining Room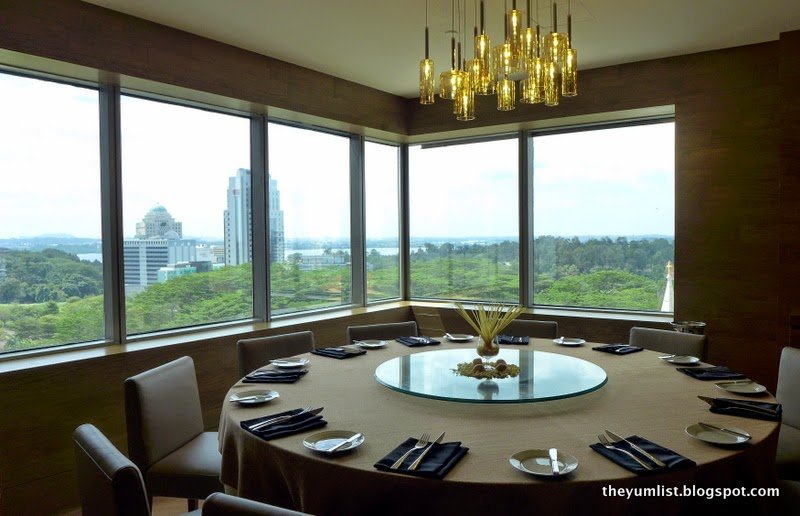 Private Dining Room Tosca
With plans to make Tosca one of the top restaurants in Johor Bahru, if not Malaysia, Italian chef de cuisine Massimo Zampar invests a lot in sourcing high quality ingredients. Fresh produce comes from regional farms where possible, specialty items such as olive oil and meats are imported with a dedicated Italian supplier, and you can be assured that there are no nasties such as MSG in his recipes as he insists on making everything fresh from scratch.
It's not only a passionate chef and quality foodstuffs that are setting the restaurant up for stardom, but state-of-the-art kitchen technology too. Characterized by its unique stainless steel frame (often seen in MasterChef reality cooking shows), the Zesti Woodfired Pizza Oven, reaches 700°C in a mere 15 minutes, making it a dream tool for gourmet cooking, and a highlight for guests to drool over as they watch pizzas and other goodies come hot out of the flames.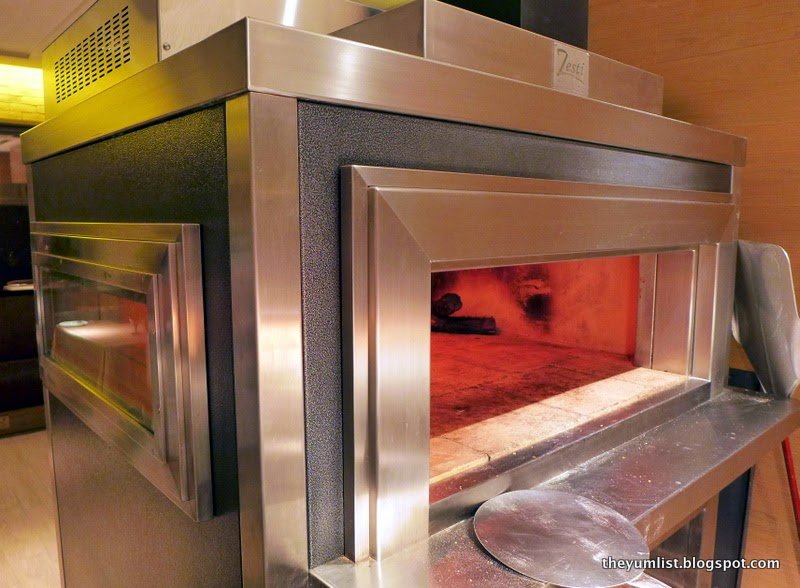 Zesti Oven
Menu
Tosca's menu is described as "rustic Italian cuisine" prepared with "contemporary flair," and the first section that excites us is the Antipasto Table. We're enthused to see this tradition reaching the shores of Malaysia, and warmed by the fond memories of friends and stays in Italy that partaking in this ritual sparks.
Antipasto and Aperitifs
Cured meats, canapés, confit, anchovies, bruschetta, breads, artichokes, marinated vegetables, olives, mushrooms, fruits, salads and cheeses are traditionally nibbled prior to dinner accompanied by wine or cocktails, stimulating both tummies and conversation. Of particular highlight is the Tasmanian Ocean Trout Carpaccio, which leaves a wonderful smokiness on the roof and sides of our mouths.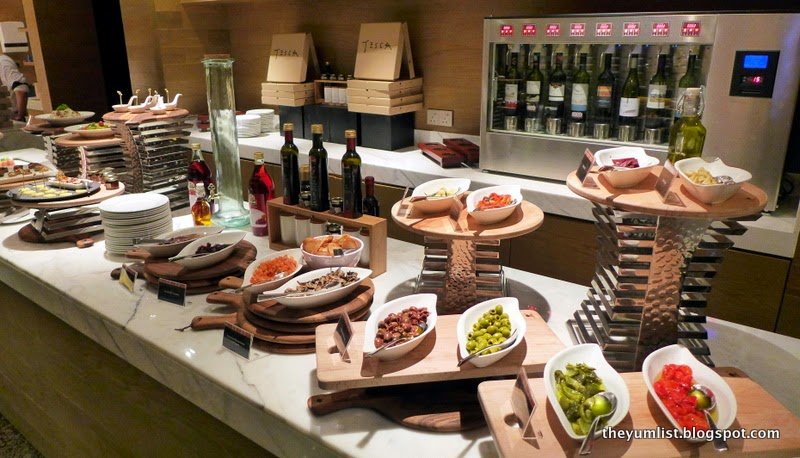 Antipasto Table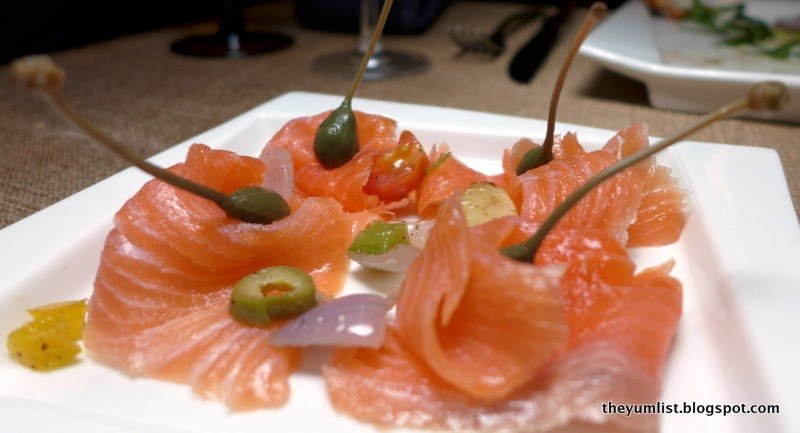 Tasmanian Smoked Ocean Trout
Aperitifs of prosecco and a creative cocktail continue the launch of our evening favourably. Batasiolo Cascine 7 Prosecco DOC (RM50) proves fruity, light and gently effervescent. Limoncello Mojito, one of Tosca's recent signatures, could quickly become a hit. Minty, lemony and made slightly fizzy from a splash of prosecco, the traditional recipe is jazzed up with its distinctive Italian ingredients.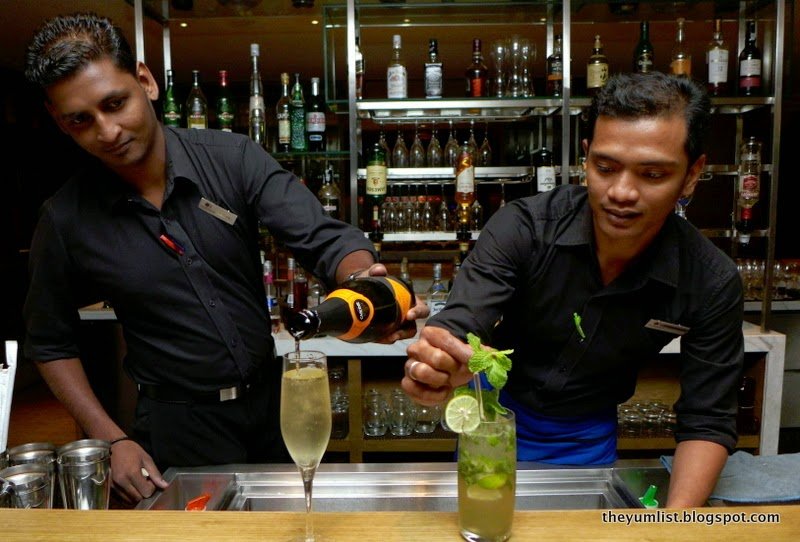 Bartenders and Cocktails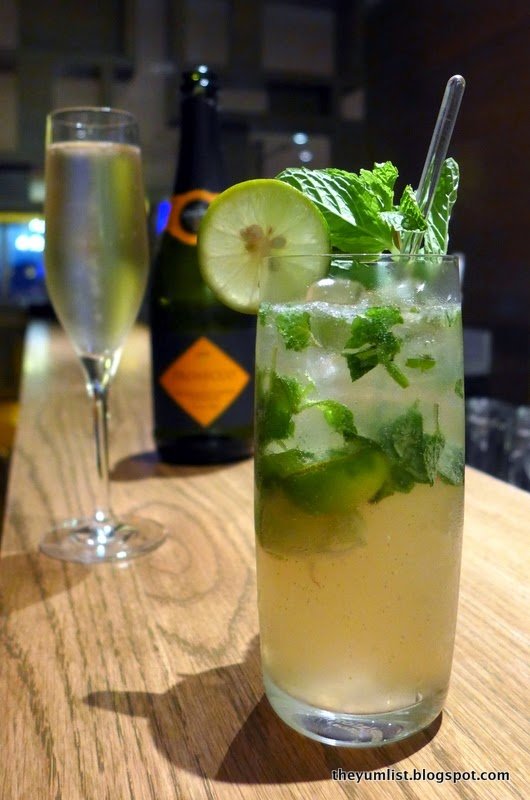 Limoncello Mojito
Bread and Wine
Moving to a romantic corner table, we browse the menu over an assortment of breads. Organic olive oil from Umbria, breadcrumbs with Italian herbs and sun-dried tomato butter are dippings for a beautiful display of house-baked breads. Focaccia with herbs, grissini, country baguette, farmer's loaf, ciabbatta rolls, pizza base with cheese and oregano, and mini-baguettes are arranged on a black slate platter. They're traditional European style, something we can really bite into, and find we need to inject some self-control to leave space for dinner and not finish the lot.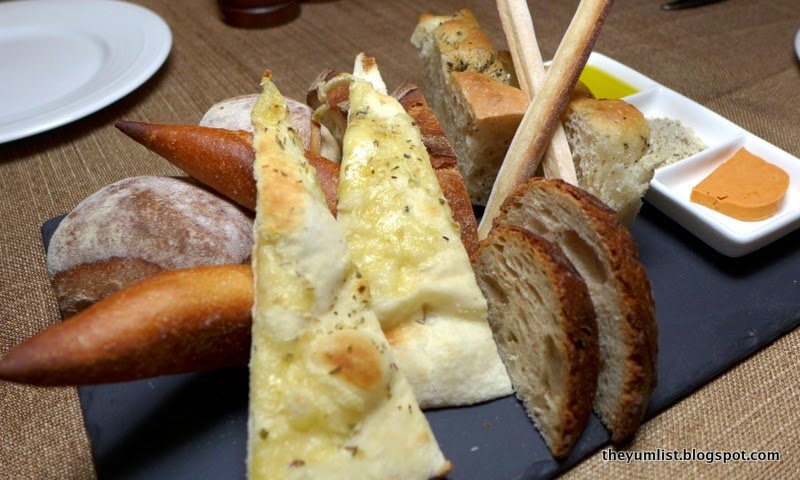 Bread
White wine is an appropriate match for the starters. I opt for the Italian Banfi Le Rime Toscana IGT (RM38), which is a well-balanced blend of chardonnay and pinot grigio, displaying fresh citrus aromas and a nice crisp finish. Hubby's South American roots surface in his choice of an Argentinian Sauvignon Blanc, by Trapiche (RM25).  The label reads that there's citrus to be expected on the nose, but I get a strong indication of passion fruit. Faint herbs are evidenced in the palate, and the clean acidity in the finish does particularly well with our seafood beginnings.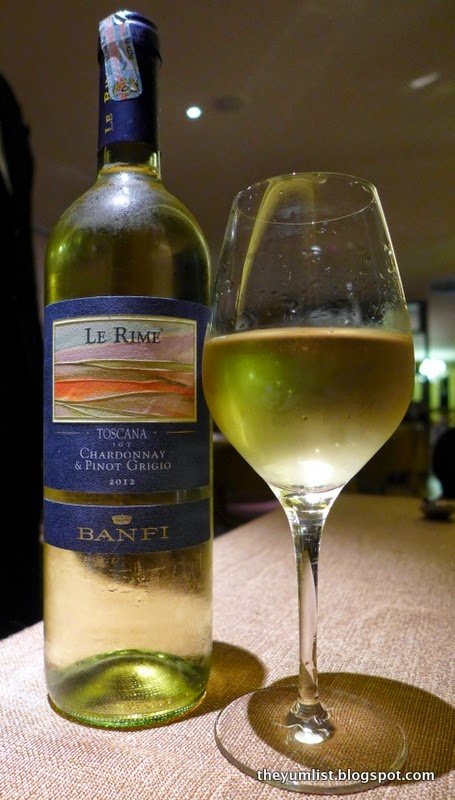 Le Rime, Italian White Wine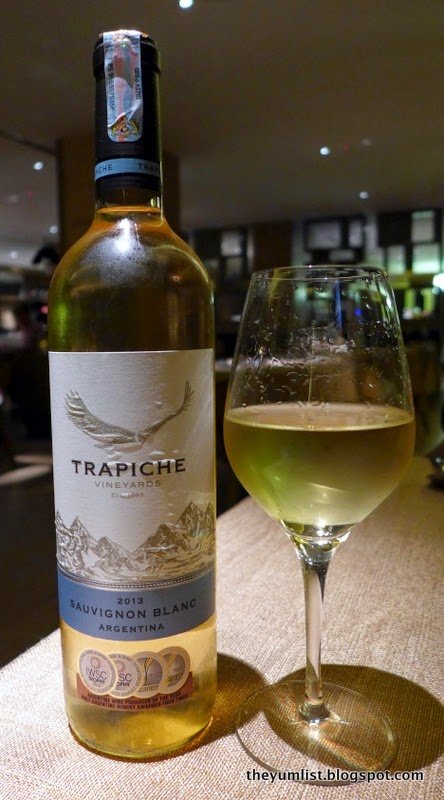 Trapiche Sauvignon Blanc
Starters
Australian Tuna Carpaccio kicks off our a la carte tasting. Citrus (grapefruit, orange), caperberries, homemade sun-dried tomatoes and herbed croutons top marinated paper-thin slices of fish. Orange and lemon are the first to arrive to the tongue, then olive oil, bitterness from the rocket leaves, and a fleck of spice from the black pepper. Olives from Taggiasca are a special treat to discover in the mix.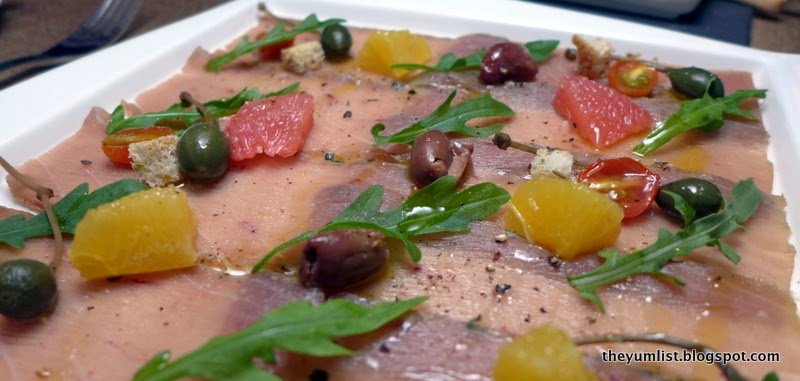 Tuna Carpaccio
Carpaccio sliced from Australian beef tenderloin presents the meaty original of the first. Rocket leaves, shaved Parmesan, rocket pesto, Dijon mustard, sun-dried tomatoes and croutons, speckle the deep red circles of beef. It's fun to try a slice on its own, and then a slice with a dab of the rocket pesto, followed by a piece with a dob of the mustard, and lastly with both the pesto and the mustard together. The quality cut of meat shines through, and each tasting is elevated with the additional condiments, much like a good wine behaves with food.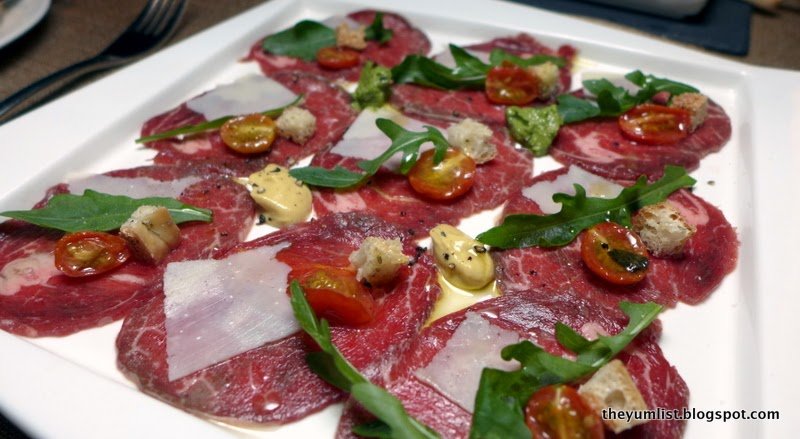 Beef Carpaccio
Pizza and Pasta
Hot from the Zesti oven is a thin-crusted pizza. Bresaola, rocket and Parmesan crown a tomato base – chef Massimo's own recipe. The house made dough rests for a day before stretching to achieve the ideal texture, and the performance of the Zesti oven is proven in the deliciousness of the crust, which is thin, crispy and flavourful even before the toppings are added.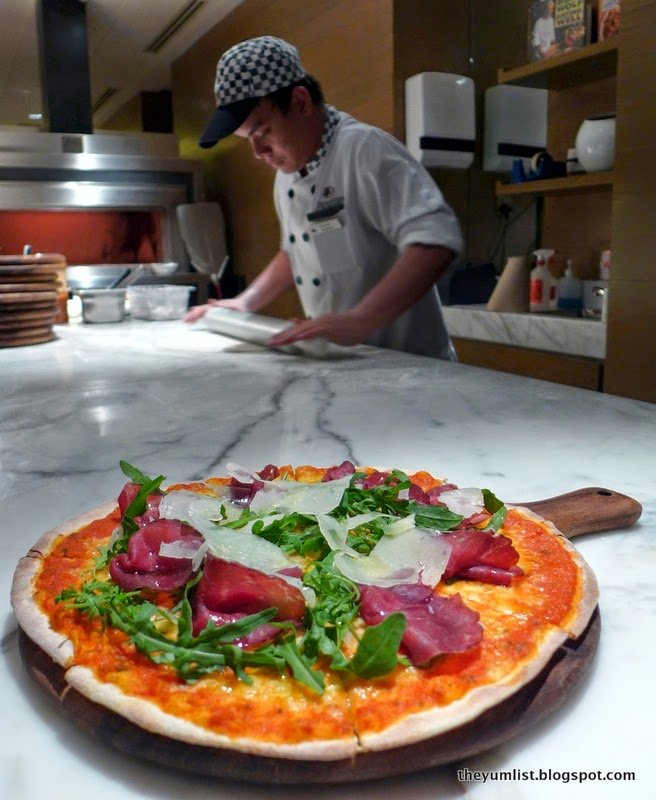 Bresaola and Rucola Pizza
Squid Ink Tagliatelle and Lobster is a noble plate. Separated by a generous tangle of house-made grey ribbons coated with a rich tomato bisque spicy sauce, a duo of Sabah lobster halves bare their succulent flesh. The spice is sufficient to pack a punch, but gentle enough so that the fresh seafood taste can still be appreciated.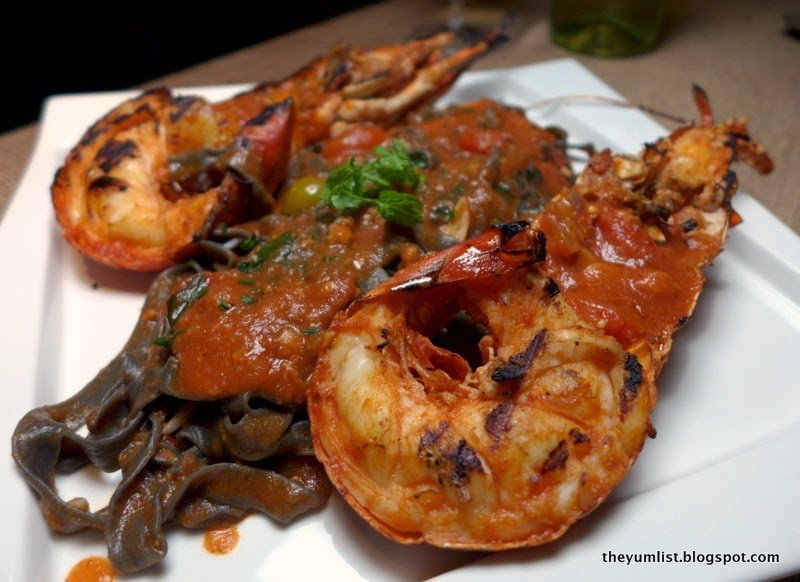 Squid Ink Tagliatelle and Lobster
Mains
Pan searing of Australian Ocean Trout seals in the juices and caramelizes the edges. Finished in the oven and seasoned only with salt and pepper it is a luscious piece of fish. I love that Italian cooking always remembers to include veggies, and the mixed garden salad side with onion, fennel, Kalamata olives, orange, rocket and red capsicum sauce is so lovely it could make a dish on its own. This lighter style main pleases me to no end.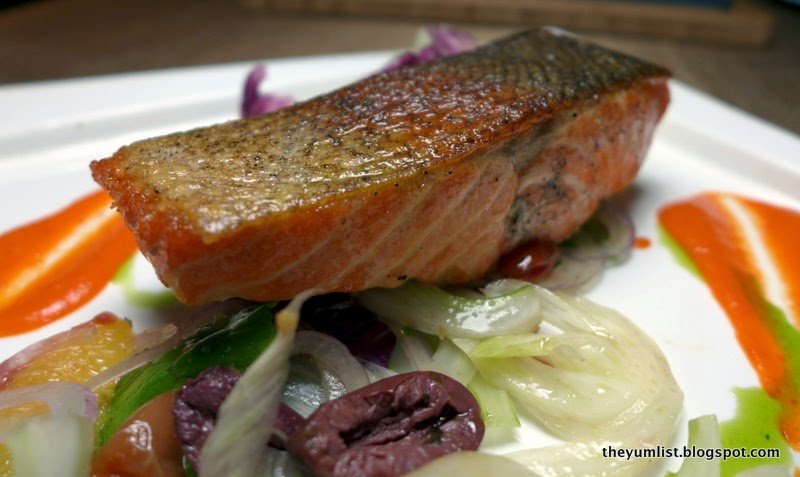 Pan Seared Tasmanian Smoked Ocean Trout
Hubby's eyes nearly pop when he spies the striking plate of
Australian Short Ribs, and I have no doubt this main will satisfy him just as much as the fish did me. Slow roasted for two to three hours the meat is soft and barely holds its shape on the plate after slicing for its tenderness. Red wine and natural jus sauces the top. A tower of sweet potato mashed with butter, cream and Parmesan; asparagus, and broccoli in an onion butter sauce; slow roasted Roma tomato halves; and chat potatoes also roasted in the Zesti oven; are delicious companions.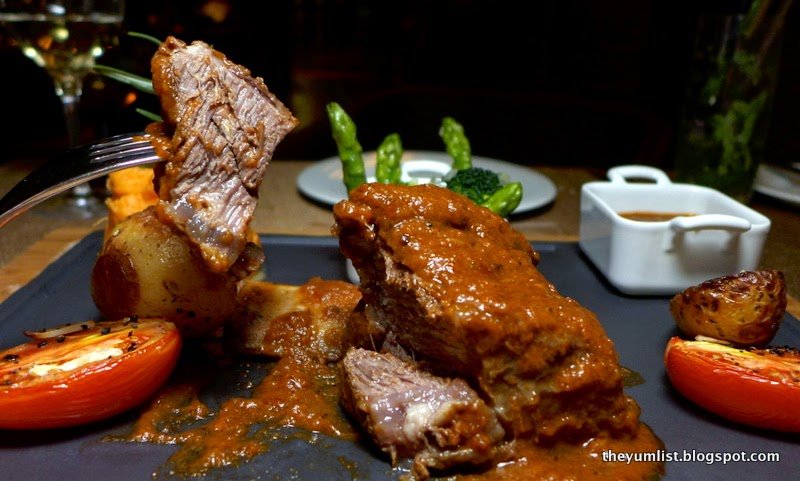 Australian Short Rib
Desserts
An Italian classic, Tiramisu presented in a martini glass, is given a Doubletree by Hilton touch with a crumble of their signature choc chip cookie on top! Chef Massimo's tiramisu is an extra creamy version with generous spoons of whippy mascarpone layered with lady finger biscuits and coffee. There's no alcohol in the standard version, but it can be added if so desired.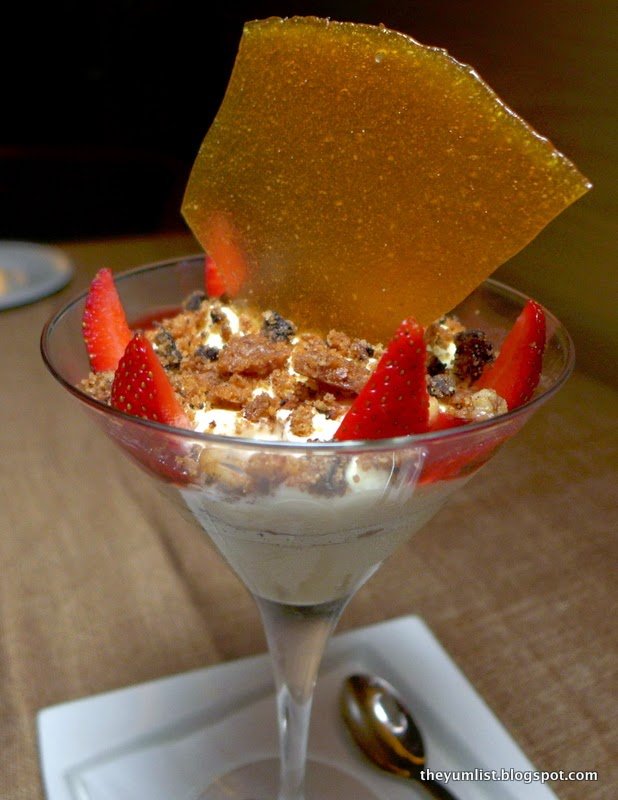 Tiramisu
Gelato Stracciatella is a double scoop of vanilla based ice cream with stripes of hard chocolate throughout. All ice cream is made in house and we've had more than once scoop on this visit. We highly recommend it anytime of day.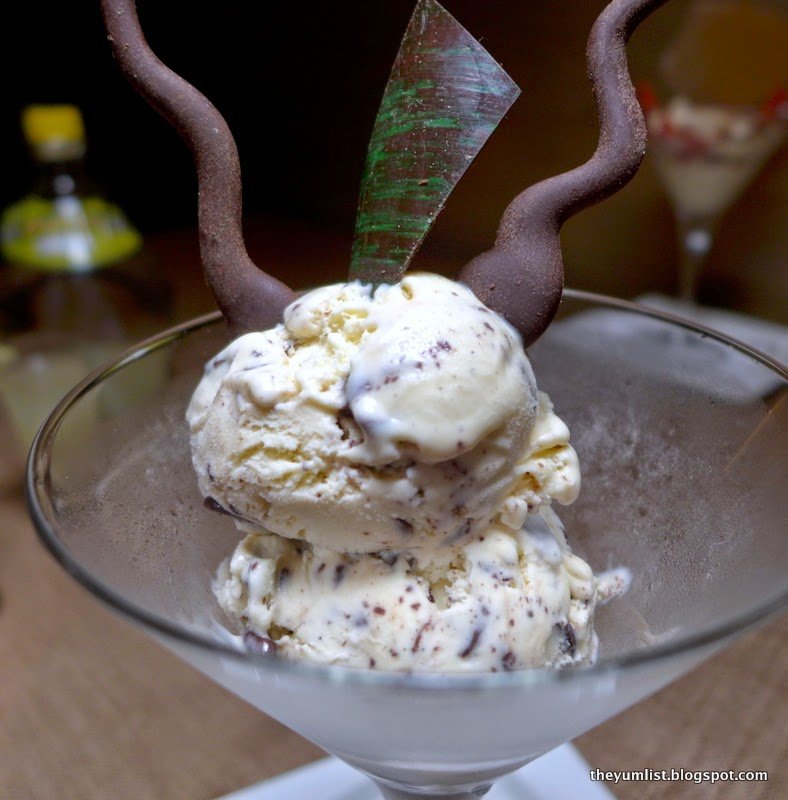 Gelato
Limoncello is the classic digestif and it's here where we finish, on the terrace, zephyr like breezes from the Straits of Johor tossing our hair into a mild tangle, cooling our skin and making us appreciate even more the fine meal we're digesting.
Limoncello
Reasons to visit: authentic Italian cuisine, contemporary décor, friendly service that makes you feel as though you're being welcomed into someone's home as a special guest, Limoncello Mojito, wine and cheese on the terrace, thin crusted pizzas, Tuna Carpaccio, Australian Ocean Trout, Doubletree Tiramisu.
Tosca Doubletree by Hilton Hotel Johor Bahru
12 Jalan Ngee Heng
Johor Bahru
80000
Malaysia
+6 07 268 6868
Open 11:30am – 2:30pm
6:30pm – 10:30pm
Bar and terrace hours extended to 12:30pm for drinks