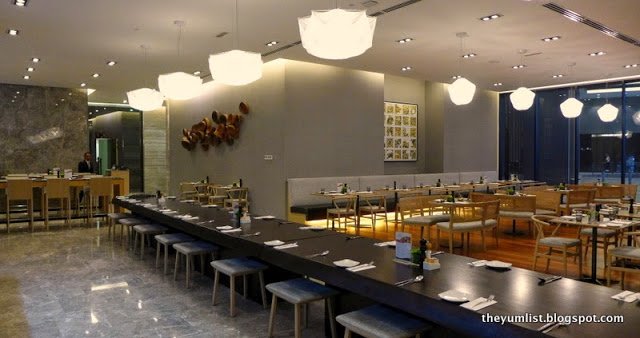 Relish
Relish, the all-day-dining restaurant situated on the ground floor of the recently opened Fraser Residence Kuala Lumpur, looks set to become a reliable dining outlet for those residing in the building, but too for outsiders looking for homestyle meals and generous portions.
In the morning, the setting is cheery and casual. Small potted plants adorn the tables and the smell of freshly brewed coffee teases nostrils just awakening. The semi-open kitchen concept keeps the strong smells of heavy cooking behind closed doors, while still enabling interaction with chefs and a bit of live food prep entertainment.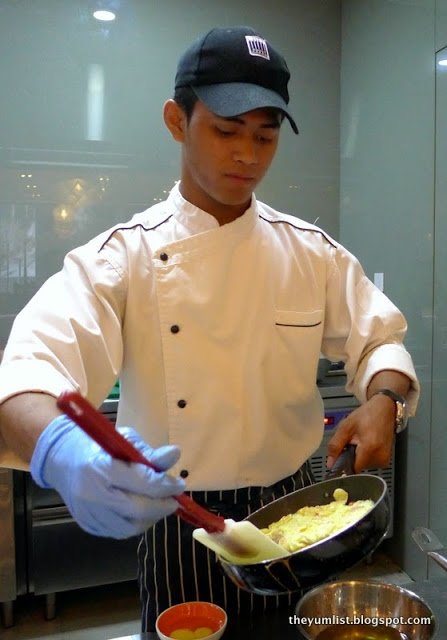 Breakfast Chef
Both a la carte and buffet options are available for breakfast, lunch and dinner. As we're staying at the residence for a week, we choose the buffet on most mornings, and a la carte in the evenings. As with most buffets, it's best to arrive before the crowd. Getting a seat before 9am on the weekends, and prior to 8am weekdays usually ensures a quieter environment and full spread. The morning line-up provides all the usual suspects of fruit, cereal, eggs, pastries, noodles and rice. Fresh juices and hot beverages wash it all down.
Chic lampshades and gentle ambience music soften the mood in the evenings, providing a welcoming space for after work relaxation. Drinks include a selection of premium wine, beers, whiskey and specialty cocktails. Although, as we're residing just a few stories up, we're well stocked with a number of bottles in our apartment so choose to have pre and post dinner drinks in comfort on our coach.
Evening meals begin with a warm welcome, water immediately on the table, menus, and a petite bowl of salad with a tangy dressing. It's a great start and gives us time to peruse the list of local and western favourites. Not long after we've ordered, warm soft white rolls too are placed on our bread plates. We have the fortune to sample a number of dishes during our stay. Below are some of our most-liked.
Roasted Mushroom Soup (RM25) is enhanced with fresh herbs and topped with slices of garlic bread. The mushrooms are rustically blended allowing chunks of the fungi to float in the bowl. It's obviously freshly prepared, and yes, we'd order this one again.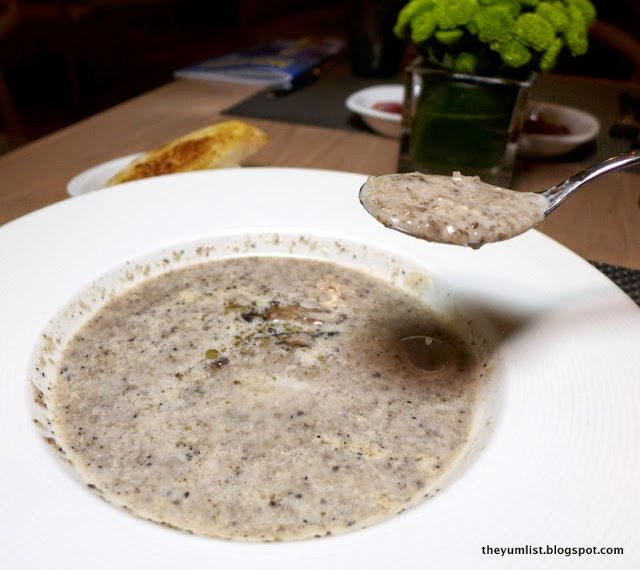 Mushroom Soup
The vegetarian soup was a positive introduction, but when hubby tried the Oxtail Soup (RM27) it soon became a favourite (warranting repeat orders throughout our stay even though I kept insisting he try something new so I could capture a good review across the menu). It's one of chef's specialties made in traditional mamak style with potatoes, carrots, oyster mushrooms and a large plate of steamed rice on the side.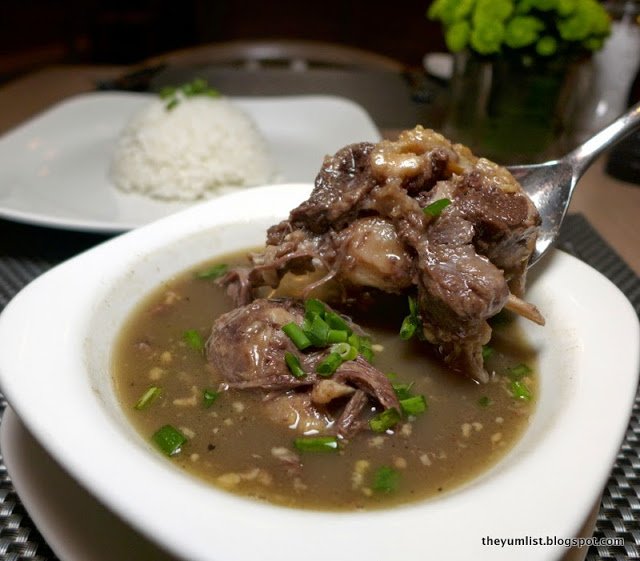 Oxtail Soup
Caesar Salad (RM28) is topped with Parmesan, focaccia croutons and finely chopped crispy beef bacon. I ask for the dressing on the side and find, with the condiments already mixed through the salad, I only need dip the tip of my fork in the sauce for sufficient seasoning. There's a Garden Salad (RM26) too, which is also a welcome light fresh starter.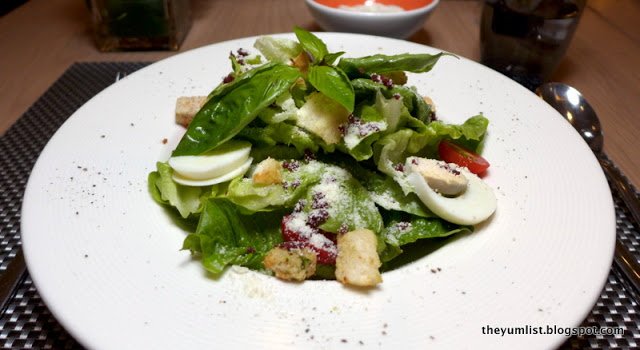 Caesar Salad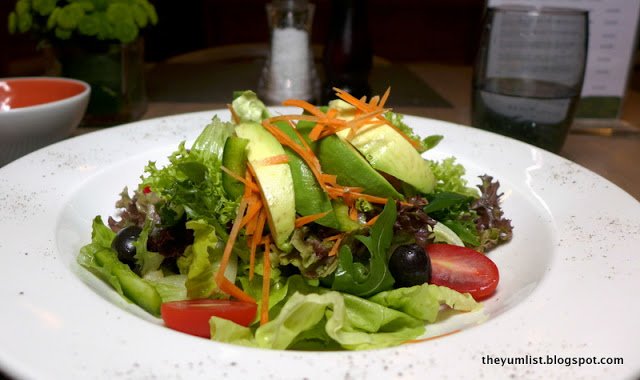 Garden Sala
Bolognese (RM30) saw strings of spaghetti coated in a rich tomato and minced beef sauce, further seasoned with garlic and herbs. Its mouth-filling flavours and hearty texture made a very comforting dish.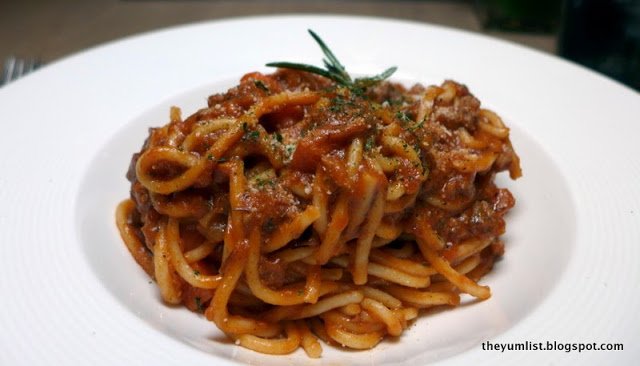 Spaghetti Bolognese
A tender piece of poultry is found in the Roasted Chicken Breast (RM38). Served with a combination of lemon confit, mushroom sauce and roasted vegetables, it's also a healthy and satisfying dinner.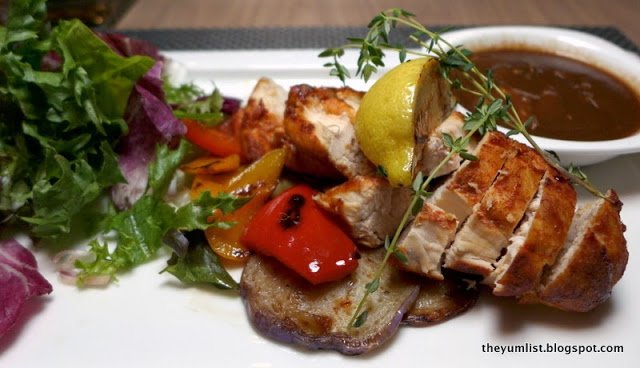 Roasted Chicken Breast
The Norwegian Salmon with Chermoula Crust (220gm RM58) is another nutritious item. The fish is baked with a flavourful Middle Eastern rub and accompanied by red and green peppers, eggplant slices and a mint couscous.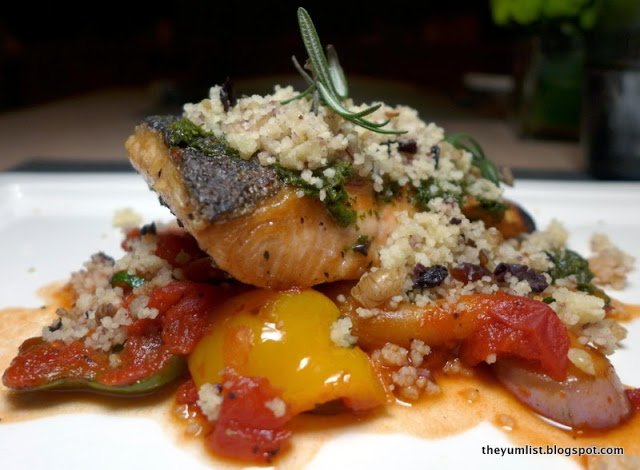 Norwegian Salmon
A choice of chicken or beef patty is given with the Cendana Burger (RM38), which is delivered on a thick wooden chopping board. Hubby chooses the beef and finds it moist and well chaperoned by cheddar cheese, beef bacon crisps, fried egg, tomatoes, onions, lettuce and pickles. Sautéed onions and a mini-metal deep-fry basket of French fries come on the side.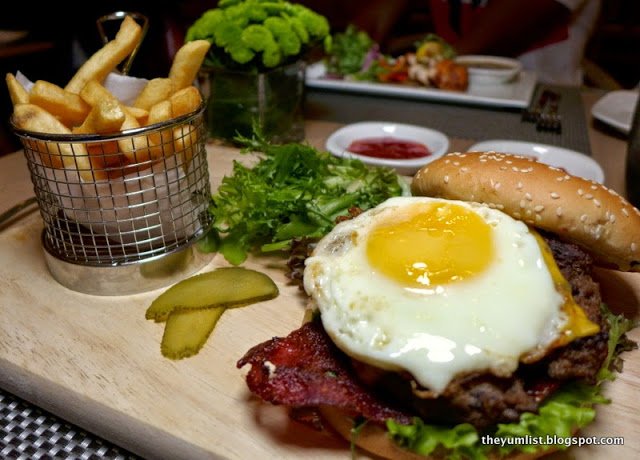 Cendana Burger
Grilled Australian Sirloin (220gm RM62) is served with garlic mashed potatoes, roasted vegetables, ragout of mushroom and a choice of mint sauce, black pepper sauce or mushroom sauce. Hubby orders his to a medium doneness with the delicious mushroom sauce on the side.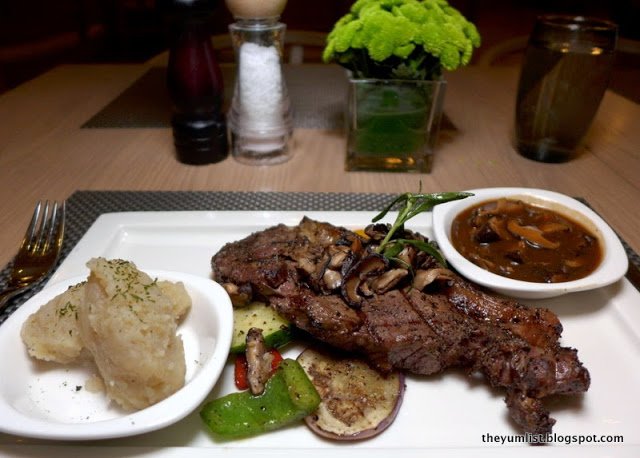 Sirloin Steak
Further extending the Western menu is a range of pizzas. From the simple Pizza Margherita (RM22) to the seafood inspired Pizza Frutti di Mare (RM28), crusts are of a soft bready nature about half a centimetre in thickness, the homemade tomato sauce appreciated and toppings are fresh. While I prefer a crispier, thinner crust, hubby is happy with the bread-like base and orders pizza twice during our stay.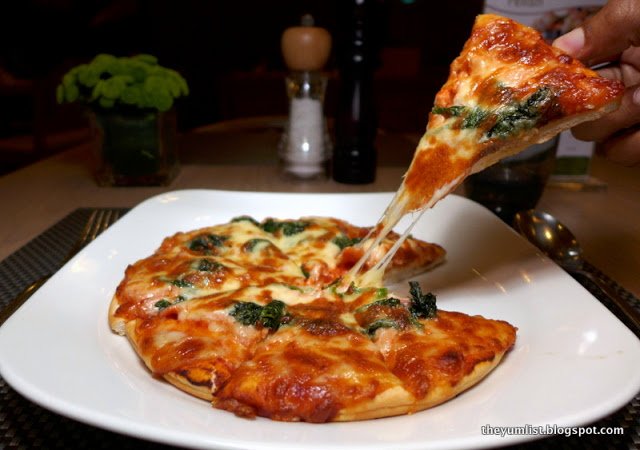 Pizza
Remembering its surrounds, Malay culinary heritage is celebrated with some signature dishes such as Pandan Nasi Lemak, Beef and Chicken Satay and Indonesian Fried Rice. The staff at Relish are particularly proud of these national plates and give chef high commendation for his interpretation of the well-loved dishes. We learned long ago that it is extremely rare for locals to praise hotel renditions of indigenous cuisine, and so take this acclaim with high regard.
Pandan Nasi Lemak (RM30) comes as a large serving of coconut and pandan steamed rice, chicken rending, cuttlefish sambal, halved egg, cucumber slices, crunchy anchovies and peanuts. I taste why the staff have recommended this dish every night of our visit and am glad I finally ordered it. It's mouth filling and delicious!
Hubby's finally ordered a local dish as well (apart from his repeat orders of the Ox Tail Soup) and reports positive feedback for the Hainanese Chicken Rice (RM30). Roasted chicken is served with fragrant rice, a zippy chili sauce and a bowl of chicken broth on the side.
Chefs too are happy to cater for individual dietary requests and so on a number of nights I order a vegetarian meal. My request for pasta in a tomato sauce "packed with loads of veggies" is well carried out and my taste buds and conscience are both satisfied.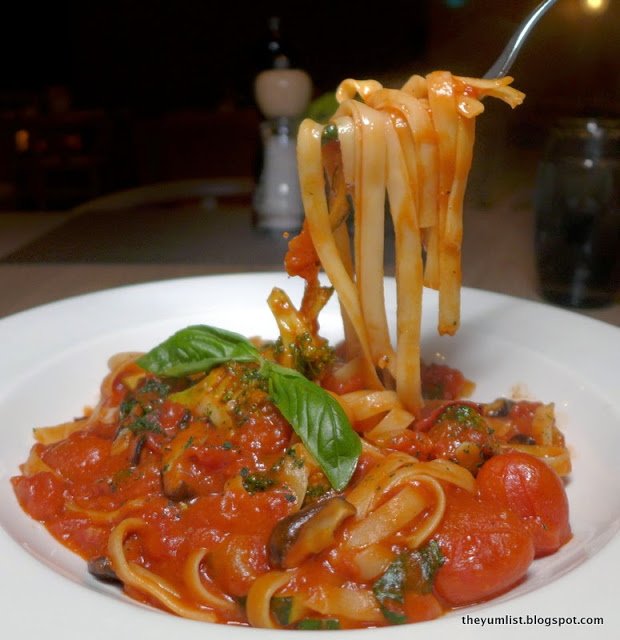 Vegetarian Fettuccine
All round we've found the dishes we've tried perfect for complementing a serviced apartment. The food is comforting and homey in design. Portions are generous and chefs willingly custom make recipes for guests' needs. If staying at Fraser Residence for mid to long-term stays, it's a kitchen we'd be gladdened to keep returning to for our evening nourishment.
Reasons to visit: central location; clean contemporary design; Oxtail Soup; custom made meals; generous portions; homey comforting cuisine.
Relish
Fraser Residence
Kuala Lumpur
Ground Floor
Lot 188, No 10, Jalan Cendana
50250, Kuala Lumpur
Malaysia
Open daily: 6:30am to 11pm