Patricia Podorsek and Monica Tindall
Only one word can describe Fraser Place's Simply Green Salad: Fresh. Fresh thinking on their part and fresh thinking on your part. On their end, the head chef and her staff select and prepare menu items every day. Nearly every one of the dozens of menu items is made in their (tiny!) kitchen with ingredients purchased daily, chopped daily, marinated daily, blended daily. How could you get any more fresh than that? On your end, you can live in the moment with your meal. Whatever salad or sandwich you've got fresh on your brain, this Do-It-Yourself operation offers combinations in the hundreds of thousands!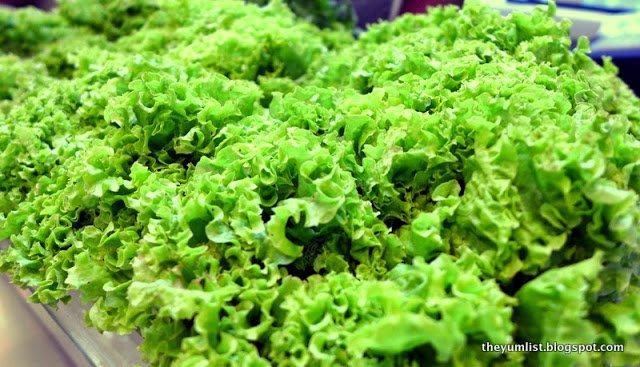 Fresh Greens in the Salad Bar
Salads are the centerpiece. Patrons begin with a base, one of three green options, or something heartier like potatoes or rice. They can add as many as six mains, including standards like carrots and tomatoes, or more unusual options like grapefruit segments and roasted pumpkin. They can layer with a "Supplementary" like grilled eggplant, pine nuts, or feta cheese. And they can even top with an optional "Prime" like chicken tikka or a "Signature" like roasted rosemary lamb. Think "Assembly Line of Delicious Fresh Healthy Food" and you know you've come to the right place. Smartly, salads come in different sizes for different appetites, beginning at an affordable RM14.90.
Make Your Order – With a Little Research if Needed
Our hosts recommended Blackened Salmon on Baby Spinach. This bold salad brought new meaning to the word texture. Thin slices of crisp radish and celery met crunchy black beans and red cabbage. Meaty walnuts countered flaky salmon. Tender spinach glistened with silky lime herb mayonnaise. The cajun seasoning on the fish gave zip to the undertones of the dressing.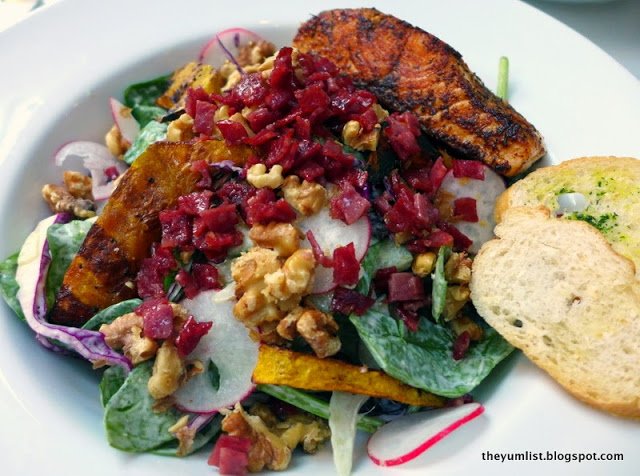 Blackened Salmon on Baby Spinach
If the number of options feels overwhelming, Simply Green Salad offers a few extra-healthy specialty salads like Garden of Eden. Here multigrain rice gets tossed with quinoa, toasted pumpkin seeds, edamame, and other fresh vegetables. This nutritious mix gets served over romaine and under still-warm grilled asparagus. A light herb dressing rounds out the package. I think there were more vitamins in this one salad than my metabolism had seen all week!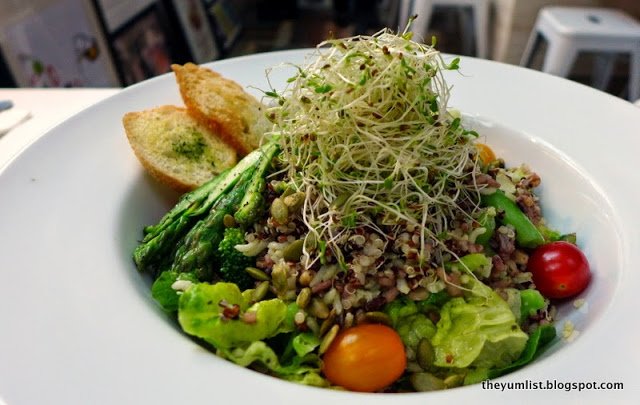 Garden of Eden
Nowhere on the menu are there more options than in the dressings. Twenty-eight different dressings are crafted on site. The most popular include the rich and creamy Thai Peanut dressing and the sweet Oriental Sesame. Citrus fans will fawn over the zesty Grapefruit Vinaigrette. (I know I did!) Variations on the standard balsamic include Cranberry and Dijon. The more adventurous might try the tart Apple Cider Vinaigrette or the fusion Green Tea Vinaigrette. Between the toppings and the dressings, the salad selection really does seem endless.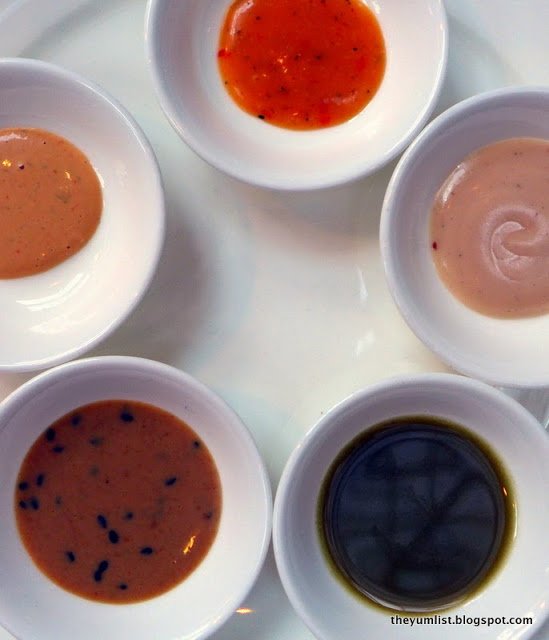 Just a Few of an Extensive Number of Dressings
The sandwich menu is just as extensive. Most of the salad options described above can be layered between slices of Focaccia or wrapped in a Tomato Basil tortilla for a flat RM23.90. Our hosts delivered a spectacular Lemongrass Chicken Wrap: warm grilled marinated chicken hugged by crunchy mixed greens, tri-colored julienned peppers, corn, beets, and feta cheese. The honey balsamic dressing gave a touch of sweetness to enhance the citrus of the chicken and the freshness of the vegetables. Fresh. We are back to that word again. Everything about this sandwich screamed it, including the salad on the side.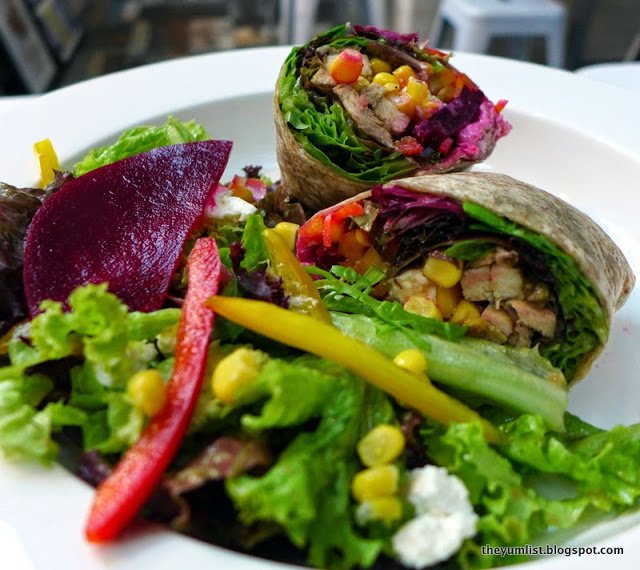 Lemongrass Chicken Wrap
There are few things more comforting at lunch than a bowl of soup, especially on a day as rainy as our visit. Our hosts brought us one of their staple soups, Pumpkin, and one of their signature soups, Seafood Chowder. I know it might sound repetitive, but guess how I would describe the Pumpkin Soup? Yep, you're right: Fresh. The passionate head chef shows great particularity in her choice of pumpkins, only local and only with the right coloring. She sees them slow-roasted for depth of flavor and then blends with caramelized onions before pureeing into a buttery blend. The seafood chowder reflects the chef's sojourn in Massachusetts. She combines clams, prawn, and two types of fish with slivers of potato, carrot and celery, letting the vegetable starch thicken the base rather than flour. The result is a classy cream soup that is as rich as it is hearty.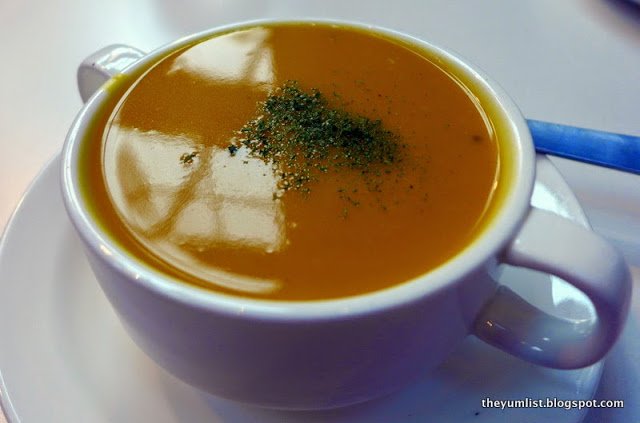 Pumpkin Soup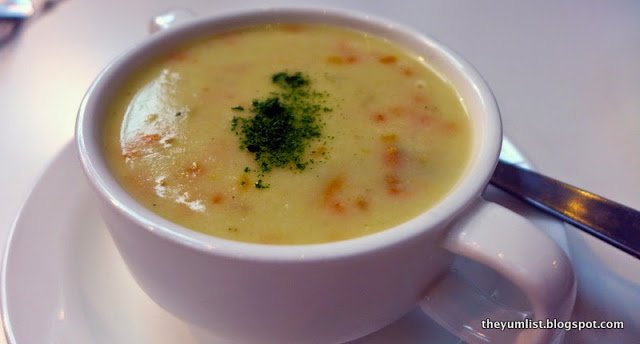 Seafood Chowder
Simply Green Salad is a popular lunch spot in KLCC. The line-up of customers dictates a "symphony of hands" according to the general manager. Five staff members work the assembly line of freshness, taking notes of individual orders from the completed checklists for each customer, and having made-to-order meals ready in just a few minutes. They will take advanced orders; in fact, customers who order before 11:00 am get an additional main topping free. Simply Green also offers free delivery within walking distance with no minimum spend.
Simply Green Salad can be found in the lobby of Fraser Place from 7:30 am – 7:30 pm, Monday through Friday. Until 11:00am, you can also find amazing-sounding breakfast items like homemade granola, pesto eggs with smoked salmon, or banana pancakes. If the breakfast is anything like the lunch, you can expect individually prepared delicious healthy food.
In a word, fresh.
Reasons to visit: Hundred of thousands of variations of fresh healthy salads and sandwiches.
Simply Green Salad
Fraser Place, Lot 163
10 Jalan Perak
50450 Kuala Lumpur
Malaysia
+ 6 0182180100