The Sompoton Spa, a Malaysian brand, has been around for just over a decade. From its humble beginnings in December 2004, it has since become a reliable fit for many 5 star hotels in the city without a signature spa label of their own.
Chairs for Foot Massage
All therapists participate in training endorsed by the Malaysian Vocational Council ensuring consistency across the outlets. Utilising traditional Malay technique, combined with modern wisdom, a comprehensive menu of spa treatments have been created with the ultimate goals of relaxation, health and pampering in mind. From massage, to facials, body scrubs and wraps, to hand and foot care, it's easy for us to find a number of treatments to warrant return visits.
We're spending some time at the lovely Fraser Residence (stylish serviced apartments in the city centre) so take advantage of the spanking new Sompoton Spa in this location.
Bathtub in Couple's Treatment Room
Bathrobes, slippers and disposable briefs are all provided, and an in room locker keeps our valuables safe during our two hours of bliss. Soft piano music makes a refreshing change from the common Bali inspired meditative tunes, and a floral foot bath further coaxes us into a relaxed frame of mind ready to soak up the benefits of our chosen treatments.
Treatment Room
I know diet and exercise are the essential components of a slim fit body, but I can't resist the idea of getting a little extra help by requesting the Magic Slimming Treatment (120 min RM466.40). Non-F Energy Cream SP is apparently the latest hit amongst the stars and it's this technology combined with a deep tissue massage that is said to help firm the skin. The spa therapy can be continued at home as the emulsion is too available for take-home purchase.
My masseuse is strong and her technique purposeful. Beginning in a supine position she starts with small movements on my upper chest, shoulders and neck. All strokes are in an upward motion and as she
progresses across larger muscle groups they become deeper and more powerful. She warns me at the beginning that it might be a little painful as she's trying to lift the muscles into conformity. All round I don't find it too distressing and she communicates frequently about comfort levels. The session finishes with a 20 minute body scrub leaving the skin smooth and soft.
Hubby has taken on the Herbal Healing Treatment (120 min, RM419.76), including an organic body exfoliation, floral bath, shower, herbal compress treatment and traditional Malay massage. It seems the initial therapies build on each other, making the body more and more receptive to the effects of the succeeding treatments as the session progresses.
He too reports a well-trained therapist as evidenced by dedicated, symmetrical technique and adjustment to individual needs. Hubby has tension around his shoulders and neck so much time is spent here. His tender lower back (he says as a result of a strenuous tennis match) receives additional attention too.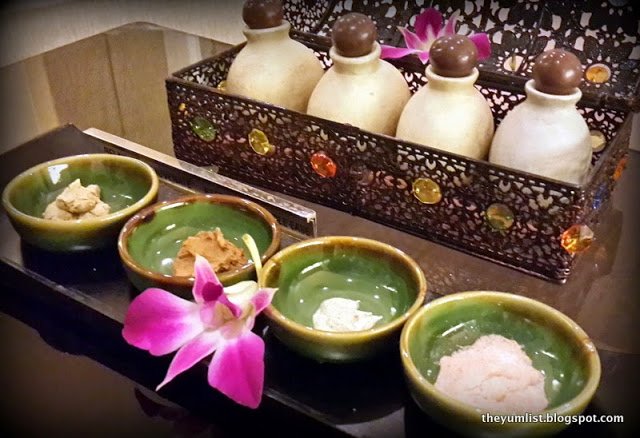 Choice of Aromatherapy Oils and Scrubs
Our session ends with a pot of hot ginger tea, a warm moist towel and a chance to rate performance via a feedback form before departure. We've visited a number of Sompoton Spas and have experienced consistent service in each. This outlet in Fraser Residence is extremely convenient for in-house guests, and if our stay here was a little longer, they might just see us here with a regular monthly appointment.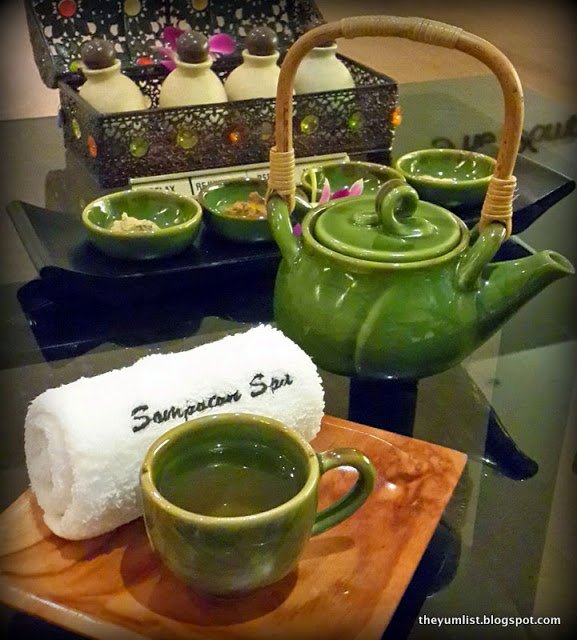 Ginger Tea and Warm Towel
Reasons to visit: comprehensive treatment menu; well-trained therapists and professional service; conveniently located for guests staying in Fraser Residence; Herbal Healing Treatment; Magic Slimming Treatment.
The Sompoton Spa
+6 03 2148 8910
+6 03 2142 8910