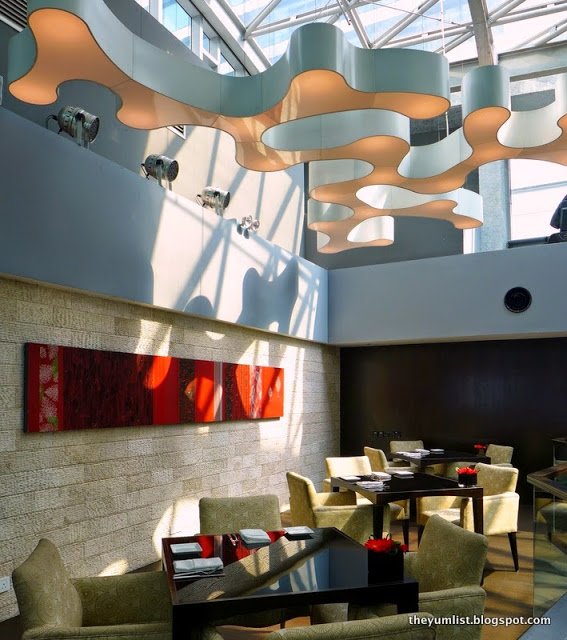 Dining Area – Cedar on 15
 Eugenie Chan & Monica Tindall
I'm always highly skeptical about hotel restaurant food, I've had a number of experiences that the ambience and service were amazing, but the food was over-hyped and mediocre, making the entire outing over-priced. This is certainly not the case at Cedar on 15 (located on the 15th floor of Impiana KLCC Hotel). I was taken by surprise (in a good way) on all counts, making this one of my top recommends for the KLCC area.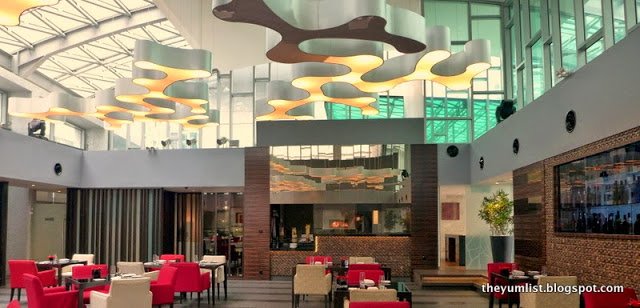 Dining Area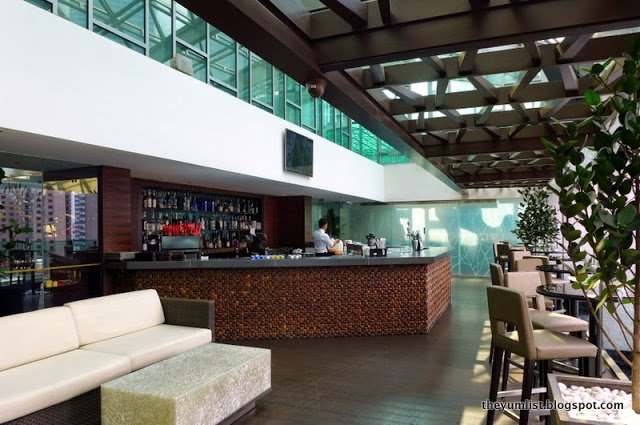 Bar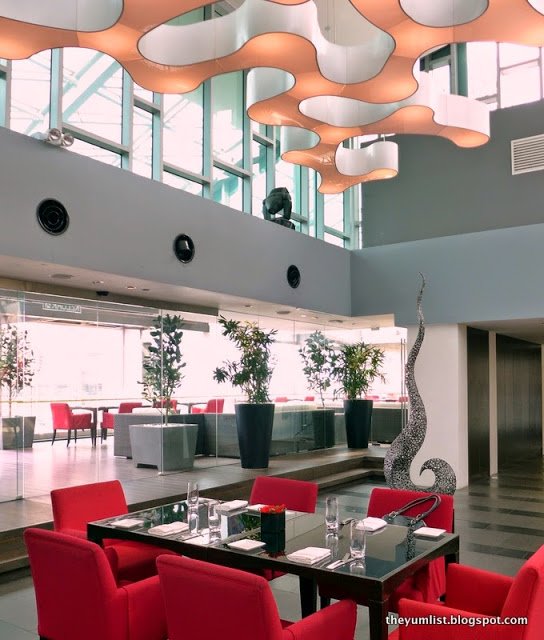 Contemporary Setting
Helmed by Austrian native Chef Helmut Lamberger for three years now, the new menu, launched on May 1st 2015 is possibly one of the most creative we've seen anywhere in a while – mainly due to his discovery of a special range of oils and vinaigrettes produced in Germany. Presentation of food was exquisite in every dish, and was indeed a feast for the eyes as much as the tongue. Much thought has gone into every dish, and it shows.
With a complete library to choose from – Lemon Olive Oil, Raspberry Vinegar, Quince Vinegar… Chef spent more than two months experimenting with flavours and paired each menu item (including the desserts!) with a small bottle with a dropper of these interesting liquids. Personally, I've never seen a menu laid out this way – and I think it's a super, refreshing idea!
A note on their alcohol selection, they have a very nice range of wines by the glass to choose from, 11 in total, including a dessert wine! Perfect if you are with a non-drinker and want to have your meal paired with different wines. More on the alcohol later.
Let's talk food. I have to say, incredible value for what you get. All prices include service charge and GST so you don't have to wreck your brain trying to decipher what the real cost of your meal will be. Service here follows the hotel's overall motto "four star hotel with five star service". A slight disclaimer however as we were the only people in the restaurant at that point of time – and indeed the service was on pointe. For lunch in the day, this place has incredible daylight (which we love), and overall it is elegant dining – which means it's not too posh that you feel a need to dress to the nines, but food is of fine dining quality. It's a comfortable setting to be in. Also, they have a really nice outdoor balcony.
Appetisers… here we come.
The Gourmet Salad (RM48) was just beautiful. Look at it (the picture, not my drool). It's labeled vegetarian, but it's not vegan. What I liked best is the use of sautéed artichoke, which is rare in most salads I've found in KL. I also liked the combination of quail eggs, black truffle, semidried tomatoes and some organic greens. Our first taste of the 'dropper' was the raspberry vinegar. It's very interesting tasting it separately, then tasting it with the food. It certainly added an element of fun and exploration to the whole meal.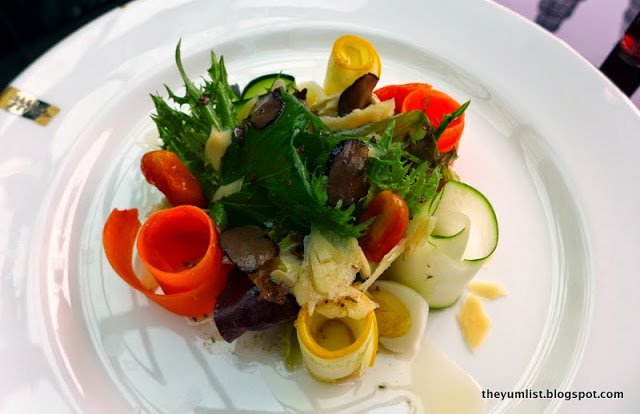 Gourmet Salad
Initially, the ladies at the review (Monica and myself) weren't too keen on ordering the Fresh Burrata Cheese (RM45) as it sounded pretty ordinary. Thankfully, due to Canning's insistence, we were served another beautifully laid out dish. Burrata is young mozzarella, which is extremely sensitive and fragile, which is why it's usually just served sliced up with some tomatoes. The Chef really took his time with this, determined not to disappoint. His inventiveness in the preparation method gives this dish one of the best twists ever and makes it into one of their house specialties for good reason. He wrapped the cheese in a balsamic gelee. This is joy in every mouthful and we couldn't get enough of it – savoury, light cheese with a tinge of sweetness from the balsamic gelee complete in one bite. It was served with basil olive oil and of course some Italian Roma tomatoes.
Fresh Burrata Cheese
Petite presentations of succulent bites of salmon, crab and smoked duck in The Three (RM58) prove a wonderful, light, single person portion, so order this if you are saving your tummy for the main event. Each mouthful is full of flavour, very complex and is to be savoured slowly.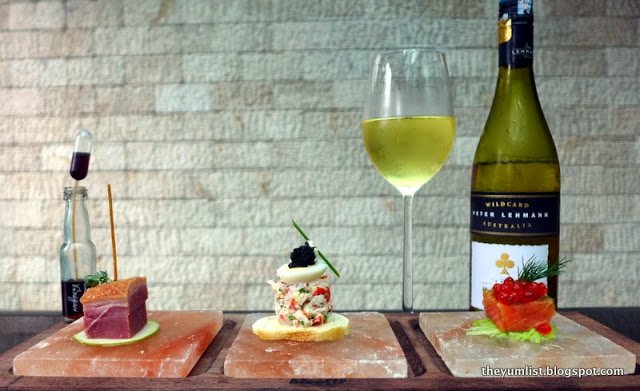 The Three
Cream of Topin Ambour (RM38) served with truffle oil had us initially Googling it to figure out what 'Topin Ambour' was… which is Jerusalem artichoke (or earth apple) originally of Middle East origin. This is the first time any of us had ever had this kind of soup and it was hands down, one of the best soups we've had. It's got a bit of a potato like texture, but not as starchy and therefore not too heavy. For presentation, and a little fun, the dish arrives with a vivid dash of red – dehydrated tomatoes and a generous dollop of cheese. The soup itself comes in a teapot and is poured into the dish when it is served. This is also the favourite of the Chef's son, and is often requested when he comes to town! A MUST TRY.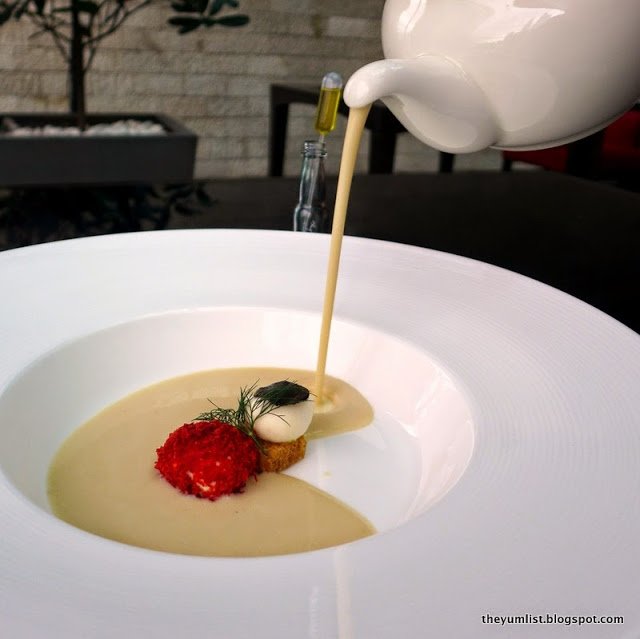 Cream of Topin Ambour
On to the mains.
Perhaps this is one of the top places for steaks in the city with the best value. They have a wide variety of cuts and quality selection. We went with 220g of the New South Wales Ribeye (RM68). They also have a refreshingly diverse range of sides. We had the Fondant potato and Green Asparagus with herbs – both beautifully done, simple but so so tasty. The steak was served on a heated large slab of Himalayan Rock Salt – this means it gets saltier the longer you leave it there for, so, keep an eye on it!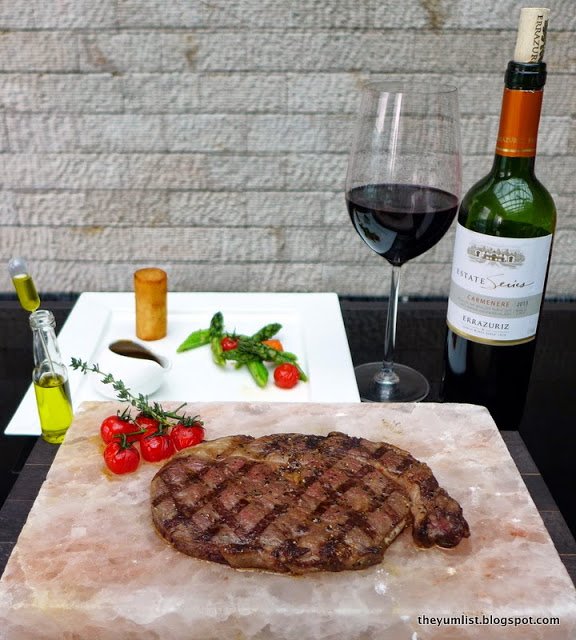 New South Wales Ribeye
Carmenere, Erranuiz, Aconcagua Valley, Chile, (RM35 per glass) made a fine mate to the meat. It showed deep ruby in glass, peppery on the nose, long legs, smooth and round in the palate and a tiny bit of spice in the finish.
Pumpkin Seed Crusted Black Cod (RM78), perfectly cooked, was served with Organic Hazelnut oil, and a pretty display of veggies. The crust provided a contrasting texture to the moist flakes of fish and the oil, again, could be added to taste.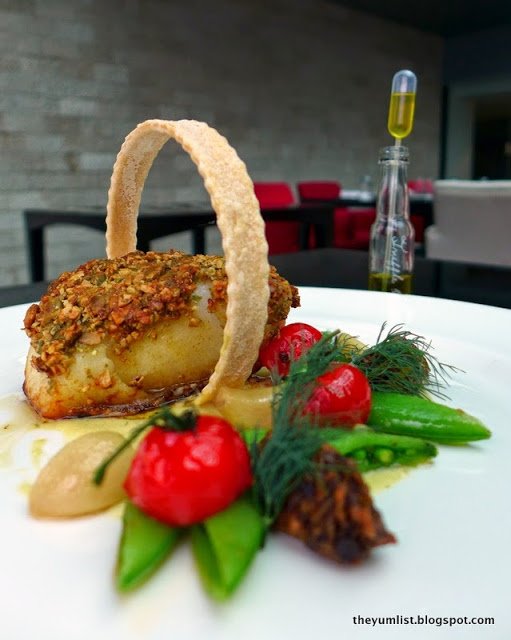 Pumpkin Seed Crusted Black Cod
Peter Lehmann's Wildcard Reserve Chardonnay, 2010, form the Barossa Valley, Australia (RM35 per glass / RM175 per bottle) was smooth, clean and easy drinking – a great match for the cod, but would also fare well with some of our starters.
Desserts
We loved how each of the desserts were too served with a tiny bottle of liquid on the side – each again with the dropper, allowing you to pile it on, or just add a few drops for taste. The Homemade Vanilla Bean Marshmallow (RM32) was unexpected. A fat sponge marshmallow crowned a dense chocolate cake tower. A scoop of creamy ice cream with a twinge honey played well with the rich cake. The thick, yummy, chocolate liquor, which we ended up pouring all over the top, was just delicious!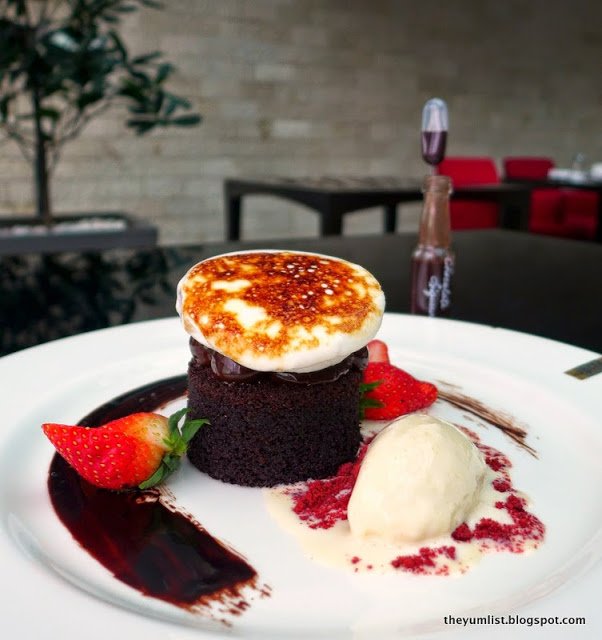 Homemade Vanilla Bean Marshmallow
The Triple Layer Cheese Cake (RM38) was served with Amaretto Liquor and was rich and creamy. The crisp sweet tuile on top was ideal for breaking off tiny pieces and devouring with a smooth wad of cheese.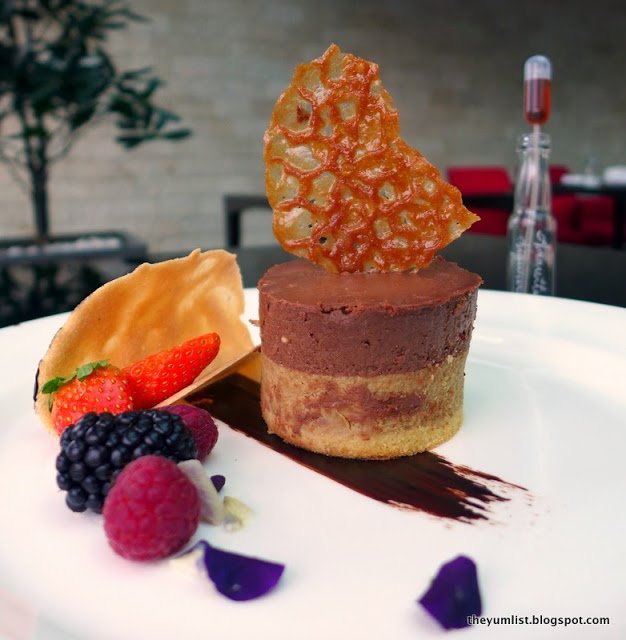 Triple Layer Cheese Cake
Another dessert option, not in the dessert menu, is fully alcoholic… it is the multi award winning De Bortoli, Nobel One, Botrytis Semillon 2008 Vintage from New South Wales, Australia (RM315) which has won 117 trophies and 376 gold medals. The story behind this is really interesting, involving the black sheep of the wine-producing family, churning out their best seller. It is truly dessert in a glass.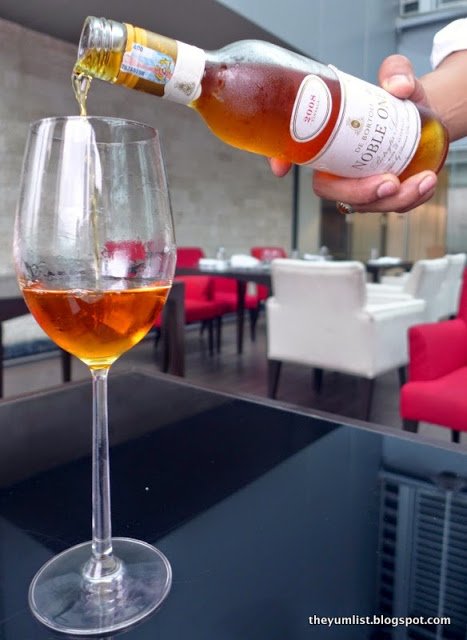 Noble One Dessert Wine
Reasons to visit: fine experience at reasonable prices for the quality of cuisine, Cream of Topin Ambour, Gourmet Salad, Fresh Burrata Cheese, any of their Steaks (served on heated slab of Himalayan Rock Salt).
Cedar on 15
Impiana KLCC Hotel
15th floor
13 Jalan Pinang
50450 Kuala Lumpur
Malaysia
+6 03-21471111, extensions 3711 or 3320
Hours
Breakfast: Mon-Fri : 6.30 am – 10.30 am / Sat & Sun : 6.30 am – 11.00 am
Lunch (weekdays) : 12.00 noon – 2.30pm
Dinner : 6.30 pm – 10.30 pm
Supper : 11.00 pm – 2.00 am