A magical Malay experience is found in The Gulai House, at The Datai Langkawi. The setting, a traditional Malay kampong house, blends almost organically amongst the encircling 10-million year old rainforest. Divided into various areas, there's a larger dining section, intimate nooks veiled by flowing curtains, and secluded low tables with cushion seats for a romantic couple's dining experience. Here we dine on Malay and Indian cuisine served by warm-hearted wait-staff uniformed in indigenous dress.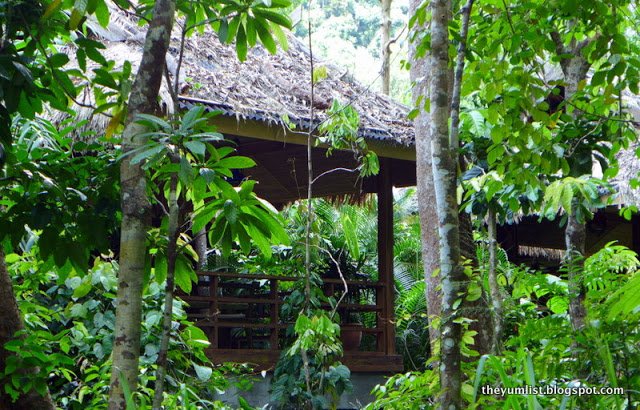 Restaurant in the Jungle
There are no walls in this traditional building and we can literally reach our arms out and touch the jungle. A ceiling fan provides a soft breeze, and warm lighting from lamps and flickering candles contribute to a peaceful atmosphere. Wildlife from the jungle are active and keep us smiling throughout the evening with chitter chatter building up to crescendos and then diminishing before intensifying yet again.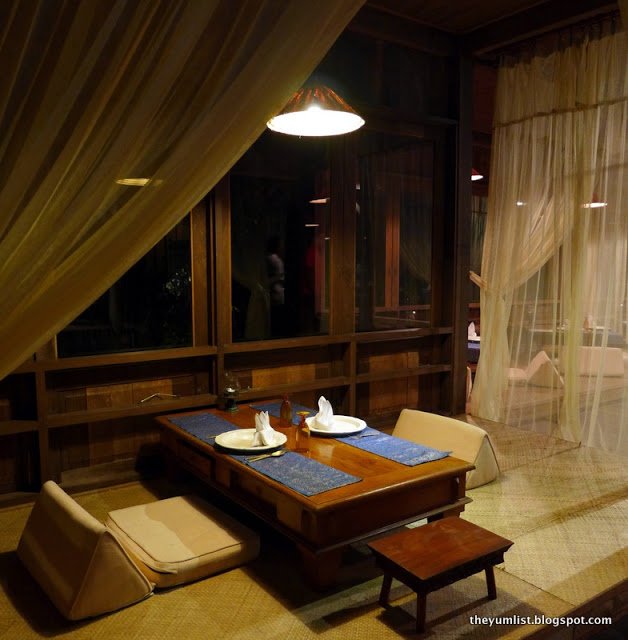 Floor Seating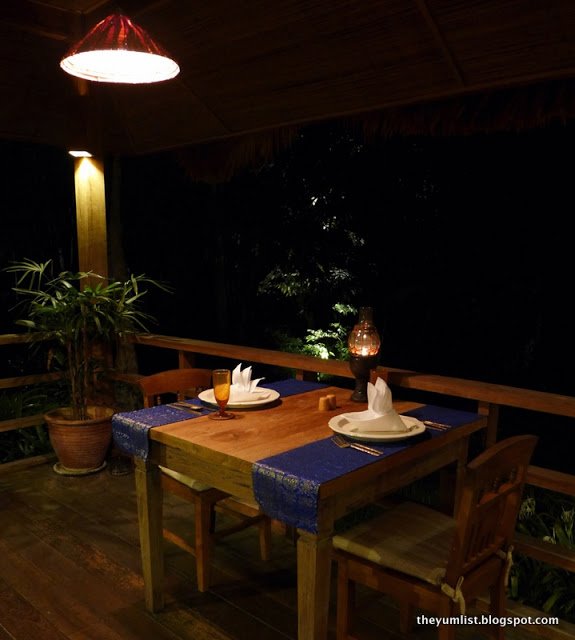 Table for Two
The Malay custom begins with hand washing before every meal and we're assisted with this, table side, by a waiter with a black ceramic jug and bowl. As we browse the menu we're expecting some spice in the food to come so order a glass of Gewurztraminer, Reserve Personnelle, A. Kuentz 2011 (RM35). This sweet wine from Alsace tones down the kick, making it more tolerable to unaccustomed palates.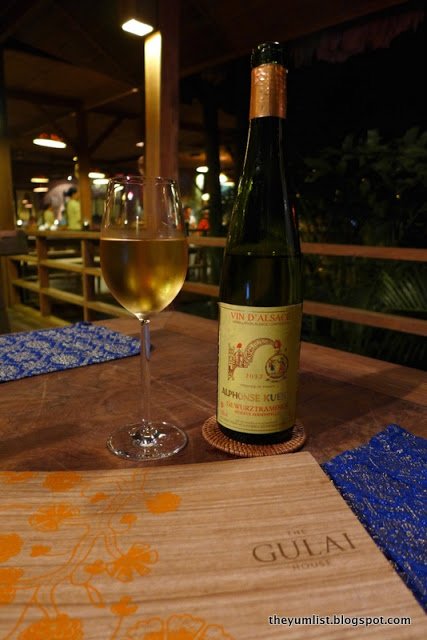 French Riesling
Orders in, an amuse bouche of fried prawn with capitan sauce arrives. It's bedded with shredded fresh vegetables and the coating is tasty, making a pleasant entry to our meal.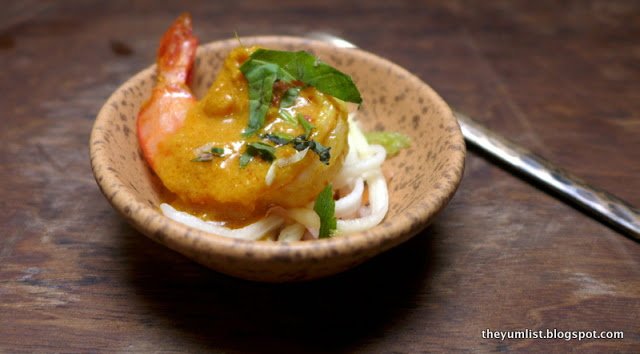 Amuse Bouche
Starters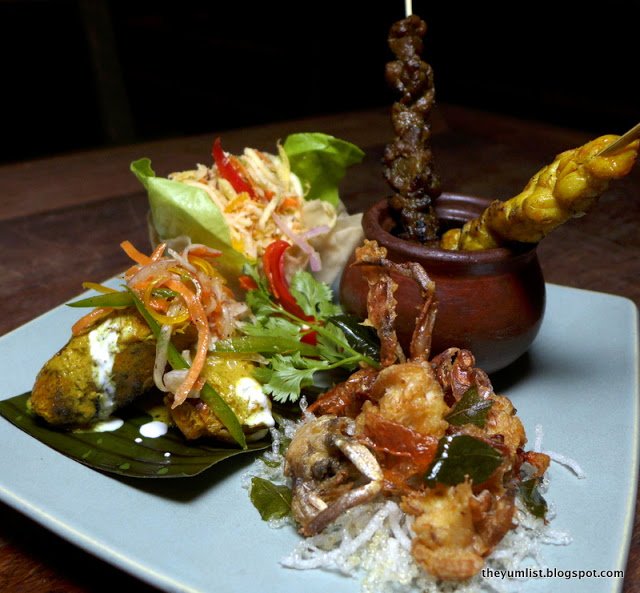 Mixed Appetizers
A sampling platter of Malaysian favourites enables guests to try a variety of dishes in one sitting. The classic Otak Otak, grilled fish and prawns cooked in banana leaf, is already opened for us, making it easy to eat. The filling is fresh and soft and a tangle of shredded veggies and a dripping of coconut cream on top complete the experience.
Sate 'Gamelan' of beef and chicken sports a taste of charcoal, clearly pulled hot off the grill. The peanut sauce pooled in a petite ceramic pot is chunky with nuts, not overly oily and only brandishes a mild heat – it's a great initiation to satay, especially if you're sensitive to spice.
Ketam Goreng Ranggup, deep-fried soft shell crab, seems to have been cooked together with curry leaf as we note a gentle curry flavour in the batter. Lastly, Kerabu Ayam, crunchy chicken mango salad, is cupped in a pastry chalice. Thin strips of raw vegetables, green mango and chicken are tossed in a light dressing. There's a distinctive sour ending to this salad with the generous use of lime.
Soup
Sup Ketam Berserai (RM45) has been on the menu since the restaurant first opened in 1997. It's ingrained as one of their signature dishes and they've been unable to remove it due to overwhelming request by guests. Local mangrove mud crab is fleshy and sweet, and combined with the lemongrass the broth proves a smooth mouth-filling loveliness. We can see why this recipe has remained unchanged for close to 20 years!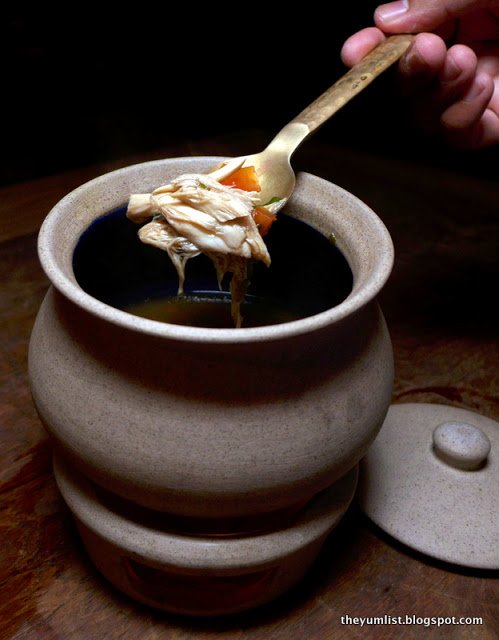 Sup Ketam Berserai
Mains
  With the onset of the mains we switch to a red, also hailing from France. The Beaujolais-Village, Domaine Des Marrans 2010 (RM30 per glass) is a light drop and versatile enough to partner a variety of flavours.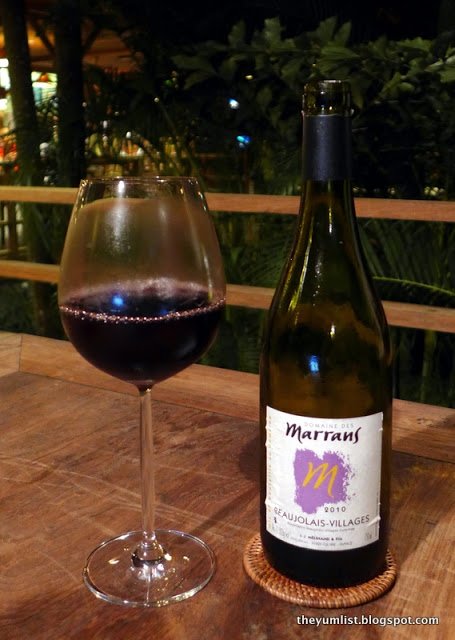 French Red Wine
Coming out number one in one of CNN's readers' poll of the 50 Most Delicious Foods in the World, Rendang Daging (RM80) is a must try! Strips of tenderloin beef are cooked for many hours and seasoned with blue ginger, lemongrass and grated coconut. It's aromatic and incredibly flavourful.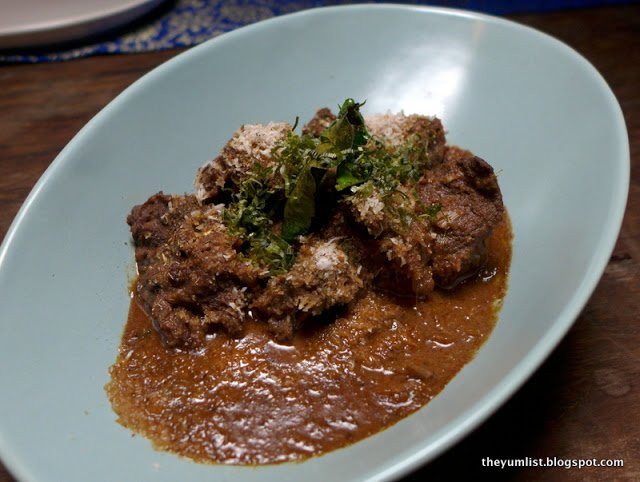 Rendang Daging
Ayam Lemak Ulam Pegaga (RM75) sees chicken cooked with coconut cream, turmeric and centella. The centella herb, we learned on a nature walk with The Datai's resident naturalist earlier in the day, is believed to have youth giving properties and is widely used in Chinese, Malay and Indian traditional medicine. The sauce is rich and creamy, and the meat is moist and tender.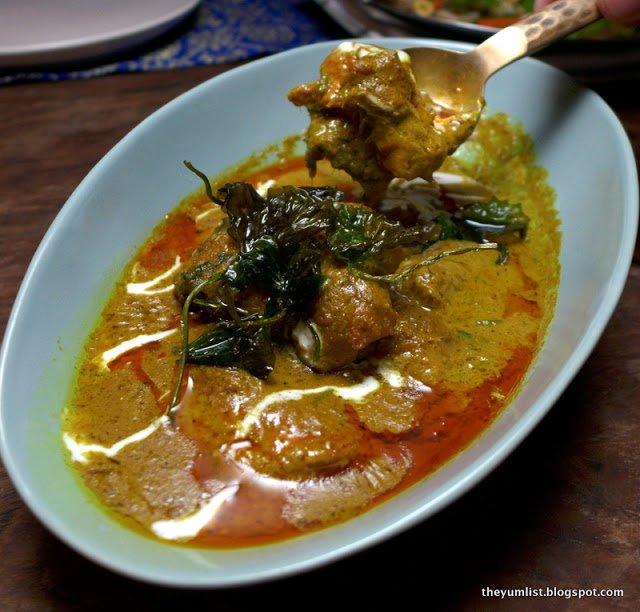 Ayam Lemak Ulam Pegaga
Grilled fish with a spiced salad is presented in the Ikan Bakar Berulam (RM83). Local coral grouper is filleted, coated with a multitude of herbs and finely chopped vegetables and finally wrapped and baked in banana leaves. Served with a thick sweet soy and chili sauce on the side, it's absolutely delicious and hubby declares it his favourite.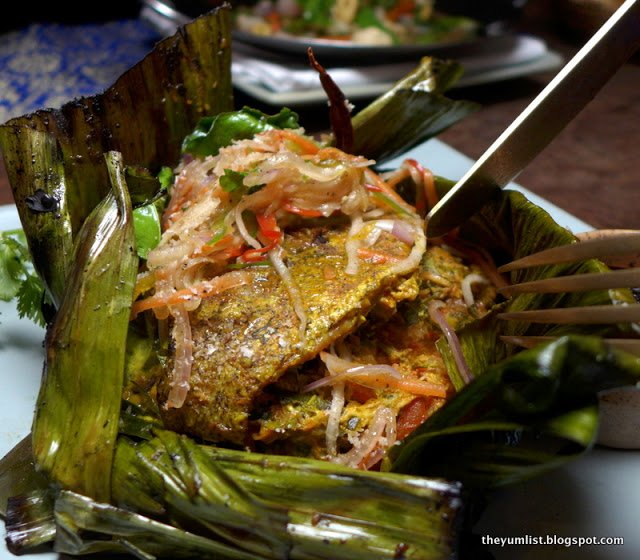 Ikan Bakar Berulam
Balancing out the protein packed line up we have Sayur Campur Goreng Aneka (RM39) mixed wok fried veggies, Nasi Putih (RM12) steamed white rice, and crispy pappadams. The additional side plate of steamed veggies is not on the menu but comes with the meal, featuring lady fingers, long beans and banana blossoms ready for dipping in the sambal belacan (chili and shrimp paste sauce). It's quite  a refreshing contrast to the heavy mains.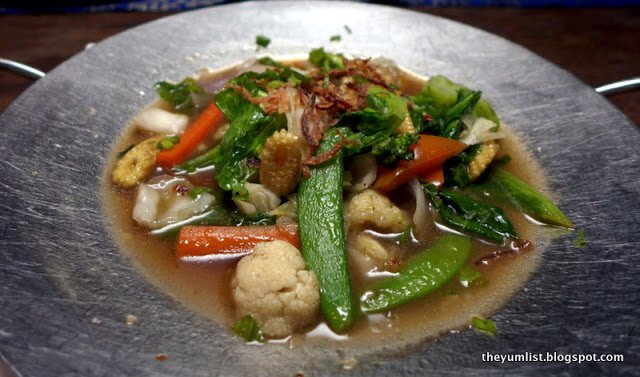 Sayur Campur Goreng Aneka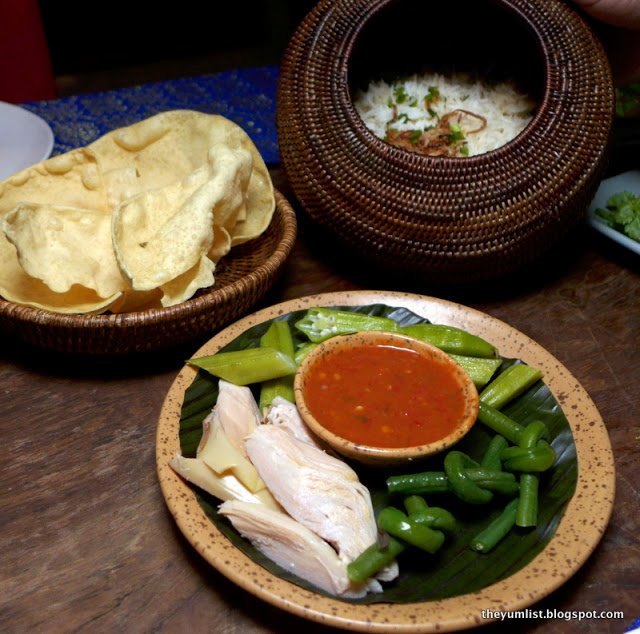 Accompaniments
In general we've found all of the dishes leniently spiced and with far less oil than what we've had in many Malaysian homes and restaurants. Cuts of meat have been of high quality with not a single piece of skin, bone or chewy sinew in sight. This is clearly top of the range Malaysian cuisine, and makes a favourable introduction for the uninitiated, but also for those who prefer to savour the complex flavours of each dish rather than be overwhelmed
by spice and oil.
Dessert
A typically Malaysian finale of Cendol Pulut (RM28) seems especially appropriate in this climate. Shaved ice is drenched in coconut milk and mixed with palm sugar, sticky rice and red kidney beans. While my foreign taste buds have still not grown a love for corn and beans in dessert, the rice, sugar and coconut cream reminds me of rice pudding and both hubby and I clink spoons to the very bottom of the bowl.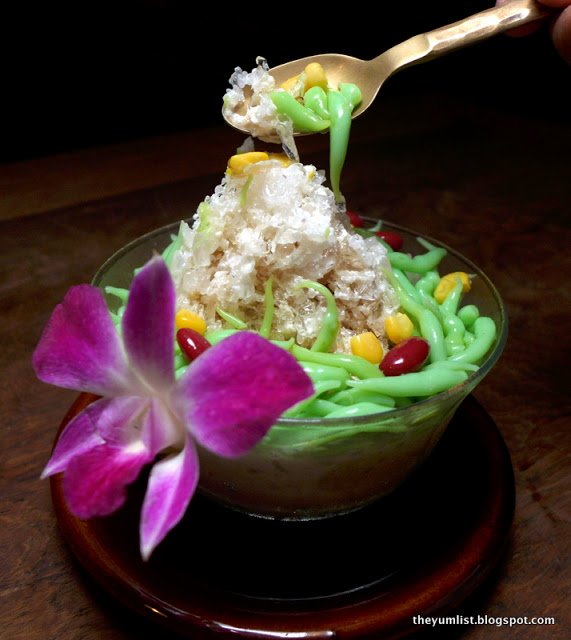 Cendol Pulut
For something equally delicious, and a signature of The Gulai House, we also try the house made ice cream (RM15 per scoop) served in an ice bowl. Our pandan scoop is velvety smooth and creamy – highly recommended.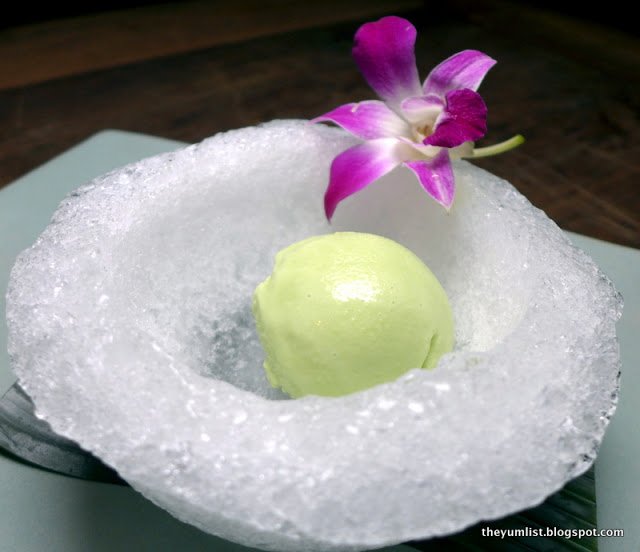 Pandan Ice Cream in Ice Bowl
Reasons to visit: enchanting location in the jungle; delicious top-notch Malaysian cuisine made with quality ingredients; a unique experience in the heart of the rainforest.
Gulai House
The Datai
Jalan Teluk Datai
07000 Pulau Langkawi
Kedah Darul Aman
Malaysia
+6 04 9500 500
Open 6:30pm –
11pm