After living in Asia for so long, having eaten in countless 'authentic' Vietnamese restaurants, and sojourned numerous times in the country itself, I was somewhat skeptical reading reviews claiming "amazing and authentic Vietnamese food." In Dubai… really? Turns out, really, yes!
Hoi An Restaurant does indeed avow to be Dubai's only authentic Vietnamese restaurant, and from our moderate encounters with the cuisine, it seems the declaration has merit. Not only does the chef and entire kitchen team hail from Vietnam, so do the service staff. Authenticity of the experience with food and service is boosted by the South East Asian inspired décor, uniforms, and the beautiful plating of recipes atop bamboo platters and lotus leaves.
Hoi An
Within minutes of being seated there are prawn crackers with sweet chili sauce, hot moist towels scented with lemongrass, and shot glasses of a passion fruit and cherry welcome drink on our table along with the menus. The waitress attending us is friendly, efficient and seems to move at the speed of lightning. She has time for all of our questions and cheerfully explains the ingredients in all of the dishes, but at the same time has us organized with decisions made for a four-course meal with wine pairing, and is pouring our first drop as the amuse bouche is too delivered to our table. Impressive start.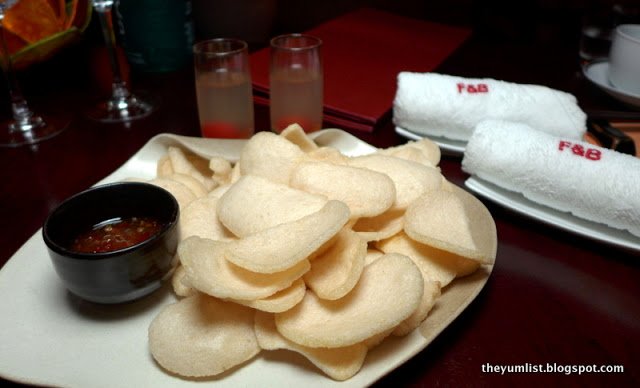 Prawn Crackers, Welcome Drink, Moist Towels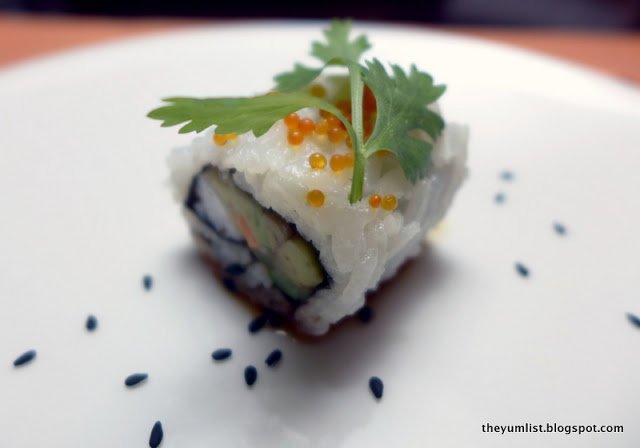 Amuse Bouche
A Wild Rock Infamous Goose Sauvignon Blanc (Dhs 60 per glass) from New Zealand pairs well with our Vietnamese line up.  Its fruitiness and mild acidic nature mirror the aromatics of the food because of the abundant use of fresh herbs found in many dishes.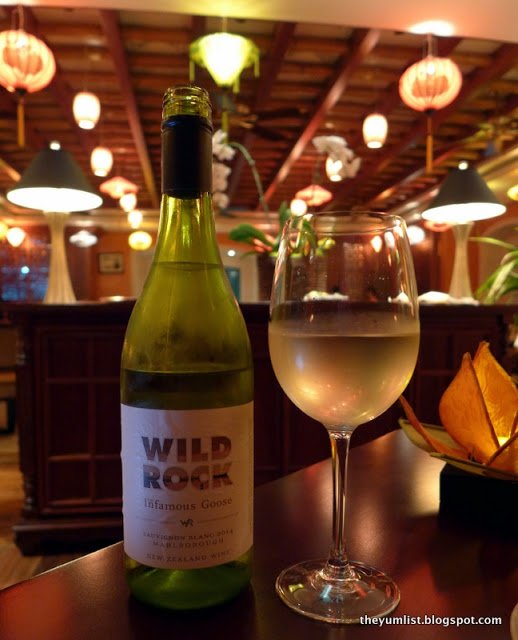 Wild Rock Infamous Goose Sauvignon Blanc
Appetizers
Goi Cuon Tom Ga (Dhs 70), fresh Vietnamese rice paper rolls, are filled with chicken and shrimp and sided with a house made fish sauce. The stuffing is superbly fresh and the slim wrapper just firm enough to contain the moist interior, but thin enough to allow the wadding to take centre stage.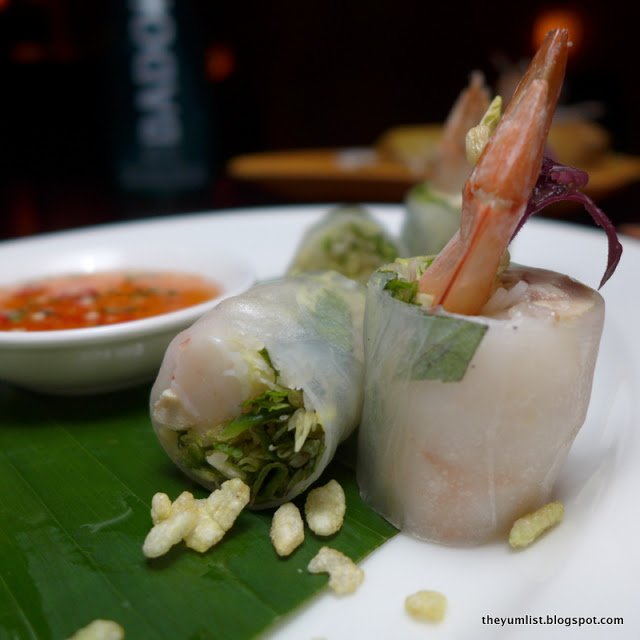 Goi Cuon Tom Ga
Banh Xeo (Dhs 65), rice flour pancake with shrimp, chicken, bean sprouts and mixed herbs, is another impressive entrant. The lace-like dough is made from a mixture of yellow bean and rice flour and delicately guards a tangle of crisp bean sprouts, strips of poultry and pieces of shrimp. A mound of fresh herbs including mint and coriander and some pineapple triangles on the side are best taken a little at a time and jumbled together all in the same mouthful with a fork of the pancake.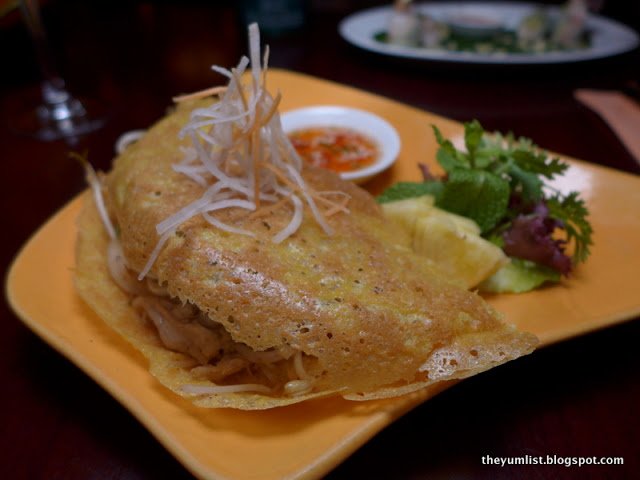 Banh Xeo
The aromatic bouquet of the Pho Bo Viet Nam (Dhs 68) reaches our noses before it arrives to our table. The stock is boiled for six hours to maximize the flavours of the beef bone, fatty offcuts and key seasonings such as star anise, cinnamon, ginger and onion to provide the mouthwatering base of this traditional Vietnamese soup. We add condiments to taste – lime, mint, basil, coriander, red chili, bean sprouts, and hoisin sauce – and the fresh clean taste brings back fond memories of squatting on tiny plastic stools on the streets of Hanoi. If you eat one thing at Hoi An, make sure it's this soup.
Pho Bo Viet Nam
A palate cleanser of lemon sorbet freshens our mouths before the mains.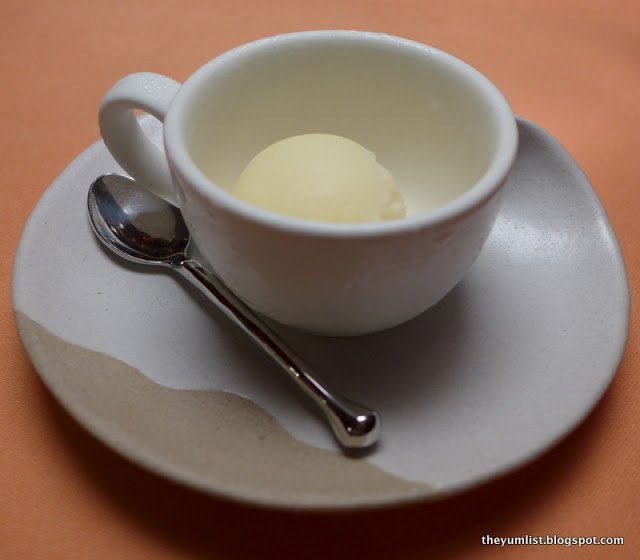 Palate Cleanser
Mains
Oven baked sea bass is wrapped and cooked in lotus leaves in the Ca Nuong La Sen (Dhs 146). Galangal and kumquat compote coat the top of the moist flaky fish with a richly flavoured paste. Baby cress and pineapple lighten the intensity providing that perfect balance that Vietnamese cuisine is known for. Hubby declares this his favourite dish (well… alongside the Pho).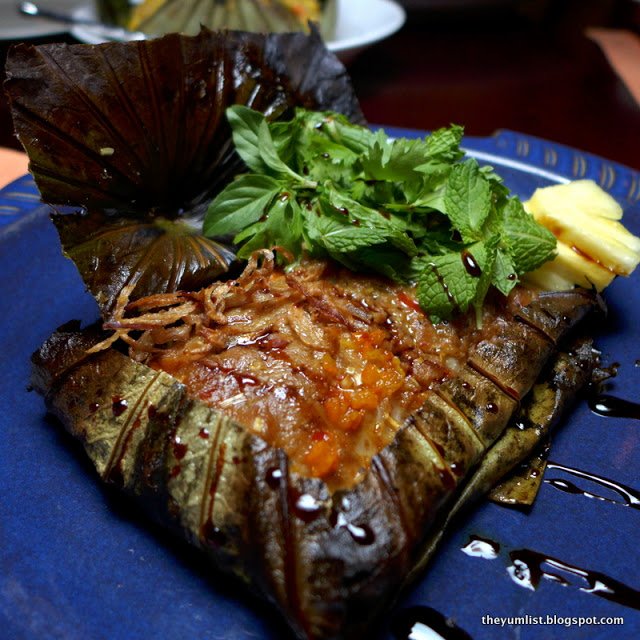 Ca Nuong La Sen
Pan fried whole king prawns with bean sprouts, spring onions and garlic beignets come together magnificently in the Tom Rang Co Toi (Dhs 146). A sizeable oval shaped plate provides the palette for the line up of bold plump crustaceans. Again this dish is counterbalanced with a side of fresh herbs and julienned green apple.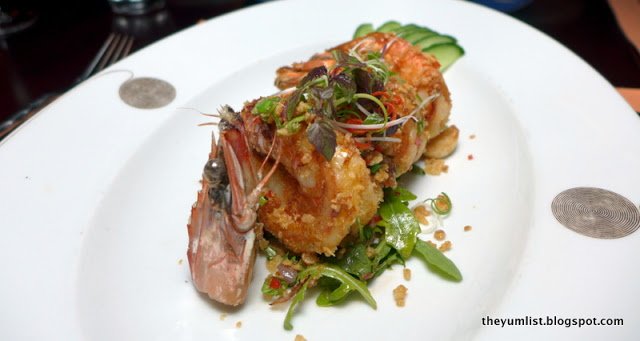 Tom Rang Co Toi
Com Rang Hoi An (Dhs 58), fried rice wrapped in lotus leaf, is given a protein boost with organic chicken and shrimp. We are stuffed but can't refuse our waitresses enthusiasm when she scoops another large serving onto our plates beaming from ear to ear and declaring, "It's yummy isn't it." Yes. It. Is.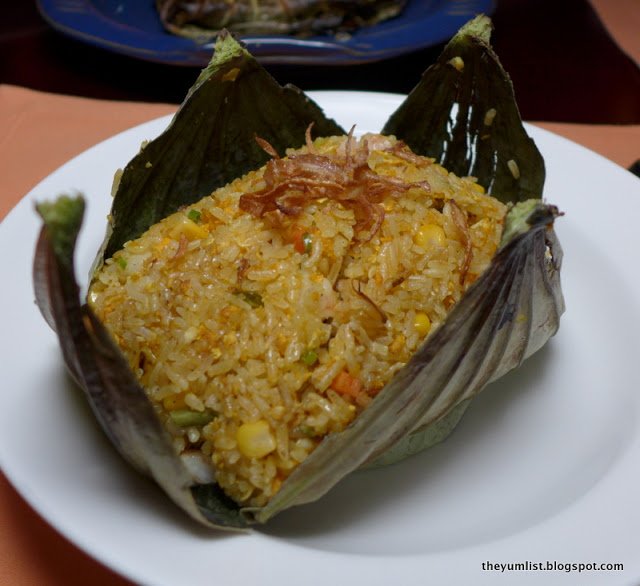 Com Rang Hoi An
Dessert
We couldn't have found a better ending than the Kem Xoai Nuoc Cot Dua (Dhs 46). The chilled mango soup is textured with strips of fresh mango, swirled with coconut milk and centred with a velvety, creamy coconut ice cream. Despite hubby's protests when two bowls are presented, claiming we could just share one, he has managed to scrape his bowl to the bottom not leaving a drop.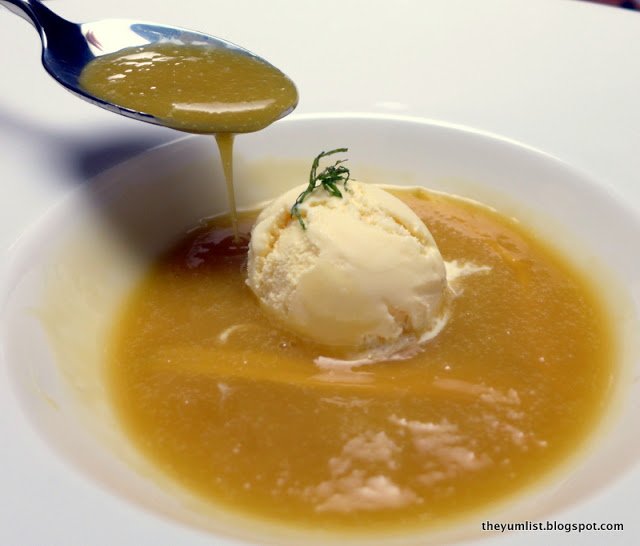 Kem Xoai Nuoc Cot Dua
Reasons to visit: a taste of modern Vietnam; warm ambience; prettily plated recipes; Pho Bo Viet Nam; Ca Nuong La Sen; Banh Xeo.
Hoi An Restaurant
Shangri-La Dubai
Sheikh Zayed Road
PO Box 75880
Dubai
United Arab Emirates
+971 4 405 2703
Open daily 7pm – midnight