Shangri-La's signature restaurant, Shang Palace, has a wide spread reputation for serving some of the finest Chinese cuisine around the world. Its Hong Kong branch holds a number of Michelin Stars and is considered one of the top restaurants in Asia. Although the Michelin Guide has not yet reached the UAE, we feel the new chef and dishes at the Shang Palace in Dubai are worth some serious culinary contemplation.
Perched on the first floor of the balcony overlooking the lobby, the setting of Shang Palace is light and bright during the day. Guests can sit inside and admire the dark wooden furniture and ceramic décor, or on the patio and luxuriate in the high ceilings, grandness of space and partake in a little people watching over the thoroughfare of the main lobby.
We're here for lunch as we've heard there's a new chef in the kitchen. Seems the outlet manager has just arrived too and we're immediately impressed by his friendliness and enthusiasm for chef's latest creations. He suggests some 'must try' dishes, and getting swept up by his eagerness, we can't help but concede.
Order taken care of, moist towels arrive to our table, along with water and the restaurant's signature tea – a blend of black leaves and mint. It's a refreshing liquid and hubby boldly asks for another, with his request being humbly obliged.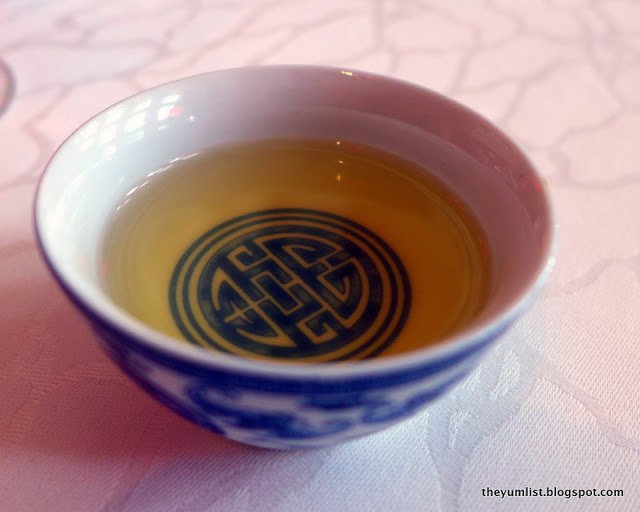 House Tea
Shortly after, a beautiful platter of assorted dim sum is presented on a black slate plate for our appetizers. Steamed crystal prawn dumplings with black truffle; steamed chicken dumplings with shrimp, scallop and crab roe; steamed vegetarian dumplings; and steamed duck dumplings with shrimp, honey beans, and mushrooms – all present as pretty packages holding superbly fresh fillings. The subtle flavours of each parcel hold their own, but too behave well with a splash of sauce.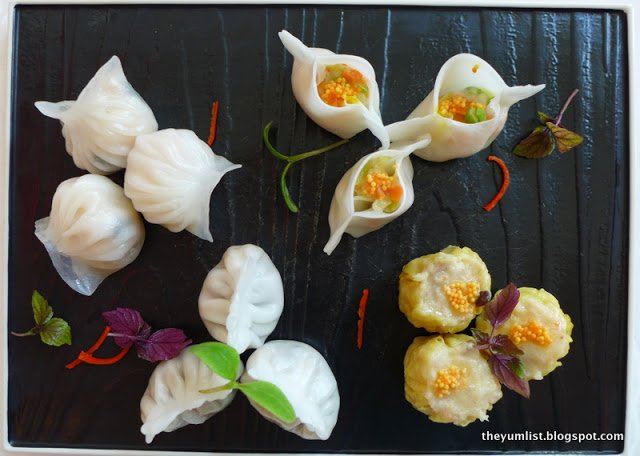 Assorted Dim Sum
We can't help but smile as the manager looks on with anticipation as the Pan-seared Black Angus Beef Ribs are delivered. The succulent meat has been removed from the bone, but draped back atop the same in a lavish display of temptation. Malt sugar and soya sauce season the meat with a gentle sweetness. We've barely swallowed the first bite when our warm host arrives at our table. "How did you find the beef? Tender and delicious isn't it?" It sure is. If you're a fan of melt-in-the-mouth meat, be sure to order this dish.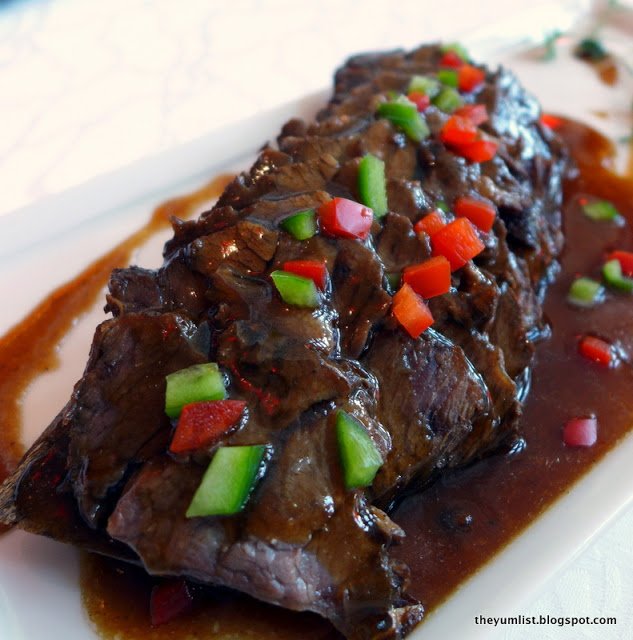 Pan-seared Black Angus Beef Ribs
Rectangles of flaky moist fish are positioned along the length of a plate in the Sautéed Garoupa Fillet. Verdant bok choy brightens the ends completing this number with a nutritious boost. Fish is obviously fresh, again surprising us with the quality of ingredients that arrive to this desert city.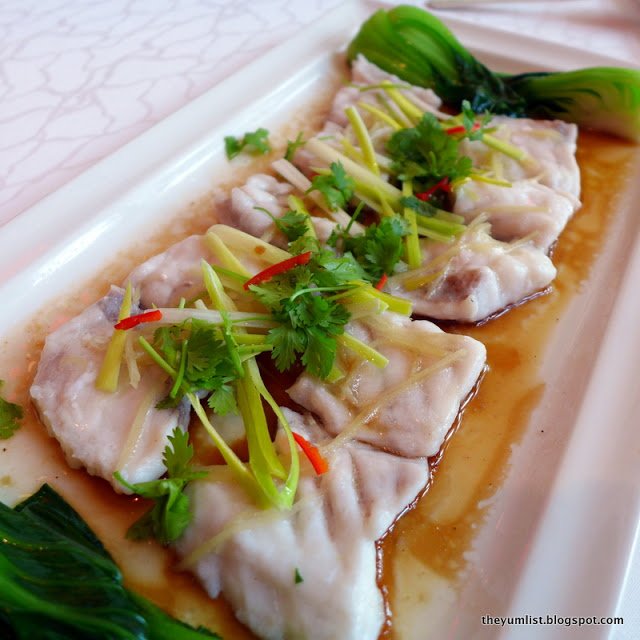 Sautéed Garoupa Fillet
Simple, elegant play with sauces encloses the Sautéed Sliced Chicken in a pretty frame. Soft pieces of poultry vanish in the mouth contrasted with the slightly firm texture of mushrooms and French beans. For those wanting a delicious non-red-meat recipe, this one fits the bill.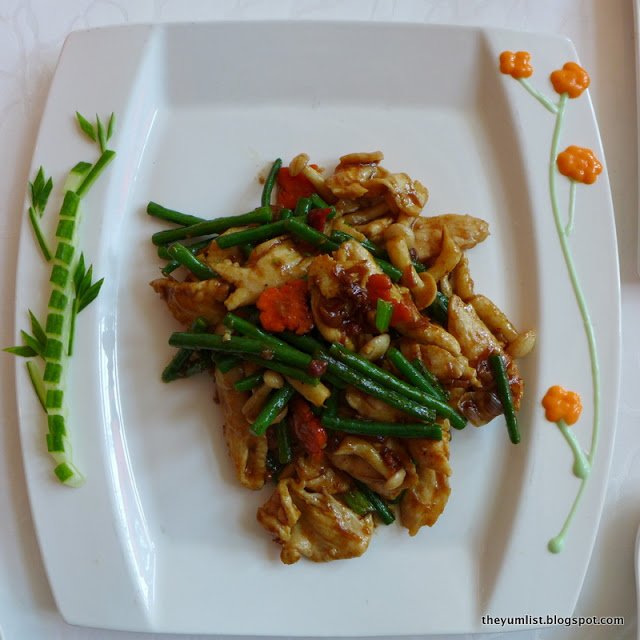 Sautéed Sliced Chicken
Shang Palace Fried Rice with shrimp, barbequed chicken and mixed vegetables sprawls across the plate, seeming to have erupted from the half pineapple at the end. It's one of those dishes that you want to keep eating because it's so tasty even though tummies have already reached the 'full' mark.
Shang Palace Fried Rice
A sweet conclusion is had with a trio of mini bites: Ginger Cheesecake, Glutinous Sesame Dumpling, and Green Tea Ice Cream. The zing in the first furnishes a likeable contrast to the traditionally creamy dessert. Hubby enjoys the velvety smoothness of the ice cream, and I find the dumpling irresistible – especially with the stickiness and mild savoury taste of the casing juxtaposed against the sweet pasty filling.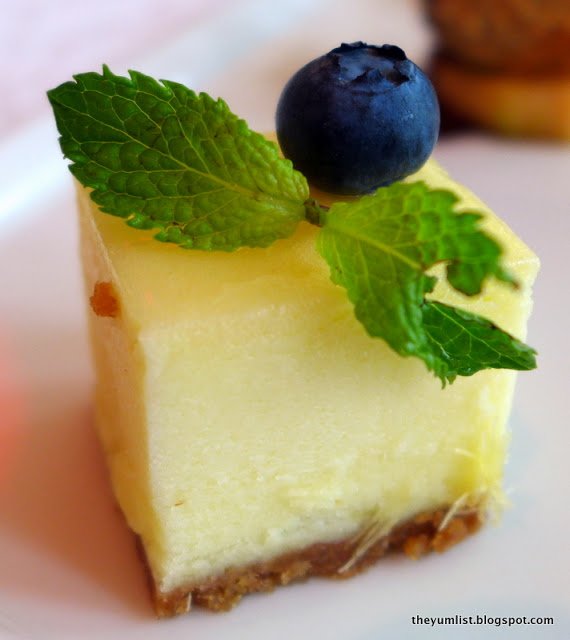 Ginger Cheesecake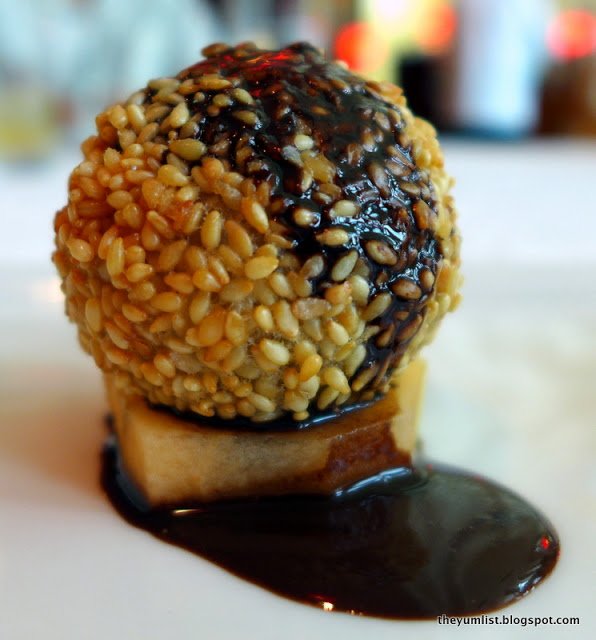 Glutinous Sesame Dumpling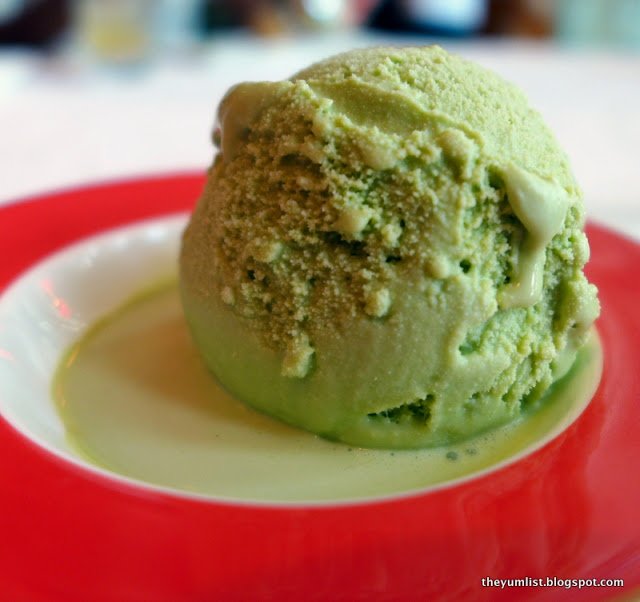 Green Tea Ice Cream
Reasons to visit: delicious Chinese cuisine; warm service; pretty dim sum; Black Angus Beef Ribs; Sautéed Sliced Chicken; Glutinous Sesame Dumpling.
Shang Palace
Shangri-La Dubai
Sheikh Zayed Road
PO Box 75880
Dubai
United Arab Emirates
+971 4 343 8888