Designed by the French company, Seine Design, state-of-the-art technology provides comfort, prime positioning for sightseeing and an eco-friendly ride. Unobstructed views are ensured with anti-reflective glass (even the ceiling is transparent) gifting diners in every seat clear vistas of the city skyline. Powerful air-conditioning keeps the cabin chilled even on the most parching of nights, and a high-calibre sound system kindles a chic setting with the hum of tasteful background music. Green technology assist in reducing noise and exhaust emissions, and too ensures the vessel produces no effluent. Additionally, the boat's flat bottom literally glides over the calm waters of the creek, treating us to smooth sailing for the entirety of the journey.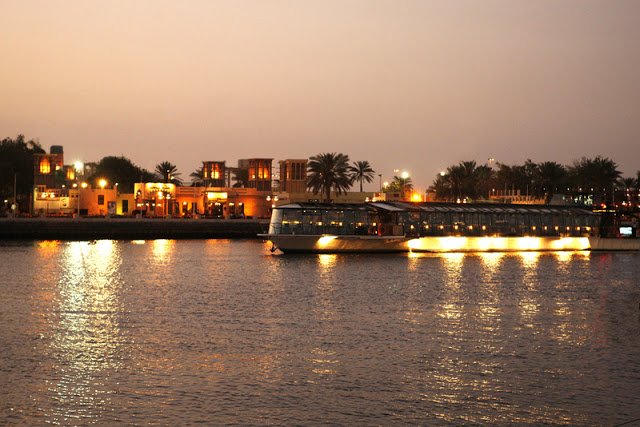 Bateaux Dubai on the Dubai Creek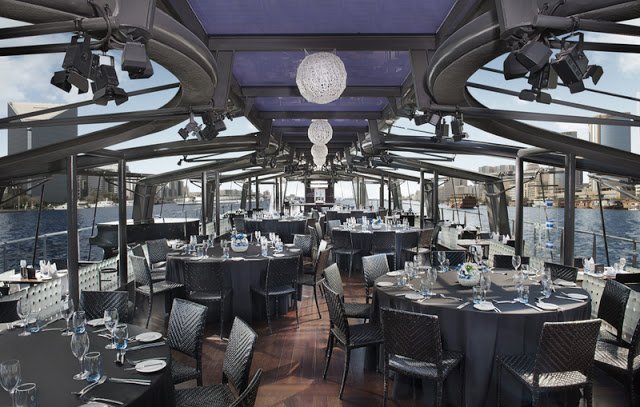 Dining Tables on Board
While we relish our meal in the comfort of air-conditioning, we begin and end our journey on the al fresco deck. From both locations we're privy to a number of sites: the British Embassy, Maktoum Bridge, Dubai Courts, the Floating Bridge, the Clock Tower, The Dhow Wharfage, Dubai Chamber of Commerce, National Bank of Dubai, the Etisalat Building, the Twin Towers, Deira Tower, Old Souk/ Spice Souk, Gold Souk, the Heritage and Diving Village, Sheikh Saeed's House, the Diwan (government) and Bastakiya, Dubai Museum, Grand Mosque, and the Old Boat Port.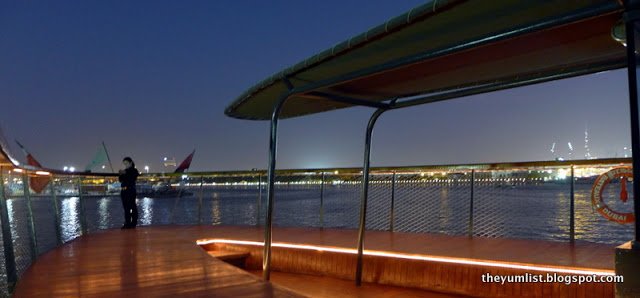 Upper Deck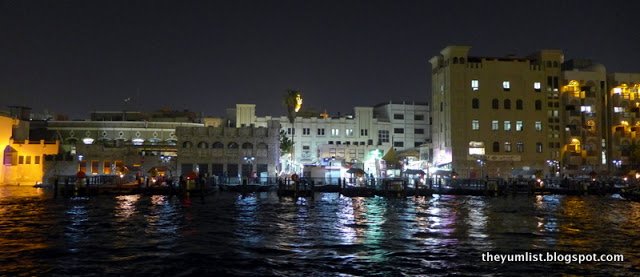 An Older Part of Dubai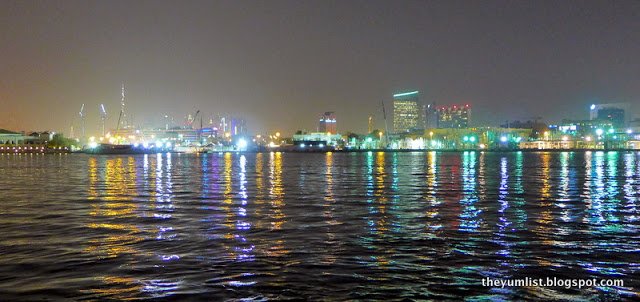 Downtown Skyline in the Distance

Prettily Lit at Night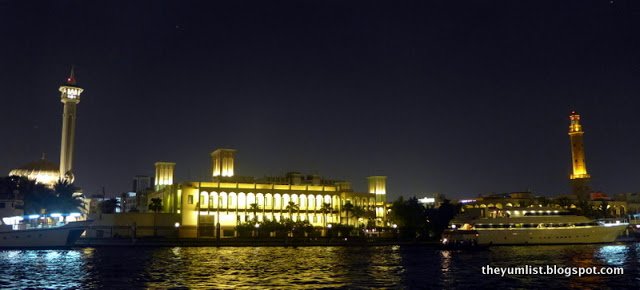 Buildings Along the Dubai Creek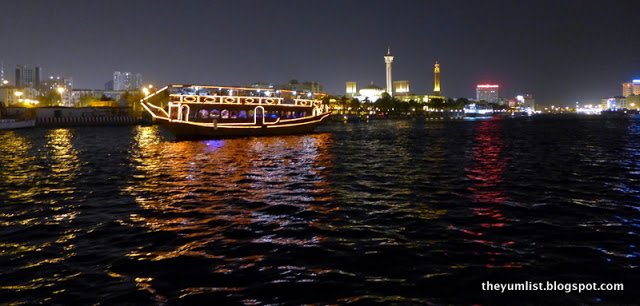 Other Watercraft on the Creek
Being torn between surveying the sights and the menu, we finally settle in to take a look at what our choices are for the four course a la carte dinner. Appreciatively we discover that JA Resorts and Hotels, the company running the cruise, supports sustainability by purchasing only humanely treated animal ingredients and "sustainable produce and products that are not harmful to our environment." I raise my eyebrows when I see foie gras and veal on the menu, but see that they are certified with WWF humanitarian certification – impressive! Tuna are only caught by circle hook, and the group even won the Pro Chef Middle East Sustainability Championship in 2014.
Besides the 'green' menu, I'm also delighted to see a delicious and complete line up of vegetarian options, and a very simple symbol system clearly identifying dishes containing nuts, alcohol, shellfish, chili and gluten. A comprehensive range of drinks supports the solid line-up with reasonably priced house wines, moving to some mid-range drops and all the way up to some very fine vintages. Cocktails, spirits, liqueurs, non-alcoholic beverages, beers and specialty coffees make up a comprehensive list ensuring no thirsty.
We choose wine for our meal, but packages can be purchased with free flow house pours, or orders for individual drinks can be made from the bar.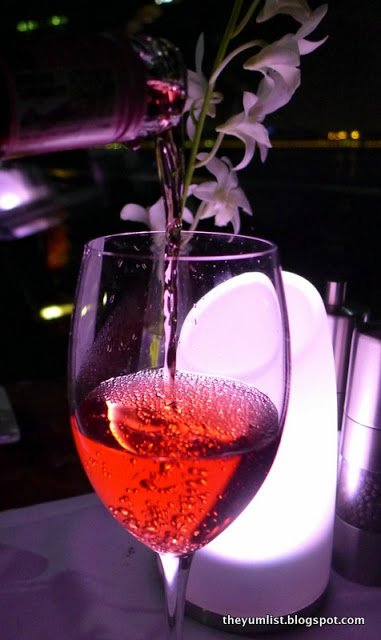 House Pouring Rose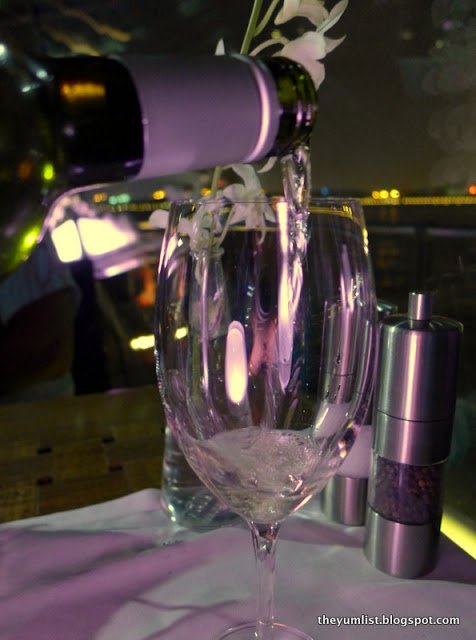 House Pouring Pinot Grigio
Fruit punch and warm bread rolls are immediately on our table, and not long after so too are the set plate of appetizers and a delicious mushroom cappuccino. The soup is thick and creamy with the rich taste of the earth, and an asparagus filled ravioli topped with Parmesan foam makes a tasty accompaniment.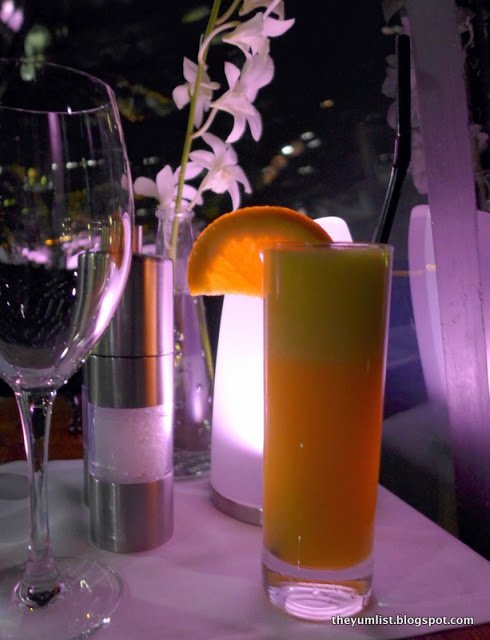 Welcome Fruit Punch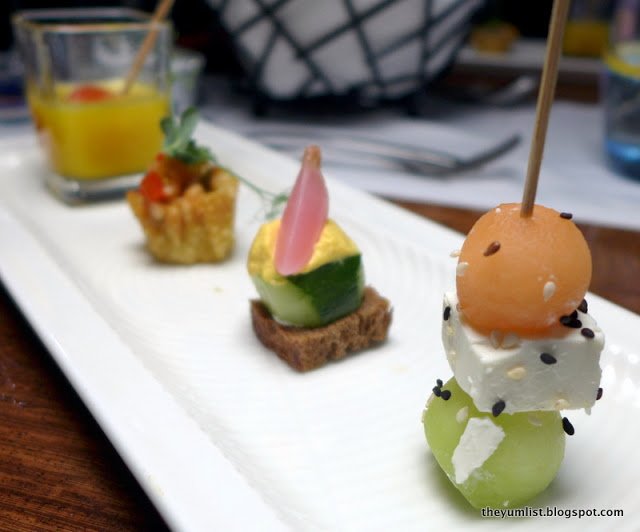 Appetizers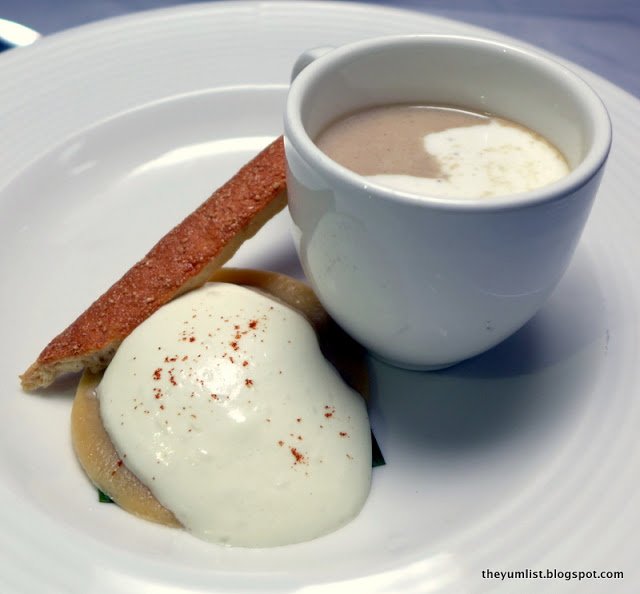 Mushroom Cappuccino with Asparagus Ravioli and Parmesan Foam
My food selections are all from the meat-free menu line-up. The Mezzah Froid – Mezzah Chaud is a highlight with petite portions of walnut beetroot quenelle, carrot hummus, spinach bil zeit, haloumi spring roll, spinach fatayer and Arabic bread. I follow with the Poached Smoked Egg with Porcini Mushroom and Green Pea Crème. It was a difficult decision though between that and the Pearl Barley with Saffron, or the Fried Couscous with Purple Sweet Potato Cream. Red Orange with Grapefruit and Pineapple ends my meal with a pretty picture, but I'd also like to return to try the Nut-Cake with Rhubarb.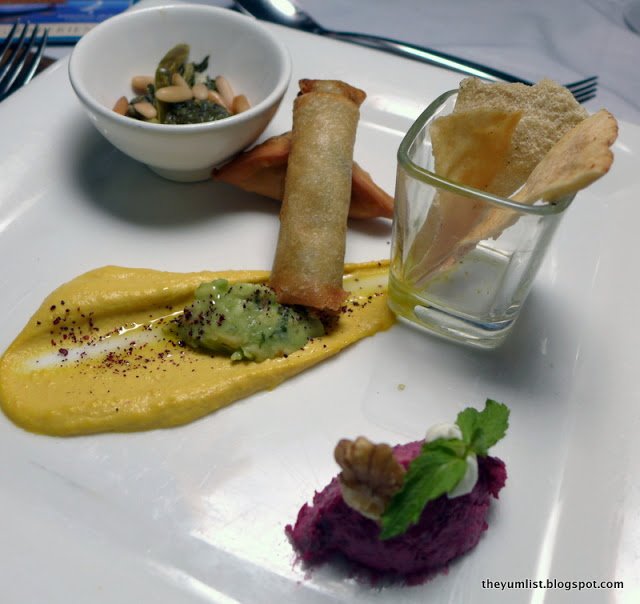 Mezze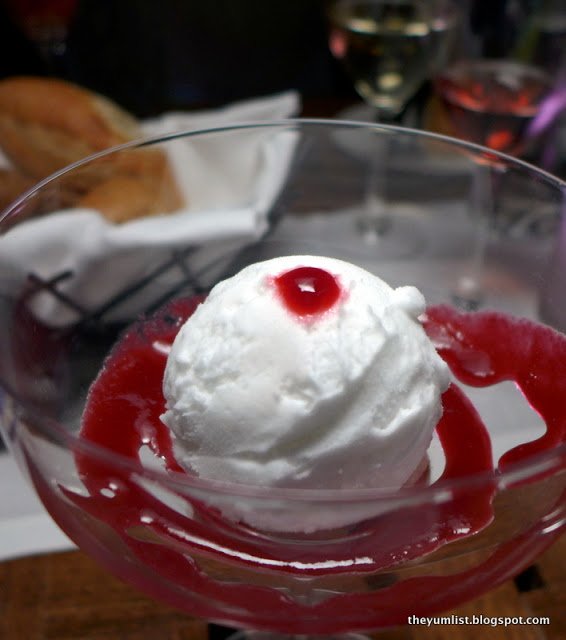 Lemon Sorbet Palate Cleanser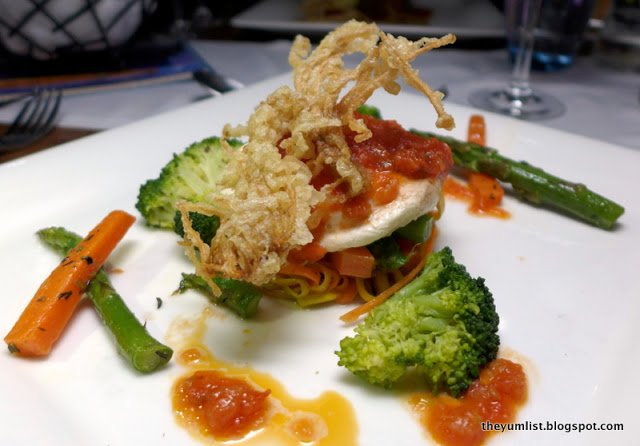 Poached Smoked Egg with Porcini Mushroom and Green Pea Crème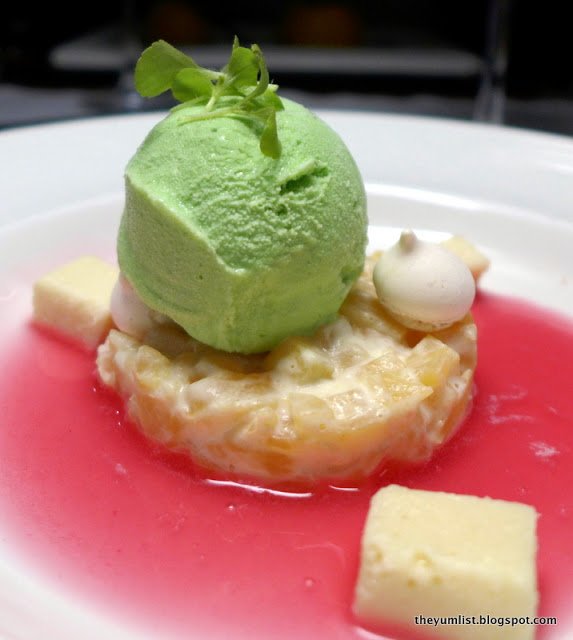 Red Orange with Grapefruit and Pineapple
Hubby has chosen a protein packed nosh, starting pleasingly with the Sous Vide Cooked Free-Range Chicken. Seasoned with minted avocado, garlic and soya-ginger jus, he declares this his favourite dish of the night. Australian Black Angus Tenderloin with Mushroom Cream is too a flavourful plate. Braised beetroot, goats' cheese ravioli, celeriac mousse and truffle jus provide decoration that is both attractive and toothsome. Lover-of-all-things-creamy, hubby is gratified by a light aerated Mango and Yoghurt Cheesecake with a refreshing ball of Mango Sorbet to complete his menu.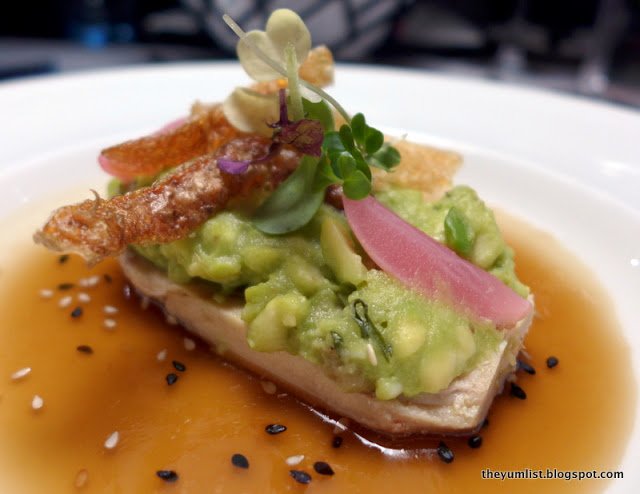 Sous Vide Organic Free Range Chicken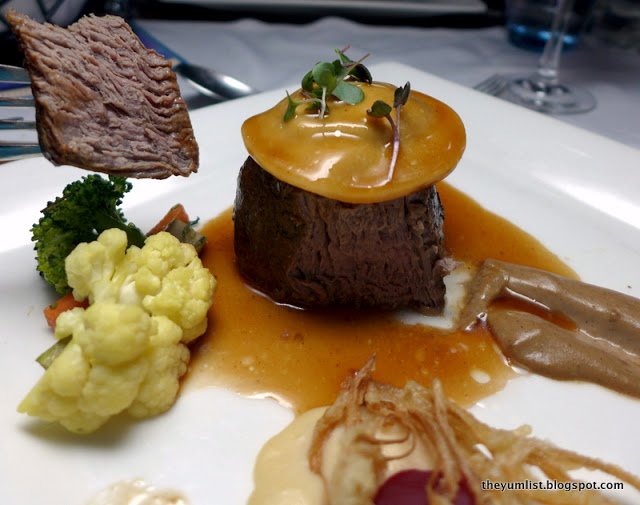 Australian Tenderloin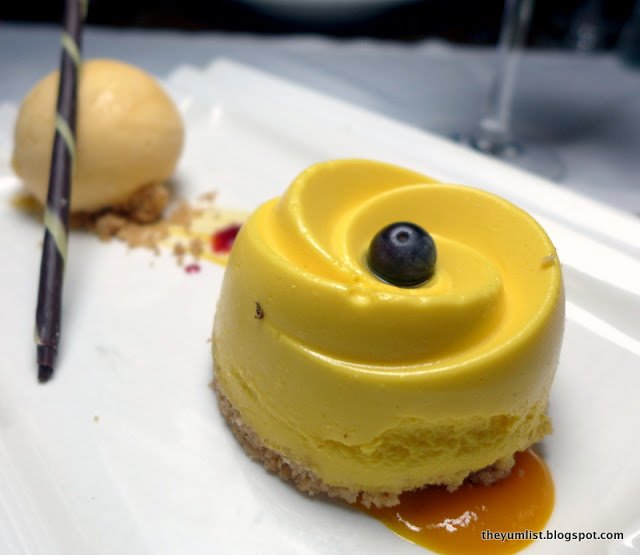 Mango Cheesecake
Boarding of the Bateaux Dubai begins at 7:45pm with the vessel departing at 8:30pm and returning at 11pm. Summer Rates, valid until August 2015 see the four course dinner with unlimited soft drinks priced at AED 295, and the meal with unlimited house beverages at AED 395. While there are a number of different cruise companies operating along the creek, Bateaux Dubai is top of the line, and as such in high demand, so advance reservations are a must.
Reasons to visit: a fantastic way to see the sights of the historic lifeline of the city in comfort and style; sound sustainability practices; delicious menu with an extensive range of vegetarian options and gourmet delights; comprehensive drinks menu.
Bateaux Dubai
+971 4 814 5553
www.bateauxdubai.com/
Bateaux Dubai is moored in Deira side of the creek, further down the Banlyas Road, opposite the ENBD head office.