Kirsten Durward and Monica Tindall
It's at times like this that I reflect on the diversity and contrasts easily found in Malaysia, this morning found us gazing at the sea over the Malacca Straits, tomorrow I will be feasting from street stalls, but tonight we are seated high in Petronas Menara 3 with an eagle's eye view of the city scape. The sun is just beginning to sink between the hills to the west, lighting up the cloudy sky but for now we still are enjoying the sense of space inside what must be one of the world's most recognised restaurants. I know it is a little silly, but as an early De Niro fan I'm so excited to be invited to Nobu and as an avid foodie I am over the moon to be tasting a specially curated omakase set in this global brand with a reputation for innovative experimentation with Japanese cuisine.
Looking Down
For those not 'in the know,' Nobu is named for Chef Nobuyuki Matsuhisa, a Japanese Peruvian chef who was 'discovered' by Robert De Niro when he visited Nobuyiki's personal restaurant in Peru and became very excited at the fresh, simple quality of his food, bringing a slightly Latin spin to classical Japanese cookery. It took some years, and professional and personal challenges for Nobuyiki to be persuaded to move to the USA and collaborate with a team that also included restaurateur Drew Neiporent, but the result is now foodie history. The original restaurant opened in New York in 1994, and the Nobu story and character has spread around the world, including, most recently Kuala Lumpur. The spin is that Nobu personally hand selects the chefs who will be trained up to oversee each new branch, and while there are standard signature dishes, the chefs at each Nobu branch also create their own recipes within the parameters of the contemporary and refreshing style.
Private Room
And this is why we are here tonight, to taste the latest Celebration Omakase menu created by Executive Chef Philip Leong and his team. The menu is available exclusively from July 17th till August 18th, priced at RM 450++ per person, so book soon to ensure that you do not miss out.
Edamame
Omakase is a Japanese term that means "I'll leave it to you" from Japanese "to entrust," and as such, the customer entrusts the chef to serve up dishes of his choosing. Traditionally it would have meant focusing on what was fresh that day, but increasingly omakase menus at high end restaurants are specially curated for short amounts of time.
Sushi Bar
Sushi Chef
The first exquisite trio of dishes is a Sushi Bar Moriawase, featuring one of Nobu's signature delights, Toro (Tuna) Tartare. We are given a tiny spoon with which to scoop up this double mouthful of incredibly soft minced tuna and its topping of salty caviar. Monica is instantly in ecstasies over the Momo Kochan (mountain baby peach) which is served as a palate cleanser. The second dish is Botan Ebi, sweet prawn, just lightly seared with ginger, in the new barely cooked style, and we find the texture to be very creamy and slippery.The trio finishes with Unag-Kyu Tosazu; slithers of freshwater eel caramelised with a slightly sweet tosasu sauce with translucent slices of cucumber a little crunchy kelp and finished with sesame seeds. It's a delightful mouthful which allows for the smoky taste of the eel to be enjoyed without being overwhelming.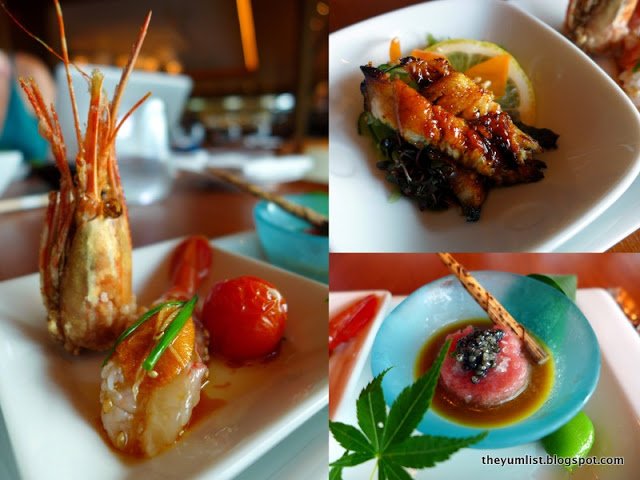 Sushi Bar Moriawase
Four types of classic Nigiri follow this trio of taste sensations. As would be expected for a brand of this quality, the fish is very fresh, clean and well cut. Mix as much wasabi as you care to in your dish of soya sauce: Monica and I both like it on the spicy side. It is worth casting a glance at your bamboo chopsticks between mouthfuls, and you will note that each of them is imprinted with the Nobu logo.
Nigiri
A generous bed of friseur sits in a glistening green sauce, bearing succulent slices of lightly seared salmon in the Salmon Sashimi Salad. One might expect the sauce to be seasoned with nose clearing wasabi, but in the Peruvian twist to this dish, it is actually a gentle hint of jalapeño that hits the back of my throat. A very delicate dish and one that is typical of the blend of the two great cuisines that Nobu has become known for.
Salmon Sashimi Salad
I have to take a moment or two just to admire the presentation of the next dish. The plating could not be more perfect for a Raya celebration, being reminiscent of the shape of the new moon and  having a fresh, colourful, arty feeling to it. I absolutely adore the way we are asked to start this course, with the novel suggestion of a spicy lemon ceviche shooter to the side of the dish. The warm citrus tones instantly stimulate the taste buds, preparing them for more delights to come. Regular readers will know that I love fish, but genuine Chilean Sea Bass is surely one of the most delicious fish to be found in the world. Breaking open one of the fulsome pieces in the bowl I take a bite of sumptuously buttery flavoured fish; the lightly crisped potato starch coating adds a wonderful contrasting textured crunch. Combining the next mouthful with a touch of the colourful grapefruit ceviche scattered throughout, creates another level of taste sensation, and for a couple of minutes there is unusual silence at our table as we both eat with complete focus and appreciation before smiling in synchronicity at our enjoyment of this completely original, very refreshing and totally satisfying combination.
Chilean Sea Bass Kara Age
The final savoury course to our menu comes in the form of Wagyu marinated with ginger miso, you just know I am going to say I love the ginger. Actually my personal preference is for strong bold flavours but this concoction is so delicately more-ish that it literally has us moaning with pleasure as slim slices of beef almost melt in our mouths. The soft textured meat has a slightly sweet overtone, then a hint of heat on the tongue finishing with the roundness of coconut, keeping us forking back for more. Accompanied by a crazy crisp salad of baby spinach topped with ikura, this dish just keeps giving and giving. The slender crisps of spinach flake on the tongue, boosted by the salty pop of fat pearls of roe. The chunky chips are actually bamboo shoot marinated with dashi, a taste that is hard to pin down; a slightly salty fibrous crunch, but not too much so. Mysterious is the best way that I can describe it.
Wagyu Ginger Miso
After all the delicate taste combinations a simple dish of quality chilled Soba noodles cleanses the palate and perfectly prepares for the flavours of the Oiwai dessert. The shisho (Japanese mint) and mango sorbet instantly impresses us both with its firm yet gooey texture, and intense flavour notes. However tempting it may be just to continue scooping this up, we are firmly told that all components must be tasted together in order to appreciate the full range of the dish, and so I combine a forkful of the light coconut sago jelly together with tiny cubes of mango sponge, fresh mango and the aforementioned sorbet and agree, with admiration that this is a delightfully balanced dessert.
Soba Noodles
Oiwai Dessert
If you are someone who appreciates the highest quality ingredients, combined with imagination and served with a humble panache, you should certainly step up and taste this menu as you won't get many chances in life to taste food quite like this.
Reasons to visit: impeccably presented dishes, innovative taste sensations, incredible city views, friendly and welcoming service.
Nobu Kuala Lumpur
Level 56 Menara 3
Petronas Persiaran Kuala Lumpur
City Center 50088
Malaysia
+603 2164 5084
Nobu Kuala Lumpur is open Mondays to Saturdays
Lunch from 12.00pm to 2.00pm
Dinner from 6.00pm to 10.30pm