Bordered by a beautiful golf course on one side, and white sandy shores and serene blue sea on the other, I already feel calm and at ease, ready for an afternoon of pampering, at The Spa housed in the JA Jebel Ali Golf Resort.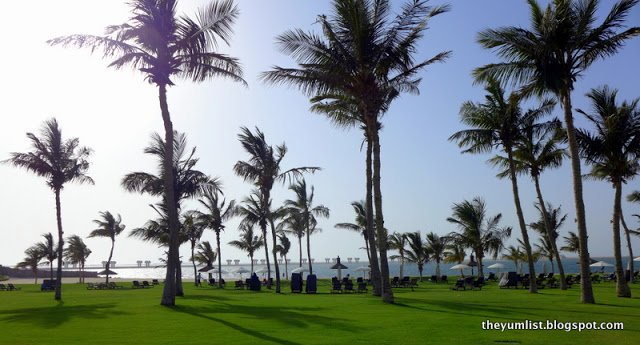 Beach with Garden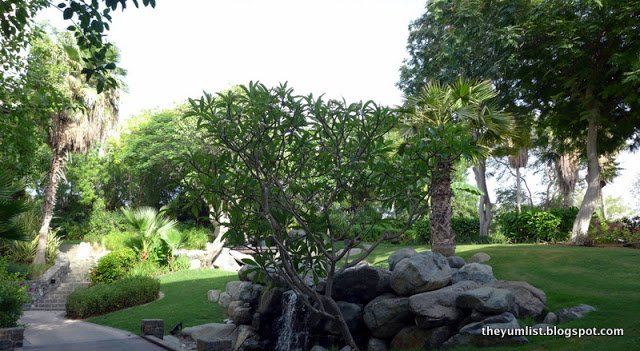 Greenery
Golf Course
Modern design, complemented by distinctive Arabic warmth welcomes guests in ten treatment rooms, a traditional Hammam, changing rooms, a ladies' only majlis, relaxation lounge, spa boutique and range of wet amenities including a Jacuzzi, steam room, sauna and high pressure showers.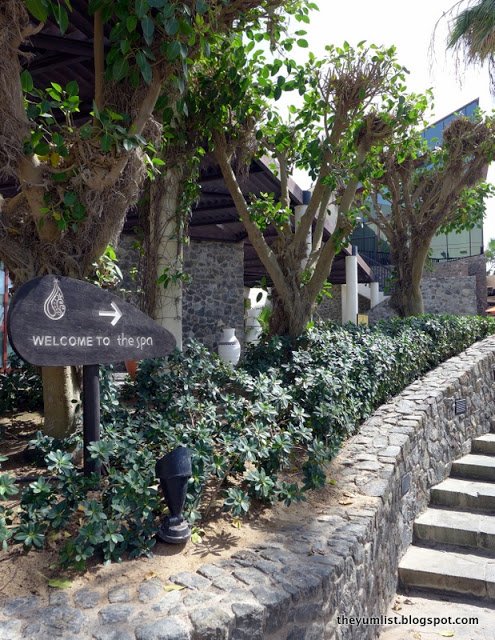 This Way to the Spa
Eastern and Western holistic therapies combine to form an extensive menu of over 40 face and body treatments. I note the well-reputed Elemis skincare range used in many therapies, and both European and Asian techniques infused into a number of massages, wraps and scrubs. During this sweltering summer period in Dubai, an afternoon in the spa is the perfect activity for escaping the heat, and as such, we're booked in for a few hours of relaxation.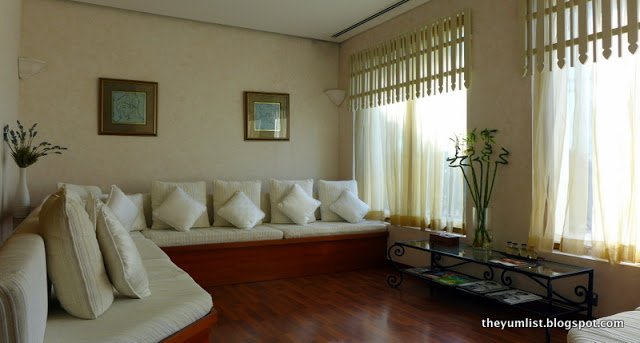 Waiting Lounge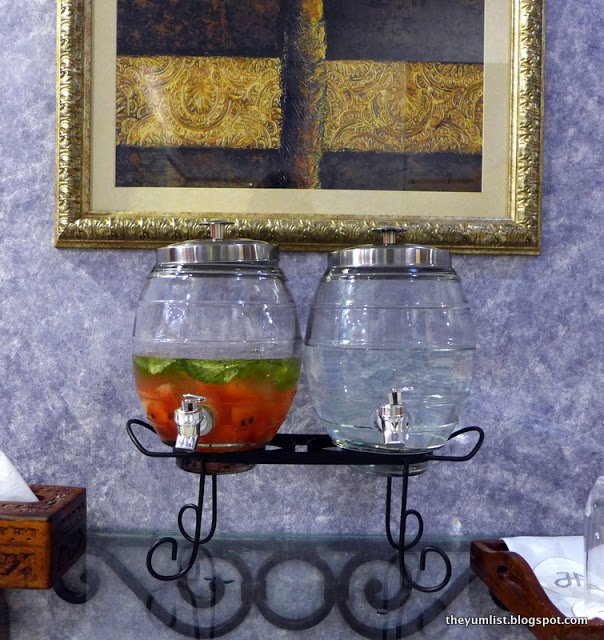 Fruit Infused Water
Arriving 15 minutes before our scheduled appointment allows us time to sign in, consult with our therapists to ensure individual needs are catered for, and to enjoy a light beverage before we begin. Spa robe and slippers are provided, as are lockers to store our clothes and bags.
Easing of stresses and a healthy glow to the skin is promised with The Spa's Signature Ritual of three hours. Massage, facial and body scrub combine to relax and rejuvenate mind and body, and this is what I've signed up for this afternoon.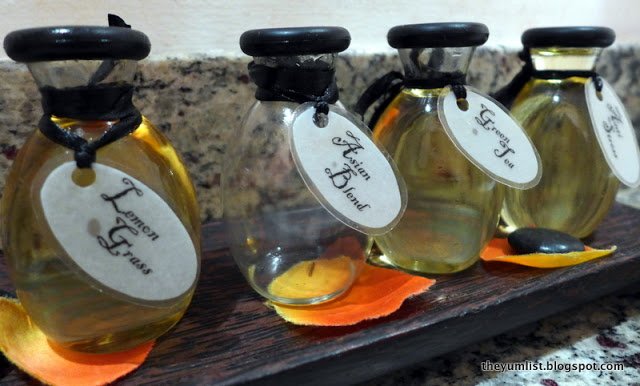 Choice of Massage Oils
Gentle tai-chi movements are combined with a stimulation of the pressure points, European technique and the uplifting scent of eucalyptus in the Jebel Ali Signature Massage (75 minutes). My female therapist is goal focused in her strokes and pressure, adapting to my response, and changing ever so slightly her force as she comes across knots or sensitive areas. Deep muscle tissue is reached but it's not painful, and I float into an unfeigned bliss.
While there are a handful of facials on the menu, the Elemis Skin-specific Facial Treatment (60 minutes) is the most adaptable to individual skin needs and as such makes a perfect complement to a spa package. Carefully analyzing my complexion, pore size, level of oiliness and sensitivity, the most suitable products are chosen accordingly. Again my therapist shows skill and obvious training as she cleanses, exfoliates, tones and moisturizes my skin.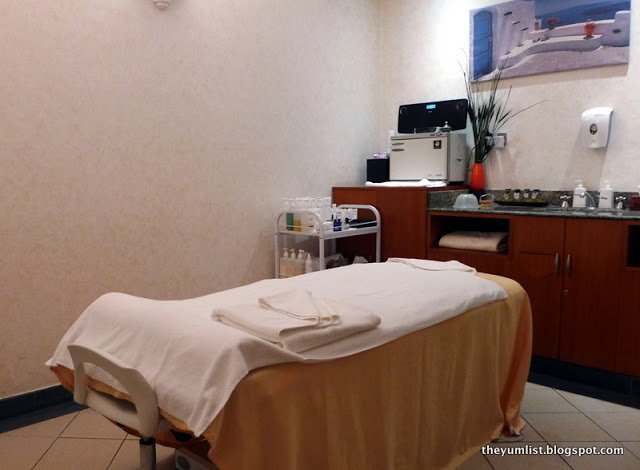 Massage Room
Deep cleansing and a softening of the skin is the noticeable effect of the Elemis Lime and Ginger Salt Glow (45 minutes). Scrubbed from head to toe with the citrus and mineral paste, I shower, removing any remnants of the product, before being covered in an exotic flower body lotion. After living for so long in the tropics, Dubai's dry heat has really taken a toll on my skin leaving it dehydrated and a little flaky. After this session however, my skin's surface is baby bottom smooth and soft.
Meanwhile hubby has been luxuriating in a facial and the use of some of the facilities, including the wet amenities and relaxation lounge with refreshing beverages and light snacks. Lucky he has remembered his swimwear, as any treatment in the spa entitles guests to complimentary access to the steam room, sauna and Jacuzzi. After his facial he leisurely makes full use of the services, reporting them of high quality and even nabs a few photos as examples for the management committee of our own condo back home.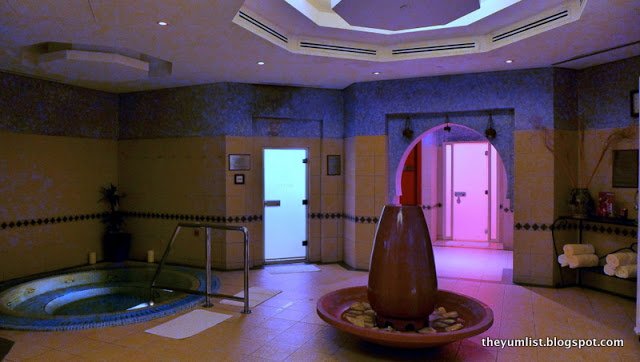 Wet Facilities
His Elemis Men Skin IQ Facial (75 minutes) sees a cleansing, toning and moisturizing of the skin, finished off with an eye massage and mask, a relaxing foot pummelling and de-stressing scalp manipulation. The products used are especially designed to counter the effects of a busy modern lifestyle, as well as defend against the taxes of shaving and everyday environmental damage. Hubby's happy with the results. He even forgets his initial hesitation at having a male beauty technician work on his face, and has nothing but praise for his professionalism and skill.
The conclusion of our visit is timed superbly to coincide with the commencement of sunset. The day's heat is starting to lose hold and we exit The Spa, rejuvenated and ready to explore Dubai at night.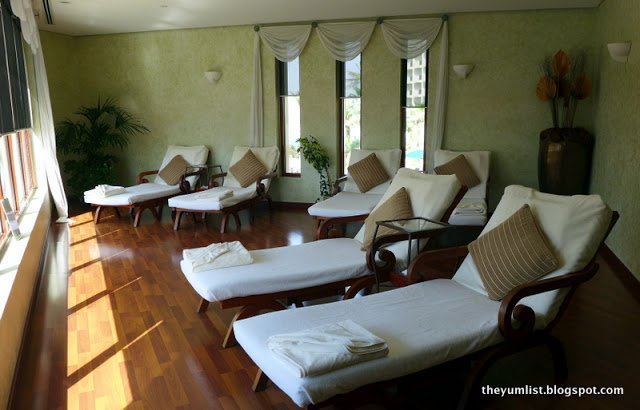 Relaxation Lounge
Reasons to visit: a comprehensive menu of treatments; well-trained therapists; high quality products; a perfect escape from Dubai's mid afternoon heat.
The Spa at JA Jebel
Ali Golf Resort
PO Box 9255 
Dubai, United Arab Emirates
+971 4 814 5555
 * All spa treatments are performed male to male, female to female, as instructed by UAE law.