Eugenie Chan and Monica Tindall
Compared to its neighbours, Garage 51 is immediately set apart with a bold exterior mural that just draws you to it. With an up-cycled interior, tonnes of natural light, great service, and food made with fresh ingredients – there isn't much more to do than relax and ponder life uninterrupted. Two hours went by in a jiffy with The Yum List crew as we sat and chatted to co-owner, Choong Kar Heng.
Having been in the business since 2011 with the flagship Coffee Société at Publika, they now have three other outlets – Garage 51, Underground Sociéte (In the same area as Garage 51) and Procaffeinating (The Roof, 1 Utama).
Delving into why things are a certain way is a
real past time of mine,
and I uncover 7 things you didn't know about Garage 51. Here goes!
#1 – Stylish Interiors Can Be Ethical
Influenced by design and development studies in Australia, Kar Heng (who designed all the Coffee Société outlets) couldn't help but put his beliefs into practice – saving the environment in the process through up-cycling. From the tables, to sofas, from the kitchen, to even the display cabinet, he shows that everything can be given a second chance to shine. Free ideas to takeaway.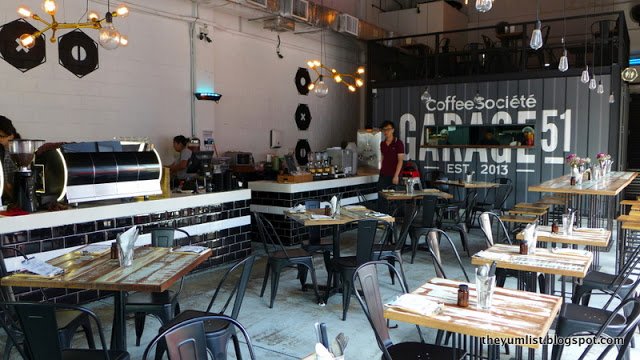 Garage 51
#2 – It is THE Place to Discover Coffee.
If you've never really liked coffee, this may change your mind. For those less fond of coffee, the owner recommends starting your foray into this wondrous world by opting for something with a syrup or flavour in it. An excellent choice for any novice would be the oh so delicious… Mochatella (RM 16.90). An unceasing sense of creamy pleasure is derived from every drop, owing to the clever 'Nutella and coffee ice cubes' which are, in my opinion, beyond superior to any other method of cooling down a beverage. So tempting to just pop those cubes into your mouth directly!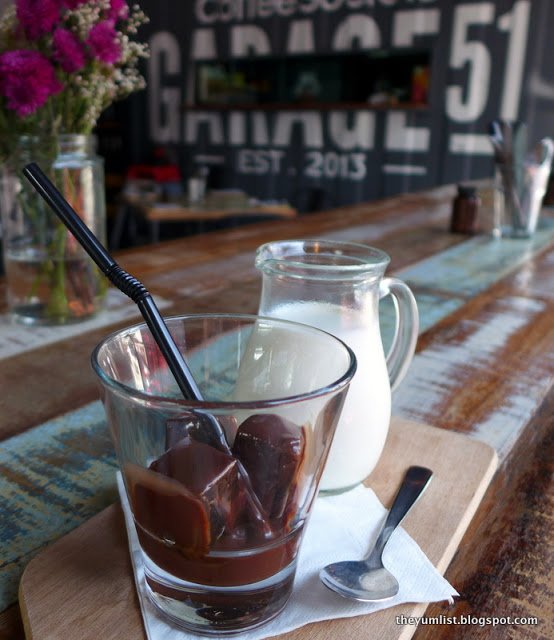 Mochatella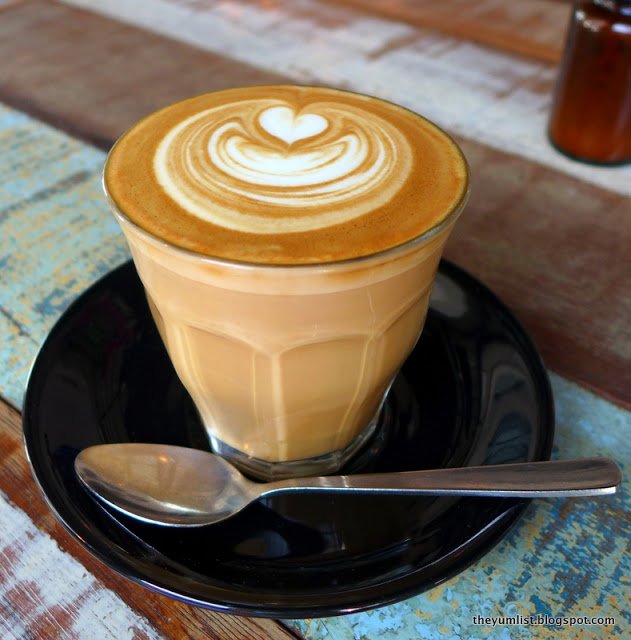 Latte
#3 – Magic, Teleporting Coffee Beans
"I don't get it… why are Single Origin Coffees so expensive? I mean all coffee is picked, sorted, roasted… same amount of work, isn't it?" I naively voiced out loud.
Well, turns out, perhaps this Specialty Coffee (Single Origin), Kenya AA Tatu Estate Rainforest Alliance (RM16.00) is a bargain.
Every Single Origin coffee has a story to tell. It truly is an instant teleport to a single geographical location when you close your eyes, cup the coffee (this means placing your hand over the top of the beverage with your hand in a 'cupped' position and taking a long, lingering inhalation of the vapour) and smell the aroma. Then with your first sip, savour the different tastes on your palate. I highly recommend having your eyes closed and letting your imagination run free with the images your mind conjures from just the scent.
In this case, we were immediately taken to Kenya, up in the hills, where the best coffee grows. AA refers to the grade of this particular bean, which is of the highest possible quality. Tatu Estate is the exact place you are smelling and tasting; and Rainforest Alliance is the group that takes care of this precious land – ensuring the soil, air and general environment remains unchanged to preserve the taste this coffee absorbs (a bee farm or apple trees nearby?).
Another example, which has Kar Heng on the edge of his seat is the Ethiopia Yirgacheffe Galena Abaya (RM16.00). Ethiopia has an incredible history, a place where some of the earliest humans were discovered, and a land revered by Ancient Egyptians. Yirgacheffe is the name of the town this coffee grows in, and Galena Abaya is the co-operative that purchases the beans from individual growers in the area. This group of people ensures that the beans are fairly traded (ie. the farmers are getting paid decently), they also wash and clean the beans, then sell the green beans to the coffee roasters.
Unlike conventional coffees that are perhaps roasted in huge drums, more manual work is involved in roasting these special beans. They are done in small batches, where humidity is constantly measured to help preserve these priceless flavours. It's then sealed, then transported all the way around the world to us. Of course, the final destination, Garage 51 (and Coffee Société) then has the responsibility of storing these beans in the right conditions, and to NOT screw up the grinding and brewing.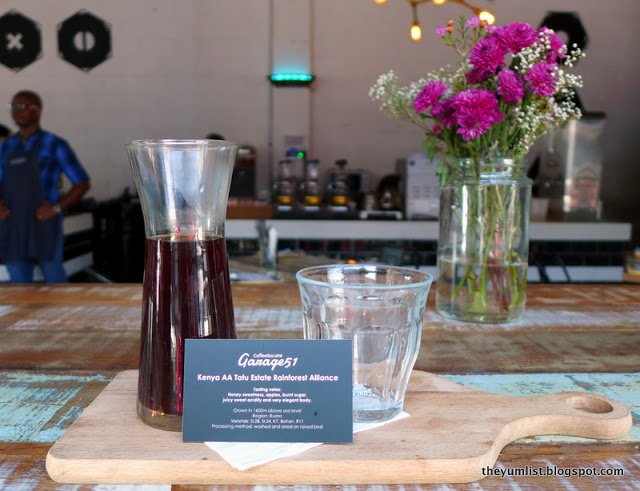 Specialty Coffee
#4 – Consistently Good Cuppas
Single Origin coffee was traditionally hand brewed – this involves the barista grinding the bean, weighing it to the precise grammage, using the best tasting water, at the right temperature, at the right water flow speed to get this right… Many elements of human error opportunities arise here, which is why the owners have invested heavily in very special machines (award winning Gold Cup) to churn out consistent single origin coffee brews, with minimal wastage. Some baristas left as they felt they could not show off their 'skills', but for the owners, it's about respecting the bean. Don't worry, the art of hand poured coffee is not extinct, the Ethiopian one, for instance is not suitable for the machine, and has to be done manually.
Anyway, this Ethiopian coffee smells of flowers and tastes like berries… I mean… it really isn't the "bitter" coffee many assume it to be. Another cool fact is that since these beans are 100% Arabica (highest grade, grown in high altitudes), it tends to have less caffeine in it (no heart palpitations for me, yay). On a separate note, the blend they use for all their other coffees are also 100% Arabica.
In a nutshell… Single Origin coffee is RARE, it TELEPORTS you to amazing, exotic places… and it's a freaking miracle you can get it in Malaysia. Thank you Kar Heng!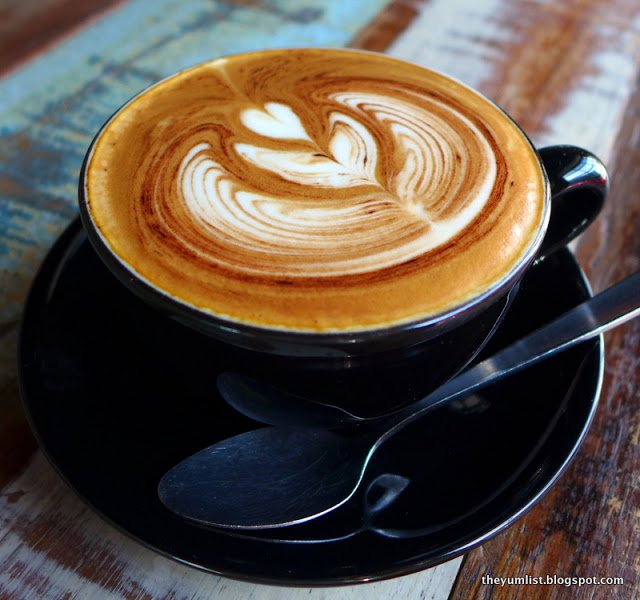 Cappuccino
#5 – The Kitchen (and Owners) Values Whole Foods
Kar Heng clearly loves avocado and salmon, which makes their Smoked Salmon Sandwich with Fries (RM22.00) his favourite on the menu. I really liked the Couscous with Chicken Piccata,  Avocado and Crispy Poached Egg (RM25.00) which can easily become a gluten free item with some minor changes (get them to grill the chicken, and just serve a normal poached egg!).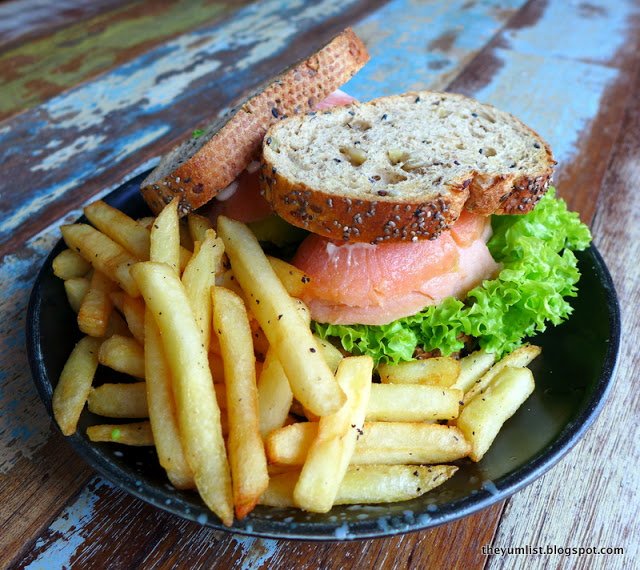 Smoked Salmon Sandwich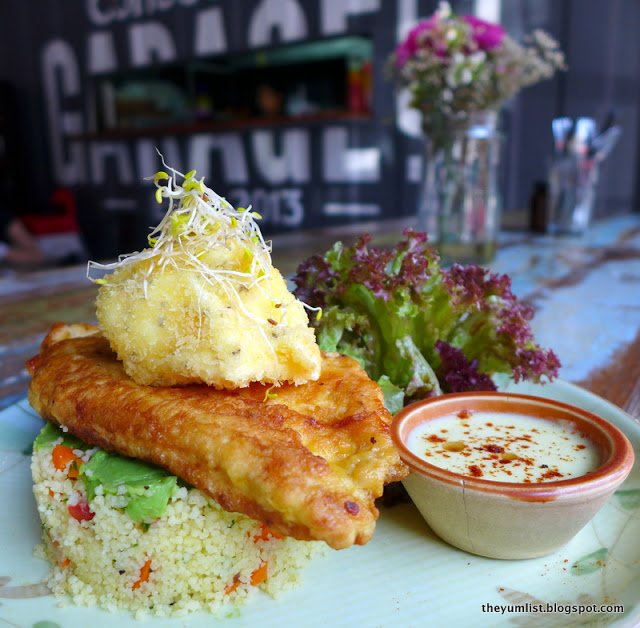 Chicken, Poached Egg, Cous Cous
I love that this kitchen values whole foods, and I reckon I could eat here everyday (FYI they have RM10 lunch specials on weekdays!). Panini with Grilled Chicken, Avocado, Oven Baked Egg Fritata and Hollandaise (RM25.00) and Australian Beef Tenderloin Aglio Olio (RM33.00) (only served after 6pm) were all scoffed down with no complaints – can't really go wrong with fresh, good quality ingredients.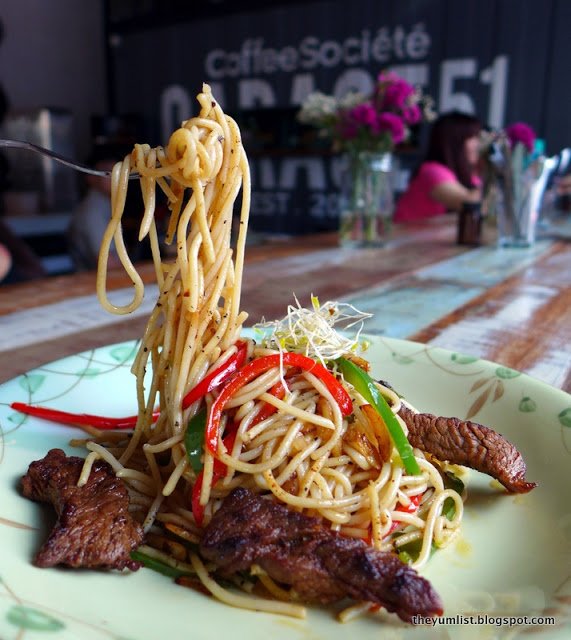 Australian Beef Tenderloin Aglio Olio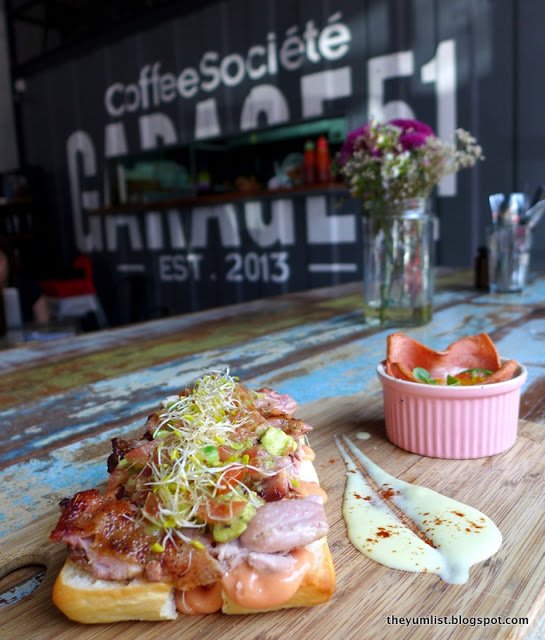 Chicken Panini
#6 – Their Desserts Have to Pass "Mum" Quality Control
If you want to try their mum's cakes, you'd have to go Coffee Société (near Publika). Unfortunately, despite all the pleading, they couldn't get their mum to produce more cakes. It was really difficult to find a good supplier, but they did, and it has paid off. I would make the trip to Garage 51 for the Caramel Affogato Cheesecake (RM16) anytime. In Monica's words "the flavours are very subtle. It has a mild sweetness from the caramel, but then a very faint coffee taste in the background, which doesn't overpower, it's just gentle and lovely". They are thinking of hiring a pastry chef, so we will check back with them, and perhaps they will be churning out single origin coffee cakes?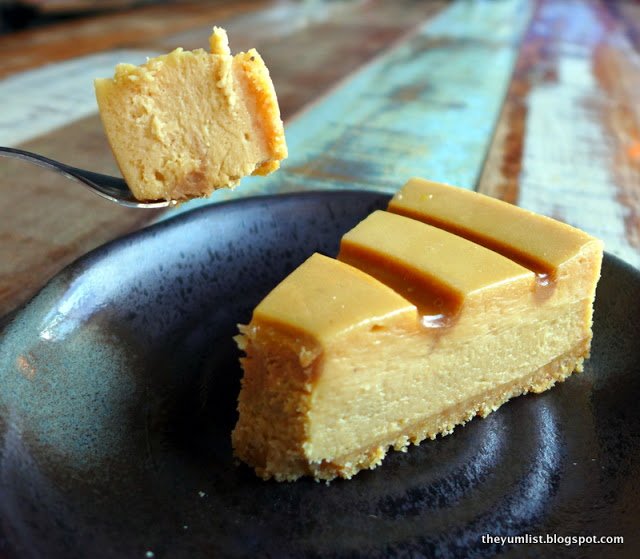 Caramel Macchiato Cheesecake
#7 – They Aren't Just Coffee Snobs
Never have the same beverage twice – you can sit here all day, and sample the vast range of choices. I love that they have the soy option… if you're an alternative milk snob, bring your own almond or other nut milks and they would be happy to accommodate.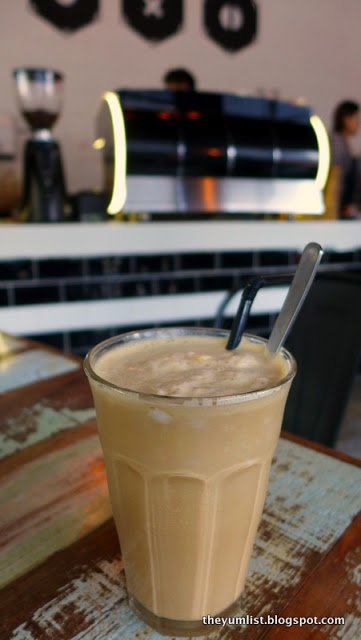 Garage Latte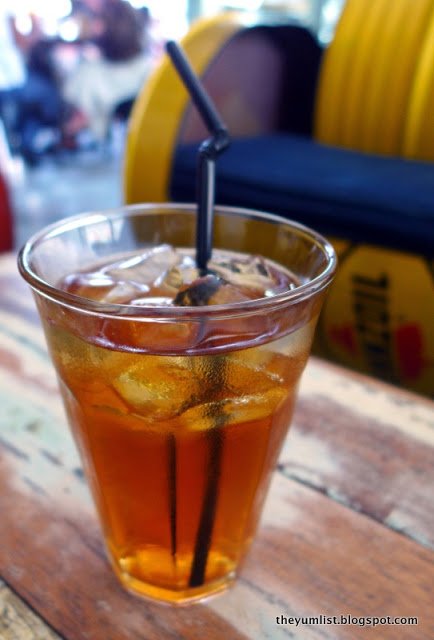 Apple Juice
Reasons to visit: Mochatella, Specialty Coffees, Couscous with Chicken Piccata, Avocado and Crispy Poached Egg, Caramel Affoggato Cake
Garage 51
51, Jalan PJS 11/9
Bandar Sunway
Petaling Jaya
Malaysia
No Reservations Required, Pork Free, Alcohol Free
Operational Hours
Tuesday to Sunday, 11am to 11pm (Closed on Mondays)
As business owner myself, I know running a successful business is never easy, especially when you're pioneering a movement! Job hazard as Suppagood PR Chief Angel, is that you can't help but want to figure out what works and doesn't.
Click here to read the lessons Kar Heng has to share
.