Kirsten Durward and Monica Tindall
A little known secret to savvy drinkers in KL, Nobu does delicious cocktails. And yes, you can visit just for a drink. The main restaurant has a delightful bar with incredible Twin Tower view, so close through the panoramic window, you really feel you can touch it. Any day of the week you can enjoy a classic or signature cocktail, and you might even be tempted just to try a little sushi too.  On Friday and Saturday night, however why not try the contemporary yet elegant Nobu Club Lounge with its neutral tones and golden light, coupled with dramatic city views? It reminds me of a Manhattan skybar – Sex and the City style, so I have no doubt this is a place to see and be seen as the evening gathers energy. And although the surroundings are infinitely more elegant than some other sky bars I have visited, it does not have to stretch your pocket. Nobu Club offers some wonderful high end liquor and stunning signature cocktails, but the Happy Weekend promotion is an absolute steal in this location. With house pours, bottled beers and exclusive Fruit Sake Fusion drinks at only RM 25 nett, I can think of few better places to start the weekend.  And continue it too, as Happy Weekend starts at 6pm, and continues all night. So that's hours and hours of happiness, not just one or two!
Nobu Kuala Lumpur Club Reception
Nobu Kuala Lumpur Club Bar
Nobu Kuala Lumpur Club
Although there is a range of delightful sounding bar bites, we had just come from dinner so were content just to nibble on the complimentary chips which arrive with all drinks. A mix of potato types, crisped rice and plantain, flash fried and dried you can never be quite sure what will end up in your fingers. I loved the Japanese purple potato. The Japanese seven spice and miso salt flavouring gives a slightly sweet, slightly salty and slightly spicy taste to the crunch. Be very careful, you could consume a lot of these light and crispy morsels.
Diplomatico – Premium Spirits Used in the Bar
Now, regular readers will be aware how much we love our cocktails but are not particular fans of the sticky sweet concoctions that tend to be popular amongst less seasoned drinkers. Well you can still choose a sweeter cocktail at Nobu, but I'm delighted to report that the signature cocktails we tried were original, flavourful, and delightfully well balanced. The mixologist here definitely knows what he is doing and I am eager to return to try out a few more different tastes.
Monica likes to joke that she has to taste the alcohol and with our first drink she gets her just deserts. The Matusuhisa Martini (RM45++) is named for Nobu San himself, and to bear that name it would have to be something special in the taste department. Slender cucumber circles float in a blend of  Ketel 1 Vodka, Junmai Sake and ginger. I can tell you I have  tasted several 'sakitinis' but nothing to rival this, which has the clarity of a true martini that I am always seeking, with a lovely hint of ginger just nudging the drink into the next level of delight.
Matusuhisa Martini
While the Martini left little to the imagination, the For Gin Sake (RM45 ++) proves a more complex drink, despite the simplicity of the name. We enjoy taking our time with this beautifully balanced long cocktail, served over oodles of crushed ice. The roundness of elderflower, sharpness of lemon juice, freshness of Shiso leaf and sweetness of grapes, all boosted by good measures of Hokusetsu Junmai Sake and Tanqueray Gin, making this another instant hit.
For Gin Sake
I see what Monica has wangled in the next drink. During our food tasting she was in ecstasy over the Momo Ko Chan (baby mountain peach) and this drink is bearing two of them. Sweet Devil (RM45++) is a play on the names of the alcohol components, sweet for the round Plum Sake and Devil for Devil Killer Sake (Onigoroshi). This is another delightful and fresh drink, that would be fabulous to try at any time of the day or night.
Preparation of the Momo Ko Chan
I just adore the presentation of the Suntory Sidecar (RM60 ++) centred on the large ball of ice that is sending up a little frosty air above the glass. I'm not a whisky drinker, plus I am Scottish so I am biased towards malts, but this is instantly my favourite drink of the evening. Poor Monica barely gets a sip, and for once I'm glad that Caning isn't around as I know I would be fighting him for it!  The smokiness of the Suntory whisky is clearly dominant, but the aromatic citrus tones of the yuzu fruit and the cheeky hint of Grand Mariner combine to make a drink so sensationally sippable as the ice slowly melts into the blend.
Suntory Sidecar
Happy Weekend Fruit Sake Fusion Special
I'm learning all the time with The Yum List, and I definitely learned something tonight. There are three different grades of Sake, and Nobu prides itself on only serving the highest grade where the rice is polished to 55% before being distilled. But tonight's tasting goes two steps further: the Hokusetsu Junmai Sake that is used for the Fruit Sake Fusion is exclusive to Nobu Club Lounge.  And the chilled fruit juice used to shake it with is made right on the premises. Although there are four flavours available, we try just two. The drinks arrive, fresh and foamy, I don't know when I last tasted something quite so chilled after Monica had her paparazzi session with it. It must be part of the process, shaken over ice. The drinks are delicious and really quite more-ish. We enjoy the fresh pineapple but agree the passion fruit concoction is to die for and would easily refresh us of a Friday evening after a hard working week.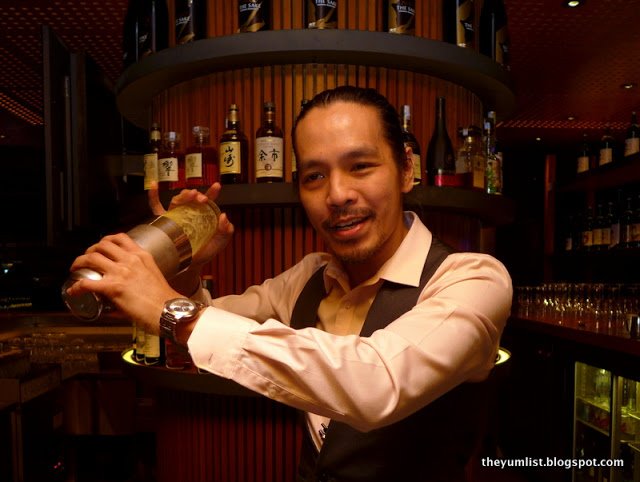 Bartender Ash Shaking the Fruit Sake
Fruit Sake
Remember, as well as the Fusion Special, Nobu Club Lounge offers house pours and bottled beers at the unbelievable price of RM25 nett every Friday and Saturday night. I honestly don't know what you are waiting for!
Table with a View
Reasons to visit: Fresh original cocktails, elegant surroundings, stunning city views, Happy Weekend promotion
Nobu Kuala Lumpur
Level 56 Menara 3
Petronas Persiaran Kuala Lumpur
City Center 50088
Malaysia
+603 2164 5084
Lunch from 12:00 pm to 2:00 pm (Monday to Friday)
Dinner from 6:00pm to 10:30pm (Monday to Saturday)
Club Lounge 6:00pm to 12:00am (Friday and Saturday)