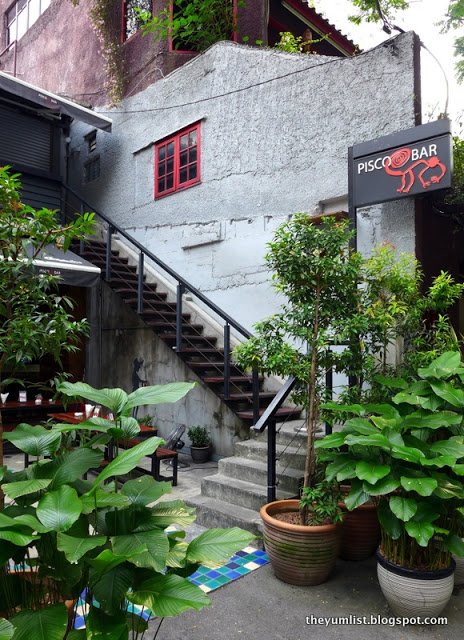 Pisco Bar, Changkat Bukit Bintang
Words: Kirsten Durward
Photos: Monica Tindall
Rapidly gaining a reputation for being innovative on the KL bar scene, Pisco Bar in Jalan Mesui is hosting quite the event for interested drinkers, tonight. A specialist mixology session focussed around a particular delicacy that Spain is famous for – sherry – the oldest wine in the world.  Slightly more powerful than table wine, sherry has been rather out of fashion for a while, but it is definitively making a come back. As well as being more educated on the whole tasting range from divinely dry Amontillado to the succulently sweet FX, mixologists are using this mellifluous fortified wine to boost flavour and melody in a range of cocktails. All of which makes me feel very vindicated for deciding to add Sherry to my signature Bloody Mary around 20 years ago!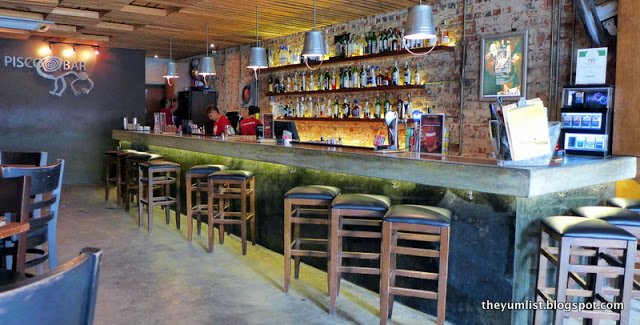 Pisco Bar
Guest Mixologist Alberto Martínez is a study buddy of Pisco co-owner and host Nico. Two engineers turned bar owners, should we hope this is a trend? Perhaps not for the future of the world, but definitively for the future delights of our taste buds. A veritable cocktail encyclopaedia, Alberto patently has a passion for history as his own bar, '1862 Dry Bar' is named for the year that the first book of cocktail recipes was ever published.  Only four years old, and as I hear, a tiny terrazzo, 1862 earned the enviable accolade of 'Best Cocktail Bar in Spain' for 2014. Alberto has made a study out of resuscitating forgotten classics and bringing subtle twists to modern favourites.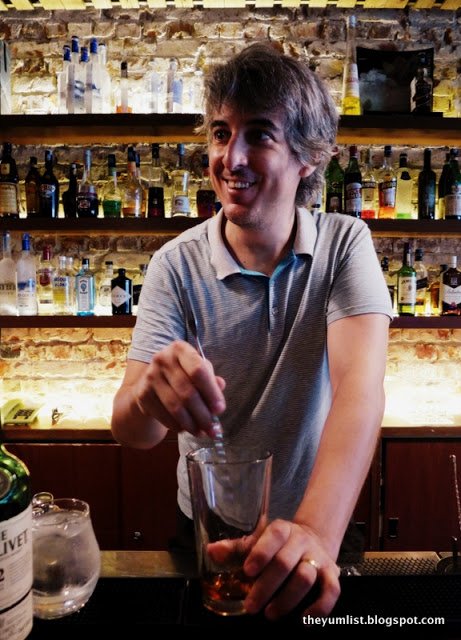 Alberto – Owner of Spain's Number One Cocktail Bar – 1862 Dry Bar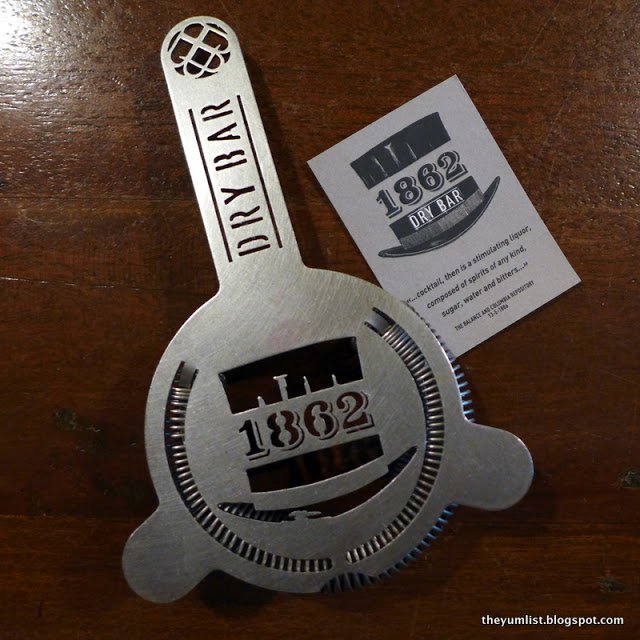 Tools of the Trade
The Yum List is able to exclusively reveal to you some of the delightful concoctions that will be flowing over the bar tonight. Yes, preview is a privilege that we savour, but only so as to keep you, dear reader, well informed about current delights of taste and temptation in our busy city. And don't worry, if you cannot make it tonight, for resident Pisco mixologist Matteo is also an expert with the taste combinations and invites you to try the constantly changing 'cocktail of the month' or even consider tailor made cocktails to your own taste preferences.
I'm learning my cocktail history tonight as we head back to 1895 to try an 'Adonis,' a drink originally concocted as a twist on the famous Manhattan, in a slightly less stringently strong style of drink. An insanely dry Lustau Olorosso is swivelled in a glinting glass, the viscous liquid clinging to the sides so well that Monica murmurs in appreciate of the 'legs.' The slightly pungent sherry is swirled with Martini Rosso and just a swizzle of lime juice before being shaken over ice and poured clearly.  We find it a full, fruity, but light and fresh blend, with a subtle lingering taste under the tongue, slowing mellowing into a sweet memorable afterthought.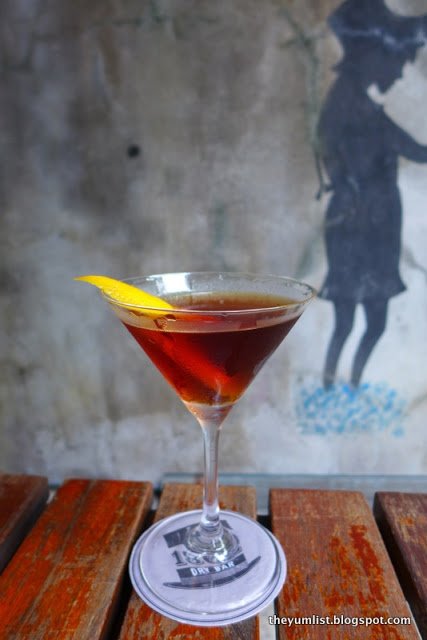 Adonis
We have to reach even further back in time to 1860 for the Sherry Cobbler, a drink that apparently made quite a stir when it appeared, being the first cocktail to feature a straw. I suppose 150 years ago it was terrible risqué for ladies to be seen sucking through straws in public places. This fruity concoction features two styles of sherry, a slightly sour tinged Lustao Amontillado and an ambrosial Lustau East India Solero, reminiscent of a very deep flavoured muscat. It's a drink on the sweeter side but without mouth adulterating stickiness that comes with some of the modern syrupy drinks. As the ice melts down a little it cools of and the fruity notes slither through. If you had the self control to sip it slowly it would be a beautifully refreshing summer drink.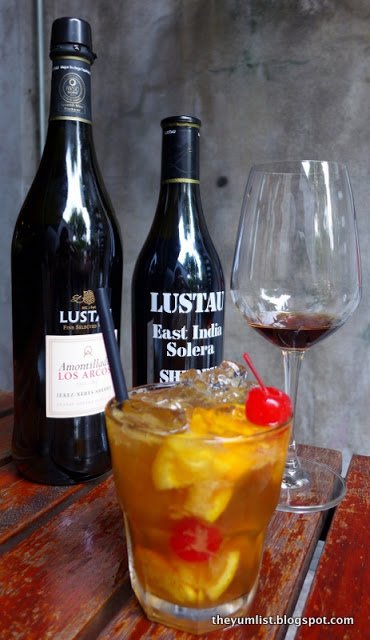 Sherry Cobbler
Alberto likes to invent as well as study the classics, so we continue now onto some of the signature cocktails from the 1895 drinks menu. The slightly salty, toasty notes of the Lustau Manzanilla is blended with Sake and St Germain (an elderflower tinged liquor from the mountains), being shaken over ice with a slender slice of pear and a twist of lavender. I can assure you this Asian Spirit is a deeply complex drink that is like nothing you have ever tasted before. The blend is something truly transcontinental and should appear to European and Asian taste buds alike.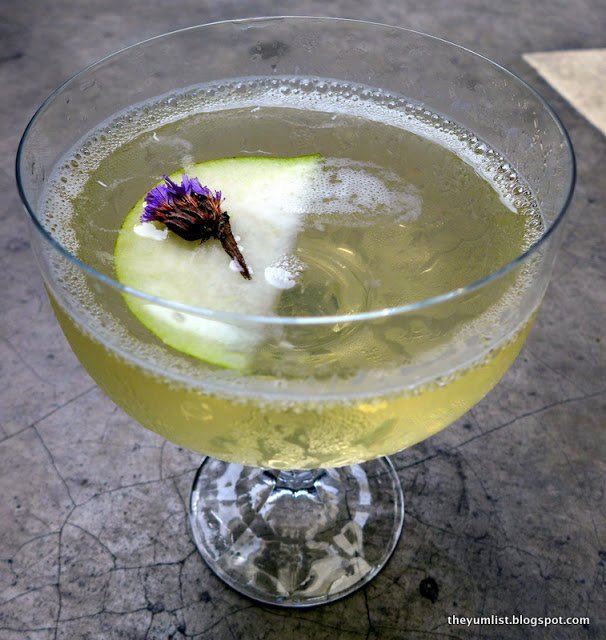 Asian Spirit
Fino con Sprite is a common drink in Spain, but an inventive brain can turn the common into something completely different. For a perfect summer drink that could almost rival Pimms for long refreshing sipping, Fino (FX) is poured over cracked ice with St Germain Elderflower liquor before being topped up with ginger ginger beer to add a little sizzle. At 17% the liquors are not that strong so this is a wonderful long drink if you want to make the night last longer or if you are a designated driver.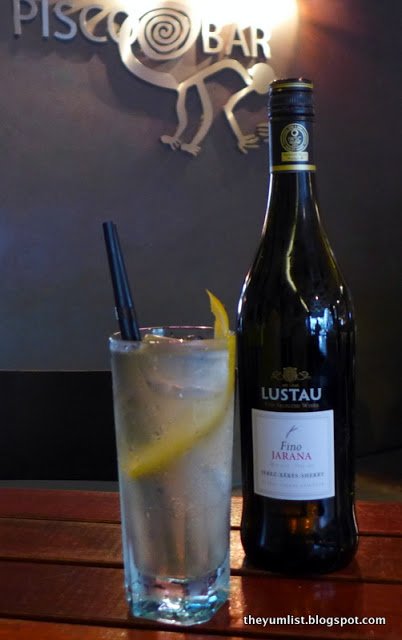 A Summer Twist
Where I come from in Scotland we often make a 'Hot Toddy' if there is any hint of a cold or a flu around, to keep the germs away! This is a delicious hot water infusion of lemon, whisky, honey (and if you are me, fresh ginger). I promise you it can cure any ill! Our next tasting is Alberto's summer twist on this traditional remedy. Honey is stirred it a tall glass before adding the 'base' of the drink – The Glenlivet 12 Y/O, then Lustau Olorosso and a dash of 'Punt e Mes' (an Italian aperitif that is similar to a vermouth). Caning is practically hanging over the bar in anticipation. This drink hits the spot for us being chock full of alcohol and not much else. Alberto has sweetened it slightly to account for local tastes, but it is easy to identify the different layers of flavours. I would never have thought of putting vermouth with whisky but with the mediating flavour of the sherry it definitely works.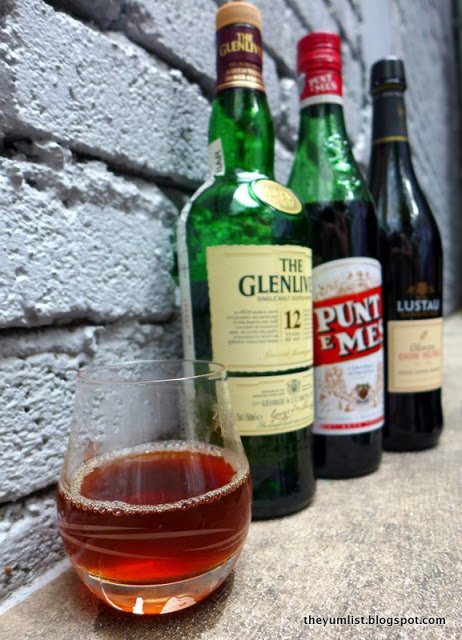 Cold Toddy
Something else I had not known, that Gin is made in Menorca. But it is true, and Mahon is the proof.  Alberto uses this for his take on a Gin Fizz. Luftau FX 'Pedro Jiminez is offered for a taste as the drink is built. 'Thick' he says and on tasting, somewhat like an alcoholic treacle. So here's my question, why would anyone choose to put syrup in a cocktail when they could put this instead? Just as sweet, but infinitely more resonant and flavourful!  And that depth and resonance really shows up when we sip on the drink (yes we are refined, thank you – to all of those who thought we were gulpers). Although it is a very light and refreshing long drink, the addition of the FX gives it a slight moodiness that is somehow very more-ish. And yet again it lingers in my mouth.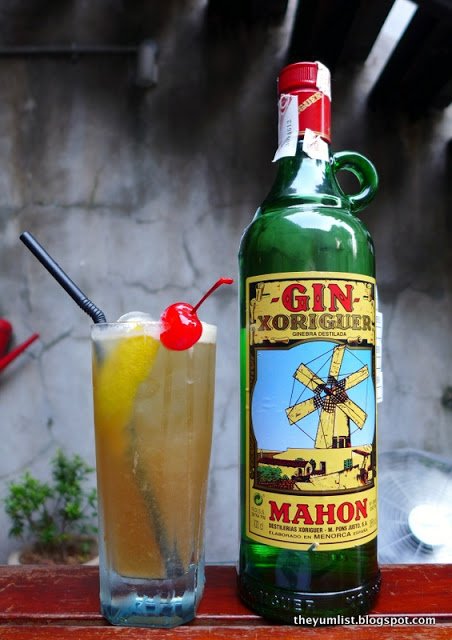 Gin Fizz
So there we have it, six very different cocktails; two incredible classics, and four original signatures. Once again, an innovative opportunity to refresh your taste buds, and even better, accompanied by the musical stylings of Rozz and Poova. Shame I have to work really! But If you cannot make it tonight, don't worry, as there is always something going on at Pisco.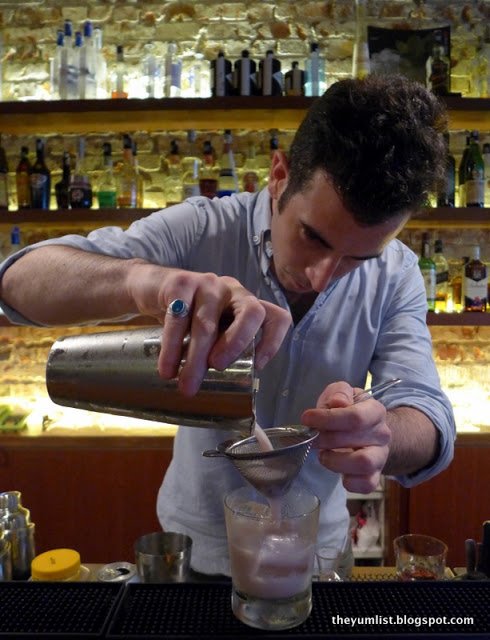 Pisco's Mixologist Matteo
How could you not love a bar that honours your National Day, by creating a drink that centres on the national flower of Malaysia. Hibiscus vodka, cherry brandy roselle tea and ice shaken with style then poured out foamily in a tall glass before being spritzed with a little lavender spray and adorned with the national flower of  Malaysia. As head mixologist Matteo put it, something light and sweet for the ladies! It's the cocktail of the month for August, and who knows what they will come up with in September and forthcoming months.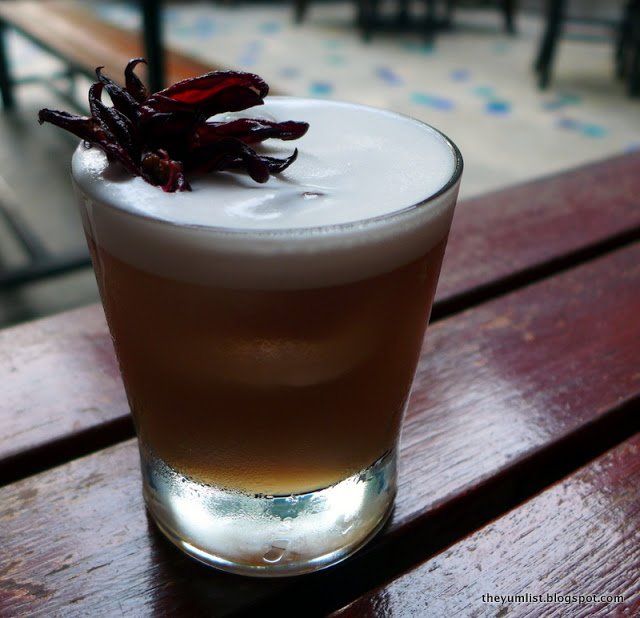 Cocktail of the Month
Matteo obviously has passion for creating drinks, for as soon as we tell him that we love something that is not so sweet, almost instantly a cucumber, gin and lavender creation is whisked up. Don't say The Yum List never pushes the limits! Freshly made cucumber juice with a tinge of elderflower, plenty (and I mean plenty of Bombay Blue Sapphire, kaffir lime and a lavender syrup is gently swizzled before being strained with a loving touch over ice. Lovely fresh and balanced with a medley of notes, the gin is there but not overpoweringly so. Tailor made cocktails are the best, says Matteo, as he can account for local or international tastes. Apparently this one is a hit.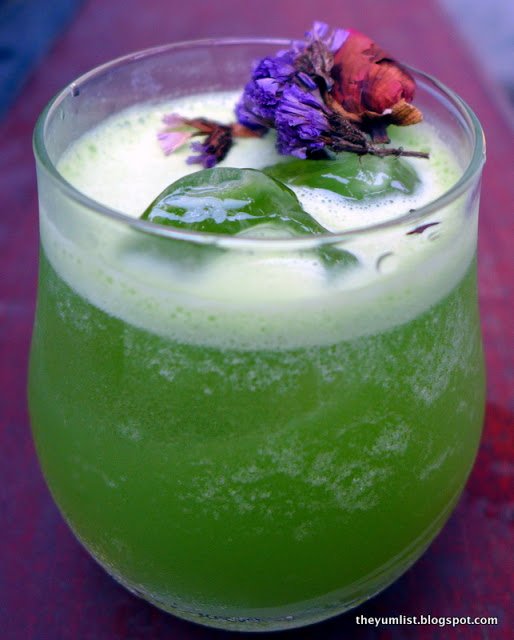 Custom Made Cocktail
Reasons to visit: fresh and funky cocktails in a delightful ambience.
Pisco Bar
29 Jalan Mesui
Off Jalan Nagasari
50200 Kuala Lumpur
Malaysia
+6 03 2142 2900