Google "best high teas in Sydney" and Shangri-La Hotel is bound to come up every time in the top three. Much of this fame can be attributed to the "punk princess of the pastry kitchen," Chef Anna Polyviou, and her contemporary take on executing all things sweet and petite with meticulous perfection.
We're here for the Traditional High Tea ($42), which includes tea, coffee or hot chocolate.
The bottom layer begins, as all good high teas should, with fluffy scones more on the moist side than crumbly. Buttermilk and Vanilla, and Buttermilk and Earl Grey Tea Soaked Raisin Scones allow the conservative to remain pleased, but give the adventurous a little intrigue to decipher. House made mixed berry jam and clotted cream make a classic topping.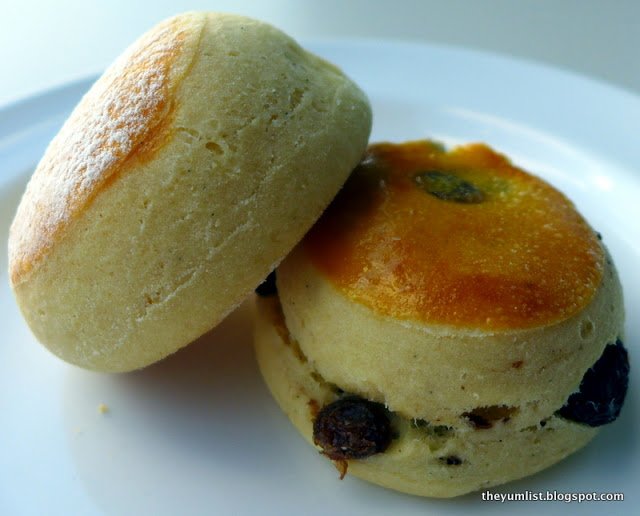 Scones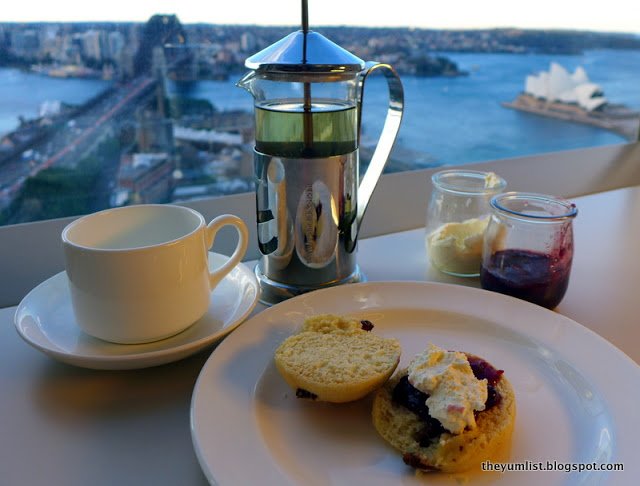 Scones and Tea
The savoury tier again supplies enough of the old-fashioned for the conformist, alongside some fresh slants to engage the attention of all partakers. Caramelized onion and goats' cheese tarts are crowned with quartered cherry tomatoes and baby basil salad. Encased in a light thin pastry, they're dainty bites of yum. Roast pork and Vietnamese salad gives a dash of Asian in a crusty baguette, while white bread finger sandwiches of chicken and celery root us back in custom. Soft rounds of wholemeal bread hold salmon, cucumber and cream cheese and salmon roe. All are fresh. All are delicious.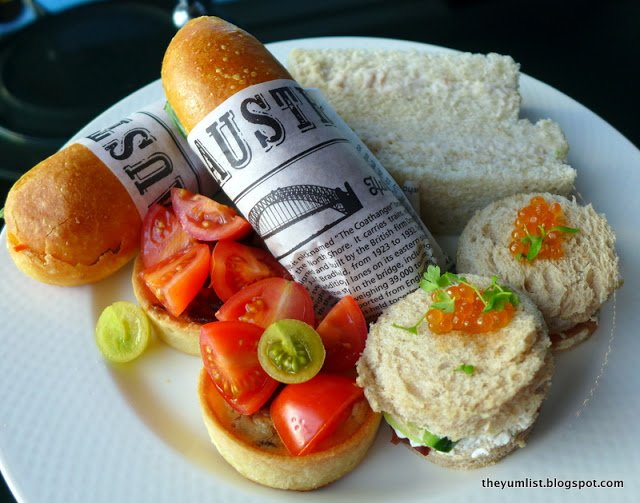 Savoury Tier
But it's the top layer that's worth saving for last. Pretty shot glasses of vanilla panna cotta, capped with raspberry jelly, biscuit crumble, mixed berries and mini yoghurt and strawberry macaroon make up the Berry Me. It's eaten with teeny spoons just the right size for scooping up elegant toothfuls.
Sweet Layer on the High Tea Set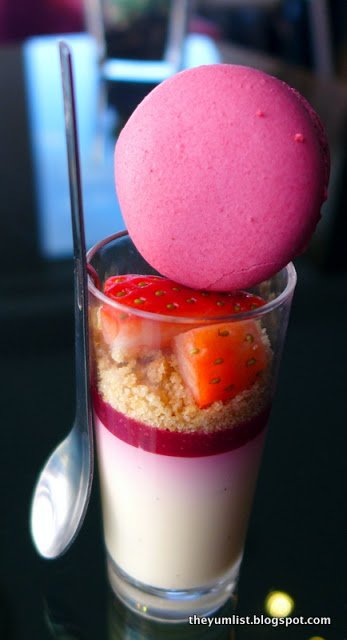 Berry Me
The Tropic-Anna turns out my most adored dessert on the tray.  A coconut dacquoise supports white chocolate discs, coconut and Malibu crème, tropical fruit compote, popping mango pearls and baby coriander. Even after swallowing, the coconut base leaves delicious bits that are keenly removed from the teeth grooves with the tongue with a lingering desire to continue the experience.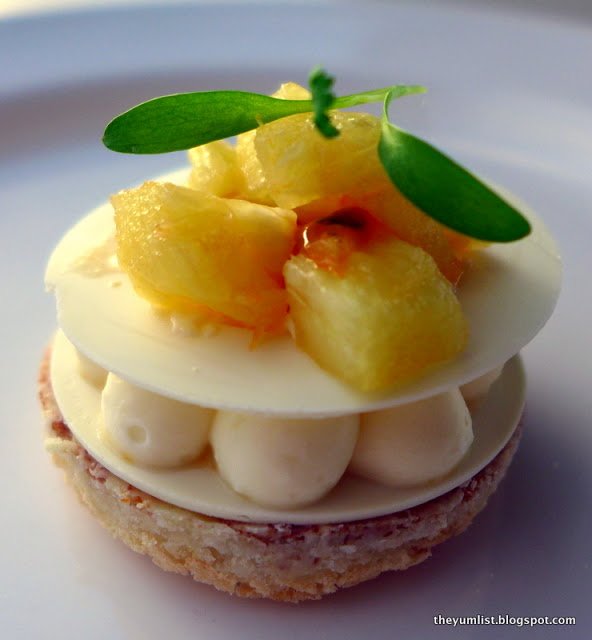 Tropic-Anna
A rhubarb sauce sultrily sits atop and soaks down into the dense ginger cake base in the Rhubarb and Ginger Pudding. An oval of whipped cream balances on top with micro greens delicately laced across the edges, and a wicked vanilla custard in an eye dropper awaits a little interaction with the eater.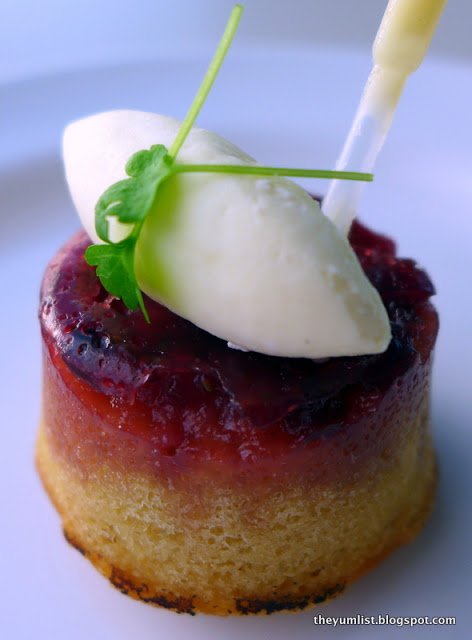 Rhubarb and Ginger Pudding
The infamous Carrot Cake, the one of Master Chef stardom, completes the set. A carrot cake support layer holds a rice bubble and hazelnut crunch, apricot and carrot jelly, two stratums of aerated praline cremeux and a final coating of caramel glaze and yellow graffiti. Finished off with orange and milk chocolate discs, it's a complicated piece, visually, texturally and flavour-wise.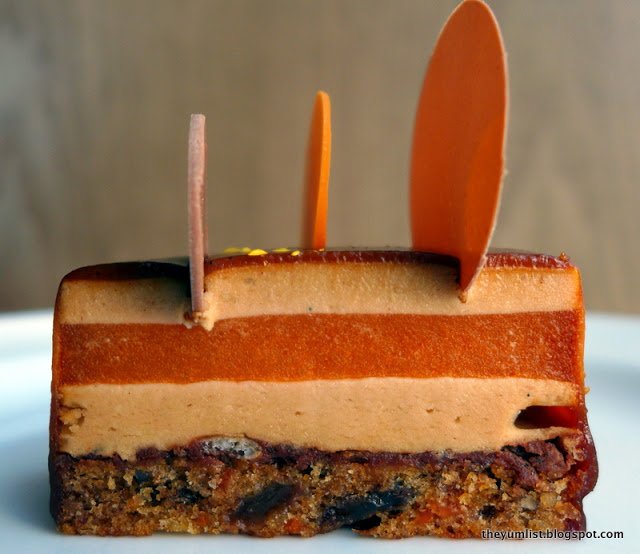 Carrot Cake
Beautiful surrounds, gracious service and one of the most recognized high teas in the city: what's not to love about a sweet afternoon at the Shangri-La?
Reasons to visit: three tiers of scrumptiousness in the Traditional High Tea
Lobby Lounge
Shangri-La Hotel Sydney
176 Cumberland Street
The Rocks
Sydney
NSW 2000
Australia
+61 (0)2 9250 6000