In Australia, bottling wine from a premier vineyard with your own label is a fashionable thing to do. Bespoke branding is one thing, but curating your own blends to form a signature collection? This takes passion for a good drop to a whole new level.
The team at Saujana Hotels and Resorts, with their dedication to quality food and beverage experiences, has exactly that zeal. In collaboration with an award winning Margaret River winery, Frankland Estate, they have designed a wine series that is not only delicious, but true to varietal character and great value too.
Three whites and three reds have been selected as great drinking on their own, but specifically to pair well with food. Clearly in the interest of our readers, we attempt to try them all.
 
Saujana Hotels & Resorts, Wine Collections 2014, Grape Expectations Estate, Margaret River, Western Australia, Sauvignon Blanc Semillon:
On the nose this wine shows exotic fruit aromas. We detect wafts of lychee, mango, rose, quince and spices. In the palate it exudes a powerful, burst of fruit, flattering and round with a mild spice finish. We think goats' cheese would work well with this drop, but also fish and salads prepared with fresh herbs should do nicely too. The mellowness of the Semillon stabilizes the zippy sauvignon blanc, forming also a good partnership with Asian flavours such as curry and light spice.
 
Saujana Hotels & Resorts, Wine Collections 2014, Frankland Estate, Western Australia, Chardonnay Sauvignon Blanc Riesling:
This wine is young and fresh with floral and citrus aromas. The blend of grapes gifts it with versatility and matches any number of white meats, salads and cheeses. A chilled glass is very suitable for Malaysia's warm climate.

Miles from Nowhere, Margaret River, Western Australia, Chardonnay:
We find ripe stone fruits, spice, citrus and a light toastiness nosing this glass. In the mouth, it contributes a rich and luscious creamy mouth feel. The butteriness of the wine is a pleasant complement for fried or roasted salmon.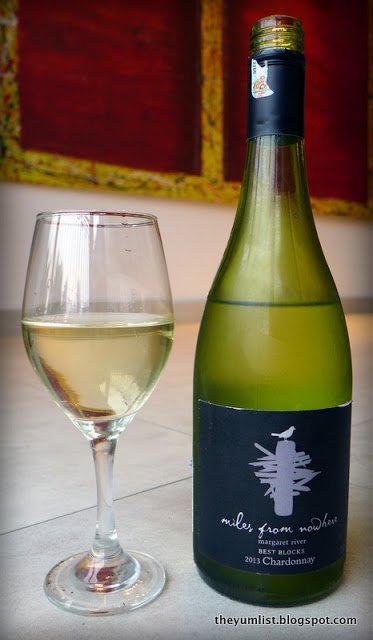 Miles from Nowhere, Chardonnay
Saujana Hotels & Resorts, Wine Collections 2014, Frankland Estate, Western Australia, Merlot:
Ruby red in the glass and with aromas of berries and plum, this wine is immediately attractive. Oak, spice and an earthy complexity, makes smooth easy drinking with a medium to bold flavour. Multi-faceted, it plays pleasant companion to meats, risotto and mature cheeses.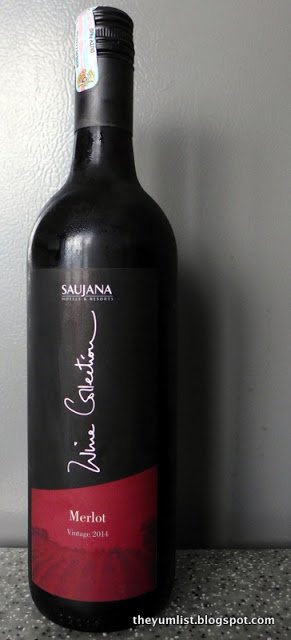 Saujana Hotels and Resorts Merlot
Miles from Nowhere, Margaret River, Western Australia, Cabernet Sauvignon:
Dark fruits such as plum and blackcurrant alongside fresh herbs and even chocolate give the first hint of the complexity of this wine with its delicious aromas. Full bodied, yet graceful, in the mouth it's well-balanced ending with a lingering finish. Bring on succulent cuts of red meat, especially a charred around the edges and pink in the middle piece of Australian Rib-Eye or Scotch fillet.

Olmo's Rewards, Frankland Estate, Western Australia, Merlot Cabernet Sauvignon Cabernet Franc:
 This wine was unavailable during our tasting session, but the hotel's notes read: "Cedar and vanilla aromas complement the cherry, blackberry and dark stone fruits giving a more earthy flavour. Complexity is generous and persistent on the palate."
The SHR Sauvignon Blanc 2014, SHR Chardonnay 2014 and SHR Merlot 2014 are priced at RM88 nett per bottle and RM960 nett per case (12 bottles). Miles from Nowhere Chardonnay 2013, Miles from Nowhere Cabernet Sauvignon 2012 and Frankland Estate Olmost Reward 2006, are priced at RM110 nett per bottle and RM1200 nett per case (12 bottles).
There are certainly some scrumptious wines in this half-dozen. Bottles make excellent gifts and can be purchased on-site or ordered and delivered to your home. Even more welcome news is that these exclusively sourced wines are available at their retail price when dining in any of the Saujana Hotels and Resort restaurants.
Saujana Hotels and Resort
Jalan Lapangan Terbang SAAS
40150 Shah Alam
Selangor Darul Ehsan
Malaysia
+6 03 7840 5288