Aisling Cullen and Monica Tindall
A new cluster of restaurants have opened up in Mont Kiara at the base of the Verve Suites.  Among those restaurants is La Casa, a cosy and homely space that lives up to its name.
Arriving at La Casa, it was no problem to get parking on the street directly opposite the restaurant's wide terrace, and should that be full then there is plenty of car parking in the building beneath the new restaurant hub.
La Casa has lofty ceilings and ample space between the indoors and outside terrace, however it still manages to maintain a cosy feel of home. Reclaimed wooden floorboards, iron chandeliers and colourful seating create a relaxing and welcoming vibe.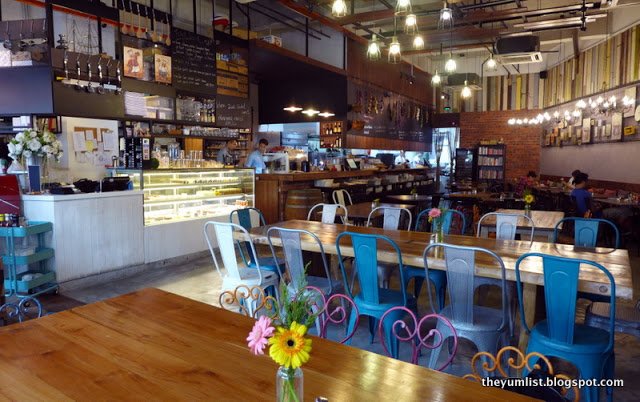 La Casa, Mont Kiara
On arrival, we pepped up our afternoon with a Latte (RM12), Hot Chocolate (RM12) and Green Tea Latte (RM11).  A Japanese barista greeted us and explained that the beans are roasted locally by a Japanese team of roasters who are passionate about their coffee. The Latte had a double shot of espresso which was full bodied – a good caffeine fix to start us off.  The Green Tea Latte was sweet and mellow, and the Hot Chocolate was light, creamy and smooth.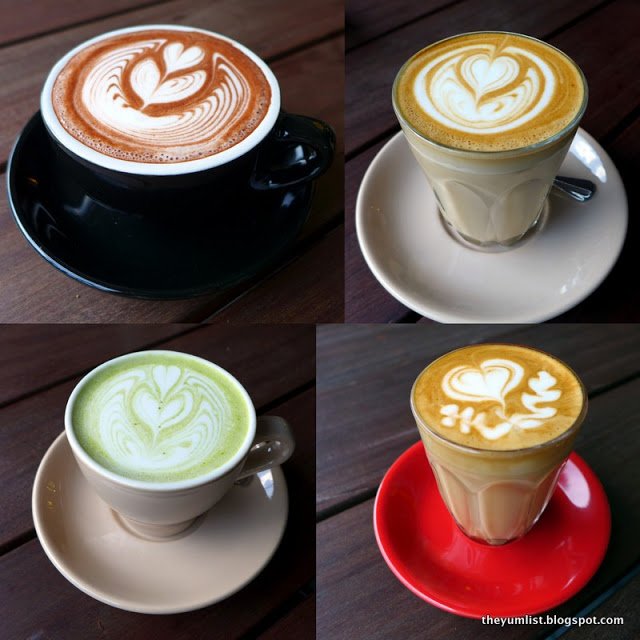 Hot Chocolate, Latte, Green Tea Latte, Piccolo
We tried a couple more drinks including a Mango Passion Smoothie (RM14) which was fresh and tangy, and a Blueberry and Homemade Yoghurt Milkshake (RM16) which was creamy with plenty of fresh blueberries. Perhaps our favourite however was the lush thick Chocolate, Banana, Almond – a delicious blend of the namesake trio.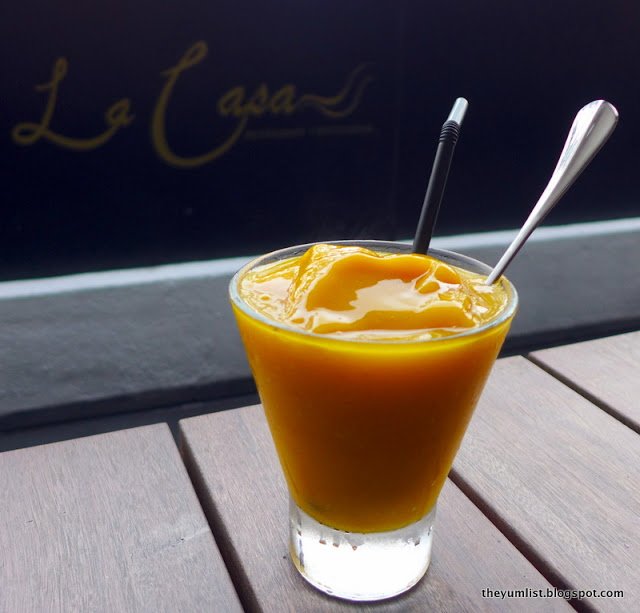 Mango Passion Smoothie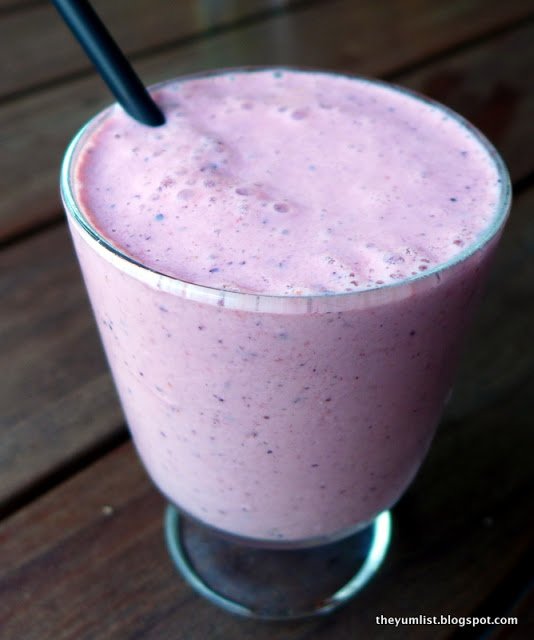 Blueberry and Yoghurt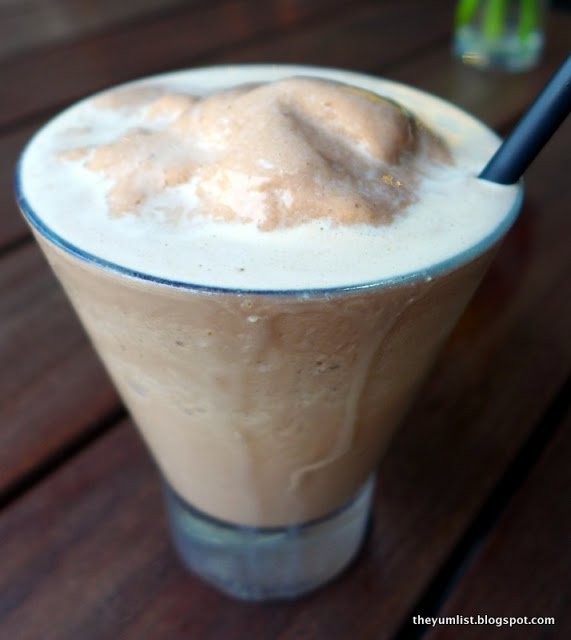 Almond, Banana, Chocolate Milkshake
The starters were all generous portions, making them ideal for sharing. The Sauteed Mushrooms (RM22) was a simple but very tasty dish. A large portion of mushrooms served atop a slice of crispy-rimmed, spongy focaccia showcased simplicity and mouth-filling flavours at their best.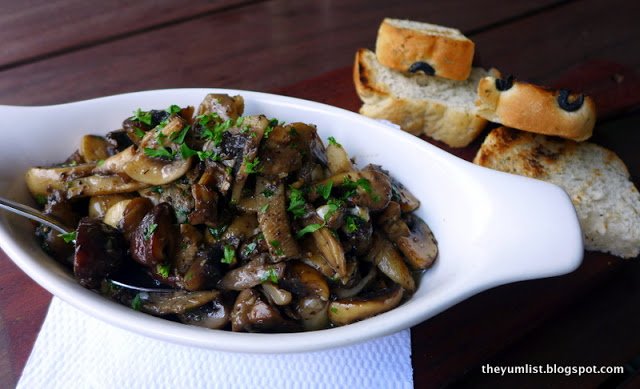 Sauteed Mushrooms
Fried Mozzarella (RM24) came with a spicy tomato sauce.  The sticks were packed with melting mozzerella cheese and covered with a crispy panko crust. Clearly these were one of Caning's favourites – judging by the oohs and aahs coming from his side of the table as he demolished a number of them.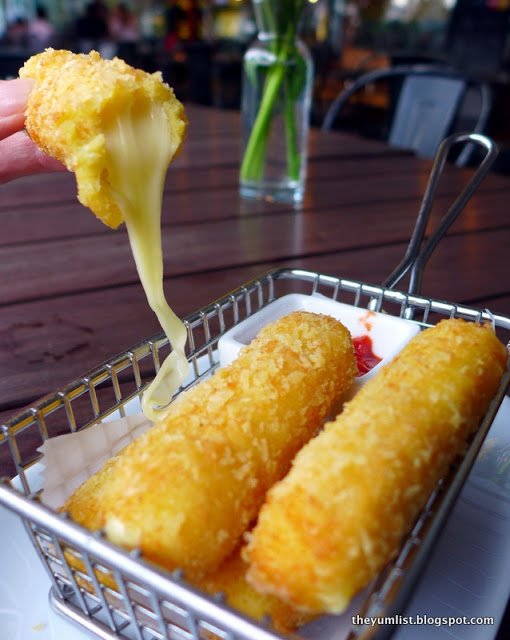 Mozzarella Sticks
Next up was the Smoked Chicken and Orange Salad (RM26).  The chicken is smoked in-house and was wonderfully tender in this salad. The dressing was light and subtle, and the sweetness of the orange complimented the smoked chicken adeptly.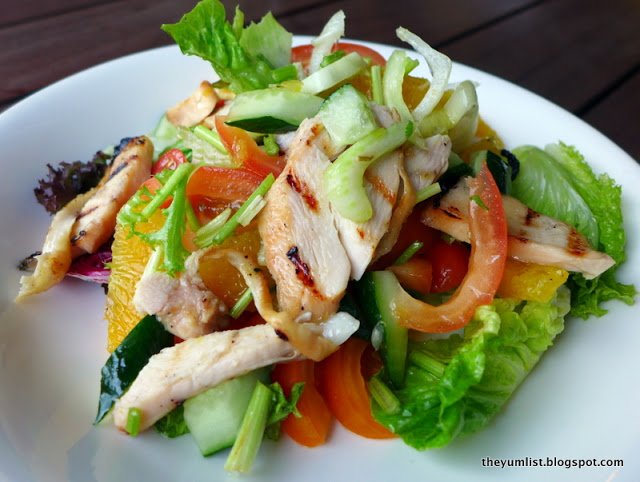 Smoked Chicken and Orange Salad
One of our favourites was the Italian Chicken Burger (RM29), which was beautifully presented in a house made seeded bun. Pickle and salsa added to the sweetness of this dish, and the succulent patty with noticeable pieces of chicken – not minced – finished the composition astutely.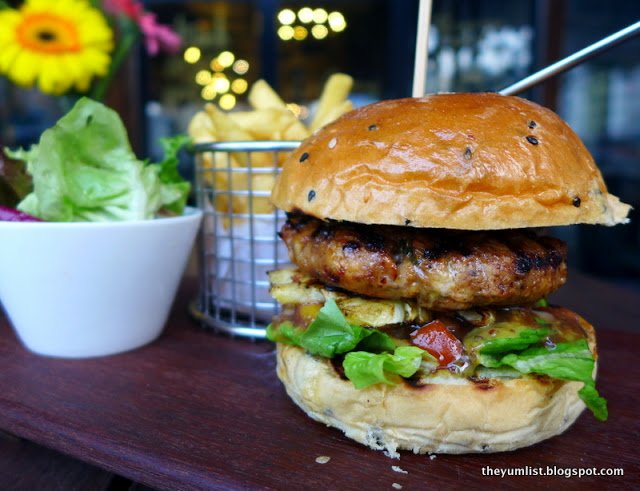 Italian Chicken Burger
The Turkey Chorizo (RM24) came with melting Camembert cheese on a chewy and crusty sourdough toast. The chef also drizzled a little honey onto the cheese, which gave a wonderful balance of sweet and savoury.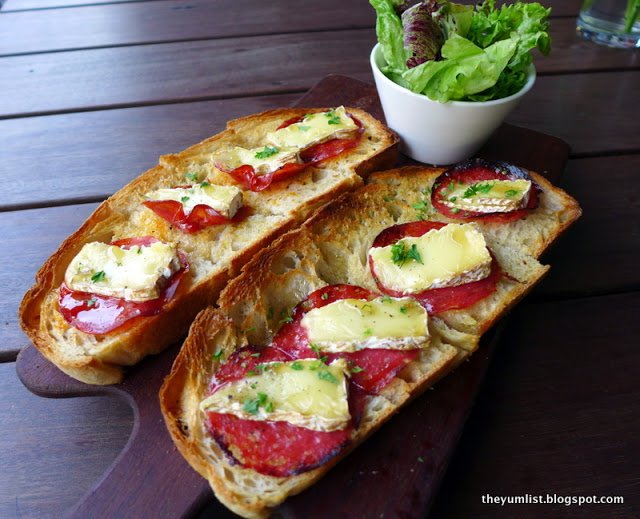 Turkey Chorizo
Sampling from the mains menu, the Pan Seared Chicken Confit (RM32) proved a very rustic and homely dish.  A beautifully creamy garlic mashed potato formed a bed for the moist and sizeable portion of poultry that was succulent and flavourful.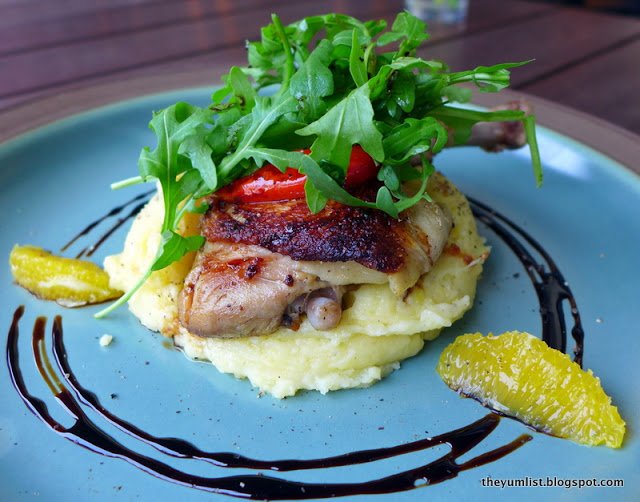 Pan Seared Chicken Confit
For veggie lovers, the Ratatouille Pasta (RM24) was a simple dish of roasted vegetables with a rustic Provençal flavour served atop al dente strings of spaghetti. The quality of the pasta was very good which allowed the simplicity of the dish to shine.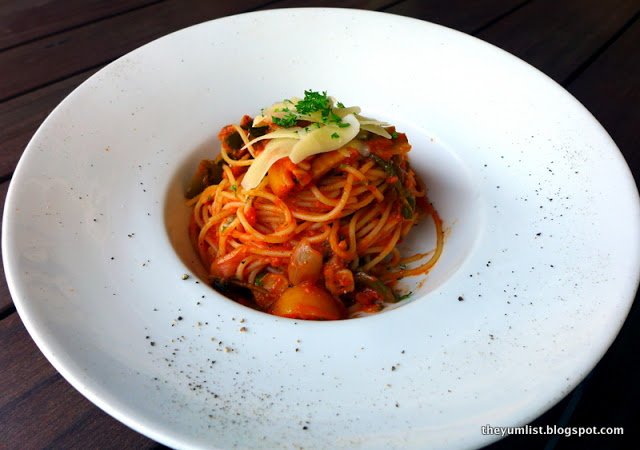 Ratatouille Pasta
The Duck Confit Pasta (RM32) consisted of homemade confit duck tossed with light ribbons of linguine in an al oglio sauce.  The flavour of the duck was rich but the light sauce balanced it well.  A hint of chili gave this dish a subtle bite.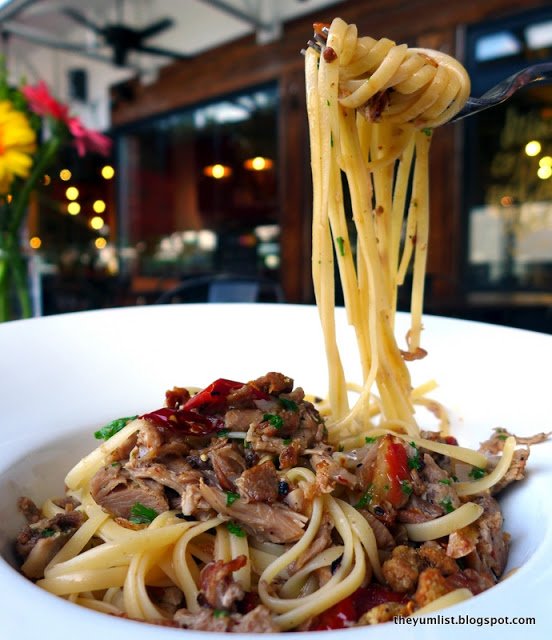 Duck Confit Pasta
Desserts make a pretty display in the front counter of La Casa. As the name of the restaurant suggests, everything is made at home, in 'la casa,' so our expectations were met when it came to the quality of the pastries. Choices were difficult with the colourful array of macarons to begin, but we finally decided on Rose, Earl Grey and Salted Caramel (RM4.50 each), with all three getting us off to a super sweet ending.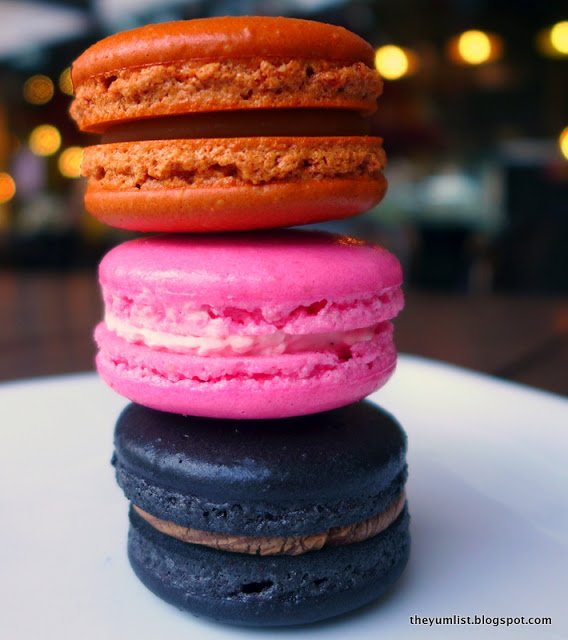 Macarons
The Mont Blanc (RM13) and Lemon Tart (RM12) proved strong competition for 'most liked dessert.' I couldn't put down my fork after trying the former – a combination of pureed chestnuts and a crumbly cake base, with whipped cream in the centre. Caning however was at it again with his moans over the tangy centre of the latter.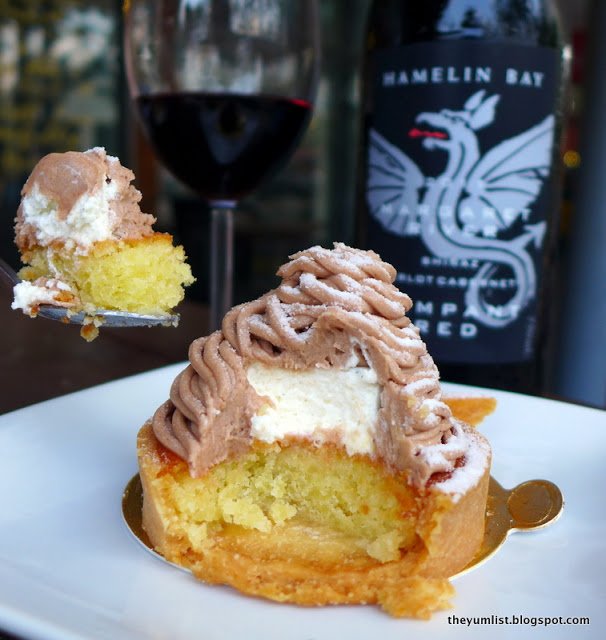 Mont Blanc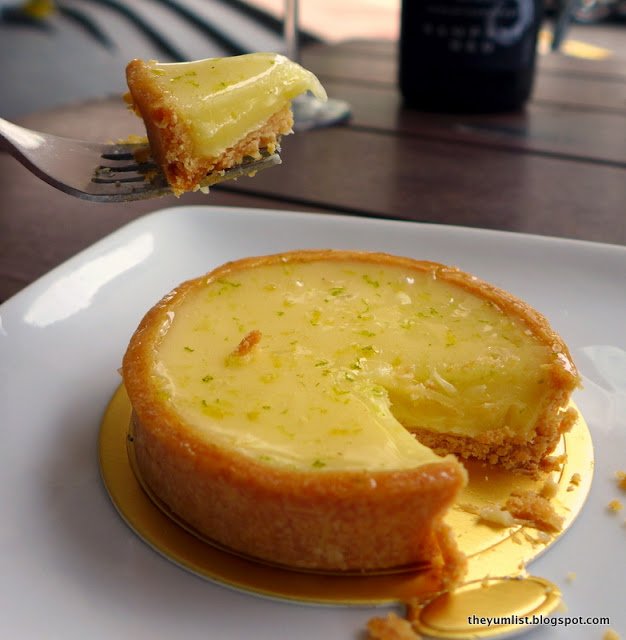 Lemon Tart
The sizeable portion of Berries Waffle (RM26) was also enjoyable with a good quality crisp waffle, homemade ice cream and tart blueberries. Great for sharing!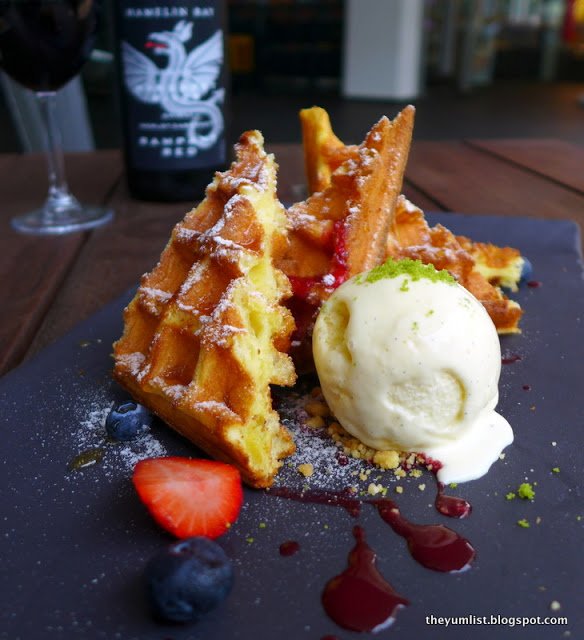 Berries Waffle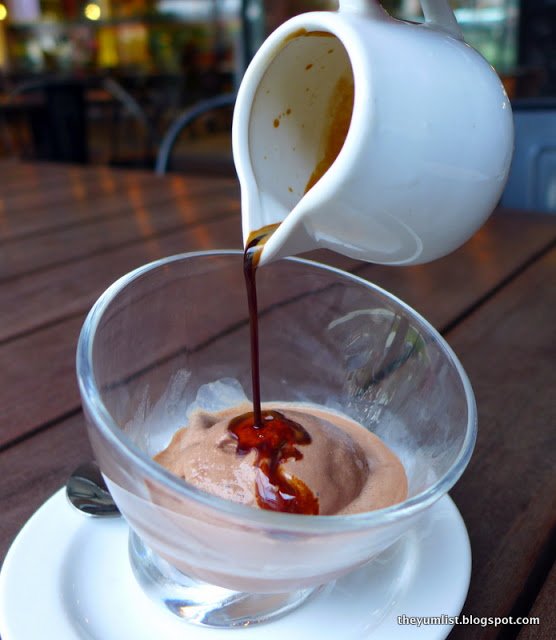 Mocha Affogato
La Casa also has a decently priced wine list and a number of choices by the glass.  We tried out a Hamelin Bay 2011 Shiraz Merlot from Margaret River (RM23), and the De Bortoli Sauvignon Blanc (RM17). Both were very easy drinking – good companions to the comforting, home style menu of La Casa.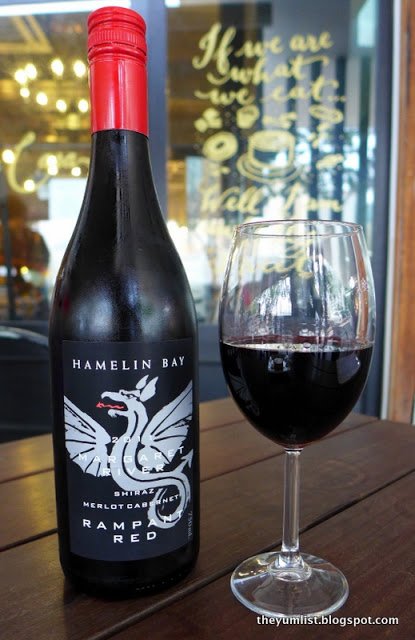 Red Wine by the Glass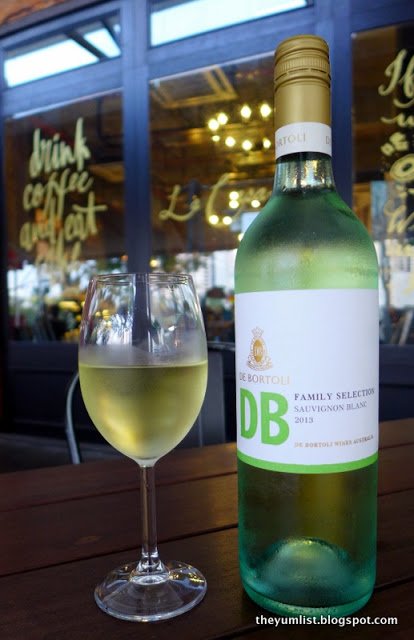 De Bortoli Sauvignon Blanc
Reasons to visit:  Good quality simple home cooking, generous portions, relaxing ambiance, ample terrace seating, easy parking
La Casa
G-5 Verve Shops Mont' Kiara
8 Jalan Kiara 5
50480 Kuala Lumpur
Malaysia
+6 03 6211 8875
Tues-Fri, 10am-11pm
Sat-Sun, 9am-11pm