Eugenie Chan and Monica Tindall
Jordanian Chef Ala'a Habibi is joyful and jovial, and very experienced with more than 20 years of specialised Middle Eastern expertise. Absolutely dedicated to delivering top-notch quality and service, he is in the kitchen daily by 4am, catching a quick nap in the afternoon, and passionately labouring away again to deliver an amazing buffet spread in the evening.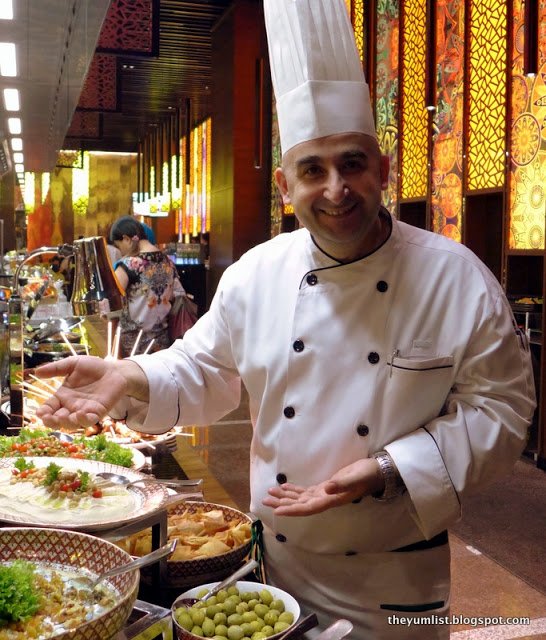 Chef Ala'a Ali Ansawi
Previously the Chef De Cuisine at the Hyatt Regency, Dubai, Chef Ala'a knows what tickles Arabian taste buds and this knowledge attracts huge throngs of Middle Eastern tourists to enjoy all that Sunway has to offer, including a taste of home.
For us, this means we do not have to brave the dry heat of the desert, or a long plane ride to journey the culinary pleasures this continent has to offer. Every Friday and Saturday, feast from Syria to Lebanon to Egypt in the comfortable confines of The Resort Cafe at Sunway Resort Hotel & Spa.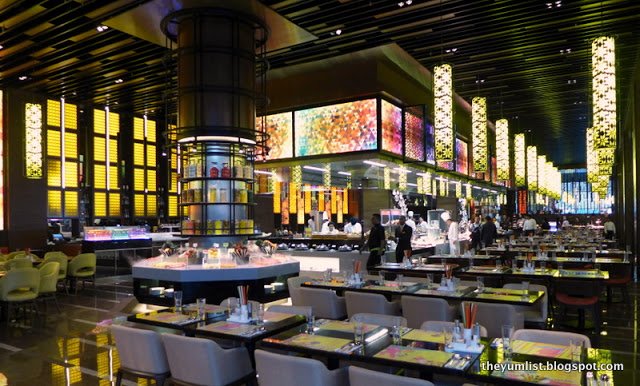 The Resort Cafe
Entering the enormous restaurant, we were visually impressed by the huge buffet spread, which if laid out in a vertical line, I wouldn't be surprised if it measured the length of a full size Olympic pool. Interspersed with a healthy serving of Middle Eastern delights, were some Malaysian specialties and western favourites as well.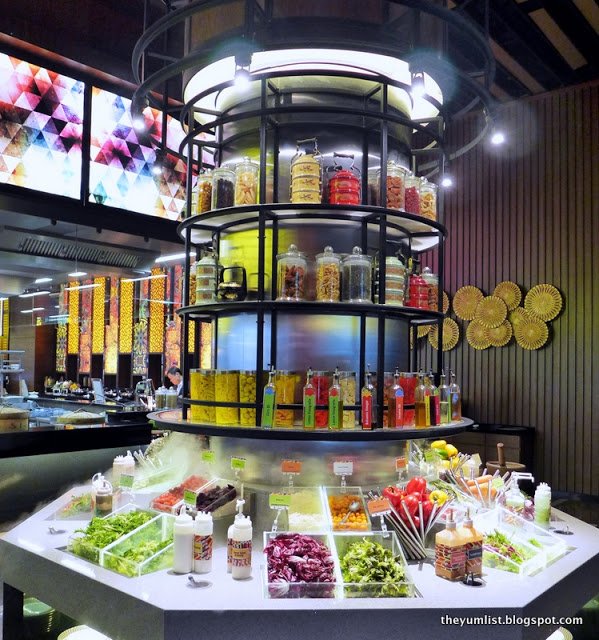 Salad Bar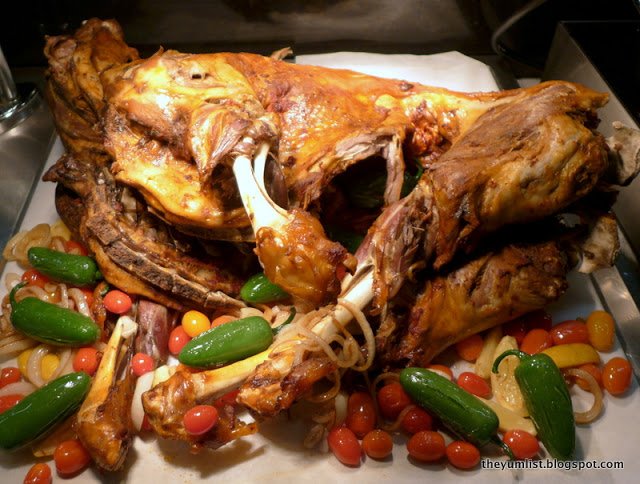 Whole Lamb Roast
But let's concentrate on the Middle Eastern menu. For this special preview, we found small bites already delivered to our table, seducing us to get to the buffet: Tabbouleh (finely chopped parsley mixed with chopped tomato, burgh and marinated with olive oil and lemon), Hummus (chickpea blended with tahini and lemon), marinated vegetables and even Cypriot cheese enticed us and opened our appetites.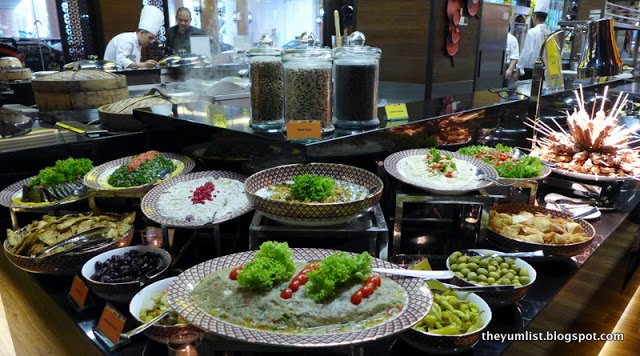 Cold Mezzeh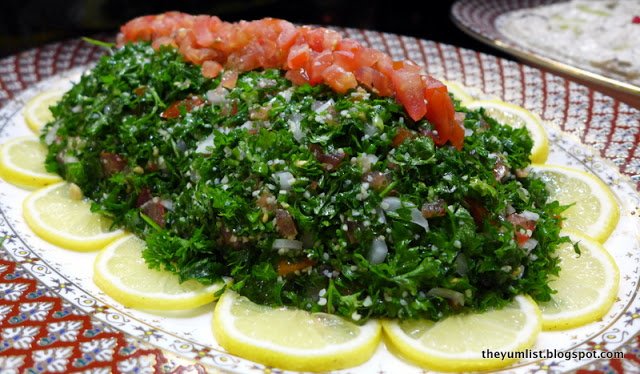 Tabouleh
At the buffet area, amongst my favourite appetisers or Mezzeh, are the Turkish Warab Enab – marinated vine leaves stuffed with rice, tomato and parsley. All made in house, these were fantastic renditions of a traditional starter – soft leaves encasing the moist centre. In fact, the appetisers are one of our favourite sections with Moutabel, Babaganoush and Marinated Spiced Olives all worthy of repeat platings. Remember to inspect their hot Mezzeh dishes too, such as Falafel from Jordan, and Chicken Wings Motafa from Syria.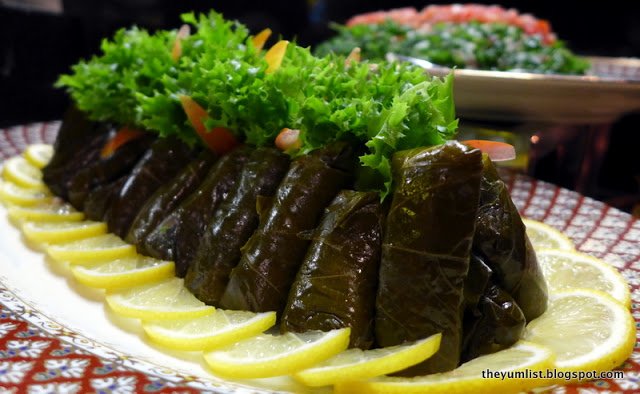 Stuffed Vine Leaves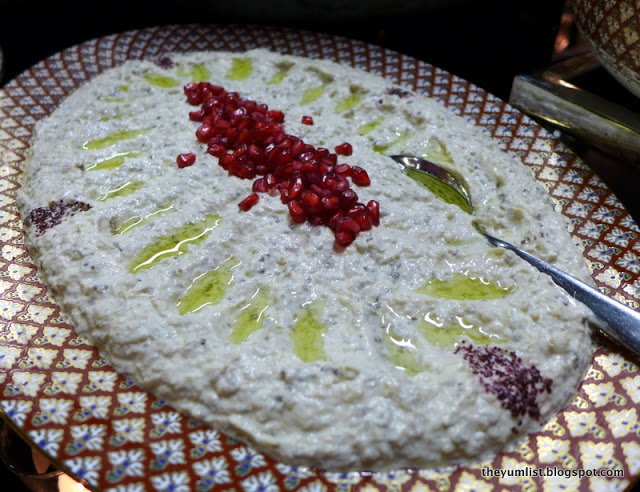 Moutabel
Expect to sample a rich assortment of Middle Eastern cuisine as Chef Ala'a has made a concerted effort to present authentic recipes from close to a dozen countries in the region. An example of one of the mains is Chef Ala'a's very own recipe, which he is particularly proud of, Saudi Chicken Kabsa. Chicken is first sautéed then baked with a rich blend of spices before being placed atop a pile of soft fluffy basmati rice. Another must-try is the Emirati Seafood Salona, a mixture of tiger prawns, calamari, lobster and mussels stewed with spices and blended with a good dose of tomatoes. Other mains include: Whole Fish Harra, Chicken Musakhan, Mansaf Lamb and Lamb Leg with Freekeh. The flavours overall are earthy and rustic, with cloves, nutmeg, cumin, cinnamon, allspice, cardamom, coriander and an assortment of nuts – cashew and almond – giving each dish a hearty finish.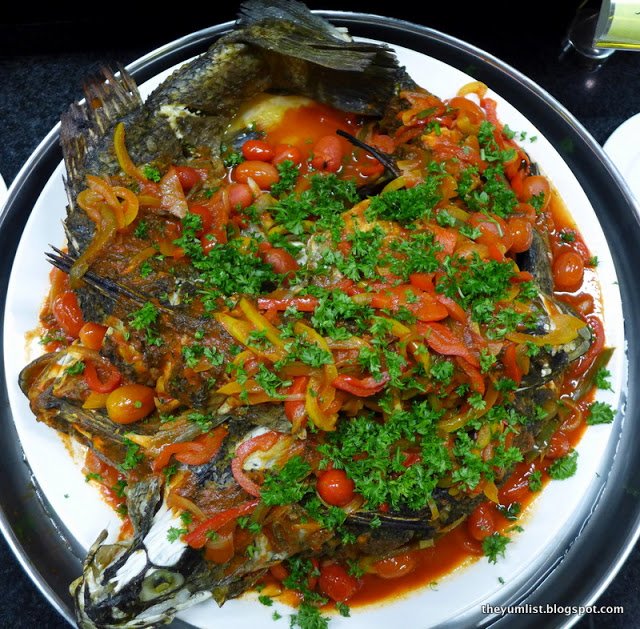 Fish with Capsicum and Tomato Sauce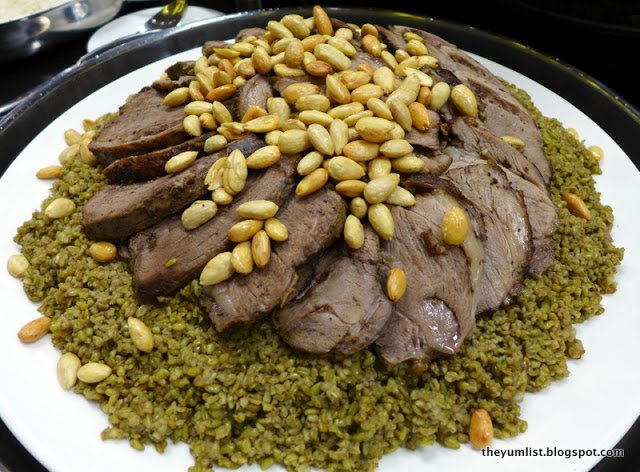 Beef with Freekeh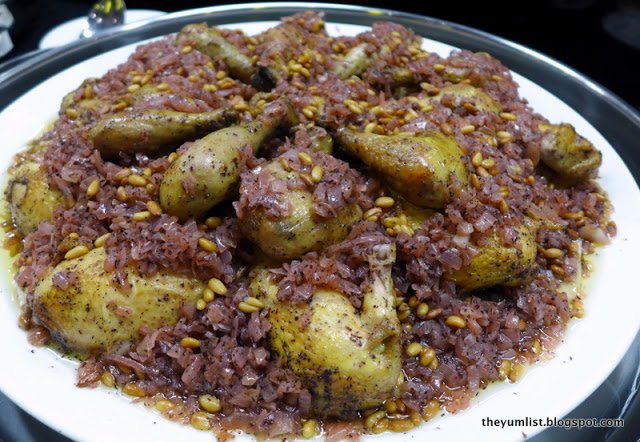 Chicken with Pinenuts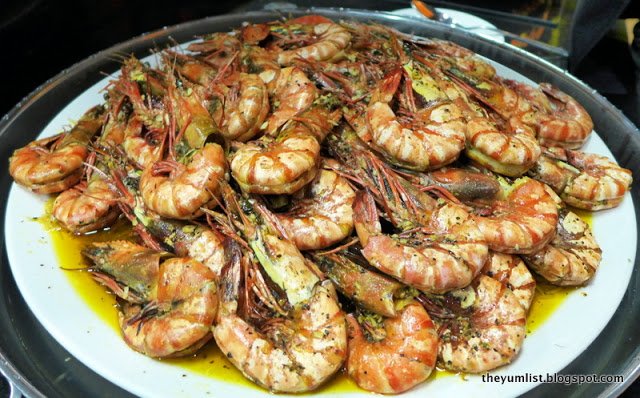 Kuwaiti Prawns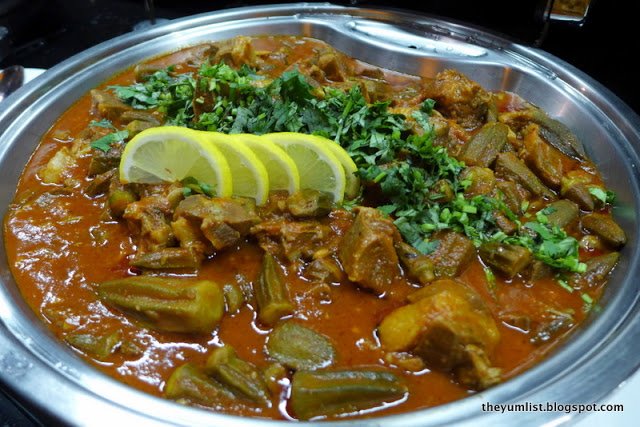 Egyptian Stew
Of course Middle Eastern cuisine is never complete without the Iranian mixed grill items, which are cooked to perfection on skewers – marinated chicken, beef, shrimp, lamb chop and lamb tikka. Round the heat off with soothing Persian yoghurt and cucumber dip, which plays perfect companion to the charred flesh. Shawarma sliced hot off the spit and made fresh to order is another popular station.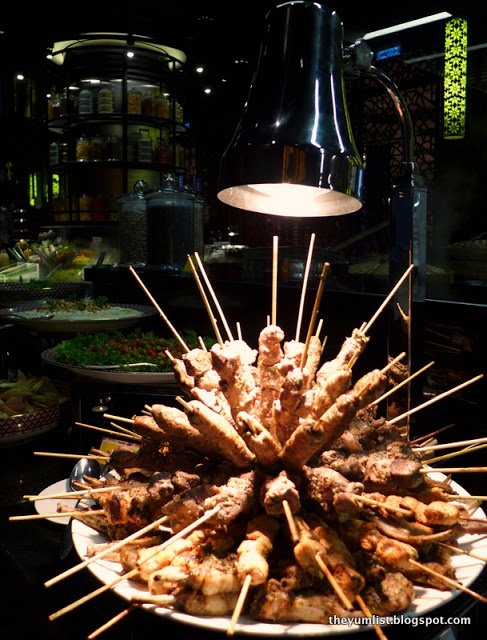 Mixed Grill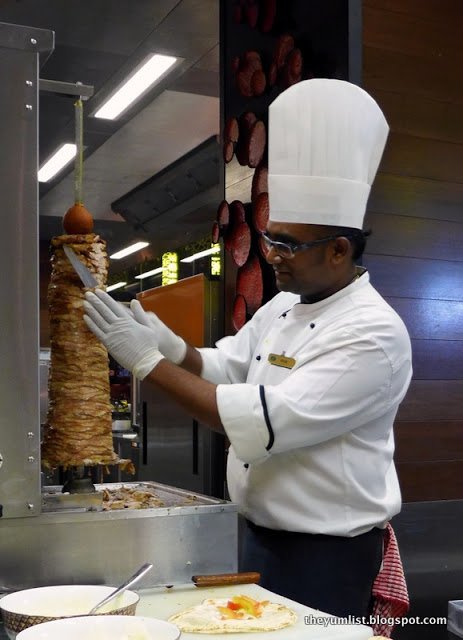 Shawarma
Last but not least, desserts were a real treat, with several types of Baklava (can't go wrong with sugar syrup, layered dough and bountiful nuts), Saffron Mahalabiya, Aish Al Saraya and Basbousa – honestly, I can't remember which is which – just put everything in your mouth – they're all worth it, and you won't care at the end what they're named just as long as you can go back for seconds.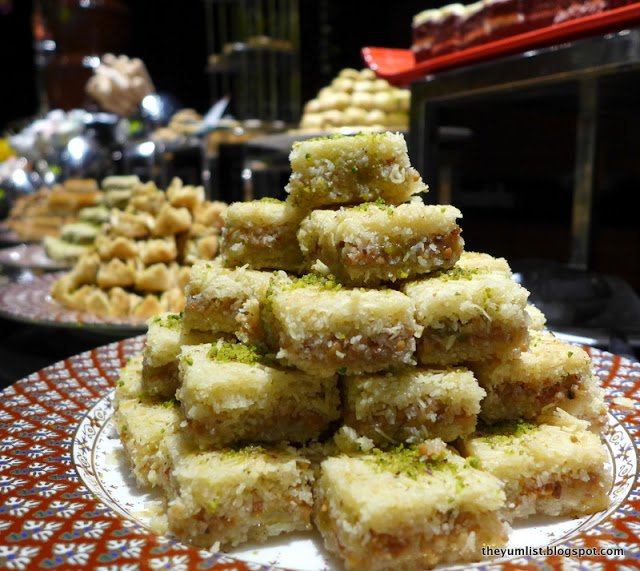 Middle Eastern Desserts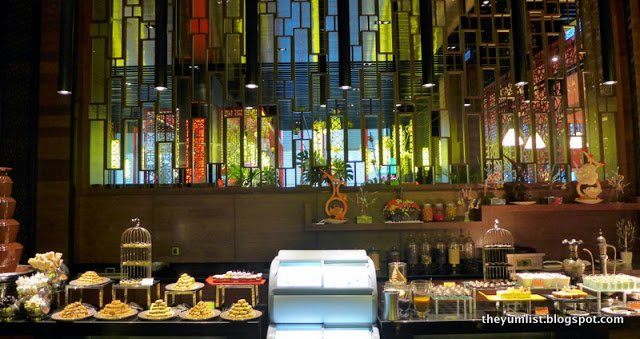 Desserts
End the meal with a choice of tea – Moroccan Mint Tea or Saffron Tea – both are a medium brew with a hint of chai like spice but extremely subtle. For a stronger ending, Khaleeji and Turkish coffee are fine chaperones to balance out the sweets.
The buffet dinner is priced at RM138 nett per adult or RM168 nett per adult with churrasco (grilled meat and seafood on skewers). While the buffet runs daily, the special churrasco is added on Friday and Saturday evenings from 6:30pm – 10:30pm. Breakfast, lunch and dinner all feature a dedicated section for Middle Eastern cuisine, and an extensive selection of these goodies are too available on the a la carte menu and for in-room dining.
Reasons to visit: a comprehensive offering of authentic Middle Eastern cuisine, stuffed vine leaves, all of the cold mezzeh, a good bunch of interesting grains such as freekeh, and mouthwatering desserts.
The Resort Café
Sunway Resort Hotel & Spa
Persiaran Lagoon
Bandar Sunway
46150 Petaling Jaya
Selangor
Malaysia
+603 7495 2009
+603 7492 8000