Words by Patricia Podorsek, Photos by Monica Tindall
Big occasions often merit big celebrations, and sometimes a grand buffet bubbly brunch is in order. But small occasions deserve some festive spirit as well. If you're looking to share some modest bubbles with a friend over brunch, Ante Kitchen and Bar in Solaris Dutamas might be just the venue you're looking for.
With indoor and outdoor seating, Ante provides a no-nonsense haven from the bustle of Publika mall. Seating and ambience are contemporary without being pretentious. It's comfortable with soft lighting and clean lines.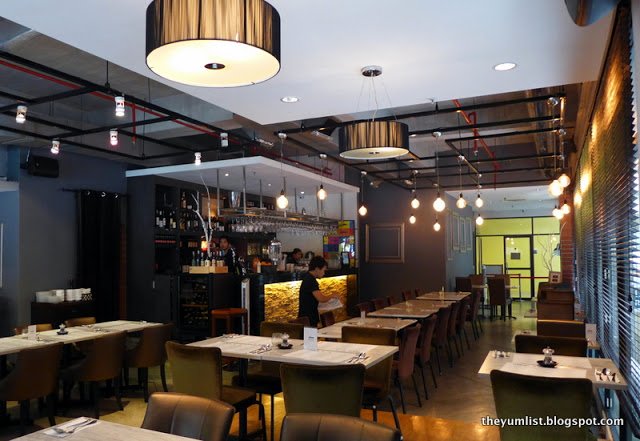 Ante Kitchen and Bar, Solaris Dutamas
As it was before noon when we were first seated, coffee was first on everyone's mind. Ante takes their java seriously and serves us soulfully blended Arabica generated smooth and rich cappuccinos and lattes from the artistic barista.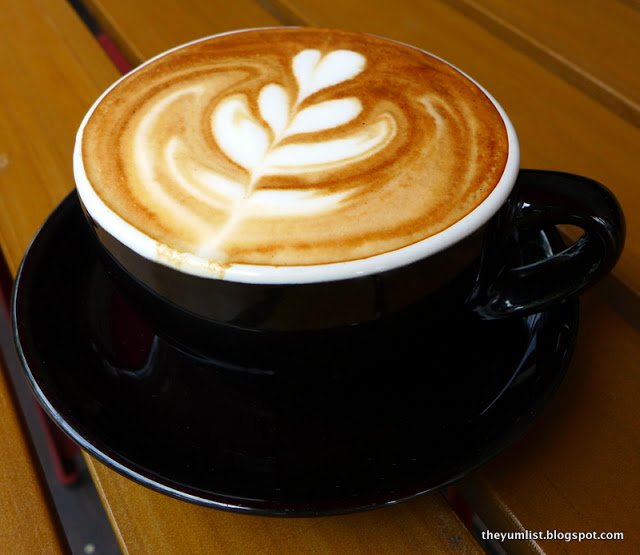 Cappuccino
Our charming host, CK, suggested a number of signature starters for us. The Smoked Duck (RM28) covers thinly sliced medallions with chopped pine nuts, black olives, and fresh herbs. A citrus glaze seals in the meat juices to produce a super juicy appetizer with that irresistible combination of sweet and salty. The blueberries on the side are a nice complement.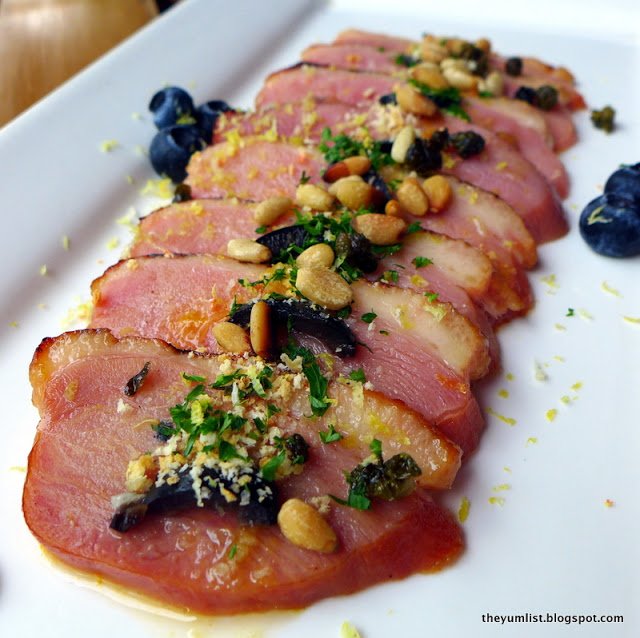 Smoked Duck
Ante is known for their pork magic, and the signature Sweet Belly (RM29) does not disappoint. Marbled layers of fat between lines of tender meat, this slow roasted pork belly is seared with a crispy skin enhanced by honey and soy. Decadent is the only word that comes to mind to describe this plate.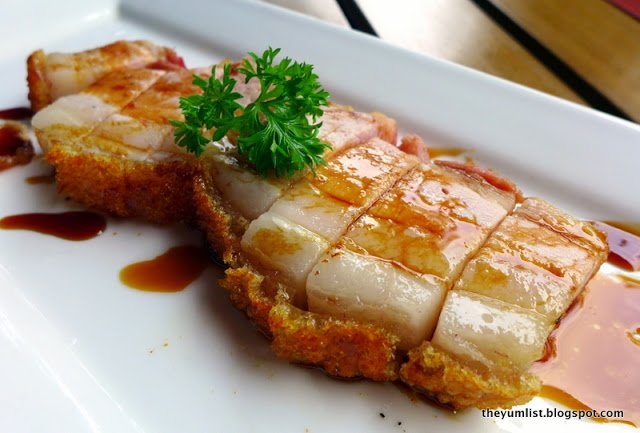 Sweet Pork Belly
Seemingly an oxymoron, the Deep Fried Soft Poached Eggs (RM32) combine the the silky interior of the poaching with an uncommonly crispy exterior. The eggs are served on a pillow of tangy aioli with a side of thick-cut bacon on sourdough baguette. Ante smokes the bacon in-house and it mirrors the same quality as the Sweet Belly: Pork magic indeed.
Deep Fried Soft Poached Eggs
The protein fest continued as we sampled the better part of Ante's Big Breakfast (RM39, including coffee). We added two sunny side eggs, two fat bratwurst, and more, yes, more of that deliciously thick bacon! The brats were juicy and well-balanced. Best was the guacamole though: well-balanced with lemon, tomato, and tiny red onions that gave it a bit of crunch.
Ante's Big Breakfast
Bacon is not the only item preserved in house. Imported Norwegian salmon gets cured with thyme and orange peel for a slight citrus sweetness. Cut slightly thicker than smoked salmon, the flesh holds a meatier, juicier texture. Served over scrambled eggs with sourdough toast, this menu option is a complete breakfast at RM29.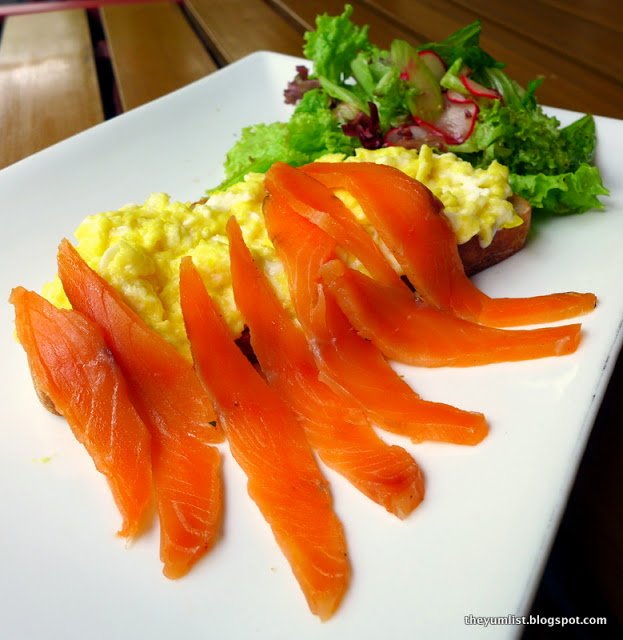 House Cured Salmon and Scrambled Eggs
Thankfully, vegetarians in the crowd are not left out entirely in the cold. Several pasta dishes enhance the menu at Ante, including two of Monica's favorites, gnocchi and gnudi. The Gnocchi in Pesto (RM32) is flattened, pan-fried and a bit chewy, served with creamy basil sauce and braised spinach. The pesto was well-balanced without being overly garlicky, and the spinach added another layer of texture to the plate.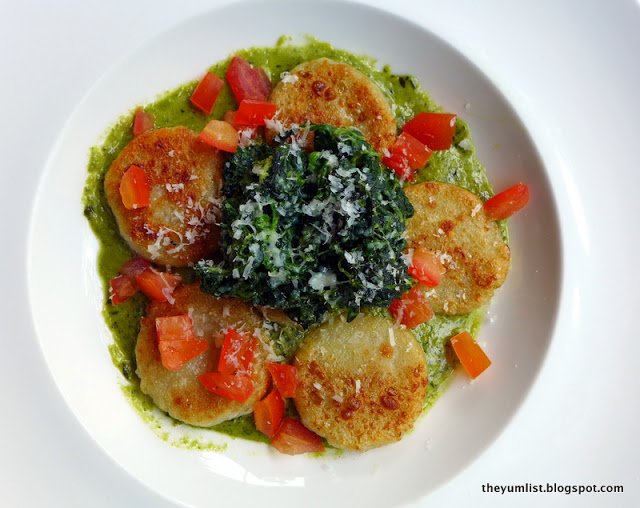 Gnocchi
Gnudi (RM35) were a new experience for me. These dreamy pan-seared ricotta balls melt in the mouth, especially when served with lemon butter. The crispy Chinese greens on top added color, texture, and subtle flavor to this dish.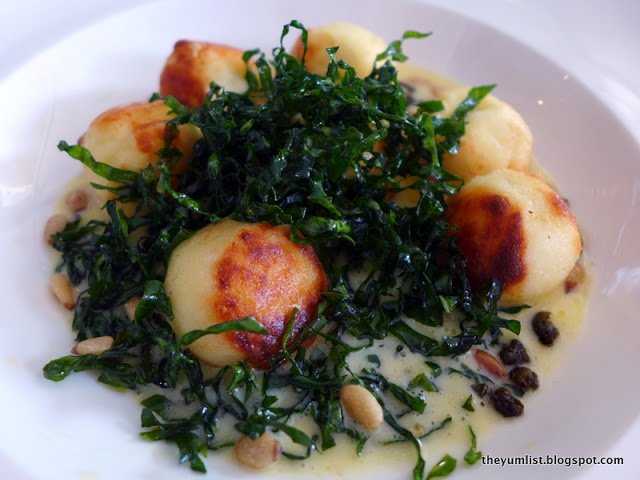 Gnudi
Amply nourished, we were happy to move from coffee to bubbles. We selected the Italian prosecco San Felletto, a light extra-dry effervescent that runs smoothly down the throat like air. Even at RM179, friends could enjoy a couple of glasses with a delicious breakfast for a much more affordable pricetag than any of the big-time brunch buffets, and in a more casual and intimate setting. For those who prefer, Ante's wine list is as international as it is extensive, and a selection of beer and fresh juices are also available.
Prosecco
No brunch is complete without dessert, and the operative word here is pure: Pure cream, pure chocolate, pure heaven. The creme brulee came close to eating a dish of fresh buttery cream, once breaking the glassy caramel crust it's known for. Ante puts its own twist on the classic pudding by adding thin slivers of salty olives on top. Unusual for certain, but a nice contrasting flavor.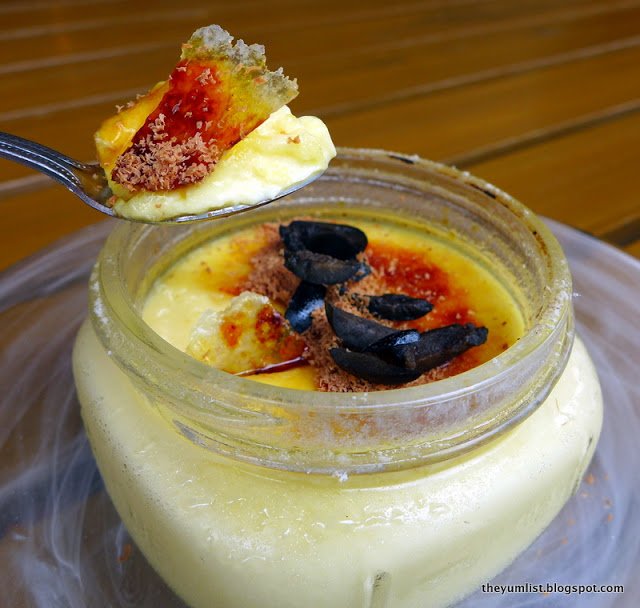 Creme Brulee
Chocolate lover that I am, the Valrhona Chocolate Delice (RM29) was my favorite of the day, delivering deeply decadent mousse atop a hazelnut praline crust. Like with the Creme Brulee, we enjoyed pure chocolate, pure cream, pure crackle. The chocolate soil bed added a soft third layer, its crumb-like texture offsetting the silk and crunch.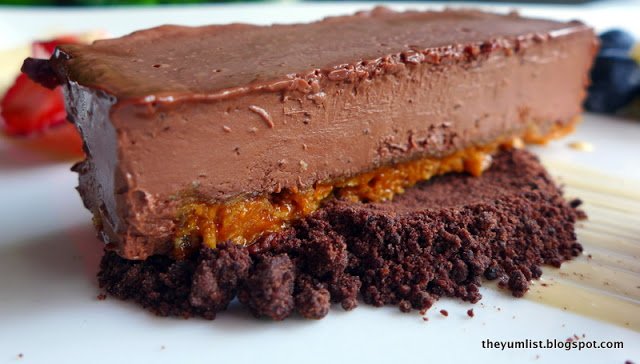 Valrhona Chocolate Delice
For big occasions or small, Ante Kitchen and Bar is a delicious way to spend a leisurely afternoon. Brunch is served daily from 11:00 am – 4:00 pm; full restaurant hours run 11:00 am – 11:00 pm.
Reasons to visit: An affordable and delicious brunch option with bubbles to add a festive touch. Don't miss the uncommon Deep-Fried Soft Poached Eggs, the Sweet Belly, and the Valrhona Chocolate Delice.
Ante Kitchen and Bar
Publika Mall
Solaris Dutamas, 1, Jalan Dutamas 1
50480 Kuala Lumpur, Malaysia
+6 03 6206 3364