Kirsten Durward and Monica Tindall
If you like a chilled out place with a very distinct colourful vibe and absolutely scrummy rustic style food at reasonable prices, then Le Café Memoire should be right up your street. Sitting on the covered balcony a Sunday afternoon on a shady street in TTDI I could almost imagine myself in Europe or with the sweet refrains of a saxophone merging with the muted sounds murmuring up from the street outside. We're impressed by the goodly use of reused materials with pallet tables, crate stools; and work benches as service stations, all built up by owner and concept driver chef
Brian Lieu Chee Lam
and his helpful family. Rough wood is softened by soft cushions in bright colourful fabrics, concrete walls are adorned by pastiches and chalk drawings. I get a sensation of old Shanghai blended with European depth and a little modern kitsch to boot. Oh the name 'La Cafe Memoire' suits just perfectly. It's quirky and fresh in atmosphere, great to chill out for a coffee, to grab a lunchtime salad/burger, or to linger with friends over a full meal.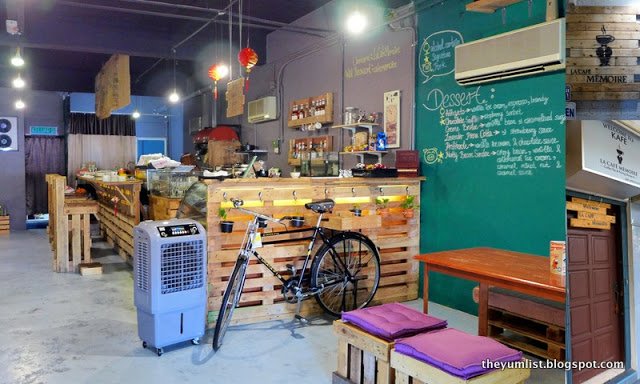 La Cafe Memoire, TTDI
By my demand, we are sitting in the little 'outdoor's area' where natural air floats in through the windows but several fans whisk it around and keep things moving. If you wanted a relaxed style event this would be a great little area to book out. Feeling thirsty from a slightly dusty day, I opt to start with a refreshing carrot and orange juice. Freshly made and chilled, the foamy blend hits the spot just right
Oh, I wasn't expecting anything as dainty and cute as this appetiser portion of Baby Squid (RM17). It's visually pleasing with deep tomato passata, fresh veggies, and a gorgeous hint of charcoal on the fresh pea shoot. Biting into the soft squid reveals the real surprise; it is stuffed with a herby pork mince! Melding with a hint of chill in the smooth rich tomato sauce, this imaginative appetite whetter has us nodding with pleasure straight away.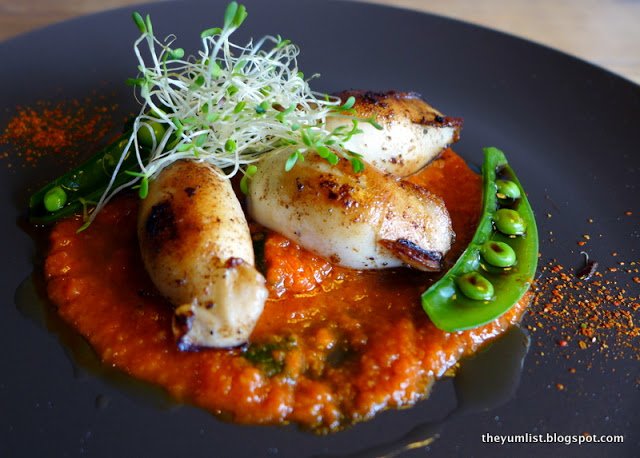 Baby Squid
Chef definitely has an eye for arrangement, as the Scallops with Roasted Cheese (RM18) is also a very attractive dish formed like a double flower on a stem of steamed greens. But oh my goodness what a taste sensation it is to bite into the gooey bubbling cheese through the slithers of mushroom and onion to the very plump and juicy scallop within. It is so easy to overcook scallop, but this one has survived Monica's photography session and is still bouncing with health. We love the note of nutmeg and pop of black pepper in this dish and are realising that we're onto something quite special in this place.
Scallops
As Brian trained in Italian techniques, all the pasta, wet and dry is made in house. Tomato Orecchiette Pasta (RM) reveals the rusticity of handmade pasta in the most delectable way. Tiny orbs of pasta with a finger poked dent, just perfectly al dente, bask in a full flavoured tomato sauce.  Slithers of wild mushroom and broccoli diversify the texture, but the flavour of the dish is all down to the bacon threaded through it. Fresh and tasty!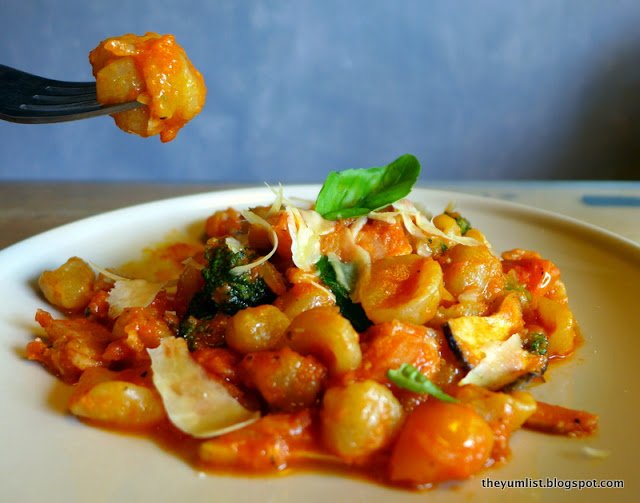 Tomato Orecchiette Pasta
Chef Brian hopes to be offering wine soon, which is great as some of the dishes are begging for it, but for now you can bring your own and… there's no corkage fee! Bargain! There are a few cocktails on offer, but they have been created for Malaysian taste buds, and are a little sweet for our alcohol imbibing palates. Asian style Piña Colada (RM13) has the expected coconut milk, but is made with the unusual addition of Sprite. Mint and Sprite too make a sparkly sweet Mojito (RM13).
One of La Café Memoire's slogans is 'Proudly Serve Pork,' and it is true there is plenty on the menu. Creamy mustard pork loin with Fettuccine (RM20) is an extremely filling dish but one with which you are left with a light sensation in your moth from the elegant blend of flavours. Tasty fronts of wild mushroom and plentiful fresh herbs permeate the sauce, which sings with a mild hit of wholegrain mustard. If like me, you like more of a boost, then there is a generous spoonful of mustard on the side, to mix in to your pleasure.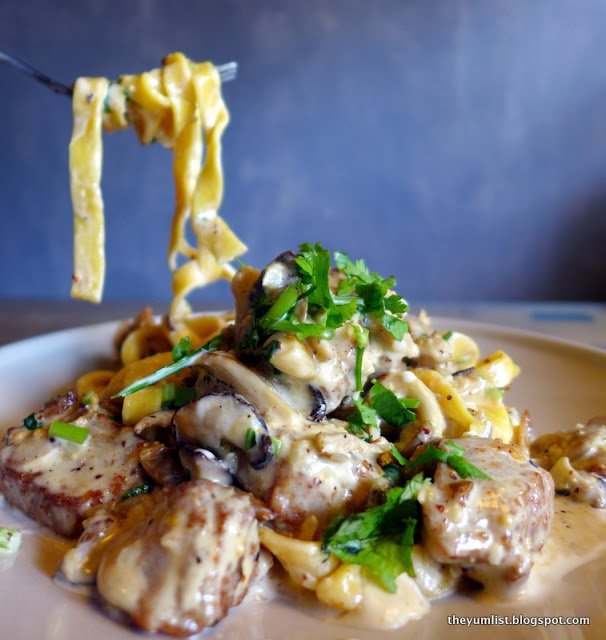 Pork Loin Fettuccine
Pork Belly (RM25) is surely one of the best value for this quality in the city. The viscous sauce has delicious hints of flavour, a little cayenne pepper with what tastes like mandarin, honey and the background sense of a good pork dripping. The pork itself is a beautifully crisscrossed generous slice, well layered, dark and light meat, melting fat and a beautiful crisp top that crunches with a boost of flavour and then a light chew for that lingering taste in your mouth. I promise you, any man  from China would weep and think of his mother with this indulgent dish.
Pork Belly
I'm beginning to groan when the huge oven roasted Pork Ribs (RM28) arrives. It's loaded with oodles of sticky smoky sweet and spicy homestyle BBQ that has caramelised oh so nicely. As Monica says, the sauce us begging to be mopped up with a big spongy piece of bread.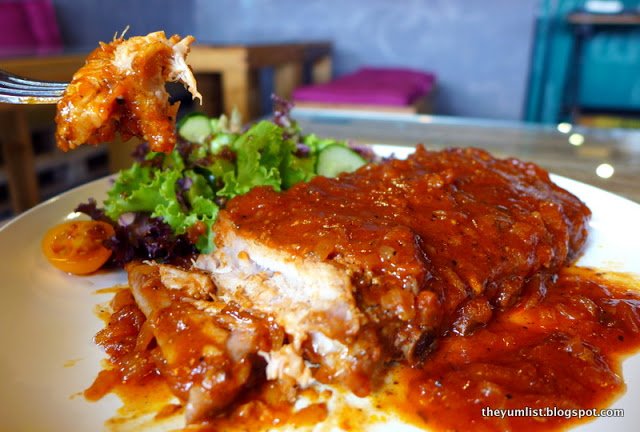 Pork Ribs
I am so full I just cannot do justice to the Lamb Ragu with Fettuccine (RM20), which makes Caning very happy as he eyes it eagerly. Once again a generous portion but superbly cooked. It's refreshing not to have to choose between portion size and quality control. This dish has so much flavour and body, we think it would go down great with a nice glass of shiraz (and remember you can bring your own for no corkage fee!).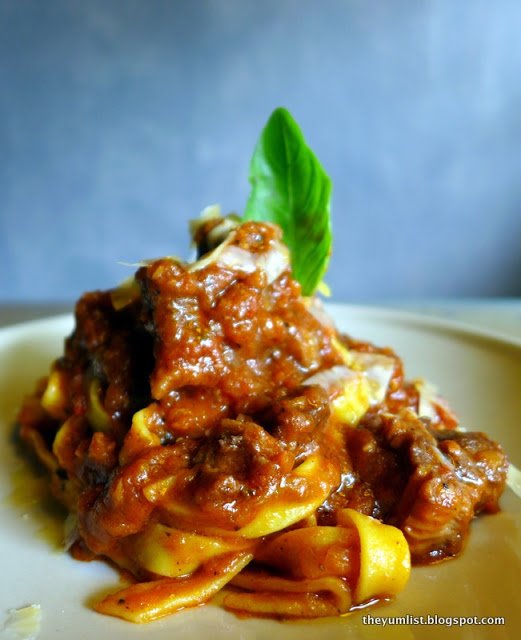 Lamb Ragu Fettuccine
Our bloated bodies would quite happily have headed off satiated from the savoury feast, but Chef is pressing us to at least taste some desserts. I feel I could manage a little Poached Pear (RM16), a classic English summer dessert that I haven't tasted for a good few years. I love a good poached pear me. Brian's version is darkly ruby in its pool of spiced red wine. Textured up with a beautiful crunch of caramel in the roasted nuts and a quality ice cream that shows the dark dots of vanilla pod still.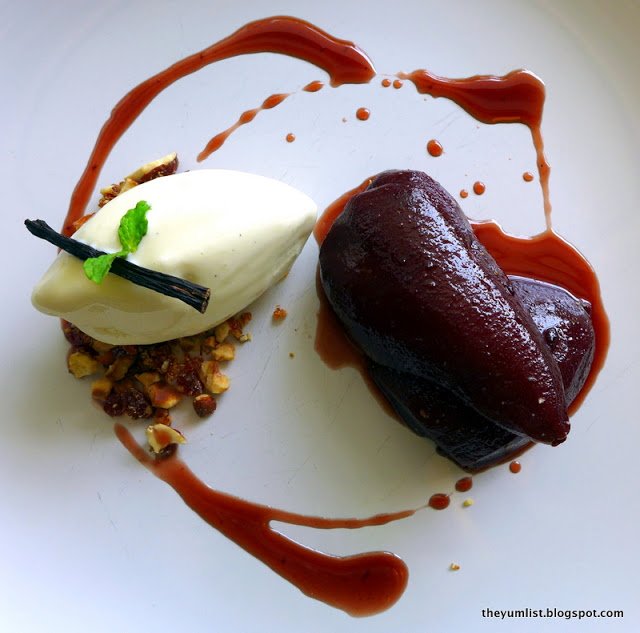 Poached Pear
Floating Island (RM12) is not the traditional French Ile Flotante, but rather a light fluffy meringue so  prettily presented it is almost a crime to delve into it. But delve we do and sigh with the soft texture, the smooth creme anglaise, the fresh pop of berries all enhanced by a drizzle of caramelised sugar and a sprinkling of toasted almond flakes and orange zest. It is such attention to detail that lifts this out of being just another dessert.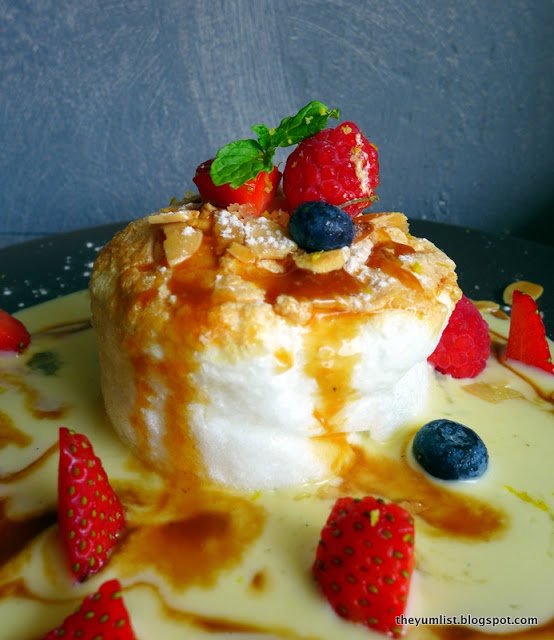 Floating Island
Coffee arrives to end the meal – a tall a latte for Monica and a cappuccino for Caning. The smell of freshly ground beans wafts in the air. It's a nice coffee made with a good quality beans according to my coffee guzzling comrades.
Juice, Latte, Cappuccino
Eating at La Café Memoire feels as though someone has invited you over for a well prepared and beautifully presented home cooked meal. With food this good value, the place should be full on the weekends. 'Say yes to the food you love,' boasts the menu, and we agree, we love this place. Only yeses and yums  exist here. If you live in the vicinity, lucky you, and if not, it is worth the trip to taste this wonderful food.
Reasons to visit: an unexpected treat; fresh and imaginative dishes with clever flavour combinations; relaxed atmosphere; incredible value; BYO – free corkage!
La Café Memoire
7A (1st floor), Lorong Rahim Kajai 13
(Directly above Legendary Reflexology)
Taman Tun Dr Ismail
6000 Kuala Lumpur
Malaysia
+6 03 7731 7574
Breakfast 9 am – 11:30 am (later on a Sunday)
Lunch 12pm – 4pm
Dinner 6pm – 10:30 pm (later at the weekends)