Ross and Sarah Jones, and The Yum List (Monica Tindall)
When guests walks into Livello Uno they are greeted with bright cheery colors and a warm, homey feel. The Italian-Malaysian, family-run restaurant is splashed with the colors of Italy. From the decorative chairs and wall murals to the paint splattered floors and a loungey couch section, Livello Uno breathes the labor of love put into it by sibling duo, Mashad and Mutiara. Chef Mashad Pino is master of the kitchen, while sister, Mutiara, uses her business expertise to successfully manage the front of the house.
Livello Uno
Opened since April of this year, this halal eatery and is in the second storey of a shoplot in the leafy green suburb of TTDI. A separate room tucked off to the side accommodates those who wish to smoke. Natural light that floods the dining area adding to the warm welcome you feel as you walk in the door – although it barely compares to Mutiara's greeting: one of the friendliest smiles to be found in the city.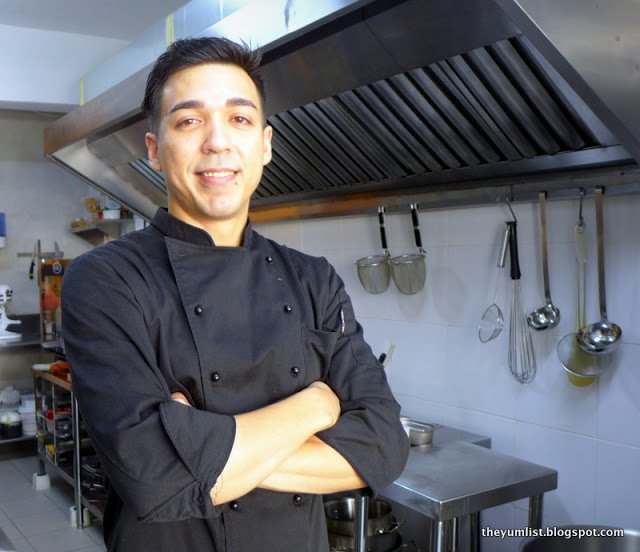 Chef Mashad Pino
There are a variety of coffee, tea, and soda beverages on offer but they specialize in cold pressed juices. Ultra Hydration (RM14), Healthy (RM14), and Beauty (RM16), juices were all fresh, full of flavor, and decorated with a piece of fruit. I (Sarah) am not normally a fan of celery in my drinks, but the Healthy – a mixture of green apple, guava, and celery – was a burst of renewal and I quickly felt revived after a long day at work.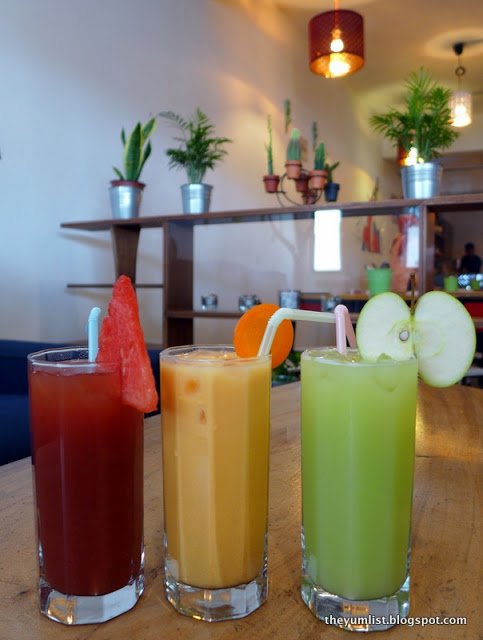 Cold Pressed Juice Blends
We sampled three different appetizers, the Bruschetta con Burro Acciughe (RM10), Pepata di Cozze (RM21), and Crespelle con Spinaci (RM14). The bruschetta was a twist on the typical flavors by adding anchovy butter. If you are anything like me, when the word anchovy is in a recipe, your nose crinkles. However, this bruschetta was the perfect amount of crispness and the homemade anchovy butter added a subtle touch of zest that was deliciously unexpected.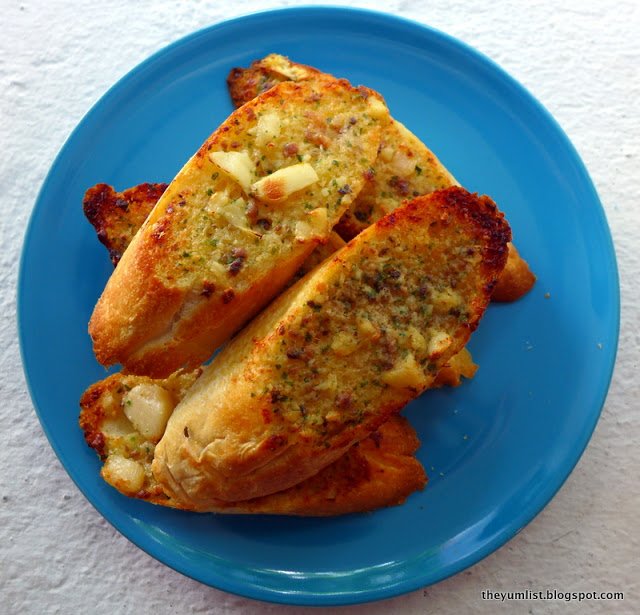 Bruschetta con Burro Acciughe
One of my personal favorites when it comes to shellfish is mussels, so I was excited to try Chef Mashad's take on a traditional offering. The well balanced tomato, garlic and chili sauce complimented the meaty shellfish without overpowering the natural seafood flavor or being too spicy. I was left wishing I had saved some of my bruschetta to dip into the plentiful sauce left over. The spinach stuffed crepe was light and fluffy while the stuffing was creamy and decadent – a true vegetarian treat.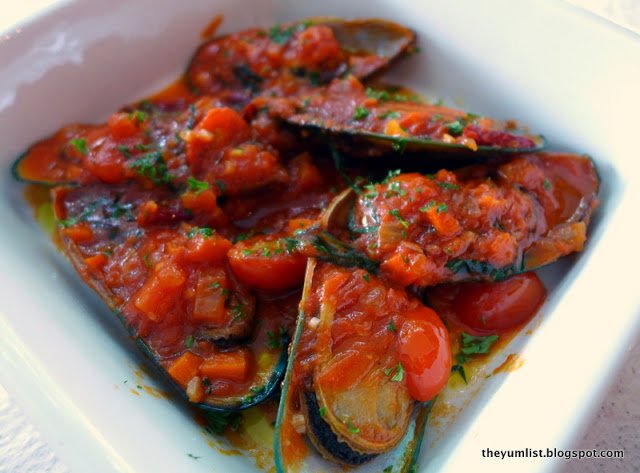 Mussels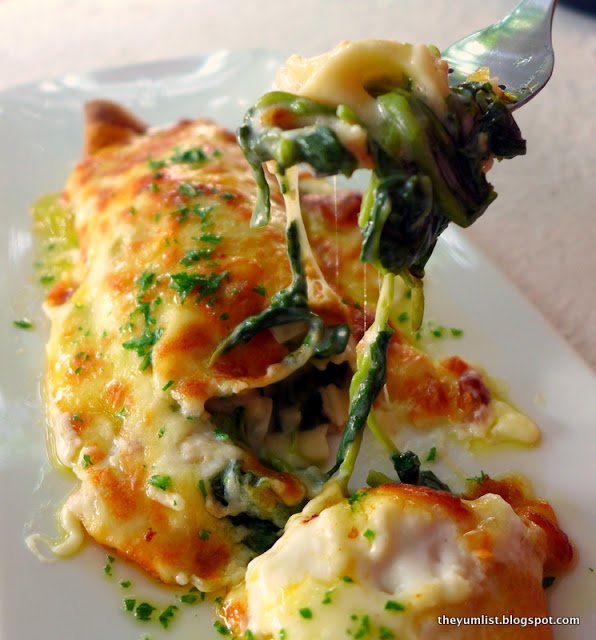 Crespelle con Spinaci
When it came to the pasta dishes each one had its own unique flavor and would remind you of "mama's" cooking while coming out in generous portion sizes. Even though pasta is not made in house, for all spaghetti dishes Chef Mashad uses Bronze die Spaghetti which is pasta that has been pushed through a bronze mold, roughing up the edges, and allowing maximum absorption of sauce. This way the pasta bursts full of flavor from the sauce in each and every bite.
We tried Spaghetti Alle Vongole in Bianco (RM24), which is a seasonal clam dish that was light and had a good balance of fresh tomatoes and parsley, adding a citrus flavor to the lightly olive oiled pasta. The Spaghetti Con Polpetine d' Carne (RM26), is a twist on a traditional favorite – spaghetti and meatballs. These homemade beef meatballs were the perfect bite size amount that exploded with flavor and flattered the homemade, fresh tomato sauce. Our favorite though was the Spaghetti Marinara (RM28), which was a well balanced dish full of giant prawns, New Zealand mussels, squid, and crabmeat, all topped with housemade sauce and covering pasta cooked to al dente perfection.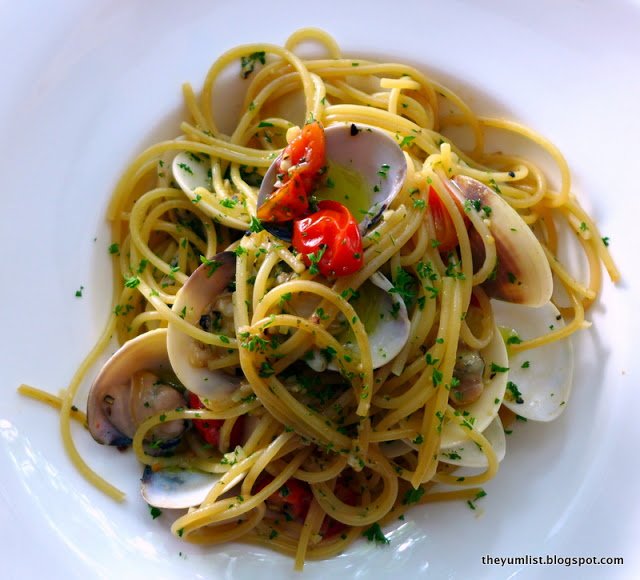 Spaghetti Alle Vongole in Bianco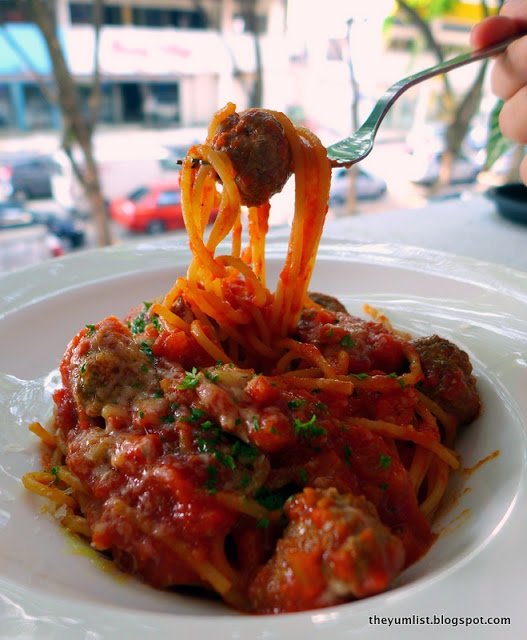 Spaghetti Con Polpetine d' Carne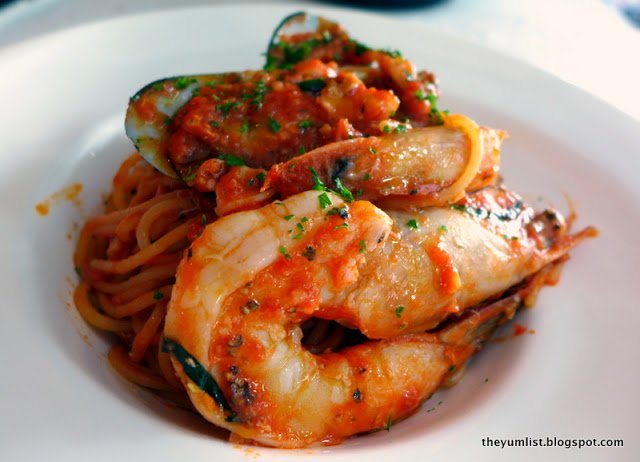 Spaghetti Marinara
Although we loved the spaghetti dishes, our personal favorites overall were the two gnocchi numbers. Maybe because Chef Mashad makes his own gnocchi in house or possibly because both dishes were uniquely flavored, or perhaps because of the cheesy goodness in them – regardless, these dishes had us wanting more!
The Gnocchi Alla Sorentina (RM22) is the homemade potato dumpling smothered in fresh tomato sauce, and topped with melted mozzarella and Parmesan cheeses. With each bite there was a balance of pasta, sauce, and melty cheese making you want to dive back in for another forkful. Although this is typically a very filling dish, the chef has achieved a flawless equilibrium, making it filling but not over the top.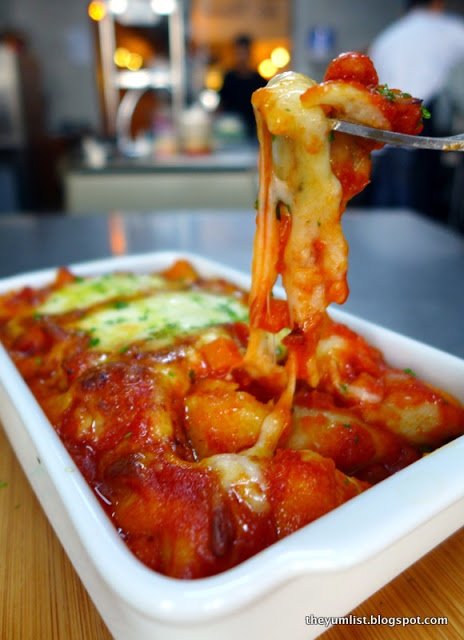 Gnocchi Alla Sorentina
The Gnocchi Pomodoro Con Manzo (RM28), with its pretty presentation, offered a twist on the traditional. This version was shredded beef strips braised with tomato sauce and topped with fresh mozzarella, black olives, and arugula. While the dishes we'd sampled up to this point were fine examples of hearty big meals that you imagine served straight from the kitchens of the best nonnas in Italy, this dish showcased a touch of Chef's creative side. Monica says she's seen this sparkle in previous restaurants where Mashad has headed the kitchen. The majority of the menu will satisfy Italian food lovers from across the city, but it's these type of inventive flares in the selection that are bound to draw gourmets in for sampling.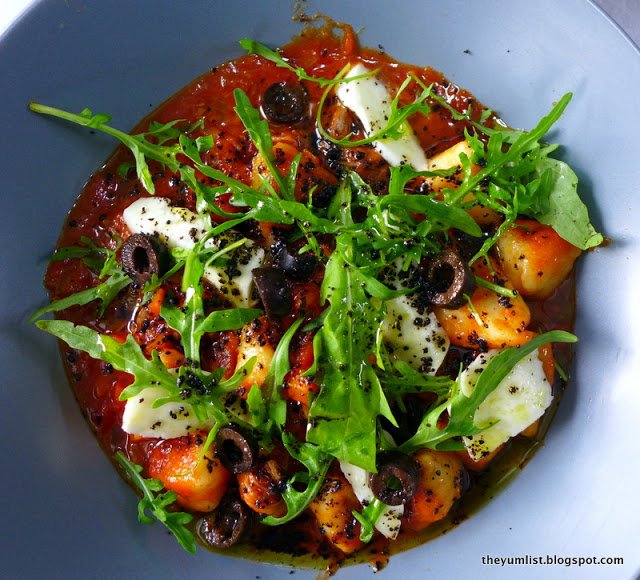 Gnocchi Pomodoro Con Manzo
Polenta Con Pollo Alla Cacciatore (RM24) had Caning singing its praises with large tender chicken pieces cooked with tomatoes and topped with olives. The polenta was so rich and creamy that we suspected it blended with cream, butter and other indulgent goodies. A spoonful of this mixed with the sumptuous sauce, and we soon understood what was tickling Caning's palate – instant gratification.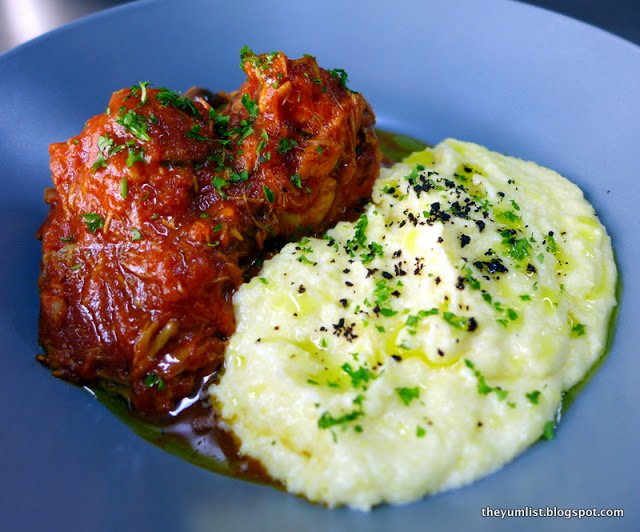 Polenta Con Pollo Alla Cacciatore
Room must be saved for dessert, and after trying Chef's father's recipe for the Tiramisu (RM16), we almost want to scribble a sign ourselves on the door – "Reserve a tummy pocket for a delectable Italian finish!"  The secret formula, passed down through generations is one of the best we've had in Malaysia – especially considering it's alcohol-free. Light, fluffy and enough for sharing – although you may not really want to – please order this sweet ending.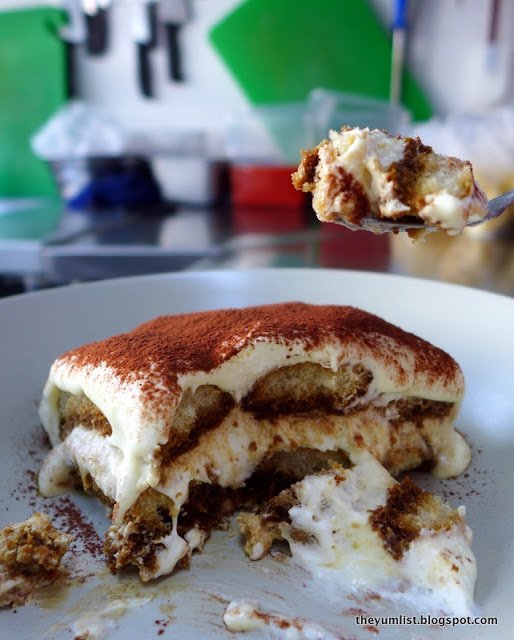 Tiramisu
Bowl of Strawberries (RM14), sounded simple enough, but mirrored the beef gnocchi in artistry and appeal. A fabulous orange mascarpone, mandarin oranges, and crumbled chocolate biscuit were tossed in with the juicy red berries. The citrus forged just enough acidity to balance out the rich cream, tricking us craftily into eating more.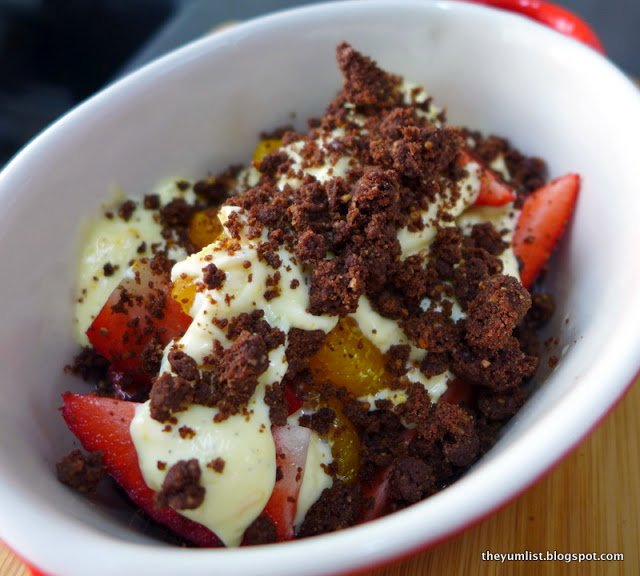 Bowl of Strawberries
A delicious finale was found in the Panna Cotta (RM18). The velvety smooth assembly, dotted with specks of vanilla, was contrasted with a homemade raspberry compote – both tart and sweet. Nuggets of honeycomb could be added to liking and furnished a candied crunch to the dense custard.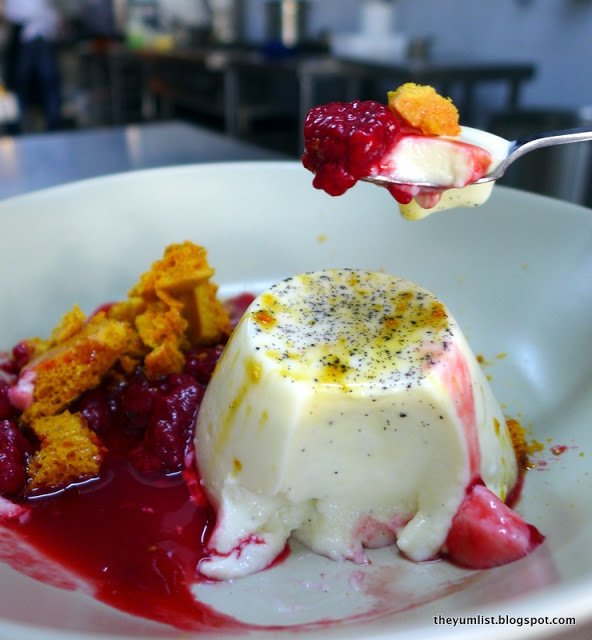 Panna Cotta
This family run Italian restaurant, Livello Uno, is definitely worth a visit. Ingredients are fresh and dishes full of flavor while maintaining an elegant balance that hints at, but never reaches, over-the-top richness. Dad checks in regularly encouraging Mashad and offering some advice in the kitchen drawing on his Sicilian background. Mutiara stands ever at the ready, warmly greeting guests with her cheery and contagious personality. The love and heart in this place is evident, and the comforting atmosphere matches the "home" cooked nature of the food and its value for money prices.
Reasons to visit: fresh ingredients, authentic Italian dishes,the gnocchi, tiramisu, cheery welcoming ambience, value for money prices.
Livello Uno
165 A Jalan Aminuddin Baki
Taman Tun Dr Ismail
60000 Kuala Lumpur
Wilayah Persekutuan Kuala Lumpur
Malaysia
+6 03 2856 0345
Open 11am – 10:30pm
Closed Tuesdays