Named Best Hotel in the World 2015, we're immediately impressed with Lightfoot Travel's choice of stay for us, Gili Lankanfushi, in the Maldives. These travel designers fashion bespoke itineraries for luxury travellers, only recommending properties they have personally approved. With these double commendations, our expectations are high.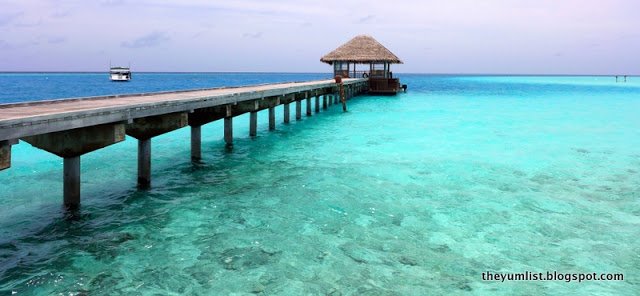 Dock for Airport Transfer
Location
Only a 20-minute boat ride from the airport, access is convenient and our transfer is timed to coincide with our arrival. Not having to wait for a seaplane (as you might to reach many other islands in the nation) we're blessed with more time in paradise.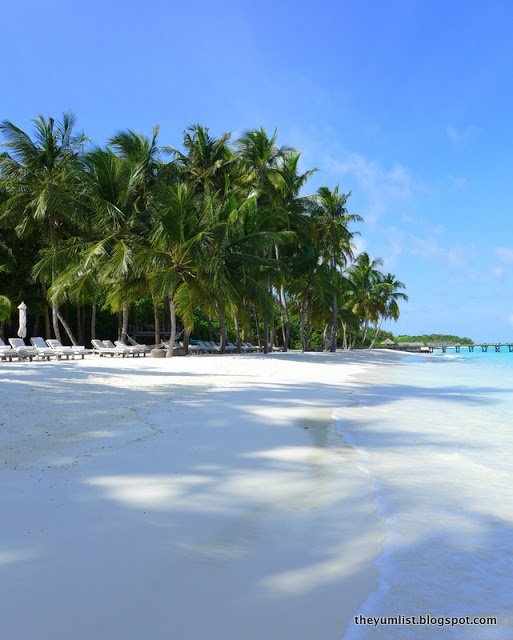 Beach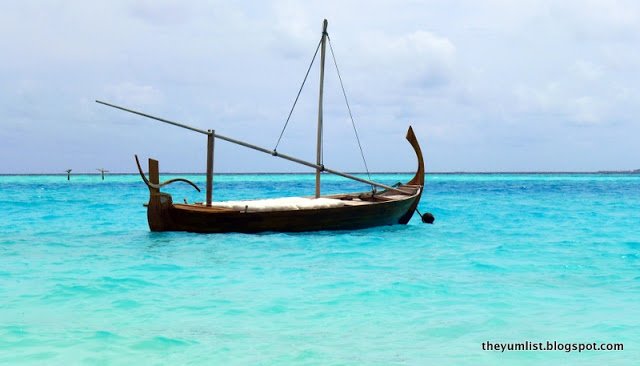 Traditional Fishing Boat
Escorted to a shiny new boat, our seats are cushioned recliners and we're invited to remove our shoes immediately in line with the property's "no news, no shoes," policy. It's difficult to describe how freeing this act of actually going shoeless for the entirety of the stay is, but by the end of our sojourn we don't want to re-shoe. Leaning back into the lounge we're refreshed with a cool moist towel and chilled beverage, as our host describes our journey.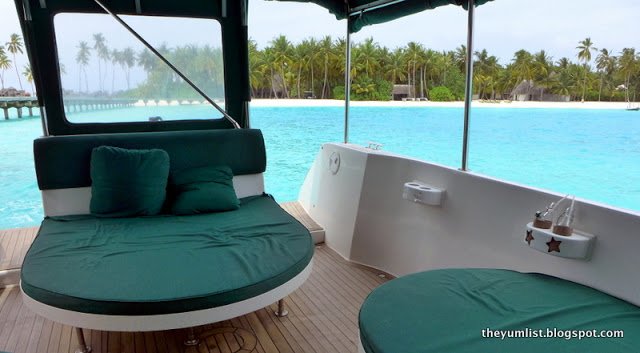 Comfortable Airport Transfer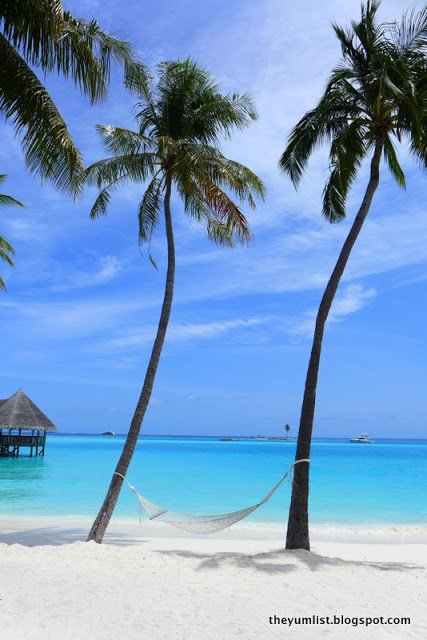 Hammock
The Maldives, a tropical nation, is highly reputed for its pristine white beaches, crystal clear waters, coral reefs, aquamarine lagoons, and as a haven for a spectacular diversity of marine life. It's the seventh heaven dreamt of in a multitude of fantastical tales.
As we draw near excitement bubbles as the breathtaking scenery unfolds before us. Palm-lined beaches and brilliant ivory sands are the background to glimmering teal hued waters.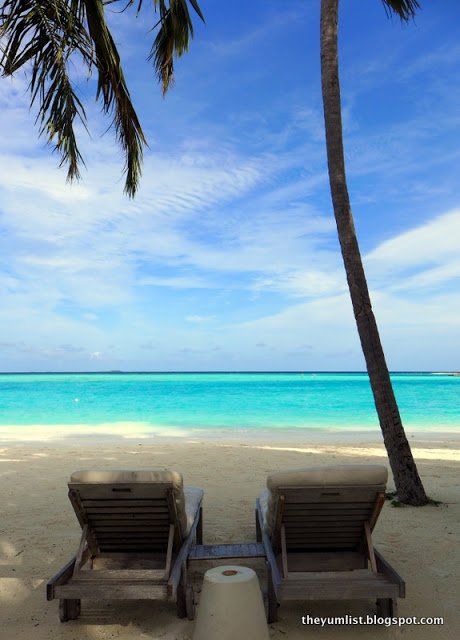 Beach Chairs
Philosophy
Stepping onto the dock, we're greeted by a beaming "Mr. Friday," our personal butler for the duration of our stay. We're immediately embraced with a sense of care as our host radiates an aura of calm and trustworthiness. He has every detail taken care of and we feel instantly worry-free. Our Mr. Friday appears whenever we need, returning our bicycles to our home when we've chosen to walk, arranging the make-up of a bed on the roof when we wish to sleep under the stars, and taking care of a number of tasks that free our mind to focus on our goal of relaxation.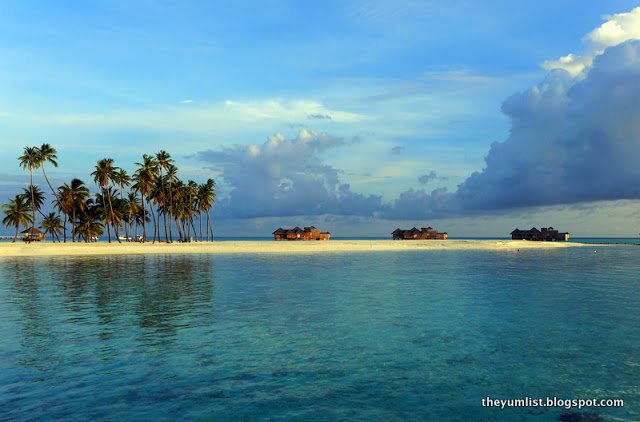 Sunrise
With the assistance of a pre-arrival questionnaire Mr. Friday has our preferences noted and our room, activities and meals are primed exactly as prescribed – pillow and sheet preference, chosen bathroom products, room scent, music genre, taste in movies, favoured activities – our visit is customised to the last detail.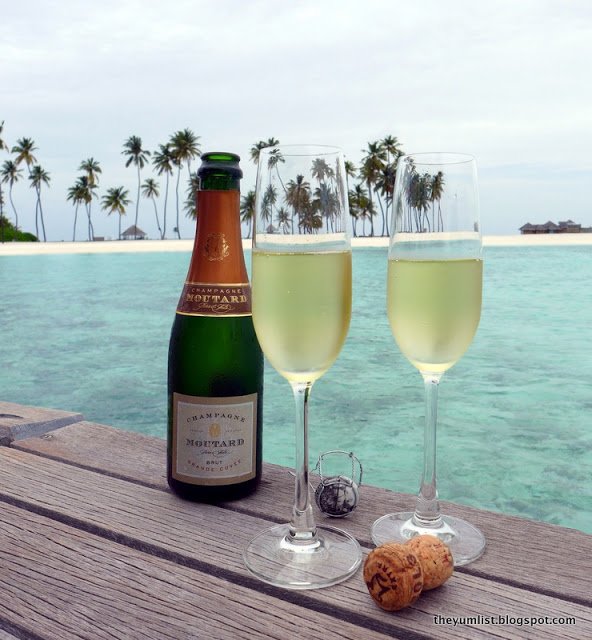 Bubbly On Our Dock – Mr. Friday knows we enjoy a drink or two
Disconnection from our daily concerns is highly encouraged. The resort's "no news, no shoes," philosophy is easy to follow with the kiss of the sun, gentle caress of the sea breeze, and ministration offered by our dear Mr. Friday.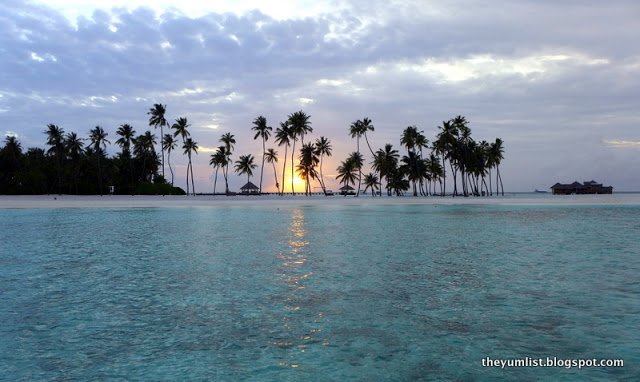 Sunset
Transport
Although we're conveyed to our Over Water Villa Suite by buggy, we're encouraged to traverse the island on bicycles, which are parked out front. These bikes turn out to be another simple pleasure that gift much delight. Shoeless and pedalling carefree on the jungle shaded pathways and sun drenched boardwalks is surprisingly liberating, and a definite highlight of the stay.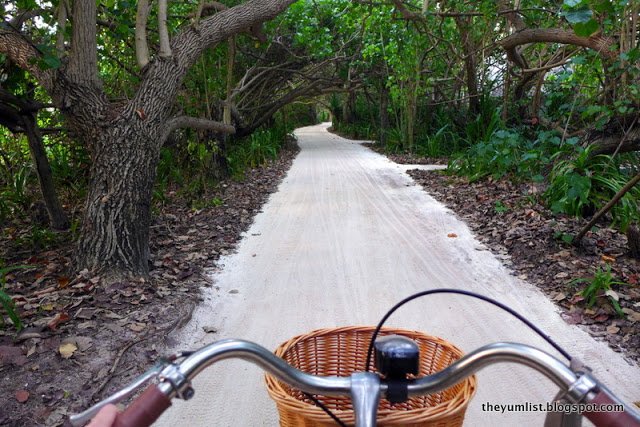 Cycling On the Jungle Path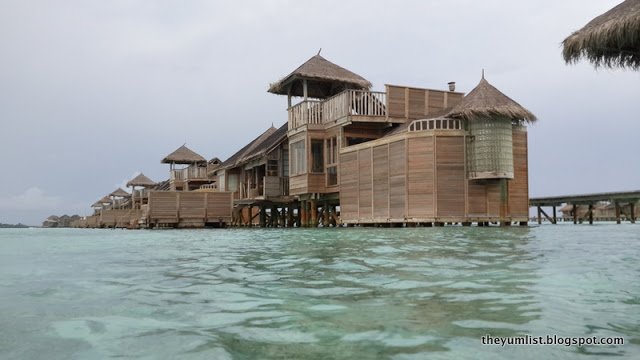 Over Water Villas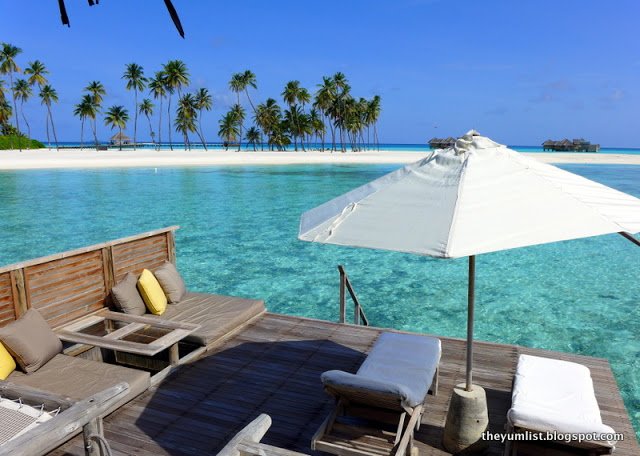 Over Water Villa Deck
Accommodation
Our stilt supported villa, one of 29 of similar design, provides a whopping 210 sqm of freedom. An enormous living room is made seem even larger with its open-air concept. Daybeds and a dining area furnish the space, which lead down to a private dock provisioned with deck chairs, more daybeds and snorkelling gear prearranged to our size. The area is replicated upstairs with a rooftop terrace, where we can dine, lounge or even sleep under the sun or the stars. We're certainly not short of relaxation space.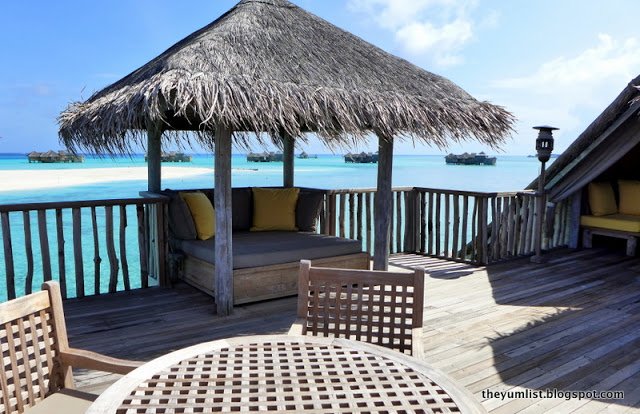 Rooftop Deck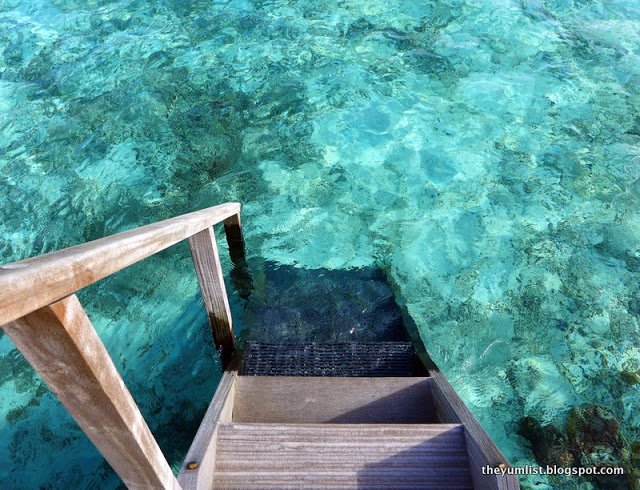 Steps Leading to the Water from our Personal Dock
Our king size bed is dressed with organic cotton sheets requested prior to our stay. Crisp cool cottons cover a supportive yet soft mattress, our pillow choice has been customised, and our preferred aromatherapy scent too.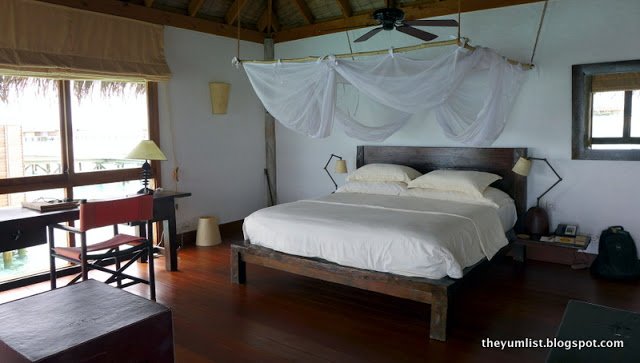 Bedroom in Overwater Villa
The bathroom and dressing area take up just as much space as the living room. A bridge steers us to a semi-outdoor shower, tiled with glass bricks, and the floor of the bathroom has transparent panels allowing constant updates on the marine happenings beneath. A concealed stairwell leads directly to the clear waters below, another access point for a dip. An equally sublime experience is found in the bathtub, salt soak provided, bordered by windows opening up to dazzling vistas of the surrounds.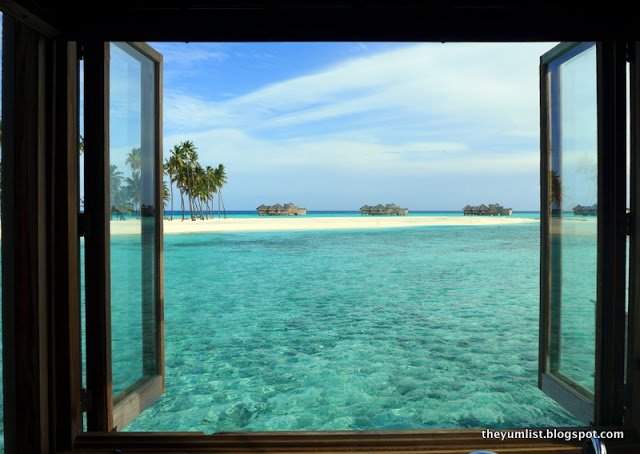 View from the Bathtub
Our audio-visual preferences have been noted before arrival so all are in place. Wi-Fi is available, although not encouraged – please relax – leave your worries on the boat.  I do marvel however, at how the Internet seems to be functioning at speeds greater than what I've had on the mainland of some countries. There's an espresso machine too and a bottomless supply of house purified sparkling or still water. Mini-bar is extra, but does hold some very refined goodies.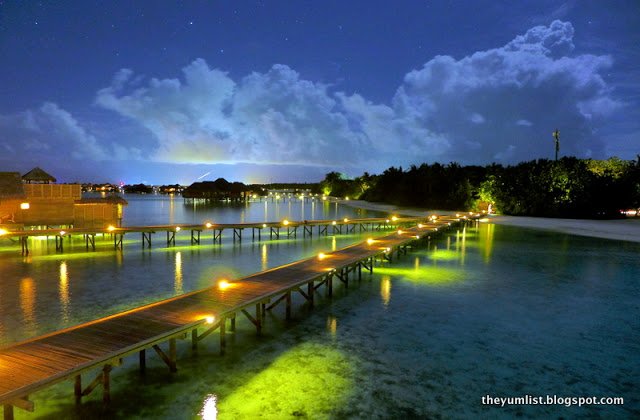 Walkways at Night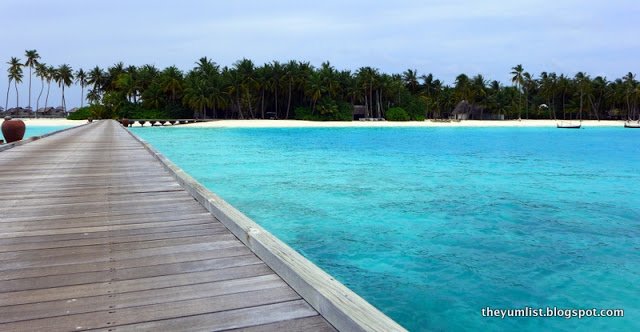 From Our Villa To Land
Food and Beverage
Quality food and beverage are essentials for a great holiday, and Gili Lankfanfushi supplies both. A focus on local fresh produce sees many ingredients plucked fresh from the island's own organic garden or caught in the surrounding crystalline waters. All that's not available in the region however, is imported from around the globe, and I'm stunned at the diversity of produce on the various restaurant menus. A variety of dining outlets spread around the island means mealtimes are generally intimate and personalised.
By the Sea takes guests on a Japanese culinary journey. Views of aquamarine waters remind diners of the origin of their dishes, while five tables, daybeds, a sushi bar and bistro seating scatter patrons making them feel as though they have the restaurant and service to themselves.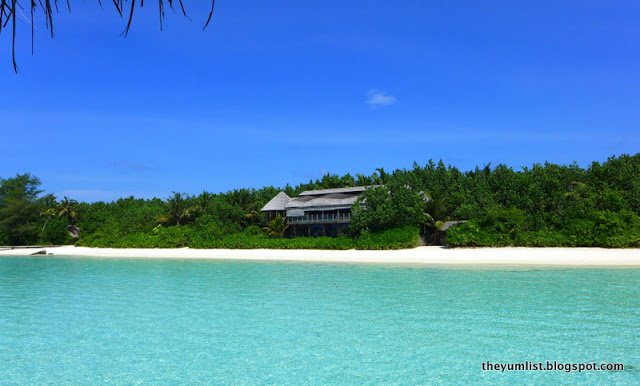 By The Sea Japanese Restaurant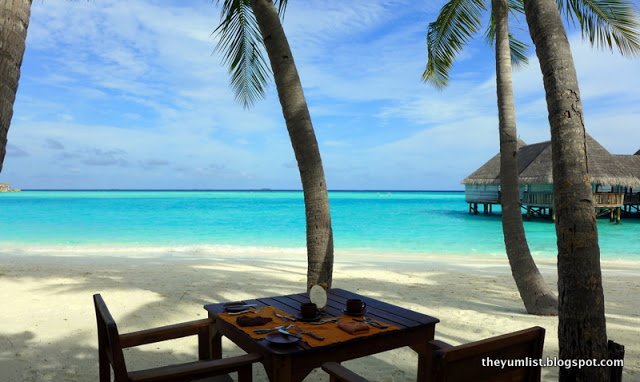 Breakfast Table
Lunch changes location, so guests never find the offerings tedious (although it's difficult to imagine ever tiring of feet in the sand and blue water views).
Follow this link to find some of our most-loved plates.
But, in the meantime, think lobster fresh off the grill and a mouth-watering rendition of Spanish gazpacho.
For the true gourmet, The
Underground Wine Cellar and Chocolate Cave
must be experienced. A comprehensive wine list satisfies our fussy palates and we are humbled by the knowledge of sommelier, Rohann, who leads us through an exquisite chocolate and wine-matching event.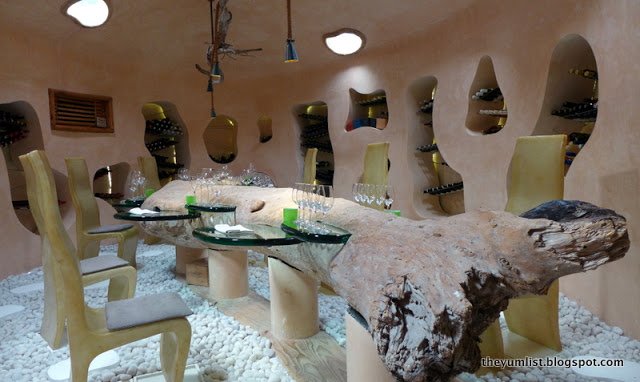 Underground Wine Cellar
Appropriately named, a fantastic location built on stilts over the sea, is found in the Over Water Bar. The open-walled structure furnishes 360-degree views and is naturally cooled by soft flurries of air. Ambience music is unnecessary as the rhythmic lap of water lulls guests into almost hypnotic states of calm (although live music does strum the air at happy hour). During the day, a menu of salads, sushi, fresh fish and Mediterranean inspired dishes provide a selection of light and wholesome offerings.
Cocktails are fab made from premium spirits, and the Gili Goes Spicy is a must try.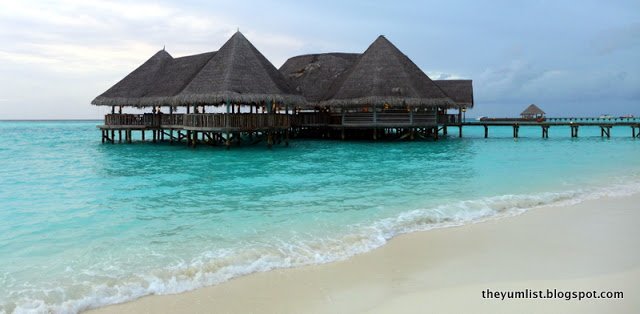 Overwater Bar
For those wanting a truly special experience, Destination Dining offers the ultimate in private locations. From a table dug in the sand, a spot for two in the shade of the organic garden, a setting on a deserted island, a Bollywood themed dinner while watching a flick in the open air in the jungle cinema, an elevated dining area in the garden offering 360 degrees views, to a wine paired cheese or chocolate tasting in the underground cellar, the team at Gili Lankanfushi is at the ready to help you create an unforgettable escapade.
Find in this page a summary of some of the foodie highlights of our stay.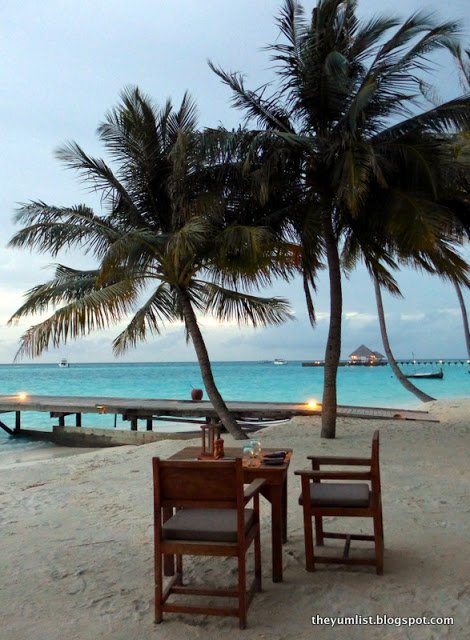 Dinner Table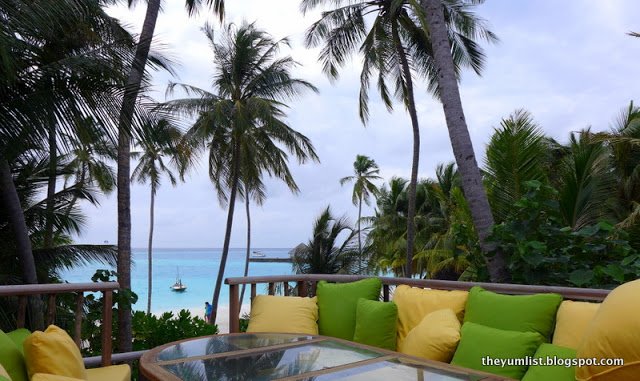 360 Degree Dining
Activities
A comprehensive range of activities is at our disposal for working off those worthy calories. Hubby is delighted with the synthetic grass tennis court and has mustered up a partner within hours of arrival. I'm pleased to see high-quality Technogym machines, with both cardio and strength training equipment, in the gym. We both get our regular workouts in, staying in shape during our travels.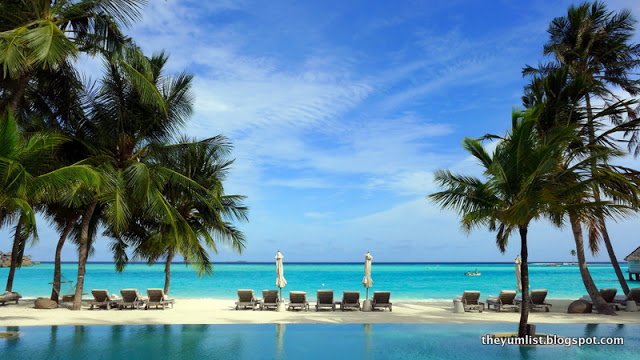 Pool
Wildlife Viewed from Our Deck – We don't even need snorkelling gear to view the amazing marine life!
Non-motorised water sports and yoga are complimentary activities, and snorkelling gear (in our size) was already placed in our room prior to arrival. Those wanting something more adventurous can sign up for excursions with Ocean Paradise Dive Centre, which is run by multilingual PADI instructors.
Parasailer
Our true haven of relaxation however is that of the glass-floored Meera Spa. Even the most stubborn of tensions promise to be released here. Built atop the striking aquamarine lagoon, this luxury spa is complemented by expert therapists and organic lush products.
Find more photos and recommended treatments in this link.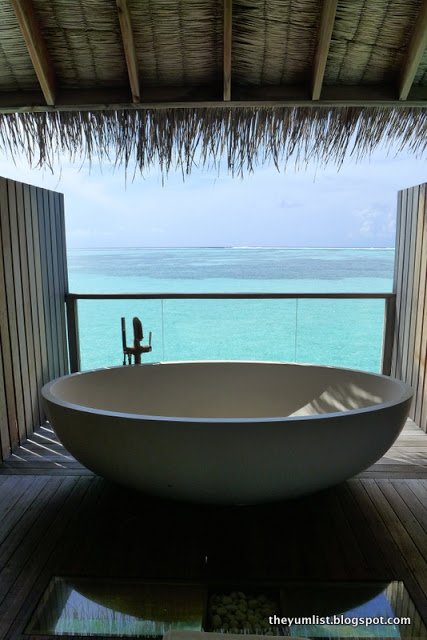 Meera Spa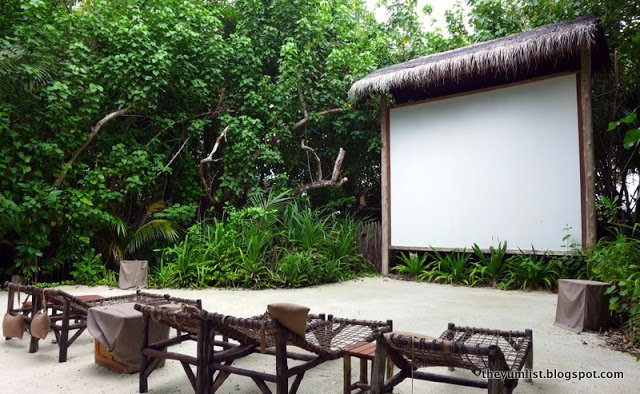 Jungle Cinema – We watch a fab movie here and are pleased the high quality of visuals, sound and yummy popcorn provided
Sustainability
We're pleased to learn of Gili Lankanfushi's commitment to sustainable operations, respect for the local environment and community, and conservation practices. From the sourcing of ingredients, upcycling of building materials, eco design, education, and waste management, thoughtful systems are in place working towards making a positive difference. In a constant effort to reduce impact on their surrounds, the latest project is one which sees the resort plugged into the largest floating solar panel in The Maldives. Partnering with the Austrian company Swimsol, enough solar energy is harnessed to power all the pathway and jetty lights, as well as the main office building lighting, reducing their carbon footprint by 35 tonnes of CO2 per year!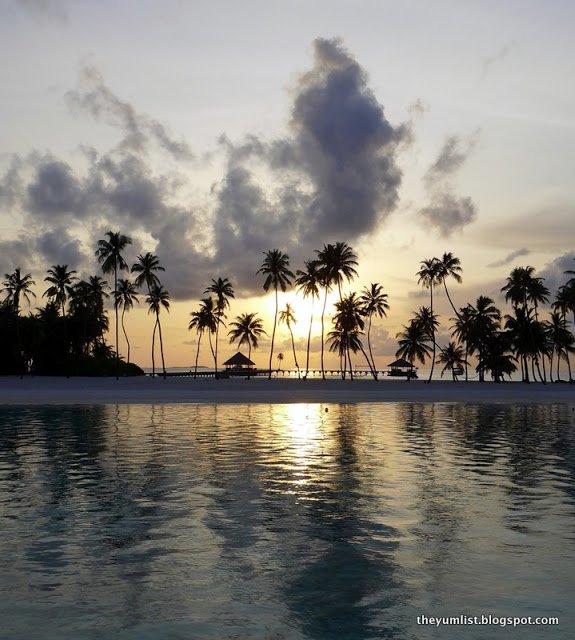 Sunset
There's no doubt that the paradisal image of Gili Lankanfushi will be imprinted in our minds for years to come. But, while the postcard perfect recollection may eventually fade, the warmth felt in our hearts as a result of our connection with the team taking care of us on the island will live on forever.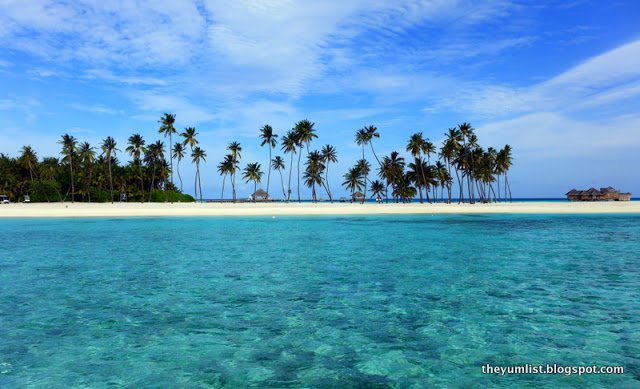 Paradise
Returning to reality at the end of our visit, exiting the boat we're handed our shoes. With the last buckle clipped and shoelace tied, our escape to paradise has officially ended. Shoed again, we enter the departure lounge and fondly wave goodbye.
Reasons to visit: spectacular location; Mr. Friday; diversity in dining options; a truly word-class luxury experience.
Gili Lankanfushi
Lankanfushi Island
North Male Atoll
Republic of Maldives
+960 664 0304
Book bespoke itineraries through
Lightfoot Travel, the Asia-based artisans of luxury travel with offices in Singapore, Hong Kong and Dubai
www.lightfoottravel.com/