For an island that is less than 800 metres long and 600 metres across, Gili Lankanfushi sure does bloom with diversity in its offerings to please even the fussiest of palates. Making good use of a rather extensive on-site organic garden and the bounty of the surrounding pristine sea, a good deal of ingredients are plucked or caught fresh from the water and earth, and delivered directly to the plate. There's certainly no shortage of imported elements either with prime cuts of meat, superb produce, and a comprehensive wine selection, arriving from around the world.
During our visit we dined Poolside and in the Over Water Bar for our lunches. Below we treat you to a photo memory of some of the deliciousness the kitchen team tickled our taste buds with.
Local and Imported Produce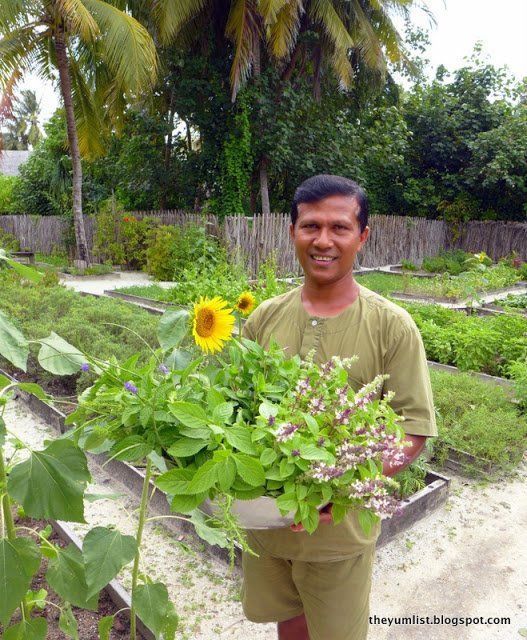 Greens Plucked Fresh from the Garden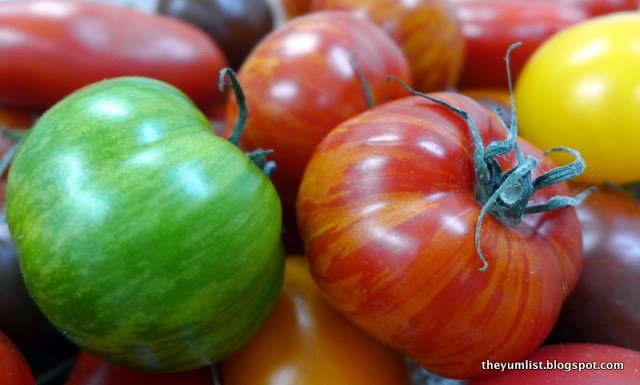 Gorgeous French Tomatoes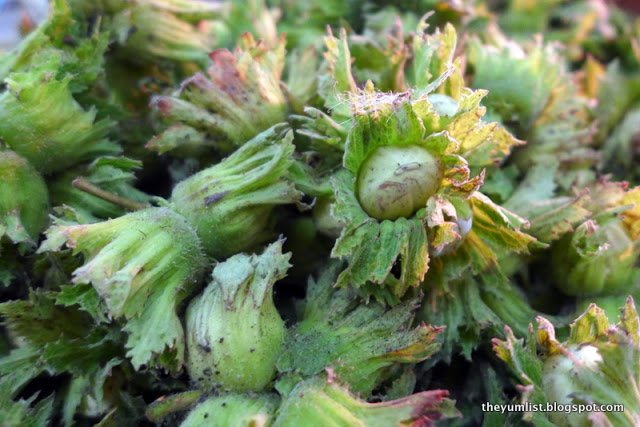 Raw Hazelnuts
Over Water Bar
Not enough to just be encircled by the sea, the Over Water Bar also has a ring of lounges and glass topped and bottomed tables around an ocean pool in the centre. No matter where you sit, it's aquamarine vistas all round.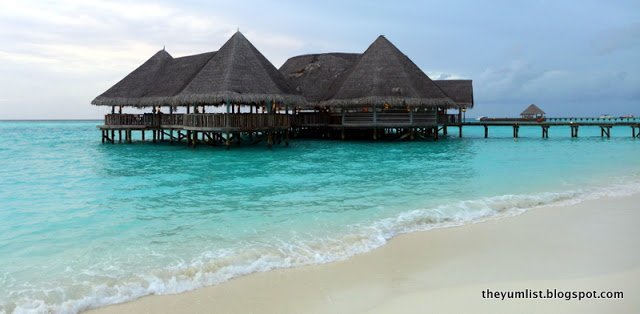 Over Water Bar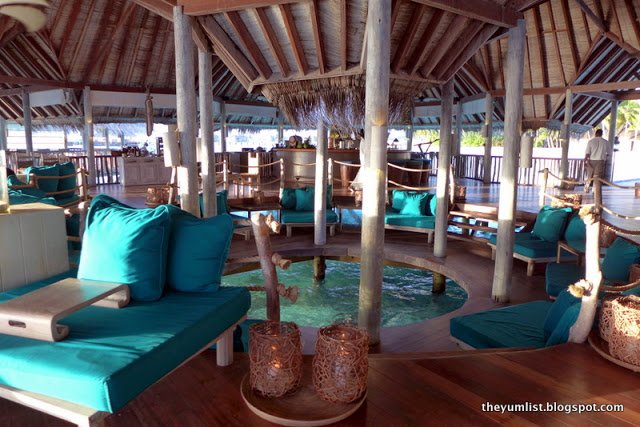 Over Water Bar – Note the hole opening up to the sea in the centre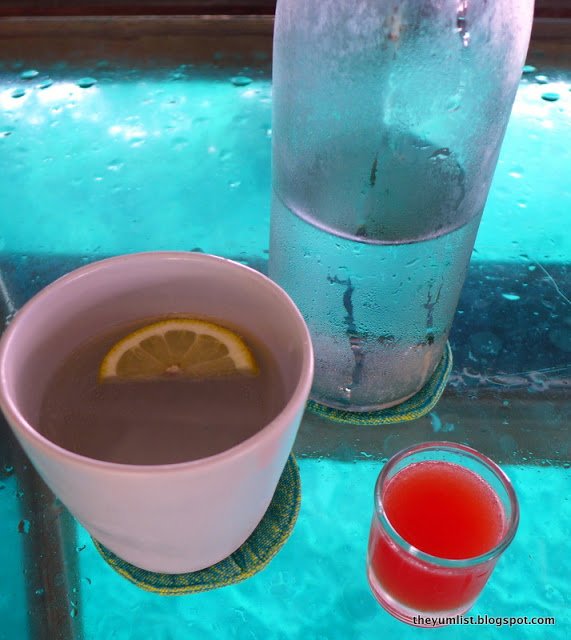 Glass Topped Tables Enhance Views to the Sea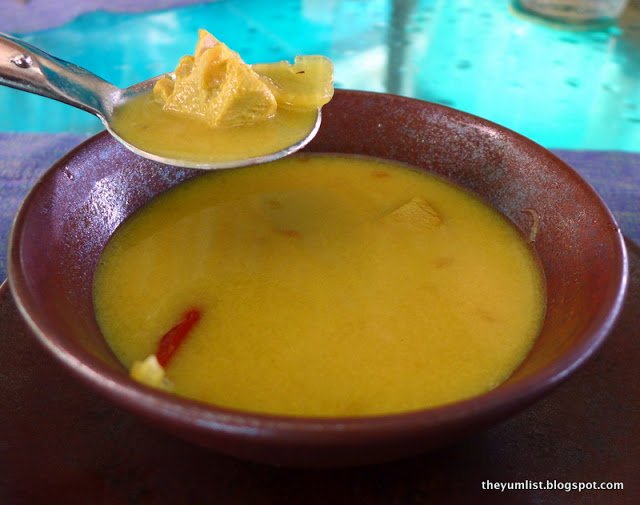 Maldivian Soup – A thin but tasty broth with chili, tuna and coconut millk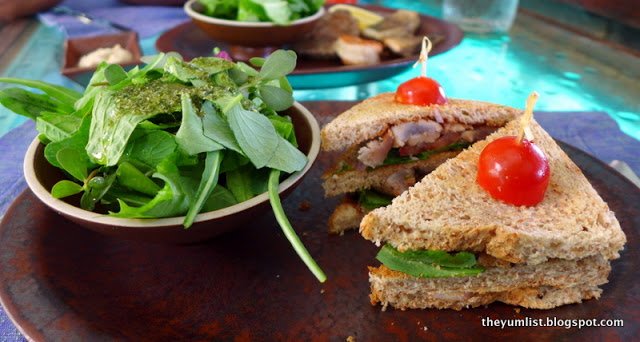 Local Tuna Sandwich and Organic Garden Salad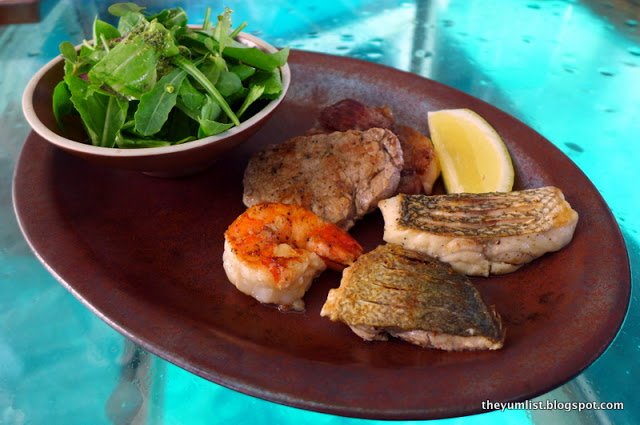 Mixed Grill of seafood, fish and prime cuts of lamb and beef – moist, tender, perfectly cooked, delicious.
Poolside and Restaurant Meals
Sitting with our toes in the sand, ocean breeze in our hair and shaded by coconut palms, we enjoyed a number of midday meals by the pool and sea.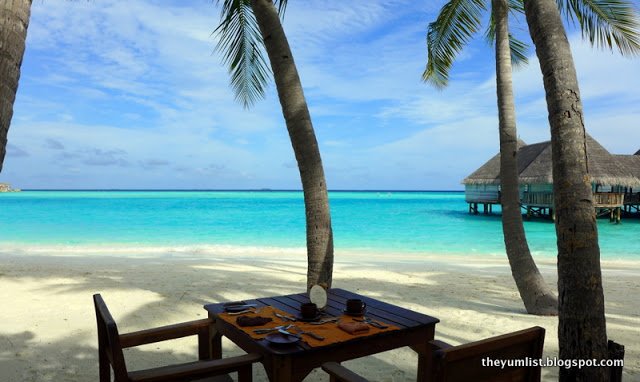 Table by the Sea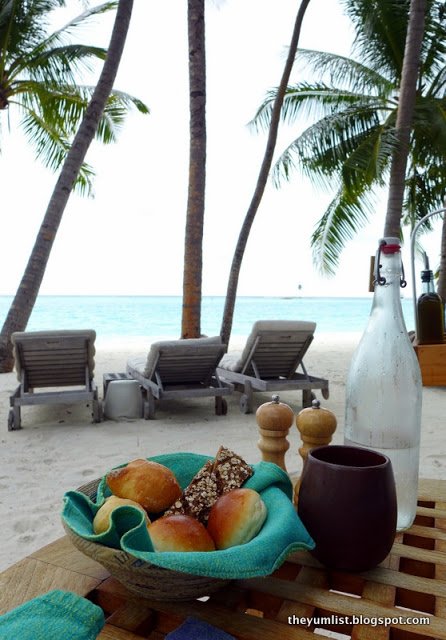 House Baked Bread – A different selection daily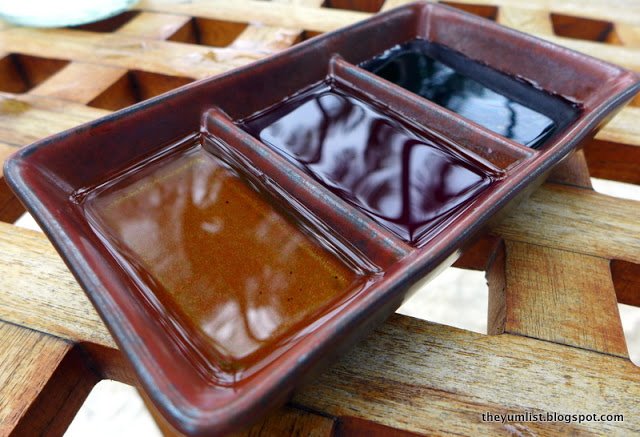 Choice of Oils and Vinegars – Six brought tableside, but up to 30 in the kitchen available upon request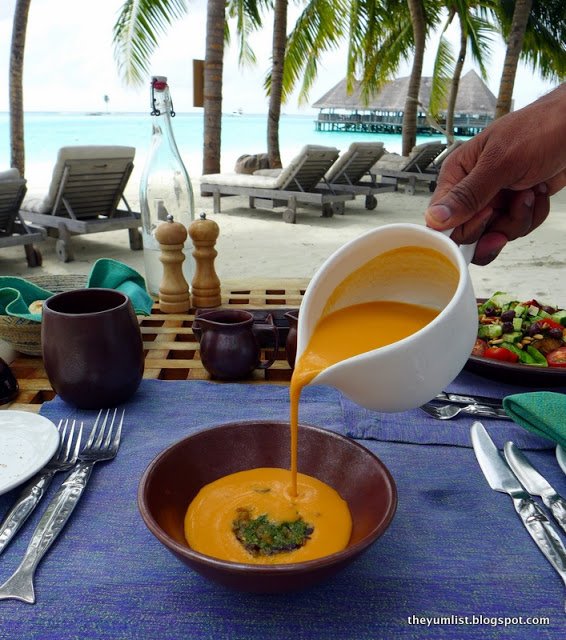 Gazpacho – If you only order one dish make it this – equally as good if not better than the best we've had in Spain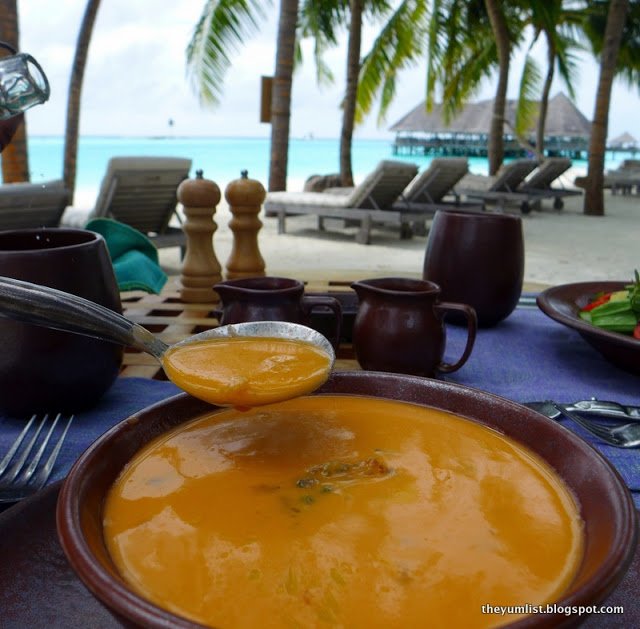 Gazpacho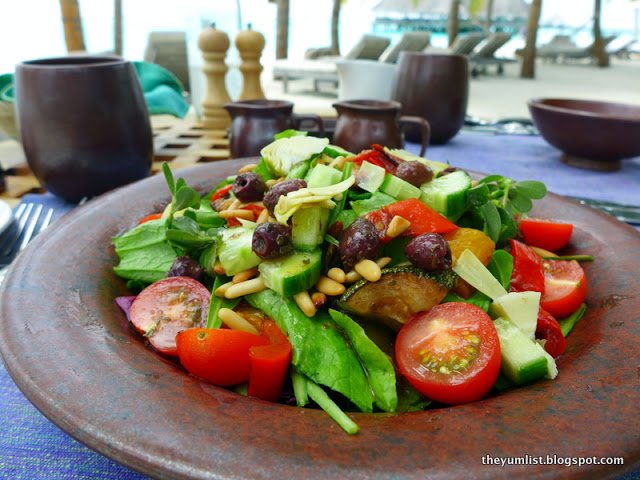 Organic Garden Salad – Literally picked minutes before we ate it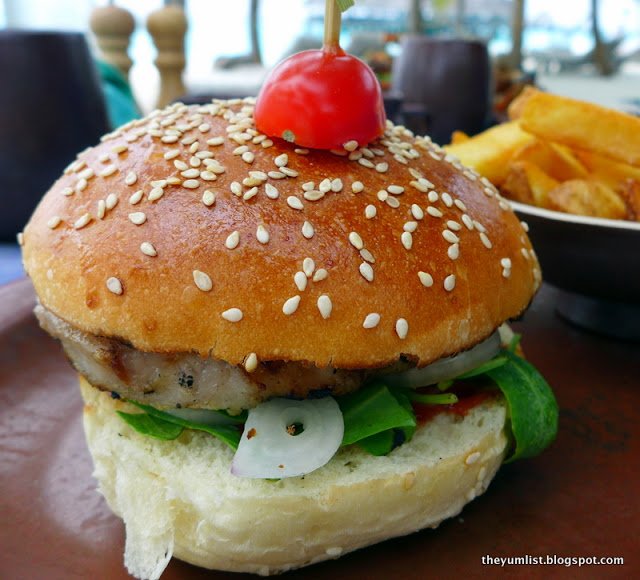 Tuna Steak Burger – You must eat tuna when in the Maldives – it's some of the best flavoured fish in the world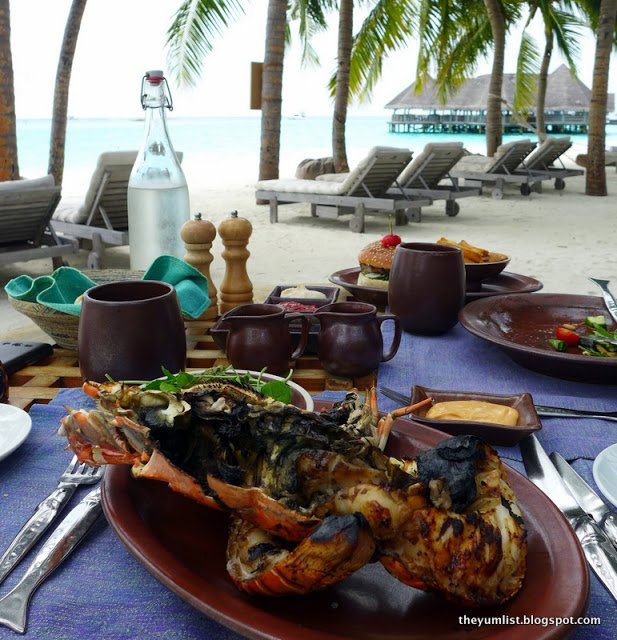 Lobster Hot of the Grill – Decadent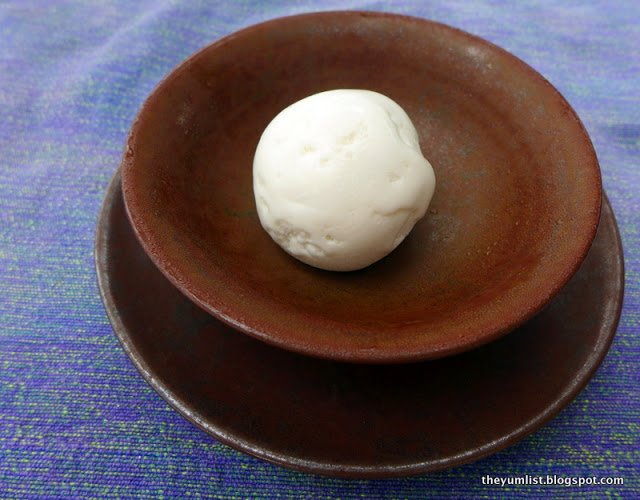 Coconut Sorbet – Smooth Creamy Divine – More than 30 sorbet and ice cream flavours to choose from! We also thought highly of the passionfruit and pomegranate varieties.

Gili Lankanfushi

Lankanfushi Island

North Male Atoll

Republic of Maldives

+960 664 0304

gili-lankanfushi.com

Book bespoke itineraries through Lightfoot Travel, the Asia-based artisans of luxury travel with offices in Singapore, Hong Kong and Dubai 

www.lightfoottravel.com/