Genting is celebrating their golden anniversary with a Food Tour of France promotion. Last month we were fortunate to partake in an exceptional degustation menu by Chef Frederic Prouvoyeur with wines paired by the number one wine merchant in France, Barton & Guestier. This September, Chef Christophe Christian Serge Rose, commended for his prowess in classical French cuisine, graces the kitchens of The Olive.
Browsing the line-up of dishes, it seems chef Rose is set to alight guests' imagination with a fine dining experience that will truly honour Genting in its 50th year. Utilizing traditional French cooking technique, but injecting flavours of Malaysia with inspiration from around the world, the dishes appear familiar with an exotic flare.
A beautiful French vineyard, of which chef is also a part, Chateau Cos D'Estournel, provides the wine pairings for this special meal. Covering 91 hectares, the majority of vines planted in the Vineyard of Cos are either Cabernet Sauvignon or Merlot. Cared for and harvested by hand, the grapes go through strict selection before making it to production. Guests with the enthusiasm to dine both nights will be treated to pairings of varying vintages each evening. We're here on the first night of the celebration so will comment on the opening drops, but at the end of the piece I list the collection that will be served on the second night.
Cold Starter
Carpaccio of Scallops with a squeeze of lime and sprinkle of salt is arranged in an ivory crescent sprawl around the edge of a plate with a generous shaving of black truffles and puree contrasting the top. A daub of black caviar centres the composition, and a tangle of micro greens balances the side. It's a fresh taste of the ocean with the rich fungus giving the dish some earthly roots.
Chateau Cos d'Estournel Blanc 2011, a blend of Sauvignon Blanc and Sémillon, proves a refreshing collaborator. The aroma is familiar, yet it takes some time to distinguish between floral and summer stone fruit notes. The crispness of sharp citrus pairs wonderfully with the seafood, and the minerality on the finish carries the flavor of the truffles right through to the end.
Hot Starter
Artistic lines criss-cross, forming a star on the plate, in Crunchy of Gambas with Mango Coulis. Savoury prawns are sheathed in a brittle wrapping in striking polarity against the sweet mango sauce and fresh slices of ripe fruit. Hubby crunches away, showing his approval with no words (which is rare), just happy murmurs. The Goulee Rouge 2012, smooth mellow and fruity, provides a playful match with the hot tropical starter.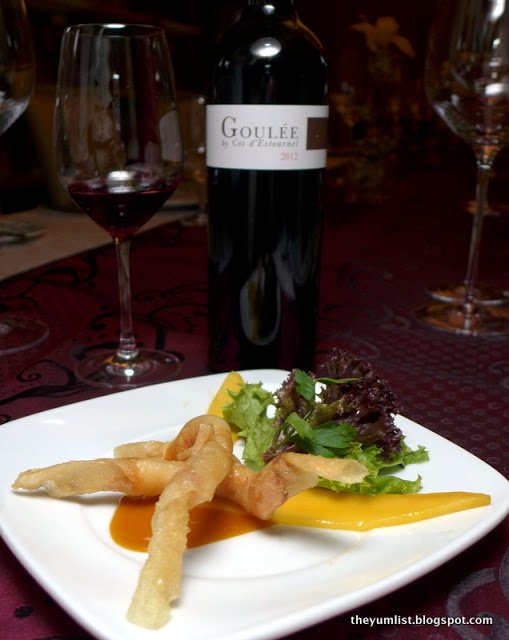 Crunchy of Gambas and Goulee Rouge 2012
Fish
Pat of Roasted Monkfish with a Vinegar Scent launches the principal plates. The fish is a stout thick roll of moistness. Two mounds of potato mash acts as symmetrical countenance on either end of the long rectangular plate. The thin liquid that bases it all has a soft orange hue as a result of the caramelization of the outer edges of the fish and fine slices of red Spanish peppers.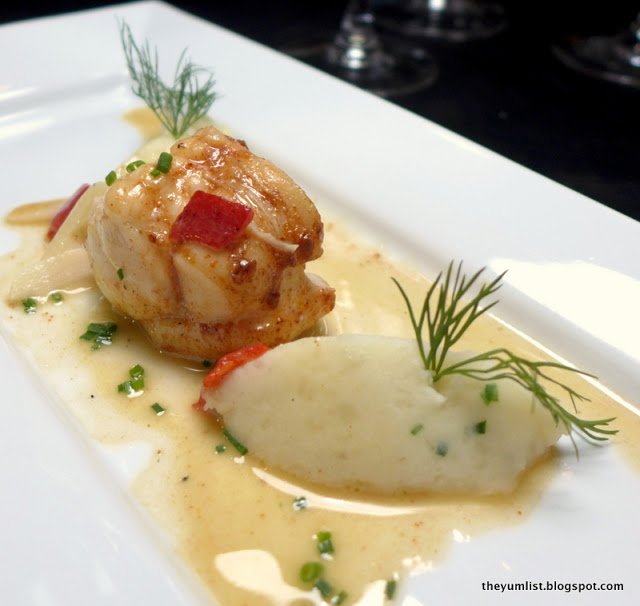 Pat of Roasted Monkfish
A blend of Cabernet Sauvignon, Merlot and a drop of Petit Verdot make up the Pagodes de Cos 2009. A lavish bouquet breathes suggestions of caramel and rich juicy fruit. It enters the mouth with the flavour of fresh dark berries and exits with a savoury conclusion.
Meat
The meat mains see a duo of red flesh prepared with the utmost of care. The Loin of Veal comes with Candied Garlic Cloves and Candied Tomatoes. My first thought: why did I succumb to eating all of the delicious hot bread in the basket?! Simple, yet stylish plating reveals a generous portion (and there's still lamb to come!). A vibrant carrot mash cooked in orange juice, ginger, cumin and honey surrounds a succulent cut that maintains its original quality of taste, but is complemented wonderfully by the sweet vegetable sides.
The supple pink Loin of Lamb from Pauillac is Roasted in Aromatic herbs and cloaked in a thyme, chive, parsley, mustard and breadcrumb paste. It's escorted by a Vegetable Tian, which has a high component of eggplant and a little Middle Eastern feel to it. I declare that I can't possibly get through the entire plate, much to hubby's less-than-quiet delight. He almost has nobbled it off before I've swallowed the first bite. Needless to stay: excellent.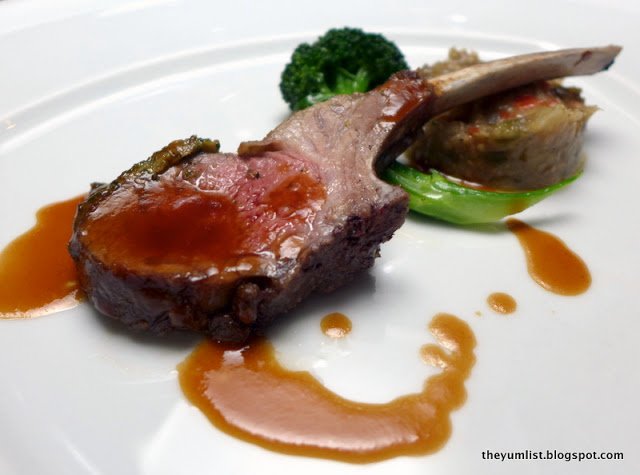 Loin of Lamb
A great year was had in the production of Chateau Cos d'Estournel's 1996 red. Its intense hue and sweet fruity bouquet sets expectations high from the onset. Silky tannins swirl around the mouth, and it ends with a long lingering finish. Delicious. While the 1996 vintage was a duo of Cabernet Sauvignon and Merlot, the 2007 adds a small amount of Cabernet Franc to the mix. It's fresh, and again exhibits exceptional length. This one is worth holding onto for a few more years to really develop.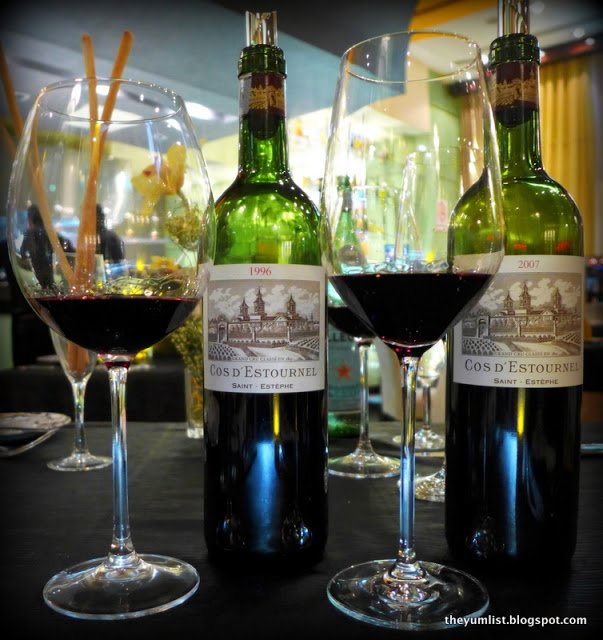 Chateau Cos d'Estournel 1996 & 2007
Dessert
Crunchy Bananas with Almonds and Strawberry Soup, Mascarpone and Lime furnishes a familiar ending for Malaysian palates. Cooked banana are soft and rich, but firm slices of pear and apple balance out the intensity with some light acidity.
The same blend of wine continues for dessert, but this time a 2004 vintage for the Chateau Cos d'Estournel. Dark red in colour, with bitter chocolate and anise on the nose, it complements the fruity dessert nicely. Once more it persists on the palate long after swallowing and is easy drinking now, but I imagine also only improves with age.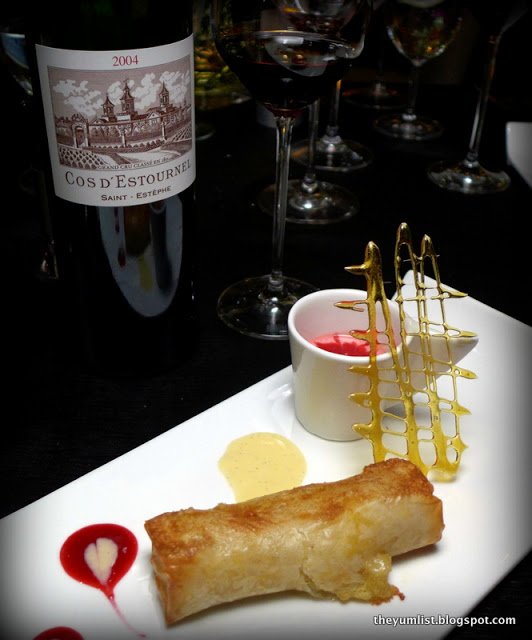 Chateau Cos d'Estournel 2004 and Dessert
The degustation menu at The Olive, Genting is priced at RM328 nett without wine pairing and RM848 nett with wine pairing. The above menu highlights the Day 1 pairings. Day 2, sees the same menu and wines, but of varying vintages. In order: Chateau Cos d'Estournel Blanc 2012; Goulee Rouge 2009; Pagodes de Cos 2010; Chateau Cos d'Estournel 1986 & 2006; Chateau Cos d'Estournel 2000. Tonight (September 3, 2015) is the final session for this promotion. If you can't get up to Genting today however, stay tuned to Genting's
website
for more guest chefs and delicious wine paired degustation menus.
Reasons to visit: an incredible opportunity to experience an authentic taste of France right here in Malaysia; an expertly partnered wine match.
The Olive
Resorts World Genting
Genting Grand Hotel
69000 Genting Highlands
Pahang Darul Makmur
Malaysia
[email protected]
+6036105 9668
www.rwgenting.com