Mercat is one of our favourite little finds, perched on the pavement opposite Bangsar Village II.  From the first, we were in raptures over the creatively styled food but now that wine and other drinks are offered, Mercat offers a true expression of not just Spanish, but particularly Barcelonian hospitality at its best. If you've ever hankered to visit the colourful Catalonian capital, save yourself a flight and potter along for a few hours at Mercat to soak up the sensation of a Barcelona evening right here in Kuala Lumpur.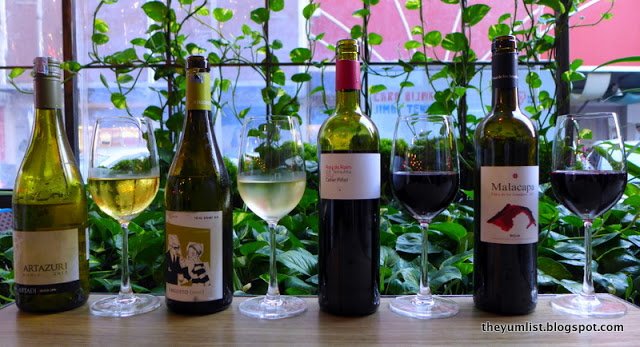 Wines by the Glass
Chorizo al Vino (RM23++) is just the cutest looking dish, with baby scoops of potato and tiny dots of sour cream. We love the herby red wine sauce with just a tingle of spice oozing from the surprisingly delicate rounds of chorizo. The contrast between playfully delicate presentation and robust flavours epitomises Mercat's particular imaginative interpretation of traditional tapas. A warm red will always go well with porky flavours, and the Raig de Rain Garnacha Carainea (RM136++ /RM27++) with its combination of merlot and shiraz grapes, slips down well. Closer to a French-style wine than the others we have tried, it tastes high in the mouth, quite light with undertones of cherry sweetness that we are assured is popular with local drinkers.
None of Mercat's tapas menu could be described as 'ordinary,' they do pull out the stops with a couple of regional specialities. Albondigas con Salsa de Sepia (RM41++) is the meatiest and most rustic dish that we try. The meatballs are compact but break open easily to soak up the dark and mysterious cuttlefish sauce – truly savoury and one for the meat-eaters in our midst.
Salmorejo is gazpacho style soup that hails from Cordoba; in fact it resembles more of a cream in consistency, as bread is blended through the cold tomato, with boiled egg, tuna and ham sprinkled on top. It's thick, it's mouth-filling, and both Monica and Caning are mmmmming as they spoon away. The soup teams well with a glass of Mercat's house white Anuosto Valencia (RM151++ /RM31++) which is particularly suited to Malaysian taste buds. The unusual Spanish grape of fradeco is balanced out with sauvignon blanc and the sweetness of muscatel to make a fruity and light blend that is quite high on the palate.
Although I have thoroughly enjoyed everything I have tasted, two of the dishes stand out for me – imaginative and original in presentation, taste and texture combinations. I absolutely guarantee that you will not find food like this on any other pavement in KL. Calamaritos (RM34++) are exquisitely soft rolls of baby squid in a divine potato foam speckled with light oil vinaigrette. Everything teases over the tongue, the freshness of pea, the crispiness of frizzante lettuce, the zing of onion and the soft, soft flesh of the calamari. Scrum.
But it is the Asparagus salad that is the pinnacle of our tasting evening for me. At first glance a baby garden of greens, but then scoop below to find an impossibly light and creamy asparagus foam; a crumbly black olive 'soil' pulls the two halves of this dish together with a hint of sourness mixing in with the indulgent base and fresh light salad garden. Monica and I are both in love with this dish for its prettiness, taste and texture but most of all for its opulent creaminess without the fat factor. Bliss! The deep golden wine in my current glass is the Artazuri White (RM188++ /RM42++) from Navarra, a honeyed mix of Garnacha Blanca with chardonnay. The golden colour belies the slightly dry nature of the wine, with aromatic vanilla overtones giving a full long sensation that lingers in the back of the throat. It's a great partner to the Asparagus salad.
We are rather full but a dessert tasting is insisted on and a traditional Flan de Catalan is ushered in.  It passes our first test: good crackkk on the hard sugar with the back of the spoon – yessss, now get in for a taste before Caning sees what we are up to. It's a good crisp light sugar top that soon melds down in the evening air to become a caramel thread running through the very light, nutmeg enhanced custard.
Mercat has delivered once again with elegant tapas dishes that display imagination, surprising contrasts in tastes and textures. The overall sensation is 'muy alegre', light, happy, and somewhat sexy food, that is saying 'here I am, eat me!' The plates are small but packed full of food experiences that will fill every corner of your mouth and belly too.
'Now!' says Jorge, 'It is time for the hard drinks!' and out comes the Gin! If you are at all intrigued by that aromatic liquor, read the delights of our full 'Gin Tonic' tasting treat in an earlier post. After so many delights you would think it was time to be heading home, but as the rain storm has settled in, it seems Spanish hospitality knows no bounds. As we wax lyrical, and the night seems never ending, we sample a few spirits from Mercat's speciality drinks list. Like everything else, the focus is on quality, flavour and uniqueness. As with the Gins, the prices quoted are for double shots.
A beautiful teardrop bottle houses an English Vodka – Druide (RM 51++). The sip I have reveals a strong mellow taste with a slight linger of aniseed in the finish. It's also recommended to try this as a long mix with tonic and lemon peel. 'If you like vanilla milkshakes you are bound to like this rum,' quips Monica. 'This Rum' is the Don Papa Filipino Rum (RM49++), one which we've enjoyed before on our cocktail hopping beach travels. It's a clear, slightly sweet drink with a good, but not overwhelming alcoholic hit.
We chuckle over Jorge's description of the Nomad Whisky (RM51++); 'born in Scotland and finished in Spain.' Natural Scottish acerbity in the spirit is mediated by Mediterranean warmth, ensuing a drink that offers slightly spicy honeyed tones. Perhaps I will get lucky and finish in that delightful country too! But for now, I'm content knowing I have access to an authentic experience, in this little sanctum right here in KL.