To gain the title of Best Hotel in the World, you better be serving up some mighty fine cuisine. And, as you may have seen in some recent posts on
breakfast
and
lunch
at Gili Lankanfushi, the kitchen team does not disappoint. Taste and inspiration is further taken up a notch for the evening offerings, and it's still challenging to wrap my head around how much diversity is at one's fingertips, especially for a tiny island with less than 50 rooms.
Dinner is not restricted to the islands three restaurants: Over Water Bar, By The Sea and The Restaurant. Pristine beach frontage, an underground wine cellar, organic garden, private island and even an outdoor cinema are also utilized in creatively providing intimate spaces that not only host a delicious spread, but arouse the senses in their unique settings too. We're blessed to try a number of experiences and here give you a peek into their individual appeal.
Cocktails and Sunset


Meals can be taken at the Over Water Bar, but it's the cocktails that first grabbed our attention. Arriving at sunset we watched the sun sink behind the seas on cushioned recliners before taking a stool at the bar.
Premium spirits go into mixes and my first beverage, a Martini, was expertly prepared with Cîroc Vodka. Hubby is a bit of an elitist when it comes to Mojitos, but he was especially fond of the mixologist's muddle made with organic mint plucked fresh from the garden. Gili Goes Spicy, the island's signature rum based cocktail, is a beauty with an awakening kick of chili and refreshing squeeze of lime. Do order this one on your first night, as it's rather addictive and you'll be craving it ever after your travels if you don't get your fill during your stay.
Unique Locations
Private islands, gardens, raised tables in the trees and even a jungle cinema, are just some of the options for distinctive dining locations. Given our love of fine wines however, the Underground Wine Cellar soon found its way into our list of most beloved.
After the tsunami just over a decade ago, an enormous tree washed up onto the shore of Gili Lankanfushi. Analysis of the wood led to the belief that the tree was most likely of Indonesian origin. And, as such, the giant log was used to make the cellar table. Sunlights, open wine storage and glass-doored chambers for cold cuts, cheese and chocolate, further foster appeal.
A comprehensive list of premium labels is featured on the wine menu and guests can partake in chocolate and cheese paired wine tastings, or a complete wine paired dinner. We indulged in a chocolate and wine matching one afternoon, and had the time of our lives. The setting is magical. The sommelier, Rohann is passionate. And, the selection of wines and house made chocolates simply divine. If you don't sign up for a wine pairing, do at least make your way down to the cellar during breakfast where guests are treated to a delicious display of superb cold cuts and cheeses, and too can pick goodies from the chocolate drawers.
Themed Buffets
Three nights a week, buffets are organized according to a trio of themes: Mediterranean Souk, Asian Street Food Night and Tandoor. Weather permitting, a mouthwatering array of cuisines, again with both quality and variety of ingredients being a highlight, are exhibited in beautiful displays on the beach.
From the Mediterranean fare the a la minute kebabs are hot orders, as too are the exceptional assemblage of house made pastas and on-the-spot cooked risottos. My personal picks however are the Portuguese Mackerel, and the sumptuous desserts – the silky chocolate popsicles with an olive oil centre are wickedly good!
Of course, everything from the tandoori oven is a highlight on that night. Naan and fish hot from that oven took my fancy. While hubby was oohing over the live thosai cooking station. We missed the Asian Street Food Night, but heard from other guests that the line up of mobile carts with dishes made-to-order is rather easy to enthusiastically overindulge in.
Fine Dining A La Carte
For those who'd rather order a la carte, there are some excellent options on the menu. Wanting to taste them all we settled for the chef's four course set on our final night. Exquisitely prepared dishes were delivered one after the other, with beautiful presentation equally matching terrific taste. It's truly difficult to narrow down a few 'must orders' as it was all superb. The Tomato Salad however was extraordinary with no less than six different types of tomatoes accented by a wonderfully tangy green sauce. You'll have to decide if you want fish, lamb, or beef for dinner, but do leave room for dessert. Even after hubby had pinched his 'love handles' and declared himself "full to the brim," he managed to scrape clean his sweets plate and merrily dug into mine finishing off my final remains.
Cooking Classes
Impressed by the chefs' skills and eager to learn from the best, we also tried our hands at sushi making. With rice just cooked, and ingredients already washed and chopped, all we had to do was focus on the tricky tasks of choosing which flavours we'd like, concentrating on learning how to roll, and relishing our creations afterwards. It was loads of fun, and chef left us with a few designs of his own, just to make sure we weren't left hungry.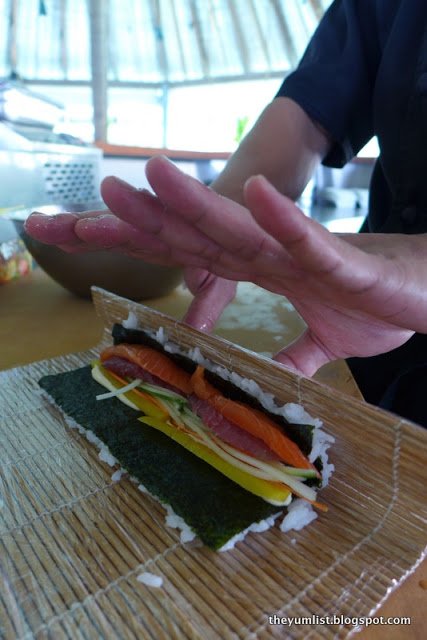 Sushi Class
Diversity, premium ingredients and stunning settings: the team at Gili Lankanfushi ensures no one goes hungry.
Reasons to visit: amazing variety, premium ingredients, extraordinary location.
Gili Lankanfushi
Lankanfushi Island
North Male Atoll
Republic of Maldives
+960 664 0304
Book bespoke itineraries through Lightfoot Travel, the Asia-based artisans of luxury travel with offices in Singapore, Hong Kong and Dubai 
www.lightfoottravel.com/