Kirsten Durward and Monica Tindall
'If loving food makes me a foodie then does loving wine make me a winey?' asks Monica,  Oeonophile is too long, wine lover too complex, Australians do love shortenin their words. There is a whole book on Aussie slang you know! But whatever the term is for worship of wine, if you live in Kuala Lumpur and you enjoy a decent glass or bottle, are seeking for something beyond the regular Australian Chardonnay and Chilean Merlot, then the Vintry group of restaurants should definitely be on your list. Featuring unusual boutique wines, personally sourced, at extremely reasonable retail prices I think you'd be pushed to find more interesting wine lists. As several of the outlets feature an Enomatic wine dispenser, you can try a glass, half glass, or quarter glass from as little as RM8+.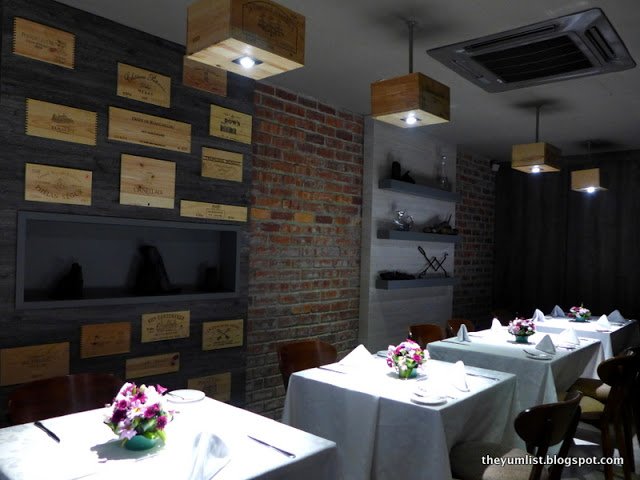 Stoked Damansara
Tonight we are enjoying the rebranding of 'Stoked' in Taman Bukit Damansara. Owner and visionary, Yin How Wong, tells us how capacity has been reduced to improve the dining experience.  The concept is relaxed style fine dining and wine paired dinners. A slightly edgy ambience is created with an iconic blend of industrial, rustic and elegant. Rough red brick walls counterpoint with smooth grey wood, soft round chairs break up straight lines, colourful meadow flowers add colour to crisp white table cloths. On trend up-cycling is evident in the cheeky wooden wine box light fittings which we all adore. But really we are here to taste the smoky stylings of 'Bertha', the wood/charcoal fire oven, recently arrived from England. We're told she's the first of her kind in Asia, and a lot of experimentation is going on to find the perfect combinations to imbue with smoky flavours for customer delectation. Monica and I are delighted with the light and compact menu, and with the concept that three or four items will change every two weeks, keeping ideas and tasting opportunities fresh.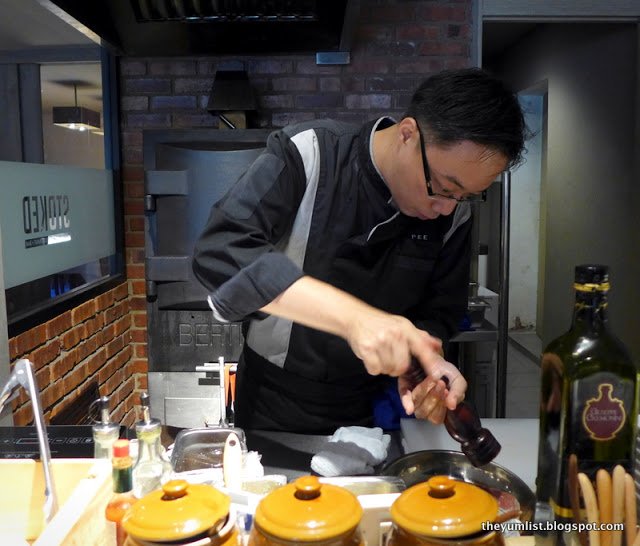 Chef
Our thirst from the sultry evening is being refreshed with a glass of Hildon mineral water. The legend on the label, 'Delightfully Still, Authentically English' makes me giggle. Very English indeed Not a mineral water to be found in your regular supermarket, but a wonderful accompaniment for food as it literally has no taste, and is extremely soft in the mouth. Reviving.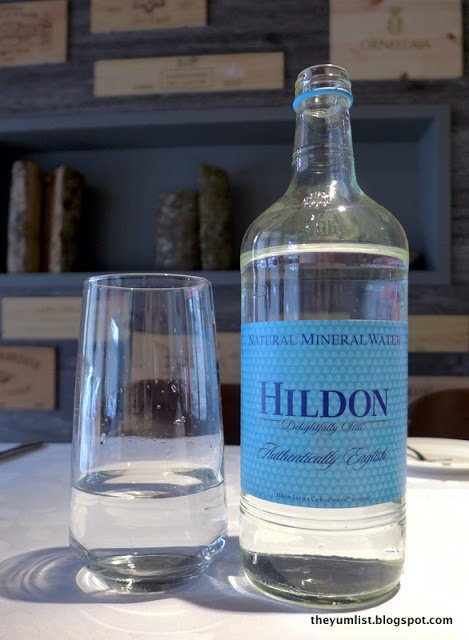 Hildon Water
We begin our meal with Roasted Beetroot (RM25+), one of the few imported items on the menu, as the chef perceives the Australian beetroot to have a sweeter and fuller taste. Bertha has added a wonderful deep smoky taste to this favourite root vegetable, which is soft enough to bite into but still holds a firm texture. Add the mellow notes of pine nuts, slithers of soft mascarpone cheese with a drizzle of viscous olive oil and it's no wonder Monica is drooling. A touch of fresh orange cuts through and I'm in fits of excitement over the natural sea salt crunch to end.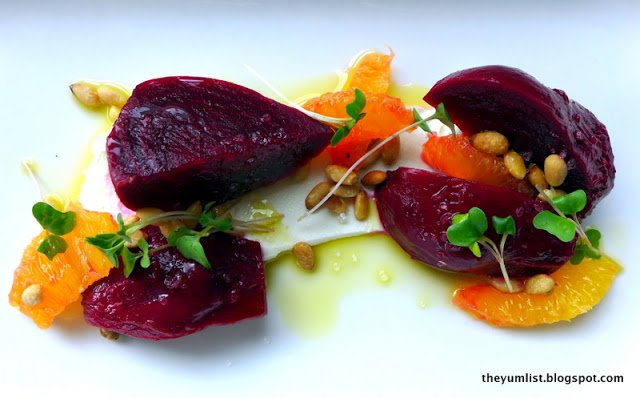 Roasted Beetroot
Despite the emphasis on smoking, the aim is to allow the true flavour of each component in a dish is to come through, and our next plating typifies the gentle hand with which that is achieved. Grilled Whole Squid (RM38+) is firm and soft, with the smoky flavour sitting with the deep sea notes. The fronds and tendrils are slight;y charred and crunchy, giving a lovely change of texture. Combined with the fresh, slightly bitter notes of arugula, and lifted into a dimension of elegance with the addition of shaved black truffles, each flavour does come through. The dish somewhat echoes the textural combinations that visually surround us and I comment that this is the third time this week we have seen a very creative interpretation of squid.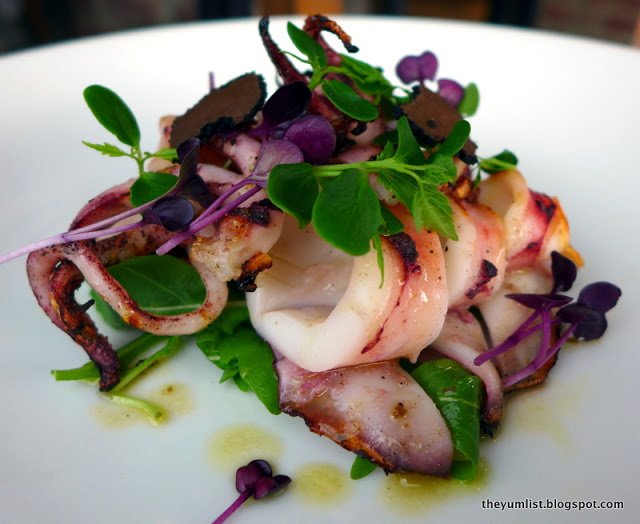 Grilled Whole Squid
The Vintry group of wine bars and restaurants started life in 2006 as a wine merchants, and that passion for great wine still flows through the veins of the whole operation. As we await the next course, we are poured glasses of a rather unusual wine. Although this Alois Lagere 2013 (RM120+) is a Gewurtztraminer, it hails from Italy, the Northern part of Italy which used to be part of Austria.  Powerful and unexpected aromas of lychee and rose petals arise from the glass, encouraging the nose to move and the lips to start sipping. Its summery golden honeyed notes could make anyone sing; although I initially feel that the wine is on the sweet side, we are about to find out how it has been expertly paired.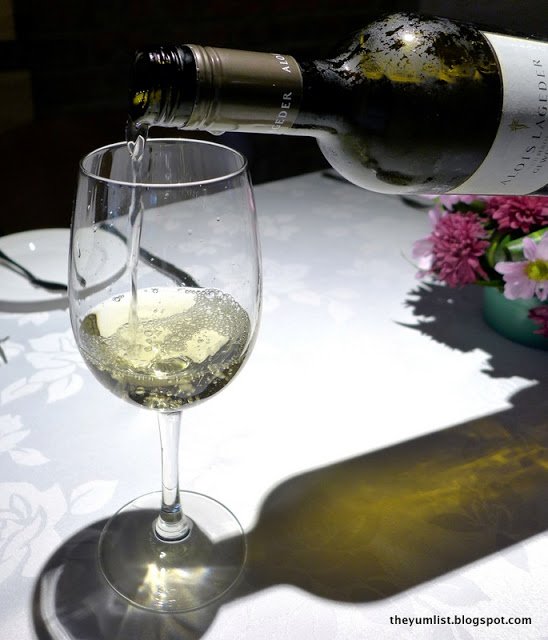 Alois Lagere 2013 Gewurtztraminer
Robust and creamy smoked Hokkaido Scallops (RM38+) are enhanced by a delicate richness of fresh herbs and a mouth cleansing sweetly acidic crunch from the freshly cut orange and fennel salad. And 'Aaaaah!' Now we understand what that wine is all about. It goes to show that you cannot beat understanding of flavour combinations and how food and wine tastes can interact. A mouthful of this, a mouthful of that, and one complements the other so well that each taste is taken into a new stratosphere.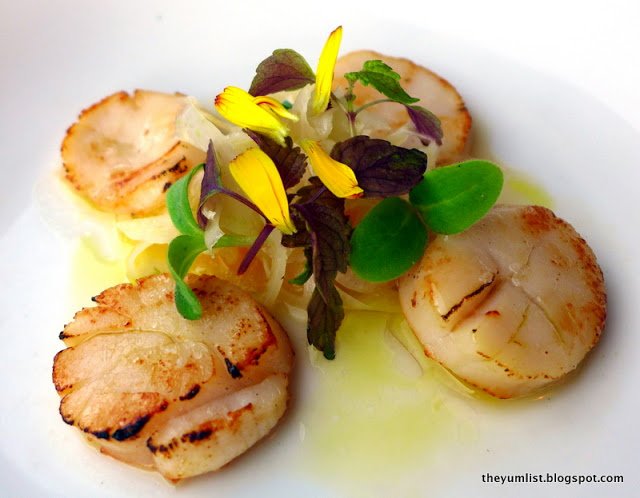 Hokkaido Scallops
Our final starter is more like an indulgent dessert than anything else, and it too, pairs extremely well with the Italian Gewurtztraminer. Pan Fried Foie Gras with Cubed Mangoes (RM48++) is an insane sensation in the mouth. The pan seared outer is slightly charred, with the stickiness of a balsamic reduction, but as your teeth bite through you find the perfect creamy lightness that slips down oh too easily. The just right mango sweetness balances out the savoury smokiness of the foie gras – one for connoisseurs.
Pan Fried Foie Gras with Cubed Mangoes
Although I would have happily kept tasting the starters all evening, we now move onto hearty protein rich main dishes where the stylings of Bertha can really come into their own. Ming Prawns (RM 68+) are served up with a light side of herbed greens and a remoulade dressing. These deep sea prawns have a strong flavour and the chargrilled outer adds a wonderful foil to the dense plump flesh. Caning is muttering about bread, and as I'm sitting across from the oven I spy Chef putting in fresh bread rolls which intrigues me to try the taste from the new style of oven.
Ming Prawns
People often become confused with Coral Trout, being used to fresh water Trout or Salmon Trout.  But Coral Trout is locally sourced and extremely fresh, with a much firmer flesh than expected.  This one has a unique texture that feels like a combination of steaming and grilling. That will be the effect of the wood fired oven. Although it's accompanied by a viscous sauce with tinges of ginger, for me it is the advised addition of smoked sea salt that makes the dish truly come alive. The crusty bun fresh from the oven is delicious with it's accompanying truffle butter but also serves well to mop up the remains of salt and sauce. Well, he did say 'relaxed fine dining'! And with whole fish coming on the menu soon, they better get used to people using their fingers!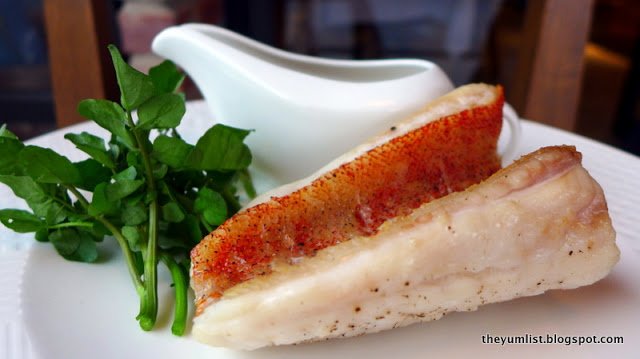 Coral Trout
Moving onto meatier dishes, our wine drinking habits are coaxed and coached once again with a pouring of Bernard Baudry Chinon Le Clos Guillet 2011 (RM 200+), a family produced Loire Valley wine, from a producer considered to be one of most outstanding makers of chinon wine. From cabernet franc grapes grown in a limestone/silica/clay soil, this is really something quite different, rather dry with hints of spice and somewhat rich tobacco-y leather notes. We find it quite light and high in the mouth but great to savour and really be enriched by the meaty dishes we are tasting. We are loving the wine and enthusing about the three Enomatics that will be working soon. As regular readers will be aware, I'm partial to wine by the glass and like to seek out places where I can taste more than a regular wine. When I hear about Yin's proposal for 'Happy Hour Wine Flights,' three half glasses of curated wine, I just about bounce out of my seat with enthusiasm. Now that would be worth coming back for.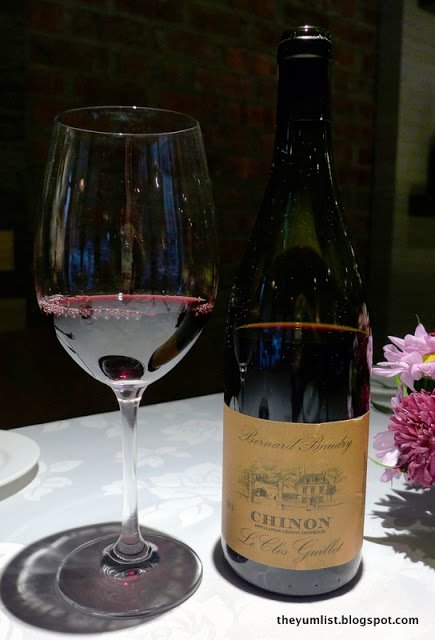 Bernard Baudry Chinon Le Clos Guillet 2011
The first piece of beef that we set teeth into is an unusual cut for a restaurant, being a piece of skirt. No settle down boys not that type of 'skirt.' Skirt can be somewhat chewy but this one cuts through like butter, or as our host says, 'as soft as tofu.' The Blackmore Wagyu Bavette (RM 80+ 200g /RM115+ 300 g) is grilled and then smoked, served medium rare which, as my favourite, is of course the right way to serve steak. It's a highly favourable piece of meat, with delicious fatty boosts, and tastes of charcoal that linger in the back of the throat. We're pressed to try it with the black Hawaiian sea salt, and I'm loving the different salt recommendations set on the table, great fun as well as delectable. The Red wine reduction manages to be both rich and light, adding further flavour to the dish. 'Just Wow!' says Caning.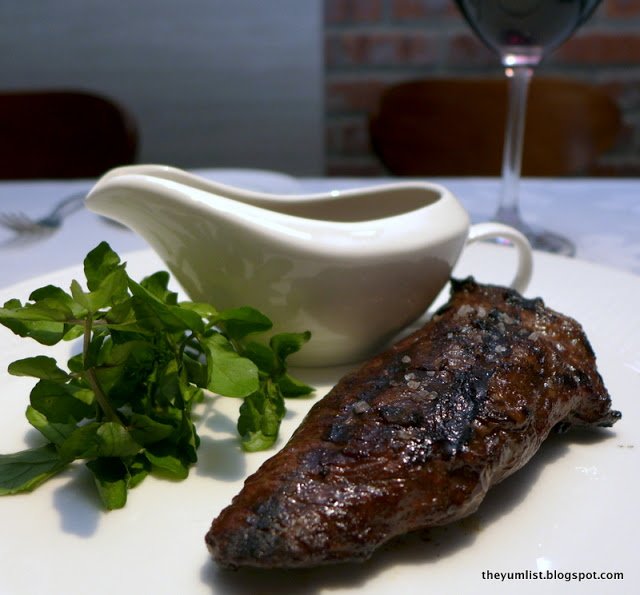 Blackmore Wagyu Bavette – Skirt Cut
The next cut is a little more traditional, Australian Chilled Black Angus Rib Eye (RM 78+ 200g /RM 112+  300g. 'The perfect steak,' says Monica says, 'is like the perfect man, big and tough on the outside but soft and melting on the inside.' That makes us all laugh. Australian humour for Australian beef. The Black Angus is certainly moist and delicious, the freshness of the wine cutting through and pairing very well with both beefs, but I can't help myself going back for another bite of the Bavette, fending off Caning's knife for the last taste.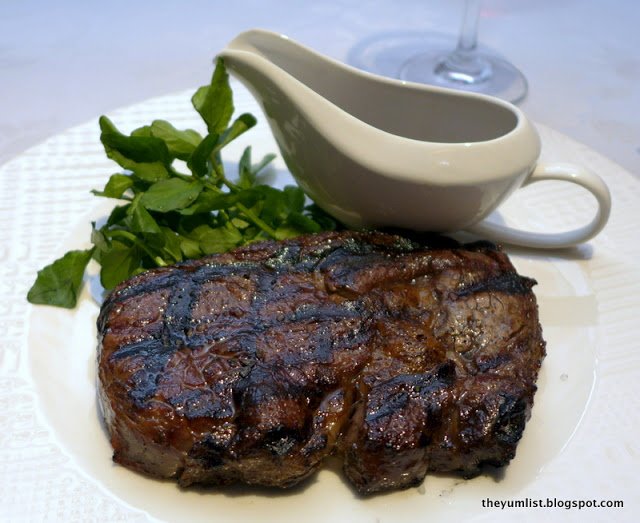 Australian Chilled Black Angus Rib Eye
Considering cultural eating habits in KL writing about meat can be a minefield, so with consideration for different needs, we turn our thoughts to lamb. Despite the temptation of a rack, we opt for Australian Chilled Lamb Loin (RM72+), something not often seen on a restaurant menu as it is difficult to cook. And we'd love to see if Bertha is up to the challenge! We find that she is! The char grill is amazing and the lamb flesh has absorbed the smokiness so well. The beautifully soft and pink meat is superbly accompanied by an apple aioli that has us all groaning with delight. The fluffy concoction balances sweetness, acidity and creaminess, with a light apple saucy texture, as though it has been whipped. True to intent, we get the natural flavours of lamb, and the natural flavours of apple, but oh in such a different, intensely enhanced way.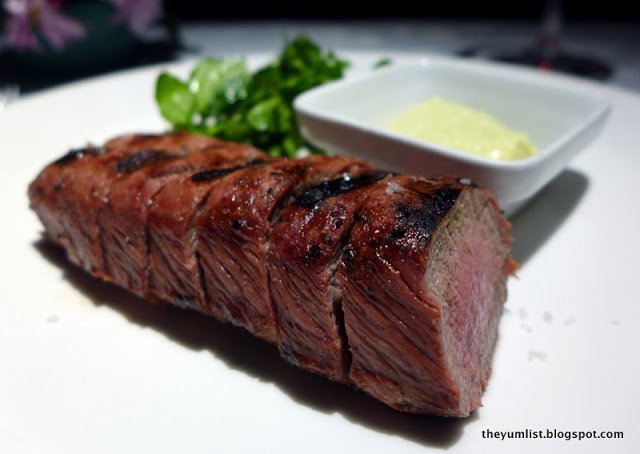 Australian Chilled Lamb Loin
Earlier in the evening Monica had spied a couple of sides that tickled temptation for her taste buds, and we've enjoyed these accompaniments to our hearty meat dishes. Japanese sweet potato, roasted in its purple skin and served with a burnt butter sauce, is very sweet and powerful. But Pumpkin with Prosciutto is our favourite. With a salty crisp crunch from the teeny Prosciutto pieces, the soft pumpkin flesh literally melts away in our mouths.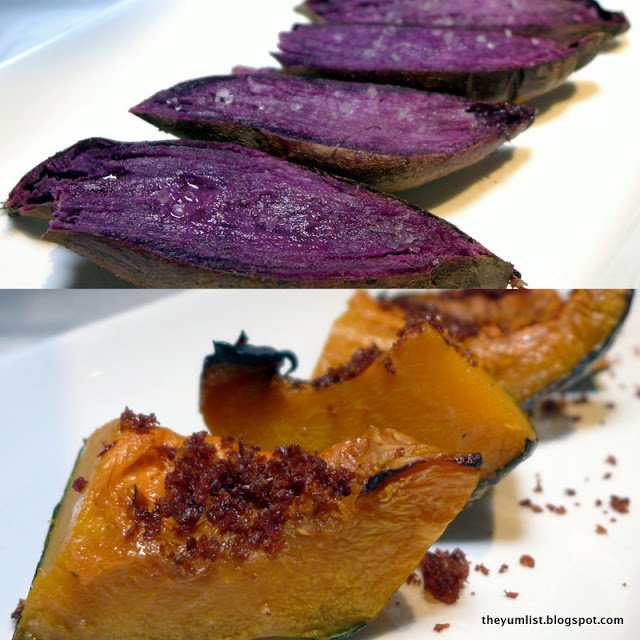 Side Dishes
Bertha has made her name. The food has been fabulous, the wine literally exquisite. But because we haven't been quite spoiled enough with extravagant starters and mains, we're invited to taste some  desserts (all RM 25+). I know for sure that Monica will not resist the Sticky Date Pudding and I can rarely pass up an offering of Chocolate Mousse. The sticky date is less of a true pudding to my Scottish mind and more of a light and moist mouth melting sponge with a viscous toffee pull of date throughout it and a pecan bite on top. I give two yums to the sticky thick caramel sauce (we really should do a post on best caramel concoctions) and we are quite happy until once again we are advised to add sea salt. The salt caramel combination puts us over the top as we melt into puddles of drool that rival the sauce on the plate. Highly recommended. I think we could be onto a best dessert contender here!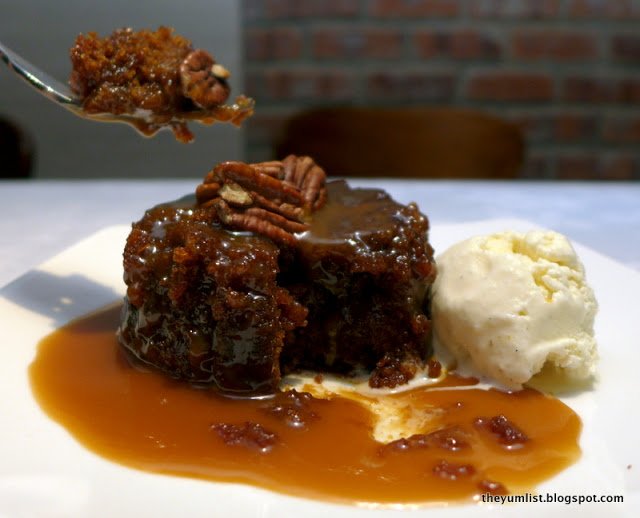 Sticky Date Pudding
Dark Chocolate Mousse is presented like a little crumbly organic garden, in the delicately scattered style of some of our earlier appetisers. It's a surprisingly not too rich, not too creamy, not too dense milk chocolate mousse with a deep chocolate crumble serving as the 'soil' and the lightness of the artisan vanilla ice cream melting everything away. Mixed Fruit Salad with Mint and Yuzu Ice Cream is served elegantly in a cocktail glass. A refreshing mix of tropical and temperate fruits, all full and light, combined with the distinctive yuzu flavour as the sorbet melts through. I think we really are finished now!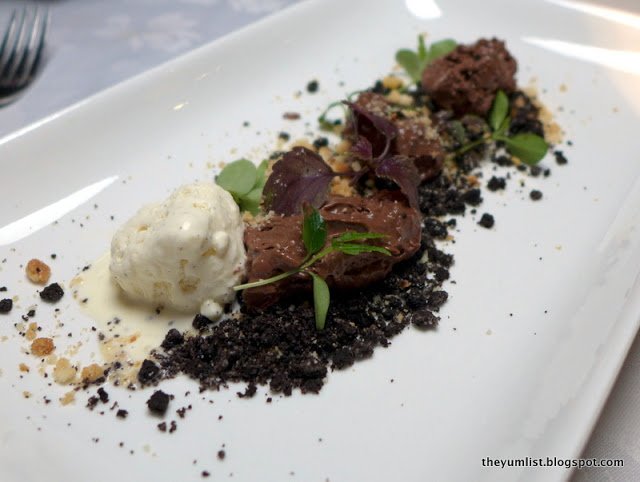 Dark Chocolate Mousse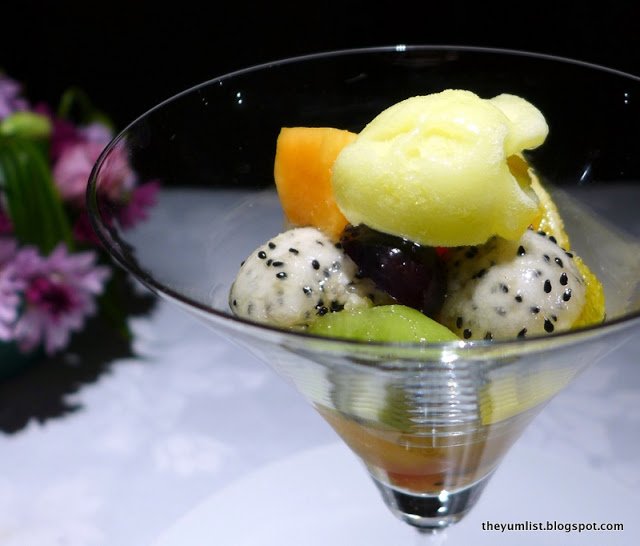 Mixed Fruit Salad with Mint and Yuzu Ice Cream
Stoked, we are told has been named for three reasons, there are three meanings to the word: the food is 'stoked in the fire;' you will be 'stoked – full of food;' and in a delightful piece of Aussie/Kiwi slang, also 'stoked – delighted with the experience.'  Well we certainly are – thanks so much to our knowledgeable host Yin How.
Reasons to visit:  Freshly sourced food smoked in the only Bertha stove in South East Asia.  Adventurous and well priced range of wines. Relaxed fine dining experience.
Stoked Restaurant and Bar
120-122 Jalan Kasah
Bukit Damansara
Kuala Lumpur
Malaysia
+ 603 2094 8262